Britney Spears MTV VMA 2016 Performance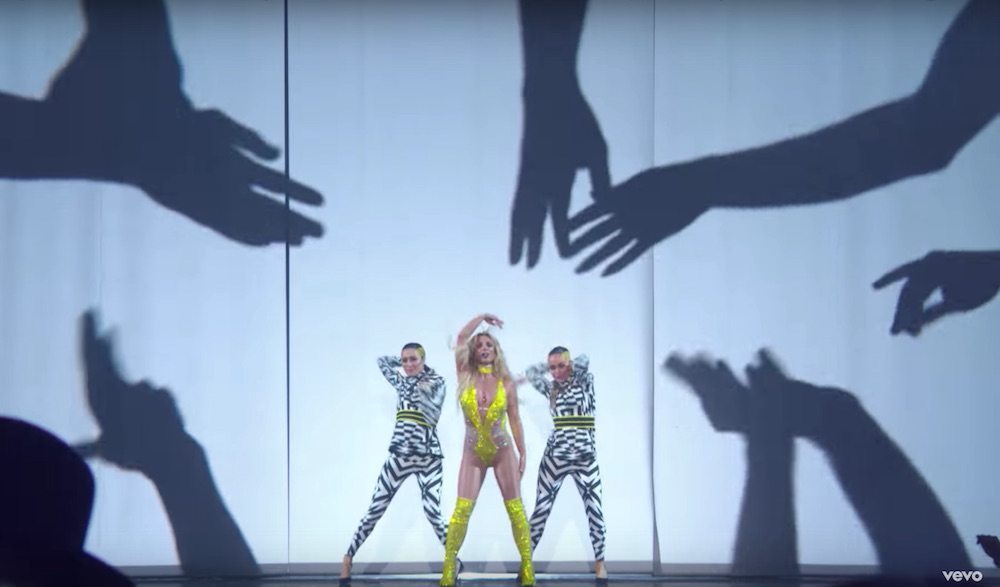 Yesterday marked one of MTV's most highly anticipated music events of the year – the VMAs. This annual event was paired with performances from many high-profile musicians and performers, including Rihanna, Arianna Grande, Nicki Minaj, Beyonce, and of course, Britney Spears.
We understand that it's difficult to own the stage after an electrifying performance by the queen herself, Beyonce, who slayed the evening with a 15-minute epic performance. However, with all the hype leading up to Britney's comeback (she delivered a sloppy, embarrassing performance at the 2007 MTV VMAs), we find it hard to comprehend why she still failed to produce what was expected to be her stellar return production.
Opening & "Make Me"
She opened her performance with a silhouette light show, showcasing her dancing, choreographed with what appeared to be several large hands stroking her (ehm, what?) She delivered dance moves typically synonymous with her performances (stiff, predictable, and safe), while several other dancers accompanied her silhouette, showing her knocking them to the ground as she continued her movements.
Her choice of song was "Make Me" off of her new album Glory. Although we actually like this song, it was a poor choice for her opening track due to it's slow, airy, adult-pop style tempo.
Bodysuit and "Me, Myself & I"
She was finally revealed to the audience as the curtain is lifted, rocking an off-yellow sequins semi-revealing one-piece with glitter sprinkled all over her freshly spray-tanned body. Although she was obviously not singing (what's new), we will give it to her; those three spins she delivered about 1 minute into the production were on point!
The remainder of her show felt like an awkward and unwanted unique mating dance between rapper G-Easy, Britney, and her zebra-clad female dancers. When she starts singing (well, syncing) "Me, Myself & I" approximately 2 minutes and 20 seconds into the performance, she decides to put on a matching urine-yellow/silver sequins rain parka (perhaps G-Easy's obscene amounts of hair grease were dripping off on her new spray tan).
The lip syncing and dancing…
The fact that she ALWAYS lip syncs during her performances is not news. It's expected. What disappoints us, however, is the fact that she barely even tries to hide it. We know it's your thing, girl! If you're going to lip sync, be an expert at it! It's the least you can do!
We have all seen and heard reports and videos of her recent performances, showing her lackluster dancing and seemingly bored, tired movements. We were hoping for an improvement this time around! Just because you're Britney, bitch, doesn't mean that we aren't going to hold you to the same standard the other performers who graced the stage are expected to deliver. Rihanna can't dance, but at least she's really singing! Arianna sounded out of breath, but she still served some mean choreographed pedaling on a damn spin bike while singing and wearing 6-inch heels!
Sorry, not sorry
Why are Britney fans constantly cutting her a break? Why does everyone seem to simply accept the fact that she lip syncs and delivers less-than-stellar, tired, and bored dance choreography? Yes, she looks great! But is her appearance the only standard we are allowed to hold her to?