RuPaul's Drag Race All Stars 4 EP 3: Snatch Game of Love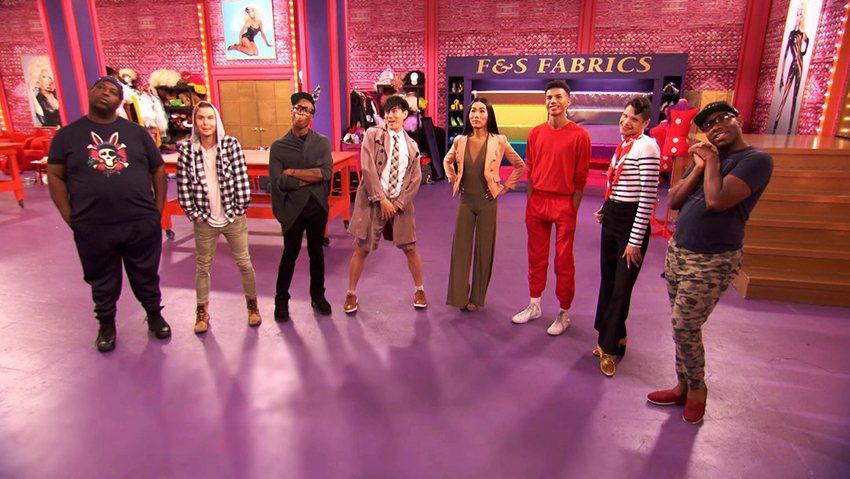 It's Tough being a Trans Woman in a Drag World:
The latest episode of RuPaul's Drag Race made this writer cry as the last piece of Gia Gunn's story arc falls into place and leads us feeling sucker punched. We'll get to it in more detail later, but we must implore readers to think harder about the comments they make online, and the messages they choose to send to Queens from the show. The audience does not know the full story, we don't know everything that happens behind the scenes, or what's going on in their heads, and that's all before the editing process takes place. Keep a cool head and watch it as a television show, not as a true documentation of what happened.
Onto the recap.
The Queens Return:
After last week's more-or-less expected elimination of Farrah Moan, the girls congratulate Valentina on a lip sync well done, we get a shady shot of Monét X Change looking plucked over her loss. She ponders why she didn't win which prompts Trinity to come for Monét's wardrobe in a manner not dissimilar to Gia coming for Farrah's performance ability. We smell a touch of hypocrisy here, Miss The Tuck.
The opening sequences reminds us how we just need to redo All Stars 1 completely to get that awful photo of Chad Michaels out of the Hall of Fame.
Manila Luzon continues the grand tradition of Season 3 overreacting to work room entrances when RuPaul enters for what is now the nineteenth time for Manila.
Ru introduces today's challenge as Snatch Game with a twist. After the All Stars 3 Snatch Game snoozefest where the winners were really just the best of a bad lot (winner winner, chicken dinner, anyone?), it was clear the format needed a shot of adrenaline which brings us to the Snatch Game of Love. In this new format, the queens are divided into two groups (already sounds like a bit of producer manipulation to us), to vie for the affections of two celebrity guests, Gus Kenworthy and Keiynan Lonsdale while impersonating a celebrity.
Team Gus:
Monét X Change as Whitney Houston
Naomi Smalls as Wendy Williams
Trinity the Tuck as Caitlyn Jenner
Valentina as Eartha Kitt

Team Keiynan:
Monique Heart as Tiffany Haddish
Manila Luzon as Barbra Streisand
Gia Gunn as Jenny Bui
Latrice Royale as Della Reese
There's a lot to unpack here with several repeat celebrities. Valentina goes for someone that Chi Chi DeVayne flopped with in season 8, and Naomi goes for Wendy which Dida Ritz (a Queen we need on All Stars as soon as possible) was just safe with on season 4. Monét goes for a role that RuPaul specifically advised season 10 sister Asia O'Hara against.
Gia and Trinity both originally had Caitlyn Jenner planned, Gia feeling it was appropriate as another transgender entertainer. The Queens collectively convince Gia to back down and she chooses Cardi B's nail artist Jenny Bui as a last minute choice brushing off that maybe Trinity is a better choice as another old white person with fucked up nose.
The Main-Challenge: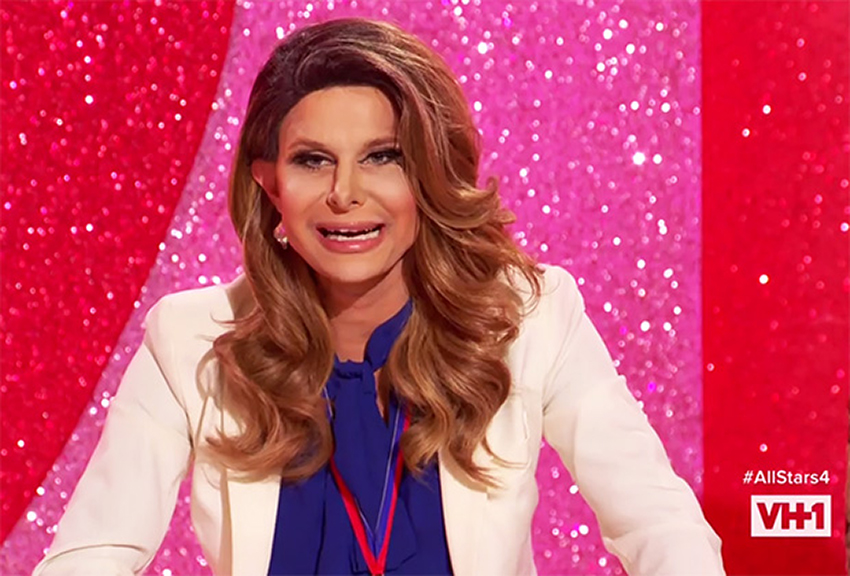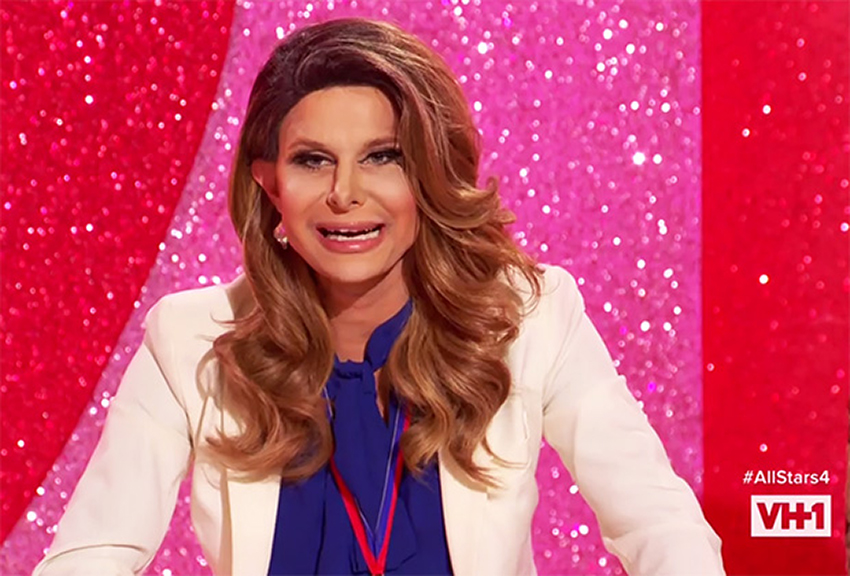 The new set-up looks bright and snazzy and high budget. We're wondering if that moving wall is automated or if there's a poor intern having to pull it back and forth.
The stand-out of the night is Manila Luzon with the Barbra Streisand impersonation we've been waiting ten fucking years for. Though the fake nose was a bit tacky and unnecessary, and in between answers, she had the tendency to deliver those classic Manila crossed-eyes and mannerisms that break character. But the part that matters, the answers to the questions are hilarious and delightful with perfect delivery. We couldn't hope for better for Babs. As we said about her gown last episode, 'hello, gorgeous'.
Naomi Smalls impresses with Wendy Williams and finally proves she's more than legs, Trinity does very well with Caitlyn Jenner who appears to get the biggest laughs from Ru.
Valentina is a surprise with her Eartha Kitt makeover and doesn't even immediately look like Valentina. Valentina takes us through a series of Eartha Kitt references include one to her role of Yzma from the "Emperor's New Groove" that goes over Ru's head, but I'm sure will be enjoyed by the audience. She's serviceable, but the sound effects say otherwise.
Monét (despite her high expectations) and Monique (despite her low expectations) are non-events this episode and there's not much to say. Fine, great, cut.
Latrice starts well, but we end with flashbacks to Season 4 when Gia Gunn starts to deliver us Bitchelor Milk Tea overtake and interrupt others, which impacts Latrice particularly badly since Latrice is sitting in the position that follows Gia. Eventually, it gets to the point where Latrice leaves her character entirely.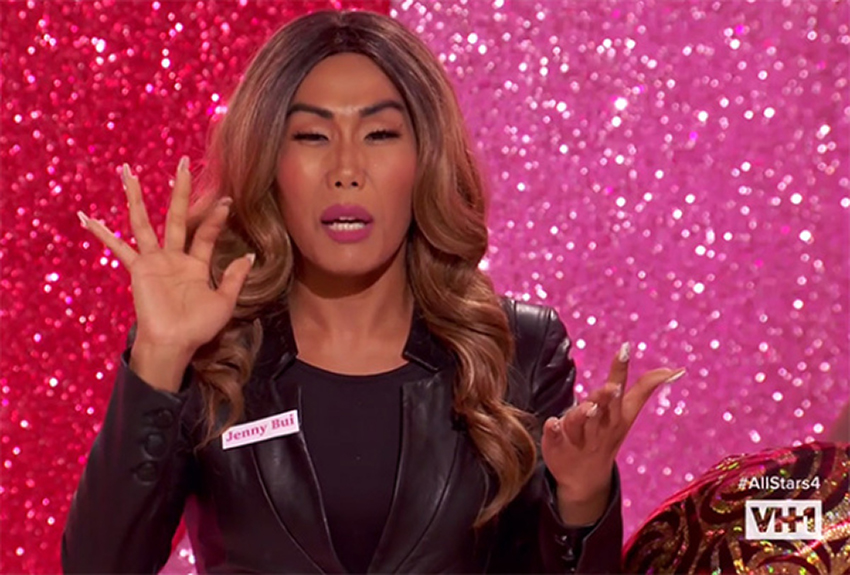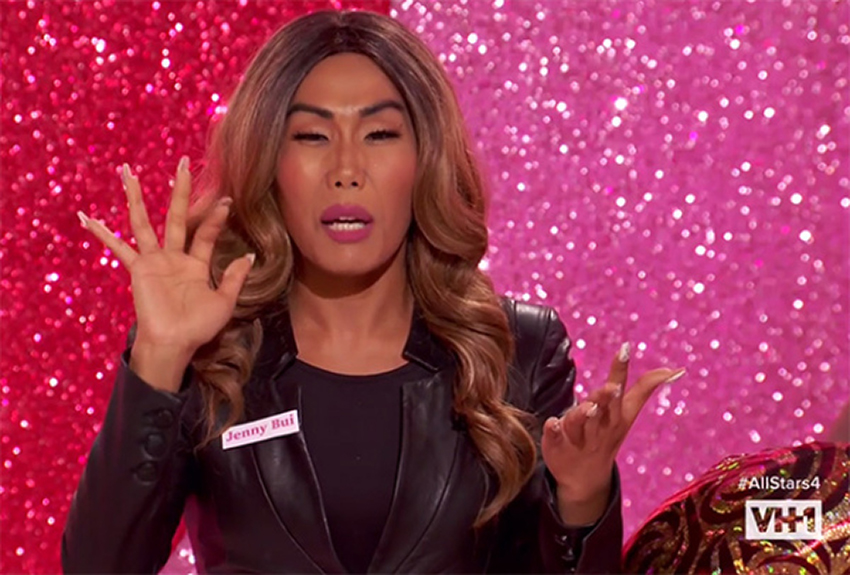 Gia goes for the l-r switch and the sex worker Asian stereotypes. Luckily, unlike Manila on season 3's QNN challenge, she at least keeps it within Japanese stereotypes which are within Gia's right to play with as a Japanese person herself. However, unfortunately for Gia, Jenny Bui is actually Cambodian which makes the entire thing worse. These jokes are tired, lazy and we don't want them, especially in 2018.
Despite everyone with the exception of Gia Gunn doing reasonably, the editing in this episode starts to become hard to watch, with the intense use of laugh tracks and shade noises to inform the viewer who's doing well and who's doing badly. Trinity is the worst victim who gets an intense laugh track on everything she says. Though her lines are funny, not all of them are quite as gut-busting as suggested. Valentina's jokes are also not the best, but they're not mind-boggling as awful as we're lead to believe too.
Nevertheless, Trinity and Manila well deservedly win the hearts of their respective celebrities.
We're not sure whether the improvement on the past few seasons of Snatch Game is due to the format change or to this particular line up of Queens.
With the exception of Gia Gunn, everyone does reasonably well, but there's still a bottom to fall into.
Back to the Work Room:
Back in the work room, Gia apologises to Latrice which is nice to see, though Manila apparently does not buy it.
Latrice offers an out-of-continuity moment talking about her upcoming wedding, though since this episode was filmed, she had already married which was referred to in the Holislay Spectacular despite that being recorded after All Stars 4 but before Latrice's wedding. Hmm…
Latrice turns around her stance on marriage equality that she had on season 4 which is great to see. Understandably at the time, many LGBTQIA+ did not want to be associated with marriage and many did not see the need for their marriages to be legalised. Since then the general consensus has moved to letting everyone have that individual choice and we're happy to see that finally come true.
Monét asks the real questions by interrupting Manila's "human beings are beautiful" monologue by wondering if aliens are real and if we are alone in the Universe. Whether this means Monét is an alien, or she has reason to believe one of her fellow queens is one, we aren't sure. But it's probably Yuhua. We wouldn't name name sthough.
The Deliberations:
Ru decides to make the runway redundant by looking incredible tonight, even though the runways (Boots the House Down theme) are incredible, we couldn't quite get over how Ru looked even between Manila's bondage bunny or Monét serving Haruka Ten'ou (that's Uranus) from Sailor Moon.
We get some fair judgements this time with Trinity, Manila and Naomi (this time deservedly) reaching the top three, and Latrice, Gia and Valentina falling into the bottom. Latrice is spared from the chop, and Trinity and Manila form the top 2 to battle off. We might have put in Monét and Monique over Valentina, but it's not a huge reach.
Last week, we complained these deliberation scenes were getting repetitive and it seems our pleas were heard when Trinity immediately pulls Manila aside for a discussion instead of Gia or Valentina.
Gia asks Manila who she's picking feeling that Gia needs to go for causing drama. Manila is unsure since Valentina is seen as competition and a threat, but it could turn the competition inside out.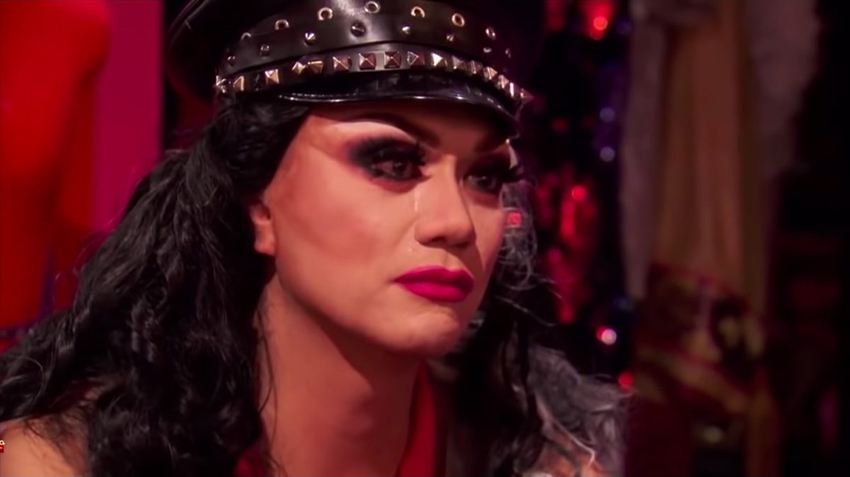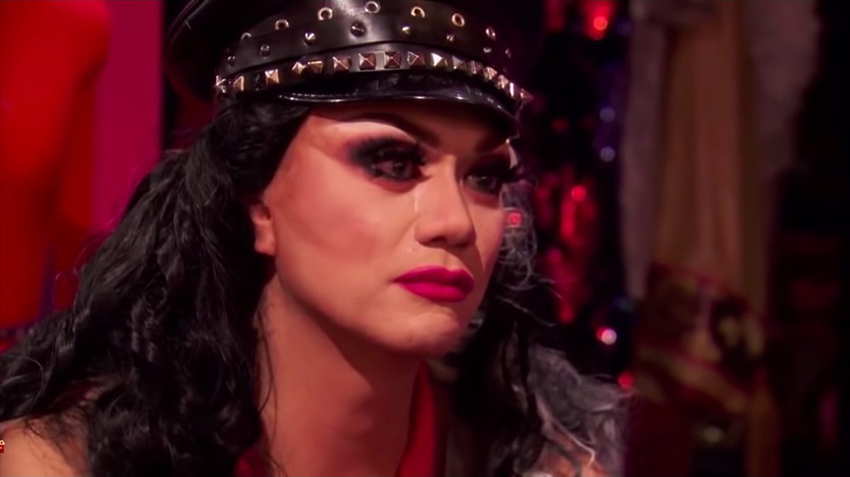 The regular deliberations continue, Gia is alone and it seems her cartoon villain role backfires, but in a scene with Manila, her façade falls down and we finally understand what place Gia has been coming from all this time.
Gia, as a trans woman has felt she doesn't belong in the drag scene. Although trans women have been part of the Drag scene since its origins, it is still dominated by cis gay men, and trans women have been made to feel they don't have a place. Throw in how Farrah Moan is consistently praised for being a beautiful woman as a gay man by fulfilling backwards standards of 'feminine beauty' more than Gia Ichikawa (the woman behind the Gia Gunn character) is, it's understandable that Gia was coming from a place of hurt, and got on the defensive. This scene really knocks us for a loop, especially seeing all the hate that Gia has received from the season from fans this far, it's just upsetting to see how the LGBTQIA+ community is putting these sorts of pressures and insecurities for trans people to face.
I ask all readers once again to try and understand what Gia is putting herself through to prove that trans women have a place in the world of drag, and all these pressures seem to have gotten to her as they would for anyone. Offer support and understanding, not hate and venom.
Trinity notes that Gia's got her heart in the right place, but still thinks it's her turn to go. Manila finally gives us the drama we've waited three seasons for by offering Valentina a direct alliance, which Valentina rejects in a manner as dramatic as she can.
Trinity plays the telephone game relaying information between Manila and Valentina which is again a bit of hypocrisy from a girl who apparently doesn't want to play these games, but it adds to the fun so we ain't mad. Trinity tells Valentina she will try to win the lip sync for her. Is this strategy? Could she flunk the lip sync in the hope Manila really did pick Valentina to get rid of perhaps the biggest name in the Race?
Today's lip-sync is Whitney Houston's "How Will I Know". Perhaps the producers were expecting Monét to turn out her Snatch Game. Oops.
Manila finally gives us the non-camp lip sync we've been waiting the longest time for her to prove after she tried it against Jujubee in a song that didn't work well with camp and flopped hard. Manila takes up the stage and also makes sure Trinity can't get her foot in.
In the end, Manila wins the lip sync, and reveals its Gia's time to go home.
Gia goes out with class while encouraging other trans women that they have their place in drag.
She notes she feels she brought it on herself, acknowledging her mistakes and we're overall satisfied with Gia's ending though we would have certainly like to see more of her.
Check out this important video about Gia's journey here:
Follow Gia on Instagram here.
Overall, it's a refreshing uplift to Snatch Game, and though the drama here was a bit more disheartening than the silly over-the-top slapfests of the last two episodes, it helps closes the early season episode storylines properly and leaves us wondering what will happen next on All Stars 4?
Will Manila emerge as the surprise villain now that Gia is gone?
Will Latrice run for president and sop us up?
Will Jasmine Masters ruturn for her ruvenge with something to say?
It's about to get gaggy!
This article was written by our fabulous contributing editor, James Pearbutter.
All images courtesy of VH1.