RuPaul's Drag Race All Stars 4 EP 1: All Star Super Queen Variety Show Recap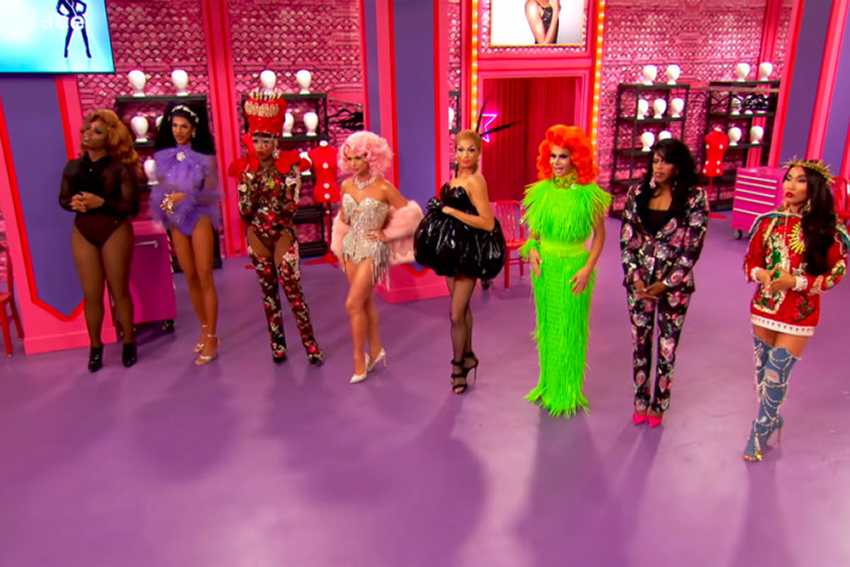 Fire, Ice and a Little Advice for Drag Race Producers
The season of fire and ice has now begun on RuPaul's Drag Race, and we're already feeling chills. Though, we have some finer points we'd like the show producers and judges to consider.
The episode kicked off with the now traditional Talent Show (renamed from Variety Show after Alyssa Edwards took that too literally in All Stars 2). The Queens here are more fashion-oriented than seasons past, but most of them proved they can perform on the stage too.
The Winner of RuPaul's Drag Race All Stars receives a one-year supply of Anastasia Beverly Hills cosmetics, a coveted spot in the Drag Race Hall of Fame and a fucking lot of money. (More on that later, hennies).
The cash prize may not be as much as other reality TV shows, but it's more than I have, so I'm not going to sneer at it.
The Entrances:
The episode opens with a cute pop-art comic style introduction for our previous winners Chad Michaels, Alaska and Trixie Mattel fitting the Super(hero) Queen theme song for the season, and reminds us of the 11th commandment: to forget All Stars 1 ever existed, (though Raven in that Superhero Ball is still everything to this day).
It's not quite as fun as last year's Handsmaid's Tale skit, but we assume this having to finding a time that worked for all three Queen schedules.
Monique Heart enters the werk room first with as much Glitter & Jesus as we could have hoped. She comes in with three mashed together possible catchphrase lines. We wonder if Monique may be at risk of overproducing herself to sell them t-shirts this season which sometimes Alyssa Edwards could be accused of. Note: The writer is not Phi Phi O'Hara.
Trinity Taylor, now Trinity the Tuck enters in a body outfit that reveals into a neon-green ziptie koosh ball. It's probably couture, so we're just going to pretend we understand high fashion and toot it. We don't want to look stupid.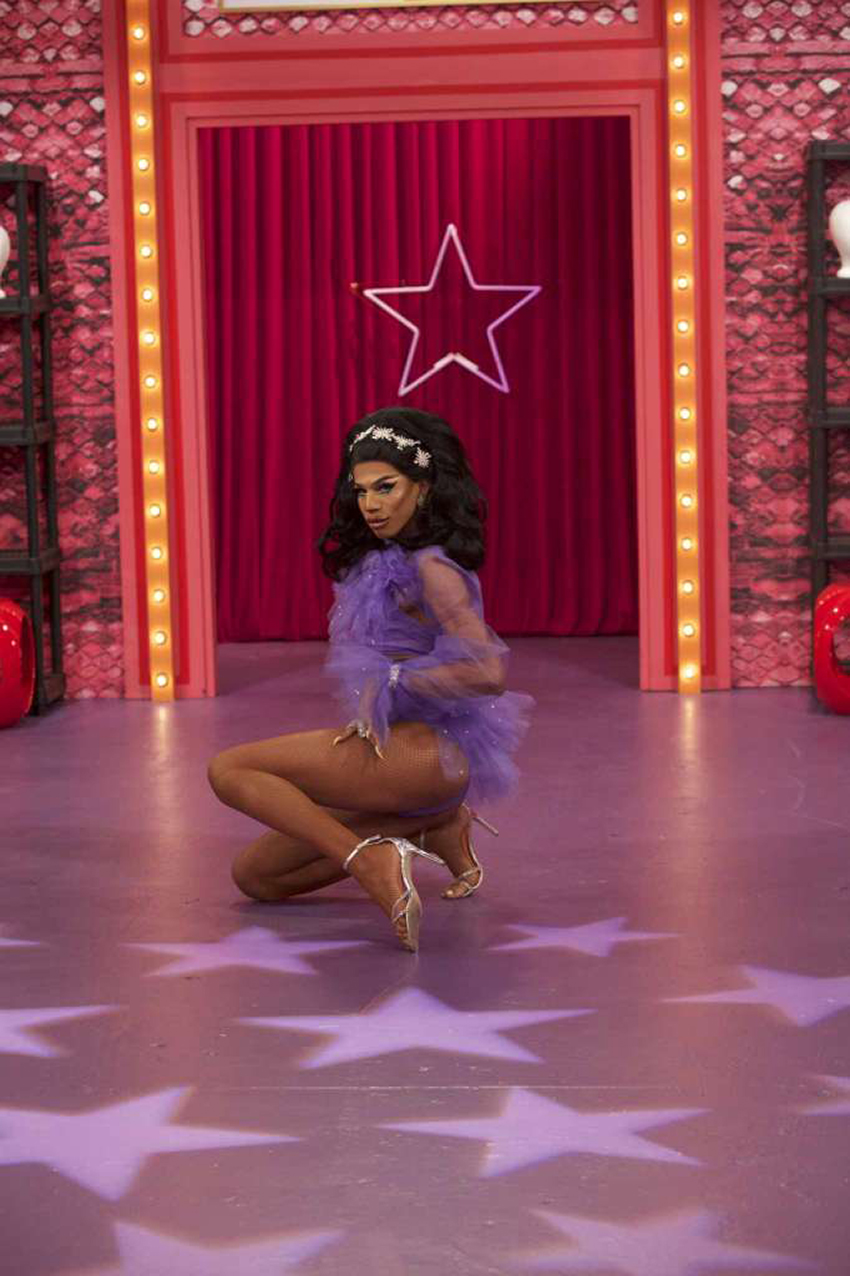 Naomi Smalls and her legs, or legs and Naomi Smalls then enters, followed by current reigning Miss Congeniality, Monét X Change with a surprisingly lowkey entrance and outfit compared to her planned out season 10 entrance. The outfit is read by the other Queens.
Gia Gunn enters in her Christian couture which has stirred up quite the bit of drama between her and fellow trans woman queen, Carmen Carrera.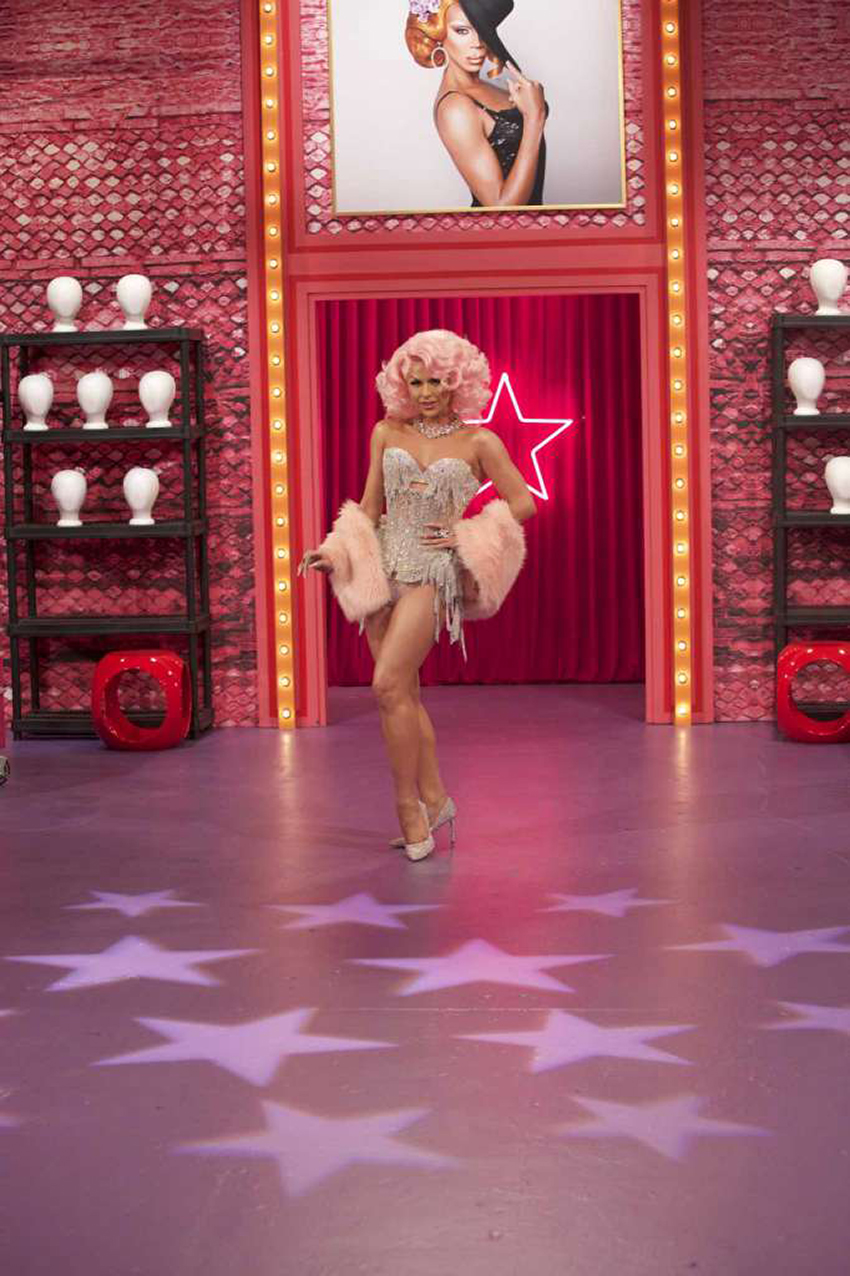 Farrah Moan moans into the work room in an upgraded look from her season 9 entrance, she informs us that she's not going to whine anymore. We would like to note the shady producers choose to show her whining immediately before and after she says that. Farrah's ass is read by the other Queens, literally speaking. But, hey, having the gall to hang your natural ass out is harder than it sounds. If you would like to show us that anyone can do it and it's not a big deal though, please send your ass pictures to our email address. Thank you.
Monét then discusses how she's glad to not see any Season 7 girls, followed immediately by Jasmine Masters walking in. Jasmine's compilation is a bit shady, we don't really see her underrated Glamazonian Airways performance or "the" Dress. But, we have to give kudos anyone who walks into a room with the line "All Stars 4, you junkie whores".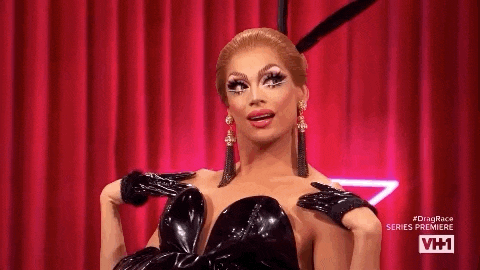 Valentina, who appears to get more screentime in her entrance than the rest put together, enters and we're shocked to see her confessional look has eyebrows. Monét shows us she knows how to claim that screentime too but sarcastically exclaiming "it's you, Valentina".
With eight girls, and eight statues, the girls are confused when the RuPaul message pops up to start the race.
As we knew from the promos, Latrice Royale and Manila Luzon of Team Latrila, 7th/8th place finishers in All Stars 1 return handcuffed to the surprise of the other Queens. Manila is in her infamous big bird look from her failed stand-up routine and MacArthur Park lip sync from season 3, only it's been hit by a truck, and made fashion. The handcuffs are broken and the Reading mini challenge begins.
The Storylines:
We get a quick glimpse into potential storylines that may lead into the season. Both Monique and Monét talk about improved runways now that they have more money, Monét also mentions she's planned to reduce the kitty-cat wig frequency.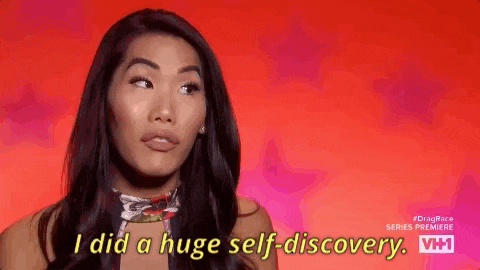 Gia Gunn brings special attention to her self-discovery and her coming out as a trans woman that participates in the art of drag. We hope this will open the door to RuPaul's Drag Race being more open to trans performers, who have been part of the drag scene from its inception.
Valentina has to prove she can lip-sync, Jasmine to prove to the world she's a great Queen, Naomi that she's not just a runway Queen, Manila that she's not elderly apparently, and Farrah that she's more than just Instagram. While we're on Farrah, we have now hired a team of investigators to see if confessional-look Farrah is part of some kind of My Chemical Romance gay tribute band (not that My Chemical Romance wasn't gay as hell to begin with).
Trinity and Latrice's projected storylines are odd. Trinity's "a pageant queen who can do comedy" is a character arc that had completed on season 9, we're unsure where that means Trinity's story this season can take her now that she's already "the full package". Latrice meanwhile doesn't get an indication at all. We'll have to watch this space with these two.
The Mini-Challenge:
Few of these Queens are known as good readers, many of them bombed the reading challenges on their seasons (I just saw Manila, girl), but surprisingly most of them turn it out.
Cutie patootie, an aerospace engineer (yes, really) and straight-white-boy dancer extraordinaire, Bryce Eilenberg returns as the Pit Crew but Jason J. Carter has been replaced and we're a bit shook. The new guy is very attractive though, it seems Santa took back their shoes.
Monét opens the library with a hilarious burying plastic-fantastic Trinity in a recycling bin, and takes on Manila Lose-on. We get a scalding "Farrah Moan is so dumb, she thought Valentina was her best friend" line that left us howling.
Sweetheart Farrah tries her best but flops, Monét cuts in saying that she's still workshopping, and we agree that Farrah's at least better than season 9 but isn't fully there yet. She also tries a nose job joke on Trinity, which backfires when Trinity comes back for Farrah's ass.
Valentina comes in for Manila proclaiming her fall from Heather to Booger. Jasmine asks Latrice to be her bodyguard, and asks Ru for her suit back and does neatly. Jasmine asks Latrice to be her bodyguard, and asks Ru for her suit back and does neatly.
Gia, the resident shady lady of the season is next and takes on Trinity's plastic surgery, and wonderfully throws back Trinity's return-barb that she'll give Gia the doctor's number, with an "I don't want to die, thank you". However, she chokes on her Farrah Moan read.
Latrice calls Naomi, all-legs-no-brains, and gives the best read of the day with a classic "Valentina, take that thing off your face. Oh? It is your face. I meant your other one", before reading the entire cast of Season 7.
Manila goes in last, and she's improved from itchy-itchy-itchy-palante but still isn't great at this particular comedy style. She tries for a 2-for-1 read on Monét and Naomi that's pretty crunchy, that's really how you know we're in the bootleg cereal aisle at this point, serving Bunch O' Cinnamon Squares realness.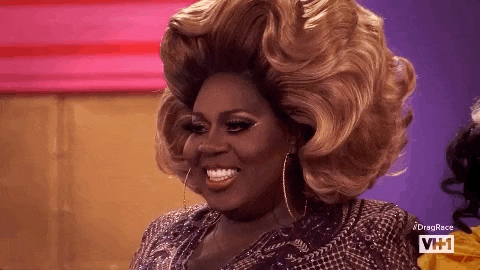 Latrice Royale rightfully wins this mini-challenge, and we're informed the Talent Show this year has an audience made of LGBTQI+ veterans and active service military members. Farrah quickly misses the point and wonders if she could find a straight military husband here. She's trying her best, folks.
The Main Challenge:
While they prepare for the main challenge, Gia comes for Farrah Moan not being an All Stars, and just an Instagram Star, Valentina starts stripping and Latrice decides to show her how it's really done. Valentina then shaves her eyebrows, and the meme was finally born. We get a glimpse into what the performance will be, Trinity has a tucking tutorial that raises Gia's eyebrows, Monique is set to debut a song, and Jasmine doing stand-up but without a script or even a skeleton which Monique points out is potentially a giant mistake.
The almighty Jenifer Lewis is our guest judge for this season, who RuPaul rightfully proclaims as the Mother of Black Hollywood. We're counting this guest judge stint as the season's traditional Shangela appearance since they're more or less the same person. Shangela performed as Jenifer Lewis on the previous All Stars's Snatch Game, Shangela used to actually live with Lewis and they have an online webseries called "Jenifer Lewis and Shangela" on Youtube that's always worth a rewatch. On this episode, Jenifer Lewis is one of the best guest judges and looks like she's having the time of her life. Special shout-out to Michelle Visage who also looks stunning this episode.
Monique Heart opens the show with a live version of her new song "Brown Cow Stunning", with full choreography. Most queens tend to sing or do choreography, but Monique tackles both successfully. We're not sure whether rely on the brown cow meme is the best idea since there's only so many times you can beat a dead cow, but the routine is smooth, solid and slick and we can't really fault it.
Naomi Smalls goes next with a runway song which we suppose is called "Her Name is Fashion", she poses and models on the runway, and we can't help feeling this is the sexier sister to Milk's "Touch the Fashion" routine from last season. It's smooth and cool, but not life-changing. There's a great twist at the end where Naomi reveals her wig into a balding old man wig adding a dash of comedy to her routine that really works well with the storyline being set up for her.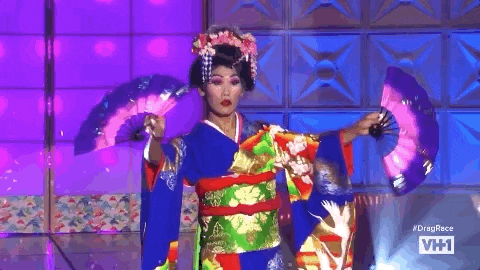 Gia Gunn stuns us next in a gorgeous kimono and shows her Japanese heritage with a kabuki routine complete with beautifully timed and executed reveals. Jasmine Masters states that the performance "was magic", and we fully agree.
Trinity the Tuck goes next with a musical-comedy tucking tutorial. This is brilliant, original and informative. The only critique we have is that the audio needed to be better recorded since the quality was a little "baby's first Drag Race podcast" at times, but that's a technical fault and actually worked well the 1960s vibe Trinity was going for. She also hit the notes she made back on her Michelle Visage Roast, but smooths out all the bumps.
Farrah Moan comes out of a giant compact for a burlesque routine. This is a risk after Roxxxy Andrews won and knocked it out of the park back in All Stars 2, while BenDeLaCreme went on to win again with burlesque in All Stars 3 but only by putting a comedy spin onto it. The set design and Farrah's outfit is fabulous though. However, recurring theme and apparently All Stars 4 villain, Farrah's Ass comes back to haunt her when Farrah stumbles badly and falls down. Our hearts fell for her since she was doing so well, and it looked like it hurt too. We get a quick shady close up of Gia smiling too.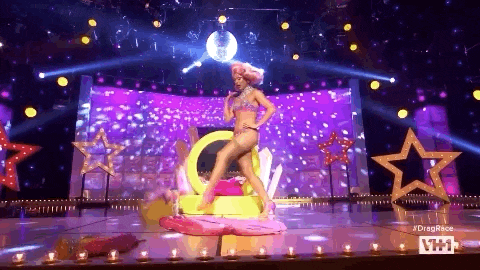 Monét X Change, like Monique Heart references her season 10 memes (stay tuned for the phat-ankh-ankh-neva-lav'd-ya-miss-vanjie-hi-how-are-ya-butterfly-apocalypse song on next), with a remix of Soak It Up, now available on iTunes. Perhaps a bigger shock than Farrah's fall is that Monét's performance was pretty bad. Her singing was pitchy, and though she had many good dance moves, several weren't executed well. Her performance is made worse since it's directly comparable to Monique's who executed hers perfectly and much better. We had Monét pegged as a frontrunner, but we might have to reconsider.
Manila does a still-life painting of a vase of flowers to every 1990's educational software's favorite public domain track, 'In Hall of the Mountain King', complete with her trademark over-expressions. Her painting does not resemble the flowers until Manila turns it upside down at the end to show a pretty great resemblance, she then walks behind her easel and reveals into an outfit matching the flowers. It's a pretty good pay-off, but it did take quite a while to get there and we're not sure it was all worth it. That said, it's clever and definitely safe.
Jasmine Masters flops her stand-up by relying on her "wash-your-ass" vine, we get neither Jasmine's trademark charisma or keep-it-real attitude. The format does not work well, and Trinity saves this scene by reviving her "where are the jokes?" confessional line. She looks good in those vertical stripes at least.
Latrice Royale gives us big girl action with kicks and twirls, a glorious colorguard routine and a "Excuse the Beauty" remix which is absolutely perfect for this audience of military folk. One of the best, and we would have selected this as the closing number.
Valentina rounds off the group with a Spanish lip-sync to close out her season 9 storyline, her dance moves are smooth, but it's nothing we haven't seen before. Kudos for that branding though. Gia notes this performance as "boring", we wouldn't go that far, but we agree it wasn't anything particularly special.
Our rankings for their performances:
1. Gia Gunn
2. Trinity the Tuck
3. Latrice Royale
4. Monique Heart
5. Naomi Smalls
6. Manila Luzon
7. Valentina
8. Monét X Change
9. Farrah Moan
10. Jasmine Masters
The Judge Critiques:
Without a runway, the girls stay in their performance outfits and we move straight onto the critiques. The questionable judging we've come to expect from RuPaul's Drag Race don't seem to be going anywhere this season and the top 3 are Trinity, Monique and Naomi, and the bottom 3 are Monét, Farrah and Jasmine.
Trinity, we totally agree with but after so many song releases on the All Stars Talent Show, we aren't totally sure what made Monique's stand out from the pack against the likes of Ginger, Trixie, Shangela, Kennedy Davenport, Alyssa Edwards and Bebe Zahara Benet. We could justify this as Monique DID sing AND dance intensely, but we think Gia Gunn may have been robbed here. Perhaps this is the source of Gia's salt on social media. Naomi, we are also uncertain about, perhaps for giving us that comedic element and fulfilling her producer-fed storyline? We think Latrice should have taken this place.
We do agree with the bottom three, though Monét gets critiqued for milking her memes which Monique was praised for several seconds before, raising our eyebrows Monique Heart style. Farrah's bottom is fair enough with her fall, and Jasmine unfortunately, but correctly falls into the bottom 2.
Trinity and Monique are declared the top 2, and Monét is spared from elimination.
Trinity and Monique in the work room both call out Farrah for crying constantly and getting on their nerves, Farrah stops crying pretty darn quickly, perhaps a little too quickly? She may have been attempting a sympathy strategy, but there ain't no BenDeLaCreme's forcing any Miss Congeniality storylines this season. All Stars 4 does not play. Jasmine refuses to accept why she did badly which sours Trinity and Monique.
We get a brief skit of the Judges as a marching band with Jenifer Lewis on trombone which is cute and fun, and fits the military theme, and then it's onto the lip sync.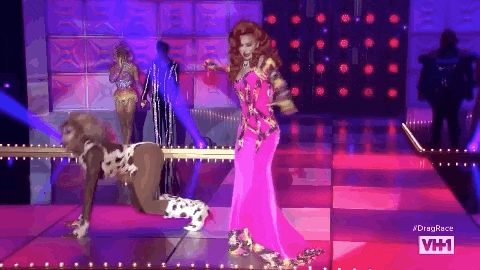 Finally, a Mariah Carey lip-sync and it's "Emotion" so we should expect that flying lawnmower vine to be retrending sometime this weekend. Trinity sells it all the way through, but and some of Monique's moves aren't quite right for this song. She does give us a bit of comedy with some UTI-inspired moves, or at least we'd like to think it was supposed to be comedy. What really stands out is Monique going so hard her wig flies off right up into the rafters. The lip sync is pretty good, but apart from Monique's wig going into orbit, not one we'll be remembering for years.
Trinity wins fair and square and eliminates Jasmine. We're disappointed, especially as Jasmine probably needs that All Stars exposure more than Farrah, but from a competition aspect, it was the fair choice which Trinity says is her deciding strategy. Jasmine leaves with class, and in All Stars we can expect her to have about seven returns before season's end, so hopefully we'll see her soon.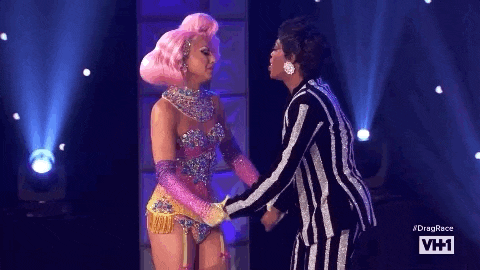 Go check out Jasmine Masters on social media in the meantime on Youtube and on Instagram (@msjasminemasters).
Also check out Jasmine Masters' Class on WowPresents+ and go support the Jush.
Most Importantly:
None of the above really matters, we get a glimpse at the next preview which had myself screaming my head off, the next episode will feature the girls recording for a new supergroup: Henny, starring none other than the Season 3 fan favourite and Drag Race legend: Stacy Layne Matthews.
No, really!
Why Stacy? Most fans don't realise that Stacy has the makings of an R&B superstar, she really has the pipes. In the AAA Girls music video "Heather", Stacy cameos at the end and completely upstages Alaska, Willam and Courtney Act with her vocals, and those are some pretty big names to stand out against.  Check out this show where Stacy's original lip sync track breaks and she performs a spontaneous a capella rendition of "Diamond" too (starts at 4:00). That's a lot of fucking talent.
So, get your spritzsticks and red velvet cakes, hennies because this next episode won't be one to miss!
All the Stacy Layne Matthews references finally make sense and we hope this will open the doors for her to be on All Stars 5. Or perhaps she'll host the show, while RuPaul and Michelle are away for Drag Race UK. We wouldn't be mad.
Note: Our investigators have confirmed with 94% probability that Farrah Moan is part of a My Chemical Romance gay tribute band probably called "I'm Not Ogay".
This article was written by our fabulous contributing editor, James Pearbutter.
All images courtesy of VH1.