RuPaul's Drag Race Season 11 Ep 1: Whatcha Unpackin?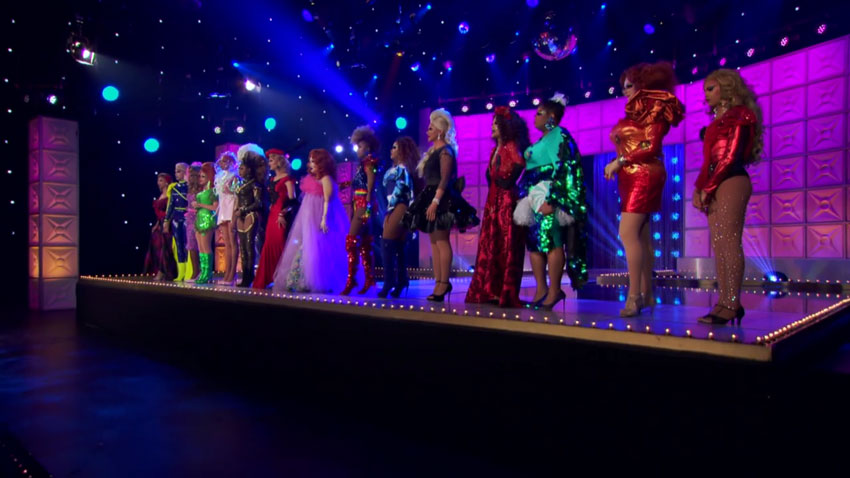 The Silky Show
It's season 11 of RuPaul's Drag Race!
After an overstacked season 10 which perhaps ended up wasting a lot of great talent, the show has come back with 14 new contestants, and a 15th returnee to slay the runway and take their place in the phenomenon.
Let's dig in.
Enter Queens!
Vanessa Vanjie Mateo, better known as Miss Vaaaaaanjie from season 10 enters the room first.
After her unproportioned mess of an outfit in season 1, and a slaughter by Kalorie Karbdashian-Willams, Miss Vanjie took the internet by storm with her viral "Miss Vanx3" moment.
Can she live up to the hype this season and prove what she's made of?
Vanessa hides behind a partition to surprise the Queens.
Nina West from Columbus Ohio is first of the new girls. She's a local legend and beloved by her community. Her look is clean if not a little basic and she does deliver a very clunky -elevengendary- line which we suppose was an attempt at "so cheesy, it's good". Perhaps a little more "so cheesy, it's cheesy".  
Next is Shuga Cain from New York City, an older Queen who hasn't been doing drag full-time until quite recently. (The edit makes it sound like she means she's only been doing drag at all for a year and a half).
Plastique Tiara, a Vietnamese Queen from Dallas arrives first. Only 21 years old, Miss Tiara is a known Instagram star for her gorgeous looks like Aquaria from last season. Plastique has all the stigma attached going in, but she is part of the Haus of Edwards which is known for its dancers, so you've got to keep an ey eon this one. Polished, Persistent, Pussy in her own words.
Mercedes Iman Diamond from Minneapolis originally hails from Mombasa, Kenya. She's the most stunning this season in terms of her entrance, paying tribute to her heritage and just looking absolutely opulent.
Scarlet Envy is next, another NYC Queen. Unfortunately, she follows Mercedes with the best look, Scarlet by far has the very worst. Her make-up and breast contour are also off and her first impression is not quite here.
NY Queen #3 comes in next and it's none other than Honey Davenport, a well-known Queen to anyone familiar with NYC nightlife. Chipper and pleasant in her confessionals and overall just seems an enjoyable contestant.
The girls wonder whether there are any returning Queens, and summon Vanjie herself.
A'keria Chanel Davenport comes in with a lengthy entrance – "D A V E N P O R – and I'm the fucking T". A'keria hails from Dallas, and is a cousin to Honey, though they likely have never met one another. A'keria oozes charisma in her entrance and confessional.
Yvie Oddly, a kooky Queen from Denver, Colorado comes in next with a snake-ish outfit and a boa on a hot wheels car. She calls herself a conceptual Queen, though the concept behind her look here isn't all that clear. Yvie seems like a lot of fun, and is sure to be one of the most creative girls this season.
Silky Nutmeg Ganache is tenth in, carrying on the legacy of forced catchphrases with a "munch, munch, crunch, crunch, Silky's here to the eat the lunch", "Ol' Silk got the Good Milk" AND "Attitude Check: Fuck You, Bitch" within her first minute on screen. It's a lot. But, for now we're chalking it up to nerves.
Brooke Lynn Hytes from Toronto, Canada though she now resides in Nashville, Tennessee mounties her way in with a Canadian flag to boot (that's a Canada joke). A former Miss Continental, some Queens are clearly shaken by this, though Scarlet pretends she's unbothered.
Next up is Ariel Versace, in a Lizzie McGuire Movie inspired outfit complete with "This is what dreams are made of". She gets a lot of screentime, but it's difficult to remember anything especially notable about Ariel as she spends most of the episode complaining about Silky.
Next up is Ra'jah Davenport O'Hara, sister to A'keria. She has cute interaction with A'keria. She loses both her earrings by the time she reaches the table. Amazing.
Kahanna Montrese is next up, daughter of lip synch legend of Coco Montrese. She looks to be the trade of the season.
Soju is the fifth and final Queen and comes in with nunchucks. Soju is a Youtuber known for her interviews and reviews of Drag Race. Ariel ironically tries to get under Soju's skin by calling her just an online celebrity and not a performer. Hmm…
Overall, the cast lacks the final polish of season 10, and they appear more timid and unsure too. Though they compensate by being incredibly loud. We don't blame them with how crazy the fandom can be.
Re-Enter Queens!
RuPaul announces a mini-challenge… a photoshoot! Last seen back on season 8. It's not Mike Ruiz, but Albert Sanchez (whatever happened to Mike Ruiz anyway?).
The Queens one by one enter a room set up with pictures of the past winners of Drag Race and All Stars (sans Tyra Sanchez), and each receives a former Queen to upstage. The Queens are the usual WeHo on-call Queens but we're especially delighted to see Ongina and Mariah (possible All Stars 5 cast members?)
Scarlet Envy – Raja
Shuga Cain – Jasmine Masters
Honey Davenport – Manila Luzon
Ra'jah O'Hara – Ginger Minj
Vanessa Vanjie Mateo – Farrah Moan
Brooke Lynn Hytes – Ongina
Plastique Tiara – Sonique
Soju – Victoria "Porkchop" Parker
Ariel Versace – Eureka
Nina West – Raven
Mercedes Iman Diamond – Delta Work
Kahanna Montrese – Derrick Barry
A'keria Chanel Davenport – Kimora Blac
Silky Nutmeg Ganache – Mariah Balenciaga
Yvie Oddly – Adore Delano
Silky wins, and it's dedraggin' time. The Queens are thirsty this season with Vanjie and Brooke especially hungry for each other. 90s choker-wearing Soju is into Scarlet.
More Alumni Material Girls
The first mini-challenge is for each girl to use a box of materials inspired by former RuGirls. Hilariously, not the ones we just saw. Silky gets to pick as mini-challenge winner. Incoming second list.
Silky Nutmeg Ganache – Peppermint
Scarlet Envy – Violet Chachki
A'keria Chanel Davenport – Bebe Zahara Benet
Yvie Oddly – Alaska
Soju – Kim Chi
Ariel Versace – Laganja Estranja
Brooke Lynn Hytes – Detox
Kahanna Montrese – Katya
Ra'jah O'Hara – Kennedy Davenport
Mercedes Iman Diamond – Bianca del Rio
Nina West – Thorgy Thor
Shuga Cain – Sharon Needles
Plastique Tiara – Sasha Velour
Honey Davenport – BenDeLaCreme
Vanessa Vanjie Mateo – Valentina
The challenge is to use the materials and reinterpret them in their own style.
Silky has done her level best to be fair, with many girls matching similar aesthetics. However, there are some obviously difficult ones especially Honey Davenport, BenDeLaCreme's 1960s camp aesthetic is hard to not make matronly and for someone as modern as Honey, she's definitely off to the worst position.
The funniest moment is Nina finding Thorgy's Stevie Nicks tambourine from her rigged All Stars 3 elimination in the box. Now THAT'S shade.
The girls get down to business, the spirit of Shangela channels through Vanjie who brings the return of Bertha which Shangela named her sewing machine back on season 3.
Now, it's time for the Silky show.
Silky talks, a lot, and its' clearly starting to grate on the Queens. It's not clear if this is natural Silky, or if she's playing extra to get that TV time. When guest judge Miley Cyrus enters the workroom disguised as a crew member, Silky recognises her and throws her onto her back. It's very much a lot from one person. The show ends up completely dominated by Silky Ganache, and not in a good way.
Queens on the Runway
Ru stuns on the runway with a different kind of silhouette, and the runway begins complete with a new RuBop.
Plastique is beautiful, wonderful construction and overall aesthetic. There's no need to protect the fanservice Queen this year which has had in seasons past. We'll also note Plastique never brings up Alyssa at all this episode. She's her own person, and for once we might see a Queen like Plastique battling through without a production helping hand.
Next is Brooke in a latex look, very bold and striking with neon colours. The best of the night.
Honey is well put together, but with BenDeLaCreme's print, it's hard to not look matronly. She's basically done as good as she could do. Safe.
Ariel Versace is good if a little predictable in a marijuana inspired look.
Yvie Oddly is in a plastique fantastique look which is not quite as impressive as Manila's last-minute plastic dress last week, so overall it's just okay.
A'keria's look is terrific. A bit of pageant, a bit of punk rock with an amazing wig to top it off.
Scarlet is excellent and shows her skill as a fashion student.
Soju is in an unfortunate look, especially considering she has one of the best boxes. It's badly put together in knots. She also declares that she has a cyst on her lower body that's making things difficult.
Ra'jah is in a cute disco campy look that's not particularly notable.
Mercedes is simple, but more or less passable especially with her difficult Bianca box.
Shuga's got a good box, but we get none of that really in her look. But it's well made.
Vanjie is not going home first this time in a gorgeous well-made look, and that classic glitter-chest we've been seeing a lot of recently.
Silky's also in a pretty safe number and her runway showcase with peppermints is a nice touch. Certainly middle of the pack.
Nina is perhaps the most unfortunate of the night, especially for someone who auditioned nine times. She looks like she's covered in bleeding nipples.
Kahanna ends up in an incredibly poorly made look, completed with her own bra. It's not the T.
The highs and lows are listed by the judges:
Winner: Brooke Lynn Hytes
Highs: Plastique Tiara, A'keria Chanel Davenport, Vanessa Vanjie Mateo
Lows: Nina West, Mercedes Iman Diamond
Bottom 2: Soju, Kahanna Montrese
Brooke receives a trip to Paris, this season's got BUDGET.
It's Kahanna vs Vanjie, and the song is "Best of Both Worlds". After all, Hannah Montana is basically a gateway drug for Drag.
It's time for Kahanna to live up to Coco's legacy. She does… all right.
Kahanna has a lot of dance moves up her belt and uses them all, but there's no real special connection to the song that the top tier lip synchers of the show like Coco, Jujubee, Darienne had. We put Kahanna's lip sync as "excellent", albeit not "legendary". But she turns it .
Soju is out of her element, doesn't seem to know all of the words. Especially bad as her make up accentuates her lips. She's trapped by her dress as well, and overall it's a clear win for Kahanna who is declared the winner. Soju sadly leaves, but someone's got to go first.
Wrap-Up
The episode is jam-packed with fifteen Queens, not everyone gets screen-time and we barely got to know some of the Queens. Especially as it truly is the Silky show. Unbalanced editing in her favour really skewed the feeling of the first episode, and leaves us feeling a bit satisfied.
The show might be getting a little too meta for its own good. We got a total of 45 Queens mentioned and referenced this episode, and that's a lot. Including Miley's disguise segments, the DragCon advertisements. It's really full and sometimes we can't catch our bearings. We suspect it'll improve when some of the Queens start filtering out.
Overall, it's an exciting start to a fresh batch of Queens who hopefully have more personality than we saw with it all hidden behind Silky Ganache.
7/10
The Authentic Gay's Judgement
This season, we're introducing a new segment.
After the suspicious judgements of All Stars 4, we're taking matters into our own hands and judging for ourselves.
Ironically, we agree with the winner. Brooke nailed the challenge and gave us a stunning look. We also agree Plastique and A'keria were high. However, we substituted Vanjie out for Scarlet. Vanjie was good but not next level, and we feel it had more to do with storyline and redemption that anything else.
We also disagree Mercedes deserved a low, as far as we concerned, it was a safe attempt and she was bound by bad materials. Even Bianca del Rio often wore the same garment in different fabrics.
It was very difficult to pick out of Kahanna, Nina and Soju the bottom 2. Each of their outfits were complete failures in different ways. Overall, Soju's probably looks the least offensive, but the construction – those knots? The tulle? In the words of Madame LaQueer… ewwwwwwwwwwww!
Nina looked foul, and was more or less saved out of pity and storyline from the Judges and Kahanna was just so appallingly basic, and barely put the effort. We would have awarded a rare bottom 3 this time around.
What are your thoughts?
See you next week!
This article was written by our fabulous contributing editor, James Pearbutter.
All images courtesy of VH1.