RuPaul's Drag Race Season 11 Ep 8: Snatch Game at Sea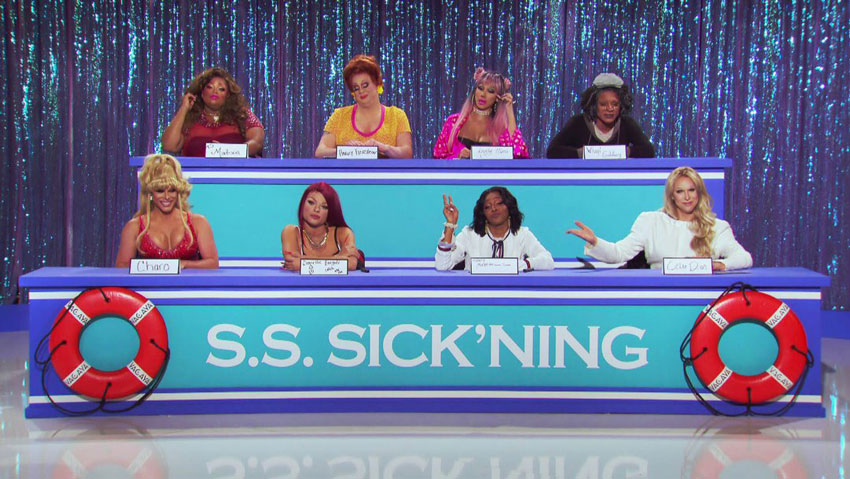 The Less Than Perfect Snatch
It's that time of the season where we think it's going to be a great episode, but it's never as good as we think it's going to be.

That's right. It's Snatch Game!
Ra'Jah Depart'Jah

As usual with this season, no time is wasted on the eliminated Queen and we get straight into some drama.
It's Yvie (shock!) vs. Silky today who carry on their argument over Yvie yelling how everyone is untalented, especially Silky. Surprisingly, Silky shuts down and doesn't really engage with it. Yvie decides she'll give out no more advice if people aren't asking (They're not, and she doesn't).

Yvie seems to think Truth and Kindness are opposites which is a bit of a worry.
Where's Jessica?

Today's mini-challenge is a homage to Ru's Rugu Guru Book, and the girls need to sell their own biographies.

Today's mini-challenge is a homage to Ru's Rugu Guru Book, and the girls need to sell their own biographies.

A'keria's quick-drag is prettier than a lot of girls after multiple hours.

A'keria's book is called "Bend Over – Girl, Show Me What you're Working With". Where A'keria helps you assess if you're a cheap ho or not.

Vanessa's is "Miss Vanjie, Walking Backwards into Fame, All You Bitches". Vanjie's schtick really making us question if she's got anything else.

Plastique's is "Personality: Not Everybody has One". Hoping to get her a storyline win, but that was last week and Ru ignores this pretty funny attempt.

Shuga's is "Booty Food: Confidence from the Kitchen to the Bedroom". It cute.

Yvie's is "Odd-acity, Release your Meek and Get Your Freak On". I hate this personally. It feels a bit alternative high school girl to me.

Nina: The Broad Broad: Tips and Tricks From the Football Field to the Streets of Paris". What is with these long titles. It's okay, like everyone else so far, it's expected and a bit meh. We kind of expect more from Nina from these creative challenges.

Brooke's is "Bitter to Glitter – The Story of How Cross Dressing Changed My Life". A new level of non-creative for this challenge. She also really looks like Katya here.

Silky's is "Eat it: The Chronicles of the Buffet". Again typical, but the phrasing is funny, and the delivery is hilarious. Fair winner, but out of a bad crop (episode theme incoming).

Morgan McMichael shows up to deliver the prize ($1000 Postmates voucher – pretty damn good), and does her famous ping-pong-pop out of her butt trick.

We would have adored seeing Jessica Wild, but we do love some Scottish Scandal.

All At Sea

It's Snatch Game at Sea! Which means regular Snatch Game, but Ru's ina captain's outfit. This is the result of a new voyage sponsor.

Miss Chuck and Al died a few years back fyi.

Master of Snatch Game and season 5 winner, Jinkx Monsoon pops up for the walkthrough to deliver some helpful tips which are surprisingly helpful.

Brooke is especially nervous to do comedy, Jinkx enquires if Plastique is being repetivie and whether Vanjie will have enough jokes.She also gets along with Silky, and is excited for Nina. Shuga does not exist apparently.

The Snatch Game players are Tony Hale and Clea DuVall. It's hard to tell if Tony Hale hates being here, or if he's playing a bit.

Nevertheless, this years crop features some accidental double ups, or rather – everyone's doubled up.

Silky Nutmeg Ganache: TS Madison
Nina West: Harvey Fierstein and Jo Anne Worley
Plastique Tiara: The Lovely Mimi
Yvie Oddly: Whoopi GoldbergShuga Cain: Charo
Vanessa Vanjie Mateo: Danielle Bregoli (Cash Me Ousside Girl)
A'keria C Davenport: Tiffany Haddish
Brooke Lynn Hytes: Celine Dion
Silky, A'keria, Nina, Plastique, Brooke and Vanjie have all picked characters that are barely stretches for them.
Clever strategy, or lazy move? You decide.

Shuga puts herls out of her box with Charo, as does Yvie with Whoopi.

Silky starts in the hot seat (top left), and manages to be consistently funny and has a lot of banter with Ru which Ru really enjoys.
She lands in some solid jokes that are very TS Madison (who incidentally praised the performance). But, Silky and TS are really two peas in a pod.
There's a particularly good "athlete's foot on my hand" line from Silky.

Nina West is okay. She goes for "gay jokes in a dry voice" which are less than clever and doesn't do the iconic Harvey justice.
She takes a risk and tries to do a Bob and switches to Jo Anne Worley half way through. Clever as Worley was an original Match Game character,
Nina pulls off several trademark shrieks. It's a bold strategy that doesn't really pay off. Unlike Bob who was running laps around the rest of the cast, her double Carol Channing/Uzo Aduba felt like a victory lap, not to mention the transition between them is in itself a joke. Jo Anne and Harvey are really in the same body of work, and it's not as funny. Nina's jokes are also really only half there, so it feels more like she ran out of jokes with two half-baked characters. We would have suggested she committed to one especially as this is her challenge to lose.

Plastique does what we saw back in RuKanda and it's nowhere near as fresh. That said, it's better than Gia's dreadful Jenny Bui. There's not much to say, it's okay. She tries to get a blow against Silky, but is blasted backwards with the return.

Yvie, oh Yvie. She didn't do it. Whoopi is a brilliant choice – after all, she's the Hollywood Squares girl. But Yvie doesn't know Whoopi well, she knows "of" Whoopi, but she misses the heart totally and goes for simply surface level references. That she's won a lot of awards and is a weed advocate. Whoopi is an eccentric with so many specific mannerisms and quirks, she's a real character you can sink your teeth into, and boy does Yvie sink. There's a bizarre dirty feet-Color Purple moment. This was just wrong. Worst of the night by a mile.

Shuga's Charo is good. We've seen this before with Yara Sofia. Shuga's is slightly more nuanced, but less funny than Yara's. But the transformation is great, she sells her jokes well, she's likeable and this might be Shuga's best week so far. That said, it's also a weak Snatch Game overall.

Vanjie is awful. She's really just Vanessa again (and as her character isn't so different, it's worrying that this is so clear). She repeats the jokes that she already told Ru that she would do about confusing Ru for Dr Phil. It's bland and painful, and if other contestants weren't even worse. This is a worthy bottom.

A'keria does well, she's researched Tiffany very well with many lines and quotes. She makes Ru laugh the most too. She does much better than Monique on All Stars 4, and overall is solid. That said, it's not belly-laughs or anything.

Brooke Lynn Hytes is a hot mess. She clearly doesn't know much about Celine Dion who is already a bad choice for Snatch Game. Two Titanic jokes in a row, when Celine is a bit tangential. She may have sung "My Heart Will Go On", but where's the joke in that? This is one of the worst Snatch Games of all time, and a deserved bottom.

Sea-Queens in Sequins

Ru stuns in a swimsuit on the runway, and the sequin runway returns. We assume to help Vanessa save some cash me ousside. How bou dat?

Silky is in another pretty, but expect pageant gown.

A'keria is a in lovely edited zebra gown, with a quirky little tail piece.

Nina looks perhaps the best she has in the runway in an Ohio flag outfit. But, it's a simple knee length stretch dress with a coat.
The fact that the dress has a t-shirt collar is also a choice.

Vanessa is in an okay in yet another swimsuit, but clock that bodysuit underneath peeking and that unhemmed cape.

Plastique is out of luck this week. She's wearing a dress with the splash collar that Scarlet Envy wore earlier in the season, which Natalia P'liacam already perfected on Drag Race Thailand.

Brooke makes up for her Snatch Game with a gorgeously smooth reveal. The outfit is very Trinity-the-Tuck/Morgan-Mc-Michaels, but the presentation is effective with many stunts and tricks.
We hope this is not a trend though. If every Queen bucks on the runway, it's going to get tiring.

Shuga Cain stuns tonight in a beautiful sequined dress and wins the runway. RuPaul even giving her special accolades for it.

Silky Ganache wins the challenge which is fair enough. Though Shuga went more outside the box and it could have gone to her, Silky was probably funnier.

That said, this Snatch Game was overall weak with poor competition, so this is a very soft win for Silky.

Vanjie is put into the bottom three, but it's Yvie and Brooke who deservedly hit the bottom two. Brooke's presentation wasn't enough.
Demi's Rudemption

It's rudemption time for Demi Lovato, after that awful double-sashay worthy performance by season 7's Pearl and Miss Fame. Tonight it's "Sorry, Not Sorry". It's an athletic lip sync for the ages with Brooke and Yvie pulling out all the stops.

This is likely to be a historic one, and we recommend you go watch it seven times if you haven't already.

It ends in a double shante, which is well deserved especially against the ones we've had (Aquaria vs Eureka, Eureka vs Kameron, Ben vs Darienne etc).
Overall, season 11 continues to be very okayish.

5/10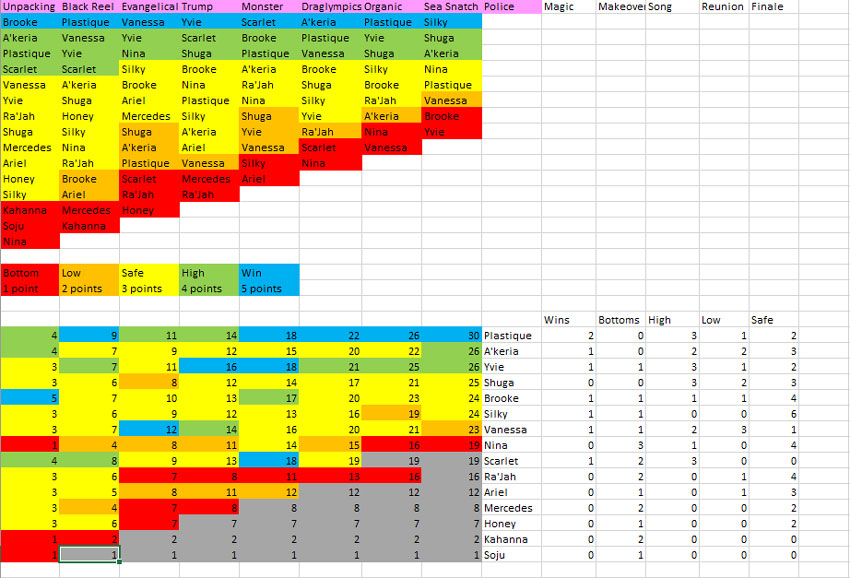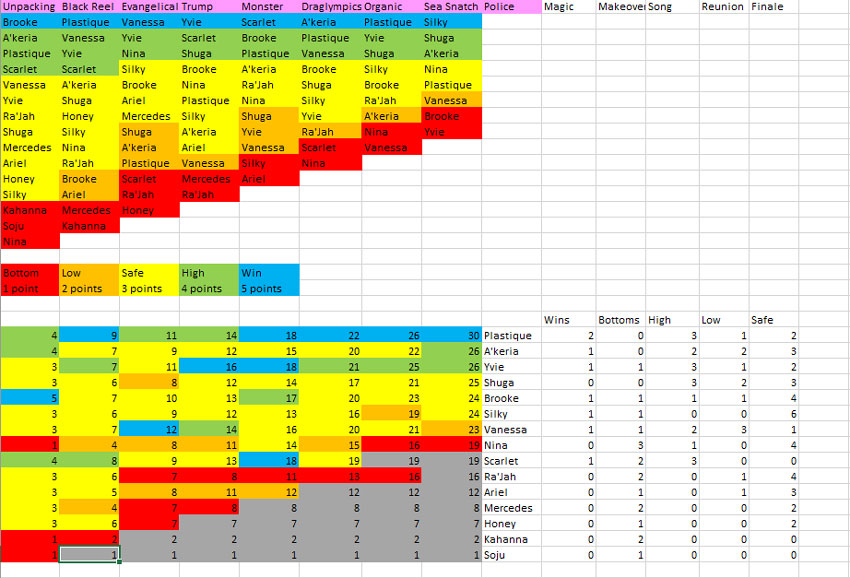 This article was written by our fabulous contributing editor, James Pearbutter.
All images courtesy of VH1.