Fitbit Blaze vs Charge 2 – Key Differences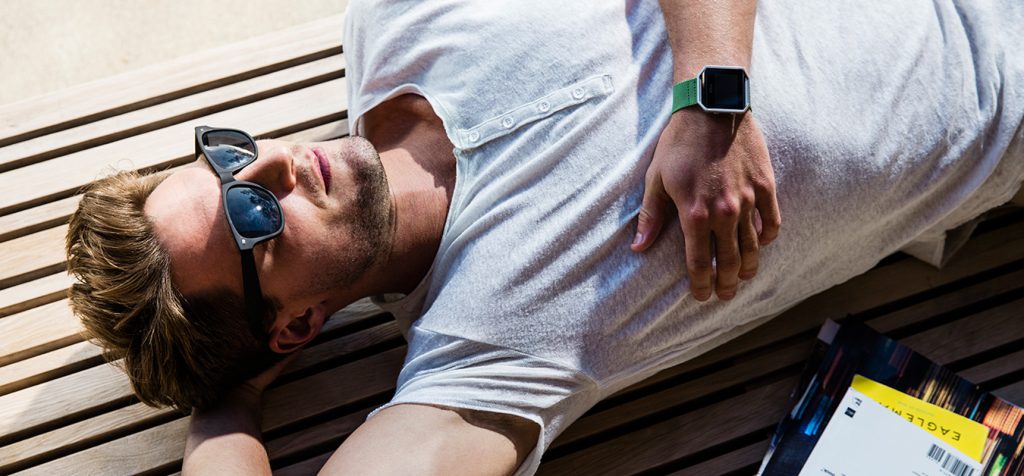 Whether you love to exercise or are looking for a new way to motivate yourself, getting a fitness tracker may be the way to go. These multi-function devices allow you to track your progress in fun and inventive ways. You can even hook up with your friends online to challenge each other to reach new fitness goals. With increasingly beautiful and minimalist design, protected encasings that allow for water exposure, and more and more fitness-tracking abilities added every year, fitness bands are considered a "must-have" device among the health and wellness community. Perhaps the biggest player in the activity tracker industry is Fitbit.
The company's business is all about fitness technology, which is why they are able to produce such outstanding items like the Fitbit Blaze and the Fitbit Charge 2. They have truly built a brand by engaging fitness lovers in fun and intuitive ways, using technology to make goal tracking and measurement even more accessible. While the Fitbit Blaze and the Fitbit Charge 2 are among some of the brand's most popular models, the company does make other designs and styles. However, their Charge line is an incredibly popular fitness band while the Blaze is a recognized leader in the fitness watch category.
Like other models from Fitbit, the Charge 2 and the Blaze share many features in common. No matter which one you choose, you will likely be pleased with the functionality, durability and performance. That said, the Blaze and the Charge 2 are not identical. They certainly do not look alike, and the Blaze has additional functionality that might appeal to you if you've been interested in smart watches. By taking a closer look at both products, you'll be able to decide which one is best for your lifestyle.
Check it out on Amazon: Fitbit Blaze
Check it out on Amazon: Fitbit Charge 2


What Do the Fitbit Blaze and the Charge 2 Have in Common?
Many features are common to each of these fitness trackers:
1. Their most basic functionality includes a pedometer that counts your steps, the distance you've traveled and how many calories you've burned.
2. Each activity tracker will further tell you how many flights of stairs you've climbed and will measure the duration and quality of your sleep.
3. Both devices are equipped with Fitbit's SmartTrack technology, which automatically recognizes and records your exercise sessions. Necessary data like heart rate history, calories burned and the duration of your workout are stored so that you can track your progress.
4. Additionally, both devices can track which type of activity you're doing, like running or playing soccer, to provide you with even more stats.
5. Whichever device you choose, you'll also get reminders to move. Your fitness band will encourage you to take 250 steps per hour. When you've been inactive for too long, it will send you a reminder to get going.
6. Fitbit's PurePulse Heart Rate technology continually measures your pulse throughout the day, no matter what you're doing. This functionality also figures into the Cardio Fitness Level feature, which helps you gain a clearer understanding of your overall health.
7. Both the Blaze and the Charge 2 can be connected to your smart phone to give you in-workout data like pace and duration.
8. The GPS on your phone can be connected to the fitness band to tell you where you are and where you've been.
9. Because your smart phone can be wirelessly connected to your fitness watch, you'll also receive call and text notifications along with calendar alerts.
10. When it's time to relax, you'll appreciate that both of these devices can lead you in a customized breathing session. In fact, taking a few moments to focus on your breath can be a major stress reliever.
11. Your Fitbit may remind you to take a bit of time to breathe at various points throughout the day when your heart beat increases. Accordingly, each breathing session may be a bit different, depending upon what your body needs at the time.
How Are the Fitbit Blaze and the Fitbit Charge 2 Different?
While the Blaze and the Charge 2 have many of the same functionalities, they certainly are not identical:
The Charge 2 has a more slender profile and a smaller screen while the Blaze looks more like a traditional watch. This not only gives it a much larger screen, but also it provides the device with additional functionality.
The Blaze is Bluetooth enabled, which makes greater integration with a smart phone possible.
One feature on the Blaze that will particularly appeal to fitness fanatics is the ability to control the music on your phone with your Fitbit. If music is an integral part of your workouts, or any other component of your day, then you will definitely appreciate this feature. The Blaze is compatible with iPhone, Android and Windows 10 smart phones. Once you have followed the simple steps to pair your devices, you can use your Fitbit to pause or skip songs that are playing on your phone. You'll even be able to adjust the volume without fumbling for your phone during your workout. All you have to do is swipe down on the Blaze's clock screen or hold down the top button to see more about the track that's playing. The easy-to-understand icons make managing your music a snap.
Both the Blaze and the Charge 2 can help you stay connected by providing you with call and text notifications. However, the Blaze takes it one step further by enabling push notifications from all of your favorite apps. This means that you can keep up-to-date on Facebook and other social media platforms without having to glance at your phone. Each time you receive a push notification from a connected app on your smart phone, your fitness device will vibrate and a message will briefly appear on the screen. If you miss the visual notification, just swipe up on the clock screen. You'll be able to view the notification and delete it by swiping right.
One of the other major differences between the two devices is the on-screen workouts that the Blaze offers. This functionality is enabled by the company's Fitstar technology. It provides three guided workouts that can comprise your entire exercise session or give you a little variety in the midst of your regular routine. The three workouts include a warm up, a seven-minute workout and a 10-minute core session. Fitstar guides you with the exercises to do. You'll be notified of when to start or stop a certain exercise by a vibration. This app makes it easy to get a quick workout with a minimum of fuss.

How Much Do They Cost?
This is one of the main points on which the Blaze and the Charge 2 differ. With its increased functionality, the Blaze tends to cost more. Most retailers offer it for between $180 and $250. By contrast, the Charge 2 generally is available for between $135 and $150. This means that the Blaze typically is about $50 more expensive than the Charge 2. Considering the broader functionality, this increased expense may very well be worthwhile to you. That is especially true if you have been considering the purchase of both a smart watch and a fitness tracking device.
With the Blaze, you basically get two devices in one. That is a great deal less expensive than having to purchase two separate devices. However, if you truly are just interested in a reliable piece of technology that will help you stay on top of and actually reach your fitness goals, then you could easily save $50 by going with the Charge 2. This device is among Fitbit's most popular for very good reason. It is easy to use, has all of the functionality you could ask for from a fitness device and is affordable to boot. The reality is that Fitbit makes a good product. You could choose either one and be quite satisfied with it for the next few years.
Considering Appearance
Initially, it may not seem that the appearance of your Fitbit should be a main consideration before you purchase. However, your fitness tracker will give you the best performance the more you wear it. That means not only sporting it while you are working out, but also while you are in an important client meeting, being introduced to your significant other's parents for the first time and attending that gala fundraiser. Can one device look good at all of these occasions?
Fortunately, both the Blaze and the Charge 2 are designed to be sleek and attractive. They have simple, modern outlines that most people will be attracted to. It is vital to note that the Charge 2 is altogether sleeker and less obtrusive than the Blaze because of its smaller screen size. Many people who use the Charge 2 appreciate how slender it is, especially because it is easier to sleep while wearing it. It simply does not seem to take as much time to acclimate to wearing it to bed as it does the slightly bulkier Blaze. The same holds true through a wide range of daily activities. The Charge 2 is less noticeable during workouts and on the job. In fact, many users seem to forget they are even wearing the device with surprising speed. That is, until they receive a notification with a reminder to move or congratulations on meeting a goal.
Still, the Blaze is by no means unattractive. Its modernistic sensibilities are undeniable, and it is hardly a bulky, old-fashioned wristwatch. Despite its slightly increased size, it is a lightweight device. Though users may need a bit more time to get used to having it on their wrist 24 hours a day, it is not uncomfortable or a hindrance to movement. Both devices are available in a wide range of colors and have detachable bands. This enables you to acquire numerous bands of various styles and colors.
The Charge 2 has a few more color options available, which is fitting considering how popular it is. After your initial purchase, you can choose from an array of accessories. The Classic Band is available in numerous colors for the Charge 2. You also may want to try the Sport Band or the Leather Band for a more sophisticated look. The Blaze has bands, including frames for the device itself, in materials ranging from nylon to leather. In addition, you can pick up a metal band that closely resembles a traditional watch band. Available in silver metal, this band will satisfy your requirements for a fitness device that's ready for wear in the office.
Which One Is Right For You?
Both the Blaze and the Charge 2 are high-quality, worthy entries in the fitness tracker industry. Your choice really comes down to personal preference. If you want a device that is solely focused on fitness, then the Charge 2 is the way to go. Its unobtrusive styling and wide range of functions will make it a welcome companion to your daily routine.
That's because you will get all of the capabilities of an activity tracker combined with some basic smart watch functionality. Instead of buying two devices, you will only have to buy one. Keep in mind that the Blaze has a considerably larger screen. This makes for better visibility and readability, which may be valuable to you even if you aren't particularly interested in smart watches. However, other people will appreciate the sleeker profile on the Charge 2 for its unobtrusiveness. Either model is a reliable choice that you are certain to use and enjoy for many years to come.
Check it out on Amazon: Fitbit Blaze
Check it out on Amazon: Fitbit Charge 2
Photo Credits: Fitbit.com