Palm Springs Like a Local: The Ultimate Gay Travel Guide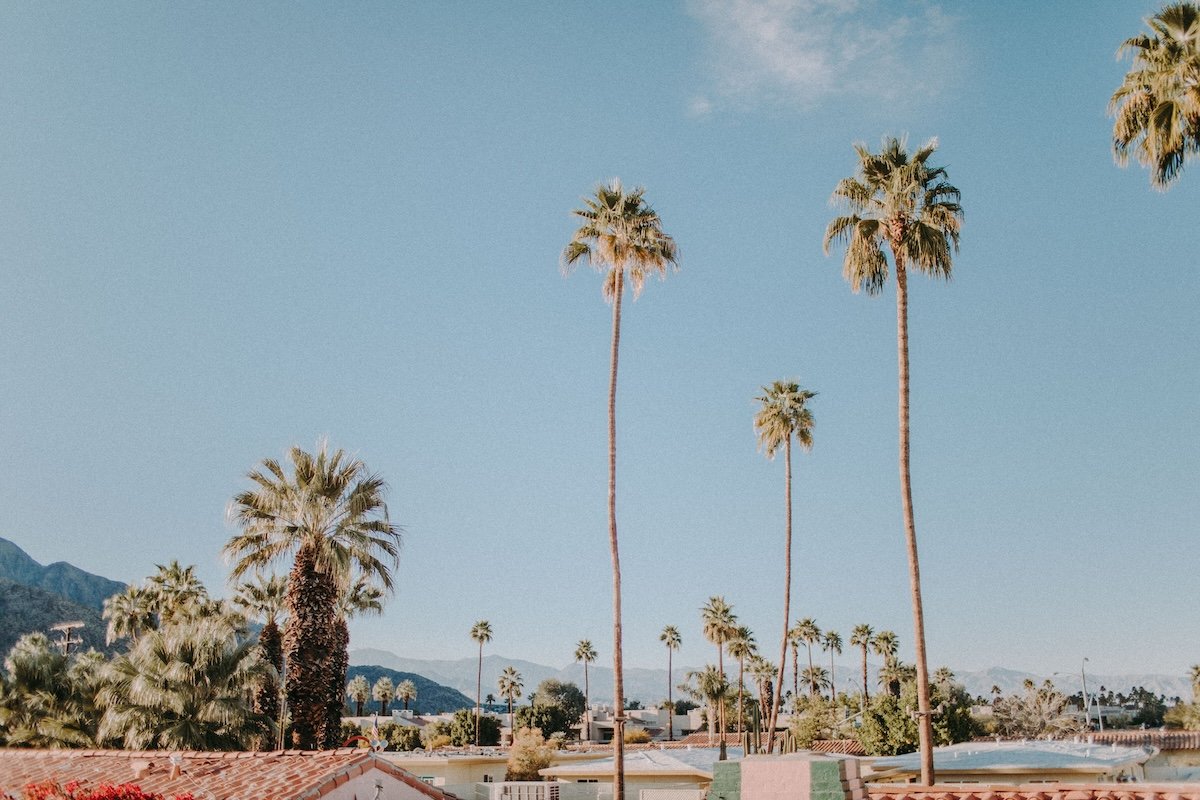 There's so much to do in so little time in Palm Springs, and we know this can be a blessing and a curse. Not only that, most of the destinations that gays like to travel to are the ones most know of… and while that's not necessarily a bad thing (if it ain't broke, don't fix it!). 
However, having scoured the area many times, and listened closely to the advice of the locals, we'd like to share some tips on where to stay and what to do in Palm Springs that are a bit off the beaten path. Or at least not as well known as other spots. Let's jump in!
Where to Stay
There are many gay, clothing-optional hotels in the area. Warm Sands is a gay hotel mecca. However, if you head just south of that, off Mesquite Ave you'll find a lovely little architectural gem called the Triangle Inn.
The Triangle Inn is a cozy spot with just nine rooms, most of them with a full kitchen and dining area. This place is all about living your best life in peace and quiet. 
Enjoy the pool, the jacuzzi, and the laid back conversation with folks who tend to come from all parts of the world. They've even got bikes you can rent and yoga classes to zen out during your stay.
If you're staying somewhere else but just want a pool pass, head on over to the Ace Hotel. Picture this: DJs spinning tunes by the pool, good music, good food, and good vibes. If you're looking for a more chill scene, they've got a second, smaller pool over at the commune event space.
Where to Go Out
Palm Springs boasts a sizzling hot gay bar scene that's as vibrant as the desert sun! Whether you're looking to kick back with a cold one or strut your stuff on the dance floor, this city has it all. 
And when you're after that relaxed, neighborhood vibe, Roost is the place to be.
PS Air Bar, as a speakeasy feel and is an aeronautical themed bar. The focus is on craft cocktails, with fresh juices and syrups that are prepared in-house. This spot has friendly people, both patrons and staff, and can get quite full on weekends. 
V Lounge, has swanky style and a nice variety of wines and cocktails to please anyone. It's a bar with an atmosphere that is definitely classic Palm Springs. Their famous karaoke night is every Wednesday night.
Finally, there's the newest kid on the block, Play Lounge and Cafe, which opened early October. It's open from 6am-10pm every day, and they serve breakfast, lunch, and dinner. They have a bar, an outdoor patio, and are quickly getting known for their community-building social events which they have almost on a daily basis.
PS Drag Brunch
While there are so many wonderful drag queen-led events in the desert, we chose to mention PS Drag Brunch. You'll get your own table, and be served with bottomless mimosas, a deluxe 3-course brunch with a dessert. You'll have a front-row seat to witness the fabulousness of the PS Drag Brunch which always features several top-notch, hilarious drag queens.
Hikes
Most people who have been to Palm Springs know about the hiking trails Indian Canyon and Tahquitz Canyon. However, we'd like to mention two other trails that are a bit off the beaten track, on the south end of Palm Springs, and:  Frank Bogert Trail and Dunn Road Access Trail.
You can take your dogs out & enjoy the wonderful desert scenery, and sometimes not see another soul. There is only concern when it's mating season for the sheep horn, so just be mindful not to disturb them. It's quite a beautiful area to explore.
Sports & Self-care
Just east of downtown, Ruth Hardy Park in Palm Springs is a true gem for both locals and visitors alike. Tennis enthusiasts can enjoy well-maintained courts for a match, while pet owners will love the dedicated dog park area where they can play and socialize.
A few self-care suggestions for your stay include:  Palm Springs Men's Wellness Retreat, a local men-for-men massage salon that opened earlier this year; and Palm Springs Fine Men Salon, a haven for all men's hair and grooming services. The info for these and many more can be found on Gay Wellness – Palm Springs directory page, a site that has emerged over the last couple years as the hub and resource for many types of wellness services for the gay community.