Grindr Lite Launches for Emerging Markets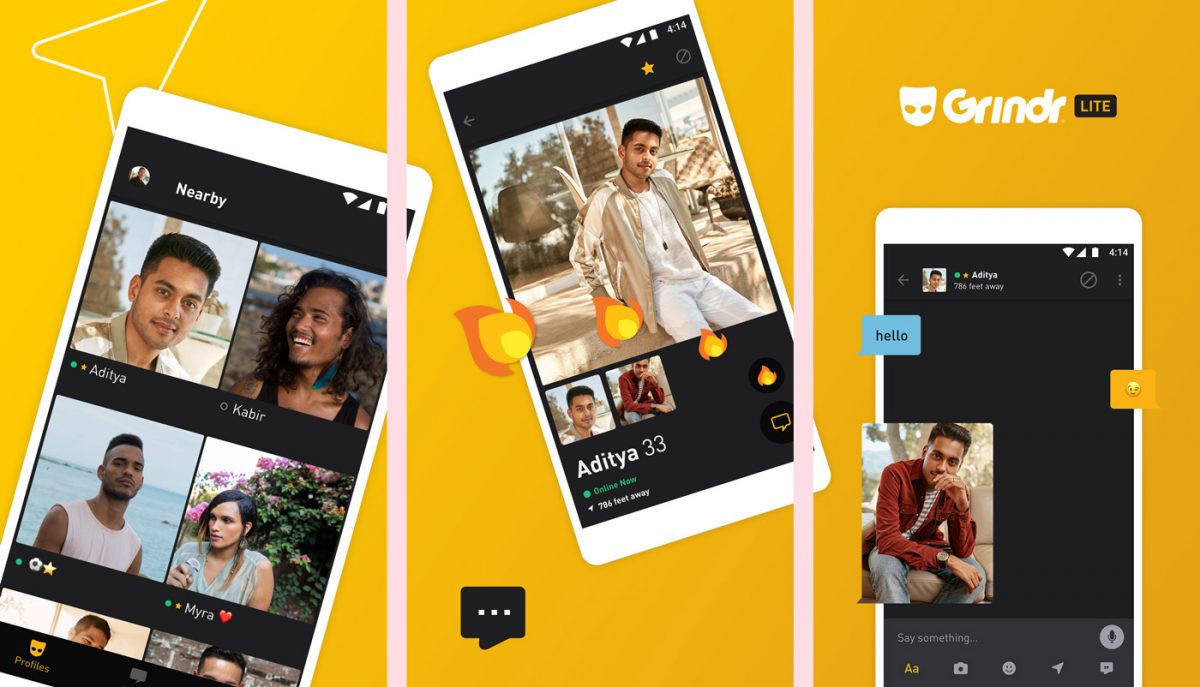 Intended for emerging regions around the world, Grindr Lite was built specifically for users who want the core Grindr experience, but might not be able to access it because of their mobile device, or are limited by a 2G plan. Lite will keep the core features of the app, including all safety and security aspects, while leaving out some of the other bells and whistles.
In regions of the world with limited queer visibility and public life, more reliable access to Grindr also means greater access to the LGBTQ community that they might not have otherwise. In addition, access to the health and safety services provided by Grindr for Equality, which include in-app HIV testing reminders, and a sexual health resource center available in more than 70 languages.
We've recently sat down with Grindr's Director of Grindr for Equality, Jack Harrison-Quintana for a Q&A on their new product launch – Grindr Lite. Get the full scoop below.
What exactly is Grindr Lite? How does it work?
Grindr Lite is a streamlined version of the Grindr App. It has all of the fundamental features such as the Grindr cascade, profile and picture browsing, and in-app messaging, and uses less bandwidth making it ideal for certain users. In addition, safety and security aspects of the application are available to Grindr Lite users, including features such as PIN and Discreet App Icon, which provides users the ability to disguise the famous icon on their phone as something less conspicuous. If they are located in countries with limited LGBTQ rights, the app will also not display users' distance as a safety measure.
What does Grindr Lite mean for new or current users in emerging markets?
This is a streamlined version of the Grindr App for users in emerging markets who want the core Grindr experience but may be prevented due to an older or slower device, or a limited data plan. Grindr Lite uses less data, takes up less storage space, and typically loads faster than the main app, making it more accessible for users located in emerging markets.
Did the inspiration for Grindr Lite stem from user feedback?
Yes, we are always trying to enhance user experience and identify more ways for the LGBTQ community to connect across the globe. We saw a need for a more simplified version of the app for those who may not have access to newer devices or a large data plan. Unless users are looking for live chat, Grindr Lite requires low data usage.
Is Grindr Lite available in all markets?
Grindr Lite is now available in the following countries: Malaysia, India, Vietnam, Angola, Armenia, Azerbaijan, Bahamas, Bahrain, Bangladesh, Benin, Bermuda, Botswana, Burkina Faso, Cambodia, Cameroon, Cape Verde, Ivory Coast, Fiji, Cabon, Georgia, Ghana, Guinea-Bissau, Haiti, Jamaica, Jordan, Kazakhstan, Kenya, Kyrgyzstan, Laos, Mali, Mauritius, Morocco, Mozambique, Myanmar, Namibia, Nepal, Niger, Papua New Guinea, Rwanda, Senegal, Solomon Islands, Sri Lanka, Sudan Tajikistan, Togo, Trinidad & Tobago, Tunisia, Turkmenistan, Uzbekistan, Zambia, and Zimbabwe. Additional countries are expected to be added soon.
Why do these users now have better access to health and safety information than they would have otherwise?
For those in countries where it's unsafe to be queer or where LGBTQ resources are difficult to come by, Grindr Lite also provides greater access to the health and safety information and resource maintained by Grindr for Equality, Grindr's global advocacy platform for LGBTQ rights, which include in-app HIV testing reminders, India's first-ever online LGBTQ help tool, and a Sexual Health Resource Center that is available in more than 70 languages.
How does Grindr Lite fit into Grindr/G4E's broader mission?
This is yet another step in Grindr and G4E's mission to empower and connect the LGBTQ community worldwide. Grindr Lite helps connect people with less bandwidth in emerging regions that they may not be able to otherwise. In these regions where there may be limited queer visibility and public life, access to Grindr also means greater access to an gay, bi, and trans social network, allowing users to establish connections and a greater sense of community.
What other efforts is G4E doing to help support the LGBTQ community in regions where it is unsafe to be queer?
G4E and Grindr recently released a Holistic Security Guide to promote safety for users around the globe. The Guide covers: 1) digital security; 2) personal safety; and 3) emotional well-being, and was developed in partnership with LGBTQ activists and online safety advocates around the world, such as Article 19, and it is available in eight languages – English, Spanish, French, Arabic, Russian, Nigerian Pidgin, Swahili, and Bahasa Indonesia.
In recent years G4E has provided grants to organizations and activists providing direct services and advocacy to the LGBTQ communities throughout the Middle East and North Africa region. Over the past five years, G4E has established a deep commitment to the region. With ongoing repression and marginalization of LGBTQ groups in the region, reliance on the digital world to safely communicate has become fundamental for many, yet this realm can still leave community members exposed and threatened. G4E remains dedicated to increasing the safety and security of LGBTQ communities through outreach and by supporting local organizations.
Does Grindr offer any other product features aimed to help those in regions where it is illegal or unsafe for the LGBTQ community?
Grindr recently made its Discreet App Icon feature available to all Grindr users. This feature provides users with the option of replacing the Grindr app image on their phone with another symbol. It was developed to help protect users when there is the possibility that someone may look at their phone and recognize that they are LGBTQ. We first made the feature available in countries where gay, bi, and trans people are in the most danger, and more recently made it available globally because in some places – including the U.S. and Europe – we still see people being persecuted for being LGBTQ.
Grindr also recently rolled out new features for users in countries where the prevailing culture of homophobia, biphobia, and transphobia puts them at risk. Those new features included 1) the ability for users to "unsend" messages that they want to remove from the conversation; 2) expiring photos that give users the ability to have their personal photos disappear from a conversation as a protective measure; and 3) screenshot blocking for photos, chats, and profiles – this is an important feature for users to protect their identity when sharing content that could personally identify them in areas where it is illegal or unsafe to be LGBTQ.
What safety advice does Grindr have for users as it relates to COVID-19?
The health and safety of our users is a top priority for Grindr. We are advising users to follow guidelines provided by the CDC, WHO, and other relevant health bodies, and participate in social distancing as recommended by local authorities. We have published this information in the Grindr app to help users make the best informed decisions when interacting with others. Most importantly, we're advising our community to take care of themselves and heed guidelines as they're updated.
Physical isolation doesn't have to mean social isolation. We are proud that Grindr remains an open platform for our community to safely connect and thrive.