RuPaul's Drag Race All Stars Season 2, Ep 1: The "Crystal-Queer" Recap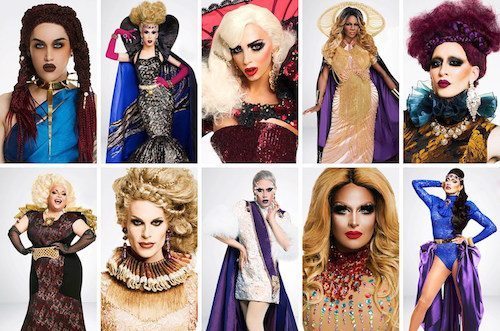 What's up, Squirrellfriends?!
This is your girl, Crystal, here to give you a breakdown each week of the latest RuPaul's Drag Race All Stars Season 2 episode!
Let's get right into the thick of it!
Katya: is the first lady to enter the workroom, looking like a one-eyed, Russian pirate-hooker, which (knowing Katya) is EXACTLY the look she was trying to achieve. She has always been a huge fan favorite (with a devoted following), and I'm excited to see her return!
Detox: next up we have Ms. Icunt herself, who was dressed just as you would expect (very 80's, serving executive realness, giving us ALL the neon-clad). I have to say, I'd much prefer to encounter Detox in drag than dressed as a boy. I was astounded at how out of place he looked in his confessionals.
Alyssa Edwards: she made the next entrance, looking spectacular in a black-stoned cape. Something appeared oddly different about her face, but I couldn't quite put my nail on what it was. As expected, you would have thought that Alyssa and the mirror had a magnet connecting them. Maybe the bitch is a mirror-wisperer.
Phi Phi O'Hara: this bitch walked in next, dressed as a female version of The Riddler from the Batman series, complete with a gawd-awful entrance quote.
Ginger Minj & Roxxxy Andrews: these were our next two. Roxxxy looked stunning, and has clearly put some serious work into shedding a few pounds. You go girl!
No comment on Ginger Minj. Girl, make a damn impression.
Coco Montrese: Alyssa's former arch nemesis was next to walk in, serving battered wife realness with a huge black hat covering half her face. You would have thought she was covering a black eye, or in her case an orange one, due to her Doritos compact.
Alaska, Adore Delano & Tatianna: these girls rounded out the group. I am excited to see Tati finally making a comeback. She's been a favorite of mine since Season 2.
Rupaul: he finally made his grand entrance, informing the girls that this year they have a lot more to prove while building their legacy in the Drag Race Hall of Fame. One big twist this year is that Ru won't be eliminating any of the girls. Instead, the Top 2 each week will lipsynch for their legacy and be rewarded $10,000.
The mini challenge
A classic. The girls were to read each other, resulting in Alaska winning $2,000 towards L.A. Eyeworks. Honestly, I thought Katya was robbed, because her comment about thinking of Roxxxy each time she's waiting at a bus stop had me in tears of laughter.
The main challenge
For this week, the main challenge was comprised of a talent show in which the ladies were encouraged to choose whatever talent they want to showcase in order to impress the judges and the live audience.
The dynamic between the girls contrasts that of previous seasons, most notably with Alaska pulling away from the "Rolaskatox" bullshit. Also, this time around Roxxxy and Phi Phi actually give a shit about the audience's perception of them as villains.
On the runway, we're treated to a new entrance montage, and Ru looked stunning serving gold fantasy everything.
The judges
This week we welcomed judge staples Michelle Visage and Carson Kressley, joined by Todrick Hall and Raven Symone (who instructed everyone that her name is pronounced "Sih Moan Yay"). Really girl?! Why have you never corrected anyone before?
The girls' talent presentations were as follows:
Adore Delano – Singing: "I Can't Love You" (off her album After Party.)
Alyssa Edwards – Variety performance: (A puppet, dance, spoken-word combo.)
Coco Montrese – Dancing: (Some Ginger Roger's-esque routine that tanked) yikes!)
Detox Icunt – Singing: (Blue Man Group needs to contact their lawyers over this one.)
Ginger Minj – Singing: (Eh. Not terrible. It sounded like a cut song from La Cage Aux Folles.)
Katya – Gymnastics: (Fantastic! Funny. Relevant. Yes.Bitch.Werk.)
Phi Phi O'Hara – Singing: (She chose to sing acapella, which was a BIG mistake.)
Roxxxy Andrews – Burlesque: (Awesome! Complete with a signature wig-reveal.)
Alaska Thunderfuck – Singing: (A cutesy song about being gay that went over better than I thought it would.)
Tatianna – Spoken Word: (The highlight of the show. Provocative and funny.)
Ru, holding true to her word, announced that she won't be eliminating any of the girls this week. INSTEAD, the winner of the lipsynch each week will choose one of her sisters to kick to the curb.
Alaska, Katya and Detox are announced as safe and the critiques begin.
Critiques
Now, Michelle makes an announcement that these are the best of the best, and therefore she won't be holding back. She goes in for the kill right away, starting with Adore, destroying her runway look.
All of the judges are in agreement on how much they loved Roxxxy and Tatianna, who are in the Top 2 and will lipsynch this week. They chose to eliminate are Adore, Coco and Phi Phi. All the girls are given a chance to go back into the workroom and talk over the events while Roxxxy and Tati decide who they will axe if they win.
It's revealed in the workroom that Michelle was just as hard on Adore when they were out on the road touring together, which is surprising to say the least. Glamazon is just not Adore's esthetic. Sorry, not sorry. Get over it.
The Top 2 pick a tube of lipstick containing their elimination vote and return to the mainstage to perform Taylor Swift's "Shake It Off".
Spoiler alert!
Roxxxy wins, and begrudgingly votes off her Season 5 sister Coco. In any other episode this would have resulted in Coco going home, but while Coco is in the workroom leaving her lipstick message, Ru appears to let her know that shit ain't over, girl! She may have a chance to seek her revenge! What?!
This season is definitely different, but I think it's exactly what needed to happen to keep the show fresh. Keep coming back, because next week we have the staple Snatch Game!
Kisses,
Crystal Lite
About our guest queen: Crystal Lite hails from the wintery tundra of Rochester, NY. The drag daughter of Mrs. Kasha Davis (RuPaul's Drag Race Season 7), she now resides in Philadelphia. Crystal enjoys brisk walks down alleys, water-based lubricants, and cake pops. You can usually find her enjoying a good book in your local coffee shop, or rigging ATM machines for identity theft. She truly believes that as long as you work hard, are attractive and manipulative, anything is possible.