RuPaul's Drag Race All Stars Season 2, Ep 2: The "Crystal-Queer" Recap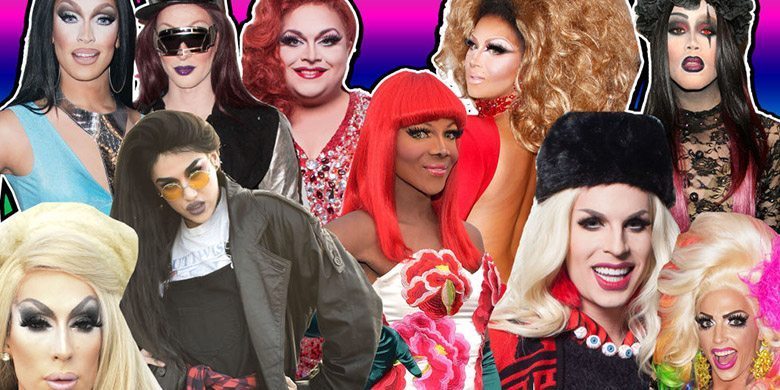 Hey Squirrelfriends!
Sorry for the delayed recap! Your girl is in the process of permanently relocating from the Bible Belt to the City of Brotherly Love. One can only hope those "brothers" they speak of are two hung twinks!
But enough about me. Let's get onto some drama!
This week's episode began with the girls entering the workroom after Coco's elimination. Tatianna reveals that she would have also chosen Coco to eliminate had she won the lip synch. All of the ladies were really surprised at the length of the claws on the judges, especially Adore Delano. She just can't seem to shake Michelle Visage's intense critique!
This week's maxi challenge
The next day begins with Ru announcing that this week's maxi challenge will be an All Star version of the fan favorite, Snatch Game; a combination of Match Game and Hollywood Squares, but with a homo cherry on top.
A little off-topic: I can't get over Detox's eyebrows in her confessionals. Is she a spokesperson for a highlighter company? And I don't mean the makeup kind.
Ru's walkthroughs
Anyway, as Rupaul begins his workroom walkthroughs, he comes upon Adore who drops the latest bombshell of the season; she's pretty sure she doesn't want to continue in the competition. She finds the judge's critiques this time around extra harsh and really points the finger at Michelle. Ru tries to tell her that she's allowing her inner saboteur to take over, and she's exhibiting the opposite of confidence. Ru reminds her that she should be setting an example for her thousands of fans, but it doesn't seem to change Adore's mind. Nevertheless, Rupaul convinces her to talk with Michelle Visage before making her final decision.
Rupaul continues the walkthrough, guiding Alaska on her impersonation of Mae West, Tatianna's Ariana Grande, and Roxxxy Andrew's Sofia Vergara. Meanwhile, Adore has her one-on-one outside with Michelle, who explains that she's especially harsh because this is All Stars! The best of the best! She only pushes because she knows these girls are capable of so much more. She apologizes if that ever came across the wrong way. Ultimately this is not enough to convince Adore to stay and tough it out.
The guest judges
Back in the workroom, RuPaul announces former Season 2 contestants, Jujubee and Raven, will be the Snatch Game judges. Adore comes in with her final decision to leave the show and says goodbye. Personally, I think she should have stuck it out. Then again, that kind quitter's mentality deserves no place among the best of the best in drag! Phi Phi O'Hara begins to stir the pot with her intense criticism of Alyssa Edward's Joan Crawford and Roxxxy's Sofia. Phi Phi seems to constantly go into each week with a very calculated strategy.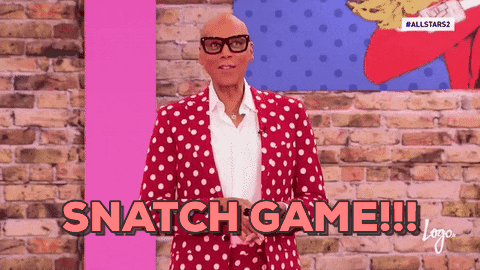 The show begins
Snatch Game begins with Ginger Minj as Tammy Faye Bakker, Katya as Bjork, Phi Phi as Theresa Caputo (the Long Island Medium), Detox as Nancy Grace, and in a surprising last minute switch, Roxxxy as her fellow contestant Alaska.
The highs of the game: for me these were Alyssa's Joan Crawford, Alaska's Mae West ("Why don't you come up and fuck me in the ass sometime?") and Tatianna's look as Ariana Grande. Tatianna also lands in my lows for constantly dropping character, and I found Phi Phi's choice to write down her answers after the judges gave theirs' to be hokey. In a cute flip, Jujubee transforms into Season 2 and 3 contestant Shangela to win the game.
C'mon runway LEWKS
The runway brings us a a delicious Rupaul in a raspberry sherbet gown, and our judges Michelle, Todrick Hall, Carson Kressley, and Ross Matthews.
The theme: this week we have latex fantasy, with Detox and Tatianna being my favorites. I found Phi Phi to look like Katy Perry, and Ginger looked like a fat Marilyn Monroe, which is saying a lot (someone had to!) Rupaul reminds the girls that they're there to secure their brand and build a legacy. Nobody gets a free pass.
The results
Alyssa Edwards and Ginger Minj are safe, and the bashing, excuse me, critiques begins. None of the judges are into Phi Phi's look and all agree that Roxxxy's interpretation of Alaska was poor. She didn't even get one of Alaska's song titles correct! They all loved Katya and Alaska. Tatianna's look as Ariana Grande was on point, but her characterization flopped.
Katya and Alaska are the Top 2, both winning tickets to see Zumanity in Las Vegas.
Phi Phi O'Hara is safe.
Roxxxy and Detox find themselves in the bottom two. While deliberating who they'd kick off the show, Alaska swears that she won't play favorites, and the little clique (Rolaskatox from Season 5) is way in the past. They lip synch to "Le Freak (Freak Out)", and Alaska wins.
The elimination!
She reveals her poisonous lipstick tube, voting off Tatianna. Now, I'm going to go biased for a second. I LOVE Tatianna. I think she deserved a much longer run on the show, and I think she's one of the more beautiful queens in this competition. I'm glad she was able to expose more people to her art and I hope to see more of her. Tatianna receives the same curious video from Mama Ru saying all is not lost yet. There may be more to come.
Well, I fucking hope so. I'll see you next week!
Kisses,
Crystal
About our guest queen: Crystal Lite hails from the wintery tundra of Rochester, NY. The drag daughter of Mrs. Kasha Davis (RuPaul's Drag Race Season 7), she now resides in Philadelphia. Crystal enjoys brisk walks down alleys, water-based lubricants, and cake pops. You can usually find her enjoying a good book in your local coffee shop, or rigging ATM machines for identity theft. She truly believes that as long as you work hard, are attractive and manipulative, anything is possible.