RuPaul's Drag Race All Stars Season 2, Ep 4: The "Crystal-Queer" Recap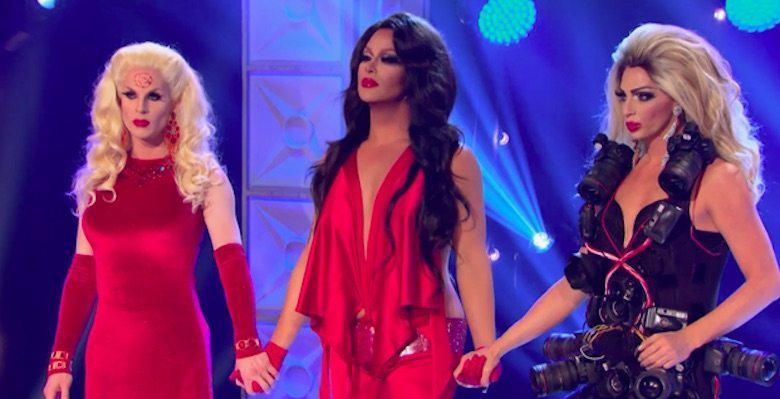 Reading Time:
4
minutes
Helloooo Pumpkinheads!
I hope everybody has had a fantastic week! I've started to feel a little nostalgic about our time together because it's almost coming to an end!
This Week's Challenge
This week's episode has the girls pairing up to create sequels to some of gay culture's cult classics. Alyssa Edwards and Alaska team up to take a crack at "Wha Had Happened to Baby JJ", a spin-off on Whatever Happened to Baby Jane.
Katya and Detox are given Velma and Wheezy, an after-death version of Thelma and Louise.
Phi Phi O'Hara and Roxxxy Andrews are working together to present Showsquirrels, a sequel to Showgirls.
Sidenote: how many Smurfs had to die to create RuPaul's workroom hat?!
The girls are told they will be provided wigs by Weaven Steven and will be allowed to use the Pit Crew for their videos.
The Challenge Begins
Phi Phi is the only contestant left that has not yet placed in the Top 2 and is really focused on taking a risk with this week's challenge, which seems to worry her partner, Roxxxy.
The teams begin the filming of each scene, with Michelle Visage and Todrick Hall as their directors. Alyssa really seems to be struggling with lines and character work in her scene with Alaska, which reminded me of when she had the same issue during Season 5 in the Telenovela challenge.
Roxxxy has some pronunciation issues with the word "sash" during her scene. Sequins gown, anybody?
Katya and Detox do not seem to have a whole lot of issues in their scene, which obviously pleases Michelle and Todrick.
The Runway Begins
Mama Ru sashays down the runway looking like a glamorous cross between a set of dominos and a tiger fish. All the yaaaass!
The Judges
The judges this week are the standard Michelle and Todrick, Carson Kressley, and surprise guest judge Nicole Scherzinger from The Pussycat Dolls. Nice to see she still can formulate some career after dipping out on the current revival of Cats on Broadway.
Contestants Must Serve TWO Lewks
The contestants are told they need to provide a 2-in-1 runway lewk in honor of Violet Chachki from Episode 1 of Season 7. I was LIVING for Alyssa's paparazzi tribute and Alaska's spot-on interpretation of Lil' PoundCake from Season 5.
Anybody who is a Drag Race enthusiast knows that Lil' PoundCake was the breakout star of that season, so it was nice to see her finally brought to life. (Go follow her Twitter page immediately if you need a good laugh.)
The Judges' Critiques
The judges all agreed that both of Phi Phi's looks were so-so, but her video performance was top notch. It took me a bit to realize who she was reminding me of, and then it dawned on me: John Leguizamo in To Wong Foo!
I couldn't quite tell what was going on with Katya's teeth in her runway look, but it looked like she just rimmed a twink in serious need of a Fleet enema (yikes).
All the judges loved Alaska's performance and a bang up impression of Bette Davis, landing her in the Top 2 again, this time with Phi Phi O'Hara (finally). Both girls win $1000 to Fabric Planet. Detox is safe, and the Bottom 3 are Alyssa Edwards, Roxxxy Andrews and Katya.
Back in the workroom, Phi Phi decides one-on-ones are not needed in her case to help make her decision on who she will send home. This doesn't sit too well with Detox, who finds it to be a bitchy move.
Alyssa clings on to the fact that this is her first time in the bottom, and that the other two have already appeared there. Michelle was very adamant in her judgement of Miss Edwards, that it is no longer good enough to get a free pass for being over the top and lovable in your looks and predictable reactions; there needs to be more substance to be an all-star.
Lip-Synch for your Legacy and Eliminations!
The girls return to the stage. Phi Phi and Alaska lip-synch for their legacy to Cheryl Lynn's "Got to Be Real".
Alaska wins (again) and announces her farewell to Alyssa Edwards. I was very impressed with Alyssa's response. She will always and forever be a class act and a fierce fucking queen. In the workroom, she gets the same video message from RuPaul, telling her to hold on to hope; it is not over quite yet.
The girls return to the workroom after the elimination and Phi Phi reveals that she had also chosen Alyssa, and begins to spout a diatribe of Alyssa-bashing only to be cut off in one of the best camera tricks in Drag Race history; the two-way mirror reveals all the queens eliminated so far, ready, waiting, and listening behind it. One can only hope this means that we will finally get some clarity next week on what chance these girls have to seek their revenge!
I find it an interesting twist to have the girls vote each other off this year instead of RuPaul. I cannot imagine that it creates many warm and fuzzy feelings between the girls, but it certainly makes for great TV. Speaking of, RUPAUL IS NOW AN EMMY AWARD WINNING SHOW!
Congratulations to RuPaul and World of Wonder on winning Outstanding Host of a Reality Competition last Sunday. What a historic moment!
Until next week! Kisses bitches!
About our guest queen: Crystal Lite hails from the wintery tundra of Rochester, NY. The drag daughter of Mrs. Kasha Davis (RuPaul's Drag Race Season 7), she now resides in Philadelphia. Crystal enjoys brisk walks down alleys, water-based lubricants, and cake pops. You can usually find her enjoying a good book in your local coffee shop, or rigging ATM machines for identity theft. She truly believes that as long as you work hard, are attractive and manipulative, anything is possible.