RuPaul's Drag Race All Stars Season 2, Ep 5: The "Crystal-Queer" Recap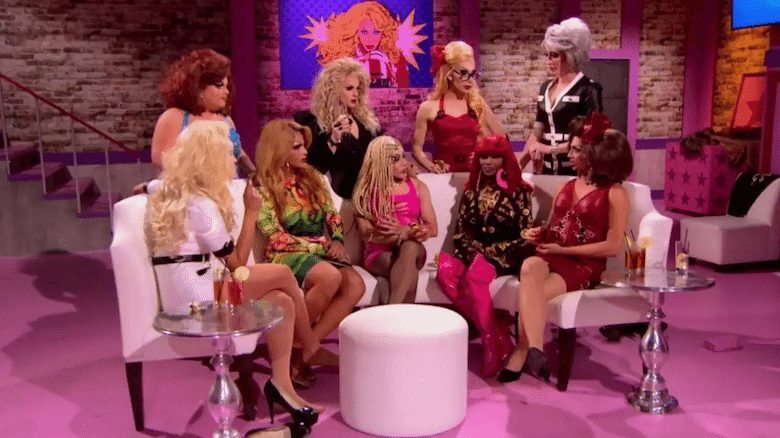 Hello My Darlings!
This week's episode was a real zinger, so I'm just going to dive right in!
Oh, The Shade Of It All!
The episode picked up right where last week's left off, with Phi Phi O'Hara essentially trashing Alyssa Edwards to the remaining contestants. The "face crack of the century" occurs when all of the eliminated queens, INCLUDING ALYSSA, are revealed behind the mirror, listening and sharpening their knives.
Return Of The Queens
All of the queens who have left the show thus far saunter into the workroom in the order in which they were eliminated: Coco Montrese, Tatianna, Ginger Minj and Alyssa Edwards. Right off the bat, Alyssa confronts Phi Phi about what she heard her saying, but Phi Phi keeps shutting her down, saying Alyssa is playing the victim, etc.
Now, I give Alyssa a lot of credit for wanting to hash it out instead of letting all of the negativity lie dormant. Ginger seems to be harboring a lot of ugly feelings toward Alyssa as well for sending her home, yet she claims she still thinks Katya should stay over her, because Katya has a lot more to show, deserves to be there, and so on. Well how does that add up? You can't be pissed off at the person who kicked you off, yet play the martyr in the next breath.
I thought it was interesting that Tatianna and Coco weren't involved in the whole back and forth between the ladies, because their eliminations occurred when everyone was still "playing fair". Coco summed it up perfectly when she said things were about to get real interesting.
New Rules!
The next day the entire cast appears in the workroom waiting to see how this is all going to work. RuPaul announces that the eliminated queens will have the opportunity to seek their revenge in this week's maxi challenge: a stand-up comedy show performed in pairs. The Top 2 "RuTurning" queens will get the chance to lip synch for their legacy, receive the cash tip of $10,000, and RuTurn to the competition. They'll also then have the power of sending a current queen home.
The Teams
The audience for the comedy show will be comprised of previous Drag Race season competitors. The eliminated girls choose their partners, with Alyssa and Alaska pairing up, Ginger and Katya, Tatianna and Detox, Coco and Phi Phi, leaving Roxxxy with nobody. Ru announces that Roxxxy will be the MC of the show, therefore giving her ultimate power if she wins the challenge, choosing who returns to the competition and who will get eliminated this week.
Coco says that she's going to bring back her crowd favorite character from Season 5's comedy challenge, RuPaul's cousin from the hood, which I thought was brilliant. She's also trying her hardest to remove herself from all the underlying drama, considering her partner is Phi Phi.
Alyssa and Alaska seem thrilled to be working together, which is nice because Alaska is the one who sent Alyssa home last week. According to Alyssa, she's been reading her CLEF Notes to study. Really?! Oy. A classic Miss Edwards-ism. I definitely see this whole thing being a challenge for Roxxxy, who has always struggled in the comedy situations, with her background being in pageants.
She Better Werk and Prepare
The girls present what they have thus far for Ross Matthews and Chelsea Peretti, best known for Brooklyn Nine-Nine. They both think Detox and Tatianna's routine may be a bit too crass.
Surprise, surprise! Phi Phi has a lot of issues with any critique they give her and Coco constantly has a shitty look on her face. Alyssa pulls Phi Phi aside in the workroom to just hash all this bullshit out, bringing up what she heard about Phi Phi's reputation from the Season 4 cast. They both seem to come to a common ground and squash everything with a hug. We'll see how long that lasts…
The Challenge
The challenge begins with RuPaul strutting down the runway in a belted and sequined caftan. The judges table is all in the family, with Michelle, Ross, Carson and Todrick.
The show begins with Roxxxy almost immediately stumbling over her words. Ugh. She introduces Coco and Phi Phi who have both created very stereotypical "ghetto" characters. Their act is less comedy sketch and more "scene work," which isn't really what anyone wants to see. Roxxxy reenters as Tasha Salad, her children's show character from Season 5, but that isn't helping her crash and burn any less.
Alaska and Alyssa are up next, with a brilliant gig: Alaska sets Alyssa up to go off on a tangent about a topic, then buttons it up with a one word answer. Brilliant.
Ginger and Katya are next, playing it very safe. Their act had nothing special about it.
Tatianna and Detox close it out with their routine that I thought was fantastic. Fully realized characters and great comedy bits together. Welcome to the haus of YES!!
The Judges' Critiques
The judges all agree that Phi Phi and Coco's routine was too "scene" and not enough comedy.
Once again, Carson Kressley loves Alyssa for just being Alyssa, and you can see Phi Phi's skin begin to burn during this praise.
RuPaul awards Alyssa, Alaska, Tatianna, and Detox the top slots.
Katya is safe.
Roxxxy and Phi Phi are in the bottom, leaving Ginger Minj and Coco Montrese to once again leave the competition. Byeeeeee.
Lip-Synch For Your Return!
Just to clarify, Alyssa and Tatianna are the two eliminated queens who will be lip-synching to return to the competition, and send one of the bottom two home. Alyssa doesn't see why Phi Phi thinks she shouldn't have to "beg" to remain in the competition, saying that if she were Phi Phi's fans, begging would come off as her not being worthy of the crown.
Alyssa and Tatianna change (into some of the most sickening looks I've ever seen on Drag Race), and return to the stage to lip-synch to Rihanna's "Shut Up and Drive". It's an all-around amazing lip-synch. Honestly, truly.
The Elimination
RuPaul announces that BOTH girls win and will be re-joining the competition. They split the $10,000 and BOTH announce that they had chosen Phi Phi O'Hara to be eliminated.
Here's where I thought Phi Phi's true colors showed. She refused to hug Alyssa goodbye and asked the producers if she could hock the statue of RuPaul all the girls receive when they are eliminated. There has been a lot going around in the last week with regards to Phi Phi saying she will not attend the reunion, she was "edited" to look terrible, the show had it out for her, etc.
Now, yes, to some extent I think someone's personality can be slightly altered due to a clever post-production, but not with Phi Phi. You can't make up some of the stuff she said. I truly believe Phi Phi O'Hara has good intentions, but she is a very crafty queen who knows how to make good reality television. She just couldn't stand the viewers opinions when they were anything less than glowing. Guess what? YOU signed up for the show. It ain't all cakewalks, girl.
Well, that's all for this week! I'm OVERJOYED that both of my favorites returned and I can't wait to see what will happen next! Kisses!
About our guest queen: Crystal Lite hails from the wintery tundra of Rochester, NY. The drag daughter of Mrs. Kasha Davis (RuPaul's Drag Race Season 7), she now resides in Philadelphia. Crystal enjoys brisk walks down alleys, water-based lubricants, and cake pops. You can usually find her enjoying a good book in your local coffee shop, or rigging ATM machines for identity theft. She truly believes that as long as you work hard, are attractive and manipulative, anything is possible.