Rupaul's Drag Race Season 9, Ep 8 Recap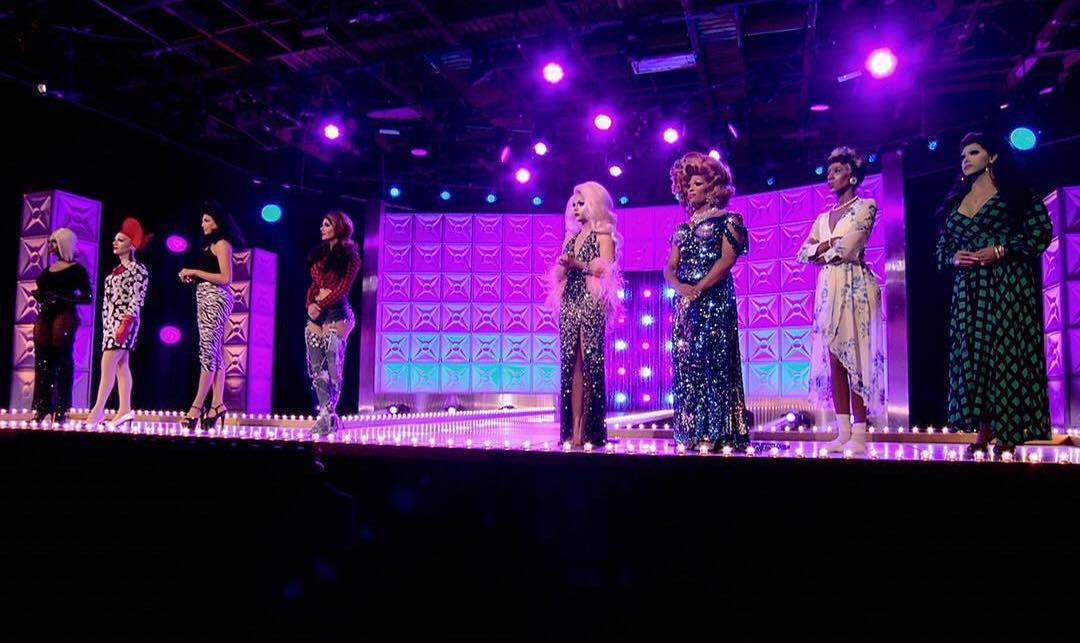 Hello hello hello, ladies and gays!
Last episode we lost Aja in a tragic, yet fierce lip sync against Nina Bo'Nina Brown Rodham Clinton. It was simply her time. But, now… it's Farrah's time. If it's not this episode I simply cannot watch anymore. Keep reading to see if that's a spoiler!
"If you haven't won a challenge… Why Are You Here?"
It's a fair question posed by Peppermint. Back in the workroom, the girls keep score. Let's see. Shea and Trinity are in the lead tied with the most wins- 2 each. On the other end of the spectrum, tied with 0 wins are Peppermint and Farrah.
A post shared by RuPaul's Drag Race (@rupaulsdragrace) on May 12, 2017 at 7:57am PDT
Reading Is Fundamental
The Mini Challenge is the baby version of the roast (the queens don't know that at this point, though). It happens every season- The Reading Challenge. Because reading is what? (beat) fundamental! Where the divide between shady and mean becomes blurred and everybody has to have a thick skin. But, not "thick skin" like the way all the queens keep reading Alexis for. I'm kidding, Alexis!
please note: Alexis Michelle is not fat, y'bitches. As the world's first and only  @Petiteplussizedmalesupermodel, I actually commiserate with her self-consciousness (which, yes, annoys me). And all of the other queens are so skinny. It must be hard to be the biggest girl by default.
(Scribbles)
Sasha: I'm always nervous because she prides herself in being so prim and proper… and not funny. But, her character really lends itself to her shade here. Good!
Peppermint: She must be good at public speaking during her shows. She has a really great rhythm to her reads. I don't feel uncomfortable for her reads.
Valentina: Of course, Valentina gets the most airtime!! Ru shows the majority of her reads. She does make a fat joke about Alexis.
Nina: BMW Body Made Wrong toward Alexis.
Farrah: another fat joke. She's the last, and she runs over to hug Alexis. But, Alexis is not accepting.
Alexis is really miffed about the fat jokes. She is visibly pissed.
Valentina: wins the Reading Challenge. Yay!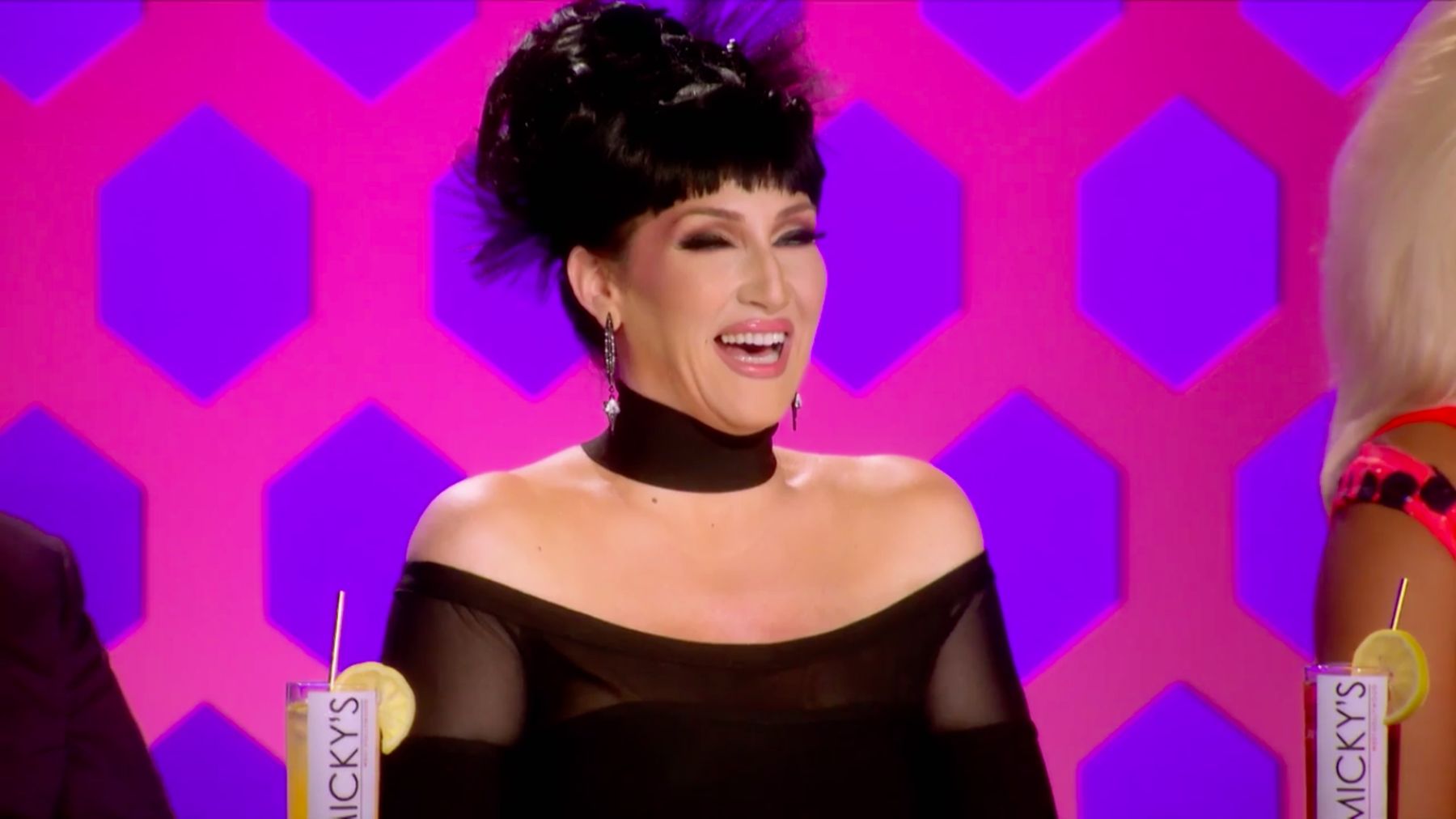 MAXI CHALLENGE: THE RUPAUL ROAST
Ru announces the Maxi Challenge!! We all know from the preview that it is the #RuPaulRoast. However, the Guest or Honor is Michelle Visage! I love it. What a great way to honor Ru's right hand woman.
Mini Challenge winner Valentina gets to choose the order of the roast.
I volunteer as tribute
Alexis is salted from the mini challenge: "I just would have preferred to not deal with body image." But, she still suggests she go first or last due to the high pressured nature of the position. This is where Alexis loses me. She so wants to be seen as first pick and leader of the pack when her track record just doesn't hold up. And, I so want her to fill that position because of her Broadway love. But, I'm also thinking a roast is right up her alley…
The Queens Get Mentored
This is a tough challenge. How do you prepare for a roast? For one of your judges… At least with someone like Momma Visage you know she'd want the savage factor turned all the way up. Then, for some of the… less funny queens, how do you make it funny?
Nina: "Aja may have been lucky to get out of here…"
The mentoring session is with Ru and Ross Matthews. I was hoping there'd be a coaching session or at least a rehearsal on stage… but, I guess the budget didn't allow.
Valentina says she can't do it but we all know she can! The other queens are still not convinced of her perfection. Shea: "Guadalupe isnt going to write those jokes for you."
about shea: No shade, no tea, no facts to back this up… But, I think Shea is going to win this season. Or, at least top 3. I'm on her side. She's gorgeous. She's funny. She can dance. And, the producers obviously love her because she's about half of the sound bites per episode. But, I also low key hate her because she seems to really think Valentina is not at her level. You're wrong for it, Shady Shea! You know you are!
Alexis admits to Ru that she's "disappointed" because it seems all her sisters couldn't come up with reading material not dealing with her weight. She has had self image issues which she's revealed to the girls, so it's a low blow…
Ru's not really having it.
This isn't RuPaul's Best Friends Race!
Do you think Ru had seen all the raw footage at this point? Alexis says some cra-a-a-azy things about herself and her competitors virtually every episode. So, I'm sure it was very surprising to see that she couldn't handle being read. I mean, I kind of think the sensitive subject of weight was the nicer topics they could've brought up. Off the top of my head I can think of 4 other clockable things about Alexis. One of them being her ego.
Ru poses the thought on everybody's mind: "You think it's ok to make fun of other people but, not make fun of you."
R.I.P. I can't believe Ru said that. But, I'm glad she did!
Ross tells Farrah to make it work. Basically telling her to make her "personality" work in the challenge. Ru: "You might come on the bottom." #Phrasing
Peppermint: both Ru and Ross warn her that she's missed the mark every acting challenge. She has to do well in this one.
Sasha: Serious and Analytical drag. I didn't know that was a thing. I've kinda fallen out of love with Sasha but she's growing on me. "Make sure you make us laugh."
A post shared by RuPaul's Drag Race (@rupaulsdragrace) on May 11, 2017 at 12:58pm PDT
In The Workroom
I'm beginning to zone out during this part of the episode. These stories VH1 is force feeding us. They sometimes enhance the story. Typically, one of the queens will tell a story that relates to a hot topic issue within the LGBTQIA community. Sometimes, however, these stories are simply shoved into this part of the show because it's… that part of the show. It's a bit formulaic, VH1… And, tonight… on first viewing I was so annoyed that I knew they'd do this segment I didn't watch.
I forced myself the second time. Sasha lived in Russia off and on for 2 years. So, she couldn't do drag. Peppermint had to de-wig to prove her identity at a Russian airport holding center because her passport photo is her in boy drag, and she presents herself as a woman.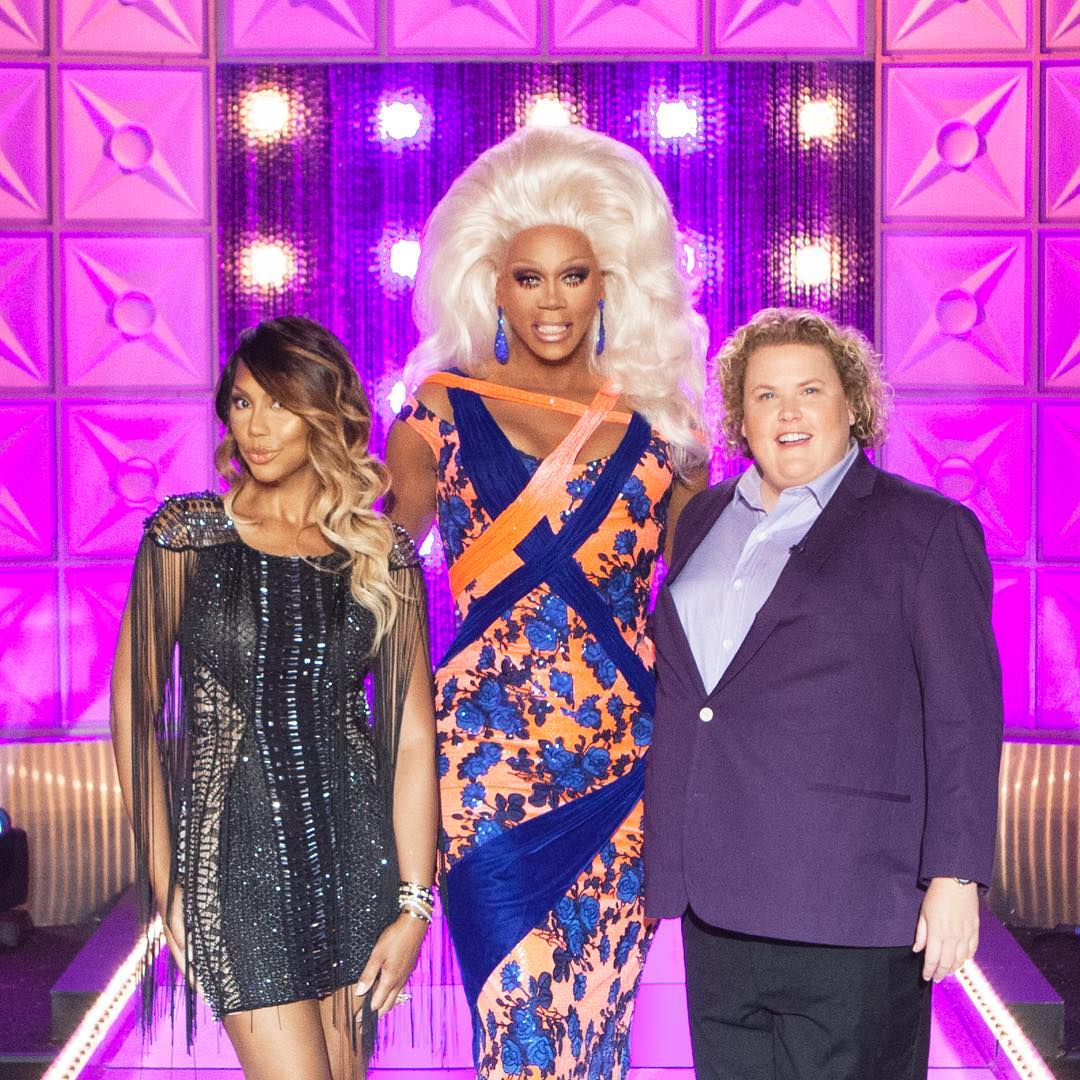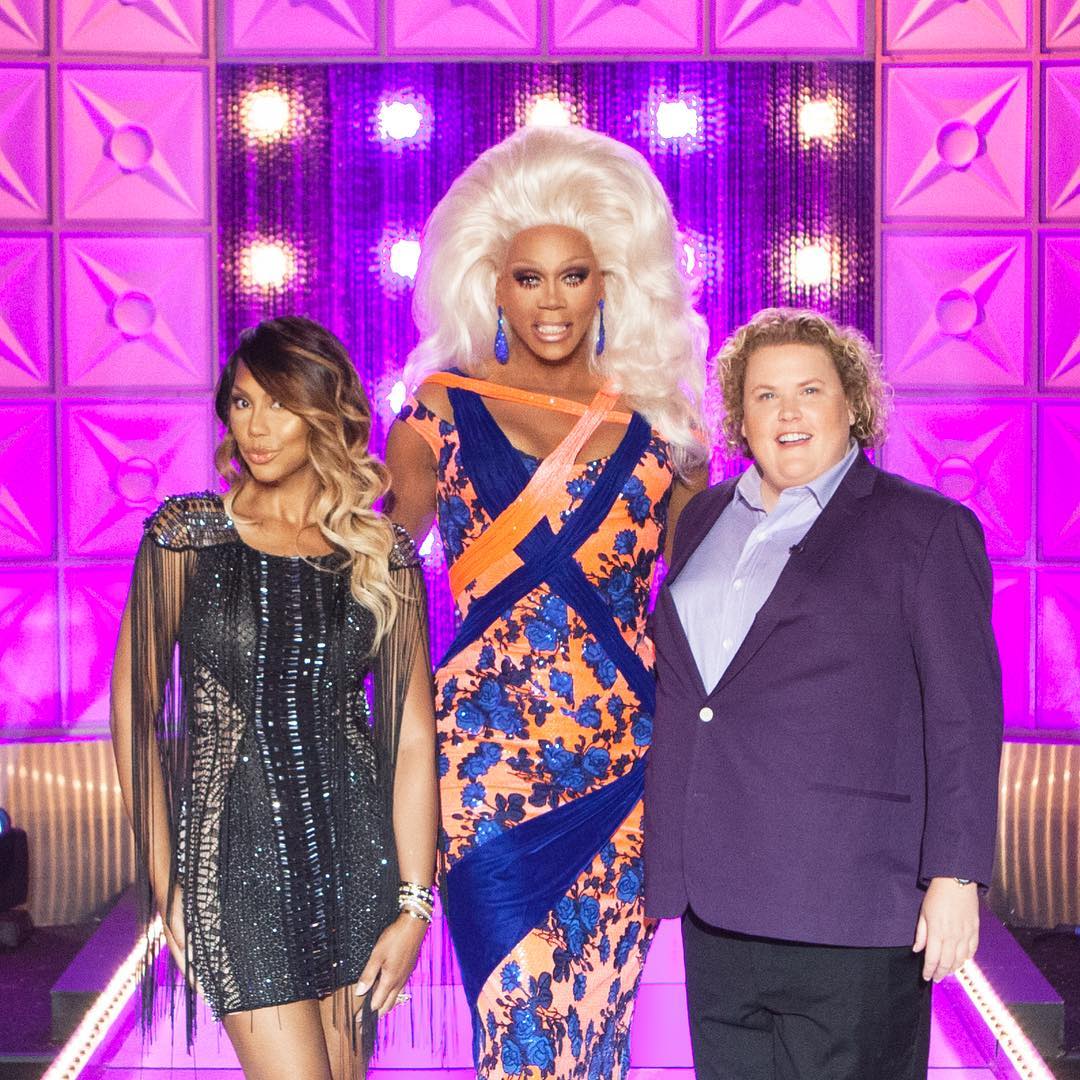 Runway
THERE'S NO RUNWAY THEME THIS EPISODE. Gross!
I like Ru's wrapping paper dress, and her Dolly Parton wig is everything.T
Guest Judges are Tamar Baxton and Fortune Feimster
Michelle looks genuinely surprised and honored to be the Guest of Honor. I love her!
These are my scribbles.
Shea opens he show with ZINGERS. Good energy. Sets up vibe well.
SASHA IS GOOD. They show a lot of her segment. And her Ladies Who Lunch vibe is killing it with the audience. Also, that chapeau is everything.
Valentina goes there. Tells Ross she wants a hamster version of him shoved up her ass.
Trinity comes out in trailer trash drag and a large tooth gap. Ends with a poop joke.
Farrah actually makes the audience groan. So… We all know now, right? Farrah's not good. Isn't this… proof? She relies on pretty! She's sighing after every joke.
PEPPERMINT MAKES TAMAR SCREAM. SHE IS GOOD. What "experience" are you lacking, again? She looks gorgeous, too.
NINA is doing great aunt drag. This bitch painted on glasses. Makes Tamar laugh.
Alexis closes the show. I couldn't watch. I could barely listen. Not one joke lands. 
 And she's painted green. Is she Elphaba?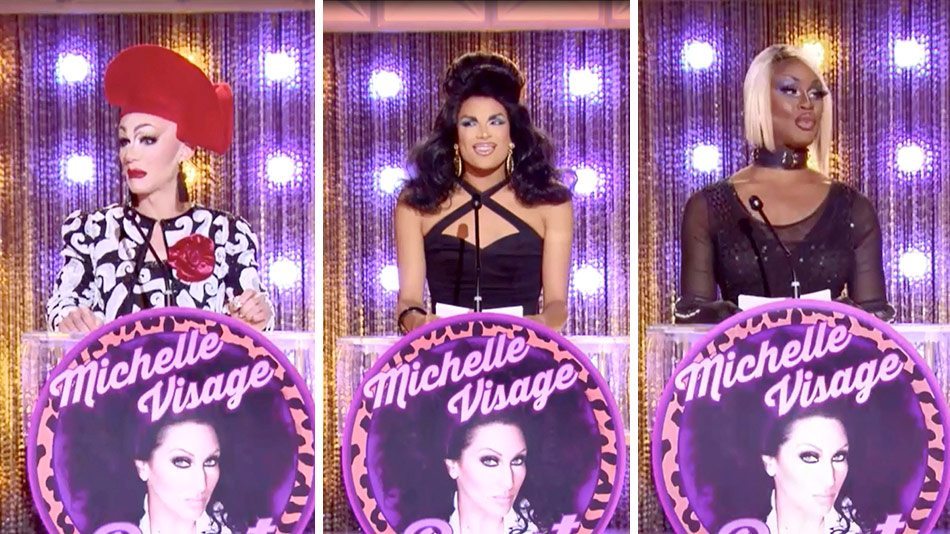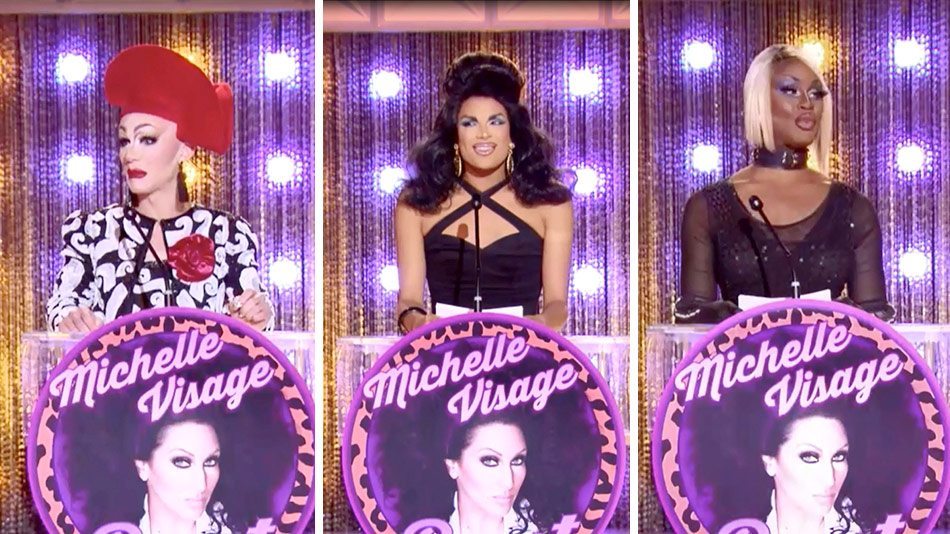 Tops and Bottoms
The safe queens are Shea, Valentina and Nina!!
Sasha: All the judges gush over her performance. And, it's true. She made "serious" really entertaining.
Trinity is called out for not ever looking comfortable, which she attributes to the Botox.
Farrah: Michelle tries to be nice, but Ross: "I would call it fucked up." Because she didn't commit to any one direction or character.
Peppermint: They gush. Ross: "You brought the energy." Tamar says she was amazing.
Alexis: Michelle is savage! "I literally forgot there's was an audience here. They were so quiet." I love it. It just didn't work at all.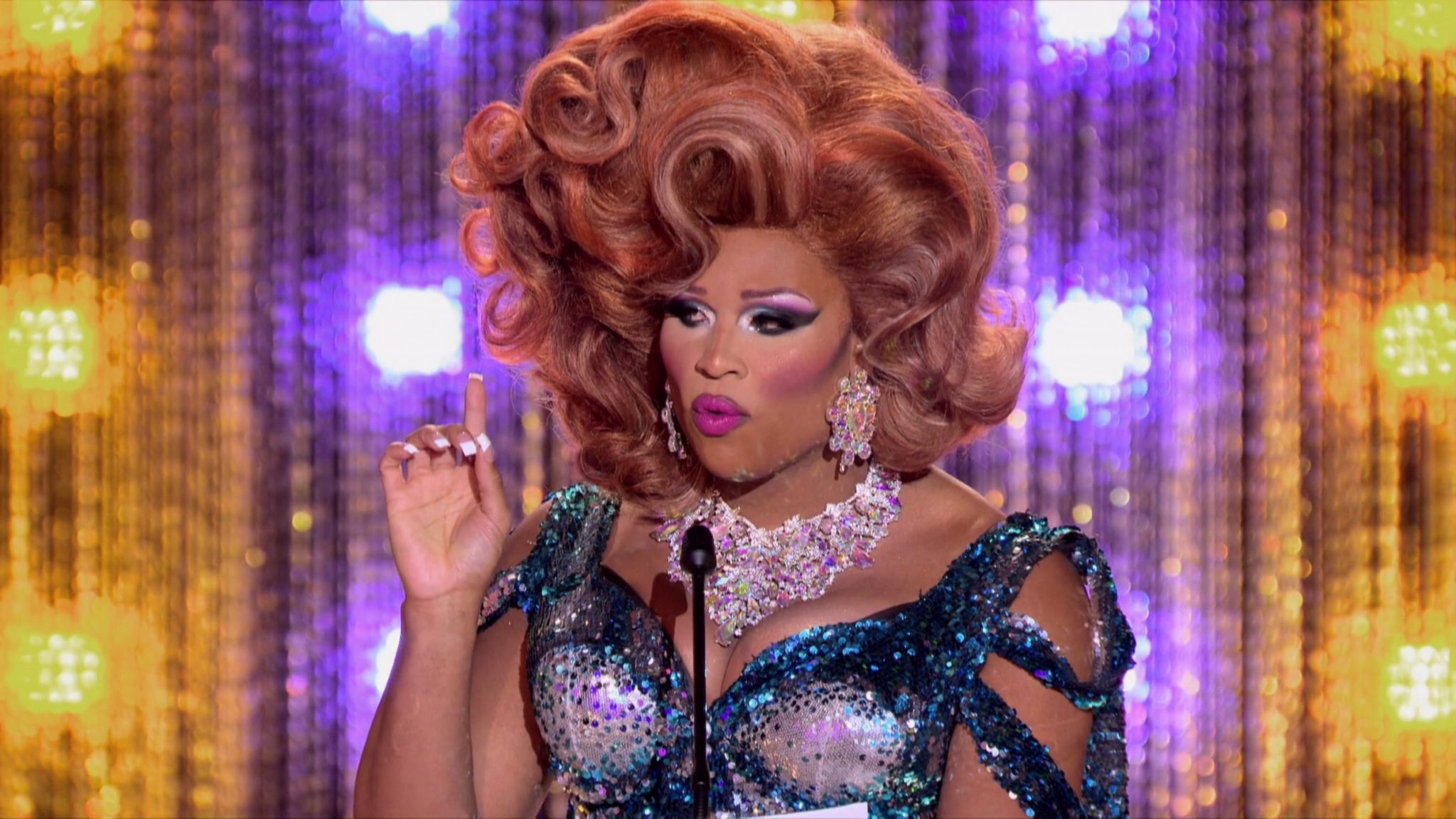 Deliberations 
Sasha: Tamar "she was smart about being smart."
Trinity: Fortune "The Father, Son and Holy Ghost were not with Trinity."
Farrah: The judges come to the concensus (finally) that "she doesn't know who he is." And I LOVE that Tamar agrees with "Not at all."
Peppermint: Tamar "She was the highlight of my night."
Alexis: Tamar hates her green paint! "Who in the hell left the gate open" HAHAHA and Ross shows he drew a of a bomb for his notes on her performance. Savage!
Winner
PEPPERMINT wins her first challenge!
THE LIP SYNC
Ru tells Farrah she made us Moan for all the wrong reasons.
Alexis will lip sync against her.
At the beginning, I think it's obvious. But, as it goes along, I think Ru must've suddenly been thinking "Oh, God… This is close…" But, then Alexis did a running split slide and I think the competition was over.
Alexis stays. She looks shaken. Which means one of two things, she's either reached the end of her rope or she's going to be reborn like a Nina Bo'Nina Pheonixes Rise Out Of The Ashes Brown.
Bye, Farrah!!
Next.