12 Best Men's Workout Leggings for Maximum Performance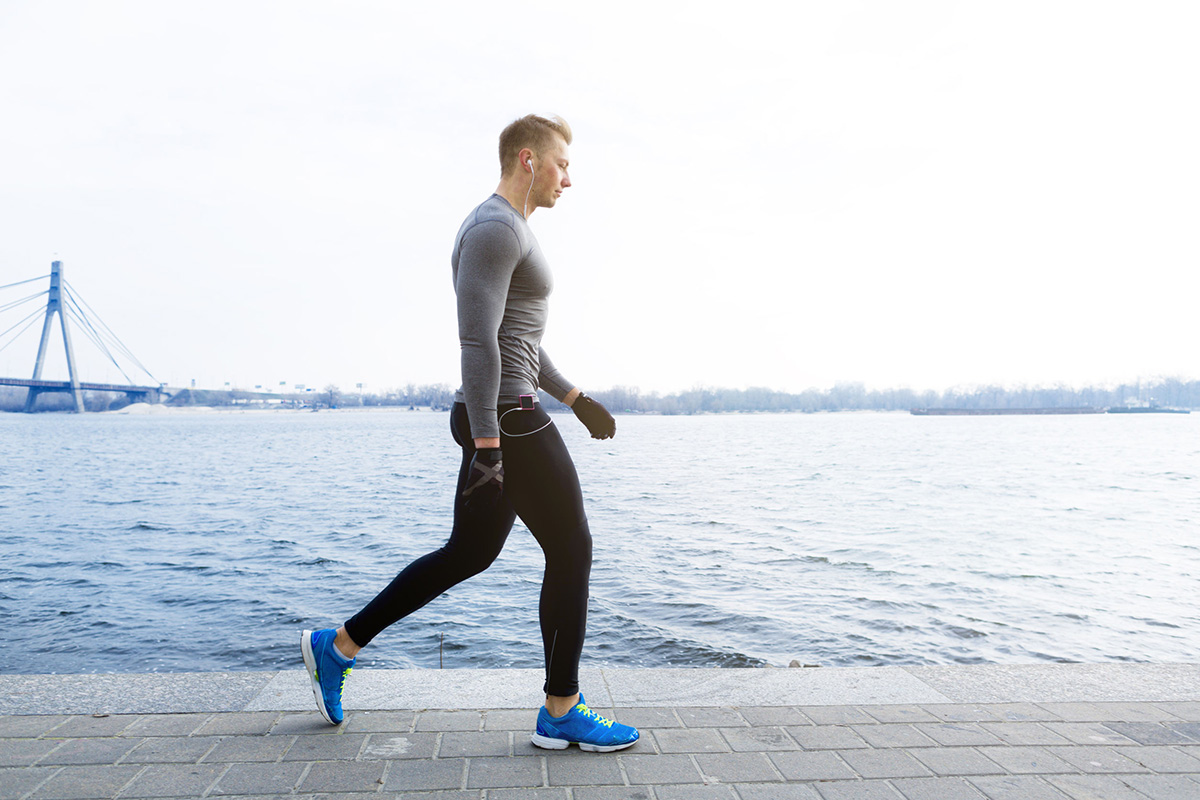 Whether you are taking your workout routine outdoors during wintertime, or you prefer to increase your sweat rate while at the gym, workout leggings and compression pants provide both the functionality and comfort to perform your best. Personally, I just prefer the feel and elasticity they provide especially while doing leg exercises.
Regardless of your reasoning for wearing men's gym leggings, this common activewear article offers several benefits that could increase your overall athletic performance:
Mobility – At a very basic level, compression pants increase overall mobility by reducing interference items you might normally keep in your pockets might cause. Since most workout leggings do not have pockets, your phone, keys, and other small items are unlikely to get snagged or uncomfortably pressed against your leg while working out.
Chafing – Leggings also reduce chafing while protecting the skin from irritation often caused by polyester or synthetic blends rubbing up against your body.
Exertion – Wearing workout compression pants lowers perceived physical exertion. This means that when you wear compression pants, your body tricks your mind into thinking you are using less energy while actually exerting the same amount of effort. This allows your muscles to workout harder and longer, thus resulting in greater physical performance.
Oxygenation – Compression tights actually increase muscle oxygenation both while exercising and resting. Our muscles perform best when they are receiving optimal amounts of oxygen, and several studies reveal that wearing compression tights improves our body's efficiency in delivering beneficial levels of oxygen.
Recovery – Recent studies have also revealed that compression leggings aid in the recovery process following a strenuous workout. During levels of high physical exertion during exercise, we create little tears in our muscles that our bodies heal during recovery periods, resulting in muscle growth. Many studies reveal that wearing leggings also aids in our body's ability to repair and grow muscles.
Compression pants also provide extra warmth and comfort that can be especially useful when working out during the winter months, which is why they are commonly used by outdoor runners. Most companies design these leggings with high breathability functionality so they also don't get too hot while exercising. This is because they are built to absorb excess sweat while simultaneously providing insulation.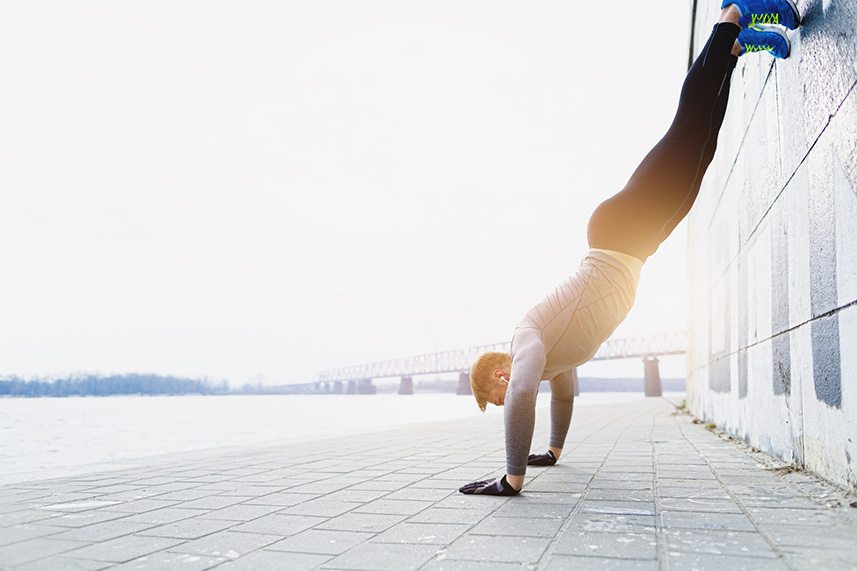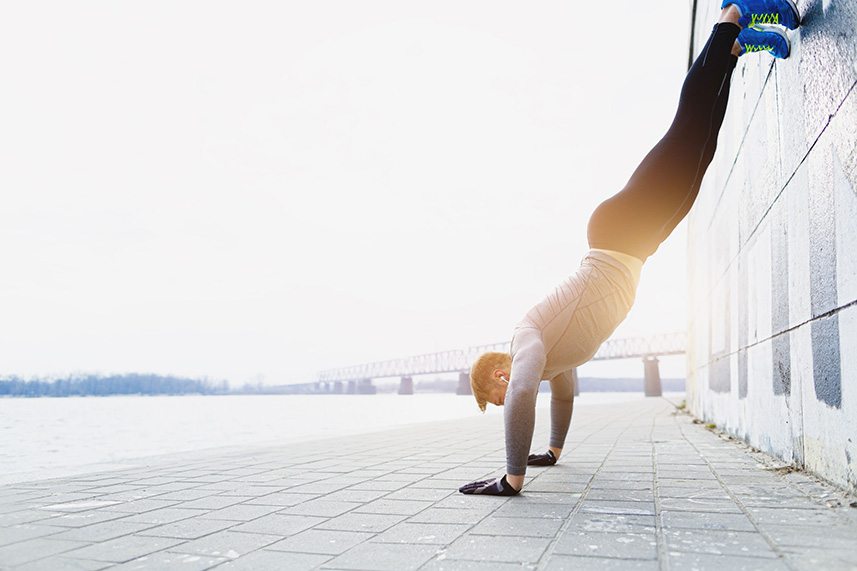 What to Look for in Workout Leggings
In addition to the overall aesthetic of the item, there are several important factors you should keep in mind when considering fitness compression leggings:
Wicking Ability – "Wicking" with regard to workout clothing refers to the ability of the article to absorb or draw sweat off the body. In order to adequately absorb sweat during a workout, clothing should contain certain blends of fabric that absorb sweat best. When selecting a pair of workout leggings, look for a polyester/Lycra blend or a similar synthetic material. If you prefer a more natural fabric, try to seek out bamboo fabric blends. Fabrics with great wicking abilities are designed to keep you cool in the summer and warm during those cold winter months.
Comfort – Your workout clothing should never get in the way of your routine. Select fitness leggings that allow high mobility and elasticity.
Functional Features – If you plan on running at night, it is generally a good idea to select workout leggings that have reflective features so cars can see you. If you plan on running in subzero temperatures, it is crucial to select leggings that are insulated enough to sustain a safe body temperature. With regard to the functionality of your leggings, keep in mind what you plan on using them for during your selection process.
Durability – When purchasing workout leggings for men, it is important to consider the quality of the fabric and the overall construction of the item. Look for leggings that are designed to last and can withstand regular washes. A good pair of leggings should last for years, so check for double stitching and quality seams.  
Fit – It is important to select workout leggings that fit your body properly. Too-tight leggings can restrict your range of motion and cause discomfort during a workout. Too-loose leggings can bunch up and cause unnecessary chafing. Consider your body type when selecting the right fit, and opt for leggings that provide a snug but comfortable fit.  
Support – For maximum support and comfort, look for workout leggings with a high waistband. This will help keep your core engaged and provide extra support to your lower back and abdomen.  
Breathability –  Look for leggings with a lightweight fabric that allows maximum airflow. This will help keep your body cool and comfortable during your workouts.  
Style – Select a pair of workout leggings that are both stylish and functional. Look for a pair with a bold pattern or color that will help you stand out and make a statement.
Our 12 Top Workout Leggings for Men
Given the amazing benefits compression pants provide while working out, here are the best men's workout leggings to help you achieve your fitness goals!
Our TOP PIck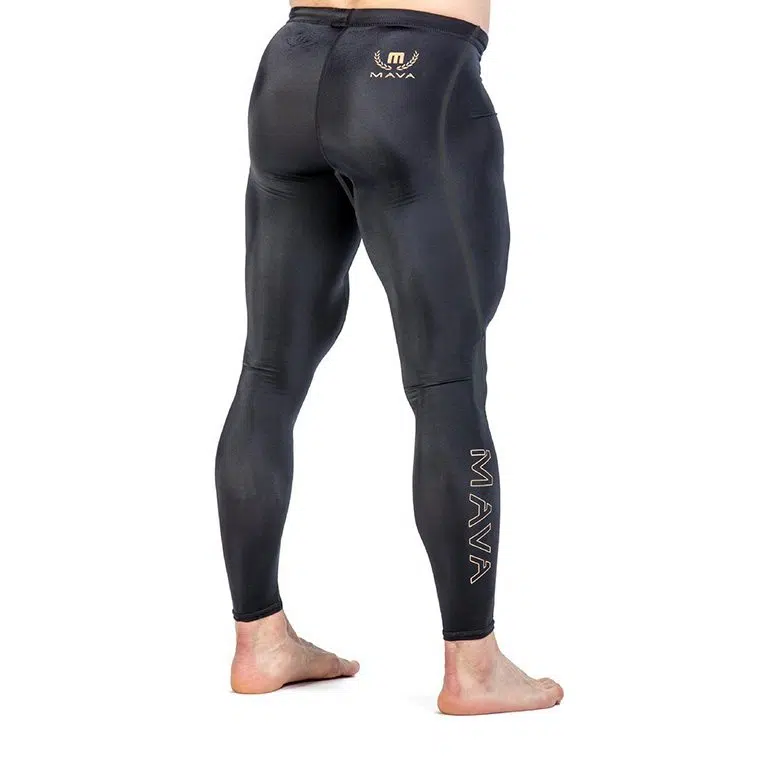 Mava Compression Long Leggings
Mava offers an 80% Nylon, 20% Spandex blend that is perfectly designed to stimulate optimal blood flow and provide support to the muscles and joints. This option is ideal for year-round everyday use, both indoors and out. As far as moisture-wicking goes, Mava offers one of the most sweat-absorbent options out there.
Pros:
Cons:
2.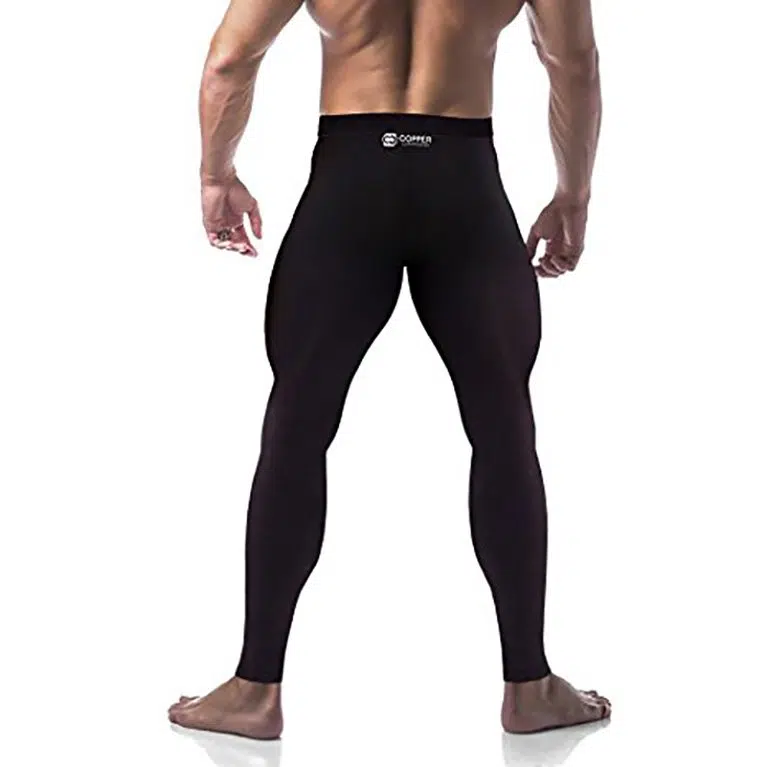 Copper Compression Leggings
These workout compression leggings contain an 88% Nylon/Copper blend that is designed to support stiff and sore muscles and joints. You can comfortably wear these compression pants all day long while still retaining your full range of motion with the high elasticity these leggings offer. Rather than utilizing a copper oxide-infusion, these leggings use genuine copper ions that help these leggings retain their shape, elasticity, and effectiveness for longer.
Pros:
Cons:
3.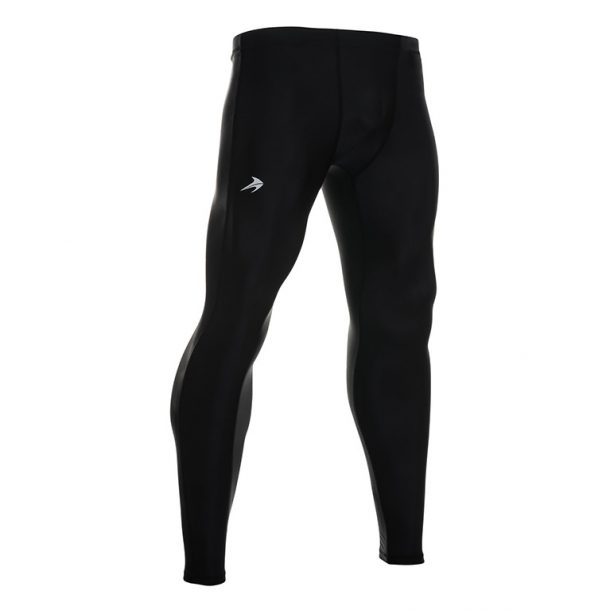 CompressionZ Running Leggings
Similar to Mava's leggings listed above, CompressionZ offers a compression pant with a blend of 85% Nylon and 15% Spandex. However, this option is slightly thinner and more elastic, perfect for cycling, running, and yoga. The elasticity and tight fit still offers all the muscle and joint support you would receive with a thicker pair of compression pants, with a lightweight design that ensures the body will produce less sweat.
Pros:
Cons:
4.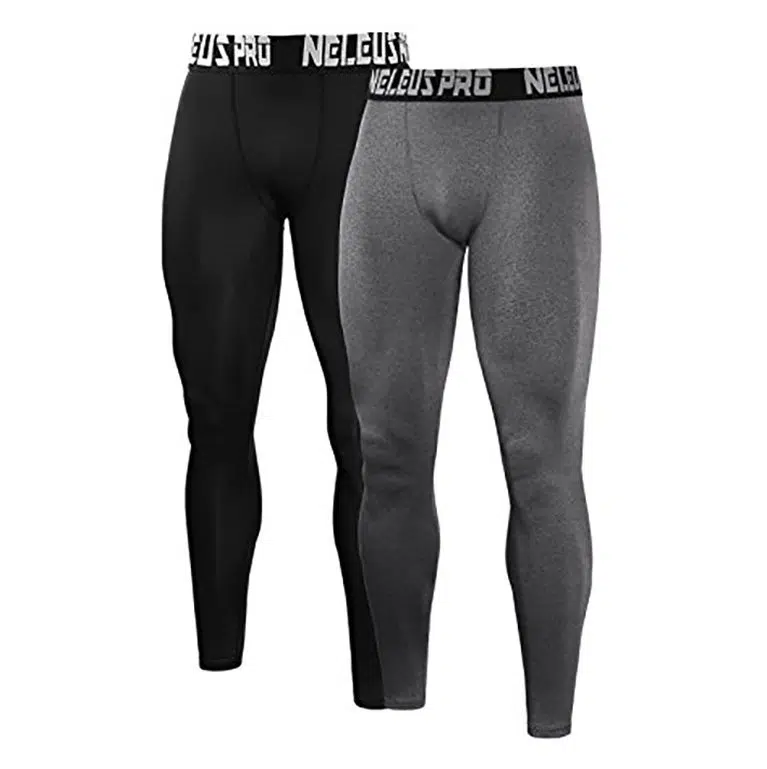 Neleus 2 Pack Men's Compression Leggings
Neleus has created an anti-microbial blend of 85% Polyester, 15% Spandex that is perfect for odor control and sweat absorption. These bad boys are definitely a great deal, offering 2 for the price of one. You can easily layer these underneath an outer layer of workout shorts or pants, or simply by themselves.
Pros:
Cons:
5.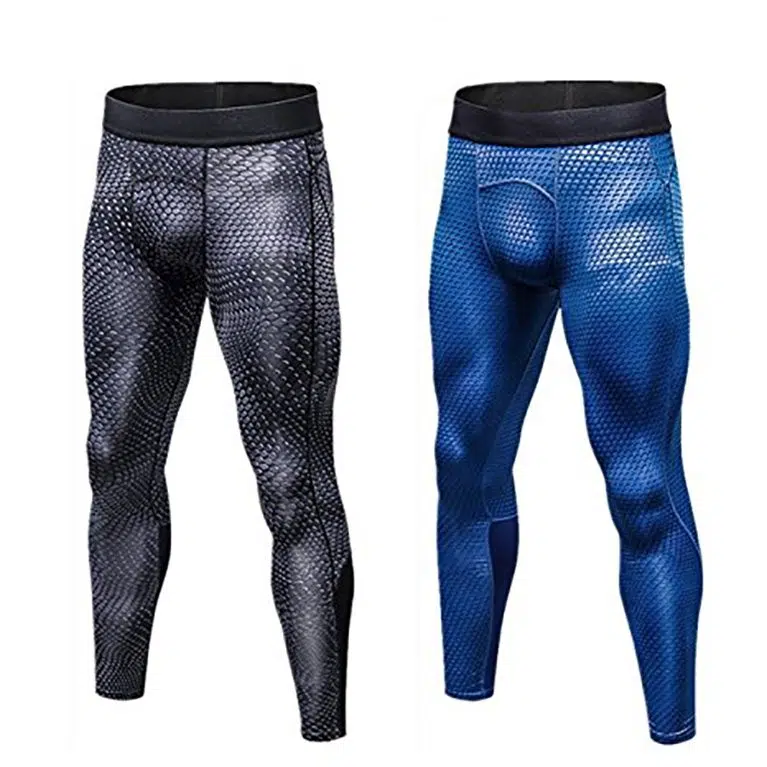 Muscle Killer 2 Pack Compression Pants
Similar to the Neleus leggings, Muscle Killer offers a pant compression product that is also 85% Polyester and 15% Spandex, coming in a pack of 2. However, the overall sleek and textured design of these makes them truly unique. Ideal to prevent skin chafing and irritation, with an integrated moisture transport system that dies fast and efficiently.
Pros:
Cons:
6.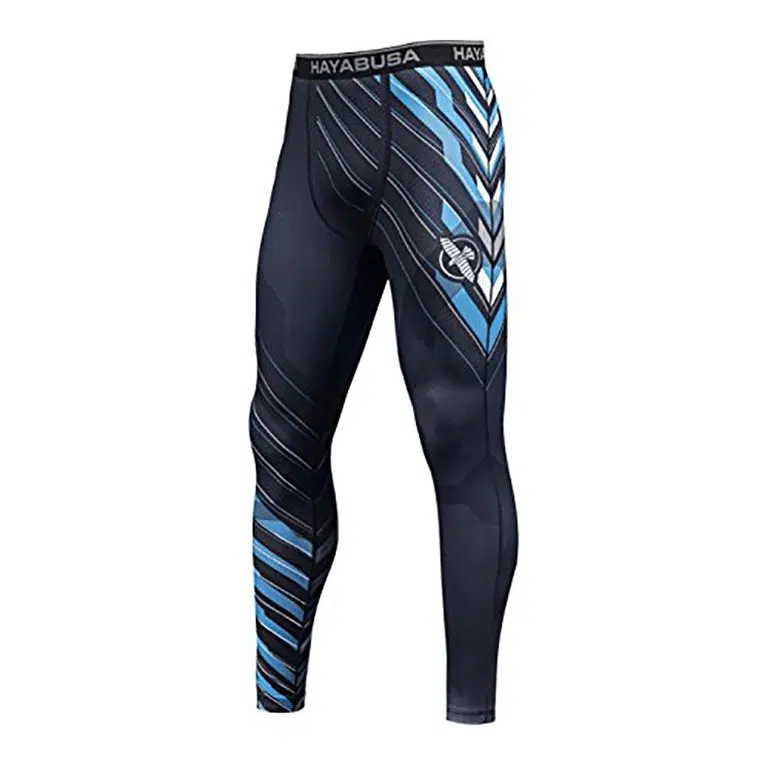 Hayabusa Titanium-Charged Compression Pants
Hayabusa, a well-known sports apparel retailer in the Mixed Martial Arts sector, originally designed this pair of compression pants to be compliant with the International Brazilian Jiu-Jitsu Federation. It contains advanced compression technology with Ti-22 Titanium-coated fibers to help maintain body temperature and muscle oxygen delivery. Ideal not only for gym workouts, but perfect for sparring, martial arts, wrestling, and other highly active movements. The titanium-coated fibers not only assist in maintaining a constant internal body temperature, but helps to prevent the material from breaking down as easily.
Pros:
Cons:
7.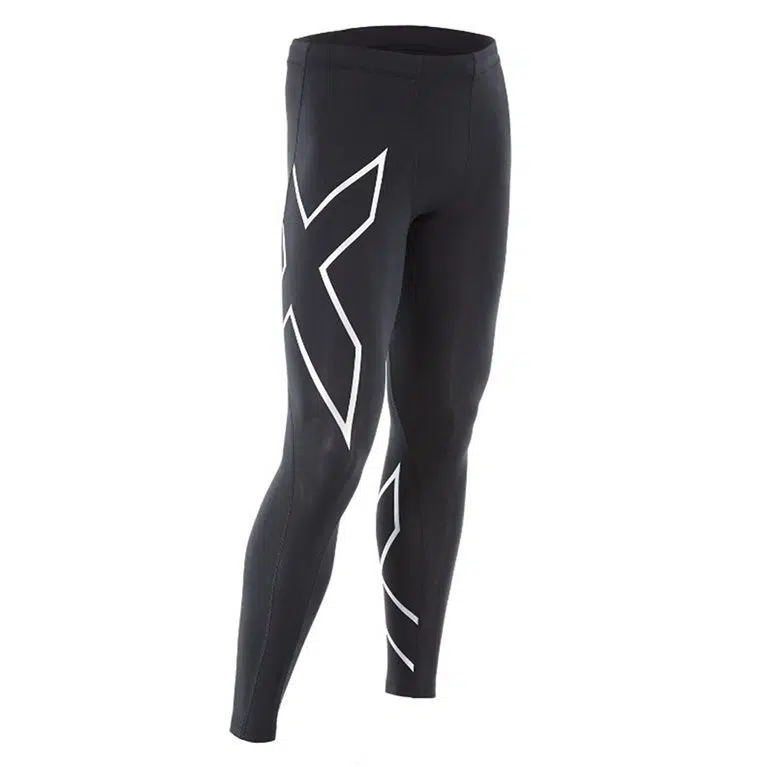 2XU Men's Core Compression Tights
You'll notice that most of 2XU's products come at a slightly higher price tag, but for good reason. Unlike most of the other products mentioned on this list, 2XU built these compression pants out of 72% Nylon and 28% Elastane, which is why they offer a 12-month guaranteed warranty on their products. The compression design supports the glutes, abductor, hamstring, and calf muscles to reduce muscle vibration during your workout. Ideal for someone who wants a great long-term investment.
Pros:
Cons:
8.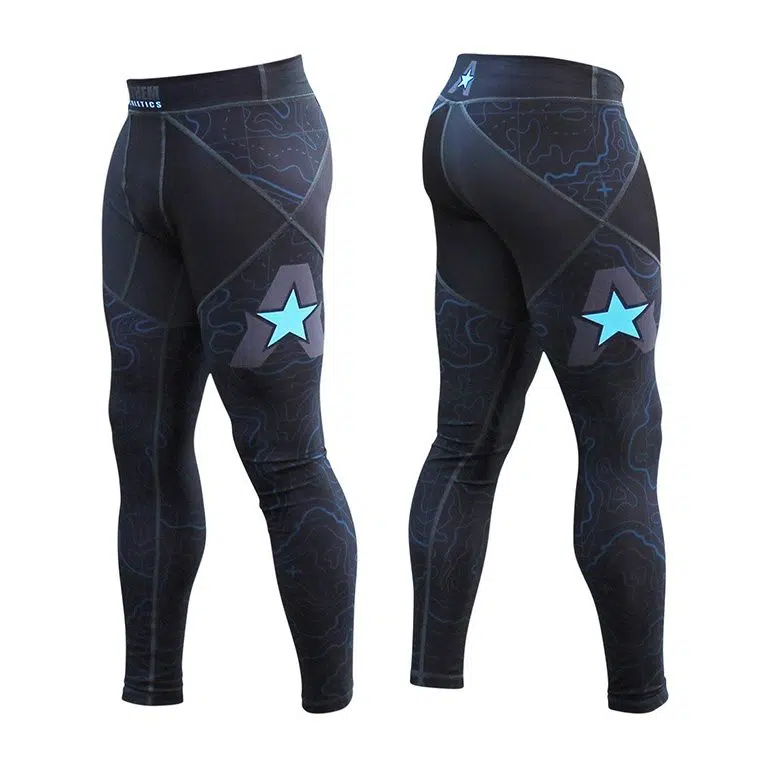 HELO-X Grappling Compression Spats
These compression tights from Anthem Athletics are also uniquely designed to hold up in grueling sparring, grappling, and wrestling settings. Designed from heavy-duty, yet lightweight material, these moisture-wicking pants can be worn in the gym, out running during the winter months, and while wrestling on rubber mats. The graphics and designs look pretty sick too.
Pros:
Cons:
9.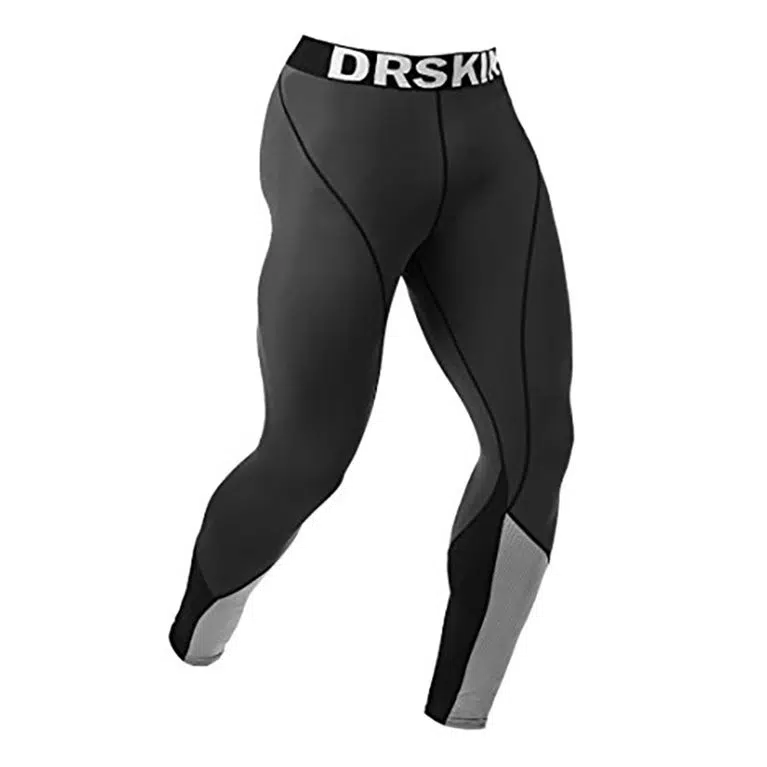 DRSKIN Men's Yoga Compression Pants
DRSKIN offers an excellent compression pant with 98.8% UV-blocking technology, created from 92% Polyester and 8% Spandex. With mesh fabrication that makes for optimal skin breathability, these can even be worn during hot summer months while working to keep the skin cool and increase blood circulation. Perfect for activities that require high elasticity such as yoga, running, cycling, and more.
Pros:
Cons:
10.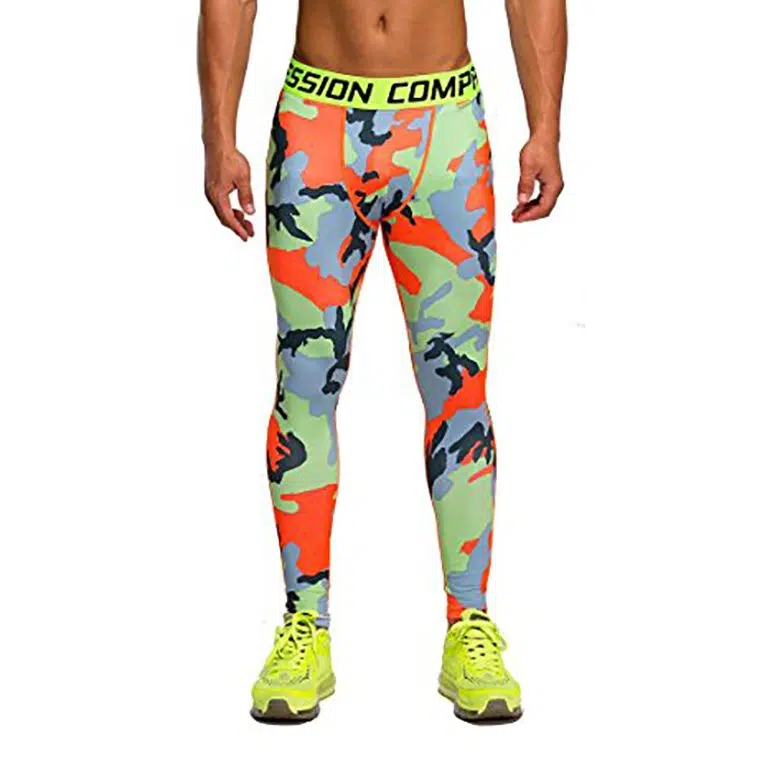 Arciton Professional Compression Tights
These are just plain fun, simply put. With a blend of 86% Polyester and 14% Spandex, Arciton offers a pair of leggings that offers all the functionality and elasticity you would get with a DRSKIN, for example, but with an extremely fun and badass aesthetic. With a moisture-sensing two-way air circulation design, these are perfect for breathability and comfortable for everyday wear at the gym.
Pros:
Cons:
11.
SKINS Men's Compression Tights
SKINS offers a premium elastic men's compression pants with a blend of 76% Nylon and 24% Elastane. With a slightly thicker makeup compared to some of the options mentioned above, these compression tights are engineered specifically to enhance blood flow for improved performance and faster recovery. The precise fit technology works to increase muscle efficiency while simultaneously keeping you dry. Also approved for everyday use, both in and out of the gym.
Pros:
Cons:
12.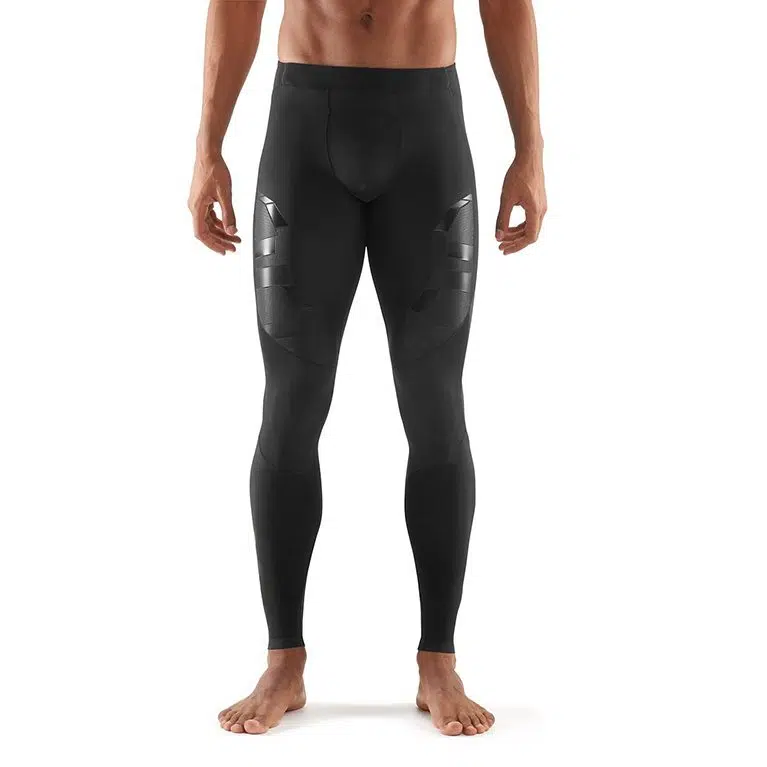 SKINS Men's A400 Compression Long Tights
Along with their mid-range compression pants mentioned above, SKINS offers a premium compression tight that is the world's first dynamic gradient compression wearable legging. With adaptive HEIQ technology and flat bonded hems, the beautiful design of this legging is built to protect you from chafing, rough elements, and hold up for many years of wash and use. It is made from 76% Polyamide and 24% Elastane, a hybrid blend that has been tested to last longer than most spandex and elastic fabric types.
Pros:
Cons:
What are Men's Workout Leggings?
Men's workout leggings are manufactured from thick fabrics like spandex, nylon, lycra, cotton, polyester, or a combination of materials. Their snug design provides support yet allows for free and easy movement. Leggings range in length from mid-calf to the ankle and may have additional support around the crotch.
What's the Difference Between Tights vs. Leggings
Tights look similar to leggings but have several significant differences. Although you'll find footless tights, most cover the feet. Many only provide sheer coverage, meaning you'll have to wear a pair of shorts over them. Tights usually have elastic around the waist and are generally made from cotton or polyester blends. They also have an extremely tight fit similar in comfort to nylons.
 You can wear leggings more like pants, yet some may have designs similar to tights as they are smooth around the waist and lower torso. Many leggings have a distinct waist and have pockets for cell phones and other small items and are generally considered more comfortable than tights.
Benefits of Workout Leggings for Men
Workout leggings can provide you with several benefits over loose workout pants. Once you try them, you may never go back to other workout pants. You'll find them in two different types, regular and compression, with the latter often providing additional benefits and boosting your performance. 
1. Better Muscle Support And Recovery
Provide important advantages to those working out, including better muscle support and recovery. The snug fit of these leggings helps to reduce muscle fatigue and soreness by increasing blood flow to the muscles, helping to reduce the risk of injury. Additionally, the compression in the leggings helps to absorb strain and stabilize the muscles during the workout, allowing you to perform better and with less fatigue. The improved circulation can also contribute to quicker recovery times and reduced post-workout soreness.
2. Enhanced Performance
Offer improved performance over traditional loose workout pants. The tight fit of the leggings helps to increase muscle oxygenation, resulting in more energy and power during your workout. The compression in the leggings also acts as a shock absorber, helping to reduce the vibrations that can cause muscle trauma. This can help you to achieve more during your workouts, pushing yourself further and getting better results.
3. Reduce Muscle Soreness
It can help to reduce muscle soreness caused by hard workouts. The increased blood flow helps to reduce fluid buildup and helps to remove creatine kinase, an enzyme that can cause sore muscles. The tight fit of the leggings also helps to reduce the overall strain placed on the muscles, reducing fatigue and helping to prevent further soreness when engaging in strenuous activity.
4. Superior Groin Support
Provide superior groin support compared to other workout gear. Especially those with a molded crotch cup design will help keep you safe when jumping, squatting, lunging, and running. The snug fit of the leggings helps to keep everything in place and prevents any chance of chafing or discomfort in these areas.
5. Better Comfort
Provide improved comfort over traditional loose pants. The moisture-wicking materials help to keep you drier during your workouts by drawing sweat away from the body. The snug fit of the leggings also helps to reduce slipping and chafing, allowing you to move freely and focus more on your workout. The lightweight material used to make the leggings also helps to keep you cool and comfortable during your exercise, making them the ideal choice for any workout.
6. Improved Posture
It can help improve your posture during workouts. The snug fit helps to keep your body in alignment and prevents slouching and hunching, which can lead to back pain. The material also helps to keep your abdominal muscles engaged, giving you better core stability and helping to prevent any future injuries.
7. Enhanced Safety
It can help to enhance safety during exercise. The snug fit helps to reduce the chance of any clothing becoming caught or snagging on gym equipment, reducing the risk of injury. The material also helps to provide more protection from any falls or slips, helping to prevent bruising or scrapes.
8. Improved Flexibility
It can help to improve flexibility during exercise. The snug fit of the leggings helps to increase the range of motion your body can achieve during exercise, allowing you to perform more stretching or dynamic movements. The material also helps to reduce muscle strain, making it easier to reach further without pain or discomfort.
9. Improved Thermal Regulation
Workout leggings can help to regulate their body temperature during exercise. The material used to make the leggings is breathable and lightweight, allowing for increased air circulation and helping to keep the body cooler. The snug fit of the leggings also helps to trap heat, keeping the body warm during cold weather workouts.
10. Increased Confidence
They can help increase confidence while working out. The snug fit of the leggings helps to flatter the body shape and provides support where it is needed, helping to make the body appear more toned and defined. The confidence boost can help to motivate men to push themselves further and achieve greater results during their workouts.
11. Improved Durability
Compression leggings are designed to be more durable than traditional workout pants, making them ideal for those who are active. The material used to make the leggings is designed to be lightweight but also durable and long-lasting, meaning they can withstand regular wear and tear. The snug fit also helps to reduce any excess movement, reducing the risk of any rips or tears during exercise.
Tips for Buying & Wearing Men's Workout Tights
Look for the following features when buying a good pair of men's tights.
1. Quality Material And Fit
Look for a pair of men's tights made from quality material, such as spandex or polyester, with a contour that fits the male body. Consider the stretchiness of the material and whether it is breathable. Make sure the fit is snug but not too tight, so you can move with ease.
2. Weather Resistant
Choose a pair of tights that can handle any weather, so you can stay warm and dry during your workouts. Look for features such as water-resistant fabric, windproof membranes, and insulation layers. An extra pair of tights under your leggings can also help keep you warm in colder climates.
3. Sweat Wicking
Choose a pair of tights that are designed to wick sweat away from your skin. This will help you stay cooler and more comfortable during your workouts. Look for fabrics with moisture-wicking properties and consider buying a pair with a built-in sweatband.
4. Seamless Leggings And Tights
Seamless leggings and tights are becoming increasingly popular, offering improved fit and comfort. Look for items made from seamless fabric such as nylon, spandex, or polyester. Seamless design helps reduce irritation and chafing, making them ideal for long workouts.
5. Compression Tights
Compression tights are designed to provide extra support to the muscles and reduce muscle fatigue and soreness. Look for tights with graduated compression that provides the most support in areas with the most muscle activity.
6. Reflective Details
If you plan on running or exercising outdoors, choose a pair of tights with reflective details. These can help you stay visible in low-light conditions and help you stay safe. Look for items with reflective piping or logos for maximum visibility.
FAQs on Men's Workout Leggings
What are leggings called for men?
Men's leggings are mostly called compression bants. They come in various styles and types like Capri and full-length leggings. Determining the cut that fits you best is essential.
What to wear under workout leggings?
To go commando or not commando, that is the question. Many guys wonder if they need underwear while wearing athletic leggings. Health experts have varying opinions. It's okay to work out without underwear if the leggings fabric is absorptive or moisture-wicking. You can safely go commando under your leggings if you take several precautions. Workout bottoms need to be tight. Also, look for smooth seams or seamless pants to prevent rubbing.
Can men wear leggings while working out?
Men's leggings are ideal for working out. They are designed to help all fitness levels and can be worn for virtually all indoor and outdoor activities, making them one of the best choices for multi-purpose athletic clothing.
What are men's training tights for?
Men's training tights allow you to stay warm while giving you coverage and complete freedom of movement. The soft, breathable microfiber they are made of can help improve performance and reduce chafing while improving airflow. They're perfect for many different physical activities.
Are there male leggings?
Some brands of men's leggings come with a crotch cup that will make you look well-rounded without showing every detail of your junk. You'll have a superhero crotch. However, if you're feeling brave, you can remove the cup to expose your money-maker and give everyone the show you want!
Can men buy leggings?
Look for leggings that are specifically marketed to men for the best fit for your physique. Unisex leggings or tights are not a good idea.
How can you tell good quality leggings?
Good quality leggings have four essential features: stretch, airflow, compression, and retention. Sweat-wicking ability is also necessary as it is designed to keep you dry. Other desirable features include shape retention that allows the fabric to return to its original look after washing, full coverage as you don't want others to see through to underwear, and more, functional details like a concealed, interior waistband pocket to carry keys, lip balm, cards, etc. Multi-pocket options are also an option but make sure these don't make you look bulky. 
Are leggings attractive to men?
Of course, they are! You can wear them either alone for performance for cycling, running, or similar pursuits or with a pair of athletic shorts on top. They come in various colors and patterns, so you don't have to sacrifice style for comfort.             
Can guys wear tights to the gym?
Can guys wear tights to the gym? The answer is yes! In fact, many guys find that tights are actually more comfortable to workout in than traditional shorts. Tights provide support for your muscles and can help prevent injuries. They also wick away sweat, so you'll stay cooler and more comfortable during your workout.           
What are men's workout tights for?
Mens workout tights are designed to improve your workout by providing support and compression. They can help to increase blood circulation, which can improve your endurance and performance. Additionally, they can help to reduce muscle soreness after a workout.
What are tights for guys called?
Tights for guys are typically called compression shorts, or compression tights. These garments are designed to fit snugly and provide support to the hips, thighs, and glutes. Most men wear them during workouts or when playing sports. They can also be worn under regular clothing as a base layer.
What are the best men's tights?
The best men's workout leggings are those that fit snugly and are made of breathable material. They should also have a comfortable waistband that doesn't dig into your skin. Additionally, they should be moisture-wicking to keep you cool and dry during your workout.