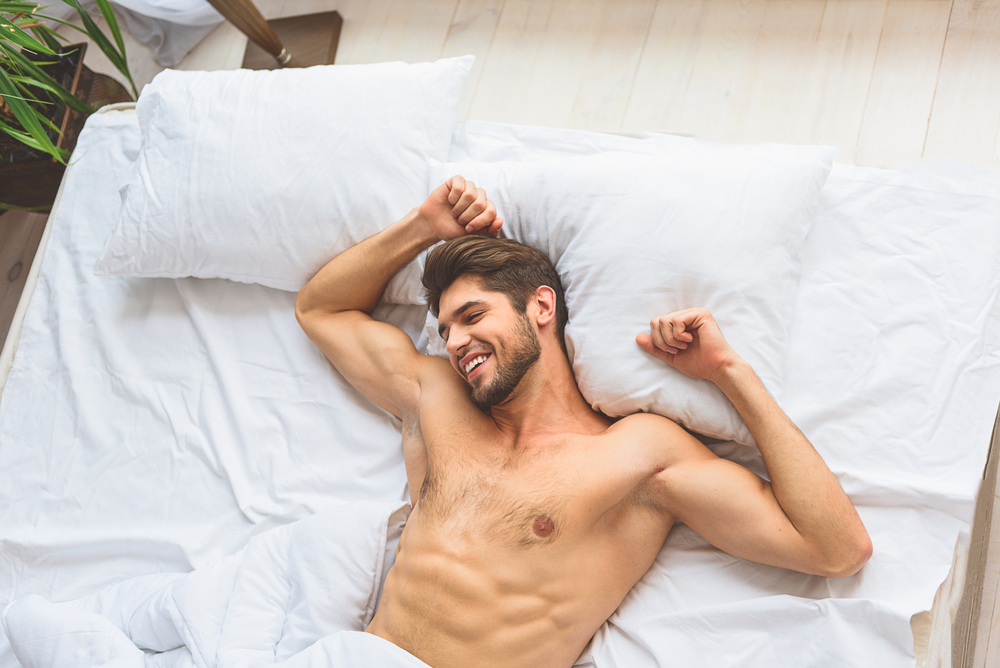 Reading Time:
9
minutes
Sex toys can spice up most experiences in the bedroom.
While there are many toys to choose from, sex toy designers have created some unique designs that stimulate the male g-spot, also known as the prostate, to evoke intense and awesome orgasms.
The prostate is a pleasure organ located 2-3 inches inside of a man's anus. To learn more about how to locate and stimulate this organ manually, check out our guide to How to Have a Prostate Orgasm.
If you are ready to see what it is like to have, receive, or give mind-blowing orgasms using toys, the list below contains 13 prostate massagers and stimulators that can help you figure out which toy will fit your needs or those of your partner.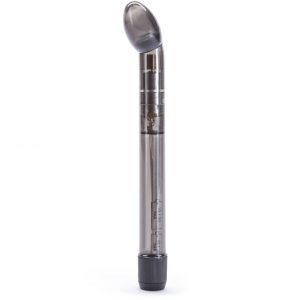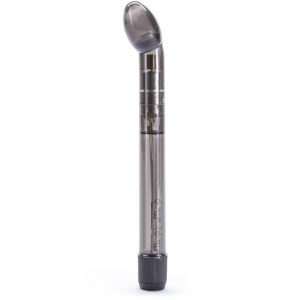 If you are just getting started and new to prostate stimulators and massagers, or have been stimulating the prostate for a while, Dr. Joel's Prostate Massager is your toy. It is small – only 7.25 inches long with a girth of 3 inches and designed to help you find the prostate easily. With the right amount of lube, the locator can easily slide into the anus and push against the prostate with its curved, firm probe. The silky-smooth texture evokes additional sensual stimulations, ideal for regular use. The locator is body safe, free from porous latex and phthalates. If your only goal is to locate the prostate, Dr. Joel's design is made to help you achieve it while also bringing you pleasure.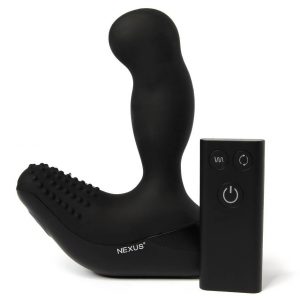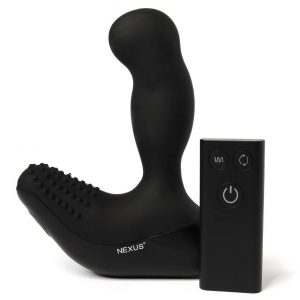 In the market for something firm, for a hard-pleasurable shag? A Nexus Revo can get the job done. The prostate massager's slim design is perfect for beginners. With the right amount of oil-based or water lube, the firm massager will position itself pleasingly at the prostate with its curvaceous design. With a base that has ridges leading to the handle, the Nexus Revo also excites pleasure near the perineum. When used with a partner, the massager's curvy handle helps the Revo move with the body while keeping it in place if the user is lying on their back. The Nexus Revo is a small massager with an insertable length of 4 inches and 3.75 circumferences. Users who are looking for something with less flexibility, and something a little sturdier might enjoy the Nexus Revo Prostate Massager, regardless of whether they are beginners or veterans. Also comes with a remote control for the ultimate solo play.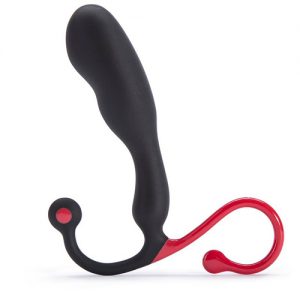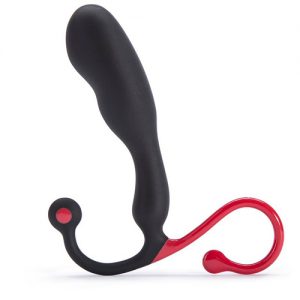 The Aneros prostate massager is a sleek, firm, and slender redesigned evolution from the Aneros Euph Classic. Due to its petite structure, the stimulator can easily find the prostate. At a length of 4 inches, a 1-inch mid-width, and a tip width of 3 inches, the velvety silicone surface covers the hard-plastic material that makes the massager sturdy. Towards the base of the massager, there are two bumps, one to pass the sphincter (opening muscles), and one right at the sphincter, which can help with Kegel exercises. The base of the Helix Syn is designed to massage the perineum and provides a tad bit of stimulating pressure. Although the Aneros Prostate Stimulator is said to be for advanced anal enthusiasts, the massager can also be good for beginners who would enjoy a little more stimulation in the anal canal.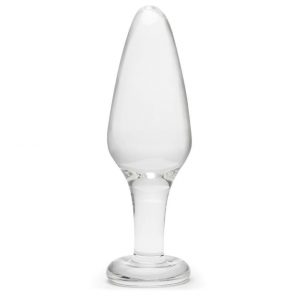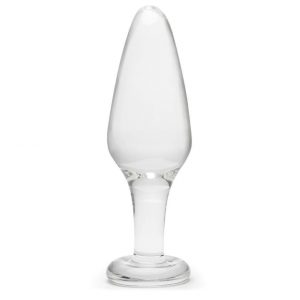 A butt plug handcrafted out of glass will not only leave you breathless, but its sleek design can stimulate your prostate in a refreshing way. The glass material can be cooling to the touch, which sends pleasurable chills to the most hypersensitive area of your body-the prostate. The right amount of water or silicone lube can easily slide the plug into the anal canal. The Icicle's tapered tip is crafted for easy insertion as it widens into a bulb and slims down into a narrow neck, for the sphincters to wrap around and hold the plug in place up to its rounded base that sits outside the buttocks. Icicles Prostate Plug is made out of hypoallergenic glass that is porous free and body safe. The insertable length is 4.5 in. with a 4.75 in circumference. The glass butt plug is sturdy and hard due to its material, but its sleek design makes it a desirable experience for the prostate.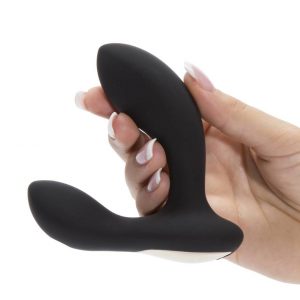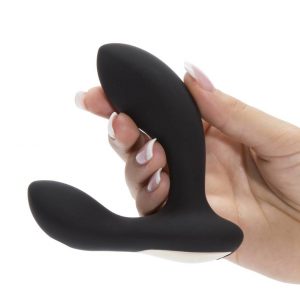 The world's most pleasurable prostate massager known as Bruno, and has the built-in power to give a man the most powerful orgasm he has ever experienced. The curved designed can easily locate the prostate and have a man begging for more when the vibrator in the smooth, tapered tip is activated. The vibrating base gives a man dual pleasure while it stimulates the perineum and teases the opening of the anus. The 2-motor vibrating prostate massager is a waterproof, body safe silicone/ABS (hard plastic) design. Its medium size is excellent for all users no matter their level of anal play. With 6 variations of vibrational patterns, the vibrator is battery operated and can be used for up to two hours after it is fully charged. The prostate massager is 3.4 inches long and 1.28 inches wide, a comfortable sensation that can blow a man's mind away.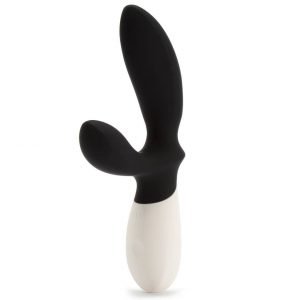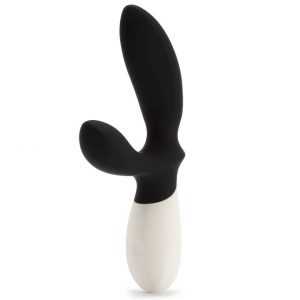 Designed with a "come hither" motion, the Lelo Loki Wave is a prostate massager that delivers stimulation to a man that is usually felt through manual stimulation. The wave is a sleek design with a dual motor which stimulates internal and external pleasure. Loki is made from silicone which is body safe and waterproof. Loki is somewhat of a large toy, with a length of 8 inches, insertion tip of 4 inches, and a girth of 4.5 inches. A perfectly crafted bulb that sways back and forth is one of ten stimulating modes to an intense, gratifying orgasm of the prostate.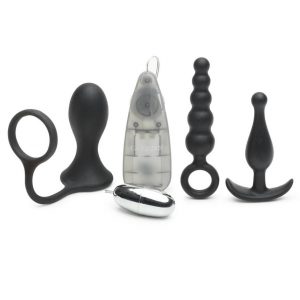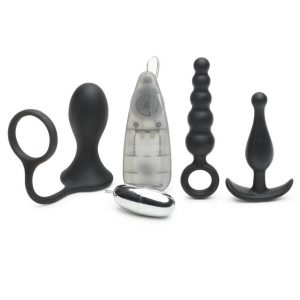 CalExotics has put together a kit for beginners to learn which prostate massagers stimulates them the most. The kit contains stimulating toys with one motive: target the G-spot. The pleasure toys are Silicone Prostate Probe, Silicone Prostate Probe with Ring, Silicone Beaded Prostate Probe, and Multi-Speed Stimulator. The massagers are all made from silky body-safe hypoallergenic pure silicone and hard plastic. While three of the massagers can be used manually, the Multi-Speed Stimulator runs off of 2 AAA batteries, which are sold separately. Each item is specifically handpicked for a person with a prostate to experience test various toys and figure out which one can offer the most arousing orgasmic experience.
Below is a detailed description of what to expect in the Prostate Training Kit for him.
Silicone Prostate Probe: A silky plug made to prepare the anal entrance for sensual stimulation. It has a petite, smooth tip shaped in a rounded sphere, and a smooth taper for the head, and a thicker body. It has a wide base for grip and protection from too-deep penetration. The Probe is 4.75" (12cm) and it has a slim neck that flexes for an increased amount of pleasure. It is a body safe toy made from silicone and a velvety matte touch.
Silicone Prostate Probe with Ring: A 3.5" (9cm), a butt plug with a stretchy angle that stimulates the cock and ball ring for stamina, sensation, and support. It is designed to fit over the penis and testicles. The Probe with a ring is thick and curvy, designed to target the P-spot. The toy can be used for solo or partnered play. Once the ring is on the probes' shaft, it can easily penetrate the anal canal and stimulate various erogenous zones along the way.
Silicone Beaded Prostate Probe: Five beads that swell and stretch gradually as they penetrate and stimulate the anal canal with ease. The velvety silicone bead is flexible and designed in a curve with a ring base.
Multi-Speed Stimulator: Includes a handheld remote which controls various vibration for an intensified orgasmic experience. The stimulator is a silver bullet that connects to the remote by a 25" cord.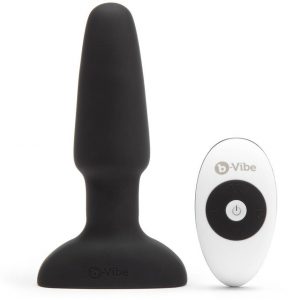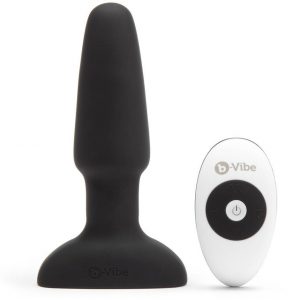 A large vibrating butt plug made for the experienced anal enthusiast. The rimming delivers an experience that can be exhilarating. The plug has 7 rotating and 6 vibration patterns, and intense rotating levels. B-Vibe placed rotating beads near the tapered tip of the plug to massage, caress, and rub the prostate. It is USB rechargeable and can be operated with or without its remote up to 30 feet away. It is made from 100% silicone.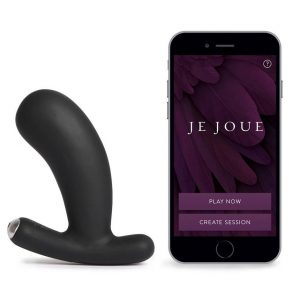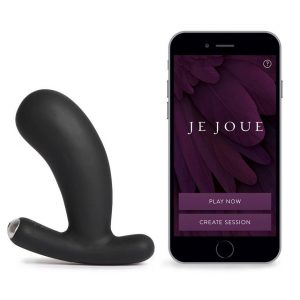 The Je Joue-Nuo is designed to be an app-controlled couples' butt plug, meaning that it can be controlled with an app, even from far distances. Touted as an ideal sex toy for long distance relationships, this product is a great way to feel closer to your partner, even from afar. It is a silky-smooth design shaped with a gentle curve and a round body. Its slender design is crafted to follow the body's natural lines, so it can easily fit between the buttocks. There are two motors within the Nuo for simultaneous or separate stimulation for the perineum and prostate. The app that is used to control the Je Joue-Nuo also allows you to create a playlist, you can connect with your partner anywhere.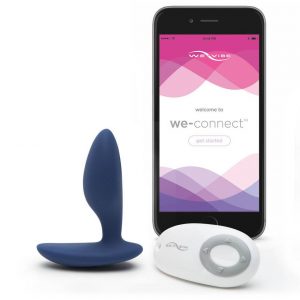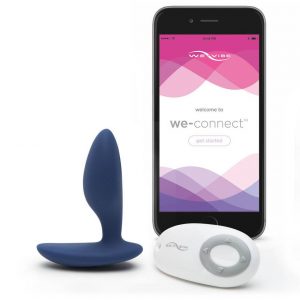 Ditto is a vibrating butt plug that can be controlled by the We-connect app or remote. Its small body is made of smooth body-safe silicone it is free from phthalates, latex, and BPA. The butt plug is also 100% waterproof, making it durable for any occasion or setting. It is USB rechargeable, so it can be used without a cord, and the battery can last up to 2 hours with a full charge of 90 minutes. The Ditto has 10 vibration modes including a rumbling vibration. The vibrating dimensions are 68.45mm x 88.10mm, making it fun for couples to stimulate each other comfortably anywhere.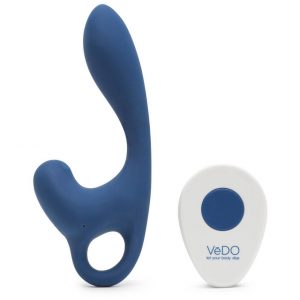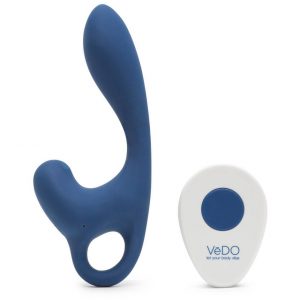 The Cowboy is a dual motor stimulator with a "powerful punch." The prostate vibe is made from silky silicone, at a length of 15cm and a diameter of 3cm. It has two powerful motors which are controlled by a remote control and it is splash proof, meaning it can be used in the shower. Cowboy can be charged using a USB, and its battery life lasts for up to two hours. The prostate vibe has 10 vibrational modes and one button that can easily control them all. When it comes to the vibrator, couples don't have to worry about others hearing the sexual stimulation occurring between them while in public due to its quietness.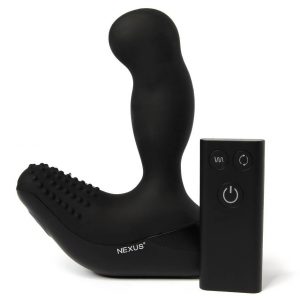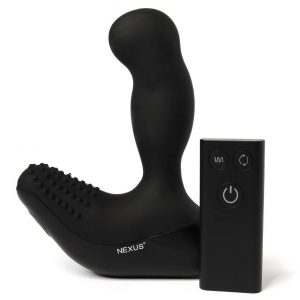 Quiet and powerful is what you get from the Nexus Revo Stealth. The prostate massager is made from a body safe, hypoallergenic, silky smooth silicone, ABS plastic base and is non-porous. The silky-smooth shaft rotates at 2 speeds; low 25-RPM and high 35 RPM. Stealth has a vibrating shaft and base to give the user a rotating vibrating sensation stimulating both the prostate and the perineum. Nexus Revo Stealth has 6 vibrational patterns controlled by a wireless remote control up to 15 meters away. There is no need for batteries for the toy. It uses a USB cable that gives its user a possible 10-hour battery life once it is fully charged after only 3.5-hours. It is a good toy for couple or solo play because a user can straddle the Revo while being intimate with their partner.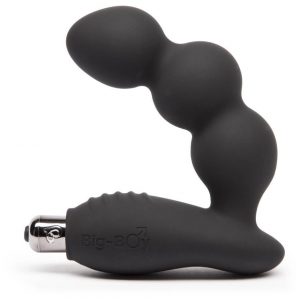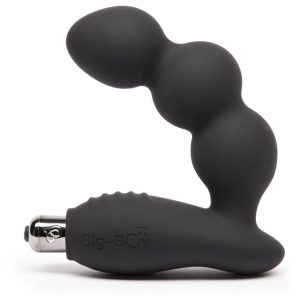 Rock-Off offers a hands-free experience that takes a person on an orgasmic ride as it vibrates powerfully against the perineum. It is a two-in-one toy that can easily be inserted into the anus to massage the prostate while stimulating the perineum. The Big Boy has 10 vibrational settings, 3 speeds that range from high and low, along with 7 pulsation patterns to help you achieve the ultimate orgasm. It uses a USB to recharge for up to 60-minutes. It is 100% waterproof and an on and off power button. The massager is and it is made out of flexible, body-safe silicone, which is ultra-soft.
Keep in mind that while looking for the perfect prostate massager for you or a partner, prostate massagers and stimulators can be used by anyone, whether it is specified for a beginner, a veteran, a toy for couples, or self-use.