RuPaul's Drag Race All Stars 4 EP 7: Queen of Clubs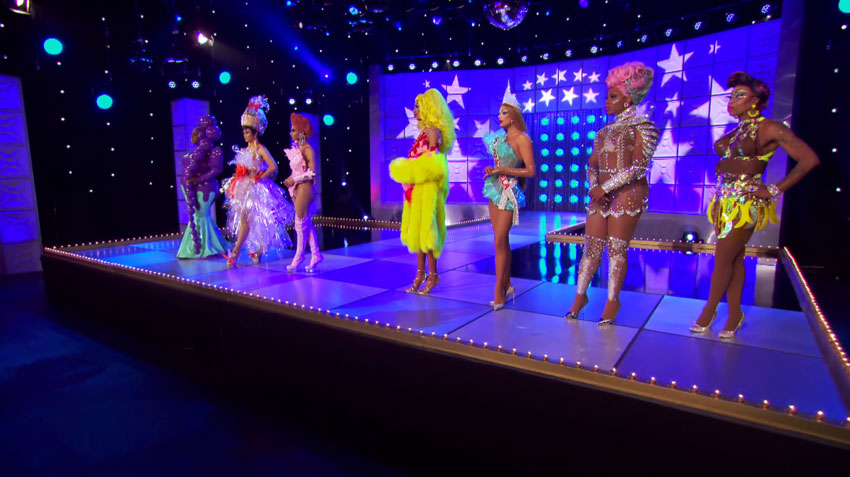 It's not Gia, but it's Okay
I don't think any of us would think that in All Stars 4, Gia Gunn would be the robbed Queen. Not just once, but twice. That said, it's clear that Latrice Royale has more to show. Several improv comedy challenges in a row really did a number on her reputation especially among casual fans to the point her spectacular showings in episodes 1 and 2 of the season seem to be all but forgotten. Gia Gunn probably should've returned, but we're not mad at Latrice returning, and if you are, do you even like Drag Race?
Tonight's episode gives newer fans to Drag a taste of something we haven't seen much of Drag Race – the NYC Club scene. Though Paris is Burning is quoted on an hourly basis and we often hear about it in passing with Queens like Peppermint. It's often never gone into depth, but tonight we get a real taste of it.
It's not Gia, but it's Latrice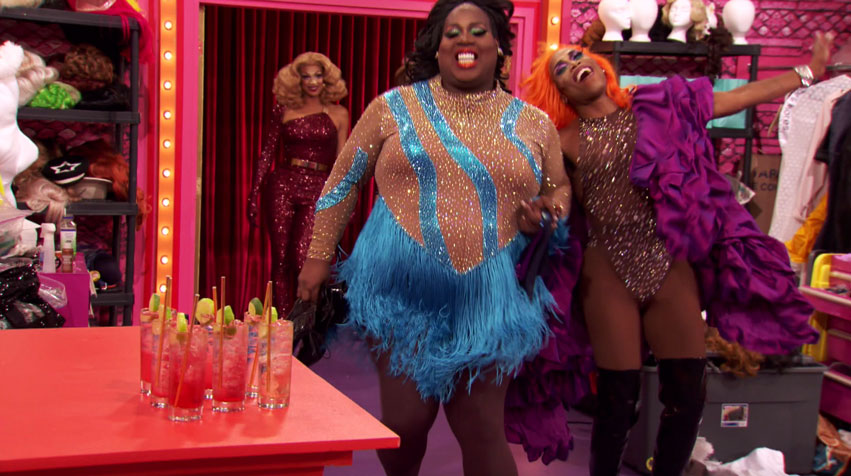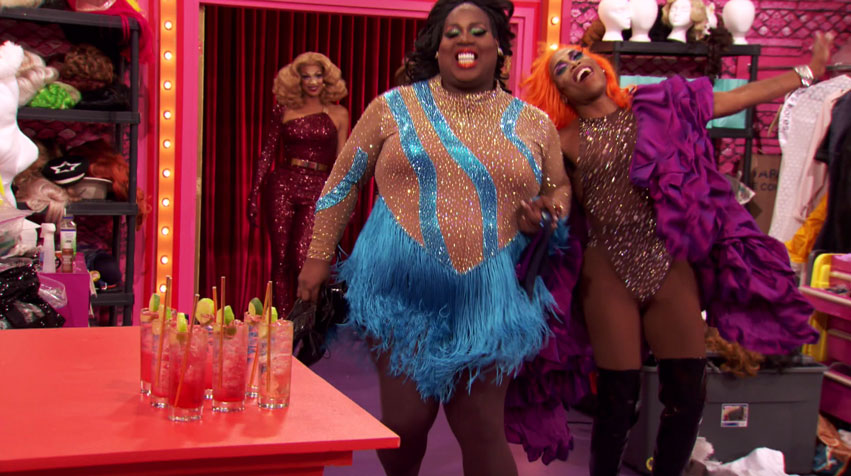 Latrice Royale is back-back-back again with a newly lit fire under her and in her eyes, meanwhile Miss Monique Heart is not impressed – oh at all.
Surprisingly, it's Valentina who has the lowest stats of the Queens (Latrice aside), along with Naomi Smalls who has not scored a win yet. However, Valentina's so-called "French Vanilla Fantasy" is strong and not going to accept that reality. Manila and Monet who got a free vacation last week haven't got much to say but Manila is clearly happy Latrila is back in business.
It's not Gia, but it's Susanne Bartsch
No mini-challenge, but I think we just have to accept that's how it is on All Stars at this point.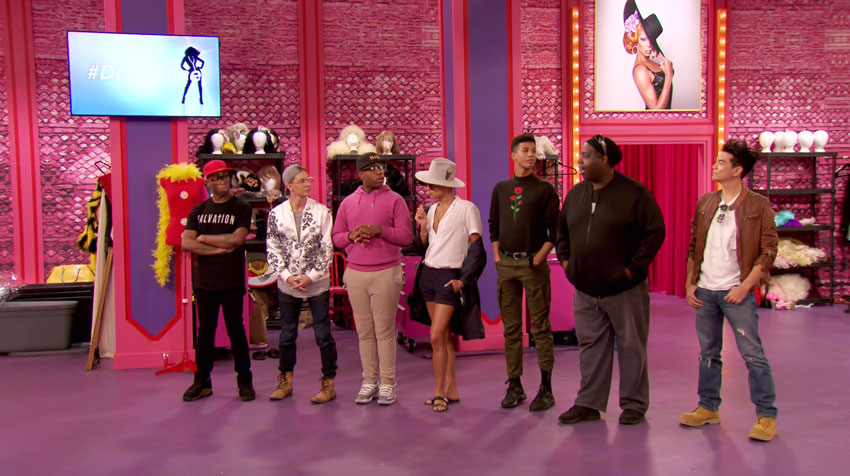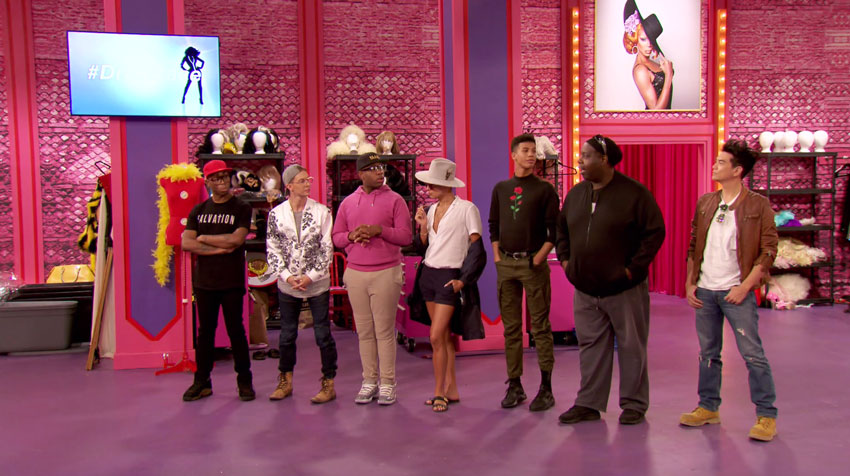 Ru announces this week's challenge. To design their own nightclub experience with VIPs Michelle, Carson, Rita Ora and SUSANNE BARTSCH. Ru lays out a little bit of a history about Club Copacabana, Danceteria, Pyramid and other clubs of days past where the Club Kids came alive. Susanne Bartsch is of course, the Queen of all Club Kids and is the perfect guest for this episode.
Latrice selects the teams, Monique and Monet, Naomi and Valentina, Trinity and Manila. Latrice places herself with Trinity and Manila, the cleverest option as Manila is a trained interior designer. Additoinally, neither Trinity or Manila can do wrong in the eyes of the Judges. Latrice showing off her business savvy.
It's not Gia, but it's Synergy
Team Valomi chooses a 'modelling' theme (uh-oh), originally calling it 'Club Diva' (uh-oh), where you can be Queen for a Night (uh-oh), Interior Illusions Lounge meets modern day disco (uh-oh), with a reference to Studio 54 (uh-oh), but maybe with a 69 joke in there (uh-oh). But, it's only at this last bit that Valentina sees as too expected and clichéd. The modelling duo sort of follow that stereotype that fashion girls lack creativity. It's unfortunate.
Eventually, the concept is something about guests instead of being so horny, are so boujie, they face away from each other… Club 96. Uh-oh.
It's a half-baked concept at best. Quarter-baked? One-eighth?
Monique and Monet go for a space-theme, "The Black Hole", where anything goes. It's a tidy concept with a great tagline. The MoMo duo's synergy makes All Stars 1 weep and they're really bouncing off each other well.
Meanwhile, Team Latrility the Chunky Skunkstripe Tuck is off to a roaring start with Manila's graphic design skills. While the other teams are left with doodled concepts that look a little preschool, Manila develops a beautiful complete concept. Bees.
Bees is perhaps nothing new, Manila herself wore a bee look back on season 3, but the shocking color combination, suitability with drag – buzz and honey catchphrases abound and graphic-ness (if that's a word) fit the challenge very well. This is the team to beat.
It's not Gia, but it's HGTV
 Now, this is where the episode gets cool. The girls actually get to paint their spaces and set them up themselves. Total creative control is something rarely seen on Drag Race, and seeing this aspect of it, and getting out of the work room is great. More challenges like this please. The Queens seem to feel it too, savouring their freedom from cabin fever. Trinity, Latrice and Manila usually the ever-professional come all over with the giggles when Latrice can't get her overalls on.
Meanwhile, Monique asks Monet what the correct way to paint. She's told that it's up-to-down by Monet, who says that Jesus said so. Monique immediately paints left-and-right instead.
Valentina is in her underwear, and clearly caught up in the physical painting side of things rather than the concept and hosting to Naomi's distress. Val shows her disdain for the "Alien Club" and "Bee Club" with a pair of 'ews'.
It's not Gia, but it's Time to Release the Bees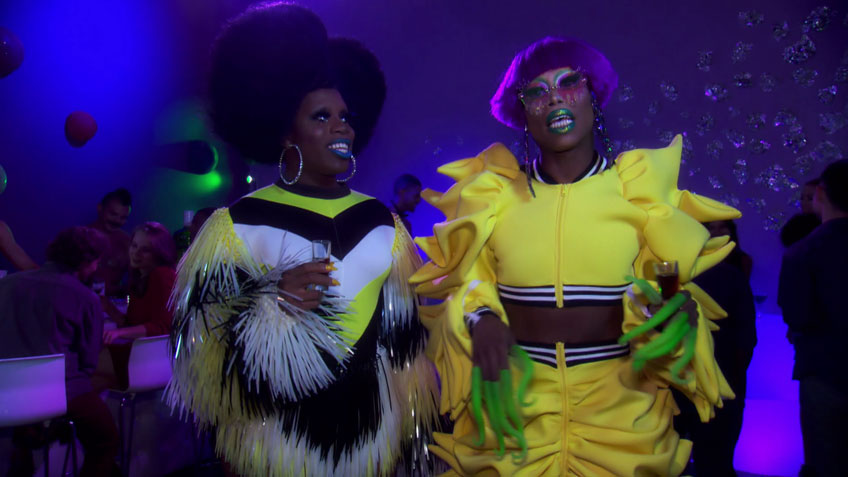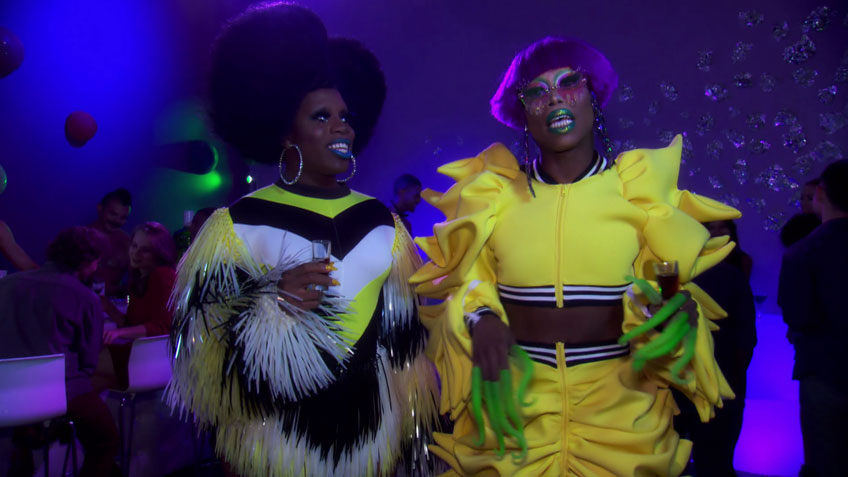 Monique and Monet have great chemistry in their space club. Their banter is good, and the "live alien baby" is silly but fun. Monet is definitely the stronger of the two. The girls host an event called Orion's Belt where sexy people walk a few steps. It's goofy, but really feels refreshing as Drag Race goes back to its less serious roots.
Valentina and Naomi in Club 96 for the fashion aware have a script that they're sticking too. Whispering Club 96 over and over, it's a bit tedious and neither feels like they're having fun. They barely interact with the guests. It's a meh. They look good at least.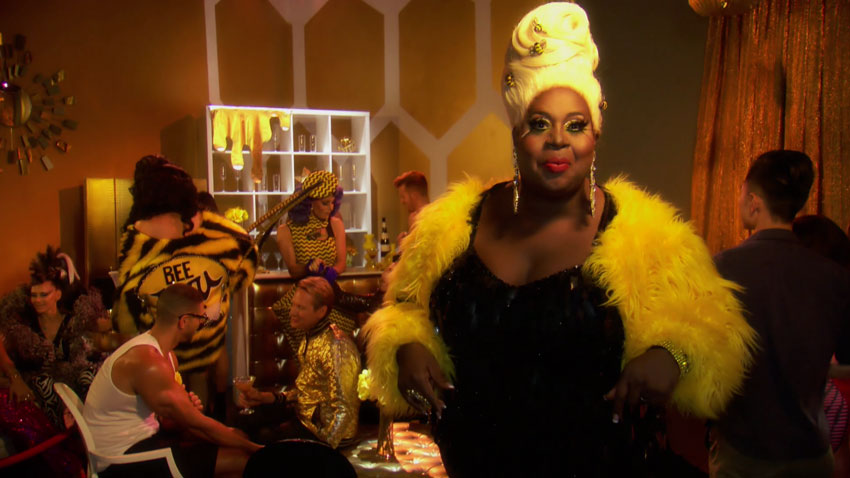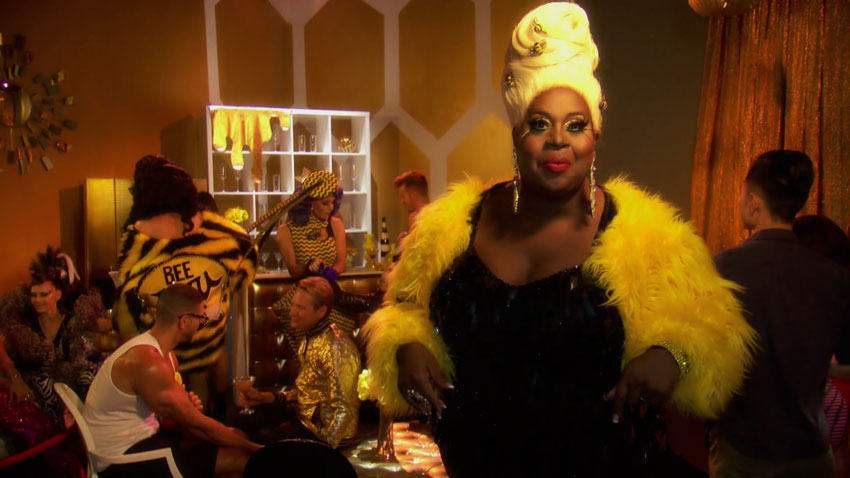 Club Hive is the best of the night, stunningly done up with hexagons on the wall. Their special event is a strip spelling bee complete with beetinis and many other bee related puns. Latrice shows off her hosting skills and is the most charismatic of the night. Showing us exactly why we fell in love with the large-and-in-charge-chunky-yet-funky business mogul in her fabulous beehive hair. Trinty's a bit of a non-event but does fine. Manila, however, although she was the one who mainly built the concept up and made it look so professional, chokes on the actual hosting section. The season 3 Manila jumps out and it looks like she really does suffer when it comes to being naturally funny, she's a thinker who needs time to prepare and get her resources together. After spending all the time preparing the behind-the-scenes aspect, honestly, we were waiting for Alexis Mateo to do a voice over reminding us that Manila is still annoying. That's all I really got from this after living for Manila for the last few episodes. Hopefully she saves herself on the runway.
It's not Gia, but Ongina can't move her ass because there's Plastique
It's Plastique Fantastique time on the runway and Latrice is out first in a stunning latex look of epic purple proportions complete with anal bead ponytail. One of the best looks of the season and shuts down all those "Latrice can only do gowns" argument.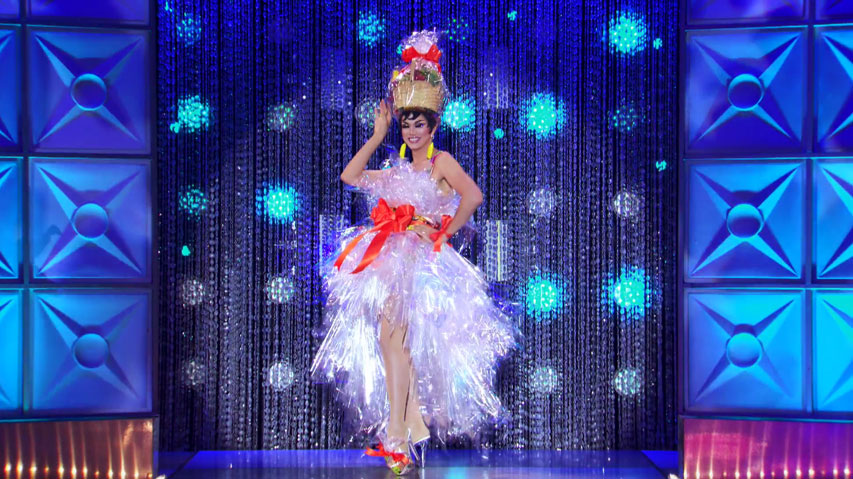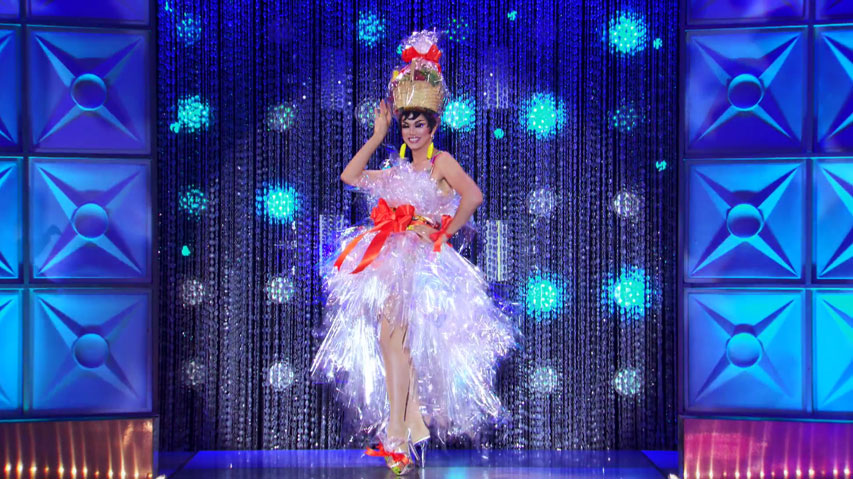 Manila serves another classic glampy Manila look with plastic wrapped fruit. Somehow it doesn't feel as fresh or original as we're used to from Manila, but this is more of a matter of having such high expectations for her.
Trinity is in that one squirt-splash outfit that every other rich Drag Queen wears…
Naomi Smalls is in Valentina's promo look but it looks good this time.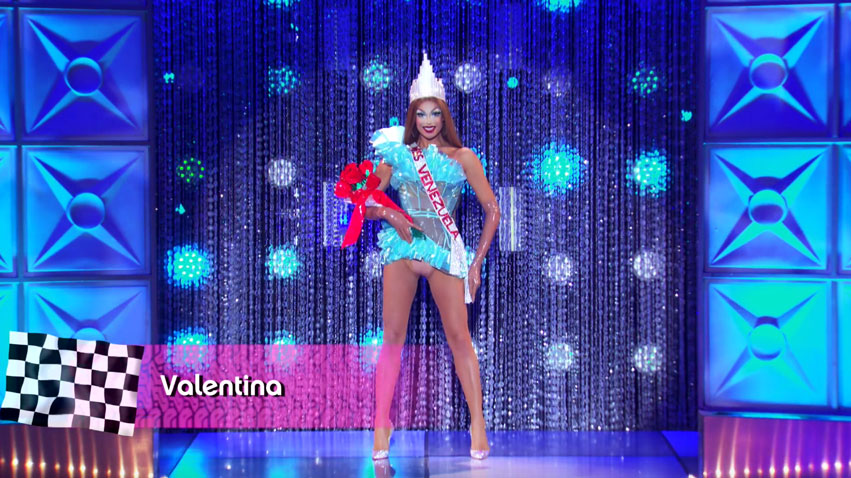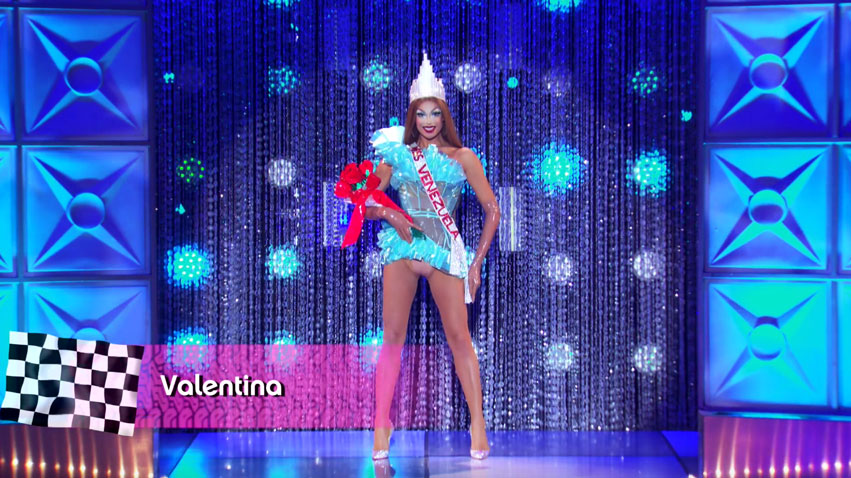 Valentina is Miss Venezuela and serving doll fantasy. Michelle questions Valentina saying she's done it before, but Valentina shuts her down that it's new. Michelle tries to argue Snatch Game, but Valentina says that was Miss Colombia and more of a comedy thing, Ru is on Valentina's side and wonders if Michelle is getting confused with season 8's Wizards of Drag challenge. It's nice to know Ru's memory can go back that far.
Monet looks stunning, but that dark underwear showing up spoils the whole thing.
Monique is in a futuristic-y Josephine Bakery-y banana look that looks nice enough, but a little incomplete.
Overall the runways are good but surprisingly weak for such a good runway theme.
It's not Gia, but Michelle Needs to Calm Herself
Michelle is extra nit-picky this episode, saying that alien and space and black hole don't fit together and was confusing. It's not, it's just space. The theme was space. Those are space things. It almost feels like the producers were pushing Michelle to justify not letting Monet get the win this episode.
Fair enough though, Naomi and Valentina's club hosting is correctly read as not going anywhere. There's not much to say, it was just a bit vapid which was kind of expecting when they immediately went for 90s supermodel theming… Someone missed the 2000s hypocritical body-positivity promos where they allowed body diversity just not in, you know, actual magazines or runways unless it was a gimmick. As Latrice proved this episode, big is beautiful too.
Trinity is once again over-praised, and writing this an hour later. I genuinely don't remember anything she did. Manila did most of the background work, but failed the hosting, and I think her safe placement is a fair enough trade-off.
Trinity and Latrice are declared the winners, with Naomi and Valentina in the bottom. We agree with the bottoms, but we think we would have put Monet and Latrice as the winners instead. That said, Latrice becomes the first person in Drag Race history to win an episode after being eliminated and ru-turning.
This scene had us thinking how much these wins matter and change the narrative. We said a few weeks ago we thought Latrice should have won episodes 1 and 2, this would've been Latrice's third and made her a front-runner.
Naomi has been the most consistent but is the forgotten Ginger Minj of the group. (That's where you get no screentime for reasons we can't understand).
Valentina has a single win and has performed all over the place. In this particular episode, it's abundantly clear that Naomi did all the work while Val felt her fantasy and coffee. Valentine gets surprisingly emotional which is new, it's not clear if this s acting or not. Her Rent acting was pretty solid (her singing was… something else though). So, who knows.
It's Not Gia, but it's a Pointless Ruveal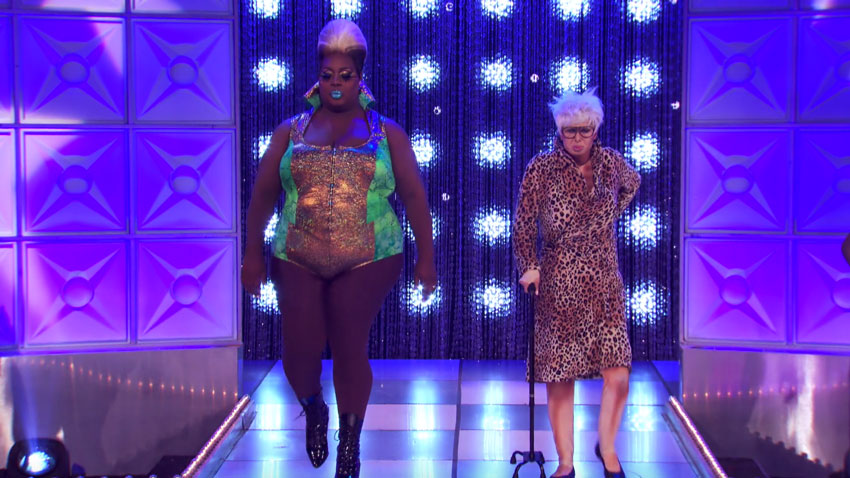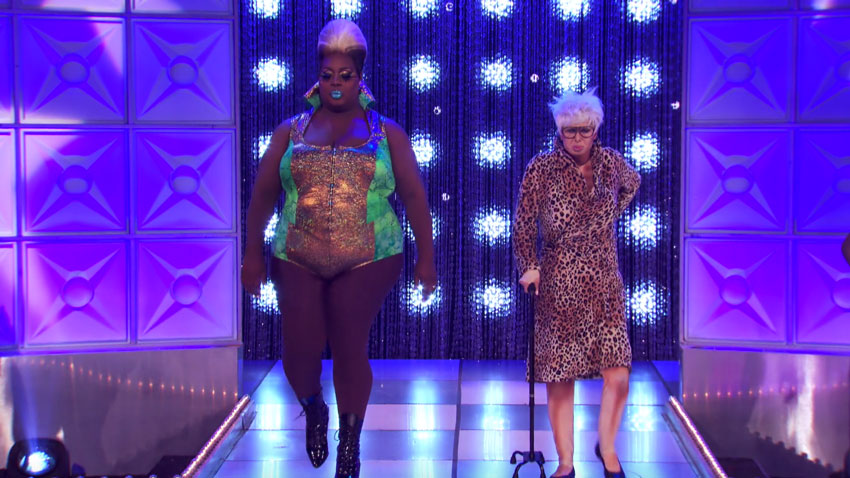 Today's lip sync is "You Spin Me Right Round" by Dead or Alive. It's a rare male vocal song and honestly, we support the addition of more. There's plenty of songs we would love to see on Drag Race by male vocalists that we feel would fit in – Crocodile Rock – Elton John, Don't Stop Me Now – Queen, I Can't Decide – Scissor Sisters, and of course the Drag 101 YMCA by the Village People are just a few that would be perfectly appropriate.
Latrice gives a solid lip sync and is hilarious when she starts doing a silly barrel roll across the stage to the "right round baby" section. Trinity does an old lady lip sync revealing into a smock with a skinny rib cage painted on and Monet's wobbly breasts from season 10's Silver Foxy runway. It's pointless. Like last week, Trinity seems to believe that a reveal for the sake of a reveal is enough and will satisfy the audience, but it's really not. Just look at that dismal season 10 finale. After her bad cloak reveal last week, it's magnified for Trinity. Hopefully this is the last of them from her.
On All Stars 3, Shangela became the Queen of stunts and props but she pulled all of them off effectively because they made sense. In "I Kissed a Girl" she gave us props that formed the storyline for the girl in the song, in "Jump" she did a great routine but just added a skipping rope for the silly pun and didn't rely on it totally, and in "Freaky Money", she still pulled off all the stripper moves she needed to for the song, the fat suit was so she could do it as a character and give it a better comedy value. It's this last one that Trinity seems to have gone for, but it seems to rely on the group's name – Dead or Alive – and something, something spinning breasts. It's a stretched concept and just doesn't work.
Latrice fairly wins and we will never speak of Trinity's lip sync again.
She picks -shock- Valentina to go home. Before the season began, we expected Valentina to run home with the crown as the winner who would be the greatest benefit to the show similar to Trixie Mattel on All Stars 3, but it seems production wishes to avoid calls of riggory this season.
Valentina is the fair choice to go home, and she takes it with grace. It's a flashback to season 9. Valentina once again won season 2, and exited in 7th place. How telenovela. This season may be losing its fantasy, but she's a Queen we'll never forget.
It's not Gia, but it's a Solid Episode
This episode feels like an older episode of Drag Race, the episode's focus is on a select few players and their storyline develops naturally with the episode rather than attempting to shoehorn in fan favorites and memeable moments. It's refreshing. Who doesn't want an episode all about Valentina and Latrice Royale?
That said, it's episode 7 now and only three people have been eliminated. Latrice may have saved herself this episode, but a target is on her back and the Queens will see her as an easy target as soon as she slips.
Tune in for RuPaul's Best Good Judys Race next week and see the Queen's beloved friends and family for the classic makeover episode.
This article was written by our fabulous contributing editor, James Pearbutter.
All images courtesy of VH1.