Our RuPaul's Drag Race All Stars 5 Predictions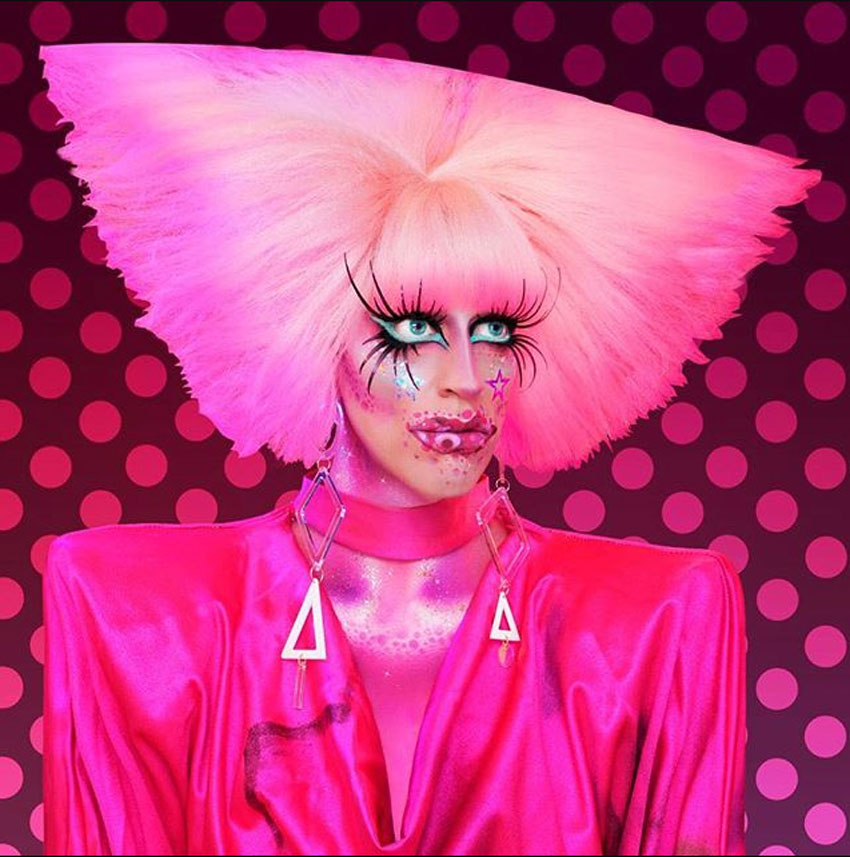 With All Stars 4 wrapped up, it's time to look at the remaining Queens to see who would be great on the next All Stars season. We've picked who we think has more than earned their space and would make a great season.
Who do you want to see?
Updated Predictions: 6/20/19
India Ferrah
India Ferrah: the Painted Queen is a Vegas girl and truly a Queen for Queens. The wider fan base has long forgotten her, her legacy mainly consists of that time she wore the same outfit as Phoenix and that time Mimi Imfurst picked her up. But, India's actually the inspiration behind Trixie Mattel's mug, and is a hardworking Queen who may surprise us.
However, India's been out of the game and away from the fans for a long time, she may not be aware of how to react with the judges and fanbases which could leave her disconnected and early out.
Mariah Paris Balenciaga: the Ball Queen – Season 3
Mariah is one of the Queens who is from the heart of the Ball scene (the show's hundreds of Paris is Burning references nonwithstanding). She offers a unique understanding on drag culture, gender and how that intersects with being a person of color. Mariah is witty, clever, funny and fashionable. Her short run on season 3 appears to be a result of her not caring much about acting in space or impersonating Joan Crawford, but she did slay that runway. Mariah as a regular on WowPresents and the stakes of Drag Race being higher, knows better than thinking she can skate on her beautiful mug, and could be a powerhouse this time around. If not, we know she'll have confessionals4dayz.
Mariah's issue on her season was a lack of interest in the challenges, Mariah could once again be in trouble if she only concentrates on runways.
Derrick Barry: the Britney Queen – Season 8
Derrick was primarily a Celebrity Impersonator (Britney, bitch) and didn't have all the base skills that most other Queens on the show had. This culminated in Derrick having the beautiful, relateable and highly poignant storyline of learning how to do brows before she was defeated in the Book Ball by Bob the Drag Queen. Derrick took herself very seriously in the competition, but nowadays takes herself less seriously (she frequently appears on Kimora Blac's Wait? What?) and the fans have developed their affection for this Queen as a result. Derrick's unlikely to rely on her Britney schtick this time, but her entrance better be "Oops, I Did It Again" or we'll call in Truck.
Derrick is funny, but her drag skill set is naturally more limited than other competitors, she may be at risk.
Mayhem Miller: the Party Queen – Season 10
Mayhem was a shocking early out on her season, and neither of her bottom two placements made much sense to us. But, Mayhem's since had her Eyes Meme and the experience and legacy behind her as a central figure in the West Hollywood scene. If Mayhem speaks up more, she could be a real threat.
Mayhem's legacy didn't save her the first time despite turning the party, we fear production may have similar intentions to use her in that manner again.
Blair St Clair: the Ingenue Queen – Season 10
She's Blair St Clair~ and she's the new-new girl in town. Blair characterized herself as a Broadway Baby on season, but afterwards she dropped that like a hot Indy 500 cylinder (I only know that because it was in Jem, we still gay). Blair's taken up a more modern aesthetic and has emerged far more charismatic and comfortable. It's possible New-Blair will really speak to the judges after her unfinished storyline.
Blair was an early out on her season, but her proven popular despite that outside the show could boost her much higher this time.
Shea Coulee: the Slay Queen – Season 9
Shea Coulee comes into the season as the obvious frontrunner with 4 wins under her belt on season 9, and great success out of the show. She has released actual good drag music, and has been touring all over the show. She skipped the last few All Stars to grow, and her growth will be exciting to see.
Considering sometimes it feels like Lipsync for the Crown was created to avoid a Shea win, we are curious to see if the producers will want her to win this time.
Alexis Mateo: the Pageant Queen – Season 3, All Stars 1
Bam, bitches! It's Latina Goddess and original pageant girl who can do comedy, Alexis Mateo. Alexis is a stand-out from early seasons where she really could do it all. She was also the lip sync assassin of season 3 (often only bottom in design challenges by default as Raja, Manila and Yara were around). She made us laugh, but also had the poise and the pathos that made her one of the most charming Queens we've ever met. Alexis is far more than mother of Vanjie, and the jig is up this time.
Jujubee: the Reading Queen – Season 2; All Stars 1
Big dick, long walks on the beach and fried chicken and so much more. Jujubee is one of the funniest and wittiest Queens of all time, she's the Queen of Reading with sharp barbs that still always feel good-natured. Juju was held back on her initial season with a lot of personal demons that she's overcome. She was also a lip synch assassin, one of the most flexible of all time. With Juju's eye on the prize she could definitely take it all the way to the crown.
Miz Cracker: the Salty Queen – Season 10
Miz Cracker suffered on her season for being a pawn for winner Aquaria's storyline, as well as getting in her own head. But since then Cracker's accumulated a large and intense fanbase who adore her bad pun and self-depreciation type humor. Cracker is able to do comedy, sew and act, and could turn it out if she doesn't get in her own way again.
Miz Cracker is liable to be in the top 4 regardless of how well she actually does, like Trixie Mattel, she's possibly simply "too big to fail".
Ongina: the Headpiece Queen – Season 1
Ongina is a Queen we all fell in love with on Season 1 with her sense of humor and fashion. HER HIV revelation was a raw and emotionally empowering scene that has stood out through the show's history. Although nowadays the show appears to seek out stories from Queens to match this, it was the honesty and the genuineness of this scene that struck hearts. Ongina is a genderfuck Queen who has only polished her aesthetic over the last decade. Ongina has been much requested for many years for All Stars and this could finally be her year. She was a special favorite of RuPaul who appeared genuinely heartbroken when the time came to eliminate her against Bebe Zahara Benet, and RuPaul even released the song "Ladyboy" inspired by Ongina. Fierce, funny, fashion. Ongina is a likely contender for the crown this year.
Ongina was the original RuPaul golden child, a win for Ongina would the the ultimate legacy storyline.
Previous Predictions Below:
Sonique or Mayhem Miller
These two Queens stole our hearts back on Christmas during RuPaul's Holi-slay Spectacular, and we see that as the perfect opportunity to catapult them into a second shot at Drag Race. They're both LA locals and we'll remind any WOW+ producers that means you won't have to pay for plane tickets.
Mayhem Miller, the Party Queen, we've all seen the memes of Mayhem's piercing gaze into the hearts of mankind, but Mayhem (or Maymay, as her friends sometimes call her) is far more than that. She won episode 1 of her season with a gorgeous and inspired latex glove outfit, and everybody who's seen her live knows that nobody owns a room quite like Miss Mayhem.
Sonique, the Somersault Queen, is one that we weren't expecting to make a comeback after her rather non-notable finish at ninth place on season 2. However, there's two things we remember – her amazing gymnastics against Morgan McMichaels, and her heartfelt declaration that she is a transgender woman at the reunion. In fact, the first transgender woman of the series. Sonique's resurgence reminded us just what a beautiful person she is inside and out, and we're excited to see what else she's got.
Mariah Balenciaga
Mariah, the Ball Queen, also known as the President of Drag is our only real Ball Queen through-and-through so far, surprising for a show packed with references to 'Paris is Building'. Mariah is now a staple of WowPresents and its various spin-off shows like "Wait, What?" and "Fashion Photo Ruview". Mariah's beautiful mug and hilarious antics on Drag U have stuck with us all these years later. She was also most recently awarded the status of Icon, one of the highest in the ballroom scene. Mariah would really introduce the kids properly to a world of Drag that Drag Race tends to skimp out on.
Miz Cracker
Miz Cracker, the Salty Queen, is a breakout star from her season. Her openness with her struggles with anxiety and youthful aesthetics have made her relatable to a generation of youngsters. Miz Cracker's run on her season was a bit odd, always safe, finally scoring a win in the make-up challenge, before going home the very next week. The story felt unfinished and it makes sense for Miz Cracker to come back and complete it. With newfound confidence, and no Aquaria in sight, Cracker may be able to concentrate and hone in her comedy skills for the television audience.
Yuhua Hamasaki
Yuhua Hamasaki, the Bootleg Queen, another Queen from season 10. The Chinese Princess of Manhattan was a shock early elimination for such an established NYC performer who actually helped built many of her season sister's careers like Aquaria and Miz Cracker. Yuhua is a performer who already clearly had more to give on her season, but since the season has ended she's shown her hustle and managed to keep her relevance right through All Stars 4 with gorgeous photoshoots, and her hilarious Bootleg Fashion Photo RuView series (which more often than not has actually been better than the official version). This stunning Queen has been everywhere, with a hilarious acting cameo in All Stars 4 winner Trinity the Tuck's "I Call Shade" music video, and even scoring front-and-center position in promotion for the Life Ball, one of the most important and famous international LGBTQI+ fundraising events along side Alaska, Raja and Peppermint. Pretty damn impressive. Yuhua's got the comedy, sewing, charisma, nerve and uniqueness to go far if the producers are willing to give her the chance, she could truly give us the ultimate underdog storyline of Drag Race we deserve.
Peppermint
Peppermint, the Legendary Queen, is always looking right. Peppermint manages to turn everything she's in to solid gold with her warm personality and stunning vocals. She was a featured performer in Broadway musical "Head Over Heels" as, one of the biggest mainstream roles from a RuPaul's Drag Race contestant and even before that had long since been a legendary figure of the New York nightlife. Peppermint may have not had the best run on Drag Race itself, but now that she's familiar with being followed by cameras, we reckon she'd be a powerhouse with her endless charisma and dazzling smile. We'd also expect her to cleansweep if "Lip Sync for your Legacy" is still in action.
Asia O'Hara
Asia O'Hara, the Legacy Queen, ended on a rough note on season 10. There's several ways to go out – vomiting and being disqualified like Willam, not knowing your lyrics like Valentina, or like not being fair like Manila Luzon – but the butterfly massacre still took us by surprise. The truth is Asia was probably carried to the season 10 finale. Her Madame Buttrface and Breastworld wins are among the most pointless challenges in the show's herstory, but we've seen Miss O'Hara live and know this does not represent who she is. A stellar, imaginative, warm and charismatic performer who simply didn't get to showcase this on a season so focused on storylines. Miss O'Hara has a lot to prove, but we know she would meet the challenge.
Acid Betty
Acid Betty, the Alien Queen, was once described to me as "the most creative person in the world's most creative industry" which really is correct, yet Acid Betty probably gets zero of the credit for it thanks to a weird villain edit and an early exit on season 8. If you look back on the season, you'll see Acid's "bitchy" moments are not really that bitchy, it's just every time she says something there's a boatload of shady sound effects to make it seem so. Kim Chi, another artistic look Queen on the same season promised relatable teen storylines which meant Acid couldn't be allowed near the end. Thanks to Kim's limitation in performance aspects of Drag, this basically leading to Bob the Drag Queen having to do extra victory laps during the season around the other contestants. Acid proved she could do (almost) it all, Snatch Game aside. But we need this Queen on an All Stars season stat.
Shea Coulee
Shea Coulee, the Slay Queen, still has one of the most impressive on-season records of Drag Race, with four wins on a regular season (only met by Sharon Needles of season 4), thanks to a twist on the finale, Shea Coulee lost the crown to her friend Sasha Velour, but her time may be coming soon. Shea skipped out on both All Stars 3 and 4 while her fellow season 9 Queens took the stage, perhaps to minimize distracting storylines. Shea showed us on her season she can rise to nearly any type of challenge successfully. Comedy, check. Acting, check. Singing, check. Sewing, check. Truly a Jill-of-all-Trades. With more time to develop, and prepare for runways, Shea has only gotten better and better, and she would be a massive threat to her competition.
Darienne Lake
Darienne Lake, the Classic Queen, is one of the most stunning, hilarious, best lip-synchers of the entire franchise and her recognition for that is minimal thanks to being the rival of the popular BenDeLaCreme. Miss Darienne tended to suffer on the runways and sometimes didn't tackle challenges successfully on season 6, but when she did hit it, she HIT it out of the park. In the finale she managed to act so superbly, she broke the script and force RuPaul to adlib and return to finish the scene with her, not to mention winning an acting challenge serving nothing but face. Her mug was always stunning, and her looks according to her Instagram have greatly improved. We'd love to step into the cool refreshing waters of Miss Darienne Lake a second time.
Ongina
Ongina, the Headpiece Queen, is part of the OG, sis. Ten years ago when we first saw Drag Race, it was Ongina that made us gobsmacked with her unique and modern aesthetics. It was Ongina that made us cry for the first time on Drag Race as she opened up about her HIV status, and it was Ongina who gave us the first shock elimination. Ongina stole our hearts, and clearly was a special favorite of RuPaul's who even made the song "Ladyboy" inspired by Ongina. Ongina has the smarts, the wits, the personality to be a modern day fan favorite, and we're here for it. Every All Stars season she's highly speculated for a reason, because she is an absolute legend, and inspired a new generation of Drag Queens with her humor and strength.
Bonus Double All Stars: Yarlexis
Returning All Stars are now on the table, so failing this cast of ten, we would want to see Yarlexis, who were #ROBBEDT even worse than Latrila on All Stars 1. Why on earth was Yarlexis in the bottom on the Girl Group makeover challenge, nobody knows.
Yara Sofia, the Avant-Garde Queen, is so unbelievably gorgeous and was underrated severely by the Judges back on season 3. On All Stars 1, she was Chad's only real competition as the only queen besides Chad who was able to turn treasure from the trash team twist. Yara was ahead of her time, and her time is coming soon.
Alexis Mateo, the Pageant Queen, is always pushed aside in the Raja vs Manila Luzon discussions, but she was the ORIGINAL Pageant-girl-Who-Can-Do-Comedy. Alexis Mateo had a massive range of skills, and her bottoms were really only due to being the "least good" of the day, never bad. That's just how harsh the competition of season 3 was. The mother of Miss Vanjie must return soon.
Bonus Double All Stars: Shushubee
The finalists that should've been on All Stars 1, but with Chad Michaels already locked into the Hall of Fame, and Raven out of the running due to conflict of interest reasons as Ru's make up artist. We'd like to see their team mates take up the mantle. She's also perhaps the most underrated lip-syncher in the show, just take a look at this gorgeous one:
Jujubee, the Reading Queen, is one of the few Queens who can be utterly savage in her reads but still be beloved by all. She just has that knack of making it never come from a bad place, season 2 is an ongoing drama and fellow Queens have nothing but good words for Juju. Miss Thing suffered from confidence and alcohol issues in the past, but she's a new lady and it's time for her sharp wit and humor to take center stage.
Shannel, the Showgirl Queen, wears costumes and is classy. Shannel's diva attitude and self-confidence is legendary, but she did have all the talent and experience to back it up. Shannel is a clever Queen who always has her eye on the bigger picture, and can be wickedly funny when she needs to be. She's not a staple of Las Vegas for nothing.