Which Drag Queens You Should be Following on Instagram in 2019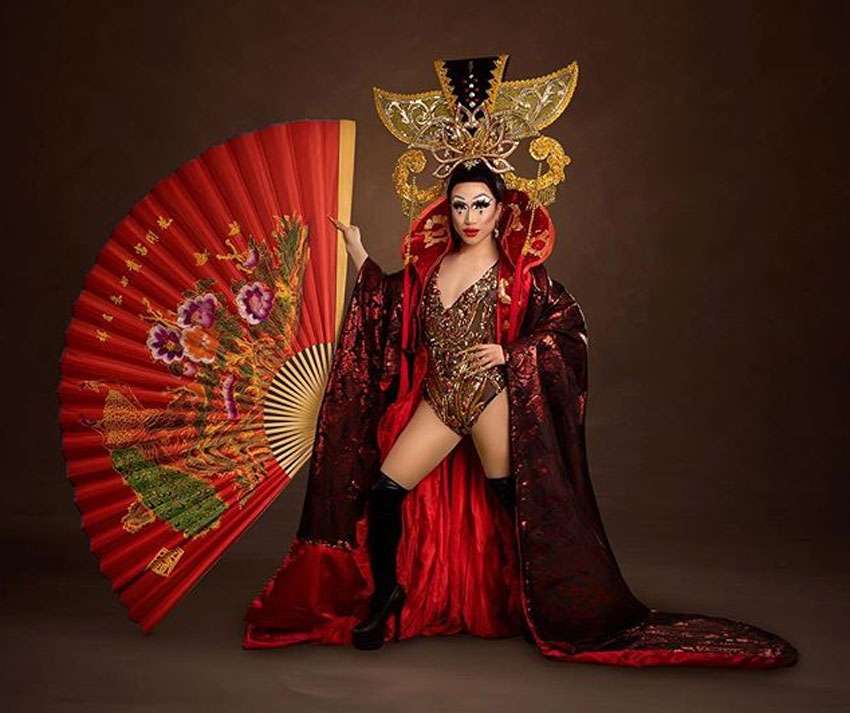 So, you're into Drag Race and want Queens in your Instagram feed, but don't want to follow all 140? Seems fair enough, can't say I agree, but fair enough. Probably makes sense to follow all the fan favorites, seems logical enough. Their popularity has probably developed through careful social media maintenance. Only problem is after a while, you start to realize that Alyssa Edwards kind of only posts advertisements, Kim Chi's quota of 400 stories a day is a tad too much, Bianca del Rio has like four jokes she's just cycling about, and you would be excused from thinking Willam was top billing in 'A Star is Born'.
So, who do you follow for your daily dose of Drag. Well, we've got you covered with ten queens you gotta be following in 2019 if you're not just going to go all out and follow every single one (which we do recommend).
10. Sasha Velour
We probably won't be using the words 'aesthetic' and 'mood board' so much in 2019, but Sasha Velour's solid color tones and crisp bold shapes are enough to make anyone feel fancy. Sasha's Instagram is truly a visual delight. Sasha knows how to compose a photograph, and has a knack for stunning modern drag looks perhaps moreso than any other Drag Queen in the business. Together, her feed is unstoppable. Only reason we've got it so low is because you're probably already following her.
Follow her here.
9. Ivy Winters
Ivy may not be the biggest name from the franchise, she was always a chill person who's more interested in her personal life and artistic pursuits than the glitz, glamor and fame of the touring circuit. That said her Instagram is perhaps among the most interesting, if you've ever wondered what a Drag Queen does in her spare time, well according to Ivy – making beautiful stained glass vaginas, performing pest control on wasps, making hot air balloons and gardening. Truly, the Queen of all Talents. You never know what Ivy will post, and the kooky aunt vibe she gives off cuts her apart from the other Queens..
Follow her here.
8. April Carrion
Come on season sex, let's get sexening. We hunted through all the girls to find the biggest thirst trap to quench us through this Drag Race-less week, and April Carrion from season six is the top of the list. Not only is she one of the most beautiful Queens in Drag, but she is one very, very, very attractive person out of Drag too… and April is not scared to show it off. April is able to please the entire spectrum of physical attraction, but she's also incredibly sweet and positive. There's all kind of photoshoots from across the gender spectrum available from April, and we just can never get enough of that stunning mug.
Follow her here.
7. Acid Betty
Where do we start with Acid Betty? Perhaps the most underrated Queen from RuPaul's Drag Race courtesy of an unfortunate villain edit. Acid Betty's Instagram is a visually stunning with her looks that are quite literally out of this world. Acid takes the female-male spectrum and goes right outside it into a whole new world of colors, glitter, shapes. She also shows how she does these looks in make up tutorials. Truly a powerhouse of talent which is why we included her in our "All Stars" listing. A completely unique and stunning Queen indeed. The acid trip is all real.
Follow her here.
6. Bebe Zahara Benet
Rakatikitata, she's the OG, bitch, and we could stare at her mug forever. She's fierce, dignified, beautiful and surprisingly seems to enjoy shitposts and memes. Bebe does many African-inspired looks based on her Cameroonian heritage, this gives her Drag a unique perspective and messaging that's beautiful to see. During All Stars 3 many accused Bebe of being repetitive, but that's mere ignorance. Bebe's Instagram shows the diversity within Africa (it's a massive continent, folks).Bebe's not scared to mix it up with the occasional 1980s look, even banjee-style. Not to mention her music video "I'm Pussy, Bitch" is always a bop.
Follow her here.
5. Honey Davenport
One of the newest girls to the franchise, Sir Honey Davenport curates her Instagram feed with intense care. She enjoys doing the photo-trios and upload photoshoots in sets of three, the different angles give her feed a unique feeling of movement and personality. She's able to capture multiple sides to not just her gorgeous outfits, but showcase different aspects of her personality. Her looks are varied and always have a message behind them. She'll give you genderbend, classic fish, king, queen, artsy, political. Everything you could ever want to try, so take a taste of Honey today!
Follow her here.
4. Laganja Estranja
Yass mawma, Laganja's recently been putting a great more of deal of effort into her Instagram as she builds her online cred. She's a stunning Queen who is trying to post unique and varied content to set her apart from her peers. Laganja has recently been more active on her youtube which now includes fierce videos of her choreography, roundtable talks with other internet, mukbangs, vlogs and music videos. Her move to Colorado seems to have spurred on a new energy in her that's exciting to see. She's also getting deeper into marijuana activism, she's grown a lot since season 6 and we should applaud her for it.
Follow her here.
3. Asia O'Hara
Asia O'Hara came in fourth place on season 10 and yet her Instagram follower count is shocking next to her fellow finalists. Asia's Instagram is the best to get a glimpse to the Drag Tours on the roads. Her feed is always being updated with looks, cameos from other Queens, and incredibly handsome pictures of Asia out of drag. Asia also has a unique sense of humor when it comes to captioning. It's become so infamous that she's making a caption book full of fan photos. Asia is a great choice if you want to look into the life of a Drag Queen on the road. Go give her a follow.
Follow her here.
2. Yuhua Hamasaki
A good feed is a balanced feed. A bit of beauty, a bit glamour, a bit of silliness, and a bit of real talk. No-one's struck that balance better than Yuhua Hamasaki. Though she may have left far too soon, Yuhua's constantly posting high quality glamor shots (many of the outifts made herself), along with life updates. With Yuhua, you never know what's going to happen. Sometimes she's photobombing someone's pornography in the library, sometimes she's giving upside down lap dances. Yuhua keeps things interesting and unexpected with her personal brand of humor. She also links to her Bootleg Photo Fashion Ruview Youtube series. The official series has sort of lost its direction as it rapidly feels more and more like an extension of official show narratives, Yuhua takes a backstep and just critiques the looks with her seamstress eye and her cavalcade of interesting guest hosts from Jessica Wild to Blair St Clair.
Follow her here.
1. Ginger Minj
You might be surprised at our number one slot, but hear us out. Ginger's Instagram has undergone a transformation and its time people took notice. Once a series of out-of-focus pictures of the street and appearance flyers, now it's a concerted effort to show off Ginger's world. Her Throwback images are a fascinating look into her life and pre-Drag Race drag, her images are always cute and fun, her fancy lady eating gummy bear ASMR videos are something we can't seem to stop watching for some reason. The Minj has gone from Mom-Instagram to Cool Mom-Instagram. We sense the Minj has big plans for 2019 and beyond as well, so get on the Minj bus early, so you can rub it in your friends' faces later.
Follow her here.
Bonus: Nina Bo'Nina Brown has probably just gone live. Go follow her.