RuPaul's Drag Race All Stars 4 EP 10: Super Queen Grand Finale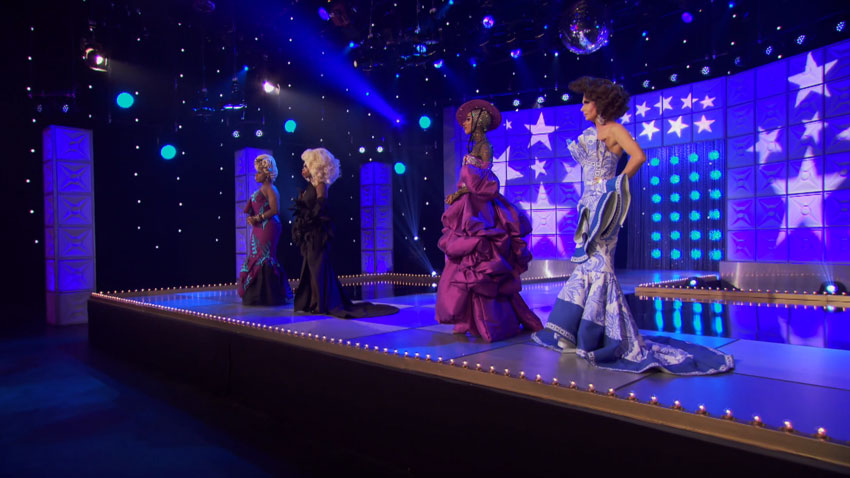 Last Introduction
Tonight's finale, like a lot of Drag Race finales ended up on a bit of a bland note. One final twist appeared, but shaky editing gave this a sour taste.
Though the new inductees into the Hall of Fame, we agree deserve to have won, it's not the most entertaining bit of television. Once again, Drag Race has overthought the production and sucked the natural entertainment factor of Drag Queens out of the show.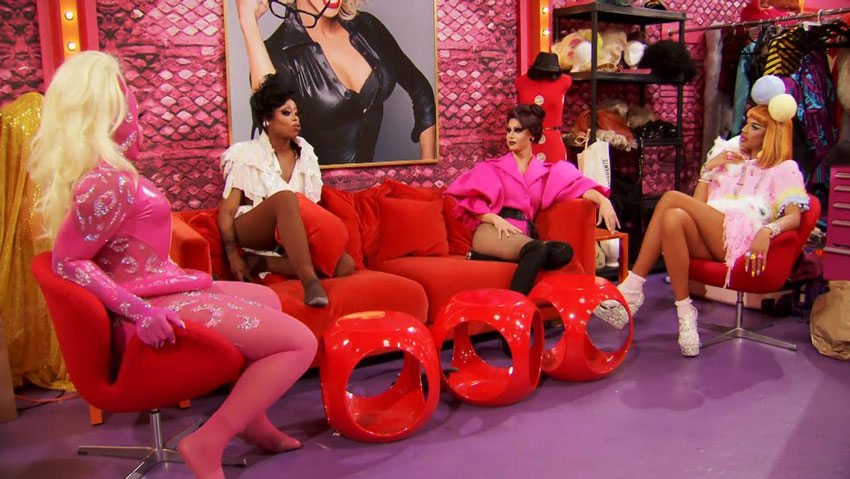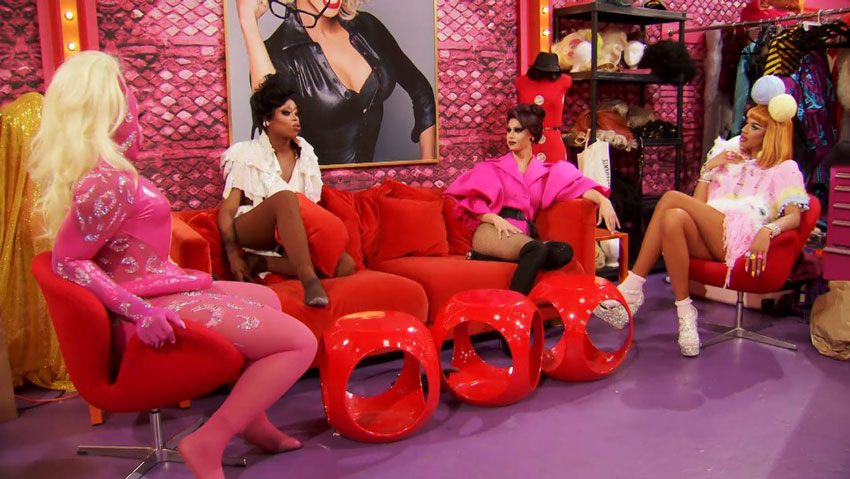 Last Return
After the unsurprising elimination of Latrice Royale, the Queens meet up to discuss why Latrice was eliminated. Though it's pretty clear to the audience and the Queens, there isn't much to say.
Monique fakes out Monet by pretending she picked Monet too which adds some levity to the scene. Monet appears to have drawn in a nose AFTER the runway, and at some point unseen to the camera actually tears it off. Soon Monet's clothes start to disappear too, it makes us wonder how long this scene went on in real life.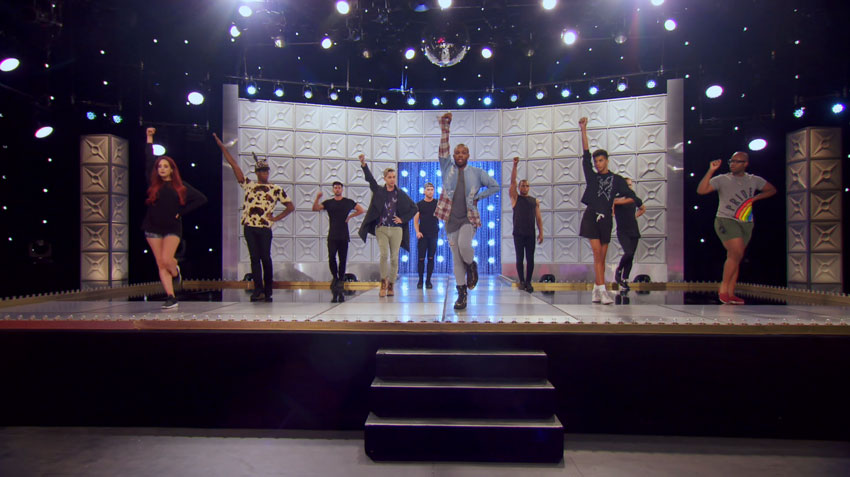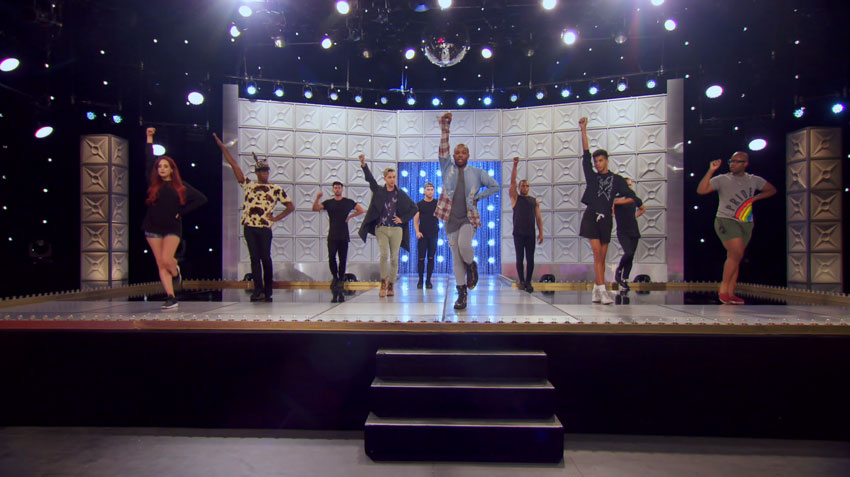 Last Challenge
The challenge is the now standard Final Four song, and of course, it's this year's runway theme "Super Queen". Like American, the specific theme of the song may stifle lyrics from the Queens.
Trinity the Tuck is the only Queen to do this before and is particularly worried after her flunk in "Category Is…". Monet, Monique and Naomi are all fairly confident.
Todrick Hall returns. We've always wondered what's with Todrick's attitude on the show. Is it just for drama or is he just kind of evil? Maybe he's just angry this isn't a Disney parody (though sometimes it feels like Drag is slowly turning into that).
The most confusing part of this scene is every time Monique Heart is shown on screen, there's a shade rattle even if she's literally just standing there. It's quite clear Monique Heart, despite her record on this season, is not winning that crown.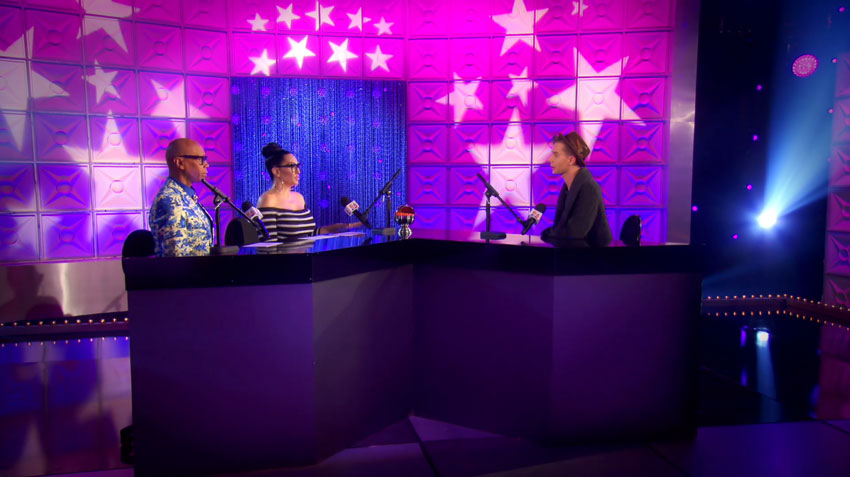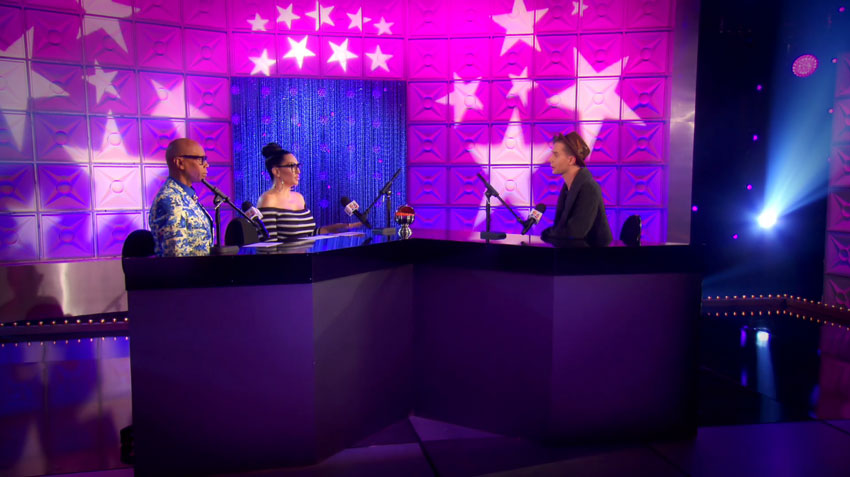 Last Podcast
RuPaul and Michelle Visage tic-tac lunch again with their "What's the T?" podcast. Now that we know these recordings with the top 4 are actually fake since no interview has ever actually been released which takes a lot of the impact. But, we get spoonfed the storylines for the top four.
Monet X Change gets to plug her one-woman show, Call Me By Monet (that's Call Me By monet *wink*), and talks about her runways being improved. We agree Monet has greatly improved her runways, but the finessing isn't always there and they aren't always properly tailored. A little more time in preparation would have done wonders this season for Monet.
Monique Heart reveals she used to be 300 pounds and lead her church's ex-gay flock, and how after losing the weight and losing to love herself, she' really come into her own and gone through a process of self-discovery. Good on her.
Naomi Smalls has an odd segment, where she's too fierce and that's bad. It seems to be a poorly worded 'you're not vulnerable' enough segment. We can tick Naomi off out of the running at this point as this interview essentially boils down to Naomi being too focused on modelling as if they didn't just crown Aquaria. Work.
Trinity the Tuck cleverly brings her own storyline to the interview about her walls (apparently) on season 9 (allegedly), and how she's broken them down and met the harder challenges of All Stars 4. Trinity really takes control to prevent RuPaul and Michelle getting any bullshit sap story out of her.
The Queens soon return to find three familiar figures in the workroom… Chad Michaels, Alaska Thunderfuck and Trixie Mattel, previous All Stars winners. They all look fierce and fake out the girls into thinking they're forming a jury this year, but they're just here to deliver some good old fashioned liquor. Trixie Mattel funnily enough is the one to ask about how many wins each girl has. Trinity leads the pack with 4, Monet and Monique follow with 3, and Naomi trails behind with 1. Trinity puts out into the world that wins aren't everything which is probably going to come bite her in the silicone in a moment. The three Winners leave the room, Alaska last with a TEAM KATYA umbrella in tow.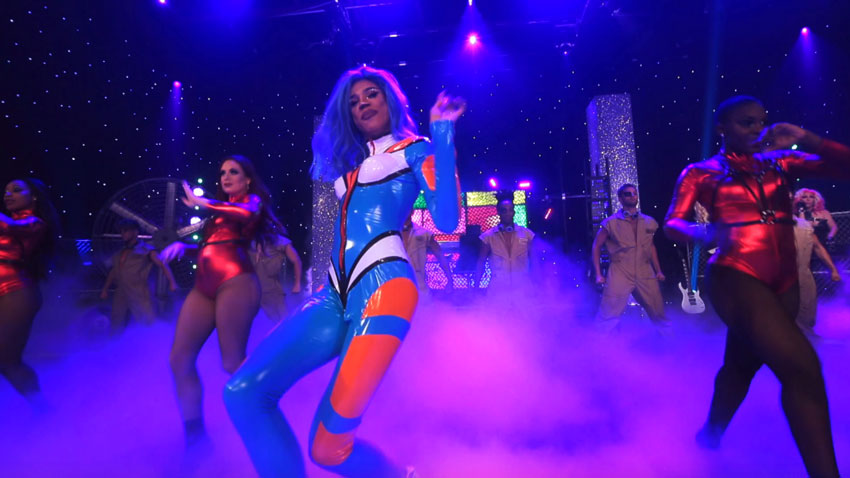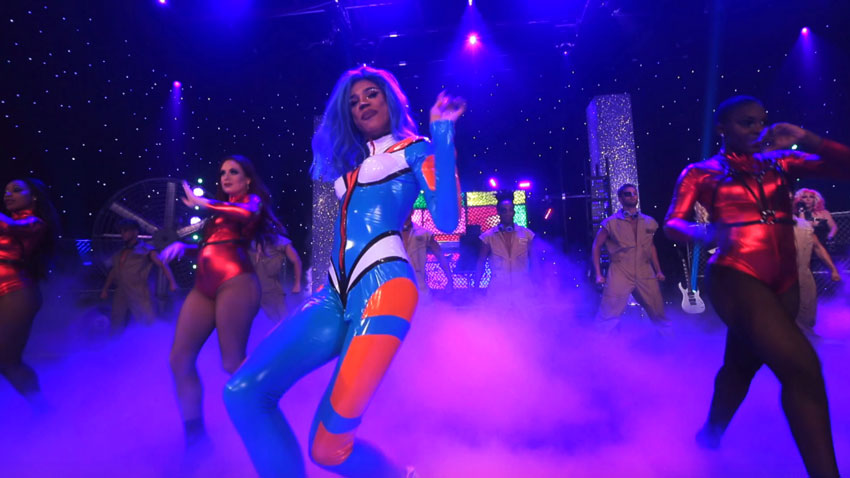 Last Dance
The "Super Queen" performance is… all right. It's certainly better than "American", but it's nowhere near "Read U Wrote U" or "Kitty Girl", or even "Category Is…". Perhaps even behind the Henny challenge songs. Chad, Alaska, Trixie are awkwardly off to the side as the "band".
Monet X Change is first with some nice flow and some nice moves, followed by Monique Heart with some nice flow and some nice moves. Naomi impresses with nice flow and some very nice moves and Trinity is also here. Trinity does do better than her Trintastic Plastic Injectable Realness, the Body is Heeeeeeeeeeeeeeeeeeeeeere routine from season 9, but not by much. We can't see this song in a club any time soon.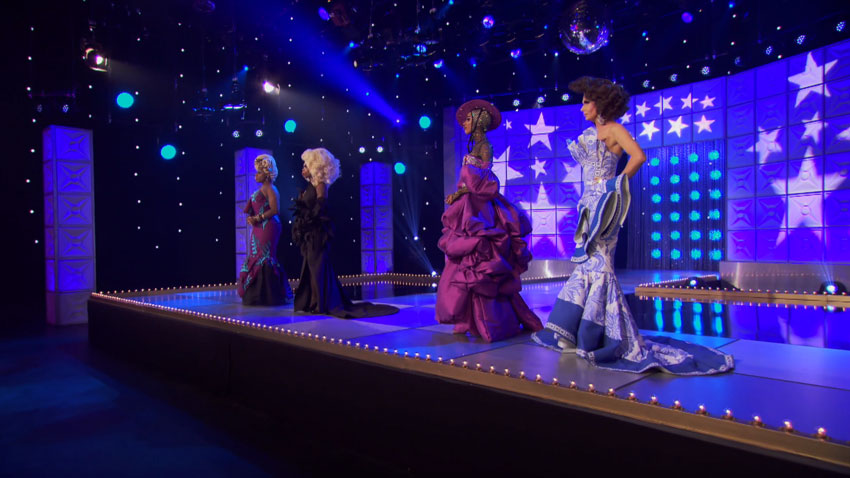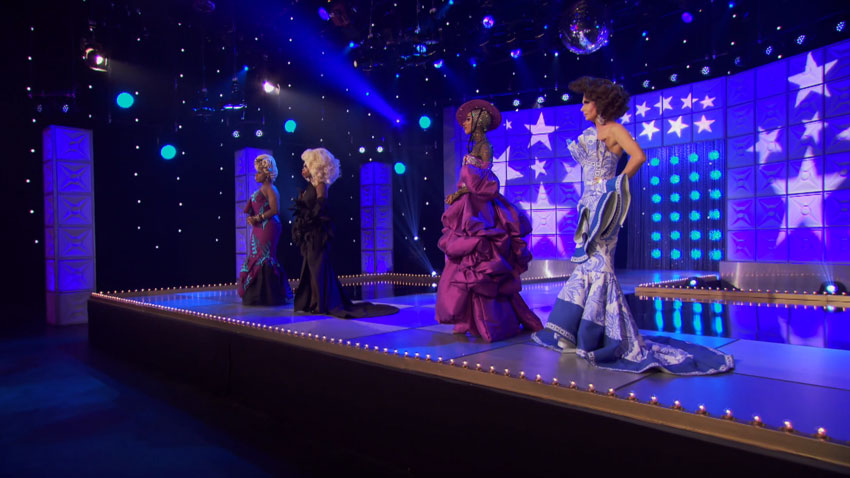 Last Runway
The runways are definitely great this year, Monet and Monique really capitalize on their "improved runway" storylines, Trinity stuns in a porcelain inspired outfit, but Naomi naturally leads the pack with her mesh-and-purple fantasy.
We go once again through the very lengthy final critiques which we won't force you to relive, as they're mainly a repeat of the podcast discussions.
The Queens then give why they think they should win, which is once again really a repeat of the podcast discussion.
The lack of actual Queen interaction two weeks running is exhausting.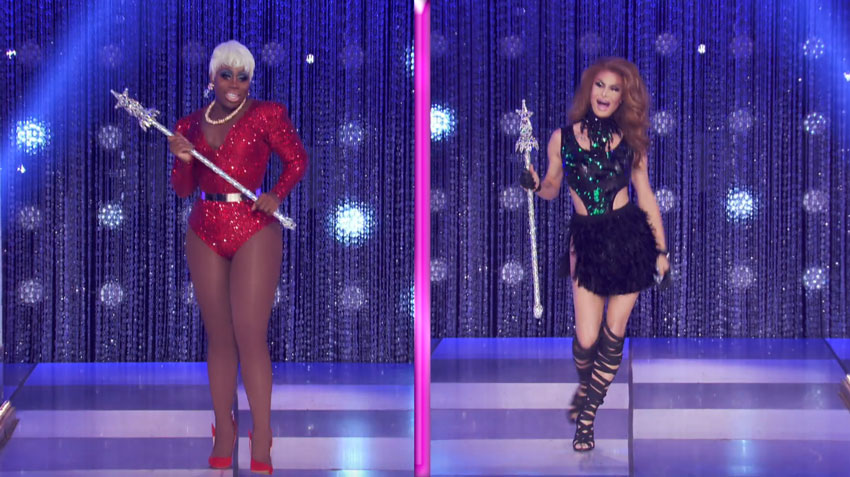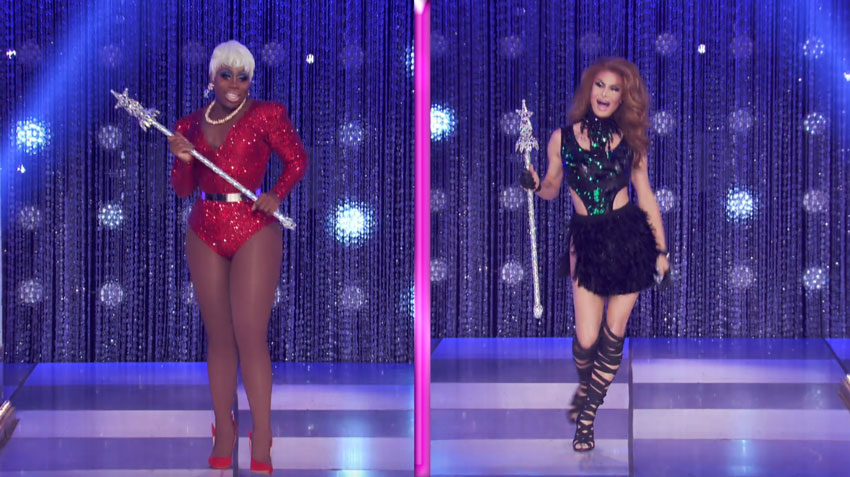 Last, Last Dance
Trinity the Tuck and Monet X Change are declared the top two All Stars of the season which makes sense with the edit. We personally think Monique Heart out-performed Monet X Change on the season, but the show's logic seems to be Trinity the Tuck as the best overall with Monet X Change the best on the final challenge.
The final lip sync is "Fighter" by Christina Aguilera. A nice book-end for Monet X Change's Drag Race journey. It's not the best song choice, and both Trinity and Monet end up doing a rather unimpressive kitchen-sink lip sync.
In the true "To Wong Foo" spirit, both Trinity and Monet are declared joint winners of All Stars 4!
It's a bit of a surprise considering Trinity has better official statistics, and neither greatly outperformed the other Sasha Velour-style on the last lip sync. Nevertheless, overall this episode, Monet X Change certainly outperformed Trinity and these are both deserving talented Queens and it makes sense and we're sure they'll carry the legacy with pride.
Last Thoughts
Like a lot of Drag Race seasons, the season crashed and burned towards the end for a rather unsatisfactory ending. Though the winners are about right. As we predicated back in December (https://theauthenticgay.com/drag-race-all-stars-s4/), we considered Monet and Trinity to be the strongest contenders. In fact, we correctly estimated the top 6.
But perhaps this is where the season went wrong. Monet and Trinity seemed to have been considered the winners to the extent that Naomi and Monique were ruled out long before the season actually begun which made for some season-long strange judgements.
Our Authentic Gay ranking of the Queens can be found below which would have actually scored Monique Heart as the winner and Naomi Smalls as the runner up, but it's always a matter of subjective personal taste.
Overall, it's been a fun season up until around the second half where a lot of the momentum started to dwindle, there were plenty of great moments including the appearances by Stacy Layne Matthews, Valentina's french vanilla fantasy, Manila's runways, Latrice's confessionals, Jasmine expecting the unexpectable, Monet's roast, Trinity's spelling bee, Farrah's Ass, Monique's glow-up, Naomi's lip-syncs and Gia Gunn making up for the last five season's lack of drama. An absolutely fabulous cast, and we encourage you to go see all their shows and celebrate.
We're on break next week, so we'll let you know ten queens we'd love to see on All Stars 5!
This article was written by our fabulous contributing editor, James Pearbutter.
All images courtesy of VH1.