25 Best Face Wash for Men with Dry Skin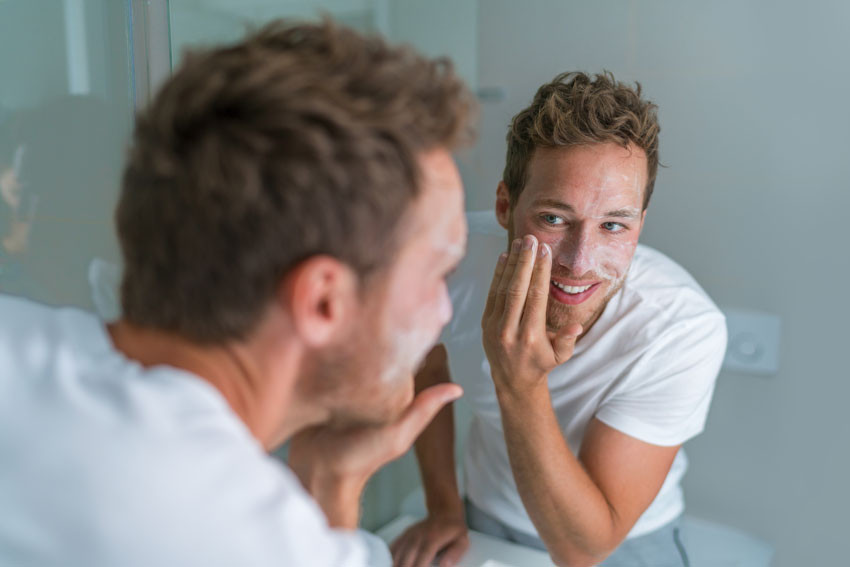 When you look in the mirror, are you confronted with dry, flaky patches of skin? If so, you're not alone. Many guys fight against red, irritated skin every day.
What causes that dry skin, and is there anything you can do about it? The causes of dry skin vary between individuals, but there are solutions available. From using face masks for men to choosing the right facial moisturizers for acne-prone skin, you can put yourself in the driver's seat when you understand this condition and how to treat it.
What Causes Dry Skin on Face?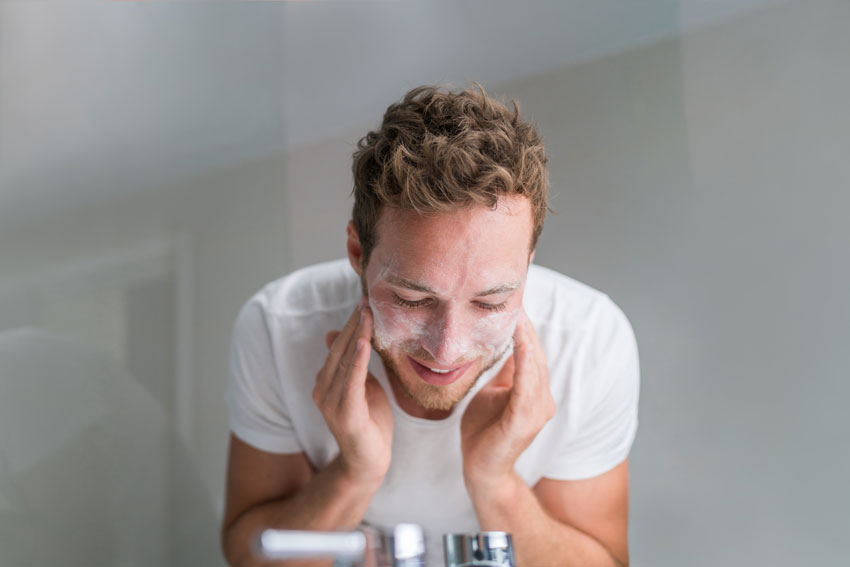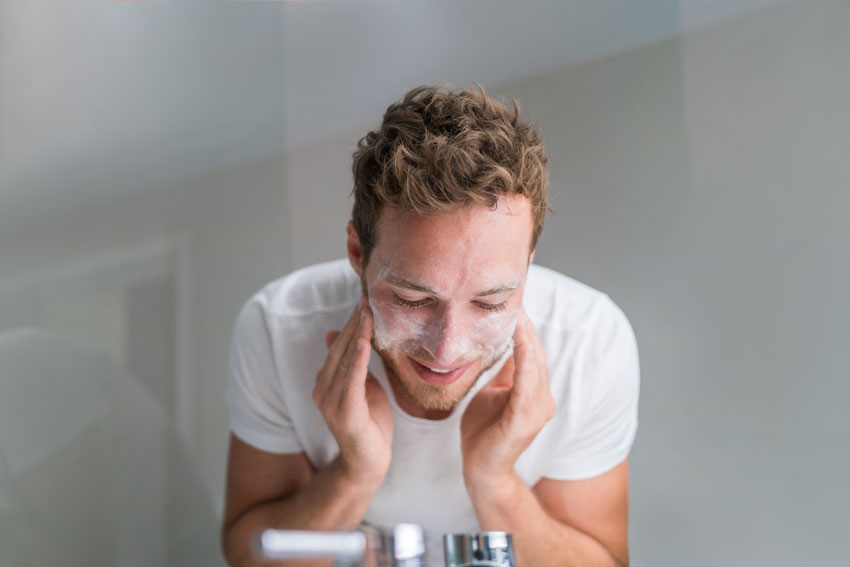 Dry skin may come from sources like taking showers that are too hot and using a harsh soap to wash your face. Low humidity, exposure to cold temperatures and forgetting to use moisturizer may contribute. Further, be aware that swimming in a chlorinated pool or getting a sunburn may exacerbate the condition. Other guys may be suffering from a condition like psoriasis, eczema or seborrheic dermatitis.
If you're unsure why your skin is dry, try moderating the water temperature in the shower, regularly use moisturizer and set up a humidifier in your home. Limit your exposure to chlorine and the sun. It's also helpful to follow grooming tips for men.
How to Choose the Right Face Wash for Your Skin
Skin care advice suggests that you have options when it comes to treating your skin right. If the skin on your face has a tendency to be dry, then using the right cleanser may help to correct the situation. In general, it is wise to avoid products that contain sodium lauryl sulfate because it strips your skin of essential oils and nutrients that keep it hydrated.
Synthetic colors and fragrances similarly can be irritating to sensitive skin, leaving you with more dry, flaky patches than before. While parabens keep health and beauty products from spoiling, it's likely that they don't do your skin or the rest of your body any favors. Research suggests that parabens may be carcinogenic. Instead, it is wise to look for a face wash that contains all-natural ingredients that are intended to nourish and hydrate your skin.
Top Face Washes for Men with Dry Skin
Finding the perfect face wash is easier than you think thanks to the products listed below.
Available in an eight-ounce bottle for about $25, this face wash is formulated especially for men with its ability to attack dirt and provide a deep clean without stripping away essential oils. This also is a tremendous value because it's an all-in-one product. Not only does it cleanse but also it tones and exfoliates for a powerful, rejuvenating punch.
A natural and organic formulation also protects your skin. Ingredients include willow bark, aloe vera, burdock root, vitamin C, tea tree oil and jojoba oil soothe your skin. Accordingly, guys can trust RUGGED & DAPPER Daily Face Wash to thoroughly clean their skin while also protecting it from environmental toxins.
Find the product here.
Included in this easy-to-use kit is the Tiege Hanley Daily Face Wash. The other products are an exfoliating scrub as well as AM and PM moisturizers so that your skin is covered no matter the hour. Natural ingredients make the Daily Face Wash a particular winner. It features cucumber extract to smooth and hydrate the skin. It further contains components like minerals, vitamin C and numerous emollients to provide hydration even as it cleanses.
Other ingredients include Salix Alba bark to reduce irritation and inflammation and Lavandula oil to reduce redness and provide extra hydration. Then, there's eucalyptus oil, which provides antiseptic properties, and rosemary oil for extra hydration. In short, any guy with dry skin can easily use this face wash every day.
Find the product here.
With an eight-ounce bottle costing under $30, this face wash is a pretty good bargain especially when you consider how good it is for your skin. Ursa Major calls this face wash "Fantastic," and it is deserving of that title. Its most notable feature is that it is packed with all-natural, organic ingredients so you know that it will nourish your skin while also getting it clean.
No suspicious ingredients are found on the label. Essential oils of lavender, spearmint, rosemary and cedar blend together for an invigorating scent and an unbeatable clean. It contains aloe for soothing the skin, rice seed for gentle exfoliation and surfactants from coconut for cleansing. What is not included are sulfates, petrochemicals, synthetic colors or fragrances, and silicones. If your skin is dry and sensitive, then you can rely on this all-natural formula, which also is cruelty-free, to provide your skin with much-needed soothing and hydration.
Find the product here.
Admittedly, charcoal doesn't sound like the cleanest ingredient for a face wash. However, charcoal is an incredible component when it comes to naturally purifying and deep cleaning the skin. This eight-ounce bottle of face wash is formulated to gently get bacteria and oil out of the skin without causing drying or irritation. While the charcoal deep cleans the pores, other ingredients work to provide essential hydration.
Components such as jojoba oil, aloe vera and olive oil help the skin to retain moisture and give it the nourishment it needs. Essential oils like lemongrass, eucalyptus and peppermint provide a revitalizing fragrance that's masculine to boot. This face wash will help you wake up in the morning, and the absence of sulfates and parabens will keep your skin healthier and hydrated.
Find the product here.
Available as a part of the MARLOWE No. 201 Everyday Face Kit for Men for about $25, this daily face scrub contains curated ingredients like green tea extract for generating cell repair and turnover, willow bark extract for reducing inflammation and passionflower extract to restore and hydrate. Also included is deep-sea algae extract to soothe even the most sensitive facial skin.
The MARLOWE No. 201 kit also includes the company's No. 123 Facial Moisturizer and their No. 141 Shave Cream. Taken together, this is a daily ritual that easily could transform your skin from dry to balanced. You might even see less shaving irritation and fewer wrinkles.
Find the product here.
This two-step routine is short and sweet enough for any guy to appreciate, yet it packs a powerful punch in the fight against dry skin. With a price of just over $35, this kit should last about two months, which makes it a bargain too. The Daily Face Wash and All-in-One Toner & Moisturizer make it possible for you to give your skin the extra care and hydration that it needs.
Among the core ingredients is a combination of witch hazel, lavender, and tea tree leaf, each of which is packed with antioxidants that provide natural antiseptic properties as well as anti-fungal and anti-inflammatory characteristics. Razor bumps and burns don't stand a chance against this soothing formulation. Additionally, you'll find sodium hyaluronate to provide extra hydration so that your skin glows with healthy hydration. Made with plant- and marine-based extracts, this is a natural formula that you can feel comfortable about using on your skin.
Find the product here.
Containing five products, each of which is designed to balance and hydrate your skin, the Innisfree Green Tea Balancing Skin Care Set is one that your skin will love. The main ingredient is squeezed green tea from Jeju Island, a component that is known to provide an enormous amount of hydration to even the thirstiest skin. When used in combination with the included moisturizers, guys just might discover that their skin is returned to the glowing conditions it had when they were younger.
If you are on the lookout for a complete skin care regimen that will soothe and hydrate your skin, then Innisfree probably has a reliable solution for you.
Find the product here.
Made in the USA and formulated for "Adventurous Skin," Thrive Face Wash offers an elegant solution to men who are just as concerned about the environment as they are about the health of their skin. This product contains plant-based ingredients and is cruelty-free. It's also a vegan product that relies upon regenerative farming for many of its components. Thrive never relies on petroleum, parabens, gluten, unsafe preservatives, synthetic dyes, and other potentially harmful ingredients.
What is inside are beneficial ingredients derived from two "super plants" found in Costa Rica. These are Juanilama and Fiorillo. Both of these plants are antioxidants that also boast antifungal and antibacterial qualities. They further promote skin healing, bring essential hydration and protect the skin from toxins.
Find the product here.
This two-pack of five-ounce containers of face wash is a bargain at just under $20. Touted as "Man's Best Friend," this face wash is devoid of artificial colors and fragrances as well as being certified cruelty-free. It's made in the U.K., and it contains incredible natural ingredients like camelina oil, green tea, and aloe vera. Each component is included for its ability to clean and soothe the skin like never before. Even with daily shaving, skin can look smooth and hydrated thanks to this beneficial face wash.
Bulldog is a vegan-friendly skin care brand that also offers a satisfying moisturizer that guys with dry skin will love. It's got a manly scent and is the perfect complement to this soothing daily face wash.
Find the product here.
For guys who prefer an unscented product, this daily face wash is the way to go. It contains nourishing ingredients such as aloe vera, argan oil, and jojoba oil so you can trust it to provide extra hydration to your thirsty skin. Another vital component in the formula is chamomile floral water. This ingredient supports sensitive skin while also preventing moisture loss. The non-irritating formula is free of SLS and paraben ingredients to ensure that your skin doesn't experience an adverse reaction.
Fragrance and alcohol-free, this daily face wash from the Rocky Mountain Barber Company is guaranteed not to dry or irritate your sensitive facial skin. Each container is prepared in small batches to ensure outstanding quality and lock in the essential nutrients that your skin requires.
Find the product here.
Containing a cleanser as well as a toner, this product packs a powerful one-two punch. It boasts certified organic ingredients, so you can feel completely satisfied that it is safe to use on your skin. It successfully removes dirt and oil, yet it does not strip away the vital oils that your skin needs to maintain balance.
Priced at $19 for a six-ounce size, guys who love this product can also buy the 16-ounce size for $35, which makes financial sense. Jack Black Pure Clean Daily Facial Cleanser contains only sulfate-free surfactants to provide a soothing, non-drying clean. Also left out of the formulation are synthetic colors and fragrances and parabens. Ingredients include oat, coconut, chamomile, sage leaf and witch hazel for an all-natural clean.
Find the product here.
This exfoliating organic foaming scrub is designed for daily use by guys who suffer from dry and sensitive skin. An eight-ounce bottle may be purchased for approximately $23. Within the formula are jojoba beads to speed the removal of dead skin cells, leaving skin looking brighter and more vibrant. Jojoba is so beneficial for skin that it provides nourishment and hydration at the same time.
Using only organically sourced ingredients, this face wash from Minamul is made in the USA, vegan and free of artificial dyes and fragrances. What you are left with is luxuriously clean, hydrated skin that is ready for shaving and all of the challenges of your busiest days.
Find the product here.
In addition to charcoal, this formulation also contains a healthy dose of vitamin C and green tea. The result is a product that is packed with antioxidants, anti-aging properties and the ability to soothe your irritated skin. This six-ounce bottle of cleanser may be purchased for less than $20. The charcoal detoxifies while the non-abrasive formula removes dirt and oil from deep in the pores. Pore size is reduced with regular use, and this gentle formula is suitable for everyday use, even for guys who have really dry skin. If your dry skin further is prone to acne breakouts, you may see fewer of them thanks to the properties in this ALOA face wash.
Find the product here.
This is the selection that's just right for guys who not only have dry, sensitive skin on their faces but also other parts of their body. Regular use of Sebamed Liquid Face and Body Wash will revolutionize your skin, leaving it soft, smooth and pliant like never before. Formulated particularly for sensitive skin, you won't experience any irritation or redness when using this product.
Sebamed is carefully formulated to maintain your skin's healthiest pH of 5.5. It does this by supporting the skin's natural barrier functions. The formulation is soap and alcohol-free and contains a unique vitamin blend to keep the skin healthy. With a moisturizing complex that contains Pentavitin and Allantoin, Sebamed keeps your skin in balance. For a little more than $30, guys can purchase the 33.8-ounce bottle.
Find the product here.
Like charcoal, glycolic acid sounds like it might be too harsh for dry skin, but the reverse is actually true. Glycolic acid is an incredible ingredient in any skin care product because it's a gentle exfoliant that peels away the outer layer of your skin to make it smoother and more even. At the same time, glycolic acid does a tremendous job of hydrating thirsty skin.
If you are serious about using an all-natural face wash that can actually reverse the signs of aging, then you need a product that has an AHA like glycolic acid. Not only will your skin look younger and better hydrated but also you may see a reduction in dark spots and sunspots.
Find the product here.
Advertised as "deeply nourishing," this gentle face wash is formulated for all skin types, but it is particularly beneficial for guys with dry skin. This is because hyaluronic acid features prominently in the list of ingredients. For skin that is aging, hyaluronic acid, or HA, is a miracle. Few ingredients can match it for its ability to pack a powerful dose of hydration into every use.
This face wash also promises to rejuvenate and revive to make your skin look younger than it has in years. Fine lines and wrinkles will begin to be minimized with regular use and the skin on the face and neck may begin to look tighter and firmer.
Find the product here.
This face wash is loaded with numerous natural, beneficial ingredients that are designed to leave your skin feeling clean and refreshed. Plant extracts such as organic dandelion provide skin-soothing zinc and magnesium while minerals from the Dead Sea slough away impurities without stripping the skin of vital nutrients. Organic gutu kola is present to stimulate collagen production and to provide an extra dose of hydration while aloe vera nourishes and protects.
For $24, this made in the USA product is a bargain. Treat your skin to antioxidants twice per day to see your skin look better than ever before.
Find the product here.
Inside this 8.5-ounce, $16 bottle is a 100-percent natural skin care product. The formulation relies upon extracts of Hawaiian white ginger, chamomile, and goldenseal to deliver softer, more radiant skin that's always ready for a shave. Skin irritations are soothed by bladderwrack. Packed with minerals, bladderwrack offers tremendous benefits to the skin with its anti-inflammatory properties.
Since 1978, Desert Essence has specialized in bringing organic skin care products to the world. This Thoroughly Clean Face Wash is no exception. It provides dry skin with essential nutrients and hydration. Containing antiseptic tea tree oil and no artificial ingredients, you can feel great about using this product on your skin.
Find the product here.
An eight-ounce bottle of this award-winning face wash is designed to fight the signs of aging, which often are accelerated or exacerbated by excessive dryness. A large dose of vitamin E in the formula boosts collagen production to make skin look younger than it has in years. Thanks to the presence of tamanu oil and coconut oil, this face wash provides plenty of hydration while the chemical-free recipe ensures that irritation is never an issue. Even the most sensitive skin will be protected and supported by the Eavara Organic Facial Cleanser. Crafted in Hawaii, this natural skin care line offers everything that the guy with dry skin needs to see fewer issues and younger-looking skin.
Find the product here.
Available in a five-ounce bottle for $27, this upscale face wash is perfectly balanced to remove dirt and excess oil without leaving the skin dry and dull. Each product from Origin is thoroughly tested by board-certified dermatologists to ensure safety and efficacy. Advertised as leaving skin feeling fresh and comfortable, this formula contains many soothing components such as lavender, chamomile, geranium flower oil, and spearmint leaf oil. Using this face wash twice per day revitalizes the skin by sloughing away dead skin cells to speed new cells to the surface. The result is well-hydrated, glowing skin.
Find the product here.
This non-toxic product is a departure for face washes because it isn't a gel or a liquid. Instead, it's a face-cleaning stick so that you never have to worry about spills or messes. Gently rub the stick over your face to deliver a wealth of cleaning and hydration to your skin. Packed with ingredients like purifying charcoal to dissolve dirt deep within the pores and a coconut-derived surfactant to break down troubling excess oil, this Oars + Alps product leaves your skin fresh and clean. Alpine caribou moss also is in the formula, ensuring that your skin is protected from free radicals and environmental stressors, both of which may contribute to dry skin and irritation. With an invigorating scent characterized by cedarwood and lime, guys are bound to love this revolutionary face wash.
Find the product here.
Designed to scrub away the dirt and toxins that clog pores and may contribute to dry skin, this Viking Revolution face wash is packed with charcoal to deliver a powerful check to excess oil. This formula contains no harmful chemicals, instead, relying on olive oil, vitamin E, aloe vera and vitamin C to stimulate healthy cell renewal and bring rejuvenating hydration to the skin. Viking Revolution stands behind each of their products with a 100-percent guarantee. This is one company that believes in getting a job done right, and that's something that any guy can appreciate.
Find the product here.
Glycolic acid is a gentle cleanser that removes the dull, dead skin cells from the surface of your face so that the brighter, newer cells can take their place. At the same time, this cleanser reaches deep into your pores to remove impurities, and it does so while balancing your skin's pH. The result is skin that is naturally neither too oily nor too dry, leaving you to feel comfortable in all seasons. Containing a solution of 10-percent glycolic acid, this face wash is guaranteed not to cause dryness or irritation. You are left with softer skin that's ready for the razor with far fewer bumps or cases of razor burn. An eight-ounce bottle costs approximately $32.
Find the product here.
With a three-pack costing just under $20, this is a bargain choice that nonetheless can work wonders for your skin. While it provides an enormously refreshing clean, it also leaves your skin feeling hydrated and comfortable all day long. Regular use will bring you fewer dry, flaky patches, and you may discover that you suffer less irritation from shaving. This hypoallergenic formula also benefits from Dove's MICROMOISTURE technology to provide your skin with all of the hydration it requires.
Find the product here.
This all-natural product from Era Organics does not contain any chemicals, sulfates or toxins that will dry out your skin. A USDA organic face wash, this product is specially formulated for sensitive skin. Each of the ingredients is meant to balance, hydrate and protect your dry skin. Testing by the manufacturer revealed that this face wash can prevent ingrown hairs and razor burns while also opening clogged pores and removing dead skin cells. Redness and inflammation are reduced with ingredients like chamomile, coconut oil, sunflower oil, shea butter, jojoba oil, and orange oil. Your skin will feel more hydrated than ever thanks to this product.
Find the product here.
Key Considerations When Using Face Wash for Dry Skin
When it comes to maintaining healthy skin, the face wash is an essential part of any skincare regimen. It is important to find the right face wash for your skin type, especially if you have dry skin. With the right face wash, you can keep your skin clean and hydrated. There are several key considerations to keep in mind when selecting a face wash specifically designed for dry skin.
Choose a face wash specifically designed for dry skin
Look for labels that say "for dry skin" or "gentle." Many face washes are designed to be mild and nourishing and can help to replenish moisture in dry skin. Look for ingredients such as hyaluronic acid, ceramides, and glycerin, which are known to be hydrating and help to restore the skin's natural barrier.
Avoid harsh ingredients
Avoid face washes with fragrances, sulfates, and alcohol. These can strip away natural oils, leaving skin feeling dry and tight. Instead, look for gentle, natural ingredients such as aloe, chamomile, and honey, which have soothing and hydrating properties.
Avoid exfoliating cleansers
Exfoliating cleansers can be too abrasive for dry skin. These products can irritate and inflame the skin, leading to further dryness. Stick to a gentle cleanser that will not strip away moisture.
Look for a creamy or oil-based cleanser
Creamy and oil-based cleansers can help to nourish and moisturize dry skin. Look for natural oils such as avocado oil, jojoba oil, and coconut oil, which are known to be deeply hydrating and help to replenish the skin's natural oils.
Choose a product with natural ingredients
Look for face washes with natural ingredients like aloe and honey, which are known to soothe and hydrate dry skin. Avoid fragrances and other skin irritants, and look for products that are specifically designed for dry skin.
Use lukewarm water
Hot water can strip away natural oils. Use lukewarm water and rinse your face with cold water afterwards to help lock in moisture. The cold water helps to close the pores, preventing moisture loss.
Don't scrub too hard
Scrubbing too hard can irritate dry skin and cause it to become even drier. Instead, use a gentle, circular motion to cleanse the skin. This will help to remove dirt and excess oil without stripping away the skin's natural oils.
Use a moisturizer afterwards
Applying a moisturizer afterwards can help to lock in moisture and keep dry skin hydrated. Look for a product specifically designed for dry skin and contains natural ingredients such as shea butter, ceramides, and hyaluronic acid.
Consider the climate
If you live in a dry climate, you may need a heavier, more hydrating face wash. Look for creamy cleansers that can help to provide deep hydration and nourishment to dry skin.
Read reviews
Read reviews from people with dry skin to get an idea of what products may work best for you. Look for products with lots of positive reviews from customers with dry skin, and make sure to read the ingredients list carefully to ensure that you choose the right product for your skin type.