19 Best Gym Workout Shoes for Men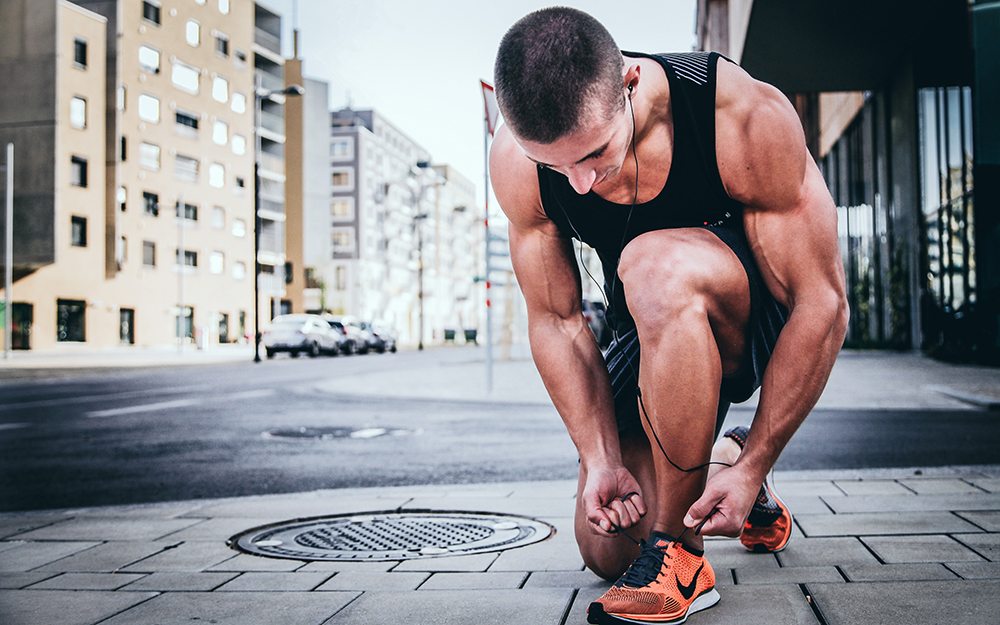 How is it possible for a pair of shoes to do all that? The answer is that an incredible amount of technology and scientific testing goes into a quality pair of athletic shoes. That's because the market is extraordinarily competitive, and the players are always looking for ways to one-up the competition. Fortunately, the consumer wins in this scenario. You have tons of great workout shoes from which to choose.
How to Pick a Workout Shoe for Men
Of course, you can't just buy the first pair of shoes that look good or are the right size. A great deal of design thought and innovation has gone into each pair, so it makes sense that you should do your research too. You'll discover along the way that the best men's workout shoes for one guy aren't necessarily the same shoe for another. Our feet are unique, which is just one more reason why being spoiled for choice is a good thing.
Get Familiar With Your Foot
Remember how I said that each one of us has unique feet? One of the keys to getting the right workout shoes is knowing what kind of foot you have. A trusted way to do this is by wetting your foot, and then stepping down on a piece of brown paper. Use a pencil to trace the wet marks made by your foot before they fade.
If you can see nearly the entire sole of your foot on the paper, then you may have flat feet which may make your feet tend to overpronate or roll inward. If you see only your forefoot and heel with a slender connection between the two, then you have a high arch and may be more susceptible to underpronation, which means that your feet roll outward.
Workout shoes can help you to address these issues so that they don't affect the quality of your workout. For instance, someone who overpronates needs a shoe with tons of support while someone who underpronates should look for a shoe with a soft midsole, all this depending on the activity you want to do, like running or hiking, if you're into doing hiking walks outside you should also get the best waterproof hiking shoes so you can exercise comfortably.
Don't Expect Shoes to "Break In"
Today's best workout shoes for men don't require a period of breaking in. They should be optimally comfortable from the first moment you wear them. If they are not, then they are not the right shoe for your foot.
Look for Cushioning
This is particularly critical for people who will be running, but also may apply to men who participate in diverse activities. These days, you can find shoes that have gel cushioning, features that look like rubber springs or air pockets. If you tend to feel heel pain during or after a workout, then cushioning is super-important to you. You should also take into consideration the type of socks you'll be wearing. Sports socks like Athletic Crew Socks should be able to provide additional cushioning and prevent you from getting blisters.
Weight Matters
Today's best men's workout shoes are lighter than ever. They deliver incredible performance but hardly weigh a few ounces. There are distinct advantages to this, especially in the midst of a ridiculously tough workout in which your legs feel heavier and heavier. The lighter your shoes are, the less they'll weigh down your movements.
Check for Breathability
Many of the best workout shoe makers today spend millions of dollars researching unique fabrics that wick sweat away from your foot to prevent that unpleasant "damp" feeling that comes with a long workout. Additionally, more air is able to circulate within the shoe, another plus for when temperatures rise. Essentially, these special fabrics keep your feet cooler and drier, which means you can focus on exercising.
Stability and Security
When you're moving fast and making quick direction changes, you need to know that your shoes are supporting you. There should be no heel slippage, nor should your foot be sliding around inside the shoe. What's more, look for a shoe that has the proper amount of traction for your activity. You don't want to be slipping when your shoes should be gripping the floor.
Don't Assume You Know Your Size
The size of a person's foot changes with the years. What's more, shoe sizes vary considerably between manufacturers. You may think that you wear a nine and a half, but discover that a nine feels pretty good in one shoe while you have to go up to a 10 to feel comfortable in another. Be willing to try different sizes in your mission to find the perfect shoe.
Let's take a look at some of the best men's workout shoes that are on the market today. Any one of them could be the right one for you.
This sleek, lightweight shoe is available in a stunning array of colors, so you can get a pair to match almost any outfit. They look so good, you'll probably want to wear them on weekends and anytime you're going out with friends. However, don't forget that this also is a highly functional workout shoe. I love the incredibly breathable Flyknit technology that makes these shoes fit like comfortable socks. If your workouts include lifting, then you'll appreciate the flat platform, which combines with an extra-firm rubber heel to give you greater stability. This shoe can handle it all from running to rope climbs to wall exercises to lifting.
Buy it now on Amazon: Nike Men's Metcon DSX Training Shoes
If your workout takes you beyond the gym, then you may need this shoe. It's available in several neutral color combinations that go with everything. The mesh upper is incredibly breathable so that your feet stay cool even in the midst of the hottest workout. In fact, the upper is made from adidas' proprietary Primeknit fabric and it features unique styling including a midcut sock liner. The Boost midsole absorbs your footstrike and allows you to get a more powerful push off. The outsole is flexible and has a grid design that helps your feet grip whatever surface you're running on.
Buy it now on Amazon: Adidas Men's Ultraboost Running Shoes
I love the way that the Virtue seems to hug the foot. No matter what kind of activity you do, you'll feel confident, balanced and stable. The shoe features flywire technology, which means that it has multiple stretch bands that keep the shoe glued to your foot. Regardless of the direction you move, you'll feel secure. This shoe also has the proprietary Nike Free sole, enabling you plenty of flexibility in every imaginable direction. You further get cushioning that consists of lightweight, dual-density foam.
Buy it now on Amazon: Nike Mens Free Train Virtue Training Shoes
Here's a shoe that has that gel cushioning that I mentioned earlier. In fact, this shoe features ASICS' proprietary Rearfoot gel cushioning system, which means that your feet will always be protected from hard impacts. You'll also get the Solyte midsole material, which is lightweight yet responsive, so you'll be able to change directions with ease. No matter what kind of activity you do, or how many different activities you enjoy, this shoe will give you the support and stability that you need.
Buy it now on Amazon: ASICS Men's Gel-Craze Trainer Shoes
Available in a variety of colors and patterns both subtle and bold, this is another shoe that you might be tempted to wear everywhere you go. Like Nike's Metcon DSX Flyknit shoe, this one also incorporates the flywire technology to ensure a solid fit no matter what activity you choose. There's a drop-in midsole to provide even better stability, and you may appreciate the embroidered TPU in places that tend to wear quickly. These shoes have good flexibility thanks to the "flex grooves" in the forefoot region, but also are stiff enough for lifting heavy weights.
Buy it now on Amazon: NIKE Men's Metcon 3 Training Shoes
It may only be available in a few colors, but this futuristic-looking shoe is bound to catch your eye. The flex-grooved outsole provides just the right amount of flexibility. What's particularly interesting about this shoe is the heat-activated foot wrap. This feature allows the shoe to mold to your individual foot, bringing you even more stability. In addition to the usual laces, this shoe has strap closures and heel clips to keep your foot locked in place. No matter how heavy you lift, these purpose-built shoes will be there to support you.
Buy it now on Amazon: Reebok Men's Lifter PR Cross-Trainer Shoes
The sharp look of these shoes makes them winners from the get-go. However, you'll also find that these lightweight, remarkably breathable shoes make all of your workouts so much easier. The maker's description says that these shoes will make you feel and move like a ninja, and I find that believable. I love the seamless, one-piece upper that is constructed from the company's proprietary SuperFabric, which is designed to breathe, be extremely durable and resist abrasion. The level of traction is just right for multiple surfaces.
Buy it now on Amazon: NOBULL Men's Black Ivy Trainers
This is another shoe for you heavy lifters out there. Otomix is a well-known brand name in the shoes for bodybuilders industry. However, this particular style also is ideal for mixed martial arts and other forms of fight training. You'll find added support and protection in every aspect of this shoe so that you can compete at the highest level without risking a foot injury. You also might appreciate this shoe if you have weak ankles.
Buy it now on Amazon: Otomix Power Trainer Men's Bodybuilding Shoes
Reebok describes this shoe as being ideal for functional-fitness enthusiasts. Essentially, no matter what kind of workouts you prefer, this shoe should be a great companion. It features an "anatomical" shape that is meant to cradle the foot and provide plenty of support. These shoes have a nice amount of flex to assist you with balance. Underfoot cushioning gives you decent impact control when you're doing a lot of running and jumping.
Buy it now on Amazon: Reebok Men's Ros Workout Cross-Trainer Shoes
Although Adidas says that these shoes are specifically designed for baseball, there's no reason that you couldn't use these excellent cross trainers for just about any activity. Additionally, because they are available in almost 30 color combinations, you're bound to love at least one or two of them. These shoes have excellent traction capabilities, which makes running on just about any terrain a breeze. A nubuck overlay at the medial gives you just the right amount of support.
Buy it now on Amazon: Adidas Men's Speed 3.0 Cross Trainers
The traction pattern outsole on this shoe is incredibly tough. I think it could stand up to even the most rigorous workouts week after week. High intensity interval training, WODs and speed training are no match for these shoes. These shoes have a cordura upper that is breathable and just won't quit. The midsole is soft EVA, promising excellent responsiveness. You also might appreciate the exposed heel clip, which provides you with the extra stability you need during the most demanding sets. The outsole is super stable, including Reebok's RopePro and Kip Klip features.
Buy it now on Amazon: Reebok Men's Crossfit Cross-Trainer Shoes
Here's another shoe that can accompany you through any challenge. I love the incredibly comfortable, sock-like upper. It completely conforms to the unique shape of your foot, and the collar is higher than on the average cross trainer. Altogether, this makes for a stunningly new-looking shoe that you won't see on many other guys at the gym. Another plus is the strap-attached heel and mid-foot pieces that give you extra support. The company's exclusive Ignite 3 tooling gives you plenty of traction no matter what surfaces you encounter on your workout. As a bonus, these shoes are incredibly lightweight.
Buy it now on Amazon: PUMA Men's Ignite Evoknit Cross-Trainer Shoes
Chances are good that you've never even heard of YORK Athletics before, but I think they are a brand name that you need to know. This particular shoe won Men's Health Magazine's contest for the Best New Fitness Gear of 2017. What's more, they also took Men's Fitness Magazine's award for Best CrossFit Training Shoes of 2018. Just try these shoes on, and you'll quickly find that the accolades are earned. They have a minimalist look and feel, yet they are incredibly durable. Use them while doing crossfit, boxing, weight training and just about everything else. The reinforced heel counter gives you excellent lateral stability. The outsole is a slip-resistant rubber, and most users love the lightweight EVA midsole. With a moisture-wicking sock liner, there are plenty of reasons why this shoe is winning awards.
Buy it now on Amazon: YORK Athletics Unisex Training Shoes
Act fast if you want to pick up a pair of these super in-demand shoes for yourself. That's because they tend to sell out in a flash. With a weight of just 8.6 ounces, these shoes are light enough for even the pickiest guy. Then, there's the breathable mesh upper that provides just the right amount of ventilation. The overlays are seamless to reduce bulk while still giving you all of the support that you need during your toughest workouts. My favorite thing about these shoes is the molded 4D Foam footbed. Not only will your feet not slip and slide around inside this shoe, but also you'll feel fantastically comfortable even when your workouts get crazy. Another plus is the Micro G foam that cushions every landing and helps to make your takeoffs more explosive. This is an all-around great shoe.
Buy it now on Amazon: Under Armour Men's Micro Limitless Trainers
This is the shoe for the guy who's just got to have something totally different from what everyone else has. The space-age look may be a bit too much for some people, but this is one seriously awesome shoe. That's because it combines many of the most important characteristics of a great workout shoe. Its gripping power is relentless, it strikes just the right balance between stiffness and flexibility and you're certain to feel more powerful when you're wearing it. This shoe really is designed to do everything. From heavy weightlifting to sprints, you'll always feel comfortable and secure. What really sets this shoe apart from the competition is the dual BOA dial system, which provides a customized and incredibly secure fit. This means that the fit of the shoe can be adjusted on a microscopic level. Your feet have never had it so good.
Buy it now on Amazon: Inov-8 Men's Cross-Training Shoes
Seamless construction ensures less bulk and an incredibly comfortable fit with this shoe. The MONO SOCK Fit System hugs your foot with ease. This shoe is designed with a wider midsole base to give you the stability you need during your heaviest lifts. However, you'll find that this cross trainer transitions easily to the other components of your workout. The forefoot piece is smooth and flat for better stability and improved body alignment. With a vamp that is made from lightweight mesh, you'll have all of the breathability you could ask for. You may just find that your lifting form improves thanks to these shoes.
Buy it now on Amazon: ASICS Men's Lite Cross-Trainer Shoes
Unless you're really into weight lifting, you may not be familiar with the Nordic Lifting brand. However, if you're looking to compete or just set a few personal records, then switching to this shoe may be an excellent idea. This is definitely a shoe that is purpose-built for lifting, though some people use it for cross training too. The heel is specially designed to support both lifting and cross-training applications. With a one-year warranty, it's pretty hard to go wrong. This shoe affords both stability and flexibility with an anti-slip sole that is ideal for a variety of movements.
Buy it now on Amazon: VENJA Nordic Lifting Shoes
This is one for all the guys who prefer a barefoot look and feel. This shoe is a polyester blend with an anti-microbial Drilex sockliner. If you're a vegan, you can rest assured that this shoe meets your standards. With an ultra-thin sole, which the company says is its thinnest to date, you get incredible control and ground feedback. Vibram has really thought of everything with these five-toed shoes. They are minimalist, easy to take on and off and comfortable to wear. Keep in mind that these shoes are truly meant for someone who is already experienced with extreme minimalist footwear.
Buy it now on Amazon: Vibram Men's Cross-Training Shoes
Without a doubt, Nike produces some of the best workout shoes for men. Like many other products from this company, this design is available in a multitude of colors, and you're as likely to see these shoes in the gym as outside it. The outsole is appropriately rugged for a variety of training activities. This style takes advantage of the flywire system to ensure a stable and comfortable fit. The cushioning is responsive and appropriately flexible while synthetic overlays provide an extra bit of support.
Buy it now on Amazon: Nike Men's Zoom Hypercross Training Shoes
What are gym workout shoes?
Gym workout shoes are also called training shoes or cross-trainers. They support a variety of movements, including forward and lateral movements. Training shoes are meant to facilitate moves such as stopping, cutting, jumping, braking, and changing direction quickly. Choose cross-trainers when you perform a variety of gym workouts like high-intensity gym classes and boot camps, weightlifting, strength training, agility training, and even short distances on a treadmill. These versatile workout shoes have heel support to allow you to go deeper into squats along with grooves and patterns on the exterior portion of the soles for traction during plyometric and multi-directional movements.
Are gym shoes and running shoes the same?
Running shoes are a type of gym shoe. On the outside, they look the same, but the difference is primarily in interior construction. Running shoes have a structure that favors the forward and backward movement of the feet. They have a higher heel drop that facilitates toe-to-heel movement along with greater cushioning to protect your feet when running on hard pavement. The greater amount of cushioning also helps with long-distances runs over five kilometers and prevents foot pain from long workouts. When deciding if you should buy general gym shoes or running shoes, ask yourself how much you run. If it's three times a week or more, choose running shoes.
What are the best types of shoes for the gym?
The best kinds of workout shoes for the gym will support the types of fitness activities that you do. Simple walking shoes will not provide you with the support your foot needs to work out safely. Neither will cheap, off-brand shoes. Cross-trainers provide cushioning and support for various activities while also adding the essential aspects of running shoes. Make sure that the shoes fit your foot type too. For example, if you have weak arches, find shoes with additional arch support to prevent foot pain.
How often should you replace workout shoes?
Replacement depends on your type of activity, its frequency, and its intensity. Generally, manufacturers recommend replacing running shoes every 300 to 500 miles. Cross-trainers have a useable life of five to six months. Your shoes will give you signs that they are worn out, including uneven wear on the soles, not fitting as snugly as in the past, and foot pain due to decreased cushioning.
How to clean workout shoes
Occasional cleaning will make your workout shoes look better. Always wipe off dirt as soon as you notice it. Take a soft-bristled shoe brush or a toothbrush to loosen dirt. You can also use a vacuum attachment to remove dirt. Use a mild solution of dish soap or laundry detergent and water and scrub away surface dirt with a brush. Avoid rubbing too hard as you can wear down the surface fabric.
How to wash gym shoes
You can wash gym shoes either by hand or in the washing machine on a gentle cycle. Always use a mild detergent. If cleaning by hand, use a separate brush for the soles and wipe them dry with a clean cloth. If you need to clean your insoles, remove them and don't replace them until dry. Allow your shoes to air dry completely for at least eight hours before wearing them again.
Is it ok to work out without shoes?
Some workouts don't require shoes and are better performed barefoot. These include yoga, Pilates, and barre. Barefoot training can be beneficial to your overall strength when done in the right circumstances. Always wear shoes when performing high-impact exercises.
FAQ on Gym Workout Shoes
What are gym shoes called?
Workout shoes go by various names, primarily tailored to the type of activities they support. Among the shoe types that men can use include shoes for running, walking, and tennis, cross-trainers, shoes for weightlifting, rock climbing or basketball, and cycling shoes.
What shoes should men wear to the gym?
Choose lightweight shoes and have superior traction for use on multiple surfaces. You'll also want to get a pair tailored for your activities and the equipment you use to maximize your workout and minimize the chance of injury.
Should workout shoes be tight or loose?
Properly fitted workout shoes should feel snug in the heel and midfoot while allowing room for your thumb to wiggle. Your workout shoes should not be tight but rather snug enough to support all areas of your feet, with little to no heel movement.
Can you put gym shoes in the washing machine?
You can wash gym shoes in the washing machine by putting them in the machine on a delicate cycle with cold water. Washing time is about 30 to 40 minutes. Never place your shoes in the dryer. Instead, allow them to air dry.
Can you wear trail running shoes in the gym?
It depends on what you're doing. They're fine for running on the treadmill or performing some weight training. However, if you're planning on doing an aerobics class, they won't work well because of the additional grip on the soles and thicker material on the upper that prevents some sideways movement.
Are canvas shoes good for the gym?
Canvas shoes are useful for certain tasks in the gym. Because of their lightweight and fitted style, they're suitable for activities like weightlifting, squats, and deadlifts. Their flat heels help you maintain balance. Most also have rubber soles, which prevent you from slipping.
Are basketball shoes good for the gym?
You can wear basketball shoes for some but not all gym workouts. These shoes are heavier than other types of workout shoes, so they are ideal for bodybuilding and powerlifting. Avoid wearing them when running on the treadmill or a track, as they can tire you.