The Top 12 Best Apps for Intermittent Fasting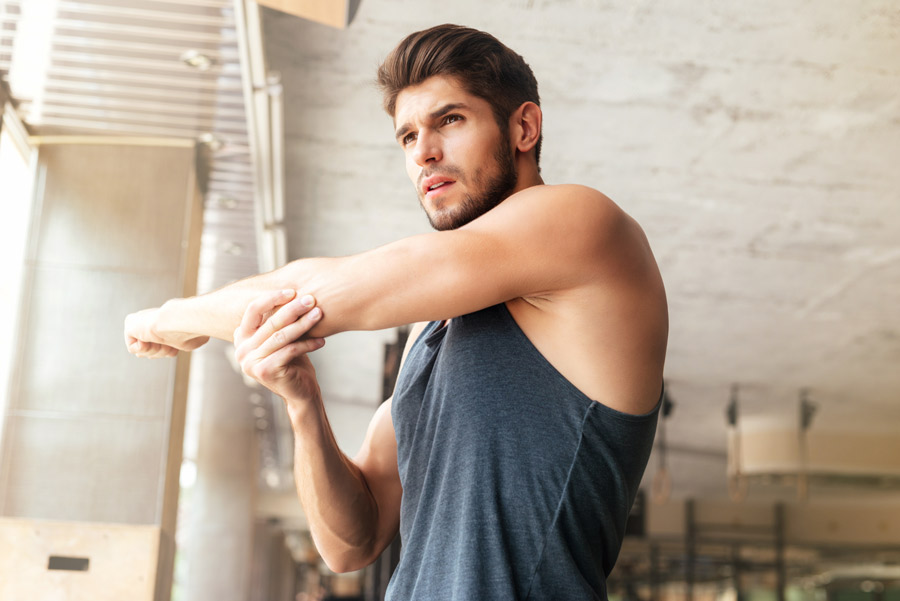 Intermittent fasting has received much attention among health experts recently as a viable way to lose weight. Instead of following extreme diets, followers of this regimen restrict their food intake at certain times while eating normally at other times to lose weight.
As a weight-loss technique, intermittent fasting has been around for ages, but it started to gain attention in 2012 thanks to a BBC documentary by Dr. Michael Mosley called "Eat Fast, Live Longer" and the book "The Fast Diet." Subsequent books increased the interest in intermittent fasting.
Although many people think of fasting as a somewhat painful religious ritual where one foregoes food for extended amounts of time, intermittent fasting is different, with many medical experts indicating that it is a viable weight-loss method. Harvard University Health notes that intermittent fasting not only makes intuitive sense but that it also seems to work with the human body's circadian rhythms.
To that end, the world of technology has joined the intermittent fasting bandwagon with the creation of apps that make losing weight just a little bit easier. We have gathered and analyzed the best apps for intermittent fasting on the market. The main points used to evaluate these apps were: basic features, premium or add-on features, user experience and user interface. Finally, we have also included a short description of to whom the app is targeted for each review.
Best Fasting Apps Recommendations
Zero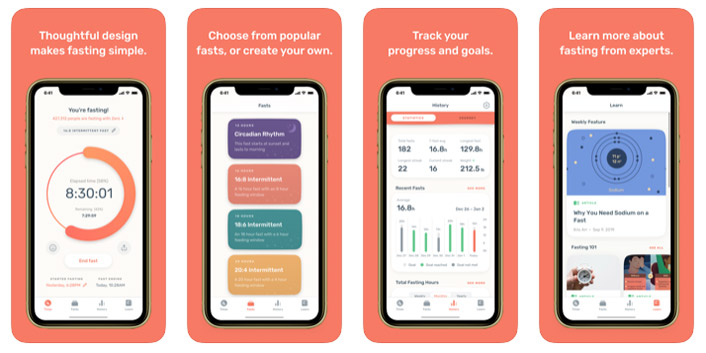 This app has been around since 2016 and has over one million downloads, which attests to its simplicity. If you're new to intermittent fasting, it's a great place to start as it works with any plan you choose. You can even devise your custom plan with Zero. What's great about this app is you can program it to send you reminders about when to eat. This best free fasting app also includes valuable information about intermittent fasting that allows you to gain valuable information about how you can maximize your fasting via healthy eating tips. Best of all, this free app has a simple interface, which makes it easy to navigate.
Top features include:
Track fasting progress and goals
Flexible fasting times
Ability to leave post-fast notes
Snapshots allow you to look back on your fasting habits
Why use it: You need reminders about your fasting windows.
Find it here on the App Store or Google Play.
Life Fasting Tracker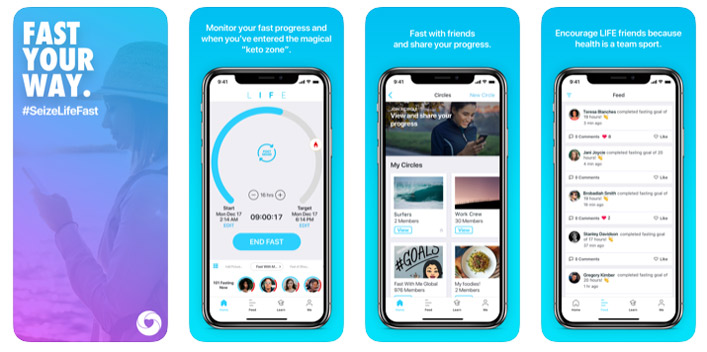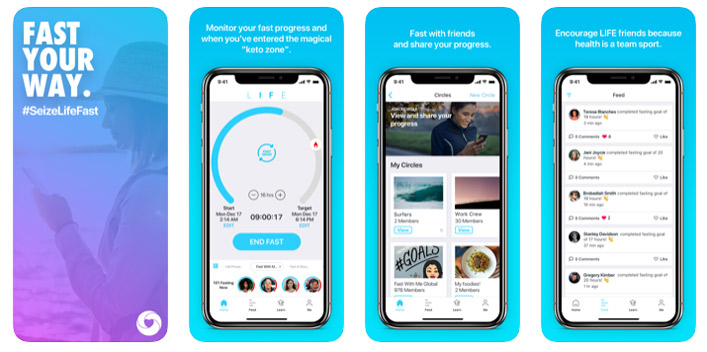 As an excellent intermittent fasting app, Life Fasting Tracker has some unique features. It allows you to set your start and end time for your fast along with goals, while also educating you through a library of research articles that are ideal for beginner and intermediate fasters. The app also gives you access to a community of like-minded individuals who are also fasting to help you on your weight-loss journey, which can be a decided motivational factor for some users. Upon opening the app, you see a user-friendly tracker along with various tabs such as a social media feed and an area for your statistics.
You'll enjoy these features:
Has an advanced tracker that measures waist circumference, glucose, and ketones
Easily adjusts starting and ending time of fasts
Maintains fasting history and statistics to track progress
Estimates how long you have been in ketosis
Why use it: Ideal for those on the Keto Diet.
Find it here on the App Store or Google Play.
Body Fast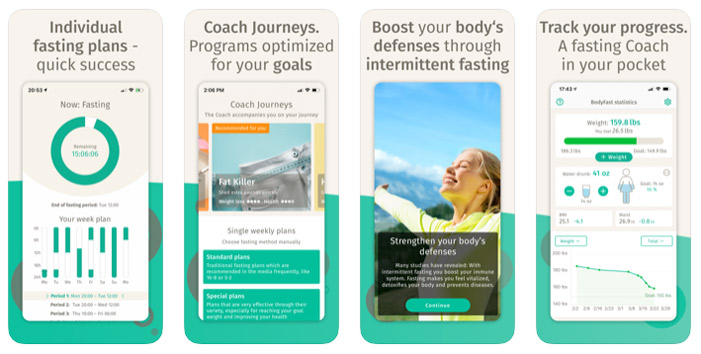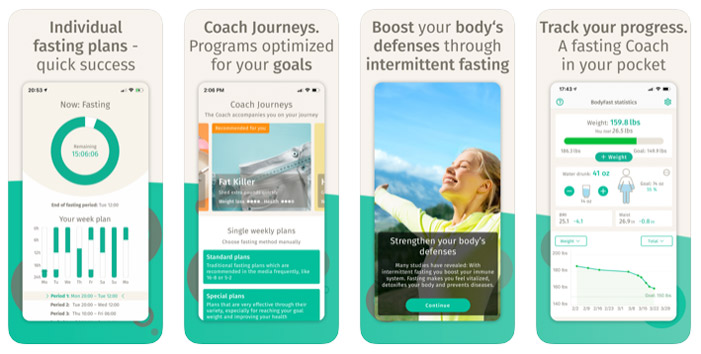 This German-based app provides users with 10 different intermittent plans from which to choose that are designed to fit your fasting goals and dietary needs. Another unique feature is that you can select a nutritional coach who will help you with meal planning and motivation. The app provides you with your current statistics immediately upon opening it, which is great for convenience. You'll also get a FAQ section that answers the most common questions about intermittent fasting. BodyFast's upgraded version gives you weekly challenges to stay competitive and motivated.
Main features include:
A widget that displays remaining fasting time and eating time
Weight tracker and statistics
Reminder alerts
Integrated awards program that recognizes users for meeting milestones and fasting streaks
Why use it: You need help with meal planning.
Find it here on the App Store or Google Play.
Fast Habit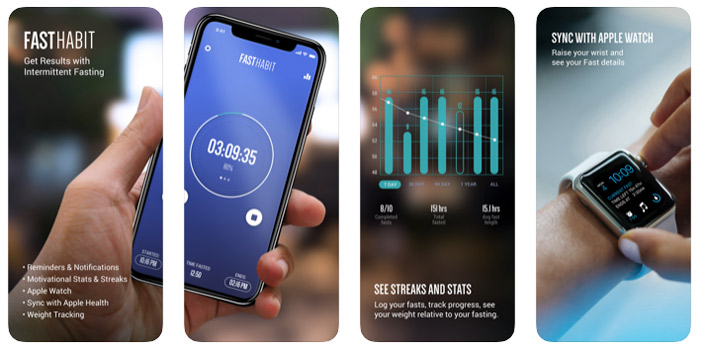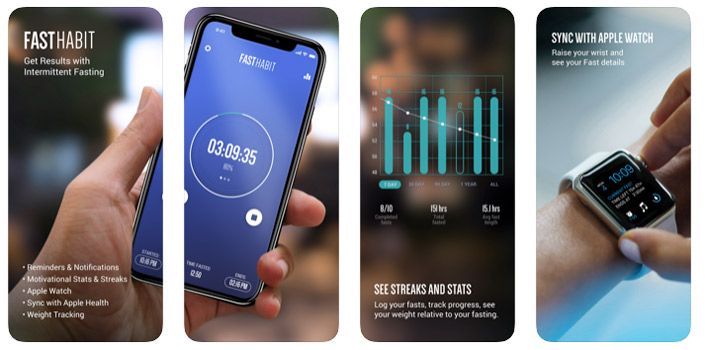 This app is worth a look if you want a no-ads, no-clutter experience that is easy to use and records your fasts promptly. Just enter your desired fasting window upon beginning, and you're good to go. The simple dashboard will allow you to track your fasting data over the previous 10 days, but if you want more extensive statistics and an export feature, you'll have to upgrade to the premium version. Fast Habit is ideal if you're going to try out different types of fasting plans to see what works best for you.
Fast Habit's top features include:
Syncs with Apple Watch and Apple Health
Sets reminders and notifications
Schedule different fasting lengths on different days
Input fasts from previous days
Snapshot view allows a quick review of your progress
Why use it: For fasters who frequently switch plans.
Find it here on the App Store or Google Play.
Fastient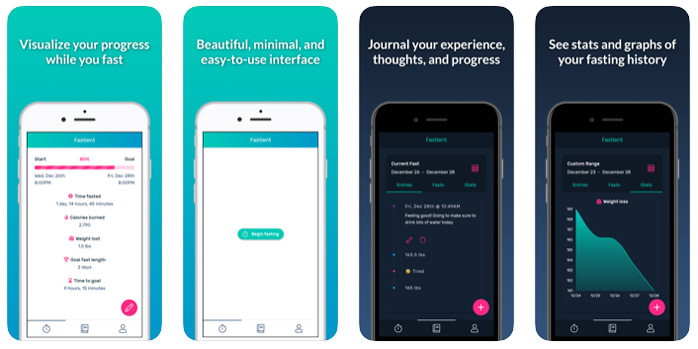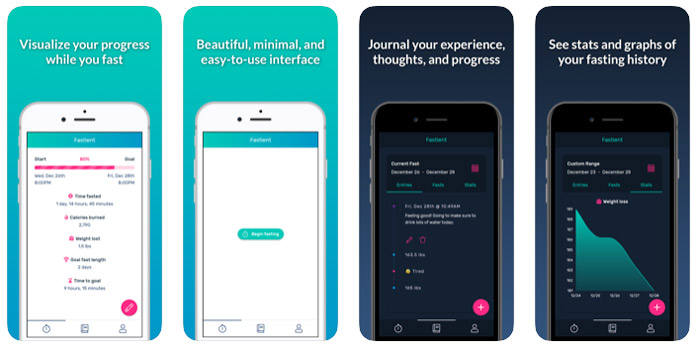 An open interface that allows you to track your food intake and fasting times comprehensively is the main feature of Fastient. Users get lots of room to record their progress and make all kinds of notes about their fasting experience. In addition to using this app on your phone, you can also access it through your desktop or laptop computer for easy tracking. Fastient allows you to manage all goals in one place and adjust them for different fasting styles. View data in graphs that you can easily read while also recording your food intake with the schedule tracker.
Top app features are:
Why use it: The best fasting app for dieters who take comprehensive notes.
Find it here on the App Store or Google Play.
Vora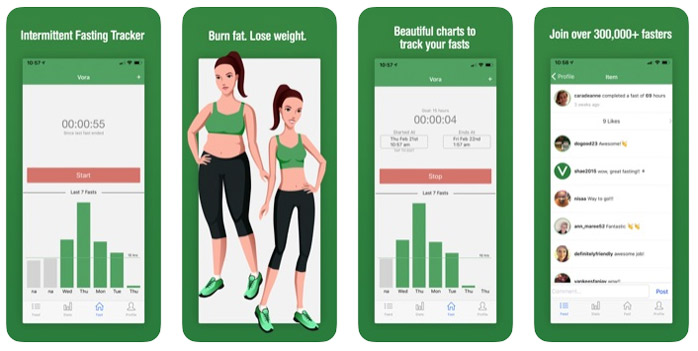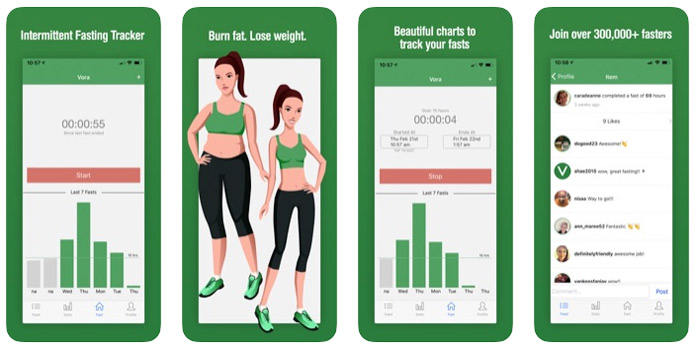 This cloud-based app supports 13 different kinds of fasts and allows you to create, edit and even delete your fasting data. You'll be able to view your last seven fasts in a colorful chart. The interface is straightforward and shows users typical data that includes daily fasting time and weight loss progress. Vora's most outstanding feature is its community support component. Engaging with a like-minded community where users can ask questions and look for support could help with attaining weight loss goals.
Vora's prime features include:
Tracker for daily fasts and diet plans
Ask questions and get support on the social feed
Colorful graphs of past fasts
Ability to export data to CSV
Why use it: Ideal for users alone in their intermittent fasting journey and need social support.
Find it here on the App Store or Google Play.
Ate Food Diary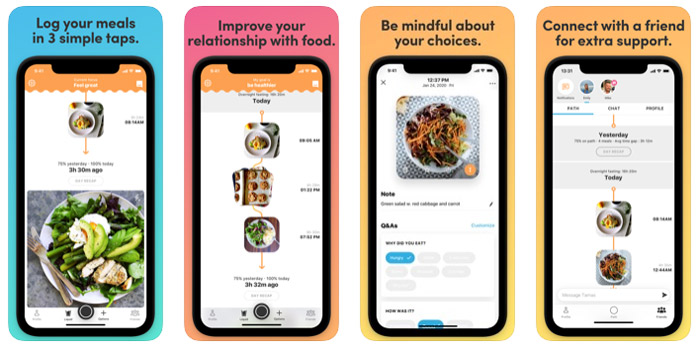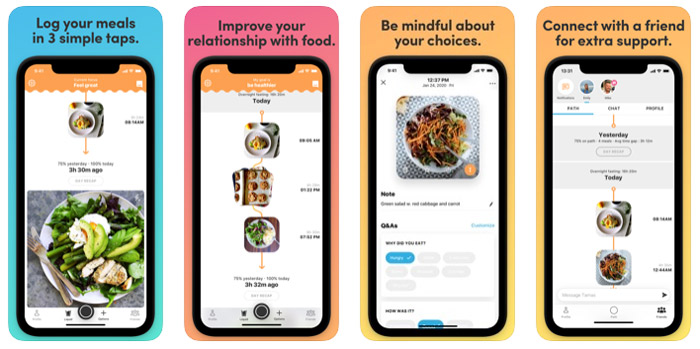 Ate Food Diary is a highly visual app, which helps you track the type and amount of food you eat, and then allows you to look back on what you ate to evaluate your food choices as well as how much time you spend fasting between your meals. If you are new to intermittent fasting and want to see what type of foods work for you for maximum weight loss, this journal is the easiest and fastest way for you to experiment with your new habits. The app also can post on various social media platforms so you can share your success with others.
Ate Food Diary's main features are:
Automatic tracking
Visual platform capabilities that integrate photos
Helps users stay accountable with coaches and friends
Easy social media integration
Why use it: For people who like to post on social media.
Find it here on the App Store.
iFasting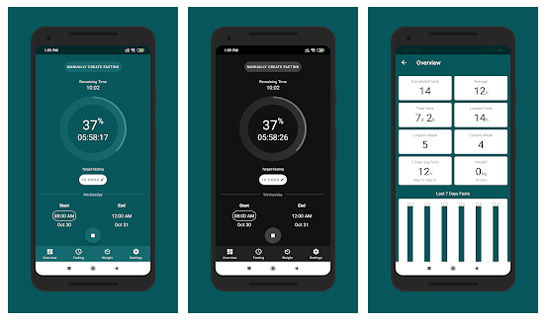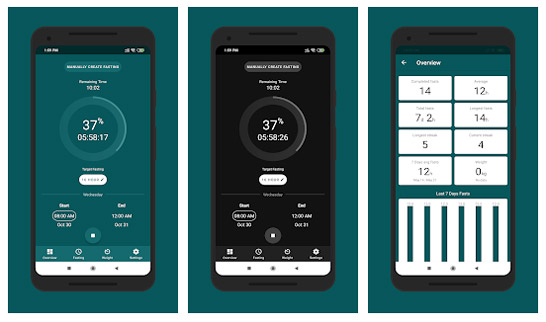 This simple app is a decent tool for beginning intermittent fasters and has easy-to-use options that allow you to set targets and adjust the start and end times for your fasts. A convenient chart feature gives you a visual history of your past fasts. Simple and easy to use, iFasting also allows you to add data from other apps to track your progress. You can also compare your present weight with past data.
Primary features are:
Monitor your fasts by day, week or month
Manual, quick-select and preset hours are on the main page
Offers simple steps to help users achieve their goals
Overview tab provides flexibility
Why use it: Great for those who fast infrequently.
Find it here on the Google Play.
Do Fasting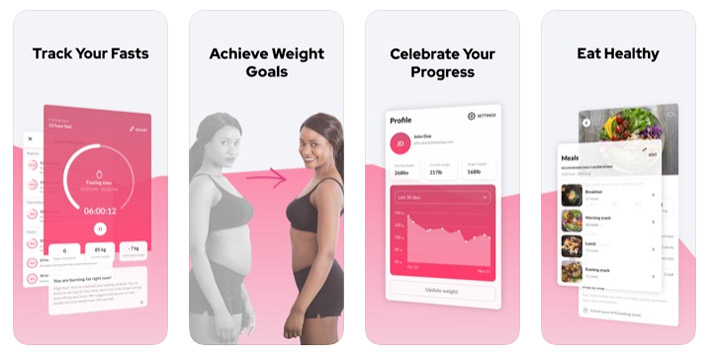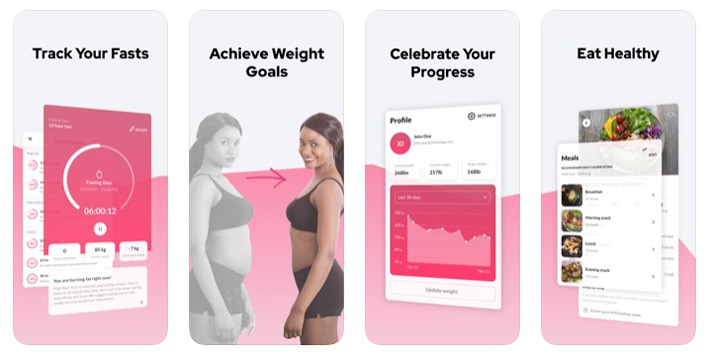 This up-and-coming app is expected to undergo some changes in 2020, yet that shouldn't stop you from checking it out. Do Fasting is not just an intermittent fasting tracker; it's a fasting assistant as it offers a game-changing approach to this method of losing weight. Users will find several benefits and resources in Do Fasting to boost their chances of successful weight loss. You'll get perks such as recommended exercises and meal recommendations tailored to your calorie intake and nutritional needs.
Do Fasting's main features include:
Personalization through a short quiz when you set up the app that will ask about fasting experience, fitness level, eating preferences and more
Choose your fasting schedule from among six different pre-sets that allow you to set your window eating times
Personalized meal plans with recipes
Workout plans with video demos
Tips section with additional information on intermittent fasting
Why to use it: You want an app that does more than simply track your fasting.
Find it here on the App Store or Google Play.
Fasten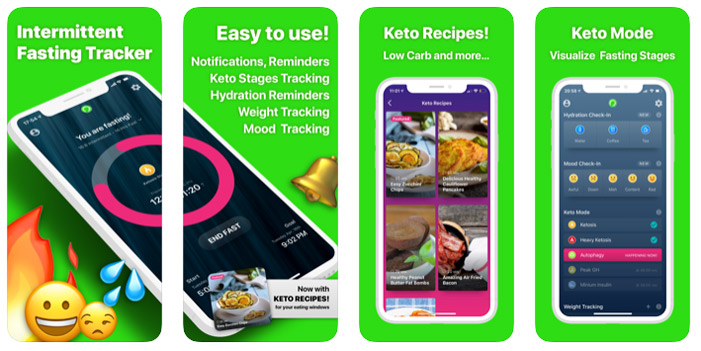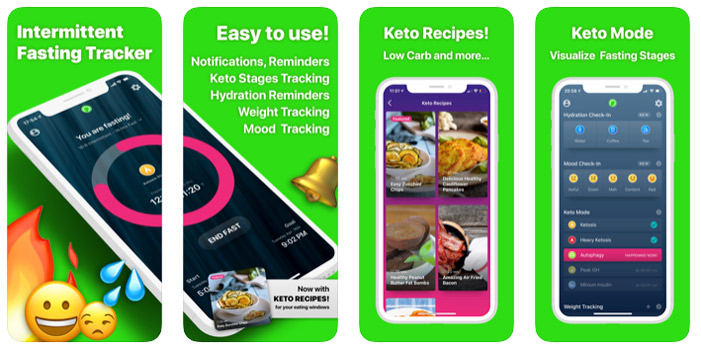 This is another up-and-coming fasting app that has a lot of different and interesting features. What is interesting about Fasten is that it is part of a suite of integrated health apps from Welzen that includes meditation and hydration-tracking features. Fasten is still adding features, so it's still not complete. One of its future features will be "Live Fast" where you can fast with friends or other app users at the same time and compare your progress.
Fasten's prime features are:
Custom fasting presets with the ability to choose from among eight different protocols
Weight tracking in pounds or kilos
Hydration tracking with reminders
Integration with Google Fit
Why use it: You want integration with other health plans and apps.
Find it here on the App Store or Google Play.
Simple Fasting Tracker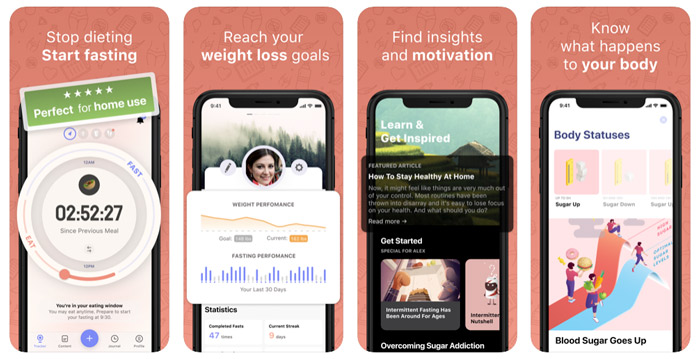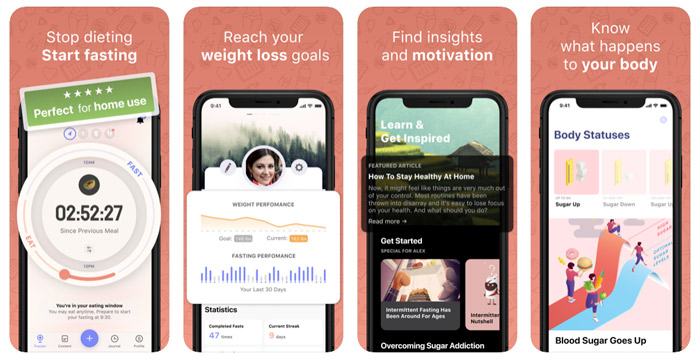 Ideal for establishing a basic routine for eating and fasting, Simple Fasting Tracer will help keep you in good shape during your weight loss efforts. This app works because you don't have to know anything about fasting and dieting. With this customized program, you'll learn what intermittent fasting is and get lifehacks and advice to make this way of life mindful and easy. When using this app, you'll get daily support, expert advice, customized content, insights and more, all designed to help you succeed.
Simple Fasting Tracker delivers these features:
Daily customized tips and hacks
Flexible tracking with a single click
A step-by-step guide with customized protocols
Meal journal to track your intake
Compatible with six different fasting protocols
Integrates with the HealthKit app to keep track of your body stats
Extended tracking covers factors such as weight, fluid intake, hunger, and meals eaten
Why use it: Select this one when you want an app that is cognizant of your needs.
Find it here on the App Store or Google Play.
My Fast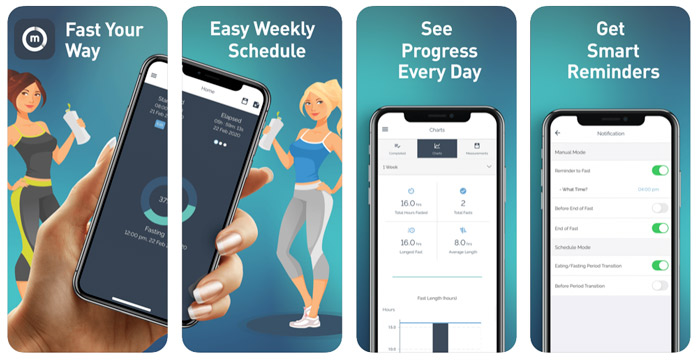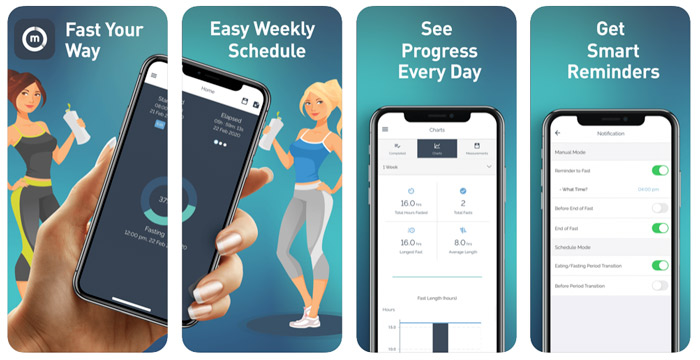 My Fast is a straight forward app that allows you to customize your fasting routine the way you want. Quickly review performance through self-explanatory performance charts and weight measurements. Use the schedule section to select fasting and eating times to achieve your goals. The learning guide can be helpful to those new to intermittent fasting. The interface is relatively clutter-free, even though you will find a fair amount of ads.
Main Features of My Fast:
Weekly schedule mode to plan fasting and eating
Use on multiple devices
Manual mode allows you to edit in real-time
Customize everything, including language, date and time
Why use it: Great for beginners who want a lot of control.
Find it here on the App Store or Google Play.
Intermittent Fasting FAQs
What is Intermittent Fasting?
Intermittent fasting is not a diet but an eating pattern that alternates between periods of eating and fasting.
Is Intermittent Fasting Good for You?
Fasting has been around throughout human evolution so our bodies are used to not eating for extended periods. Our bodies have evolved to be able to withstand fast and use fat reserves instead of stored glucose.
What are the Benefits of Intermittent Fasting?
Research has shown that intermittent fasting is an effective form of weight loss. However, many who try this approach often don't stick with it consistently. The Cleveland Clinic notes that intermittent fasting appears to also lower blood pressure and improve metabolic health.
What are the Most Popular Intermittent Fasting Methods?
Several different popular approaches to intermittent fasting exist. These are:
The twice-a-week method or 5:2
Alternate day fasting
Time-restricted eating
The 24-hour fast
Who Should Not do Intermittent Fasting?
Intermittent Fasting is contraindicated for pregnant women, children, those at risk for hypoglycemia, those at risk for eating disorder and people with certain chronic diseases.
What are the Side Effects?
Those who do intermittent fasting may experience persistent hunger, irritability, low energy, poor work performance and sensitivity to temperature.
Can Intermittent Fasting Slow Aging?
A Harvard University study indicates that intermittent fasting affects cell mitochondria, which in turn affects longevity.