5 Best Stylish Leather Bags For Your Boyfriend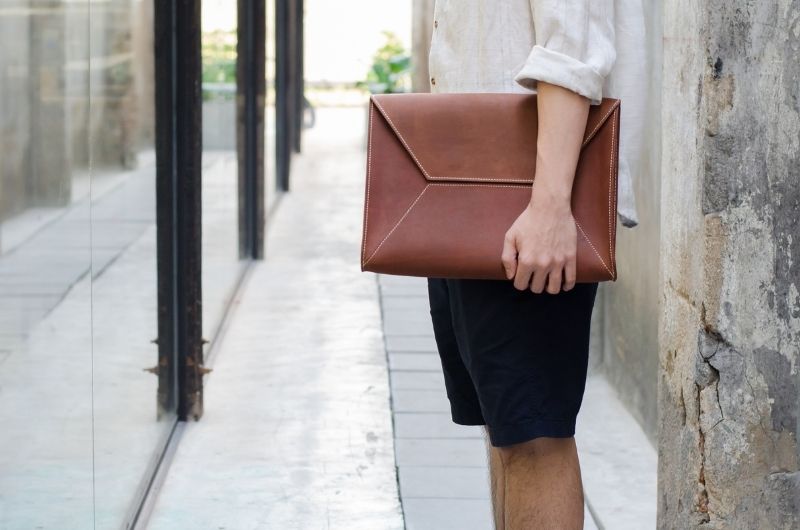 You're not the only one who needs different types of bags, but your boyfriend as well. He'd also need different bags for different occasions. Especially if your man is a busy guy, and always goes out and meets a lot of people, he needs the best collection of stylish leather bags. These include the following:
1. Leather Work Bags
Every professional man requires a work bag as it's basically an extension of himself. And, with a leather work bag, you can enjoy both style and durability.
Don't sacrifice your style when at work, by choosing a men's business bag from the leather range at Vonbaer.com. They use full grain leather, which ages very well, and you can even personalize the bag with an engraving for an extra special touch. These bags will build your confidence at work, from your commute to the boardroom.
You may want to go for a satchel leather work bag as it can be suitable for casual and business needs. Most of them have a zipped back compartment, allowing you to store what you may need immediately, like paper. Some also have three pockets covered under a top flap, which is a timeless design. 
If you need other essentials, like a small laptop, you may want to go with an ultra-slim leather briefcase. You can use it to transport your essentials without slowing down since you can go hands-free as most have detachable shoulder straps. On the one hand, go for a brief or tote as it can help you transport a 13″ laptop.
Choose one with a plethora of pockets if you're carrying more stuff to work. Also, you can keep your appearance professional when it has suede slip sleeves, and you can keep yourself looking sharp due to its sharp edges. 
2. Leather Messenger Bag
A leather messenger bag is also an excellent addition to your boyfriend's stylish leather bags. What's great is that it has the carrying capacity of a backpack. Your man can use it to carry and transport his daily necessities without feeling a little too formal or casual for use in his workplace. 
You can find many leather messenger bags, and most of them are durable and well-constructed. If you want to have a more interesting one than an average laptop bag, go for a rustic vintage style, which has a touch of something more exotic. If you own an 18" laptop, many leather messenger bags are spacious enough for your man's paraphernalia. 
The best thing about leather messenger bags is that they don't only look great, but they also have side pockets, back pockets, large outside pockets, smaller insider pockets, and other compartments. Hence, your man can fit all his necessities inside, like an umbrella, water bottle, books, and many others. 
3. Leather Travel Bag
A leather duffle bag could be the best choice for a man who travels a lot. This may be because most duffle bags have a zippered pocket for valuables and passports, an interior sleeve for a laptop, and much more storage spaces. 
You can choose a duffle bag for your man with a lovely patina, or one with no waxes but are aniline-dyed. These are primarily full-grain leather, which is of excellent quality. 
You can also choose one that your man can attach to his suitcase handle, giving him more comfort since shoulder straps can be uncomfortable when carried for long periods. Or, go for a leather duffle bag that has a padded nylon shoulder strap to keep it from cutting into his shoulders. 
For him to carry more stuff, go for a duffle bag that can expand. He can use it when traveling for a good four to five days. Or, show him how to pack light when going for a holiday to avoid overloading his bag.
4. Daily Commuter's Leather Bag
Your man may also need a leather purse or satchel if he doesn't carry much stuff daily. He can use this to keep his keys, wallet, and phone. Going this route would be much better than overstuffing his pockets with his things.
He can also use a leather satchel for lunch meetings with friends, or when visiting a new city for a day. Thus, these types of bags are also known as 'day bags.'
5. Leather Backpack
A leather backpack is also an essential part of his collection, especially if he wants a bag that's more rugged looking. It can also give a real premium look, aside from being known as convenient and hardwearing. 
However, well-made and real leather backpacks are much more expensive than nylon or fabric varieties. So, you must choose a travel backpack that'll be worth the investment if you plan to give this as a gift to your boyfriend. 
You can go for full-grain leather, which doesn't require chemical processes, and is the most natural. Although it's the most expensive, it's also the longest-lasting type of leather. Or, go for a top-grain leather that allows finishes and chemical processes, making the bag look blemish-free and smoother. If you want the most affordable variant, go for genuine leather. However, this type may not last as long as top-grain and full-grain leather backpacks. 
You must also check the backpack's zipper. Go for a high-quality zipper so it won't give out after some weeks. This hardware is essential to ensure that it can keep up with the leather, which means you should look for extra thick zippers. 
Brass zippers can also be a good choice since they're rustproof, making the backpack great for the outdoors. Moreover, a backpack may also be better if it has buckles, as these can last forever. Or, for more convenient hardware, magnetic fasteners can also work well with your man's leather backpack. Ensure that they have premium-double stitching to make the bag more durable. 
Conclusion
Your man can now have a complete set of stylish leather bags to pair with his favorite clothes and dress shoes. He can use them accordingly to ensure that he has the right bag for his stuff without compromising his style. Leather bags may be pricier than other types of bags, but they're worth buying because they can last long and don't go out of trend. That's because leather is considered a classic.