25 Absolute Best Memory Foam Mattresses on Amazon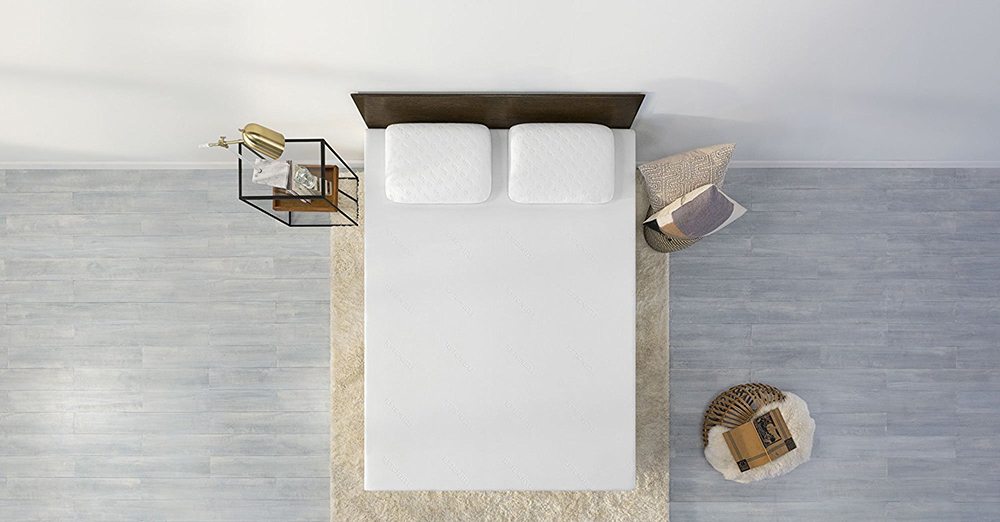 Shortly after graduating college, I decided to graduate to the world of memory foam mattresses in hopes of gaining better sleep. With companies like Casper and Tuft & Needle rapidly disrupting an age-old industry of brick and mortar sales by offering an online-only business model, many of my friends were experimenting with these posh new mattresses and raving about how they dramatically improved their sleep. Although I do not suffer from poor posture or bodily predispositions that might cause someone to seek out a memory foam mattress over a normal spring bed, I nonetheless decided that now was my time to treat myself to a little graduation gift of improved sleep.
There was only one issue – at the time, most of the "big" name-brand memory foam mattress companies were offering options beyond the price point a poor recent college graduate could afford. Although companies like Casper offered incredible return policies (some even up to a year if the customer is not satisfied), most of these mattresses still ran an average of $1,000. But before giving up my search for better sleep entirely, I decided to do what any reasonable deal-seeker would do: I turned to Amazon.
I quickly came to learn that Amazon offers memory foam mattresses at a far lower price point than these name-brand competitors, many of which boasting 4+ star reviews with thousands of happy customers. Not only were there many favorably reviewed brands to choose from at my desired price point, but there were also many different styles, sizes, thickness levels, and more to choose from! As I continued my Amazon search for memory foam mattresses, I began to learn about the various considerations one should keep in mind when making a purchase.
What to Consider When Buying a Memory Foam Mattress on Amazon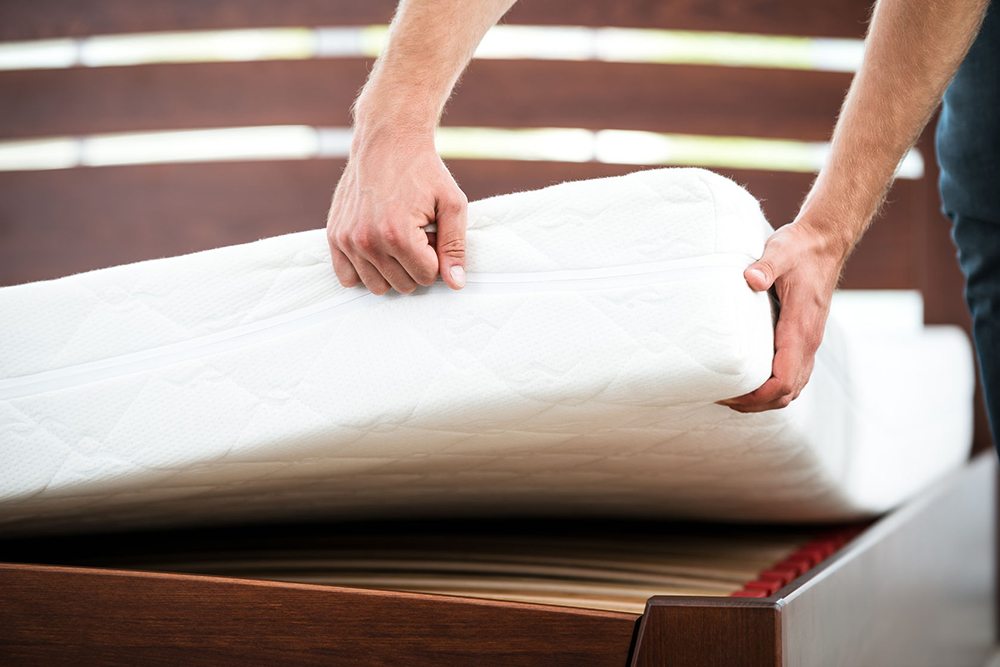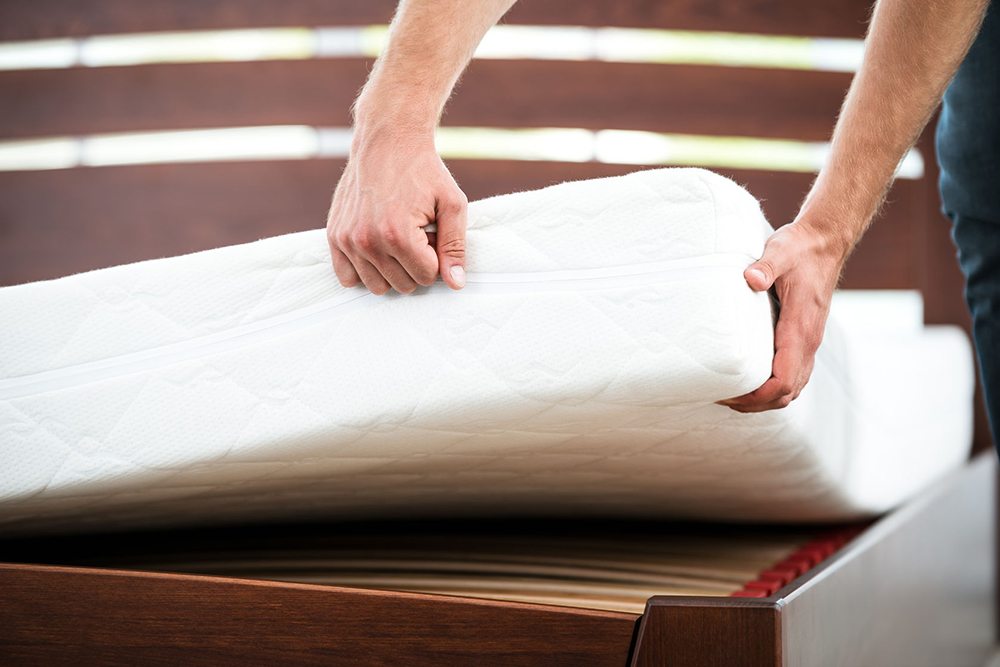 1. Memory Foam Mattresses Do Not Require a Box Spring
This is a HUGE money saver for broke college kids, recent graduates, or anyone interested in buying a memory foam mattress. Due to the fact that springs are not involved in memory foam mattresses, there is no need to buy a box spring to go underneath your mattress on your bed frame. Therefore, if you are buying a mattress and a bed frame together, I recommend choosing a platform frame. Most of these use wooden slots that are laid across the frame to support the mattress.
2. Thin Foam Mattresses are Typically Firmer
Companies like Zinus offer various thickness options, from 6-14 inches. Thicker mattresses typically contain more layers of comfort foam – this is the layer that gives your body that "sinking-in" feeling when you lie down on it. The thinner mattresses typically contain fewer layers of this comfort foam, with the majority of the mattress consisting of normal base-support foam. As a young athletic guy, I grew up sleeping on firm spring mattresses. However, when it came to selecting a memory foam mattress, it turns out that I feel more comfortable on a "medium-soft" mattress – these are typically 12 inches thick.
3. Layer Thickness Varies by Brand
Although thinner mattresses do usually tend to be firmer, the layers of comfort foam vary by brand. Comparing a 12-inch mattress from one memory foam mattress company to another 12-inch from a different company might not be apples-to-apples. When reading the product description, play close attention to the mattress layer makeup. I personally prefer 6 inches of base support foam with another 6 inches of "comfortable" foam.
4. Always Keep Your Mattress Protected
I highly recommend purchasing a waterproof mattress protector that keeps your mattress protected from spills, stains, and other accidents. Unlike many spring mattresses, these foam mattresses don't come with their own protective layer to prevent liquids from seeping through into the mattress, which could result in ugly stains, smells, or even less comfort. You can buy waterproof mattress covers that are comfortable while still keeping your mattress fully protected.
5. Do You Get Hot at Night?
There are multiple types of foams that make these mattresses so comfortable, some of which are designed to keep you cool at night. These mattresses use a gel-infusion technology that makes these mattresses worse at retaining heat (which is good for people who get hot at night). If you tend to wake up sweating in the middle of the night, you might want to consider a foam mattress with cooling technology.
6. Size Matters
This is an obvious one, but I figured I'd mention it anyway. Like regular spring mattresses, memory foam mattresses are ordered by standard size. If you have a full-size bed frame, order a full-size memory foam mattress.
7. Give Your Mattress Time to Decompress
When you first receive your memory foam mattress it will be vacuum-sealed and entirely flat. When you open the package, you will need to give your mattress adequate time to re-inflate itself to its normal size. Although sleeping on it before it has fully decompressed won't damage your mattress, you won't enjoy the full comfort of the mattress until it has entirely finished decompressing.
*Please note: I will be linking the QUEEN size for each product. If you want a different size variation, simply change the mattress size.
Our Top Picks for Best Memory Foam Mattresses on Amazon
1. Zinus Memory Foam 12-Inch Green Tea Mattress
Zinus has slowly became one of my favorite names in sleep products over the past few years of moving from apartment to apartment, often ordering new bed frames and mattresses along the way. This particular memory foam mattress was not my first I ordered out of college, but it is the one I currently use. It is literally perfect for my comfort needs – although I normally prefer firmer spring mattresses, it turns out that this medium-soft memory foam mattress is best for my back and weight. I top mine out with a waterproof mattress cover and a plush (not memory foam) mattress topper. This remains my favorite memory foam mattress to date, and is undeniably the best deal, financially speaking.
Mattress Specs:
Layers: 3 inches of memory foam, 2 inches of comfort foam, 3.5 inches of airflow high-density foam, 3.5 inches of high-density base support foam
Comes with worry-free 10 year warranty from Zinus
Pairs perfectly with platform bed frames made by Zinus that are perfectly designed for their mattresses
Buy it now on Amazon: Zinus Memory Foam 12-Inch Green Tea Mattress
2. LUCID 12 Inch Gel Memory Foam Triple-Layer Mattress
This memory foam mattress offers high ventilation that is perfect for sleepers who get hot in the middle of the night. With 4 pounds of ventilated gel infused into the mattress, the design helps to increase airflow through the memory foam layer, thus providing better breathability and a more comfortable deep-sleep environment. This was my first mattress out of college, and it was everything I was seeking in a memory foam mattress and more. Although it is labeled as "medium-plush," I personally feel that it is more of a medium-firm as it was not as soft as I was expecting it to be. This mattress is perfect for those transitioning from a spring bed to their first memory foam mattress because it is not too plush and soft, but definitely not too firm either.
Mattress Specs:
Layers: 3 inches of gel memory foam, 1 inch of bamboo charcoal memory foam, 8 inches of high-density support foam
Comes with a 25-year warranty from LUCID
Ventilated gel-infused design makes it the perfect option for those who want a body heat regulating mattress
Buy it now on Amazon: LUCID 12 Inch Gel Memory Foam Triple-Layer Mattress
3. Best Price Mattress 12-Inch Memory Foam
One of my roommates in college had this mattress, giving me my first exposure to the world of memory foam. I was totally unfamiliar with the brand, Best Price Mattress, but after doing some research I quickly learned that they were one of the most highly-rated mattress retailers on Amazon. Similar to Zinus, the quality of the product for the price simply cannot be beat. In comparison to the others listed above, I would rate this one a medium-firm while still retaining a surprising amount of plushness and comfort.
Mattress Specs:
Layers: 2.5 inches of memory foam, 3 inches of super soft foam with pressure relief system, 6.5 inches of high density foam
Comes with a certified 10-year warranty from Best Price Mattress
Active charcoal particles maintain the freshness of the mattress over time while absorbing moisture and odors
Buy it now on Amazon: Best Price Mattress 12-Inch Memory Foam
4. Classic Brands Cool Gel Ultimate Memory Foam 14-Inch
For those seeking a more medium-plush mattress that also offers cooling and heat-regulating technology, this mattress is for you. With premium pressure-relieving memory foam and infused cool-gel that works to keep the body cooler when you sleep, Classic Brands has made a mattress that is both comfortable and cool. The 14-inch design is definitely softer than a few other options mentioned on this list, with extra layers of foam for a more restful night's sleep. This cool gel 14-inch mattress also comes with two memory foam pillows for free. Although it is not waterproof (as most mattresses are not), it comes with stretch-knit cover that conforms with the mattress layers when pressure is applied for added comfort.
Mattress Specs:
Layers: 2 inches of ventilated gel memory foam, 2 inches of regular memory foam, 2 inches of soft comfort foam, 8 inches of high-density poly base foam
25-year worry-free warranty
Cool gel infused design makes for better, cooler sleeping comfort
Buy it now on Amazon: Classic Brands Cool Gel Ultimate Memory Foam 14-Inch
5. Tuft & Needle Cooling Memory Foam Mattress
Of the more "name brand" memory foam mattress companies like Tempur-Pedic, Purple, and Casper, Tuft & Needle is the most widely acclaimed, highest-rated, and most reasonably priced option on the market. See for yourself – they have thousands of extremely positive reviews on Amazon, averaging a 4.5/5. They are so certain that you'll love their product that they offer a 100 night sleep trial (basically a 100 day return policy). Instead of using any latex that causes people to be too hot when they sleep, they utilize freshly-poured T&N adaptive foam that both offers incredible pressure relief on joints, while keeping you cool when you sleep. The mattress is also made entirely in the USA, and the company guarantees an amazing warranty and return policy.
Mattress Specs:
Layers: freshly-poured T&N memory foam
10-year warranty
Cool in temperature with gel and graphite technology to regulate heat and absorb & destroy body odor
Buy it now on Amazon: Tuft & Needle Cooling Memory Foam Mattress
6. Resort Sleep Classic 10-Inch Cooling Memory Foam Mattress
Live and Sleep offers a 10-inch cooling memory foam mattress that is slightly firmer than the Tuft & Needle mentioned above. The mattress is made up of high-quality layers of memory foam that prove to be anti-microbial, hypoallergenic, and resistant to dust mites. The climate control manufacturing design ensures that it is made with materials that use less chemicals than other mattresses, while still ensuring that you receive as much odor-absorbing benefits as possible. This mattress has an average of 4.5/5 stars with thousands of reviews left from happy customers, most of which enjoy the fact that this mattress, like many of the ones mentioned above, consistently regulates body heat for more enjoyable and thorough sleep. The medium-medium firmness is ideal for "combination" sleepers (people who sleep on both their sides, back, and stomach) without being too firm or too soft for comfort and spine alignment.
Mattress Specs:
Layers: 2.5 inches of prime air-flow, infused pure visco, and antibacterial/antimicrobial components
Amazing 20-year warranty
CERTIPUR and OEKO TEX certified, hypoallergenic, anti-bacterial, and odor-blocking technology
Buy it now on Amazon: Resort Sleep Classic 10-Inch Cooling Memory Foam Mattress
With three layers of foam, this deluxe and highly rated mattress just might be the cure for your insomnia. It's designed to keep you cool, provide support in all the right places and prevent sleepers from feeling every time their partner moves. You can choose which side of the mattress to sleep on. One is a soft, plush-like cloud while the other side provides a medium firmness for people who like more support.
CertiPUR-US foam is used in the construction of this product. This means that it does not contain potential harmful materials like mercury and formaldehyde. The makeup of the mattress includes two inches of gel-infused memory foam that adjusts to accommodate pressure points and to distribute heat. This layer is followed by five inches of comfort foam that is divided into three zones. The firm middle section eases pressure points and keeps your body in alignment during sleep. A three-inch layer of high-density foam is found on the bottom, perfect for sleepers who prefer a firmer surface.
With a 10-year warranty, it's hard to go wrong with this mattress. It can be used on the floor, a boxspring, an adjustable bed or just about any other base for the ultimate in flexibility.
Buy it now on Amazon: Sweetnight 10-Inch Gel Memory Foam Mattress in a Box, Queen Size
Sweetnight hits another home run with this 12-inch thick, hybrid mattress. It has the same gel memory foam construction as the first item on this list, but it also has the addition of individually wrapped springs. This provides greater support. Plus, the individual wrapping means that each coil moves independently. Accordingly, the sensation of movement is minimized, which means that you get better, undisturbed sleep.
The Euro pillow top is incredibly soft, yet you'll never lack for support with the coils. Additionally, it is a quilted knit cover that is naturally hypoallergenic. Your allergies definitely won't be triggered by this item. Once again, Sweetnight uses CertiPUR-US foam to keep you and your house healthy. Each spring coil is made from quality carbon steel to prevent deformation and rust.
Buy it now on Amazon: Sweetnight 12-Inch Plus Pillow Top Hybrid Mattress.
If sweat and sleep go together in your home, then you need to look into the patented airflow transfer system that is a part of this mattress. According to the manufacturer, this exclusive technology creates 100 times more air circulation through the connection of open side channels and ventilation holes in the top of the mattress. It is this innovation which leads Snuggle-Pedic to refer to this product as "The Mattress That Breathes."
Of course, that's not the only reason to buy this product. It also features a removable Kool-Flow Bamboo knit cover that keeps you cool and is hypoallergenic. Beneath the cover is the Snuggle-Flex Comfort Layer, which feature three inches of high density memory foam. Beneath that is a channeled support layer that is seven inches tall and is made of high-density polyurethane foam for added support. The manufacturer boasts that their foam technology provides desirable pressure relief like other memory-foam mattresses. However, it is easier to move around on their product.
This mattress from Snuggle-Pedic comes with some nice extras like a four-month sleep trial and a 20 year warranty. Plus, customers can ask for free personal customization, which makes it possible for the mattress to have better support or heightened softness, depending upon your specifications.
Buy it now on Amazon: Snuggle-Pedic Mattress that Breathes
Overall, this is a thinner mattress than some on this list, but that means no sacrifice as far as support and comfort. It also helps that this mattress is exceptionally affordable, a definite plus for the budget-conscious consumer.
Each coil spring is individually encased for superior support and to minimize transference of motion between sleep partners. A combination of comfort foam, convoluted foam and gel memory foam provide just the right amount of softness and support for all sleep styles. In fact, this mattress is considered to be quite firm. If that's what you're in the market for and budget matters to you, then you may not need to look any further.
Additionally, you get a 10-year warranty with your inexpensive Weekender mattress. That should give you plenty of peace of mind.
Buy it now on Amazon: Weekender 10-Inch Hybrid Mattress
It's hard to beat the 30-year warranty that comes with this mattress. It gives buyers a nice sense of security to know that this manufacturer is really standing behind their product. A fire barrier covers the entire mattress. Just beneath this, you'll find two-and-a-half inches of high density gel memory foam. Beneath that is two layers of Cool AirFlow foam, each layer being two inches tall. At the bottom on the mattress is three-and-a-half inches of high density base foam. Consequently, you'll find firm support and cool sleep without any trouble.
Along with the 30-year warranty and the mattress, you receive two free gel pillows to enhance the quality of your sleep. The cover on this mattress is a combination of white fabric and brown suede, a unique look that you won't find elsewhere. This medium-firm mattress will appeal to anyone who prefers plenty of support to ward off chronic back pain.
This mattress also is available in RV sizes if you want to take the comforts of home with you on the road.
Buy it now on Amazon: Dynasty Mattress 10-Inch CoolBreeze Gel Memory Foam Mattress
With a 100-night sleep guarantee, it's hard to go wrong with this offering from Quatro. The first layer on this mattress is the company's exclusive Plex-Air memory Foam. This is followed by a layer of pressure relieving memory support foam, and then a layer of dense core memory support foam.
Made in the USA, this product features customer support on a 24/7 basis. A 10-year warranty covers this CertiPUR foam mattress. This medium-firm model is perfect for people who sleep on their stomach or side.
Buy it now on Amazon: Quatro Memory Foam Mattress
This mattress features CertiPUR-US certified foam, but it's still remarkably affordable. The top layer is four inches of incredibly comfortable Memoir Foam. Eight inches of high density foam are beneath this, and this feature ensures that the mattress carefully molds itself to the sleeper's unique shape.
This eco-friendly product is designed to eliminate pressure points by ensuring that the sleeper's weight gets distributed evenly over the surface of the mattress. The soft cover over the mattress is a knit fabric. However, note that this cover is not removable.
Buyers may choose from between six, eight, 10 and 12-inch mattress depths with this product. Choose the one that best fits your frame, bedding or other requirements. This firm mattress is an excellent choice for stomach sleepers who don't want to feel as if they are being smothered by their mattress.
Buy it now on Amazon: Signature Sleep Memoir 12-Inch Memory Foam Mattress
With a high density foam core, you won't feel any pressure points when you sleep on this mattress. That means less hours spent tossing and turning. In fact, the manufacturer boasts that this mattress is designed to accommodate those who sleep on their stomachs, backs and sides.
This 10-inch deep mattress features two-and-a-half inches of pure memory foam on top backed up by seven-and-a-half inches of high density foam. A poly cotton blend mattress cover feels luxurious against the skin. The entire product is meant to make you feel like you're spending the night in an upscale hotel.
You'll appreciate that this product is completely friendly toward the environment. It's made with CertiPUR-US foam, which means that it is made without ozone depleters, mercury, formaldehyde, lead or phthalates. The 30-day full refund guarantee and 20-year warranty are designed to give you total peace of mind.
Buy it now on Amazon: Live and Sleep Resort Sleep Classic, 10-Inch Cooling Mattress
The sleep cool layering system on this mattress features more than an inch of gel-infused memory foam. This is layered with more than an inch of ventilated comfort foam. As a result, you won't have to worry about getting too hot when you're sleeping on this mattress.
The knitted poly-Jacquard cover includes satin piping on the border and a non-slip bottom to ensure security on any platform. Once again, this is an environmentally responsible product that uses CertiPUR-US certified memory foam. Several inches of high density foam are found on the bottom of the mattress, providing the right amount of support regardless of which position you choose to sleep in.
The 10-year warranty isn't bad, though it is not as good as other options on this list. However, the thousands of gel beads really do help to cool down the mattress and the sleeper at night, and you get decent air flow as well. That's not bed at a price point below $200.
Buy it now on Amazon: Best Price Mattress Nine Inch Gel Infused Memory Foam Mattress
The manufacturer of this mattress discloses the ILD ratings to indicate how soft or firm each layer of memory foam is. The top layer is one-inch thick and is rated an eight on the ILD scale. This means that it's a pretty soft upper layer to bring you an excellent degree of comfort. Just below that is a one-inch thick layer of memory foam that is rated 25 ILD. This means that this layer is quite firm. That's good news for anyone who likes a firmer mattress to offer great support. Below these two layers is a one-inch layer of iGel which helps to disperse the accumulation of temperature. Accordingly, you are unlikely to "sleep hot" on this mattress. A 10-year warranty is adequate to ensure that you get your money's worth out of this product.
Buy it now on Amazon: Olee Sleep 10-Inch Aquarius Memory Foam Mattress
The mattress comes from a company that really stands behind their product. It might be a little more expensive than many of the other options on this list, but with a lifetime warranty, it's hard to go wrong.
The innovative and unique thing about this mattress is the incorporation of copper into the cooling system. Accordingly to Layla, copper stays cooler and is incredibly supporting even under deep compression. This allows your body to stay in proper alignment no matter which position you choose.
With the Layla mattress, you can choose how firm or soft you want your sleep surface to be. On the top, you'll find three inches of copper infused memory foam that offers a medium-soft level of firmness. This layer provides quick heat transfer and deep compression support. Alternatively, you can flip the mattress so that the one-inch thick layer of copper infused memory foam is on top. This gives you a firm sleeping surface. Between these two layers is a two-inch layer of convoluted support foam and a four-and-a-half inch base support foam layer.
One of the other things that sets Layla apart is that you don't have to return your mattress if it's not right for you. Instead, you arrange to have it picked up by a local charity. Once Layla receives documentation regarding the donation, they'll refund your purchase price in full. It's impossible to go wrong with guarantees like these.
Buy it now on Amazon: Layla Sleep Memory Foam Mattress
The 180-day free trial gives you the ideal opportunity to decide whether or not this model from Comfort & Relax is right for you. This mattress is only eight inches thick, but it doesn't skimp on the technology or the comfort.
The bottom layer is five inches of polyurethane foam to provide the support that your body needs throughout the night. Then, there's a one-and-a-half inch thick layer of channel foam, which uses the company's AirCell Technology. The egg-shaped embossing pattern on this layer is designed to relieve pressure at significant points on your body like the shoulders, hips, knees and heels. Above that is a one-and-a-half inch thick layer of ventilated Gel AirCell Technology Memory Foam. This innovation keeps you cool and incredibly comfortable.
An inner cover provides a fire barrier while the other cover is made from bamboo fiber because of its antimicrobial properties. This cover can be removed and washed. On the bottom of the mattress, you'll find a non-slip bottom so that your mattress always stays where it's supposed to. The 20-year warranty is a wonderful extra to protect your investment in a better night's sleep.
Buy it now on Amazon: Comfort & Relax Memory Foam Mattress
The top layer of this mattress features memory foam that is infused with aloe vera. You'll have a 100-night sleep trial to determine whether or not that aloe vera really helps you sleep better.
Aloe vera gel is meant to help keep you cooler while you sleep. This means that you're more relaxed, and that you'll get better quality sleep. The middle layer of the mattress is designed for comfort. It's made from an incredibly soft, grooved foam that more easily adapt to the contours of your body. The bottom layer is a support layer that consists of high density reflective foam. This layer effectively reinforces the strength and support of the entire mattress.
The manufacturer does not mention a warranty on this product. However, the 100-night sleep trial should be sufficient for you to decide whether or not this mattress is right for you. This, combined with the inexpensive price, just may be enough to make you jump at this deal.
Buy it now on Amazon: Aloe Gel Memory Foam 8-Inch Smooth Top Mattress
At 14-and-a-half inches, this is one thick mattress. You may have to get specialized sheets to fit on it, but you're unlikely to regret your investment.
On the bottom of the mattress is eight-and-a-half inches of a soft foam base. Above that is two inches of cool airflow super soft foam, followed by two inches of high density comfort memory foam. The top layer is two inches of high density gel memory foam. This layer includes sleep cool technology for superior heat distribution.
With your purchase, you receive two gel memory foam pillows for free. This medium-soft mattress also comes with a 30-year limited warranty, and it can be used on an adjustable-base bed.
Buy it now on Amazon: DynastyMattress 14.5-Inch CoolBreeze Plush Gel Memory Foam
This mattress combines a pressure-relieving memory foam with a high density memory foam that is infused with cooling gel. Together, these materials promise a cool, comfortable and supportive night's rest.
The ventilated memory foam is infused with gel to keep temperatures down so that you stay more relaxed. The base of the mattress is where you'll find the high density foam, which relieves pressure on all major parts of your body. This also is the layer that confirms to your body to cradle you throughout the night. The overall firmness level is medium plush, a softer option when compared with many of the items on our list. Accordingly, people who sleep on their sides may be especially drawn to this product.
The stretch knit cover is truly luxurious while the 25-year warranty offers you sufficient peace of mind to take the plunge. If you have back pain, this mattress could be a part of solving that problem. Plus, you get two pillows with your purchase.
Buy it now on Amazon: Classic Brands Cool Gel Ultimate Gel Memory Foam Mattress
If you're not convinced that a foam mattress is right for you, then you'll want to take a closer look at this Signature Sleep model, which features 630 individually encased coils. The rayon cover on the mattress is excellent for absorbing moisture and improving ventilation.
Each coil is 10 inches tall and is independently encased to minimize the transference of movement between sleep partners. The individual coils also promise better weight distribution because they can more easily contour to the shape of your body. This leads to less restlessness and less stress on your body's pressure points.
On top of the layer that contains the individual coils, you'll find CertiPUR-US certified foam. The premium cover is incredibly soft and breathable to ensure a night of quality sleep. Beneath the foam pillow top is a fire retardant barrier. Following this are four layers of high density foam to offer your body incredibly support. A cushioning insulator pad follows to maximize pressure relief. All of these layers rest on top of the 10-inch thick layer with the 630 individually encased coils.
The 10-year limited warranty is not among the best on this list. However, it is sufficient when reviewing the quality of the components that go into this mattress. It provides exceptional movement minimization, so if you or your partner is a restless sleeper, this could be an excellent choice.
Buy it now on Amazon: Signature Sleep 13-Inch Pillow Top Mattress
Best Mattress Not Offered On Amazon
While the above brands are definitely great options for different reasons, it's important to mention that some of the most superior mattresses are unfortunately not offered on Amazon at all. Here are our top picks for the best mattress not offered through Amazon's marketplace:
As proud owners of a Loom & Leaf, we simply couldn't leave this one out of the roundup. And while this mattress isn't offered on Amazon, the buying and delivery process we experienced was impeccable. Honestly – where to begin? The Loom & Leaf is offered in two comfort levels – "L&L Relaxed Firm," and "L&L Firm." It is made with non-toxic and stable cooling gel designed to help regulate your body temperature while you sleep so you don't wake up in the middle of the night due to hot flashes. It's also been cited by chiropractors for its ability to improve circulation by eliminating pressure points, help with healthy spinal alignment, and provide relief from joint pain. Loom & Leaf also has a strong commitment to green energy and sustainability, and their products are proudly made in the USA.
This is our favorite (hence why it is our current and only mattress) because it allows us to sleep on our backs and sides with comfort that we've never previously experienced with another mattress. The cooling technology actually works in keeping us asleep at night, whereas we would previously experience hot flashes, resulting in mid-sleep disruptions and interruptions.
Mattress Specs:
Layers: four – quilted organic cotton cover, cooling spinal gel, eco-friendly premium foam, and dual layer breathable support
15-year warranty
120-day home trial, money-back guarantee
Generally speaking, we don't recommend many non-memory foam mattresses. For a number of reasons, we believe that the current memory foam products on the market today outdo traditional coil mattresses in quality comparisons. However, the Saatva is definitely in a class of its own. These mattresses are constructed with an innovative coil-wrapping system that's designed to contour and respond perfectly to your body. These mattresses are topped with an ultra-lush euro pillow top, making it one of the most comfortable coil mattresses we've ever tried. The Saatva is also estimated to last far longer than most other mattresses in its class, crafted to perform consistently for 15 years. This mattress comes in plush soft, luxury firm (which is the most popular), and firm.
Now, we understand that everyone has a different budget allotted to their mattress shopping. But considering that we spend approximately 1/3 of our life sleeping, a mattress should be carefully selected and viewed as an asset to your personal health. Compared to the other mattresses on this list, the Zenhaven is a more premium option, plain and simple. Unlike the other mattresses on this list, the Zenhaven is not constructed out of memory foam or coil technology. Believe it or not, it's made out of natural latex. This material is considered to be the best-kept secret in sleep technology, with layers of natural latex providing pressure free support and consistency that responds to the body similar to high-quality memory foam. However, this material naturally resists mold and bacteria, providing a level of durability that outperforms memory foam. The mattress itself contains 5 layers, designed to provide more support in certain areas of the body to promote healthy spinal alignment. Like Loom & Leaf, the Zenhaven also offers a 120-day trial of their mattress. 
Benefits of Sleeping on a Memory Foam Mattress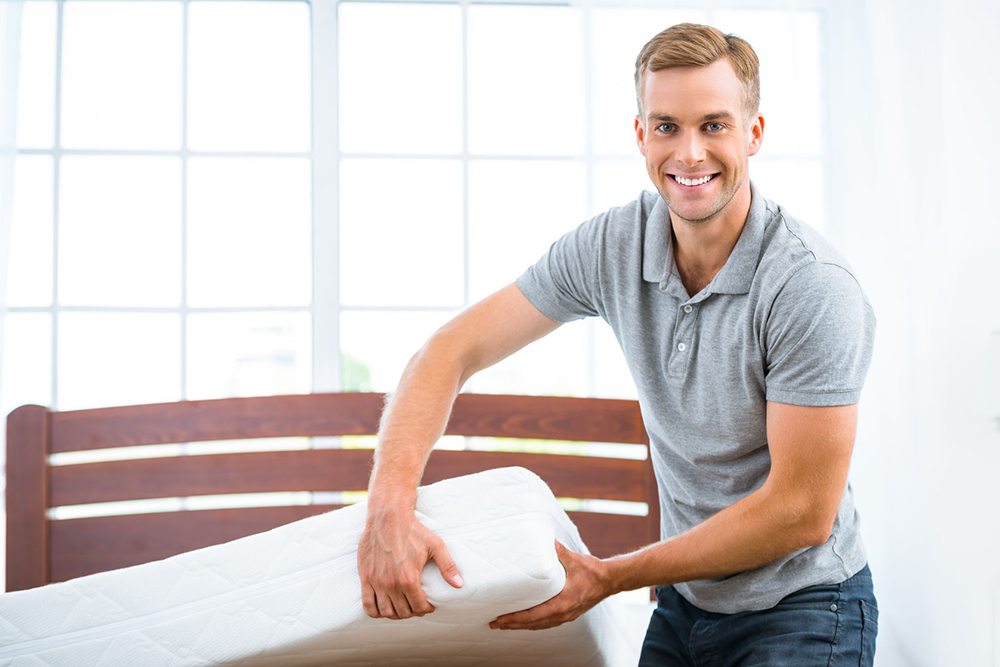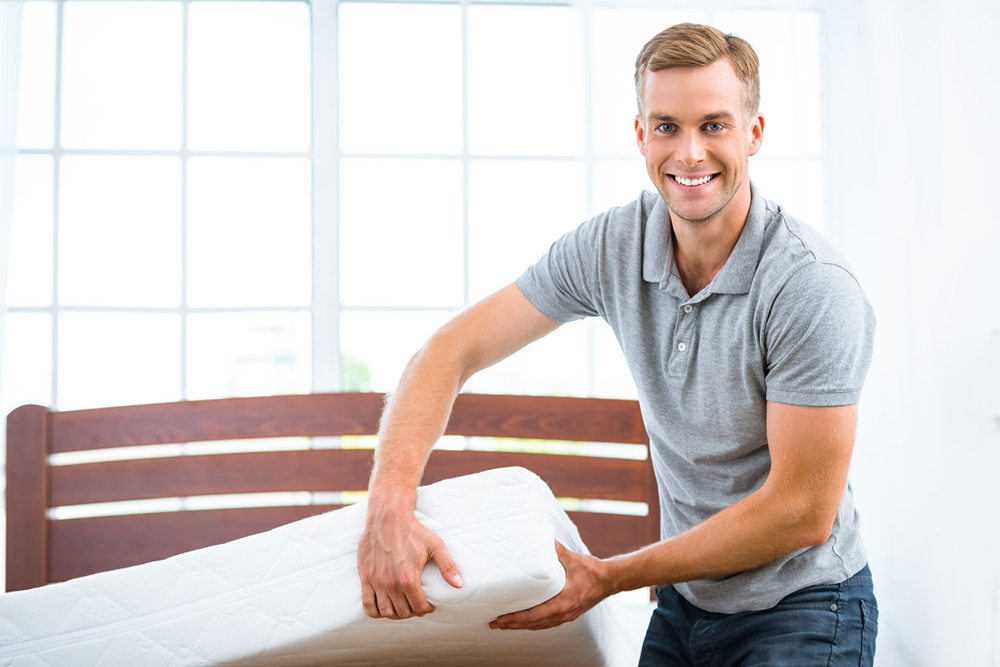 Before we dive into the best memory foam mattresses on Amazon, it's worthwhile to consider the many benefits they provide to people seeking better sleep. Although for me personally the benefits at the time were financial, I quickly learned that they affect many other factors that contribute to good sleep:
Reduce Dust Mites
Did you know that memory foam mattresses retain WAY lower numbers of dust mites than normal spring mattresses? This is due to the fact that memory foam mattresses are made out of material that does not provide enough space for these mites to live, thus reducing the amount of allergens you have to deal with. Perfect for individuals who are highly allergy sensitive.
Free Shipping on Amazon
One of the benefits of buying your memory foam mattresses off Amazon is that they offer free shipping! In many cases they offer free returns as well, just make sure to read the fine print.
Spine Alignment
The purpose of memory foam mattresses is to equalize your bodyweight regardless of what position you are lying in, thus they theoretically should do a better job of aligning your spine. Regular spring mattresses that are too firm or too soft can cause you to sleep with a curved spine, which is why so many people wake up with backaches or muscle soreness.
Temperature Regulation
Many modern memory foam mattresses are gel-infused, or contain certain substances that regulate temperature. These substances make the mattress bad at retaining body heat, which is ideal for keeping the body at a stable temperature throughout the night.
The above benefits are only a few of the ones I chose to highlight, however memory foam mattresses offer countless benefits beyond just the ones I chose to call out. For you to experience the above benefits and more, you'll just have to order one and see for yourself!
Without further ado, here are the best memory foam mattresses you can buy now on Amazon!
The Different Types of Mattresses
Most adults grew up sleeping on an innerspring mattress. Except for a period in the 1970s when water beds were popular, innerspring mattresses were all that was available. That narrowed the field of choices for most consumers, but there were still several brand names to choose from.
Innerspring mattresses are still available. They tend to becheaper than other mattress models, but this isn't always the case. That's because some mattress manufacturers have used technological innovations to make innerspring mattresses a more attractive option. With features like individually wrapped coils, you're less likely to feel your sleep partner moving around in these new innerspring models than you would have in years past.
Foam Mattresses
The vast majority of our list is made up of foam mattresses. Technology has come a long way since this type of mattress was introduced. A great deal of research and experimentation has gone into developing new types of foam that are meant to improve the quality of your sleep.
Much of this research was aimed at dealing with a common problem that is associated with foam mattresses: sleeping hot. People who slept on early foam mattress models noticed that their bed tended to heat up through night as it absorbed the heat from their body. The result was a sweaty and uncomfortable mess. Foam mattresses got sort of a bad reputation because of this character flaw.
These days, it is still possible to find some foam mattresses that might heat up during the night, but many others have features that are designed to draw heat away from sleepers. This means that you stay cooler, and that means less restlessness and better sleep.
Foam Has Advantages
Foam mattresses tend to be more durable than old innerspring models. Essentially, these space-age mattresses are designed to relieve pressure points and provide adequate support no matter which position you sleep in most frequently. Plus, foam tends to be really good at minimizing the amount of motion one partner feels when the other partner shifts positions.

A Hybrid Mattress Might Be Right for You
Also on this list are a couple of options that combine innerspring coils with foam. This design could give you the best of both worlds, with the incredible support of springs and the undeniable comfort and durability of foam.
Unlike old-fashioned springs, each of the coils in these mattresses is individually encased. This means that each spring moves independently of all of the others. The result is a mattress that readily conforms to each line and curve of your body and isolates motion so that you don't necessarily notice it every time your partner moves.
On top of the coil mattress is a layer of foam. This provides you with plush support that keeps your body in proper alignment and ensures that you don't have to worry about pressure points.
What Are Pressure Points?
The human body has a number of "pressure points" that carry the bulk of the weight when in a reclined position. Depending upon which position you're sleeping in, your body will rest on different pressure points.
People who sleep on their backs have pressure points on the back of the head, shoulders, elbows, buttocks and heels. Side sleepers put the pressure on their ear, shoulder, elbow, hip, thigh, leg and heel. Pressure points for stomach sleepers include the elbows, rib cage, thighs, knees and toes.
Regardless of the position you sleep in most often, it is vital that your mattress cushion all of these points. This translates to fewer aches and pains at night and during the following day. You'll get better, more restful sleep so that you can feel more energized the next day.
Foam is an excellent material for protecting all of those pressure points. You won't have to change positions so often because your pressure points are less likely to feel pain.

How Firm Should Your Mattress Be?
The desirable firmness of your mattress is largely determined by the sleeping position you most frequently use. In general, beds are soft, medium or firm. However, all of these terms are relative as there is no universal measure for exactly what soft means or precisely what firm is.
Accordingly, a medium-firm mattress from one manufacturer may be an extra-firm for another manufacturer, so take these labels with a grain of salt. This doesn't mean that you should necessarily ignore them.
Someone who sleeps on their side is more likely to be comfortable on a soft to medium-soft mattress. These mattresses are soft enough to allow for the pressure points on the shoulders and hips. Many experts recommend side sleeping because it keeps the spine in better alignment.
People who sleep on their back may want to consider a medium-firm mattress because their pressure points are not as pronounced as those of the side sleeper. This level of firmness also works for people who are "combination sleepers" that frequently change positions.
Stomach sleepers benefit from a medium-firm to firm mattress. The firmer mattress is ideal because it prevents the stomach from sinking, which pulls the spine out of alignment and can cause numerous problems with back pain.