14 Best Wireless Headphones for the Gym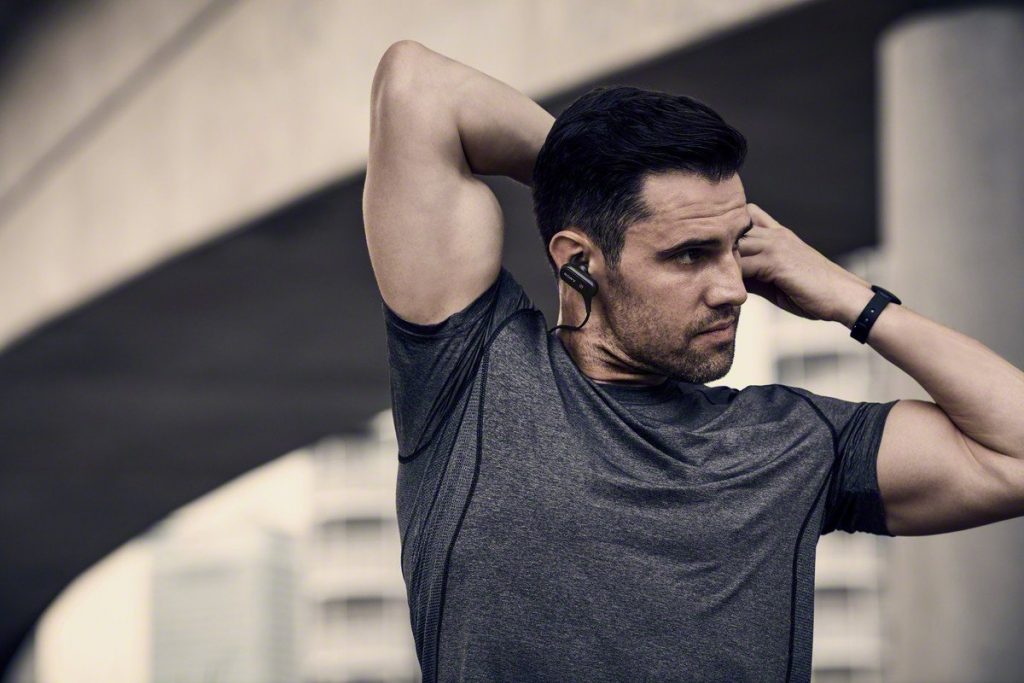 If you exercise regularly, then you know how important a good playlist can be to the quality of your workout. Without that music, most people just lose all motivation to exercise, and the radio stations that the gym plays may not exactly be to your taste.
The answer isn't staying away from the gym or adjusting to working out in silence. It's far better to buy some excellent headphones for working out. We're not talking about the old style headphones that are attached by wire to a smartphone, MP3 player or even an old-school CD player. These are wireless headphones that you can take anywhere. What's more, no matter how strenuous your sweat sessions may get, these headphones just keep working. That's because they are designed to resist and repel water and other liquids that might otherwise interfere with functionality.
What are the Advantages of Wireless Headphones for the Gym?
Wireless headphones come with plenty of advantages for the casual exerciser and the elite athlete alike. First of all, they are not connected via wires to the device that contains your music. Usually, a dongle is inserted into the device, which enables the headphones to pair with the device. Once paired, the headphones and your device communicate wirelessly to transmit your favorite music directly to your ears. Some earphones are connected to each other via a wire or a headband, but this connection is far less obtrusive than having a wire that connects the headphones to the device itself. Accordingly, you have much greater freedom of motion.
Many wireless earphones for exercising are designed to get wet. This means that you can sweat profusely without adversely affecting the operation of the headphones. Moreover, if your workout takes you out in the elements, the rain and splashes from puddles are unlikely to have a negative effect on your ability to listen to music.
Another advantage of wireless earphones is that are incredibly fashionable. Manufacturers are continually coming up with sleeker designs using quality materials like stainless steel and genuine leather. Many of the best of these earphones are available in a range of stylish colors, so feel free to get more than one pair so that you can mix and match with your workout clothes. In fact, these wireless headphones just might be fashionable enough that you'll want to wear them everywhere: school, work, the car and everywhere else. You're all but guaranteed to be asked about these exceptionally good looking listening devices.
Are Bluetooth Headphones Reliable?
Of course, these headphones are designed to do more than just look good. You'll find amazing technology on this list that enables a solid connection to any Bluetooth enabled device. That means you won't be experiencing lags in your playlist and that you don't necessarily need to keep your device on you to ensure that the signal doesn't get lost. Many of these headphones can work even when they are 30 feet away from the smartphone, tablet or MP3 player. That's the kind of connectivity that lets you concentrate on your workout without distractions.
If you need to be aware of the environment around you but you want to have music during your workouts, then a set of wireless earphones could still be a great choice. Some are designed to fit on the cheekbones or to not go inside the ear. This makes it possible for the user to still hear ambient noises, a critical component for athletes who often find themselves on busy roadways.
Can Wireless Headphones Offer Noise-Cancelling Technology?
Still other designs incorporate noise-cancelling technology for those athletes who want to tune out the world so they can focus solely on their performance. This means being able to drown out not only the awful music being blasted over the loudspeaker at the gym, but also not having to be interrupted mid-workout by someone having a gossip session nearby. For many exercisers, noise-cancelling capabilities are an absolute must.
Regardless of whether they cancel out ambient noise or not, all of the products on this list are here because they deliver excellent sound quality. People who are not particularly picky will be happy with almost any product on this list. On the other hand, people who are audiophiles will love being able to use an app on their smartphone to customize the treble and bass on their headphones. This allows them to maximize their enjoyment of the music at it plays the way it was supposed to be heard.
Some headphones on this list are true multi-functional devices in that they feature additional functionality with a connected app. This means being able to monitor heart rate and keep track of activities. Another attractive feature that is available on some models on this list is the connection to guided workouts and motivational material. Membership in certain apps can put people in touch with world-class trainers and athletes who can help them take their fitness to the next level.
Here's a list of some of the best wireless workout headphones on the market today.
1. SmartOmi Bluetooth Headphones
These waterproof, sweatproof earbuds feature stainless steel material to ensure longevity and durability. The ear hook is ergonomically shaped and made of comfortable silicone. These wireless headphones are compatible with virtually all Android and iPhone devices, including tablets. What's more, they can connect with two devices, giving you better flexibility. A charge time of just under two hours typically provides seven hours of music listening. Each set of headphones comes with three sets of earbuds in varying sizes to ensure better fit and comfort. You'll appreciate the CSR chip, which is among the most powerful on the market today. This means that you get a more stable connection and excellent sound quality. With an 18-month warranty and 60-day, no-questions-asked return policy, there is no reason not to give these ear buds a try.
Buy it now on Amazon: SmartOmi Bluetooth Headphones
2. AfterShokz Wireless Headphones
With a futuristic look and various bright colors available, the fashionable will definitely be drawn to these headphones. AfterShokz relies on bone conduction technology to send the beat pumping through the user's cheekbones, leaving the ears free to hear ambient noises. This is an especially critical element for those who run or bike on busy roads. Your situational awareness will not be diminished, and you'll still be able to enjoy your favorite workout tunes. These headphones feature up-to-the-minute Bluetooth v4.1 connectivity that is compatible with iOS and Android smartphones. Additionally, they can be used with Macs and PCs, including laptops and tablets. A lightweight, flexible design makes it easy to wear these headphones for long distance training, and the six-hour run time is tough to beat. The product also is warranted to repel sweat and dust, so it keeps functioning regardless of the conditions. AfterShokz similarly promises outstanding audio clarity with exclusive technology like PremiumPitch and LeakSlayer.
Buy it now on Amazon: AfterShokz Trekz Wireless Headphones
3. Ghostek Premium Wireless Headphones
Built for the audiophile who also loves a good workout, this offering from Ghostek is awesome. It's ideal if you don't like ear buds or the feeling of having a wire or bar wrapping around your head. Materials like leather and brushed aluminum are used in the construction of this product, ensuring reliable quality and an undeniably fashionable look. What's really remarkable about this set of wireless headphones is the incredible sound. It's crystal clear, and with bi-directional noise reduction technology, you won't have to worry about ambient sounds leaking in on your workout. The HD sound is truly impressive, as is the bass sensitivity. Even the pickiest audiophile is bound to be pleased. These Ghostek headphones feature aptX Bluetooth 4.0 technology, enabling users to connect to virtually any Bluetooth-enabled device within a radius of 30 feet. That's the kind of strength and reliability that athletes demand from wireless headphones.
Buy it now on Amazon: Ghostek Premium Wireless Headphones
4. Plantronics Sport Headphones
With smaller over the ear headphone cushions, some users may prefer this offering from Plantronics over Ghostek's soDrop. The battery life is particularly outstanding on this model. In ideal conditions, the manufacturer says it's possible to get 18 hours of play on one charge. With a head band that features memory foam, this additionally is a truly comfortable option. Another important feature of these workout headphones is the P2i nano coating. This military-grade material means that sweat and other moisture is unlikely to damage the headphones. What's more, this nano coating protects this product in the event that it gets dropped. The manufacturer boasts the ability to get up to 33 feet away from a Bluetooth compatible device, yet still get incomparable sound quality. Two devices can be connected at a time, and these headphones may be paired with a maximum of eight devices.
Buy it now on Amazon: Plantronics Sport Headphones
5. TREBLAB Revolutionary Bluetooth Earbuds
This is an excellent choice for people who want to do away with all wires and headbands when choosing workout headphones. Offering unmatched freedom of movement, the TREBLAB X2 is perfect for even the most intense exercise sessions. The unobtrusive look of these ear buds is another plus. Users will want to wear them at the gym, at work and while driving. Pretty much everything on these wireless headphones is custom, from the fit to the sound quality. The cosmic beryllium ultra-HD sound is nothing short of remarkable. With a 10-hour battery, these headphones don't last as long on one charge as some of the other entries on the list. However, this set does come with a slick charge box that doubles as a carrying case, a nice feature so that the ear buds don't get lost. These ear buds also feature noise cancellation in the form of isolation ear tips, so you won't be bothered by extraneous noises. Bluetooth 4.2 connectivity gives you a stable signal no matter what device you're using. The company offers a lifetime warranty, ensuring your complete satisfaction with their product.
Buy it now on Amazon: TREBLAB Revolutionary Bluetooth Earbuds
6. Plantronics Boost Edition Sport Earbuds
Another offering from Plantronics, this time sporty earbuds that are waterproof. They are available in three different colors, so you can coordinate with gym outfits by buying more than one set. The behind-the-ear design is incredibly stable even during workouts that would jostle a less reliable product. A soft neckband features plenty of flex regardless of which direction you're moving. The eartip is designed to be open so that the wearer also can hear ambient noise for greater safety in real-world conditions. Additionally, the neckband is coated with reflective material that makes it easier to spot athletes in low-light conditions. With a sweat-proof nano coating, these earbuds will keep operating even during the toughest of workouts. Battery life is approximately eight hours on a single charge. What sets this product apart from many others is the quick-dry charging pouch, which can provide 10 more hours of use. People who buy these headphones also have access to interactive audio coaching and workouts from PEAR. A dozen workouts are available without a membership. Even more workouts are available for those with a paid PEAR membership.
Buy it now on Amazon: Plantronics Boost Edition Sport Earbuds
7. Jabra Elite Sport True Wireless Earbuds
These multi-tasking wireless headphones for the gym are ideal for anyone who loves technology. That's because these ear buds can do so much more than just deliver outstanding sound quality. They also can track the user's heart rate and activity through an app on a phone or tablet via the Jabra Sport Life app. Without wires or a headband, this is another option that provides the ultimate in comfort and flexibility. Users can get about four and a half hours of use on one charge. With the charging case, users may get an additional nine hours of battery life. The in-ear audio coaching and race pace calculator are definite pluses for people who are looking for extra motivation. These headphones are waterproof, and they come with a three-year warranty against damage from sweat. Customizable fit ensures stability and security, no matter how intense workouts get. Audiophiles will love the ability to personalize the sound with adjustable EQ profiles. Your workout playlist has never sounded so crisp and clear.
Buy it now on Amazon: Jabra Elite Sport Wireless Earbuds
8. GEVO Sports Bluetooth Earphones
Users swear that they can wear these headphones for hours without experiencing any discomfort. That is probably thanks to the silicone construction of the earbuds, which allows them to conform to the unique contours of the user's ears. These GEVO Bluetooth headphones are sweat resistant, rated IPX Level six to ensure that they won't get damaged even when sweat starts to drip. The battery provides up to eight hours of music play time, and can be charged within one or two hours. With magnetic earbuds, the wearer can attach these headphones around their neck when not in use. The braided cord is a nice, comfortable touch for those who wear their earbuds for extended periods of time. Each set comes with ear fins in sizes small, medium and large and a cloth bag for storage. A 12-month warranty protects the purchase.
Buy it now on Amazon: GEVO Sports Bluetooth Earphones
9. B&O Play by Bang Wireless Headphones
These incredibly stylish headphones are so comfortable that it's possible to wear them all day. Go with the black or charcoal gray to match them with any outfit. However, the tangerine and gray version really makes an outstanding statement. Bang & Olufsen is one of the foremost brand names in the audio industry. Accordingly, you can expect incredible functionality with these wireless headphones for the gym. You get the proprietary Bang & Olufsen Signature Sound that delivers just the right amount of bass and treble. Made from materials like stainless steel, leather and aluminum, anyone who uses these at the gym is bound to be envied. However these headphones weren't just made to look good. They feature Bluetooth 4.2 connectivity, which means that they work with any device that is Bluetooth enabled. That means gaming systems, tablets, laptops, smartphones and much more are all compatible. The sound quality is amazing. Be prepared to fall in love with your favorite workout songs all over again.
Buy it now on Amazon: B&O Play by Bang Wireless Headphones

10. Bluedio Bassy Wireless Bluetooth Headphones
Audiophiles will be drawn to the eight-driver technology in this model. That's because the sound that these headphones deliver is always powerful and deep. People who love tech also will appreciate the micro SD card slot, which allows them to bring along even more of their favorite music. An SD card with maximum storage capacity of 32 gigs can be used. On the headband, users will find a nice amount of cushioning to keep things comfortable over the long haul. The ear cups are similarly cushy, enabling wear through even the longest run. The one-year warranty is a desirable feature, but these headphones are pretty durable.
Buy it now on Amazon: Bluedio Bassy Wireless Bluetooth Headphones
11. SOUL Electronics Bluetooth Wireless Headphones for Sports
This amazing product from SOUL Electronics provides an incredible 24 hours of playtime, so if you're not always good at charging your devices, this could be an excellent choice for you. You can also get about 150 minutes of use with a quick 15-minute charge, which is another desirable advantage. With advanced HD drivers, you can count on excellent sound quality that is expertly balanced between bass and treble. A particularly ergonomic design means that these headphones grant stability even during intense sweat sessions. Nonetheless, these headphones are so lightweight that you could almost forget that you're wearing them. The ear pads can be removed and washed, and you'll probably also appreciate the moisture-wicking material that they are made of. These headphones additionally feature LED lights so that you'll be more visible in low-light situations.
Buy it now on Amazon: SOUL Electronics Bluetooth Wireless Headphones
12. Jaybird X3 In-Ear Wireless Bluetooth Sports Headphones
These sweat-proof ear buds are an excellent choice for runners, cyclists and athletes of all descriptions. The product is covered with a nano coating that is described as hydrophobic, protecting the device from sweat and rain. One charge provides eight hours of use while silicone car fins ensure a comfortable and secure fit. The manufacturer describes the fit as universal, so if you've had trouble finding ear buds of the right size before, then these may not be for you. Still, the silicone is pretty comfortable, and it seems to conform well to numerous ear sizes. Unlike many other wireless headphones, this item from Jaybird makes it possible for the user to mix the sound and store preferences on the earbuds for ease of use with the Jaybird MySound app. This item can be worn over-the-ear or under-the-ear for even more versatility.
Buy it now on Amazon: Jaybird In-Ear Wireless Bluetooth Sports Headphones

13. IREALIST Wireless Bluetooth Earbuds with Microphone
If you want your headphones to be truly unobtrusive during your workouts, then this IREALIST product is for you. These tiny earbuds fit completely inside your ears without any wires or headband. You won't ever be distracted by them falling out because of the snug yet comfortable fit. Pairing these earbuds with your devices is a snap, and you can use them up to 33 feet away from the device. Despite their small size, these IREALIST wireless Bluetooth earbuds provide some impressive sound quality. If you want earbuds that you can practically forget you are wearing, these are ideal.
Buy it now on Amazon: IREALIST Wireless Bluetooth Earbuds
14. Sony Extra Bass Bluetooth Headphones
Splash-proof technology makes these headphones a favorite with athletes who sweat a lot or those who exercise in the outdoors. The eight and a half hour battery life is competitive, and so is the sound quality. This product is especially attractive because it includes two sets of these Bluetooth headphones. This means that you can leave one set in your gym bag and the other in your car so that you'll always have them regardless of where you go. Connectivity is strong and stable. You'll be able to pair with your favorite devices and use without issues.
Buy it now on Amazon: Sony Extra Bass Bluetooth Headphones