16 Best Earphones for Running that Don't Fall Out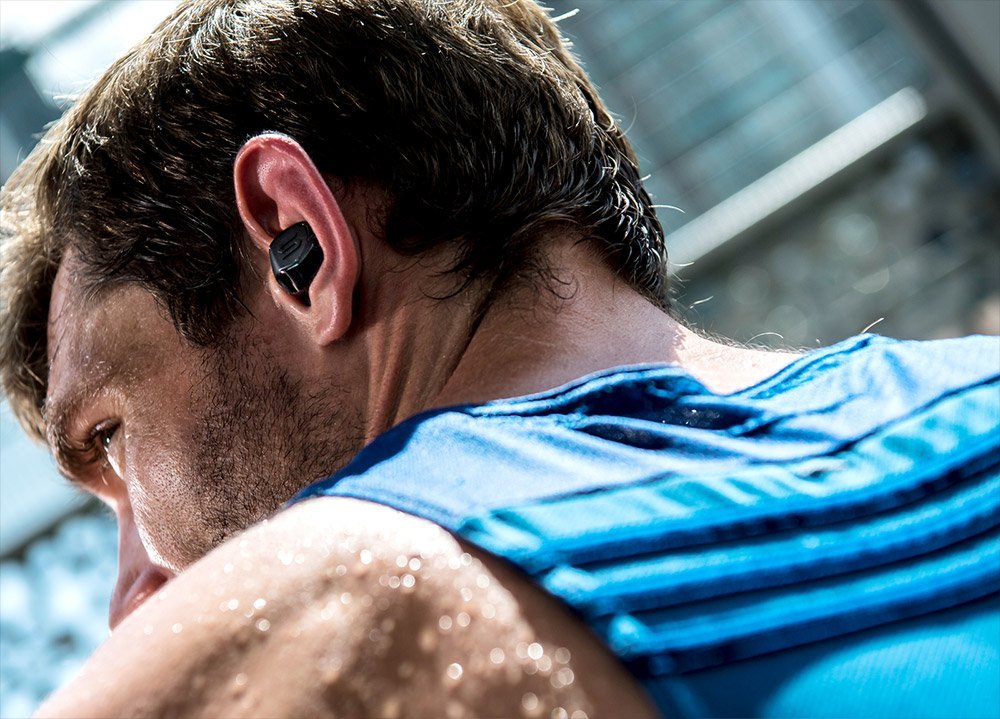 Reading Time:
13
minutes
Experienced runners know that the right playlist can make all the difference when it comes to crossing the finish line. That perfect song is what propels you forward, giving you that second wind you need to score your next personal record.
Unfortunately, without the right earbuds, even the ideal playlist won't be able to get you there. Every runner has probably experienced the frustration of dealing with headphones that won't stay put or simply fall out of the ear when the going gets tough and things get sweaty. That's why this list of the 16 best earphones for running that don't fall out is so essential. With any of these products, you get the performance you demand when you're giving your all on a run.
What factors did we use to determine which products should be on this list? Here is a brief rundown of the most important factors to look for in secure earbuds for runners.
Stability
The number one factor that went into deciding which items would go on this list was the earbuds' ability to stay where you put them. This means that they don't slip, turn, slide, or fall out, even when your run gets challenging.
There are some truly innovative solutions to this problem that you'll find on this list. From a simple silicone "ear wing" to a proprietary "TwistLock," you'll find multiple answers that will help you keep your music going throughout your run. One of the options presented here even has the ability to create a custom mold to fit inside your ear. Talk about a unique approach to a widespread problem!
Wireless/Bluetooth Capabilities
Old-school runners know what a pain it is to have a wire connecting your headphones to whatever device is storing your music. That wire is always in the way. It also can cause irritation to the skin, and there's no way to count all of the times that the adapter has gotten accidentally pulled out of the device.
Accordingly, a range of wireless options is presented here. Some of the earbuds are connected to each other via a short wire or a lightweight band. For those of you who constantly lose small items, keeping your earbuds connected to each other is a wise solution.
However, some people are ready to go totally wireless. That's why there are products on this list with earbuds that are independent of each other. Wear one or both, the choice is totally up to you. Nonetheless, you can rest assured that these earbuds will stay in place during your workouts.
You'll notice that there is even one option on the list that is not wireless. That's for all of you out there who hate having to remember to charge your earbuds. The only thing more annoying than headphones that won't stay put is discovering that they aren't charged when you put them on. If this applies to you, then there is nothing wrong with going this route.
Battery Life
You don't necessarily want to be required to charge your earbuds after every use. That's why the items on this list generally have pretty impressive battery life. Of course, you do have to remember to charge them occasionally, but many of the options presented here only need to be charged once a week or so for the average runner.
That said, many of the totally wireless options come with a portable charger to help you maximize your battery life. Store your earbuds in the charger, and they'll be ready to go on your next run. Just keep in mind that that portable charger occasionally needs to be charged too, and you'll be in good shape.
Also, look for portable chargers that also can be connected via wire to your device. You won't have to worry about a dead battery on your smart phone or MP3 player when you've got these earbuds.
Sound Quality
Some of the options on this list include noise-canceling technology while others let you stay attuned to ambient noise. Consider your running conditions to decide which is best for you.
All of these models are recognized for producing superior sound quality. Your playlist is guaranteed to sound amazing with any of these earbuds. Some of the more affordable options may not have the range of treble and bass as the pricier choices, but unless you're a true audiophile, you may never notice the difference.
This offering from Yurbuds is packed with custom features that you are unlikely to find anywhere else. Perhaps the most attractive feature is the proprietary TwistLock Technology, which guarantees that these earbuds will never fall out. Simply twist the earbuds in place for a phenomenally secure fit. This product also features FlexSoft technology to ensure comfort even during those extra-long endurance runs. The whole set is sweat resistant so you won't have to worry about damage from dampness. While these earbuds are packed with features to ensure that they don't fall out or start to get painful, they provide wonderful sound quality, which you should expect from any product brought to you by JBL. These wireless headphones connect via Bluetooth to almost any device so that you can always have access to your music. Another important design feature allows the user to hear ambient sounds, a critical factor to those who run on the road.
Buy it now on Amazon: Yurbuds Liberty 100 Bluetooth In-Ear Headphones
Bose has a reputation for making quality products, and these headphones are no exception. They look exceptionally high-tech, and their performance is fabulous. Best of all, these earbuds will not fall out when you're running. That's because of the unusual shape of the earbud, which the manufacturer says forms a "gentle seal" with your ear to ensure security and comfort. The design also features an extended, flexible wing for added stability. These SoundSport earbuds connect quickly and easily to any Bluetooth-enabled device. The earbuds are connected to each other via a durable cord that won't get in your way during your runs. With sweat and weather resistance, you won't have to worry about damaging this product in real-world conditions. A free app makes it easy to use these earbuds from the moment you open the package.
Buy it now on Amazon: Bose SoundSport Wireless Headphones
With a charge that lasts for eight hours, you already have plenty of incentive to give the Jaybird X3 a shot. However, they also might appeal to you because of their impressively tiny size. In fact, the designers of this product made it their goal to make earphones that were as small and sleek as possible without sacrificing sound quality or stability. The result is a finished product that has a beautiful aesthetic that additionally performs like a champ. These earbuds feature a patented ear fin made from silicone that ensures a secure fit with the top and bottom areas of the ear. Each set comes with multiple tips so the user can customize for fit, comfort and better sound quality. Hydrophobic nano-coating keeps moisture from interfering with performance, and these headphones can be paired with virtually any Bluetooth-enabled device. Download the MySound app to equalize the sound quality on your headphones. Be sure to save your personalized settings in your profile so that everything always sounds crystal clear.
Buy it now on Amazon: Jaybird X3 In-Ear Wireless Bluetooth Sports Headphones
If you are a person who likes the ultimate in customization, then these just might be the headphones for you. Each set of earbuds from Decibullz comes with the proprietary easy-shape system. In fewer than five minutes, it's possible for anyone to mold earbuds that fit the unique contours of their ears. The user heats the included thermoplastic mold with hot water. Then, the molds snap into place on the earphones. Place them in your ears, and then gently shape them to precisely fit you. If you don't get it right the first time, no worries. You can easily repeat the process. This also is a remarkable system for shutting out ambient noise, so these may not be the best choice if you're running on the road. Still, you'll get excellent sound quality and a fit that is truly customized to ensure stability. Perhaps the biggest drawback for this item is that they are not wireless. On the plus side, you won't have to worry about battery life with these earbuds.
Buy it now on Amazon: Decibullz Custom Molded Contour In-Ear Headphones
With high-definition sound quality, audiophiles have plenty of reasons to put these headphones at the top of their list. Some people may be bothered by the lightweight bar that substitutes for a thinner wire to connect the two earbuds, but others are bound to find it more comfortable and less annoying. It really comes down to personal preference. What's truly important here is the security of these headphones. They are not coming out of your ears, even on the toughest of runs. These earbuds connect seamlessly via Bluetooth to any enabled device, and the absence of wires is welcome for any active lifestyle. Easy-to-use buttons put you in control for volume, pausing and skipping tracks.
Buy it now on Amazon: Motorola S11 "HD-Sound"
If you frequently run in the rain or just sweat a lot, then these waterproof headphones are ideal for you. They are available in a series of bright and vibrant colors, allowing you to coordinate with your outfits, if you're into that kind of thing. Eight hours of battery life per charge is impressive. Like the Motorola offering above, these earbuds are connected by a lightweight, flexible bar. Once you get used to it, you might find that you prefer it to a wire. The on-ear controls are a cinch to use even in the midst of a run, and you can connect to virtually any Bluetooth-enabled device. Reflective surfaces amp up the safety factor while connection to a free app provides regular firmware updates. When not in use, these headphones enter hibernation mode, conserving power for your next workout.
Buy it now on Amazon: Plantronics BackBeat FIT Wireless Workout Headphones
These earphones for running come with all of the bells and whistles. Technophiles are certain to fall in love, and so will people who are addicted to keeping track of their workout stats. Additionally, these Jabra Elite Sport True Wireless headphones are exactly that: Completely wireless. There is no wire or bar connecting these two earbuds together, giving you maximum freedom of movement. Nonetheless, you'll benefit from excellent stability. Even on a long, tough run, these earbuds are staying put. You only get about four and a half hours of use on a charge, but with so much functionality, there's really no room to complain. These earbuds will not only deliver great sound quality without falling out of your ears, but also will track your activity and heart rate on a handy app. You get a charging case in the package that will add nine hours of battery life in a pinch. In-ear audio coaching is another wonderful plus for those who are looking to change up their workout.
Buy it now on Amazon: Jabra Elite Sport True Wireless Running Earbuds
If you have an iPhone, then these JPRiDE Bluetooth earbuds definitely deserve your attention. They are among the pricier options on this list, but they deliver excellent sound quality coupled with great stability. Described as "sweatproof," you will doubtless be delighted at the functionality of these headphones, which you also can wear in any weather conditions. These earbuds make use of the latest technology to ensure impressive sound, and they cancel out ambient noise. Though lightweight and unobtrusive, you can get six hours of listening time out of a single charge. The manufacturer says that although these headphones will work with other devices, they are especially effective with iPhones, so anyone with an Android phone may want to look elsewhere.
Buy it now on Amazon: JPRIDE JPA1 MK2 Bluetooth Wireless Earphones
Connect to two devices at once with this groundbreaking offering from Innoo Tech. With "intelligent noise cancelling," you'll also be able to focus on your music to give yourself the perfect inspiration for that challenging run. This device is universally compatible, so feel free to pair it with Apple, Android and just about anything else. One of the really great features of this item is the 100 percent satisfaction guarantee. That guarantee is good for the life of the product. If you experience any problems, just get in touch with Innoo Tech. They'll find a solution for you. The sweatproof design is a plus for runners, as are the comfortable ear hooks that ensure your earbuds always stay where they are supposed to be. A single charge provides about five hours of use with the capacity for 175 hours of stand-by time.
Buy it now on Amazon: Innoo Tech Bluetooth Headphones Wireless Stereo Earbuds
Designed for remarkable stability, these earbuds from USCCE are as stylish as they are functional. The eight-hour battery life is pretty impressive. With just one hourly workout a day, you'd only have to charge these headphones once per week. Of course, they are so comfortable that you're likely to use them far more frequently than that. Using the most recent Bluetooth 4.1 CSR, you can be sure that your earbuds will stay paired with your device at all times. Made to hook comfortably over the ears, you'll find that this product stays in place and never causes discomfort or fatigue. Noise-reduction technology and HD sound enable you to focus on the music and your run without distractions. Your motivation is bound to stay high when you're listening to your favorite running playlist.
Buy it now on Amazon: Best Sports Bluetooth Headphones – USCCE
11. SOUL Electronics X-SHOCK Absolute True Wireless Earphones
If you value in-ear stability and an impressively long battery life, then these may be perfect for you. The X-SHOCK from SOUL Electronics includes a power bank that can give you a total of 60 hours of playtime. Auto pairing makes it a breeze to connect these utterly wireless earbuds to anything. That's right – the X-SHOCK earbuds are not connected by a wire. You'll have ultimate freedom of movement, yet you won't have to worry about the earbuds falling out in the middle of a run. With a particularly ergonomic design, you'll love how comfortable these headphones are. A natural noise isolation feature provides added bass, which just might give you the motivation you need to reach the finish line. These weatherproof earbuds can be completely submerged in water for half an hour, guaranteeing that no amount of sweat or rain will affect their functionality. As a bonus, these earbuds are equipped with safety LED lights to keep you secure in low-light situations.
Buy it now on Amazon: SOUL Electronics X-Shock Absolute True Wireless Earphones
12. Rowkin True Wireless Earbuds with Charging Case
In what is billed as one of the smallest stereo Bluetooth headphones available today, users will find remarkable stability. This totally wireless set of earbuds is tiny and unobtrusive, yet you'll never have to worry about losing them in the middle of a run. The portable charger is an excellent addition. It can charge the earbuds 15 times without needing a charge itself. What's more, you can connect virtually any other device via cable to the portable charger so you'll never be without tunes or calls. Echo cancellation and noise reduction technology ensure an unparalleled listening experience. Plus, these earbuds are so small that you might almost forget that you're wearing them. With sweat-proof and water-resistant qualities, you won't have to worry about wearing these during your toughest runs.
Buy it now on Amazon: Rowkin True Wireless Earbuds with Charging Case
This set of earbuds is equipped with removable control wings to ensure a secure fit. Use the wings during your runs or other workouts to guarantee that your headphones won't budge. For more sedentary activities, they can be removed. Either way, you'll be impressed with the comfort of these sleek earbuds. They feature aptX technology to deliver high-quality sound with a full bandwidth from treble to bass. A slim wire keeps the earbuds together and connected while the touch buttons are easy to operate. You'll get about four and a half hours of playing time out of a charge.
Buy it now on Amazon: Atlas Media Headphones Premium Earbuds with Mic
This Red Dot Award-winning product from 2017 is perfect for anyone who loves slick, well-designed technology. More than two years of research went into building this product before it was introduced on the marketplace. Consequently, you can trust that it delivers phenomenal sound quality, a secure fit in the ear and sleek aesthetics. Other runners are bound to ask you about this stylish and highly functional accessory. The only downside is that you only get about three hours of playtime on a charge. The earbuds do come with a futuristic-looking charging pod that can charge them three times before needing to be charged itself. The cutting-edge BLE 4.2 protocol chip ensures smooth, consistent connectivity with almost any Bluetooth-enabled device.
Buy it now on Amazon: Fit1 Wireless Headphones Bluetooth Earbuds for Running
These earbuds feature full ear clips so that you never have to worry about losing them. Easy to operate buttons are located right on the earbuds. Within just a few minutes, you'll have a handle on how to do all of the basic operations. The seven hours of continuous playing time is fairly impressive, which is one of the main reasons that these headphones made it on to this list. They also are sweatproof and do an excellent job of canceling out ambient noise. Accordingly, they may not be the best choice for someone who runs on the road.
Buy it now on Amazon: LUOBOD Bluetooth Headphones
If you know a lot about tech, then you are bound to be impressed by the powerful, six-millimeter dynamic neodymium drivers in these earbuds. The upshot is that they give you impeccable sound quality. Of even more importance to runners is the incredibly compact design, which fits snugly in your ear without a chance of falling out. These true wireless earbuds have a portable charging box. It's good for four charges before needing to be charged itself. A single charge may only deliver about two and half hours of playtime, but it's time that you will certainly enjoy.
Buy it now on Amazon: Soul Electronics ST-XS True Wireless Earphones