Do Celebrities Have a Responsibility to Come Out?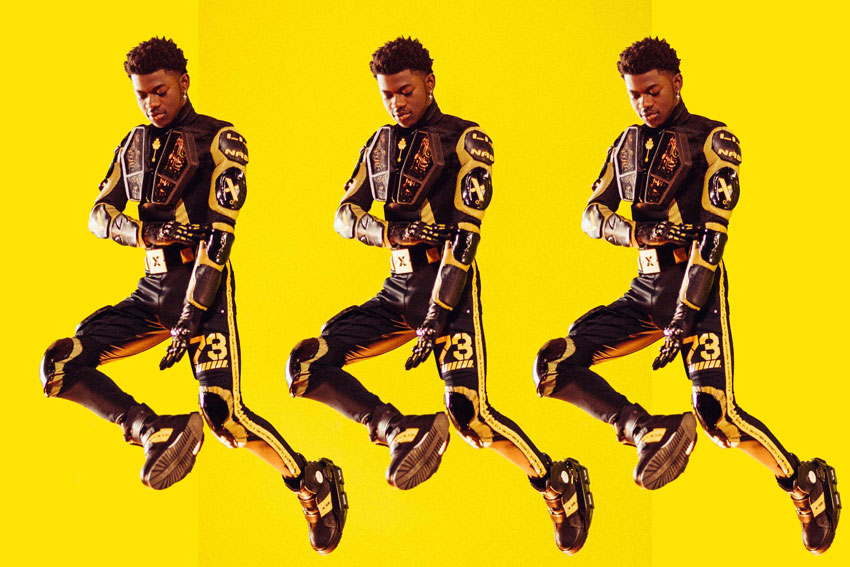 Imagine a world where one of the stars of Avengers: Endgame came out of the closet. What kind of social shockwave would happen worldwide if Chadwick Boseman or Chris Hemsworth was suddenly LGBTQ+? We don't have to imagine. We're in that timeline. Lil Nas X, the singer of summer chart-topper "Old Town Road," came out at the tail end of Pride season. Not only did the 20-year-old singer pen one of the biggest hits of all time. He's challenging the music industry. He has united country with hip-hop, beat records held by Mariah Carey and Elton John, and still found time to come out of the closet on the anniversary of Stonewall.
If you're playing intersectional bingo at home you just won. Lil Nas X is a person of color making country music, a queer person in hip-hop and he's still not even legally allowed to drink. He's the first artist to reach diamond-tier status while their single is still number one since Elton John with "Candle In The Wind." He beat Mariah Carey & Boyz II Men's record for most time spent at the Billboard Hot 100 # 1 spot. This not only provides more visibility for queer people in a time of political unrest. It shows young queer people that this level of commercial success is possible. So it begs the question: do celebrities have a responsibility to come out?
Coming out is a deeply personal process. It's not anyone person's place to tell anyone when they should or shouldn't come out. But given the precarious place we are politically, there is an importance to our community, to be out, proud, and visible. Shows like RuPaul's Drag Race, Pose and Netflix's Tales of the City and Queer Eye sequel series have increased LGBTQ presence in front of and behind the camera. But there is still social inequity, violence against queer people, and rampant discrimination.
Media is not just about representation but about social and economic power. Media shapes how Americans view the world. An out celebrity gives a familiar face to the "otherness" that often fuels the fear and hatred of the LGBTQ community. Knowing your favorite television or movie star is queer helps start a dialogue. It can help people come out to friends and family members. Also, more queer people in the public eye helps normalize our experience. But it's not just about being in or out of the closet. We spend most of our lives feeling different or alienated. Highly successful queer people help provide models queer people can aspire to. They also help demystify wealth and show that despite all of the baggage we experience we can eliminate poverty consciousness, alienation and our emotional barriers to success.
Given how many mentors and notable queer people we lost in the AIDS crisis there is a need for gay "elders." There is a need for people to lead by example to pave the way for younger queer people. Look at Neil Patrick Harris. He faced lean years as he grew out of his Dougie Howser, MD teen stardom into adulthood. But now he's the poster-child, well poster-adult, for gay marriage and fatherhood. He's happily married to husband David Burtka and his family life has even been used in various television ads. He's an actor, philanthropist, and producer. He recently produced the drag documentary Wig.
The Argument for Integrity
As successful as Harris is, the lion's share of his accolades didn't come until after he came out. On November 4, 2006, at the height of his How I Met Your Mother fame, he came out in People magazine. He said, "I am happy to dispel any rumors or misconceptions and am quite proud to say that I am a very content gay man living my life to the fullest and feel most fortunate to be working with wonderful people in the business I love." He went on to spend another 8 years making the popular television program, receive multiple Emmy nominations and received a Tony Award and a few Emmys for hosting the Tonys. 
RuPaul is having a huge moment on top. The RuPaul's Drag Race franchise is extending to the UK and Canada. He's created over 100 drag celebrities, a bi-coastal convention, multiple albums, spin-off series, and a new talk show. His production company World of Wonder is continually creating content and raising awareness of queer life in America. His unorthodox career has included a top pop track, multiple high profile movie and television appearances, and a consistent career. All the while, RuPaul has been out, and proud.
In 1993, RuPaul appeared on The Arsenio Hall Show to promote his single "Supermodel." Unabashedly, over-the-top RuPaul laid out the difference between transvestites, transgender people, and drag queens. From the beginning of his career, he's been an outspoken advocate and preaching his message of love. He was the face of gender non-conforming people for years. Whether you love him or hate him or find him obscenely problematic he used his platform to pave the way for others. He's also never missed an opportunity to showcase other queer celebrities and icons both as guests on his show and as inspirations for challenges on Drag Race.
Similarly, Billy Porter is the queer du jour. He's been nominated for a Golden Globe and an Emmy for his role as Pray Tell on Pose. He won a Grammy and a Tony for his gender-bending role in Kinky Boots. He's also a fashion icon renowned for his over-the-top red carpet looks. While his resume may not be as long as some other celebrities it has been consistent. His current place at the top is well deserved.
Arguably, all the energy you save being out and not dodging questions about your personal life you can put into the work. Let's be real the best acting celebrities should be doing is on camera for film and television not in interviews. And if the careers of RuPaul, Porter, and other out actors like Wilson Cruz and Matt Bomer, if you build it they will come. It may be decades since Porter started in the scene. But the work he's done and is doing is memorable. Fans of the early gay hit The Broken Hearts Club may remember he was one of the few openly gay actors in a film that featured Timothy Olyphant, Zach Braff, and Dean Cain. But now he's a force to be reckoned with and there's no telling where he will end up.
It's not just the men. Kate McKinnon is one of the biggest comedic actresses of the moment. She's been nominated for multiple Emmys as a cast member of Saturday Night Live. She's the voice of Miss Frizzle in the reboot of The Magic School Bus. She's a freaking Ghostbuster. Meanwhile, she began her career on Logo's The Big Gay Sketch Show. She hasn't had to come out but also her work speaks for itself. She's an inspiration to queer people and shows that you can have a viable and successful career while never having to be in the closet. She's also played characters of all sexualities.
Lena Waithe, Jonathan Groff, Rachel Maddow, Ryan Murphy all have reached major acclaim while not having to be in the closet. So is there something to be said for integrity being a secret in the sauce. No shade to celebrities who don't come out. But being out does remove a lot of hurdles and wasted energy in hiding who you are. Who you sleep with is not a matter of public record. Most heterosexual celebrities don't kiss and tell. But being honest about being a queer person does have a ton of benefits for the community.
Having out celebrities paves the way for more queer productions. Their name recognition and box office draw allow for more high profile queer projects. They help legitimize a place for queer people in the industry. Look at Pose. Pose is historical not only for it's queer POC cast but for a full ensemble of trans actors. Ryan Murphy began his work with shows like Popular and Nip/Tuck. His success paved the way for a project like Pose and the numbers of queer actors and subject matter in American Horror Story and Glee. Pose combined with Laverne Cox's run on Orange is the New Black, has allowed for more trans visibility. This has paved the way for Hunter Schafer on Euphoria and Anjelica Ross on the next season of American Horror Story. Not to mention a push for trans people to play trans roles and by extension, hopefully, more LGBTQ actors to play LGBTQ roles.
The Political Power of Coming Out
Some actors have used their coming out as a platform. Wentworth Miller made it a point to come out not just as gay but against Russia's homophobic politics. In a letter to the St. Petersburg International Film Festival, he declined the title of "guest of honor." He said, "I am deeply troubled by the current attitude toward and treatment of gay men and women by the Russian government… I cannot in good conscience participate in a celebratory occasion hosted by a country where people like myself are being systematically denied their basic right to live and love openly."
In 2010 the height of True Blood's success, Anna Paquin came out as bisexual as part of a PSA for equality. Since then, she's reiterated her bisexuality multiple times to spread awareness of the more neglected part of the LGBTQ community. In 2014 she made it a point to tweet, "Proud to be a happily married bisexual mother. Marriage is about love not gender."
What makes Paquin's coming out and continued conversations about her sexuality so important is that it normalizes the experience. Despite being married and having been in a relationship with a man she took time to explain her bisexual experience and defend the group who gets a lot of flack both in and outside our community. The more people come out the less importance is placed on who we sleeping with.
Foster, Child?!?
It's also a question of privilege. Actors like Kevin Spacey and Jodie Foster have benefited from being in the glass closet. They chose to come out at their own time. Foster survived being a child actor, an It-Girl and cemented a spot on the A-List. But she didn't come out until 51, at the Golden Globes when accepting the Cecil B. Demille Award. Essentially accepting her lifetime achievement award, she said, "I hope you're not disappointed that there won't be a big coming-out speech tonight, because I already did my coming out about a thousand years ago back in the stone age … But now I'm told, apparently, that every celebrity is expected to honor the details of their private life with a press conference, a fragrance, and a primetime reality show. I'm sorry: that's just not me."
That glib and reductive speech as much attacked the queer community as it did people who speculate about sexuality. Sure, our sex lives should be our own. Sure, celebrities deserve privacy. But until queer sexualities are respected by the masses it does serve the community to come out. It's funny she would lend her star to Mel Gibson, who made his own problems, rather than the countless lesbian directors, actresses, and future child stars and it-girls that could have been inspired by her career.
Worse still, Spacey used his coming out to try and deflect from his allegations of sexual abuse. There's been longstanding speculation about his sexuality given his close relationship with director Bryan Singer. And yet, how many times has he been in major prominence and missed an opportunity to help his community.
Coming out should be personal. But until LGBTQ people can live fully integrated lives and not have their co-workers speculate about their sexuality, parents and family members throw them out, and random people hate them just for who they sleep with, there is a responsibility to the community. It's more than just about being a role model, trailblazer or an inspiration. It's also about having the integrity to honor who you are and stand with your community. Because let's be honest there are people all over the world fighting the good fight by getting up every day and stepping out the door as their authentic selves. The least you can do as someone making millions is throw a bone to the community. Besides, there's always job security performing at Pride celebrations all across the US.
Christian Cintron is a writer, actor, and stand-up comedian. He has written about entertainment and gay culture for Edge Publications, Queerty and DNA Magazine. He's also a regular contributor to Backstage.com.
Check out his website www.christiancintron.com. // YouTube: CintronicComedy // Twitter: AbsoluteCintron // Instagram: @SighKickScream