RuPaul's Drag Race All Stars 4 EP 4: Jersey Justice Recap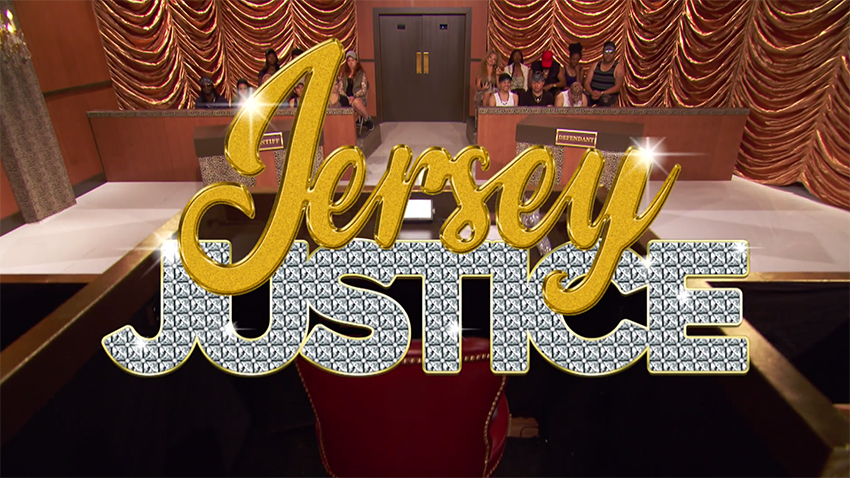 Jersey Girls
On today's Jersey/Judy Judy mash-up episode, we continue this season's legacy of tears and suspicious judgements. The Queens are tested on their improv skills in a manner similar to recent challenges "The Bitchelor" and "Bossy Rossy". Overall, the episode had quite a lot of air sucked out of it due to the early season of Gia Gunn but is still pretty decent. We're wondering who will end up into the new villain role. For now in this episode, the battle is simply the Queens and their own feelings of friendship.
Main-Challenge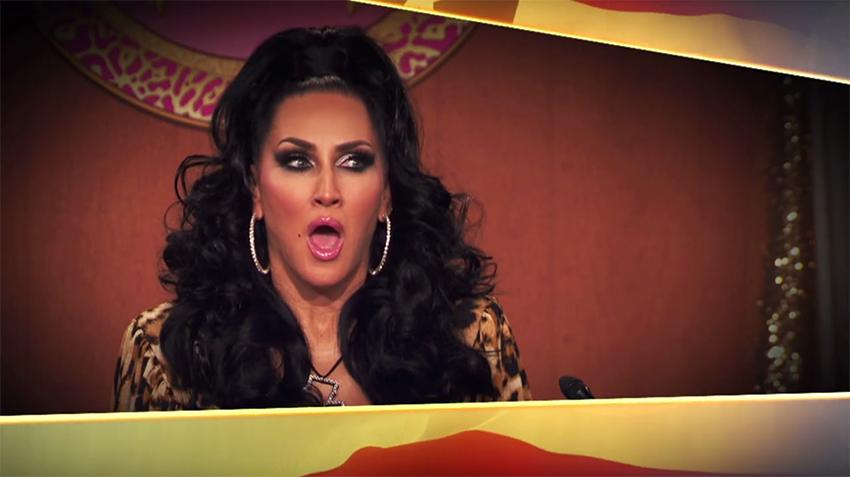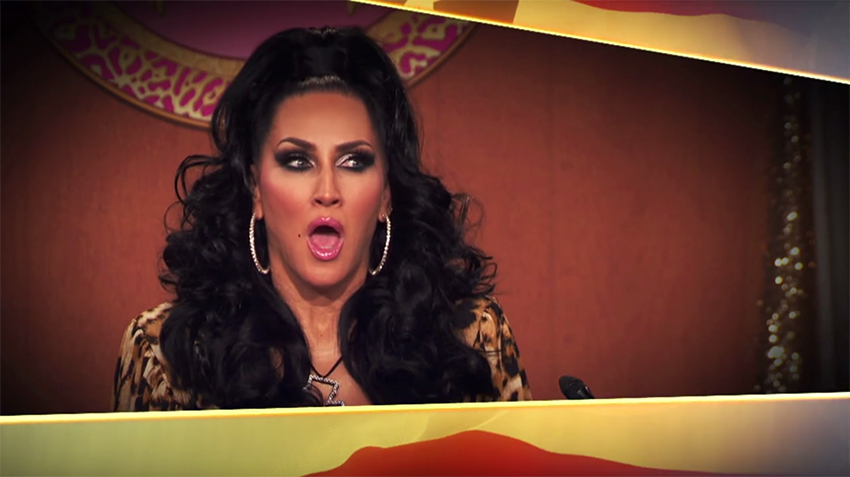 The mini-challenge is skipped once more, and we're introduced to the improv challenge starring Michelle Visage. This season has had a good balance of challenges so far but a second improvisation challenge after Snatch Game might be a bit overkill.
The Queens at least decide their own teams, even if they don't decide their own prompts.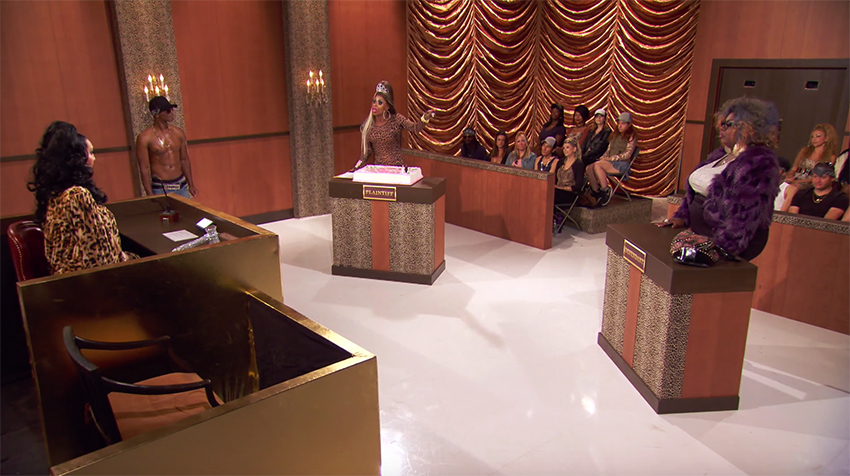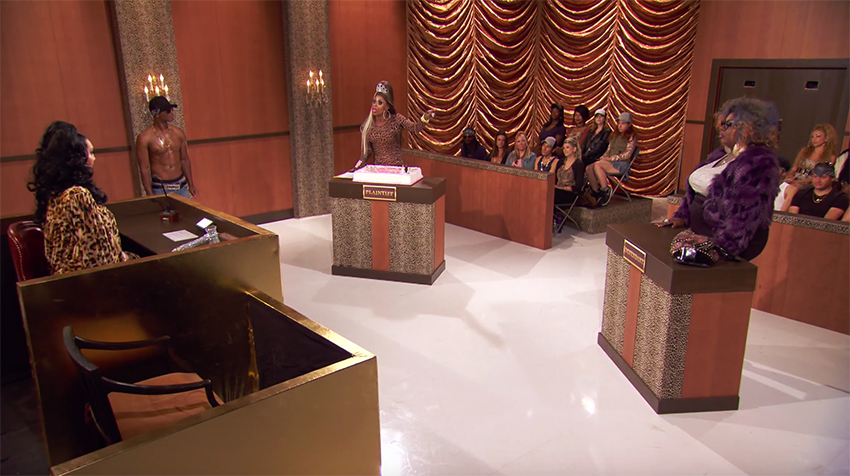 Monique Heart, Monét X Change and Latrice Royale: Bad Cake Sale
Manila Luzon and Naomi Smalls: Makeover Gone Wrong
Trinity the Tuck and Valentina: False Identity Snooki
The prompts aren't particularly hilarious, and forces the Queens to be creative in how they will approach them.
Manila and Naomi start with Manila looking like a dressed-up poodle. Both Manila and Naomi are early stand-outs and both totally redeem themselves from their terrible season 3 and season 8 comedy respectively.
Monique as Anastasia Ravioli Ragu starts off against Latrice and Monique totally overwhelms Latrice who fails to meet Monique's energy. We're starting to wonder if her failed Snatch Games might be more to do with her own poor improvisation skills. Monét in a whiff of riggory enters the scene very late as Latrice's daughter. Whether this was a choice by Monét or the producers is unknown. Monét starts well but like Latrice is dominated by Monique.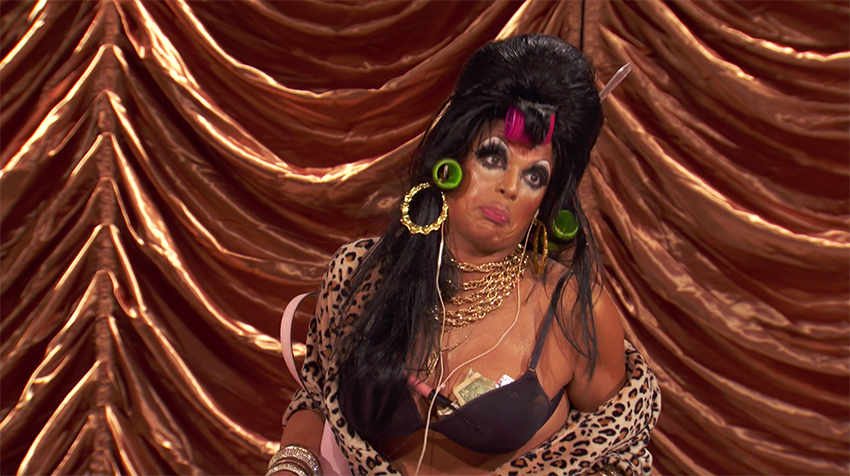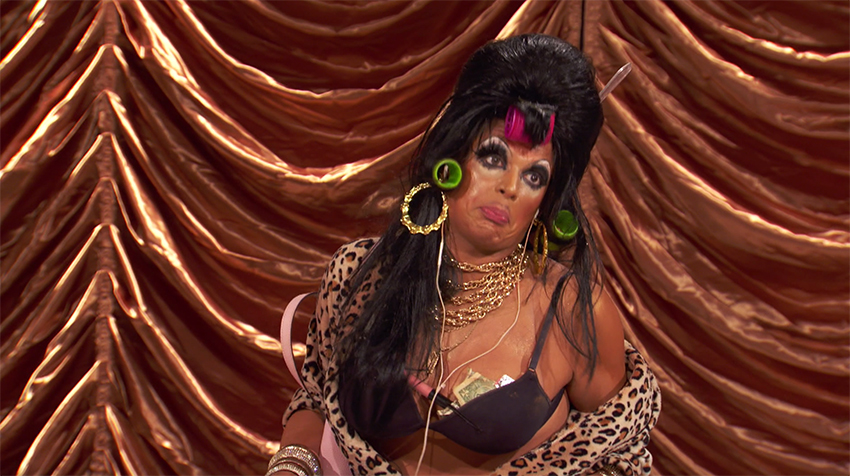 Trinity the Tuck and Valentina are last in a shocking twist; Valentina outshines Trinity by a mile. Trinity does have joke writers that likely prepared her for both Snatch Game and the reading challenge, but she seems to have cracked in this new territory.
Trinity later claims she was trying to help Valentina which is a rather suspicious thing to say. We're labelling Trinity as this season's Shangela, going around saying everyone's scheming but really she's the one with the master plan. Whether it will help her rise to the top or not is yet to be seen. This particular prompt is the worst of the pick, it's confusing and hard to get universally applicable jokes, but Valentina manages to stay in character and sell it.
Most delightful in this challenge is a series of Stacy Layne Matthews cameos as the court stenographer. We recommend them as this year's hot new gif set.
Overall, with the exception of Latrice, everyone gives a passable performance, and everyone including Latrice is confident in the work room though Trinity and Manila raise their eyebrows at Latrice's confidence in herself.
The Judgements
Special kudos to Delta Work and Raven for making RuPaul look spectacular this episode.
The runway theme is the unnecessarily long "Curves & Swerves: Padded for the Gods". Manila Luzon and Valentina come in with conceptual pieces, Manila in a dress made out of quilting fabric and Valentina in some kind of deconstructed Drag Queen anatomy look. Both look great, but the execution isn't totally there for either.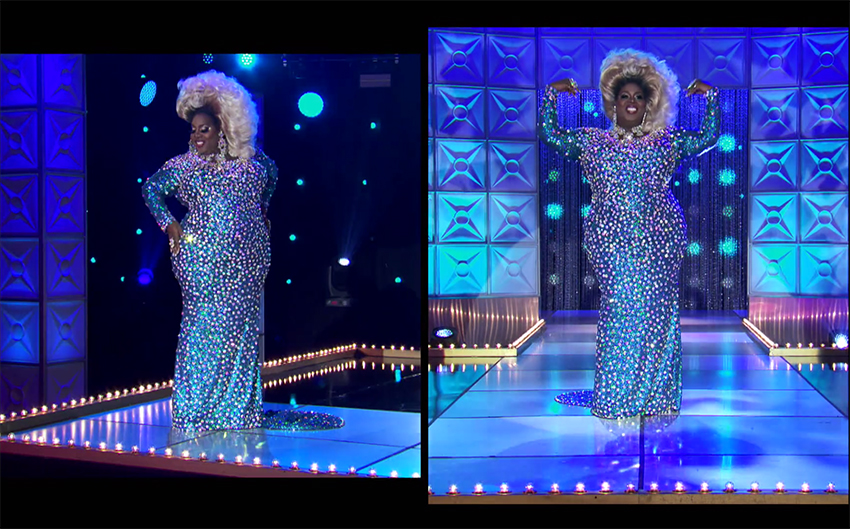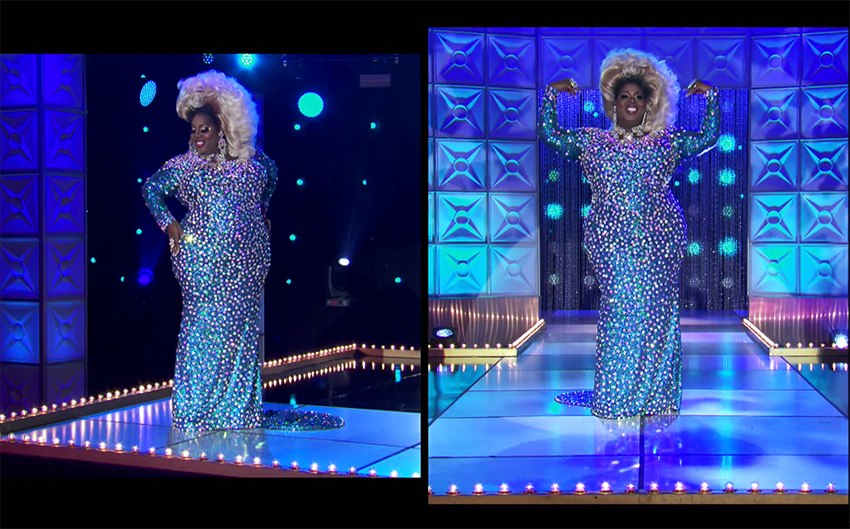 Latrice Royale gives us a look we've seen hundreds of times, and I swear I've seen this look in one of her photoshoots and is a bit of a disappointment as one of the curviest Queens of all time.
Monét X Change appears in the Kim Kardashian 'Break the Internet' photoshoot with exaggerated butt and tiddies, it's a classic look that many-a-Drag Queen has done, but it's effective and cute. She calls herself the fourth Kardashian 'Kenya Kardashian', totally erasing her season 10 sister Kalorie Karbdashian Williams from the books.
Naomi Smalls serves us retro-housewife with a cartoonish silhouette and a burnt pie that's a real change from Naomi's usual looks and concepts. She really stands out tonight.
Trinity the Tuck gives us the most polished look of the night and meets the theme very well.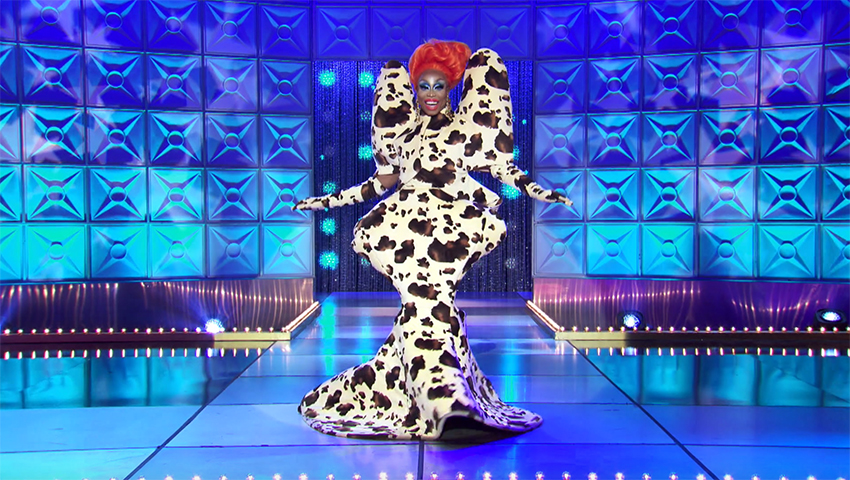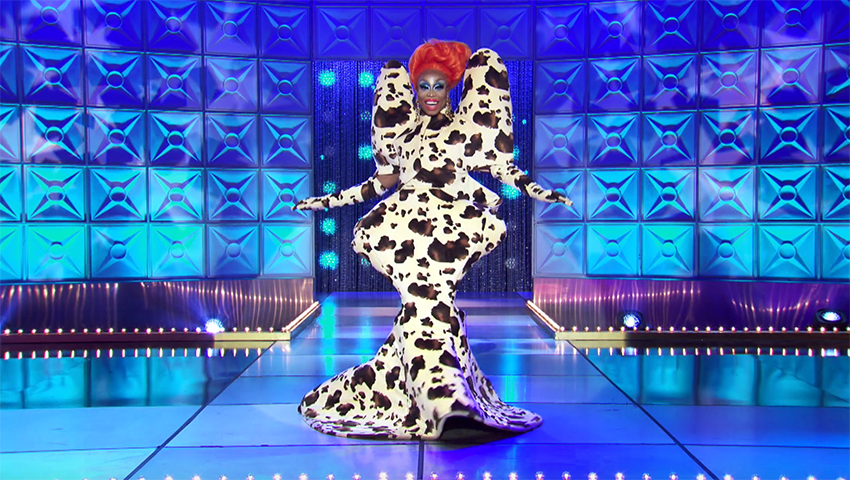 Monique Heart to the groans of the audience gives us another brown-cow-stunning look, but happily this time it's spectacularly done, completely over-exaggerated and made of pads. We'll pass her this time, but we hope this is the peak of this meme.
The Judges announced Monique Heart and Manila Luzon as the winners which is a bit of a surprise, Naomi Smalls fails to get a high placement this episode although it's one she probably actually earned it.
The bottoms are Latrice Royale and Monét X Change. We might have put Trinity the Tuck over Monét this episode, but it seems the two best friends – Manila/Latrice and Monique/Monét drama is too good for the producers to miss.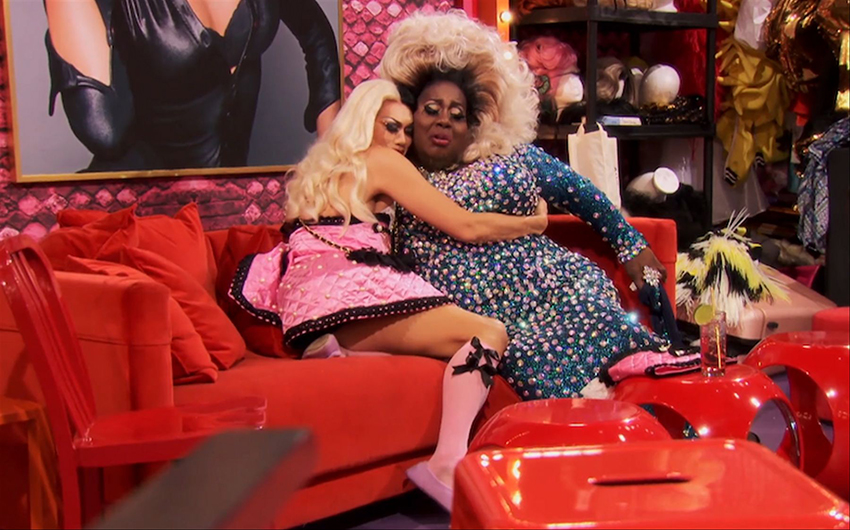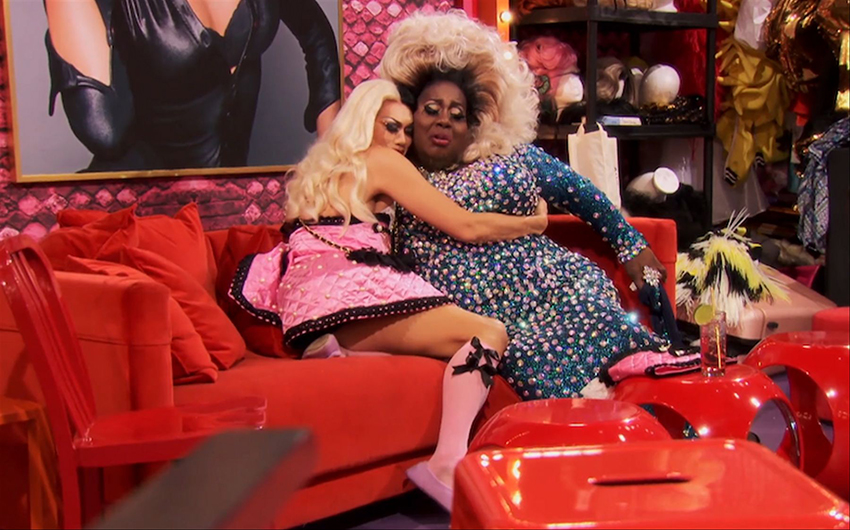 Manila appears distraught over the possibility of having to eliminate Latrice. Latrice feels as a drag legend has rightfully made her place to stay, honestly we agree, although Latrice messed up this episode and last episode, she was robbed episodes 1 and 2.
Monique seems concerned with possible backlash in eliminating Latrice, as Valentina states nobody wants to be that girl who eliminated Latrice Royale.
Valentina gives us a bizarre moment where she viciously complains about one of the guest judges, we're not sure if it's a made-for-telenovella moment, or Valentina's just feeling some sort of way, either way Valentina does manage to Milk her way and redirect attention towards her.
Meanwhile in the safe zone, Trinity offers Valentina an alliance, Valentina rejects it in order to love Latrice which is something we all felt deep in our souls.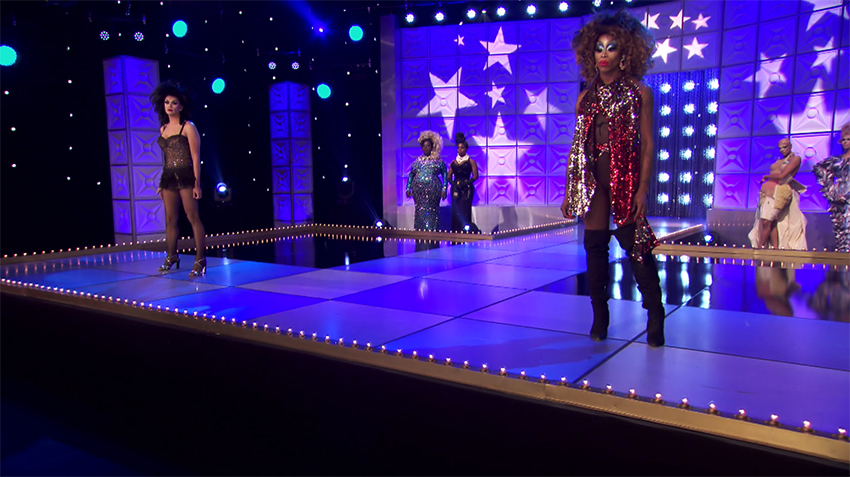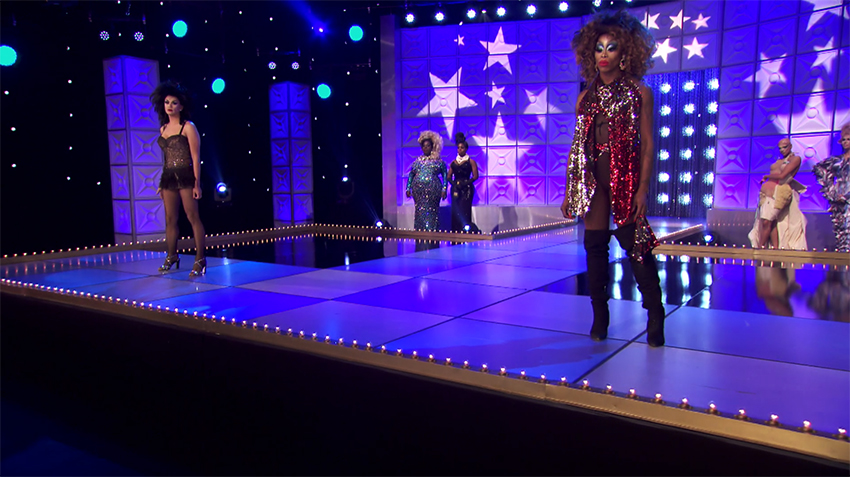 The Queens return for the lip sync and it seems the producers have found a way to get a Tina Turner lip sync at last. It's the cover of Elton John song "The Bitch is Back". Sir Elton himself makes a cameo to the Queens wishing them luck to not fuck it up.
Monique's look is channelling Tina and keeps her wig on the entire time. It's by no means the best Tina lip sync ever, but it's pretty good and much better than Manila who seems a little out of her element. Could this be strategy on Manila's part?
Monique Heart is rightfully declared the winner in her first lip sync win and wipes out the large and in charge, chunky yet funky Latrice Royale from the competition.
Latrice looks pissed off more than anything, and we can't help feeling a little too. At this point, it's not really clear who deserves to go between Monét and Latrice, both have been good in two out of four episodes, although the official statistics beg to differ. Monét has dropped the sponges the last few episodes which gives her a boost, but Latrice gave us shanga-langa-shanga last week. Latrice has had very little screen-time, but the moments we do are iconic while Monét's are hit-and-miss. It's hard to know which will make better TV going forward. We'll let you decide.
Conclusions:
We really did seem to lose a lot from the elimination of Gia Gunn, the episode was good and there were few bombed performances, but even the funniest of the night were not memorable. There was nothing to compete with Kennedy Davenport's legendary Bitchelor or Monique Heart's Cactus Lover here.
The show continues to be more invested in making choices to further pre-determined storylines than letting the Queens show off what they can do which is getting a bit tiresome, but the light is shining through. The challenges have been very good, especially compared to some dreadful ones in All Stars 3 and Season 10, the lip sync catalogue is one of the best yet.
The lack of RuPaul walk-throughs and Queen interaction outside the deliberations is ensuring we aren't really getting as much personality and chemistry from the Queens as we should be. This season in a lot of ways feels like an editing rush-job which isn't surprising since it was recorded after Season 11, yet released before it.
8/10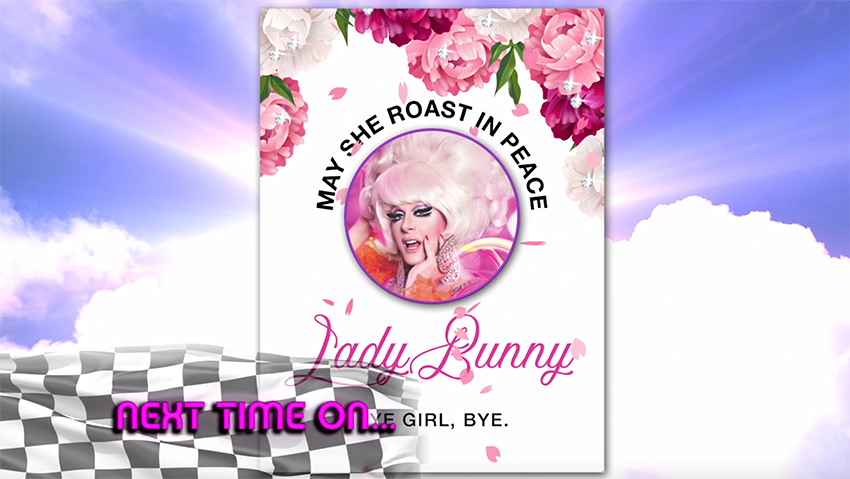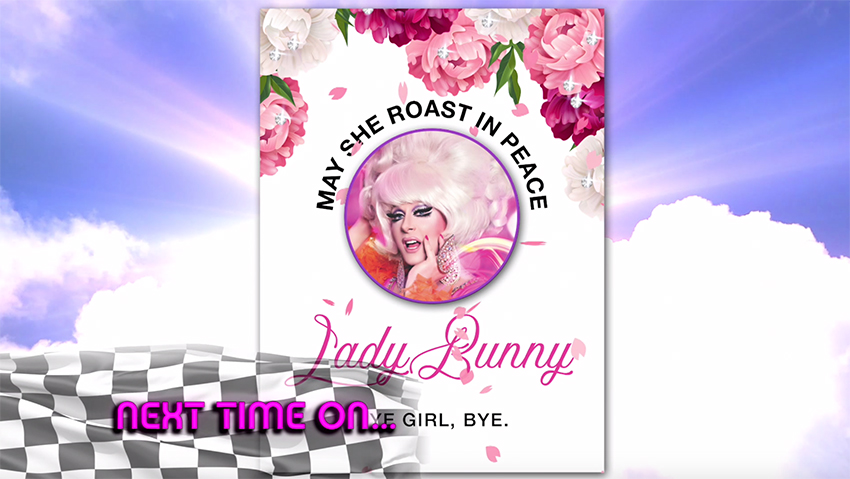 Next Week: The Roast Funeral of Lady Bunny
The next season is a roast featuring drag legend, Lady Bunny. Younger fans may not be familiar with Bunny who is a contemporary of RuPaul's New York club days. Originally she was asked to be a judge on Drag Race but she declined. Her appearance is a bit of a surprise we've never seen Drag Queens as anything more than contestants (other than RuPaul, and of course this season's guru, inspiration and artist-in-residence, Stacy Layne Matthews) in 14 seasons though Dragula and Drag Race Thailand frequently invite seasoned Drag Queens to take part in the show in ways that are not just contestants.
Lady Bunny has been referenced numerous times on the show, including Alaska's season 5 Snatch Game and Ivy Winters in the same season's "No RuPaulogies, Black Swan: Why It Gotta Be Black?" play, and appeared as a resident judge in Drag U (may it rest in peace).
We're curious to find out how Lady Bunny will go on with the Drag Race audience which is increasingly skewing younger, some may find Bunny's trademark crude and dark sense of humor too much, or we could be heralding a renaissance for the forerunners of modern drag.
This article was written by our fabulous contributing editor, James Pearbutter.
All images courtesy of VH1.