All the T on RuPaul's Drag Race All Stars Season 4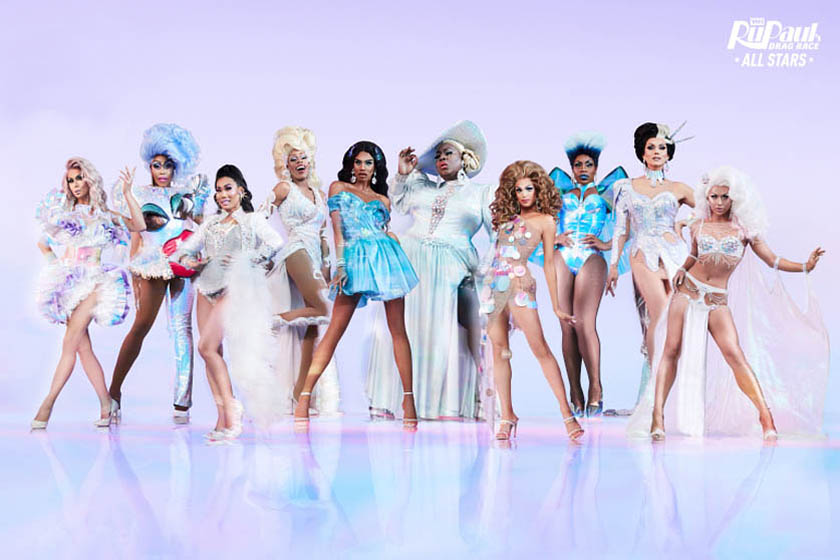 Winter may take all but only one can actually win
This year all the All Stars cast is stacked with a group of some of the most fashionable queens, and we're here for it, hennies. We've got a good spread of seasons and a good mix of personalities we can't wait to see interact.
There's a few surprises already, the most interesting being the absence of Shea Couleé (we are morally obligated to start chanting Shea Couleé/Shea Couleé/hotter than a motherfucking crème brûlée at this point). We suspect Shea wanted to wait in order to not have her time on the show held back by stirring up that season 9 drama, unless she finds out Nina Bo'Nina Brown is on the next season of All Stars, likely we'll see Shea back on All Stars 5. Some other eyebrows have been raised with the once-again absence of Ongina, who cameo'd on season 10 and as an uber driver on All Stars 1. There's also a few assumed shoe-ins missing including Darienne Lake, local bosomed goddess and top 4 of season 6, and Mariah Balenciaga, who has been one of the biggest rising stars on Drag Race production company's Wow Presents+ channel. There's also Pearl, but it appears she's now been blacklisted by the company for being a little too outspoken off show.
Still the girls who did get the callback are all fierce and legendary. Two breakout stars from the latest seasons (Monét and Monique), three finalists (Naomi, Trinity and Manila), a queen among queens (Latrice), an iconic viral queen (Valentina), a catchphrase machine (Gia), former Myspacer (Farrah), and meme legend with something to say (Jasmine).
The real cast surprise is Jasmine Masters herself, who originally came 12th in season 7. Though some might question what it means to be an "All Stars", the theme song of All Stars 1 did after all say "We are All Stars, we are All~All Stars", and let's not forget Tammie Brown who finished second-to-last, and Mimi Imfurst in 11th place also have the mantle of All Stars. Jasmine's worked hard, and if you're not excited for her, check out this video of her at Berlin.
Jasmine hopefully will open the doors to other Queens who had more to show but just had a bad day early on like Tempest DuJour and Yuhua Hamasaki, a wildcard each season makes perfect sense to spice things up.
Will Farrah Moan cry? Will Gia give us catchphrases to last us another five years? Will Trinity take another victim in a lip sync?
May the best All Star, win!
We're kicking off this season with a prediction of how well each girl will do.

Farrah Moan
"The Highlight Queen"
Farrah by no means had the best run on her season, if we're being real, she probably should have lip-synced over Kimora Blac in "Draggily Ever After" for rather sad Ariel look. But, she's had time to build up her confidence, skills and fanbase which could mark the beginning of a new Farrah. That said in her recent Build Series interview, Farrah seemed rather put-out, whether that was the effect of a couple of drinks, or just wanting the day over with. We suspect Farrah might be an early out this time around.
Season 9 Highlights: Gaga Runway, Reunion Drama
Season 9 Lowlights: Princess Pasifika, Michelle Visage Roast
Favorite Moment: You don't love me…

Jasmine Masters
"The Jush Queen"
The Queen of meme, and one of the most charismatic queens is the consummate lip syncher. Though she was an early out on her season, Jasmine's shown she can continue to captivate an audience's attention as shown in this video with T Rex. That said, Jasmine's skillset might simply just not translate well into Drag Race. Like Farrah, and rather unusually for Jasmine, in her recent interviews, she certainly did not have something to say. But we're rooting for her nonetheless as a Queen who deserves a second chance.
Season 7 Highlights: "The" Dress, Pop the Corns
Season 7 Lowlights: Laquisha Kiani, Online bullying from fans
Favorite Moment: The butterfly in the cocoon…

Gia Gunn
"The Catchphrase Queen"
This Queen /absolutely/ did better than people tend to recall in her original season, getting positive critiques from judges until crash landing in the Snatch Game. That's no mean feat in a stacked cast including Bianca del Rio, Courtney Act and Adore Delano. Gia could be a real dark (black?) horse this season if she's underestimated, but she's liable to take her eye off the competition, and these season 6 girls have a tendency to quit. Gia's recent social media activity seems rather anti-Ru Paul as of late, could history repeat itself?
Season 6 Highlights: Drag Me to Hell, opposing Bianca del Rio
Season 6 Lowlights: Kim Kardashian Snatch Game, dismissing Milk's drag
Favorite Moment: Her entrance into the werk room

Manila Luzon
"The Pineapple Queen"
Our first RuGirl to return after a previous All Stars (We don't talk about All Stars 1). Manila really pounded the competition back in season 3 on the runway with fashion-forward looks and a quick-wit , but she tended to suffer on scripted comedy despite being a camp queen. We haven't quite forgotten that itchy-itchy-itchy-palante read, Manila. That said, seven years is a long time, and if Manila's turned her comedy around she could be unstoppable.
Season 3 Highlights: Cake Ball, Money Ball
Season 3 Lowlights: Stand-up routine, Patriot video, Reading challenge
Favorite Moment: MacArthur Park lipsync
All Stars 1 Highlight: Half-baked photo shoot
All Stars 1 Lowlight: Nasty lip sync
Favorite Moment: *stares into camera*

Latrice Royale
"The Opulence Queen"
Large and in charge, with the heart to match. Latrice is the second of our double-Ruturning (triple, if you count the Christmas special), and a Queen beloved by all. She has comedy, acting, lip synching, singing, and charisma skills to spare, but Latrice has always be a relatively inconsistent performer on Drag Race. She can do it all, but doesn't always do so. Her fashion lacked in season 4, but nowadays, she's serving opulence everyday. Will Latrice strike out again, or take our words and make us EAT IT?
Season 4 Highlights: Natural Woman lip sync, Tuckahoe Prison for Ladies, Frenemies
Season 4 Lowlights: Aretha Franklin Snatch Game, Bitch Ball
Favorite Moment: Jesus is a biscuit, let him sop you up!
All Stars 1 Highlight: Half Baked photoshoot
All Stars 1 Lowlight: I heard you went to the doctors recently…
Favorite Moment: No Business (Like Show Business) lip sync

Monique Heart
"The Facts Queen"
Monique was a queen the Judges didn't have time for on season 10. But, we in the audience were bewildered as time (Bossy Rossy), and time (Drag on a Dime: The Rumix), and time (DragCon Panels) again, saw Monique slaying challenges only to be safe and wait quietly to be eliminated. Though she did come apart at Snatch Game like so many before her, with a failed lip sync to boot, Monique may be another potential dark horse this time around, assuming the Judges don't cover their eyes and ears again this time. Monique's positive response from fans, and now having the time, money and connections for stronger runways, leads us to suspect, she'll make it far this time, and those facts are facts, America.
Season 10 Highlights: Cactus boyfriend, Drag on a Dime paper wig
Season 10 Lowlights: Cut to the Feeling lip sync, Maxine Waters Snatch Game
Favorite Moment: The British accent

Valentina
"The Hermosa Queen"
Perhaps the Queen with the biggest expectations on her, after the lip sync drama heard round the world in season 9. Valentina was expected to reach the finale, even win season 9, and all signs point to that expectation carrying on. Valentina can deliver acting, and comedy, but truly shines in terms of beauty. Valentina arrives to this season in a Trixie Mattel-like position, and we all know how that ended, but still, could she crack under the pressure, or will she 'keep it on'?
Season 9 Highlights: Wedding dress, 9021-Ho
Season 9 Lowlights: Maskgate, Your Pilot's on Fire
Favorite Moment: I'd like to keep it on, please
Bonus Moment: Raja's FPR impersonations of Valentina

Naomi Smalls
"The Legs Queen"
Tall and stunning, Naomi reached the finale of season 8 fair and square, but the fact is that nobody was able to come close to outshining Bob the Drag Queen. However, Naomi amassed a huge fanbase post-show, and has gone from strength to strength, emerging as a confident fashion Queen with a funny streak. Naomi could be the winning combo, and we're sure her competition know this. This could lead to the other Queens wanting to eliminate her at the first sign of a slip up.
Season 8 Highlights: Legs on the Menu, Scarecrow look
Season 8 Lowlights: Tiffany Pollard Snatch Game, Madonna Kimono
Favorite Moment: Check your lipstick before you come for me…

Monét X Change
"The Sponge Queen"
Monét had a rough start on season 10, but once she worked through it she was truly in her element and started sweeping the competition, yet, like Monique, the Judges refused to reward her. (We wonder if some superficial similarities with Bob may have held her back in producer eyes) In the end, her fellow Queens rewarded her with Miss Congeniality and ended the season as the high note on a rather messy finale. Monét's outfits were sometimes half-baked and she may be in trouble against the overwhelmingly fashionable cast, but her recent Instagram looks have been slaying us, so we think Monét could really have this season in the bag.
Season 10 Highlights: Maya Angelou lip sync, Cher Rusical
Season 10 Lowlights: Hip pad eater, Last Ball on Earth Martian runway
Favorite Moment: Pound the Alarm lip sync split fake-out

Trinity Taylor
"The Tuck Queen"
Trinity slayed season 9 with her unique camp-pageant hybrid brand, solid runways and charismatic personality. This season, we expect her to go far once again. But, we fear Trinity might fall through the cracks with her less vocal fanbase and be Ginger Minj'ed out of the competition. If the game stays fair, Trinity will almost assuredly make it to the top 4, but hey, it's RuPaul's Drag Race, and we saw All Stars 3.
Season 9 Highlights: Princess Aquapussy, Sister Mary Kuntz
Season 9 Lowlights: Michelle Visage roast, Good Morning, Bitches
Favorite Moment: Murdering Charlie Hides in cold blood
Our final predictions?
Well, looking at the range of skills and adaptability, Monét X Change and Trinity Taylor are likely to be the strongest contenders with Monique Heart, Latrice Royale and Manila Luzon being also strong contenders. But this is RuPaul's Drag Race and there's the external show to account for, with Alaska and Trixie Mattel and their huge fanbases in the Hall of Fame, producers may want to claim the queens with the most post-show potential in which case Valentina, or Naomi Smalls is highly likely. But with the backlash from Trixie's win last season, producers may be wary of doing this.
This article was written by our fabulous contributing editor, James Pearbutter.
All images courtesy of VH1.