RuPaul's Holiday Slaytacular Christmas Special Recap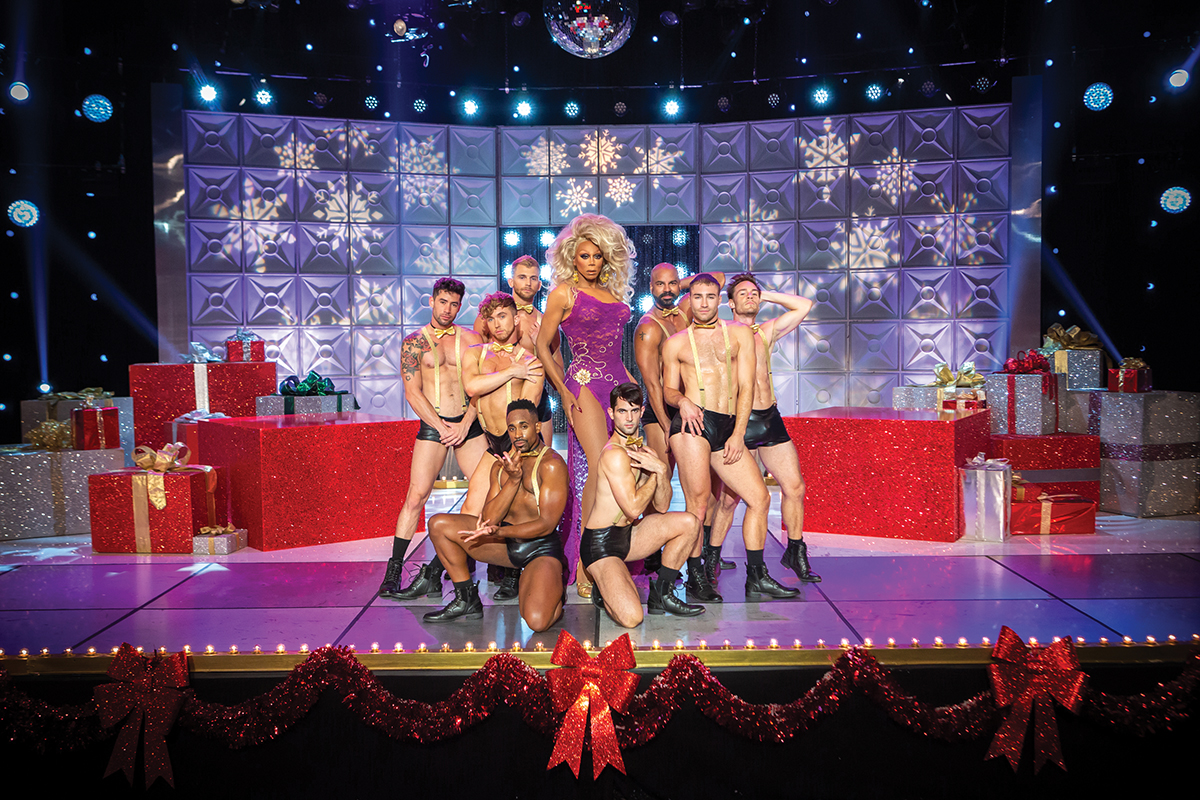 It's the silly season on RuPal's Drag Race, and silly is the operative word. This episode is basically an extended commercial for RuPaul's "Christmas Party" album. But hey, all of Drag Race is advertising to some extent.
This episode was pure festive camp and may not be everybody's bowl of soup. That said, I thought it was a great lot of fun. As Latrice put it "what is going on in my gaylife?"
Essentially there are two people in this world. Those who like Mamma Mia, and those who would rather ram Kim Chi's adorable sleigh-themed heels through their eyes instead. If you are in the first category, keep reading. If not, you could watch try C-SPAN? Hey, Cher watches C-SPAN. We ain't judging.
Eight Queens return: Fan favorites Trixie Mattel (7, AS3), Shangela (2, 3, AS3), Latrice Royale, (4, AS1, AS4), Jasmine Masters (7, AS4), Kim Chi (8), Sonique (2), and Mayhem Miller (10). Eureka (9, 10) is here too.
This episode is narrated by Ross Matthews as a green-screened-in tiny elf for reasons we don't quite understand, but Sonique is back, so we're taking it on our stride. We're delighted to see Sonique on the show again who somersaulted and sashayed away against Morgan McMichaels back on season 2, and she looks absolutely stunning this episode and hopefully this paves the way for an All Stars return.
In true holiday special tradition, it's a musical with random sequences spread throughout the episode, on the first of these fever dreams, Jasmine Masters remarks "did we all imagine that? Are we having the same dream together?", handwaving the silliness quickly. Mayhem Miller transitions into speaking about her family into an extended lipsyncing-by-the-mirrors segment which was fun, and with a bit more polished editing could have been truly the cinematic experience of the year. Also, you can see the lisp in Kim Chi's lip synching.
Hi-ho, onto the recap!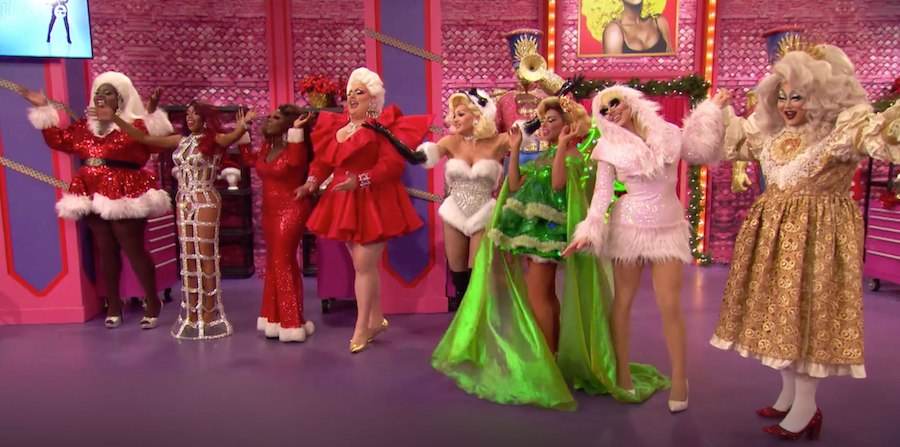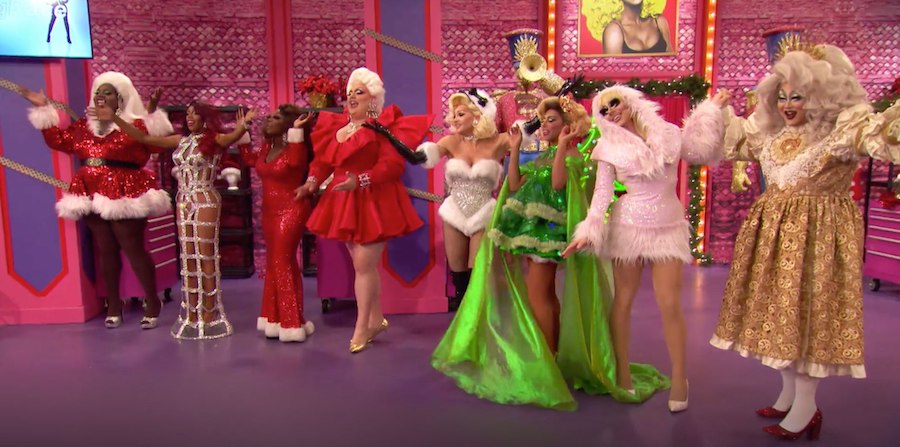 Entrance:
Trixie Mattel enters the work room first in an adorable winter coat, makes some snappy remarks about All Stars 3 to the camera crew before Latrice Royale walks in with a bag of chestnuts and references her classic Tuckahoe Prison line. Eureka (her elf confessional look is a bit of a choice), Mayhem, Kim, Jasmine, Sonique looking sickening and lastly Shangela appear. Jasmine for that cage outfit gets massive props from us, and RuPaul herself enters singing.
The Mini-Challenge:
The Mini-challenge is a Soul Train-style dance to RuPaul's new "Christmas Cookies" track with a reindeer-costumed pit crew member. (Note: Pit Crew finally are granted shoes). Latrice Royale comments how inappropriate this is now that she is newly married, she promptly begins to mime whipping her pit crew member. Mayhem Miller takes the mini-challenge deservedly with her sleek dance moves.
The Main-challenge is announced to be the creation of a retro 80s look and a Todrick Hall choreography to Ru's holiday love song "Get to You" along with a "Non-Denominational Christmas Eleganza" runway. After a Sound of Music "So Long, Farewell" reference, the queens get acquainted.
The Maxi-Challenge:
Everyone looks cute in their retro looks. Mayhem is serving VHS exercise guru goddess, Shangela in a yellow number that makes her pop against everyone else's color schemes, Trixie looks stunning and shows off a dancerly side of her we've never seen. Sonique looks like Pizzazz from Jem and the Holograms and I can't give higher praise than that. Kim and Latrice are in weaker outfits, but they manage to commit to the lip sync.

The Runway:
Eureka comes out in a 1996 holiday Barbie inspired look that's stunning. The too-clean circle on the bottom of the skirt knocks some point back, but we can chalk that up to limited time.
Sonique looks absolutely delicious in a gingerbread look, serving pants-pants-pants on the runway never looked so good. Absolutely fantastic.
Latrice comes out in a classic red and gold look with a few Chinese-style knots as the buttons that give it an interesting flavor. The real treat is the beauty and sleekness of Latrice's hair.
Trixie serves frosty angel with big wings and a scepter to match. She looks adorable and is one of the best looks of the night. Clean and classic.
Mayhem does Krampus to set her apart complete with cloven hooves, with her trademark intense contacts, she really stuns.
Jasmine comes in a sweet cute golden bow look with her face covered. She really speeds down the runway, Jasmine has since said she actually left early which explains her lack of confessionals. Jasmine had difficulties with Eureka and Shangela. Jasmine left after Eureka continually felt the need to compete with Latrice as a big girl and holding everyone up while she rested after putting all her energy into pulling stunts to one-up Latrice who was just trying to get the routine down, and Shangela constantly holding up production by taking 30-40 minutes to chat with crew. Shangela later called to apologize to Jasmine.
Kim Chi does a presents-under-the-tree editorial look, she looks cute enough but for Kim Chi's high standards, this isn't the most inspired look, but her shoes are absolutely everything here, so it's still a toot.
Now that we've had Kim's box look, naturally Shangela has to follow, and she reminds us who the ultimate Christmas queen was: Frostula from Season 3. The little paper lantern snowman she brought on the first episode of season 1, but Shangela has become Frostula with a massive glow-up, and a snowman masquerade mask for her mouth. Shangela comes full circle.
Deliberation:
Jasmine and Trixie lead everyone through a cute little Christmas medley and we finally get the Queen interactions this episode's sorely been lacking. Latrice gives us a bit of Drag Storytime which had us living.
The Lip Syncs:
In a shocking twist, the winner is declared to be everyone and it's RuPaul and Michelle Visage up for elimination. Yes, you read that right. Michelle looks absolutely tiny on the stage, and we get to see Ru twerk it and jump off a box (or well, probably a body-double, but it could be Christmas magic, you never know). Ru, Michelle, and their stunt-doubles serve it and it's declared a double shante. It's a cute and fun moment and goes well with this Christmas episode just being about fun.
The Queens lip sync in pairs to RuPaul's new songs:
Sonique vs. Mayhem Miller (Merry Christmas, Mary)
Jasmine Masters vs. Shangela (Jingle Dem Bells)
Trixie Mattel vs. Eureka (Deck The Hells)
Latrice Royale vs. Kim Chi (Brand New Year)
The Christmas special is a lot of fun, but it's an episode we'll save the rewatch for Christmastime. Without much of the preparation for the runway and challenge if any, and no real stakes at hand, this episode isn't going to have your blood rushing, but it's good-natured and nice to see the Queens not stressed out in competition for once. We would have liked to see more interaction between the Queens which if this is a yearly thing, should definitely be included more next time, but hey, we also got less of Todrick Hall as a result, so we ain't going to send a firmly worded letter over this.
If there were to be a real winner, it would have to between Sonique and Mayhem Miller who were the true shining stars of this special and we hope this really gives them an All Stars chance.
The episode ends with one last reference to Stacy Layne Matthews and we're left feeling warm-hearted and kind of confused, nevertheless, it was still a lot of fun.
Merry Christmas and a Henny New Year!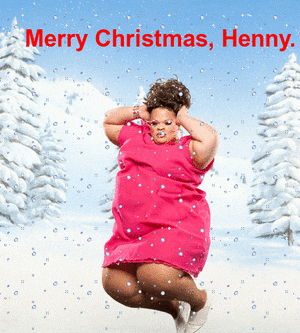 This article was written by our fabulous contributing editor, James Pearbutter.