RuPaul's Drag Race Season 11 Ep 2: Good God Girl, Get Out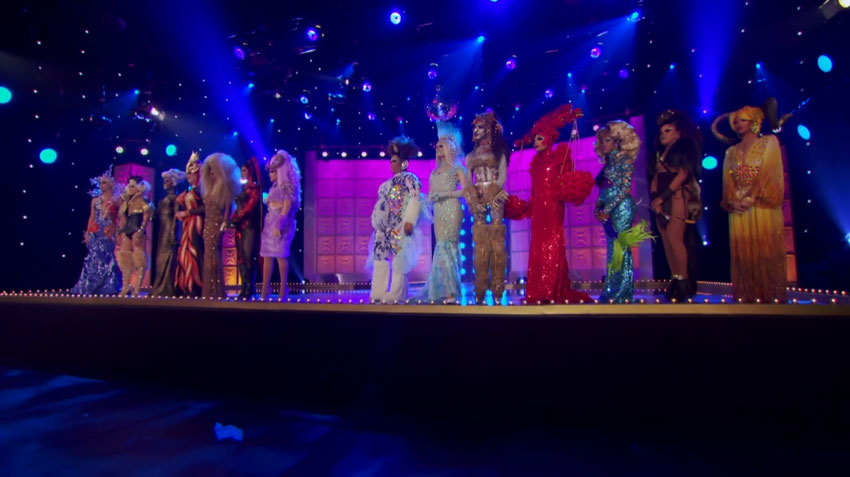 Pop the Cyst and Feed the Memes
It's official, Drag Race is pushing the cyst as this year's Vanjie. Will the fans fall for a forced meme two years running? Let's wait and see on today's acting challenge!
Soju's Sojourn
After Soju's retrospectively unsurprising elimination, the girls return to the work room and Silky Ganache starts up a game of Bang, Marry, Kill. Silky is the top target of the "kill" section, even the relatively quiet Mercedes Iman Diamond gets her two cents in.
The celebrity photobomb challenge makes a return, and we're expecting this to now become a recurring mini-challenge. It's a lot of fun, but Silky takes the cake and every last crumb when she strips fully naked (her body-ody-ody has its own censor bar) for hers.
A Better Script
This week is the now dreaded Drag Race acting challenge, after the three strike blows of Dragsmaids, Breastworld and Sex and the Shitty Girls, we get parodies of two recent Black Reel Award winning films "Get Out" (Good God Girl, Get Out) and "Black Panther" (Why It Gotta Be Black, Panther?).
Team Brooke Lynn Hytes consists of:
Brooke Lynn Hytes, Nina West, Ra'Jah O'Hara, Honey Davenport, Shuga Cain, Plastique Tiara, Ariel Versace

Team Silky Nutmeg Ganache consists of:
Silky Nutmeg Ganache, Scarlet Envy, A'keria Chanel Davenport, Vanessa Vanjie Mateo, Yvie Oddly, Mercedes Iman Diamond and Kahanna Montrese.
Scarlet Envy is picked last much to her chagrin.
The acting challenge is overall miles ahead of the previous seasons, but in the grand scheme of past acting challenges, it's just not all that funny. The writer is clearly feeling their jush, so we're living for whoever you are. But, don't quit your day job.
There's no great stand-outs, but some notable sections include Plastique Tiara doing a Vietnamese nail-tech impersonation, and Vanjie as a cool Dad which her pirate accent really helps along.
Yvie Oddly has some funny expressions and does service to the role. Ariel Versace is a bit messy and weak. Honey Davenport has zero screentime and we wouldn't fault the viewers for thinking she had been secretly eliminated already. Shuga Cain is massively overpraised by the mentors, Michelle and Ross, so we can expect her to go quite far in the competiton.
Scarlet Envy and Brooke Lynn Hytes have the central roles with a massive amount of dialogue. Scarlet gives a very believable performance, but Brooke completely chokes and doesn't do herself favours to the Kameron Michaels comparisons. Though we can't really fault Brooke for not getting the jokes, since they weren't really funny in the first place.
Kahanna and Mercedes get odd minute roles, and Michelle in particularly unnecessarily comes for Mercedes's accent. Fortunately for Mercedes, she's just so charming and similarly to Yuhua's "My Hot and Flexible Body Allows Me To Exercise In All Different Positions" from season 10, I predict no one will remember anything from this episode except for Mercedes's "Opulence, you earn everything!".
The stand-out is a cameo from Derrick Barry, perhaps an early cameo for All Stars 5?
There's also a bizarre triple reference to Honey Mahogany, Vivienne Pinay and Serena ChaCha. All season 5 Queens…
This acting challenge is incredibly long and does feel like it won't ever end though.
Drama and Distress
Today on the Silky Show, the drama is Team Brooke vs. Silky. Most of the team (that is everyone except Plastique and Honey) pops off about how obnoxious Silky is, helmed by Ariel Versace. They go tattling to RuPaul, who being the messy lady we knew she was, goes promptly to inform Team Silky.
Later in the day, Yvie calls out the team for being a season of somebodies and to say if they have something to say about Silky, to say it to her face, and not to RuPaul behind her back.
Ariel Versace is the only member of the team to admit it, Ra'Jah O'Hara gets defensive, Yvie fights back with some unnecessary personal insults at Ra'Jah O'Hara that get thrown back and forth. It's a bad look for Yvie, but she does later calm down and apologize to Ra'Jah. Nina West and Brooke Lynn Hytes who certainly had quite a bit to say about Silky, keep their traps shut and avoid the drama from the other Queens, but certainly raised eyebrows from the audience.
Silky rises well to the personal comments in front of RuPaul with a few slick rebuffs and jokes which clearly earns her a place in RuPaul's heart, the tattling definitely backfired.
Meanwhile, back on Team Silky, Mercedes talks about how she was put on the no-fly list due to discrimination against people of the Muslim faith. This took a toll on Mercedes's body that caused her to have a stroke during a pageant. It's a shocking revelation and only endears the audience even more to Miss Mercedes. We wish her well.
Everyone's Horny
Tonight's runway is "What's Your Sign", a long-awaited Zodiac theme. However, this probably wasn't the right season for it since many Queens overlap.
Aries: Ariel, Kahanna and Plastique
Leo: Honey, Nina and Yvie
Pisces: A'keria, Brooke and Scarlet
Capricorn: Ra'Jah and Silky
Libra: Vanessa
Scorpio: Shuga
Sagittarius: Mercedes
Yvie stands out as a digital lion, as does Brooke in her tide-pod fish fantasy, and Vanessa's floral Libra.
There's a few busts, Kahanna, Mercedes and Nina West in particular.
The Winners are announced to be a tie between Scarlet and Yvie, with Plastique and Shuga scoring highs. The lows are Brooke and Ariel, with Mercedes and Kahanna in the bottom once more.
We agree with the bottom four strongly, but would have perhaps put Vanjie higher than Shuga and maybe given Plastique the win overall. But, it's fair enough.
Work Bitch
The lip sync is Britney's Work Bitch. Both the girls turn the party, but the sketchy editing makes it hard to see it properly. Kahanna messes up a move, and a fire seems to be lit under Mercedes who is declared the winner.
Sadly, Kahanna seems to have let the pressure of reality television get to her. She is a fierce Queen who I've personally seen live and genuinely recommend you go see her. She's also recently released a pretty nice quality music video called "Scores":
Overall, it's a really strong episode, the challenge itself is serviceable and just okay, but everything around it was exciting and interesting. It's a good crop of girls, overall the ability level is lower than season 10, but it's probably for the best to allow these girls to not be held to ridiculous standards causing it to be RuPaul's Drag Queen With the Most Money and Designer Friends Race.
9/10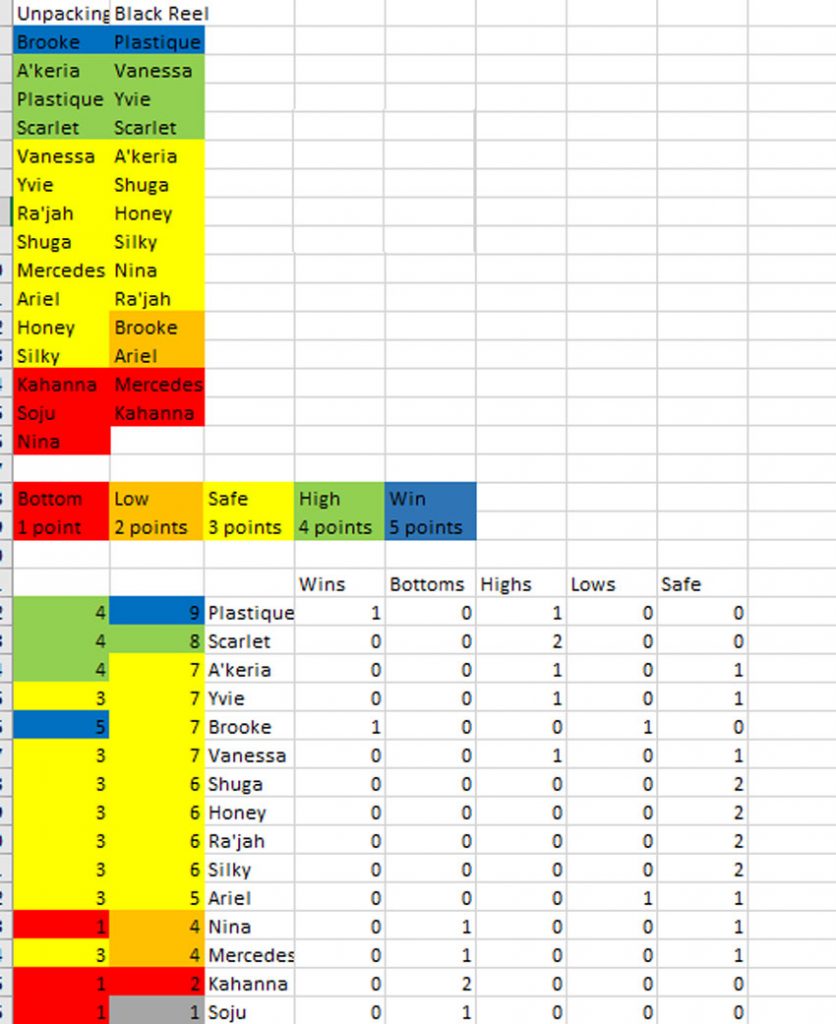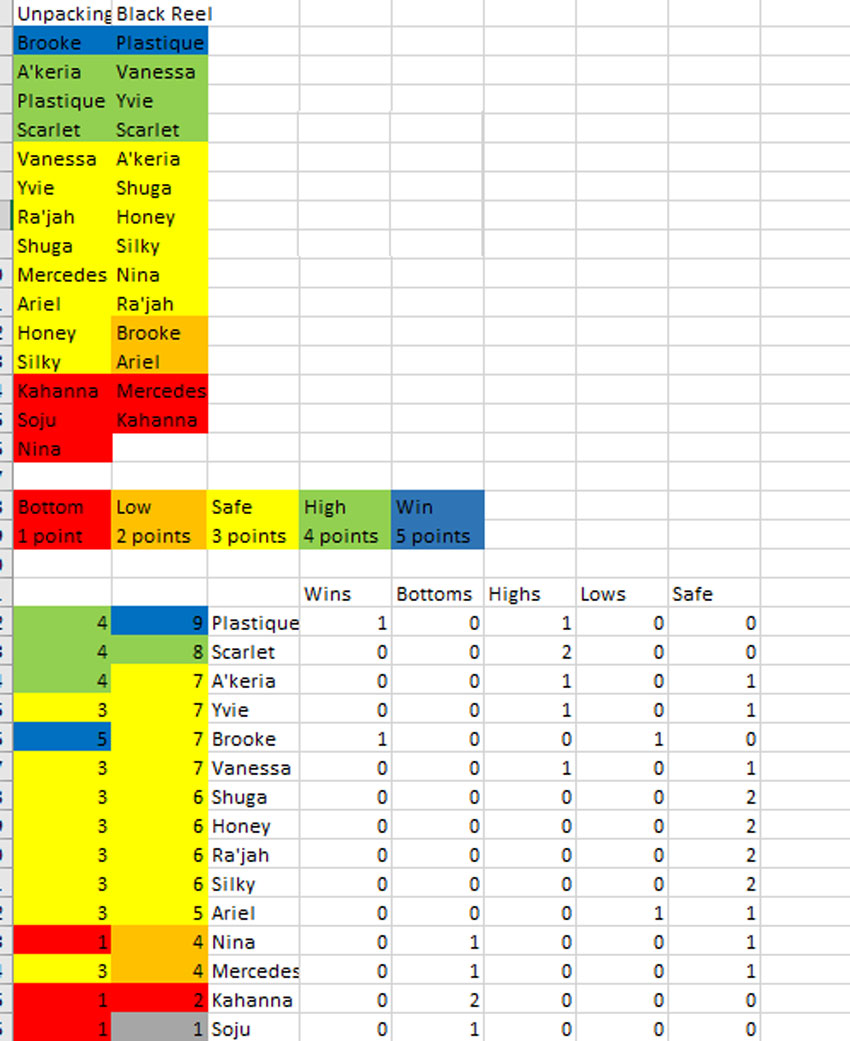 This article was written by our fabulous contributing editor, James Pearbutter.
All images courtesy of VH1.