RuPaul's Drag Race Season 11 Ep 4: Trump: The Rusical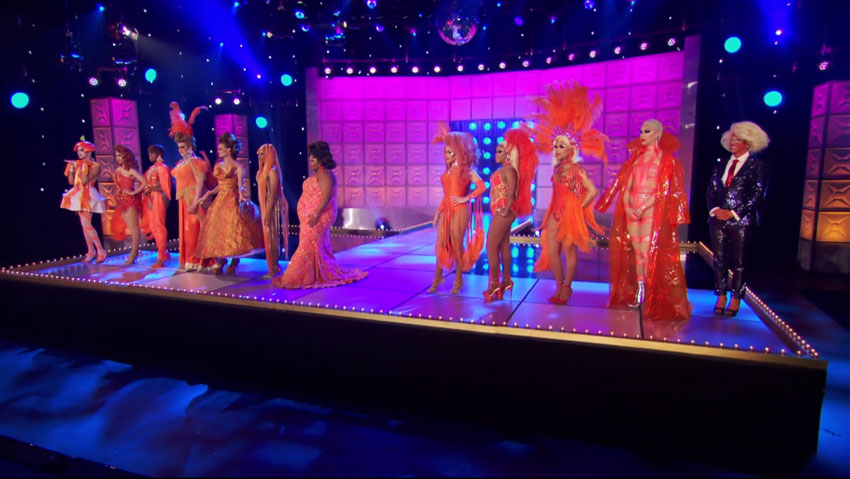 Living in America
This week's Drag Race outlined where the show sits on the political spectrum. If anyone's surprised this show has a left-wing angle, why? As the America's premier LGBTQI+ television programme, anyone who finds this episode distasteful really shouldn't be watching.
This season's Rusical stars Donald Trump and various women who have played roles big and small in his life. SNL-worthy? A cringe binge? A poignant message? Let's find out.
Honey Departed
This episode really highlighted how wonky this season's editing, the girls spend zero time remember who Honey Davenport is, who shockingly for one of New York City's most beloved Queens has received possibly the worst edit of all time, completely invisible. Moreso than Kandy Ho even.
Mad for Maddow
This episode is tied together very nicely in a way we haven't seen in quite a long time, Rachel Maddow shows up for a delightful mini-challenge where the Queens must read a teleprompter with words to trip them up, much in the manner from the memorable Oprah challenge from season 1. If only Nina Flowers could return for a cameo, but today's Queen cameo is wonderful nonetheless.
The Queens trip and stumble, but overall seem to enjoy it.
We get a lot of confessionals from the absolutely delightful Mercedes Iman Diamond, who's sweetness just makes you love her. She rambles on about fainting goats in a particularly cute Miss Fame-esque moment.
Scarlet Envy gets a $3000 gift card for the mini-challenge win and decides the roles.
Scarlet's Letters
This episode's maxi-challenge is "Trump: The Rusical", a parody on Grease (the linkage in this episode really is off the charts, and we'd love to see more of it) with roles expected and unexpected. Scarlet takes the helm properly and assigns roles carefully. It's not clear what her strategy is, but it's clear she's thought this out.
Scarlet Envy: Betsy DeVos
Nina West: Sarah Huckabee Sanders
Yvie Oddly: Kellyanne Conway
Plastique Tiara: Melania Trump
Brooke Lynn Hytes: Ivana Trump
Mercedes Iman Diamond: Ivanka Trump

Ra'Jah O'Hara: Omarosa Manigault
A'keria Chanel Davenport: Stormy Daniels
Vanessa Vanjie Mateo: Rosie O'Donnell
Shuga Cain: Hilary Clinton
Silky Nutmeg Ganache: Oprah Winfrey

Ariel Versace: Shandy, a watersports-adjacent Russian Hooker based on Sandy
RuPaul shitstirs with Ra'Jah over the "six-way gangbang lip sync" last week, and Silky discusses being a registered Republican to do her part against gerrymandering. The idea being that she's undercover when Republicans redraw district lines, perhaps on a bigger scale this could be very well a valid strategy going forward.
This episode features two sob-stories. Although both are genuine and important discussions to be had, the show cheapens them by shoehorning them into "teaching moments" thanks to the wonky editing.
Yanis Marshall choreographs and he's a refreshing change to Todrick Hall who often comes across as a little nasty on camera.
Nina & Mercedes
Nina West discusses her upbringing in a Conservative household, and later being a target of severe gay harassment at college as well as drawing attention to the Matthew Shepard murder. It's a really heart-breaking story, and really reminds us to not be complacent even as LGBTQI+ issues have had more prominence as of late. The wonky edit does take away with several unrelated cut-away shots (including one of Mercedes just walking around) that take away from the strength and power of Nina's story.
Mercedes talks about her Muslim background and the discrimination Muslims face. This is especially poignant coming not long after the tragic Christchurch shootings. Mercedes talks about the scale of discrimination, from lazy terrorist jokes, to fear-based prejudice. It's heart-breaking especially coming from Mercedes who is such a sweetheart. We get an unfortunate moment from Yvie Oddly who tells off Mercedes for not being a good enough role model. We agree that more representation and role models in the media for Muslims would be great, but Mercedes should not have to fulfil that position if she is not ready, that's a lot of pressure for someone already dealing with a lot. That said, I am sure Mercedes when she is ready will be a fantastic role model for the Muslim community in LGBTQI+ spaces.
Trump School For Girls
Ginger Minj guest-stars hilariously as Trump in an absolutely spectacular and show-stealing appearance. We didn't even recognise the Minj until the caption told us.
The Rusical itself is… not great. Musically we get the Grease beats, but it doesn't sound great in practice especially with the long music-less monologue pieces. There are several points towards the end where you think the musical is at its end, but it just keeps going and going.
It's very clear this was written with "good" and "bad" roles, with several Queens having massive monologues with funny lines and better music, and things to do, and others just in the background with half-line half-zingers. Nina West's role is perhaps the biggest perpetrator, unfortunately for Nina, she still manages to be quite one note and has that mouth-pulled-to-the-left comedy expression we've seen a hundred times already from Nina, and it's only episode four.
Silky gets the "Shea Coulee as Blac Chyna" role where she has few lines, but they make a big impact.
Scarlet Envy and Yvie Oddly get substantial character roles that they really sell. Shuga Cain pulls off a pretty good Hilary impression. Brooke gets some good choreography to show off with.
The rest of the girls have pretty non-notable roles, Plastique and Mercedes especially barely get a look in. It's really kind of unfair.
Satire and humor-wise, it's just okay. It's the Trump jokes we've heard many times over – orange, little hands – that kind of thing. It's not especially fresh, especially as there's so much content there. It's not clever, or honestly all that funny, and on some level feels more like a cheap attempt to get into the headlines about coming for Trump and a bit of viral-ity more than anything. That said, at the end of the time more knocks against Trump, are still knocks against Trump, and we'll take them. The positive message of wanting more women in government seems sincere, and it's not outright cringey. Overall, it's not great, perhaps not even good. Especially compared to previous year's "Pharmarusical" which is really the baseline for a good Rusical, it doesn't come close to competing with "Bitch Perfect" or "Glamazonian Airways". But, it's certainly not as bad as it could have been.
Orange Alert!
Today's runway is Orange Alert! A twice-scrapped runway from Season 10 and All Stars 3. Of course, it fits perfectly for this Trump themed episode.
Shuga Cain gets the message by doing a direct Trump look complete with Cheetos and a shitty attitude. Yvie Oddly also stands out in an orange fruit-circus clown mash up look that really does come together well. Ra'Jah, Plastique and A'keria all look incredibly stylish. Vanjie looks more or less like she has every other episode, corset-with-chest-glitter, as does Ariel in another big-wig-dance-leotard.
Nina West claims to be in a Barbra Streisand Hello, Dolly homage which is honestly so atrocious and not fitted to her body, it's more of a "So Long Dearie". Just… No, Nina. We're all rooting for you. Stop these awful runways.
Guest judges today are Joel McHale and Tiffany "New York" Pollard. Joel overdoes his reactions with a lot of unnecessary hooting that gets a bit grinding, even despite that he still doesn't manage to upstage New York in all her glory.
You Don't Get a Car!
Silky Ganache snatches the win for her Oprah which appears to be another Shea Coulee/BenDeLaCreme/Kameron Michaels style "you were given the best part and won accordingly" which is a bit of a shame. Yvie and Brooke get praise too. Vanessa is shredded for not giving Rosie O'Donnell though there wasn't much she could do considering the voice sounded nothing like Rosie, and the lines didn't really give much either. But ultimately, it's Ra'Jah O'Hara and Mercedes Iman Diamond who fall into the bottom. I'd like to stress I don't think either of these girls did particularly bad, really everyone was up to scratch, but these two just happened to get bad roles. Accordingly, by default we would have to agree with the bottom too.
The lip sync is James Brown's Living in America, an absolutely gorgeous pick for a lip sync. Mercedes seems to have lost confidence and given up, which honestly we don't blame her for. From the get-go, the producers have been coming hard for her. Ra'Jah SELLS this song, and it's a more than fair win.
For an immigrant Queen to go home on the Trump Rusical to Living in America leaves a sour taste in the mouth, it feels thoughtless, and just diminishes any goodwill this episode was trying to pull. It's not unfair exactly, but it could have been avoided by simply making the challenge fair in the first place It's unfortunate, and we hope to see more Mercedes in the future as she has been an absolute delight this season.
This article was written by our fabulous contributing editor, James Pearbutter.
All images courtesy of VH1.