RuPaul's Drag Race Season 11 Ep 5: Monster Ball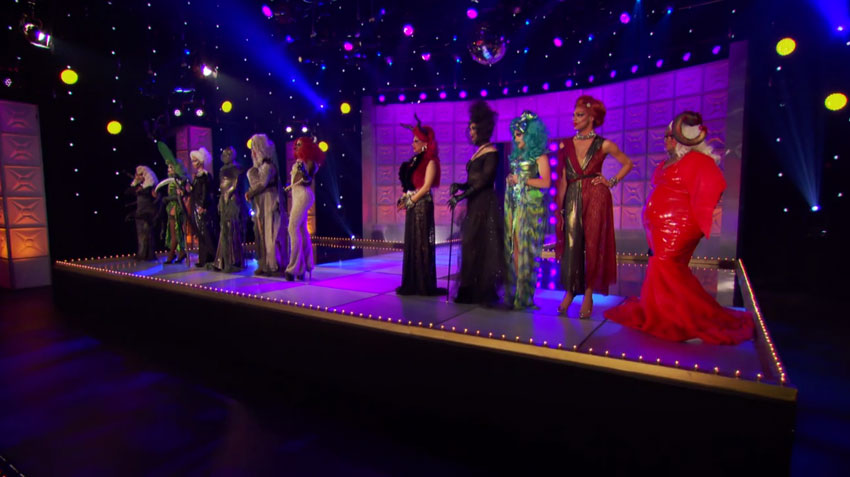 Hallowed Queens
We've waited 11 years, and it's finally time for the Halloween Ball! Tonight the Queens celebrate Drag's most important holiday, but who will be Monster Mash to the win?
Brand-jie
With the delightful Mercedes Iman Diamond leaving, there's eleven Queens left. Ra'Jah comments that she will lip sync her way to the crown if she has to, but Yvie Oddly has an issue with lip sync assassins, and complains over nothing for what feels like the twentieth time this season.
Brooke and Vanessa decide to get some screentime by going for a romance storyline. It does feel very tacked on for the cameras, but hey, shipping is popular with the kids. Gotta sell those shirts.
Valley of the Dolls
Trixie Mattel stops by for today's mini-challenge to create their very own doll.
The Queens dress up, the expected themes  – blonde bimbo, feminist stereotypes, ghetto girl all appear. Ra'Jah's ghetto girl does have the brilliant line of "extra large cup of drink" though. A'keria makes us laugh with a prison doll, Yvie does a uranium themed doll, and Ariel manages to disappoint entirely with a doll literally called "Awesome Ariel". These girls for the most part really just aren't the most creative bunch.
Ra'Jah, playing to RuPaul's personality, scoops the mini-challenge, and… wins ice-cream coupons. Really? Brooke got a trip for two to Paris. Better prizes please.
Spooky-Ooky-Kooky
The Monster Ball has three categories: Trampy Trick-or-Tricker, Witch Please and Monster I'd Like to Freak. Glamor and Spook is a most.
Lots of Queens talk about playing it safe like Silky and Nina, who have had struggles on the runway so far. Brooke, the previous design challenge winner is feeling the pressure. RuPaul completely dismisses her Pageant-girl-who-never-wins concept, which shakes her badly. Scarlet's apparent-delusion-but-she-sort-of-has-a-point show continues. Plastique who formerly did spook is dismissed entirely by the other Queens. We spend quite a lot of time with the Queens this episode and it's great to see.
Graveyard Smash
The first runway – slutty Halloween costumes, trampy Trick-or-Treater.
A'keria is interesting with her poker player. Scarlet as a pirate. Brooke does a mummy, but balances out the basic-ness of the oufit by doing literally en pointe on the runway which is spooky in its own way. Yvie in a repurposed children's dinosaur costume that just doesn't work, but she sells it on the runway. Silky in a unicorn suit. Nina is in her basic usual matronly silhouette with a Little Shop of Horrors theme (which means she stuck plant heads on her head and chest). It's okay, it's not really slutty and doesn't fit the theme. It's okay.
The second runway – Witch, Please.
This runway had a lot of the same. A lot of black cloaks and witches. Silky stands out in a "The Wiz" inspired outfit, Nina doing witch-burned-at-the-stake, again with a good concept but without the execution. Ra'Jah in beautiful emerald green, right out of Oz. Shuga is Bloody Mary, but her execution. Ariel somehow manages to be herself, but in black.
The third runway – MILF Eleganza.
In a shocking development, this runway is particularly boring. Plastique and Brooke look pretty, but the creativity isn't totally there. Scarlet does stun in a Creature from the Black Lagoon look and is the most notable of the night. Ra'Jah was the bone collector in some amazing pants. A'keria as a spider is nice enough. But, Yvie Oddly shocks in a poorly made outfit that doesn't really read voodoo. Shuga Cain is a bit basic in a look that's not clear (later apparently tribal). Vanessa just has a tombstone on her head, which is just bad. But, there's a few worse – Silky in a not-spooky, not all that well made mermaid gown, Nina in a pretty basic nothing look but has a cool face reveal. It's kind of a crap runway especially as its long awaited, and Dragula exists. Ariel appears as a mermaid with no sense of spooky in any way.
No-one's Baby, not even Rosemary's
Brooke is declared the winner which is I guess fair enough. Plastique and Yvie are awarded highs. Yvie, for reasons that aren't totally clear. Ariel falls into the bottom which is expected and fair, and Shuga along with her, there's several others like Silky or even Yvie who could have easily done so too. The real shock is Scarlet receiving no critique whatsoever. We suspect she must be going home soon if the judges continue to ignore her like this.
Ariel vs. Shuga and its "I'm Your Baby Tonight" by Whitney Houston. Why is it not "Queen of the Night", you ask? Who knows.
The lip sync is okay. Neither is really turning it out especially for such a good song, but Ariel ends up face-planting. She recovers well, but her dancing before or after is neither here nor there so she gets the chop.
There's one word for these runways: BOOTY HOLE!
3/10
This article was written by our fabulous contributing editor, James Pearbutter.