RuPaul's Drag Race Season 11 Ep 9: LADP!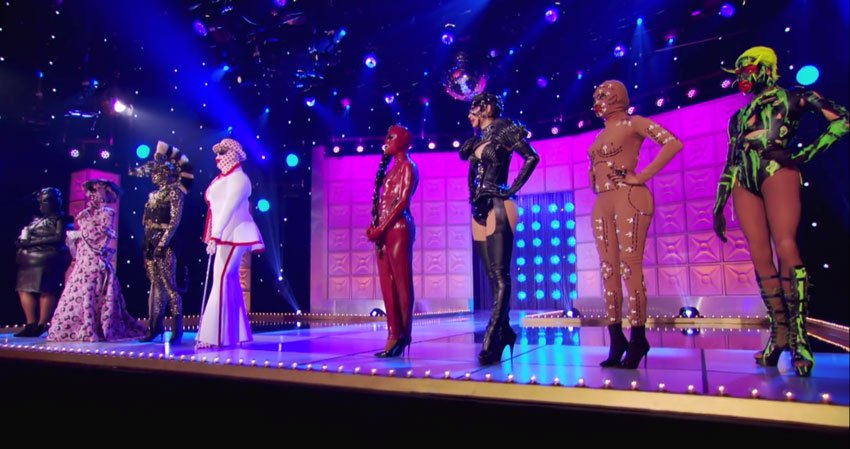 Now Slightly-Less-Drama-Free
Today's Drag Race episode features guest stars that the Drag Race fans don't hate, Cheyenne Jackson and Fortune Feimster, to help this crop of Queens be funny in an improv chop challenge. Will they tickle our funny bones, or be under arrest for mis-de-humor?
The Library is Demolished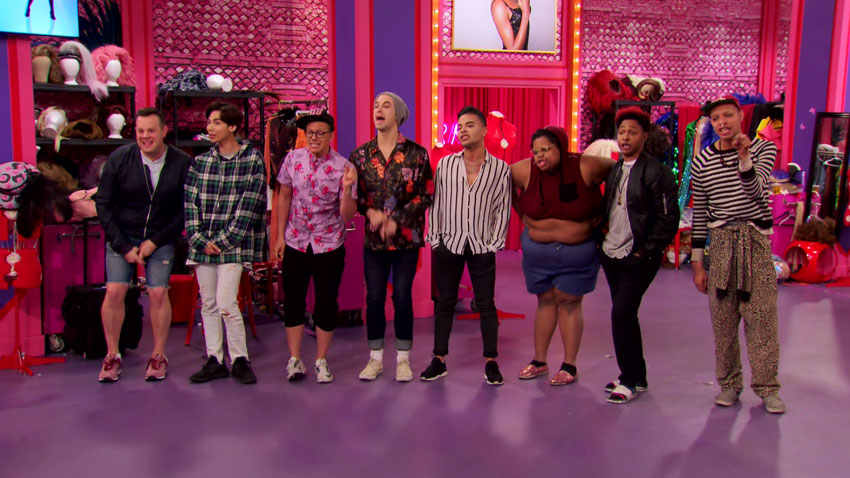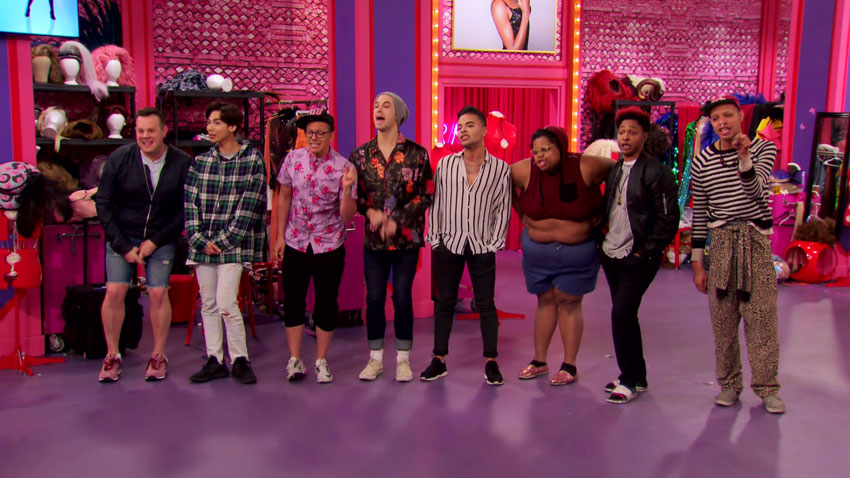 Today's mini-challenge is suspiciously the Reading is Fundamental mini challenge. Why is it suspicious? They usually do this at top 8, but appeared to wait/after/ the double shante to do it as if they knew it would happen all along. Hmm…
That said this is truly a disaster of a reading challenge. Every season has had its fumbles. Laganaja Estranga, Coco Montrese, Miss Fame, Manila Luzon. Most of season 9, but today nearly every Queen manages to fuck it up, and fuck it up they do.
Nina, despite her age, looks at RuPaul like an earnest child every time she speaks for reassurance. (she doesn't get any).
Brooke and Shuga bring out tired jokes that are either specifically stolen, or are so overused they don't even know where their jokes come from. Silky channels Laganja herself (though does have a funny literal footnote gag but it doesn't make up for the rest of her set) with flailing arms and a voice that reached Uranus. Plastique was both flat and flat-out bad. Yvie worse. 
Vanessa a non-event. A'keria slid through okay though, but it was nothing special. Most of the funniest moments, if you could count them as funny, were the Queens responses to the reads.
Let us never speak of the Reading Challenge again. 
Brooke Gets the Girls Shooke
Brooke wins by default and gets to pair up the Qweens fro today's cop improve challenge with returning guest judges Cheyenne Jackson and Fortune Feimster. She gets a bit shady by making bad pairs. She pairs herself up with Nina seeing her as the comedy Queen of the season. She then proceeds to match up who she sees as a weak girl with a strong girl.
Brooke & Nina: Indecent Exposure at the Trailer Park
A'keria & Yvie: Twerking Girls Corner Distrubance
Plastique & Vanessa: Catfight at the Liquor Store
Silky & Shuga: Back Alley Butt Pads
Cop Outs
Brooke goes for a free-spirit hippie type while Nina opts for a conservative figure (similar to what scored her the win in the Evangelical challenge). Brooke does surprisingly well, though a few of her jokes seem to be nicked by the Simpsons and other sources but her execution is good. Lots of sight gags and physical humor, while Nina flails without much to do, she lowkey blames Brooke for sucking up the airtime this but does so nicely. 
A'keria slays the challenge more so than anyone else today. The highlight is her twerking-while-crying and she has the most connection and interaction with the guest judges. An absolute must for improv. Yvie doesn't match up but she's not totally dead in the water and is very safe.
Vanjie and Plastique are flat out bad and unwatchable. It's just a mess, they're also literal cats. There's not much to say but skip this bit on the rewatch.
Silky does well, though it's a character we've seen before, but her interactions with Fortune are hilarious, Shuga is okay but like Nina gets a little drowned out.
I Give Face-Kini-Face
Today's runway is facekini themed. 
Silky lazily doesn't bother to do a face underneath at all with just a simple lip. It's a huge risk, and Michelle clocks it. A'keria looks solid in a plastic surgery themed bodysuit, it's not an idea we haven't visited before, but it's got a new twist and is executed well. 
Brooke looks good in a zebra steampunk, but on closer inspection the detailing isn't all there. Plastique is in a corset she's worn three times now, which Aja also wore on her elimination on season 9. It's a no from us.
Vanjie meanwhile is NOT in a corset but in a leather shirt and pants. Unfortunately, they're ill-fitted and it's poorly executed. Boot. Yvie's face is impressive, but the overall concept is surprisingly predictable from our odd Queen.
The stand-outs are Nina West in a Leigh Bowery-inspired polkadot that's sleek and elegant for once, and Shuga Cain wins on the runway two weeks running with her Mary Poppins dress-kini. Fantastic work.
A'keria is rightfully declared the winner of the challenge, with Brooke and Silky joining her in the high position. Yvie and Nina are safe with Shuga low, and Plastique/Vanjie is bottom two. It's correct. We might argue Nina was worse in the challenge than Shuga especially as their runways were on par with each other, but that's a nitpick.
Fantasia 2.0: Mateo vs Edwards
Long-time fans will recognize something familiar about this lip sync (Hood Boy by Fantasia). Back in season 3, Vanessa's Mother, Alexis Mateo went head-to-head with Plastique's sister Shangela in the Hair Ball to Fantasia's "Even Angels". Back then the Mateos won out with Alexis Mateo, one of the most underrated lip sync assassins in herstory annihilating Shangela.
Similarly that's what happens here again. Plastique is okay, she tries for Alyssa's touch-the-wall move from the Ivy Winters lip sync, and pulls out a few tricks but they don't really connect with the song. Vanessa does well, it's not the most memorable or special but she's the clear victor here and wins accordingly. Though Plastique has been doing well in the competition and much better than Vanessa, it's a fair elimination.
Final Thoughts
It's slightly less dramatic which is a change of pace, but perhaps that's a good thing. We get a much more balanced episode with most Queens getting screentime and a bit of an unexpected ending. The judgments were correct today as well which is always a good sign.
A'keria also was really truly hilarious and perhaps this is the funniest thing we've seen all season. It's the best episode so far and all we can say is "I am A'kerian, A'kerian, A'kerian, just like you too".
8/10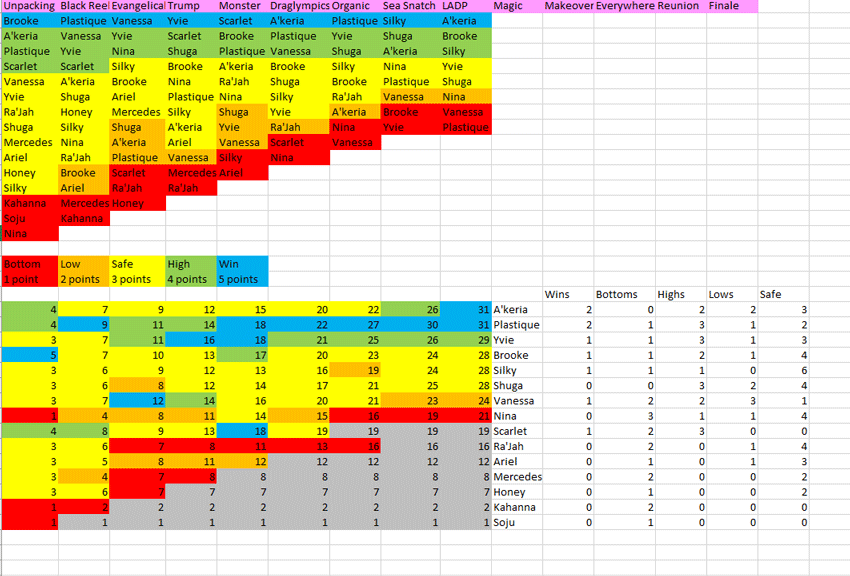 This article was written by our fabulous contributing editor, James Pearbutter.
All images courtesy of VH1.