Drag Race Season 11 Finale Predictions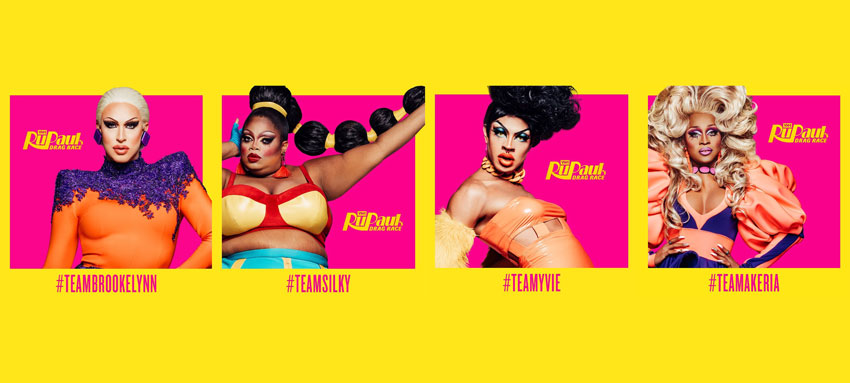 We have our final four Queens of the season, but who will win that elusive Next Drag Superstar title?
In this article, we're going to discuss who has the best chance at the Lip Sync for the Crown finale on May 30th. A mix of producer-magic and lip synching ability wins the crown. We saw Sasha Velour beat out front-runner Shea Coulee thanks to a well positioned gag on season 9 and Aquaria fuck up only to be free-passed and win the crown on season 10, so it's really not quite a fair competition and we have to account for what the producers think will best represent their brand, what the fans will respond well to, what will make good tv and what storylines are going on.
But, first a little discussion on who our four Queens are and where they sit in the competition.
Brooke Lynn Hytes
First up is Brooke Lynn Hytes. Our official front-runner for the season. Brooke's impressive run has her obtaining the most wins with three, and highs in nearly every episode bar three. In those three she received one low, and two bottom placements but overall a huge success. We personally think some of these wins were a bit dubious, but there you go. Brooke goes into the finale with the strongest position. Brooke is a ballerina and pageant Queen originally from Toronto and now residing in Nashville. She's become known on the season for her rather demure and less vocal personality, not on the level of Kameron Michaels. She also has a shady streak and sometimes is too polished to the point of dull. She's also given us a killer lip sync, but also bombed Snatch Game which rarely happens for winners (hey, Trixie). The first Canadian Queen, and first real dancer Queen is new to the Drag Race Winner's Circle.
Brooke's ballet skills may give her a unique edge in any lip syncs, and as a producer darling and fan favorite she's in with a strong chance, if not the strongest chance overall.
Silky Nutmeg Ganache
Silky was our original expected winner but after seeing her edit. Boy, we've changed our tune. Silky is the next strongest after Brooke with two wins, and only on lip sync for your life (she blames Soju). Though she does several lows. Silky got hit big time with a villain-type edit where she came across as obnoxious and deluded to fans who responded harshly. Along with fans feeling she's been coasting on personality and the stigma against big Queens and even more so against queens of colour. Silky is not looking hot going into the finale, even with a sudden redemption edit on the last episode. We expect Silky will be booted round one, followed by a full All Stars redemption in a few months. Nonetheless, if she were to win she would be the first big girl (aside from Natalia P'liacam) and would carry that mantle of Black Southern Pageant Beauty tradition that any oldschool drag of fan loves, but we have yet to see actually be part of the Winners' Circle yet. Her lip sync was a major bust and one of the worst of all time, but from her past lip syncs, she does have it in her and she could ready to do so this time.
A'keria Chanel Davenport
A'keria comes up third, with two wins and two bottoms, though we must point out one of those bottoms was the infamous six-way lip sync where A'keria probably shouldn't have been to begin with. A'keria bloomed relatively late in the competition but snagged a crucial win in LADP –  showing completely unexpected comedy chops. A'keria hasn't had as much screentime as the other three finalists, and like Silky suffers from the same racial biases of the Drag Race audience that knock her back. This girl cannot be start, in fact, in our own run-through, we had A'keria edging out Brooke as the best stats. A'keria would be the pageant winner we all deserve and would twerk and work the title with pride. However, due to her relative lack of popularity among the audience we can't see her Bob-the-Drag-Queen-ing to the win as she hasn't dominated the competition as much. We expect she too will be booted round one. But still, could she twerk her way to the crown?
Yvie Oddbly
An interesting case. The worst official stats with a single (shared) win with Scarlet Envy (10th place) and one bottom on Snatch Game. However, Yvie is overwhelming the fan favorite with her unique aesthetic and her manic pixie dream girl-style personality where she's just not like other girls. Say what you want, it speaks to a lot of oddball kids out there who feel like they haven't found their place. Yvie has struggled in the last half of the competition, but turned it around on the music video challenge with a perfect storyline and momentum for the finale. It may be an upset to have the worst stats win, but hey Sasha Velour was third worse on season 9 and took it home. Yvie's added flexibility and penchant for twists could make her the perfect candidate to win a Lip Sync for the Crown. Yvie could take it this year and it wouldn't be unexpected, however, we think her popularity is so great they'll want her back for All Stars especially as with more polish and money her creativity could shine even greater while Brooke hasn't got much left to squeeze out of her. We think Yvie will make a runner up.
So, what do you think? Who will win season 11? Who will be back for All Stars?
Are you excited we're finally going to see Mercedes Iman Diamond again? We sure are! See you at the finale!
This article was written by our fabulous contributing editor, James Pearbutter.
All images courtesy of VH1.