RuPaul's Drag Race Season 11 Finale: An Yven Odder Winner!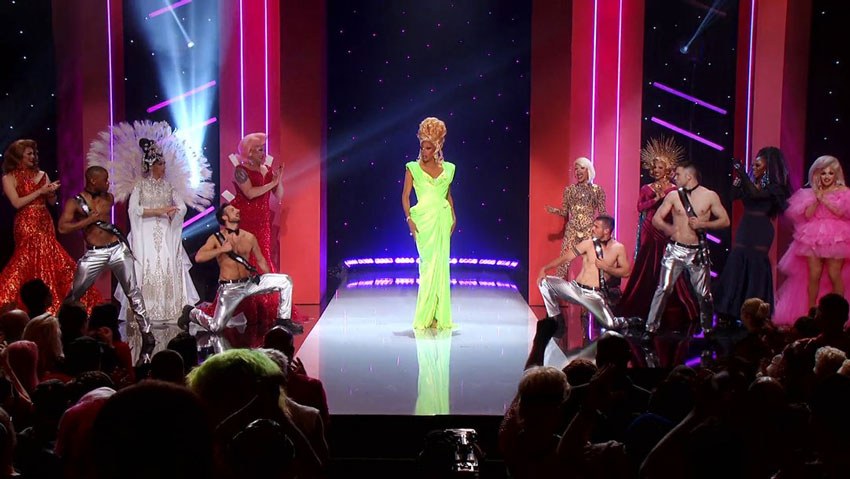 The world of Drag has a new Superstar in Yvie Oddly.
The Queens of season 11 are back one more time at the Orpheum Theatre for a runway, and a lip sync smackdown between Silky Nutmeg Ganache, A'keria Chanel Davenport, Yvie Oddly and Brooke Lynn Hytes. Perhaps, Yvie just won so we didn't have to keep typing up the long names of the other three.
The Runway
Soju, Kahanna Montrese, Honey Davenport, Mercedes Iman Diamond, Ariel Versace, Scarlet Envy, Ra'Jah O'Hara, Plastique Tiara, Shuga Cain, Nina West and Vanessa Vanjie Mateo all stomp down the runway first. Most look sickening with special regards to Shuga, Plastique, Ra'Jah and Mercedes. The only let-downs are Soju and Nina who have ideas, but the execution and fit is just so off it throws everything out of whack.
We spend some extra time with fan favorite, Miss Vanjie who gets a cute little interviewing segment and demands she gets her name on the wheel too.
We then spend a little time with each of the top four in some new segments where everyone basically says that, yes, they would like to win this competition. It's the same issue Drag Race has always had… they just can't get the finales right.
Former Queens stomp down to a Sissy That Walk mix with Christina singing…
Eureka, Mayhem Miller, Monique Heart, Blair St Clair, Jaymes Mansfield, Pandora Boxx, Mrs Kasha Davis, Nicole Paige Brooks, Jasmine Masters, Yuhua Hamasaki, Venus D Lite, Raja, Kennedy Davenport, Ongina, Kimora Blac, Serena ChaCha, Sonique, Alexis Mateo, Coco Montrese and Morgan McMichaels all shown up on stage. Mrs Kasha Davis, Yuhua Hamasaki, Blair St Clair and especially Ms Raja herself all sell their garments for a high return value.
The Stats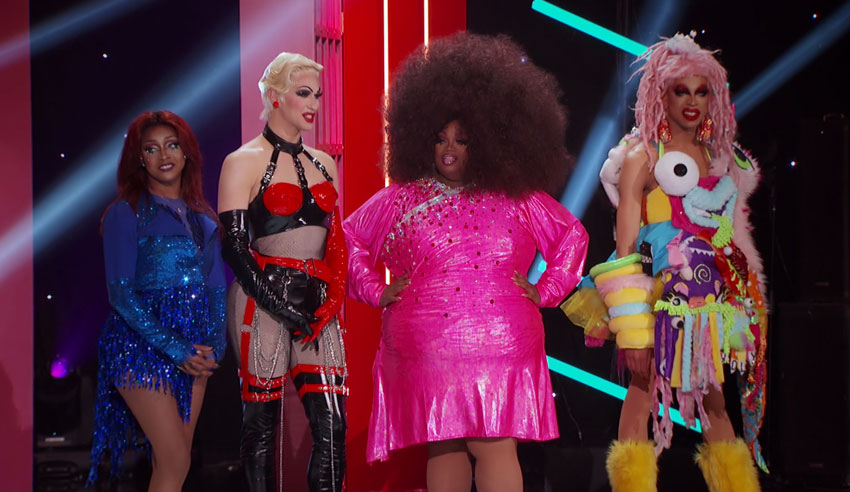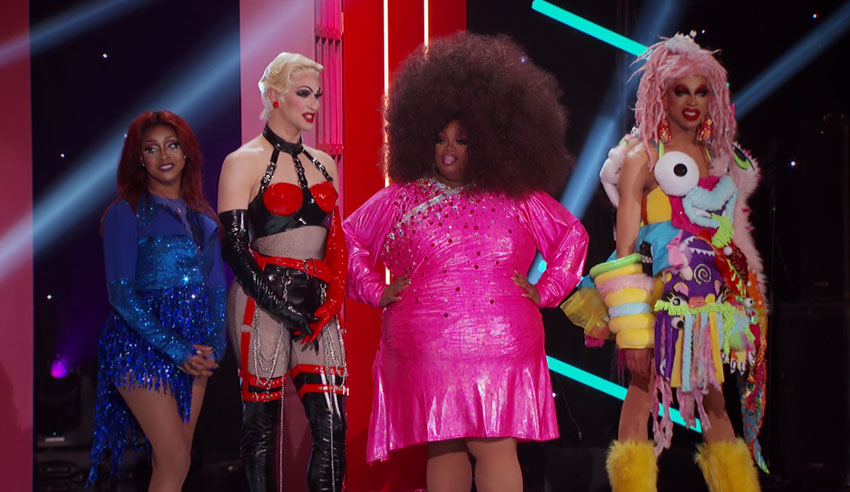 Just to clarify where we are at officially:
Brooke Lynn Hytes: 3 Wins; 1 Bottom
Silky Nutmeg Ganache: 2 Wins; 1 Bottom
A'keria C. Davenport: 2 Wins; 2 Bottoms (one was the 6-way)
Yvie Oddly: 1 Win; 1 Bottom
The Lip Syncs
The wheel lands on Silky who spends eight years selecting her opponent. Fans might have expected her to pick season rival, Yvie Oddly, or friend A'keria to ensure one of the Dreamgirls makes it to the finale, but surprisingly she picks Brooke Lynn Hytes. Perhaps now that she's patched the bridge with Yvie, she simply didn't want to compete against a friend.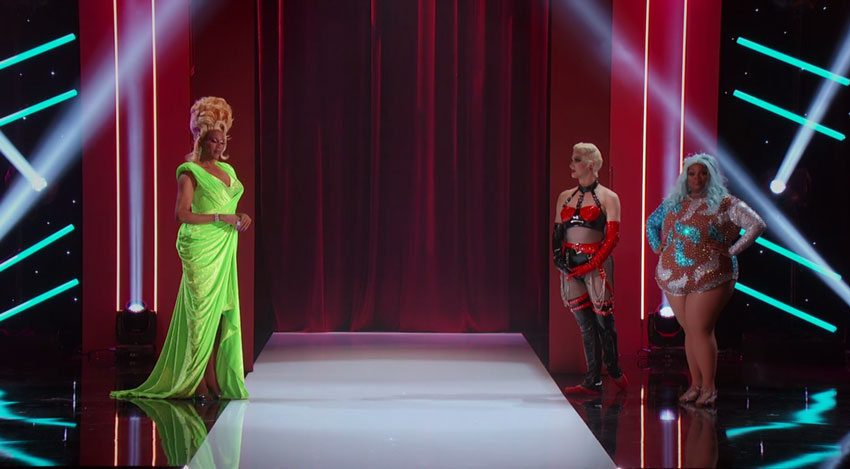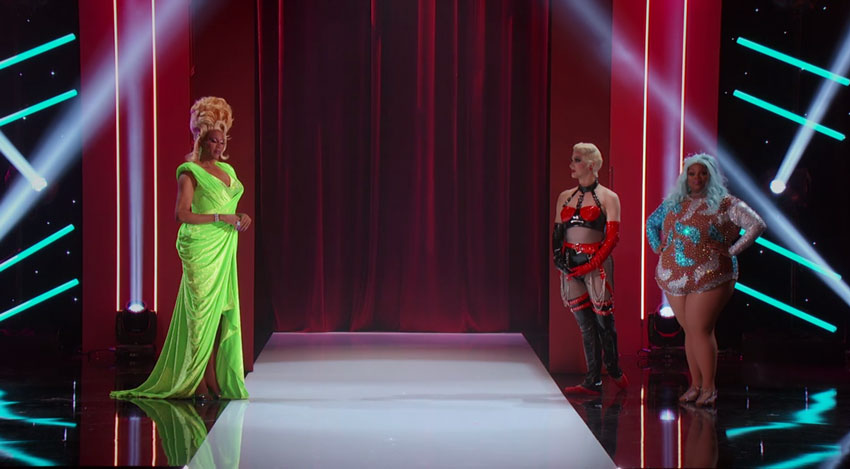 The song is Bootylicious by Destiny's Child (They spend MONEY on these songs). It's hard to tell how well Silky does as the camera that had been chasing her for every last word all season appears to ignore her while we see lots of Brook's moves close up, including a reveal that she is en-pointe (again). Brooke struggles to find the balance between en pointe being part of her act, and a gimmick which often means we don't know how to receive it as fans, but the energy is high from both girls from what we can see and it's anyone's game. Officially, Brooke Lynn wins and Silky gracefully is eliminated.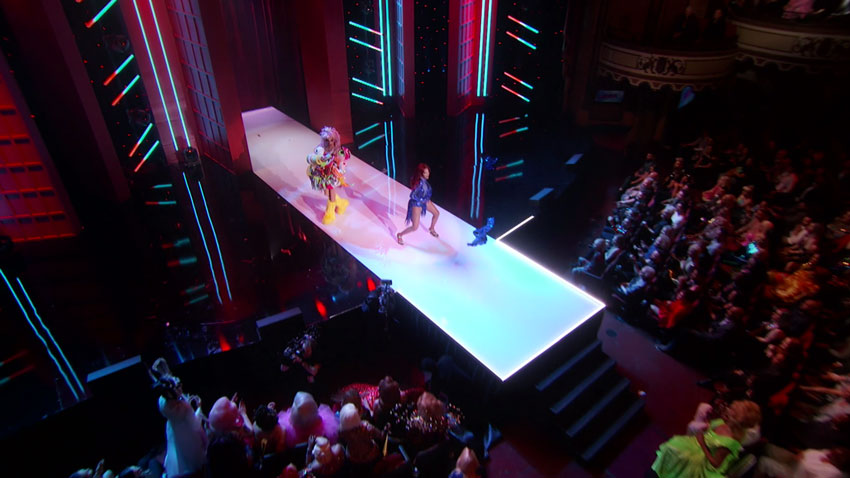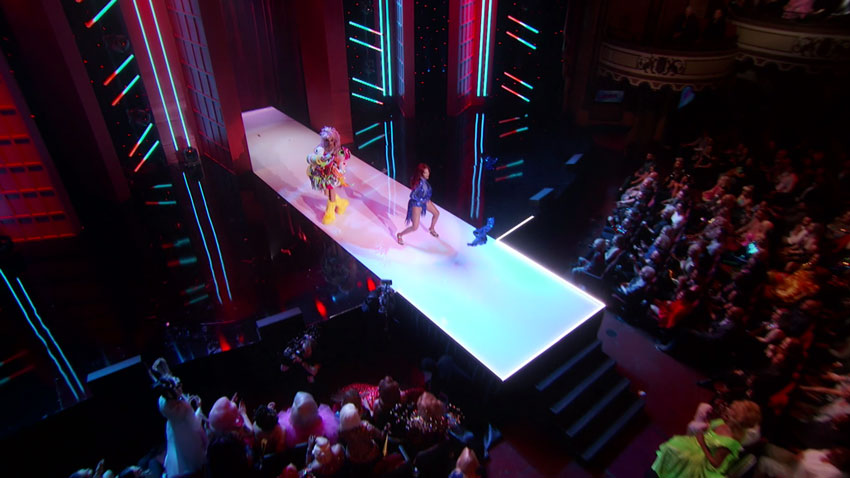 This leaves A'keria vs. Yvie to SOS by Rihanna (This is where that Ruveal budget went). A'keria's reveal has her wig go from a normal one to one matching her outfit, as we'd seen her in a similar on in Queens Everywhere the impact is really not quite as strong, Yvie serves us a weird mishmash of a garment that somehow works and Yvie this time is a much clearer winner. Ru accepts this and proceeds.
The Final Round
It's the Sorry-Not-Sorry Rematch between Brooke and Yvie. Yvie in a large heavy gown with mirror pieces that reflect her face on either side, a brilliant concept that works perfectly on television. Brooke is in a clock that says "reveal" all over it.
During the performance, each girl turns around for a reveal, Brooke turns to show "time for the reveal" on her back and drops into a dance outfit, while Yvie reveals a face-like glowing mask on the back of her head – another iconic television moment. Yvie has high energy and does a FLIP in a GOWN. Executed perfectly, while Brooke sort of rehashes her Snatch Game lip sync.
Then it's time for the winner… and it's…
Yvie Oddly!
It's clear that Yvie speaks to the kids, and that her final lip sync was better, she may have tumbled in the second half of the season, but she picked herself up for the Queens Everywhere episode and sold it in her lip syncs on the night, so overall, it's a fair win.
That wraps up season eleven!
See you on All Stars 5. Be sure to check our All Stars 5 predictions!
This article was written by our fabulous contributing editor, James Pearbutter.
All images courtesy of VH1.