RuPaul's Drag Race Season 12 Ep 1: I'm That Bitch Recap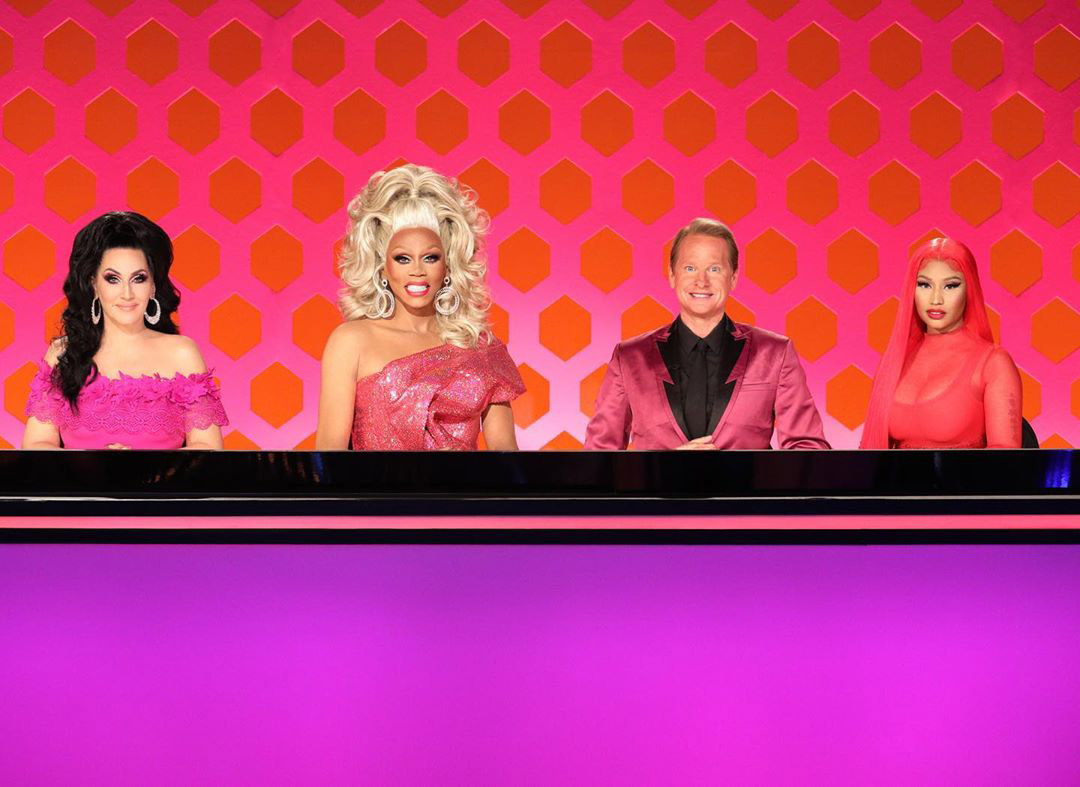 There's Still Life in This Old Bitch Yet
After a shoddy eleventh season from start to finish, I couldn't help feeling Drag Race had done its dash, but tonight's episode has given new life to this tired ass showgirl show and I'm living. This was the premiere of season 12 with a few differences, a split premiere (last seen season six), a spring/fall mini-challenge (last seen season seven) and a "record a verse" challenge for the first time instead of a sewing.
It's inevitable that we will see more musical challenges with how they can generate further capital even after airing and are probably some of the most powerful advertising tools the show has at its disposal. Tonight's guest judge was Nicki Minaj herself who was more engaging that Christina Aguilera and Miley Cyrus, but less so than Lady Gaga. She got involved in a cute skit which I enjoyed, but enough about her. Let's meet the queens.
Brita (Filter)
Brita, the Polynesian Princess from NYC is currently a big name in town and as usual, the big name came in first with a drink in hand. Brita's mini-challenge looks were a (es fabvric) blue tulle look and an oil slick-themed gown. Both beautiful, but not necessarily jaw-dropping. Her sparkle runway had hair to die for and she shone in sparkling silver, but her verse was probably the worst of the night and so was her choreography.
Brita showed signs of cracking early on and it seems this might be her story for the season. The big name who cracks. In a dispute with choreography Widow Von'Du, Brita kept questioning Widow's skills and leadership ability, but it sort of came across as worried about not being able to keep up. What we got, in the end, was more simple choreography, but it was pretty shoddy and Brita's verse was basic and routine. That said, the judges seemed to free-pass her, so we're anticipating a Max/Acid Betty/Aja/Blair St Clair/Scarlet Envy run of early success and pegging her for the shock early elimination around 8th or 9th place.
Nicky Doll
A fashion queen originally from Paris France, but now from New York. One thing we're already tired of is the producer and judge's sniggering at the expense of her accent despite her English being near-perfect. Nicky was my favorite on the mini-challenge with a gorgeous suit-hat-monocle combination and a floral lavender number. She served as the peacekeeper between the dancers and the not-dancers-please-don't-make-us-dance-ers.
Unfortunately for Nicky, her energy faltered when she served as back up for "I'm That Bitch" with several moments where she failed to lip-sync due to nerves. She shone in her solo section, but her low energy elsewhere was clocked from the judges pretty fast which resulted in her in having the worst critiques of the night despite an amazing mini-challenge and her gorgeous silver feathered look supposedly factoring it. We suspect that Nicky will be an early-out from this treatment.
Widow Von'Du
Yes, she betta du and yes she betta did. Widow watched season 11's "An Hour with Plastique Tiara" and said to herself "oh so we can get our own themed episodes dedicated to us now?" and decided she'd make the premiere episode her own. This was Widow's world and we were all living in it. A strong mini-challenge, the neon neoprene spring look was another favorite of the night, different to expectations but still sold it, her beige fall look was beautiful but understated. That said it was a long way from a boot.
Widow took the role of choreographer until it was given to Heidi N. Closet when other queens took issue with the level of difficulty and Widow appeared to be in poor spirits, but when it came to do the challenge Widow stunned with the best lyrics (girls get mad when they look at these thighs; they rub together like they harmonize, and I'm still serving look while I'm eating these fries) and the best overall performance. She was rightfully selected as Top 2 (though it could have easily been top 1) and ate the stage up in Starships. Truly the weight to make this premiere a memorable one was squarely on Widow's shoulders and she served like no other.
Jackie Cox
We're getting serious judge's pet vibes from this one, but we'll get to that in a minute. Jackie's mini-challenge looks were both 60s throwbacks, charming and effective and nicely done in a way that made the spring/fall collections sharing similarities but still being distinguishable. Jackie stirred the pot several times, so she may be the Chessmaster of the season, it was all quite subtle and she still managed to be on everyone's good sides outside a similar dispute to Brita with Widow over the choreography.
Jackie in the mini-challenge was another story though, some cute fresh lyrics that she sold with her face and attitude, going for a comedic route but the dancing was painful especially as it was so simple. As discussed before, the choreography technicality was pretty low overall but even then Jackie, Brita, Crystal and to a lesser extent Gigi and Nicky couldn't keep up. There was some funky looking hip dancing from Jackie too. She was clocked for an obvious (you won't be able to unsee it) beard, but it was packaged in a Miz Cracker-style fluffy cinnamon bundle from the judges which makes us think she'll go far regardless of how well her performance is.
Heidi N Closet
The robbed Queen of the episode. Charming and goofy, Heidi is already a fountain of viral internet potential – including fake trap doors, chicken noises, and leprosy (sic) print. Heidi is lesser-known compared to other queens of the cast, but that only serves to make her more interesting. She had a few disaster moments including a falling headpiece on her floral splash billowing spring mini-challenge look showing her real hair, but her fall look was cute and clean. However, where Heidi really shone was in the choreography giving us some of the highest acrobatics and tricks we've EVER seen on the show (outdoing Chi Chi DeVayne, Katya, Yvie Oddly, Kennedy Davenport, Laganja Estranja and Shangela) with the highest technical ability on the mini-challenge only outdone to Widow's slightly more controlled performance and stronger facial expressions.
 Despite this all, the judges picked on Heidi quite a bit. Making fun of her name (I think it's cute) and Nicki Minaj tearing into her that she hate-hate-HATES her makeup and hair (the wig I agree, the makeup is fine). Heidi later gave us life by coming for Nicki Minaj herself in Untucked and sort of exposing Nicki as that girl who writes shady messages in the comment section and goes "oh it was a joke heehee love you queen" when called on it. Apparently, Heidi received the second-worst critiques, but that's something we're featuring. We would have given her top 2. That said, the negative critiques on an obviously positive performance do not bode well for Miss Heidi who is at risk of being an early out or a designated lip-sync assassin.
Gigi Goode's Mom
Gigi Goode's mother is a costume designer and her presence was felt hard this episode. Gigi's mother prepared a gorgeous easter suited look for the spring runway and a stunning riding outfit with cut-outs for the chest for fall. Neither was perhaps the iconic moments of Violet Chachki's two-in-one tartan reveal that they banked on, but they were gorgeous all the same. She also created a beautiful pirate look for the entrance (the thunder of which was stolen by Heidi N Closet's pirate commentary).
For the mini-challenge, Gigi was squarely in the "not-a-dancer" category but we didn't see her speak up much about it, it came through in the challenge with pretty stiff moves where she barely moved or made use of the stage. Not to say her performance was terrible, there were no bad performances tonight and Gigi's lyrics were cute. Nicki pointed out Gigi's "left on read" lyrics specially, but I kind of felt – you know, everyone's been saying that one (Read U Wrote U anyone?). Gigi was awarded a top 2 spot, it was a bit confusing how she got there, but it seems to be due to her mini-challenge looks more so than the challenge ones (Nicky Doll could not be reached for comment). Widow consequently wiped Gigi in the lip sync, Gigi apparently attempted a comedy routine of sorts though it involved her not lip-synching sections and came across more like a love child of Dusty Ray Bottoms and Scaredy Kat's lip syncs. Maybe it's strategy? That said, Gigi is going to be a contender for sure whether she continues to do well or not.
Crystal Methyd
Weirdo queens have been done before, but Crystal seems fresh and genuinely seems to care more about having fun and doing her own style of drag for her own satisfaction rather than making a big commentary about how the nerds and weirdos and something-something inspiring the children even though everyone else on this show is just doing that in other ways. Not to @ anyone (Yvie and Cracker). Crystal's make up was clocked by Michelle like Dusty before her, but it was softer and kinder and we think as long as Crystal does a different face one time, she'll be fine. Her spring runway was cute if a little chaotic, but her fall look was a Freddy Kruger-themed outfit that was chic and fashion, but still the ooky-spooky.
Crystal was squarely part of the "not dancer" but her weird dance moves sort of worked for outfit and routine in an other-worldly way, so we would put her squarely in safe. Otherwise, there's not too much to say, she perhaps fell into the cracks this episode but didn't come across as quiet either, we expect to see much more of her in the future.
So there you have it, an excellent episode where every queen did very well or at least better than okay, not a single boot across the 5 (FIVE!) looks they served each and a delightful guest judge. Can't ask for more than that.
10/10
Join us next week to see Jaida Essence Hall, Aiden Zhane, Dahlia Sin, Jan and Sherry Pie for a  Cell Block Tango verse challenge. It'll be a tough act to follow.
Our Ranking:
Winner Winner Widow Dinner.
Top 2: Heidi N Closet
High: Gigi Goode
Safe: Crystal Methyd
Low: Jackie Cox
Bottom 2: Nicky Doll and Brita.
This article was written by our fabulous contributing editor, James Pearbutter.