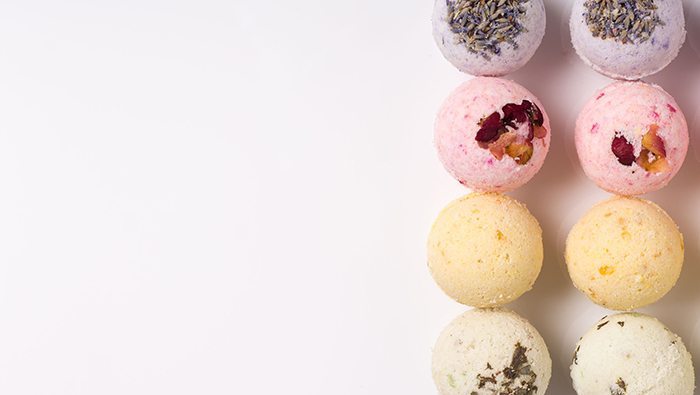 Bath bombs are a fun, unique way to get the most out of a long, hot bath. Like many bubble baths, bath bombs infuse your bath water with lively fragrances, invigorating essential oils, and stimulating colors to provide you with the best bubble bath experience. There are several commercially available outlets in which you can purchase bath bombs, but believe it or not, making them is easy, fun, and more cost-effective than you might think.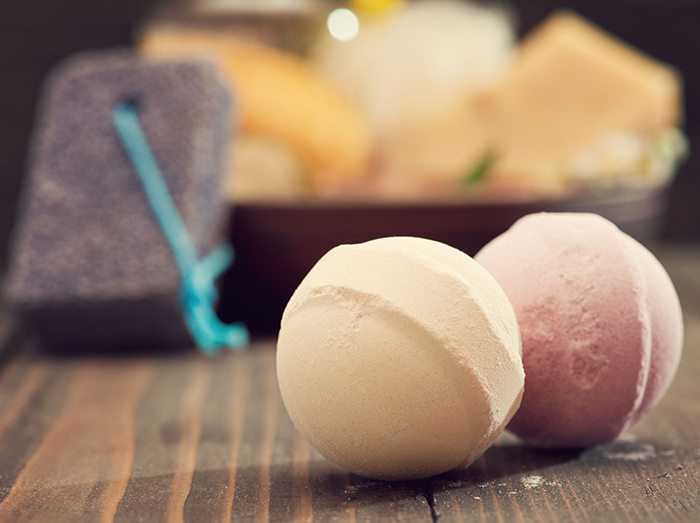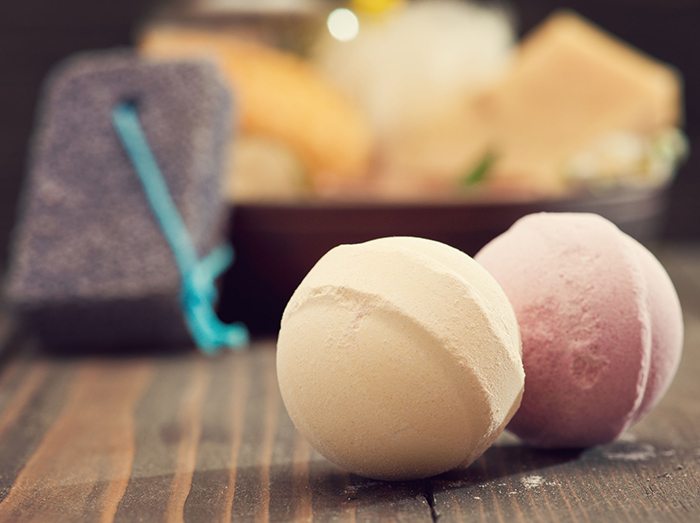 What is a Bath Bomb?
If you've never used one before, you may find yourself asking, "What are bath bombs anyway?" These are dry, typically round (more on that later), tightly-compact balls that your drop into your bubble baths to infuse them with differing qualities. While the ingredients of your bath bombs will vary based on your bath bomb recipe, they are typically composed baking soda, Epsom salt, citric acid, and varying essential oils. If you think back to chemistry class, you'll already recognize the tantalizing formula at work here. By combining two parts dry base, in the form of baking soda, with one part dry acid, citric acid, once wet, the resulting chemical reaction
If you've read our blog post, "Ultimate Body Cleanse: 12 Body Detox Methods", then you already know about the benefits of essential oils found in ginger, lemon, and antioxidants in green tea. You also know that your skin plays a vital role in the absorption of, and release of toxins from your body. Much like essential oils, Epsom salt and other mineral salts, as well as sodium bicarbonate, aka baking soda, play a vital role in overall health, skin health and overall well-being. The muscle-soothing qualities can help to soothe your body after completing a workout before a night out, or transform your bubble baths into a vessel to open your mind in preparation for spiritual enlightenment and meditation.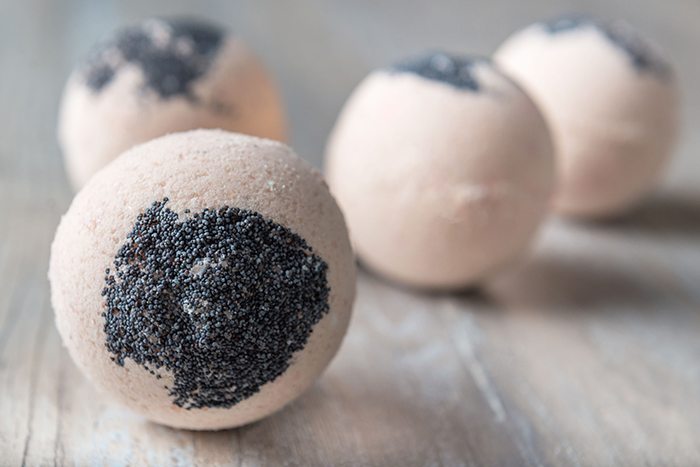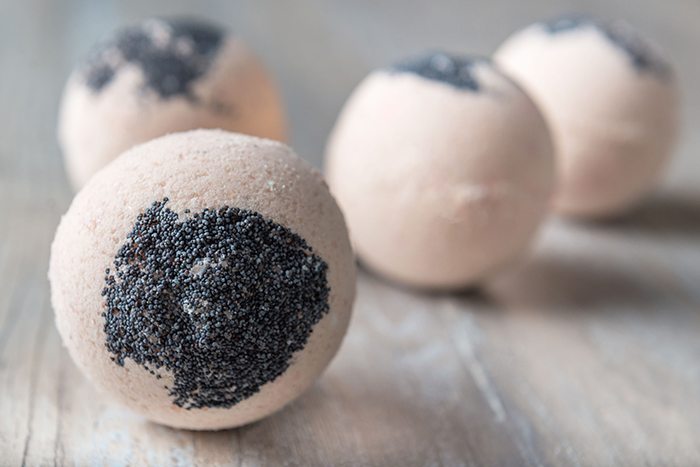 How to use a Bath Bomb
Using bath bombs is an enjoyable and super easy process. Run a hot bath to a temperature that is both comfortable and pleasing, drop a bath bomb or two in, let it fizz for a few minutes, then enter, sit back, and relax. How long you choose to stay in these bubble baths is up to you, though bath bombs designed for easing muscle pain, for medicinal purposes, or even for a romantic night in may warrant more of your time than others. One benefit to making homemade ones as opposed to using store-bought products is that you can alter your bath bomb recipe to suit your personal preferences. If you want a bit more fragrance, a little less color, and a stronger essential oil punch, you're in control and can do just that. Not only that, but making homemade bath bombs is fun, and if you get into the habit of using them, it is far more cost-effective to make them homemade than to pay top dollar for ones at the store.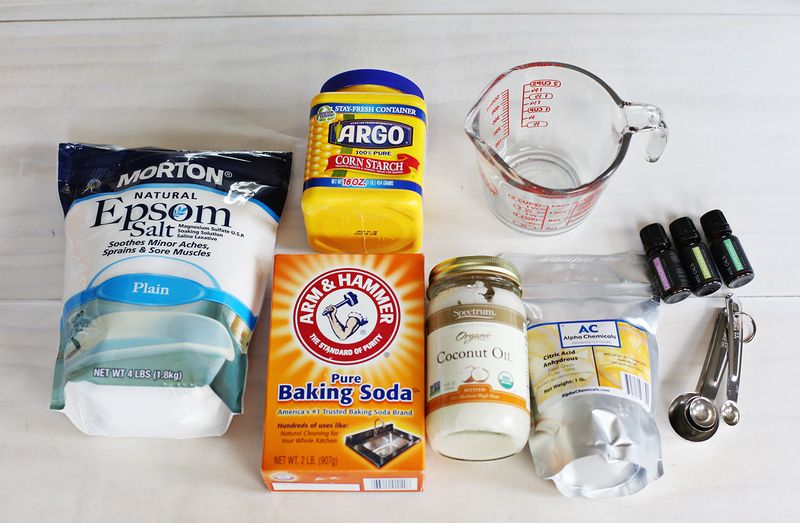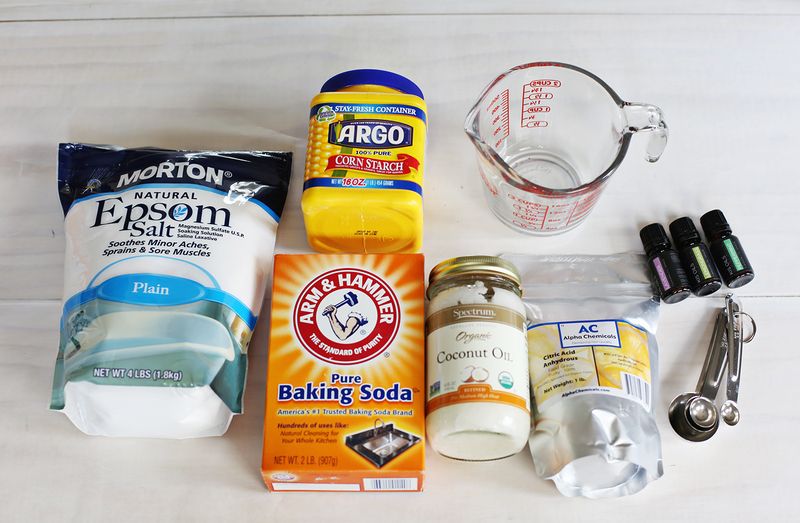 How To Make Bath Bombs
I'm sure you're wondering how you can get started on making your own DIY bath bombs. Making them is pretty simple, and requires only a minimal up-front investment. You'll need a few tools before embarking on your luxurious adventure.
Two plastic or glass mixing bowls. Glass is best for mixing ingredients for your ingredients, but if you don't have a glass mixing bowl, plastic will suffice. Never, under any circumstances, use a metal mixing bowl when making DIY bath bombs. Not only can the metal leave an unpleasant smell in your creations, but it may also be reactive with some of your ingredients, rendering them ineffective.
Plastic or glass measuring cups and spoons. The basic recipe requires two parts base to one part acid. To make things simple, I will be using one cup measurements for the base, but you can make more or less of these concoctions by altering the recipe to suit your needs. For the same reasons listed above, stick to plastic or glass measuring instruments.
Plastic or silicone whisk and spatula. I might be sounding like a broken record at this point, but making bath bombs with metal utensils can result in some not-so-pleasant reactions. Homemade recipes are best used in your bubble baths, not exploding all over your kitchen counter.
Bath bomb molds. Here is where you can get creative. While traditional molds are readily available commercially and online, most any plastic or silicone molds will do when shaping your DIY bath bombs. These can include plastic ice cube trays, gelatin molds, or candy molds. You literally have thousands of options for making and shaping your bath bombs, why limit yourself to basic balls when you could have fast cars, exploding rockets, or vibrant stars instead? Take advantage of holiday sales for holiday-themed molds such as candy canes, hearts, or even guts and brains for Halloween.
Ingredients. The basic shopping list for your DIY bath bombs will include:
Epsom salts or other mineral salts
baking soda, powdered citric acid
essential oil concentrates
For a splash or color, you can also use a few drops of food coloring, but be careful not to add too much or you'll exit your bath looking like a whimsical blue gnome.
Step One: Mixing Dry Ingredients
The first step to creating your homemade bath bombs is to combine all of your dry ingredients. The base of each of your bombs will include one cup of baking soda, 1/2 cup of Epsom salt, and 1/2 cup of dried citric acid powder. Some recipes may call for additional ingredients, including dried tea leaves, crushed lavender petals, or even oregano. The beauty behind making them homemade is being able to customize your recipe to suit your needs and preferences. With your plastic whisk in hand, gently combine the dry ingredients of your bath bomb recipe together until you reach a smooth consistency.
A word about citric acid. Unless you've spent a lot of time making jams and preserves, you're probably questioning how to make bath bombs given that this ingredient is completely foreign to you. Not to worry though, citric acid is readily available at your favorite mega marts in the canning and canning supplies section. You can also order it online relatively easily. It provides a citrusy-zing to your bubble baths, as well as providing the much-needed acid component to your recipe. If you're having trouble finding citric acid, or just wondering how to make bath bombs without citric acid, you have two options. The first, and easiest to substitute is to use an equal amount of Cream of Tartar in place of citric acid. Cream of Tartar is often used in baking to provide a carbon dioxide lift to baked goods. Once wet, it will provide a similar reaction to the baking soda in your recipe, albeit with a little less punch than actual citric acid. The second option is to substitute 1/2 tablespoons of coconut oil and 3 table spoons of lemon juice (added to the wet ingredients in the next step). This method will cause your bath bombs to fizz in your bubble baths, but not with the same force or eruption as powdered citric acid or cream of tartar.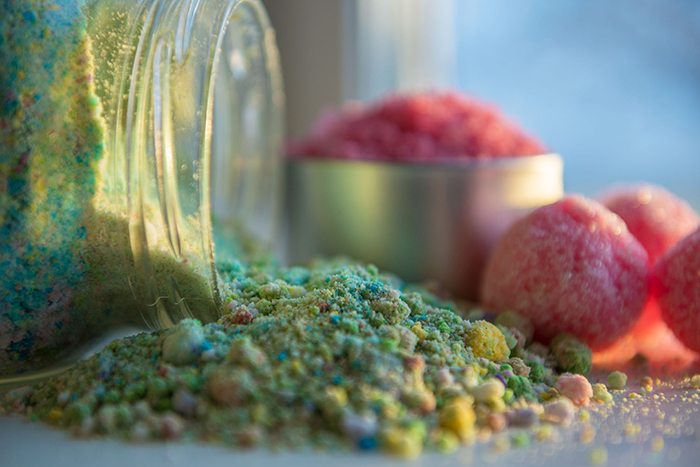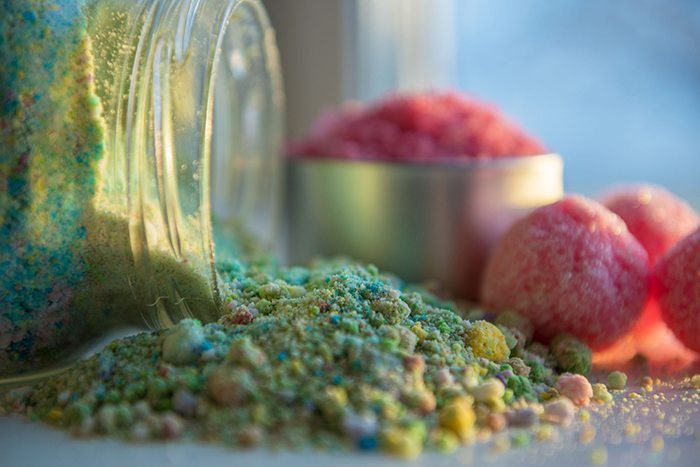 Step Two: Mixing Wet Ingredients
In a separate container, a glass mixing bowl, or my personal favorite, a 2-cup glass measuring cup, combine each of your wet ingredients with your plastic spatula. These ingredients will vary based on your recipe, but will typically include a small amount of water, olive or coconut oil, and varying amounts of essential oils. Blend these ingredients together until the mixture is thoroughly combined. While you do not need to make a complete emulsion, a properly blended mix of wet ingredients will make for better bath bombs in your bubble baths. One trick is to put the wet ingredients into a glass mason jar, put on the lid, and give it a good shake!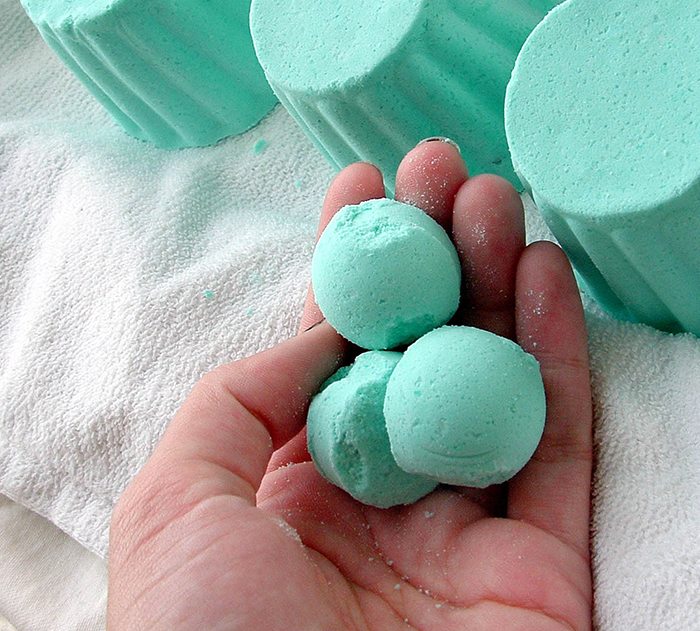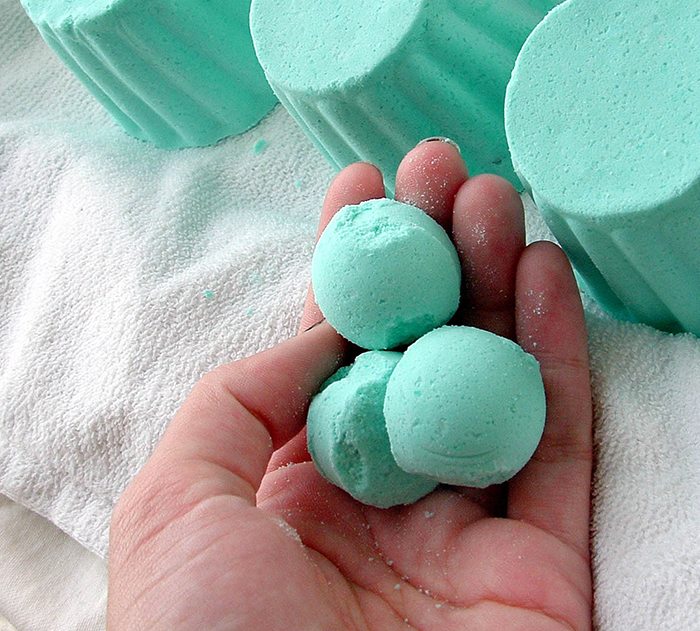 Step Three: Combine Your Wet and Dry Ingredients
This next step is perhaps the most fun, but also the messiest and can take a bit of practice to master. Slowly combine your wet and dry mixtures of your recipe using a plastic spatula. Remember, you're combining an acid and a base, so expect a little fizzing at first. Pouring these ingredients together too fast or too slow will result in a chemical reaction, so it might take a few attempts to get it just right. Mix thoroughly until both mixtures are fully integrated with one another. Once you've found your rhythm, these ingredients will combine with minimal fizzing and will have the consistency of wet sand. Once this occurs, you have only a few minutes to complete the next step.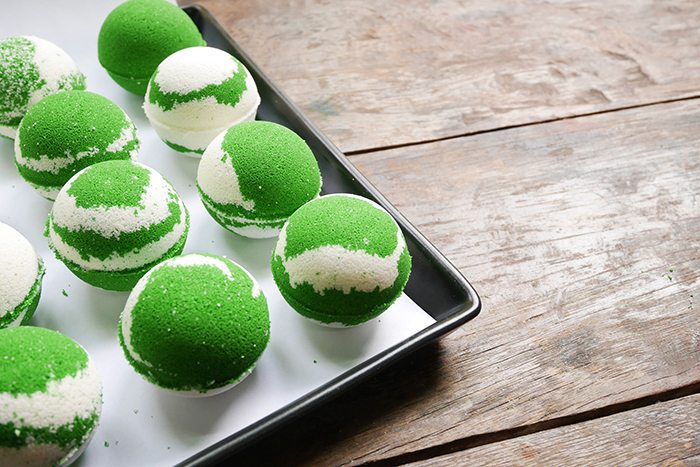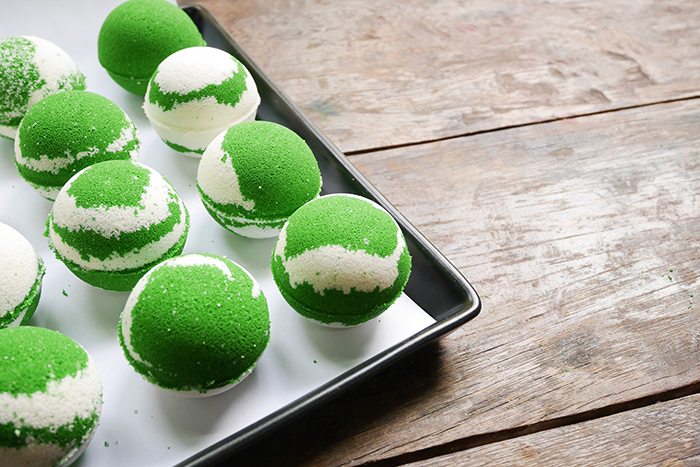 Step Four: Mold Your Bath Bombs
Quickly compress your combined recipe into your mold and compress as much mixture into the mold as you can. Let the mixture stay in the molds for 30-60 seconds to take shape, then gently tap the mixture out of the mold and set aside it as you continue to mold your remaining mixture. This step too takes practice, but once you get the hang of it, you'll find that it is both easy and fun.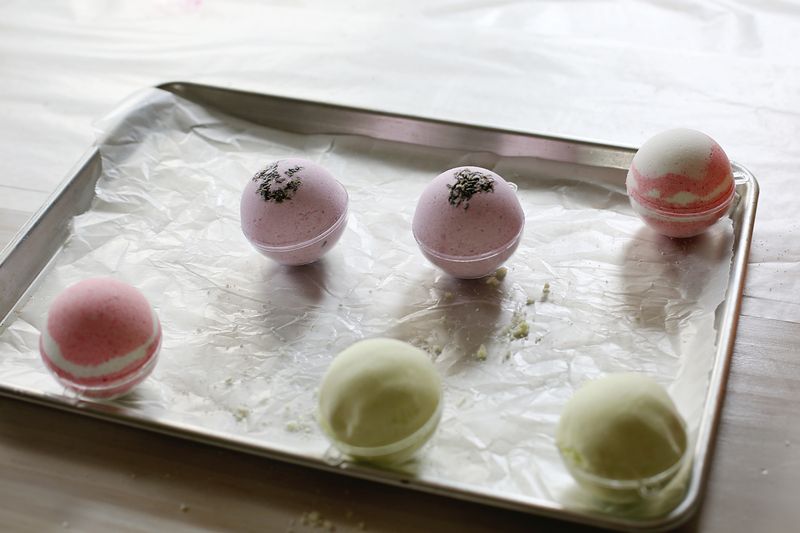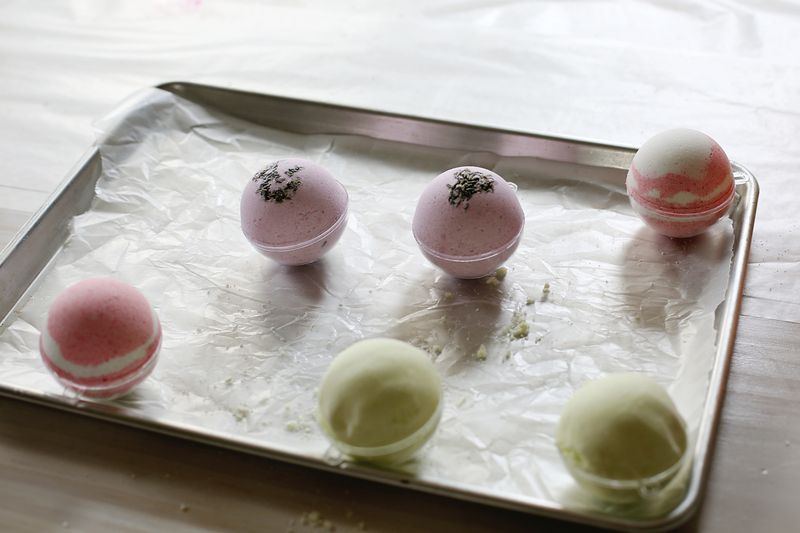 Step Five: Drying and Storage
Let them dry for at least four hours in a cool, dry container. Depending on your recipe, you may need more or less time than this, but in general, you can never be too cautious when letting your bath bombs dry out. Your creations will be good for three to four weeks and may keep longer if stored in the freezer.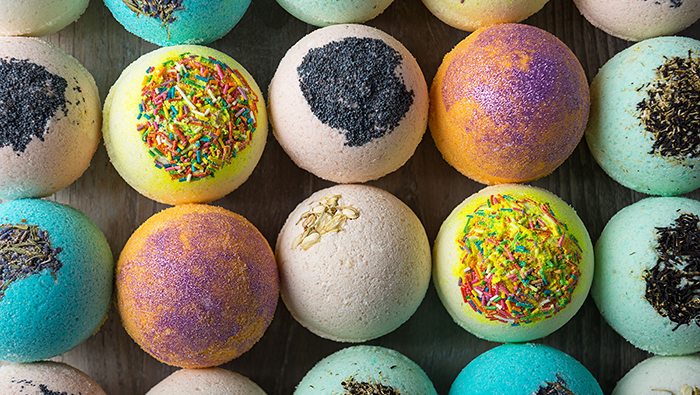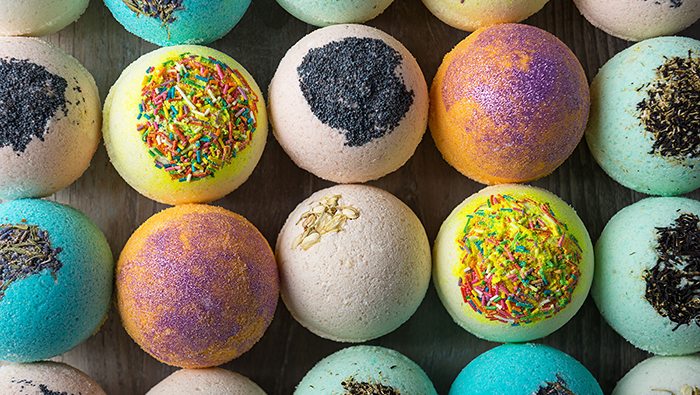 Step Six: Enjoy!
An unused bath bomb is a wasted opportunity. Make sure to drop one into each of your bubble baths, whether after a hard day at the gym or a long night out. These delights can expire, and you will start to notice that your bubble baths have a little less fizz and aroma after five to six weeks, or two months if stored in the freezer.
Now that you have the basics down, here are some fun recipes to try at home!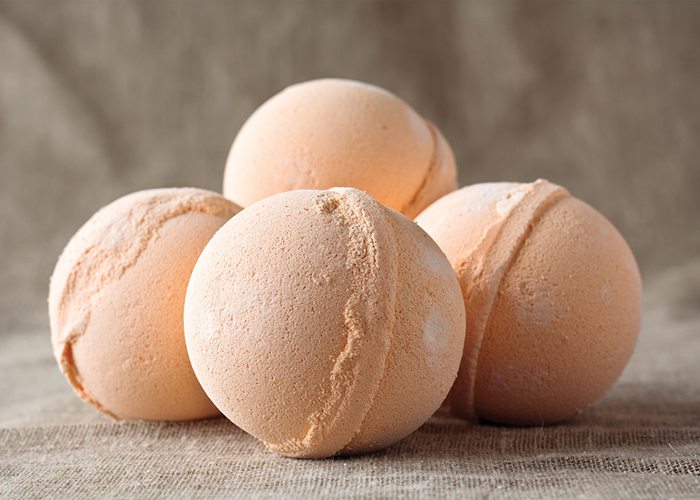 Bath Bombs To Relieve Stress.
Dry Ingredients
1 cup Baking Soda
1/2 cup Epsom Salts
1/2 cup citric acid
2 tablespoons lavender buds
Wet Ingredients
3 teaspoon coconut oil
2 teaspoon rose oil
1 teaspoon jasmine or ylang ylang oil
1 teaspoon water
Bath Bombs To Promote Immune Health.
Dry Ingredients
1 cup Baking Soda
1/2 cup Epsom Salts
1/2 cup citric acid
1 teaspoon dried lemon peel
Wet Ingredients
3 teaspoon coconut oil
2 teaspoon tea tree oil
1 teaspoon eucalyptus oil
1 teaspoon water
Bath Bombs To Ease Sore Muscles.
Dry Ingredients
1 cup Baking Soda
1/2 cup Epsom Salts
1/2 cup citric acid
1 teaspoon dried rosemary
Wet Ingredients
3 teaspoon coconut oil
2 teaspoon peppermint oil
1 teaspoon rosemary oil
1 teaspoon water
Bath Bombs To Prepare for a Romantic Evening.
Dry Ingredients
1 cup Baking Soda
1/2 cup Epsom Salts
1/2 cup citric acid
1 teaspoon dried rose petals
Wet Ingredients
3 teaspoon coconut oil
2 teaspoon clary sage oil
1 teaspoon sandalwood oil
1 teaspoon water
Remember, you can add food coloring to your tastes, or leave them naked for a purely aromatic bubble bath experience. These are just a few examples of easy homemade recipes for you to experiment with as you embark upon your journey into the joy of bath bombs.