It's Not Activewear. It's Everyday Wear.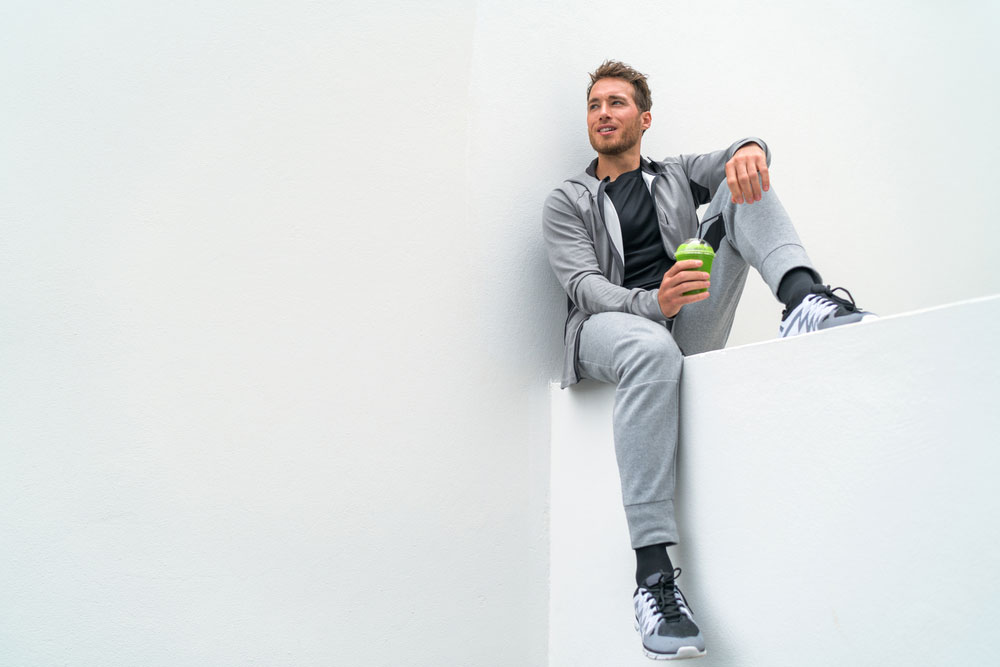 Could everyone please just calm down about activewear?
The time for arguing about its suitability outside the gym is over.
This is a style of clothing that attracted considerable attention (and criticism) in recent times as women in particular began to forgo their usual daytime garb for attractive workout gear that they were wearing (gasp) when they weren't even working out.  They could be spotted in leggings in cafes and supermarkets and even at work –no longer confined to gyms. (Free the legging!)
This attracted quite a bit of flack for a while and even inspired a parody video in Australia that made fun of the trend.
That was until people began to discover that going about your daily life feeling comfortable and fit really isn't that offensive.
Men have since got in on the trend and embraced activewear as a legit style in its own right (aka 'athleisure'). No longer the go-to wardrobe items when you've given up trying to look good in favour of comfort or when you haven't had time to change after your workout, athleisure has become big business and it's everywhere.
So much so, that Athleisure has even earned itself its very own official dictionary definition AND got its very own Wiki page.
(In case you're wondering- Athleisure is defined as a style of clothing that is comfortable and suitable for doing sports, but also fashionable and attractive enough to wear for other activities).
So, rather than saving your yoga pants, gym shorts, singlets and hoodies for the gym, you can wear them anywhere. #liberating
And with the global athleisure market forecast to continue rising and to outperform the total clothing and footwear market beyond 2023 (yep) it's no wonder the quality and style keeps getting better.
Thanks to exciting advances in fabric – moisture wicking, stretch and hold capabilities, friction reduction, insulation and matt finishes, active wear is both functional and fashionable.
It really makes a whole load of sense too if we truly want to live active lives. It's just the way we dress now.
Having outfits that can multi-task through the day is simply convenient – and frankly, why didn't someone think of it sooner? Staying active is so important to staying healthy. When you're active, not only do you look and feel physically fit, you also reduce your risk of heart disease, diabetes, and stroke. Not to mention, reaping huge benefits in improvements to your mental and intellectual well-being.
And to the haters we say: what's not to love about activewear? Feel comfortable, move freely and look good. Win, win, win!
Best of all, wearing activewear makes you more likely to get active
Rewind to many a New Years Eve and once again there you are promising yourself that this will be the year you get more active.
But this year, don't spend another moment convincing yourself of all the extra activity you want to do. Forget those resolutions. Just get yourself some awesome athleisure.
It's scientifically proven! (Stay tuned for the logic).
In 2012, two scientists came up with the phrase 'enclothed cognition' to describe the phenomenon how what you wear actually influences how you feel and behave.
Yep, you read that correctly. Their research at Northwestern University offered conclusive evidence that clothes affect our moods, what we do and even how we perform. Our outfits have actual power over the course of our day – we can choose to wear things that make us happier, or more confident or like dancing or whatever.
For example, a black leather jacket might make you feel and act more rebellious whereas a white lab coat might inspire more scientific thinking.
Following that line of thinking, you're more likely to make healthy choices throughout the day if you are dressed for the part. And for that matter, not only might putting on a pair of leggings make you more inclined to run, it may even make you better at it!
Makes sense doesn't it?
It's not exactly rocket science. When you think about it, there are so many reasons why you're more likely to be more active if activewear features heavily in your everyday attire:
Excuses of whether you can walk or run somewhere instead of driving or catching transport are gone – you're ready to go.
When you feel good about how you look and what you're wearing you have more confidence to perform.
You can move freely and comfortably regardless of the weather or environmental conditions.
Arguably, you both fit in and feel fit.
How to live an active life
Regular, rigorous physical exertion is obviously the best way to live an active life – whether it's through going to the gym, doing parkrun, swimming or playing sports like  tennis, or football or golf. If you've always wanted to play golf but you don't have a golf course near your home, then get a golf launch monitor.
But, even if you do these things, you can also increase healthy activity in your life by looking for opportunities for incidental exercise. Walk to work rather than drive. Take the stairs instead of the elevator. Walk to someone's desk rather than sending them a What's App. Take the dog for a walk rather than throw a ball for them to fetch.
Other ways to put that styled athleisure to good use:
Clean enthusiastically. (If you really get into it, you can burn up to 300 calories in an hour).
Park further away. Get off a stop early.
Play with your kids or your nieces and nephews or your dog.
Set an hourly alarm that prompts you to get up from your desk and move around.
Instead of Netflix and chill. Netflix and exercise – pick some exercises you can do while watching TV – squats, planking, sit ups, push ups, lunges. (Or position your streaming device of choice on the running machine or in front of the elliptical).
Enter charitable fun runs. Save the world and stay healthy.
Activewear style tips
So by now the power of athleisure is a no brainer and the time has come to up your game and look amazing while you're winning at life. Here are tips for maintaining your cool when your everyday look is more casual.
Insist on quality
Buy premium quality athleisurewear that will last and stand up to the challenge of daily life. (But don't worry, quality men's sports apparel doesn't have to cost the earth). Sports jerseys or custom team jerseys are not only fashionable in the field when playing sports, you can also wear them when working out in the gym or when you're running.
Update regularly
Throw out anything that is worn or fraying. Embrace new lines of designer tees, gym shorts and workout singlets. It's hard to defend the fashion merit if your look is more slob than sporty style star.
Choose colours you can mix and match
Make sure you have some versatile neutrally toned base pieces. Then pick some statement pieces in pops of colour that express your personality (and your ambitions) with items like windbreakers or compression leggings.
Pay attention to fabrics
Lycra has its place in the world, but it doesn't have to feature in every piece of activewear you own. Mesh is great for breathability. Bamboo is soft, durable and is amazing for wicking. There are also lots of fantastic technical fabrics that do a lot for waterproofing and stretch.
Don't forget about underwear
Get yourself some proper sports underwear to complement your athleisure ensemble. It will offer support, moisture wicking, reduce the risk of skin irritation (and looks great – even if you're the only one that sees it).
Don't forget the fit bit
Always invest in clothes that fit you well. It's the key to pulling off the athleisure look – too tight or too baggy will cheapen the look.
Most importantly, if you doubt yourself, wear something else.
Our Favorite Activewear Attire
We are absolutely in love with this Alfresco Parka Hoodie by Born Tough. This workout hoodie for men boasts an easy to put-on/take-off zip-up design. The apparel works great outdoors and is composed of 85% cotton, 12% polyester, and 3% spandex to give you the ultimate ease. The hoodie comes with flatlock seams, heat-sealed zip pocket, heat-sealed arm vents, and Born Tough's signature fabric.
Born Tough's Signature Prestige blend is a special fabric for sportswear. It comes with cotton as the dominant material. As a result, the apparel showcases unmatched durability, breathability, stretch-ability, and anti-microbial properties.
For the Athleisure enthusiasts out there, this one is a must buy. The apparel fulfills all the style needs of today and is a great item to assist you in your workout. The rich fabric and modern style will make you stand out like a champ!