Los Angeles Gay Cruising: 7 Hot Spots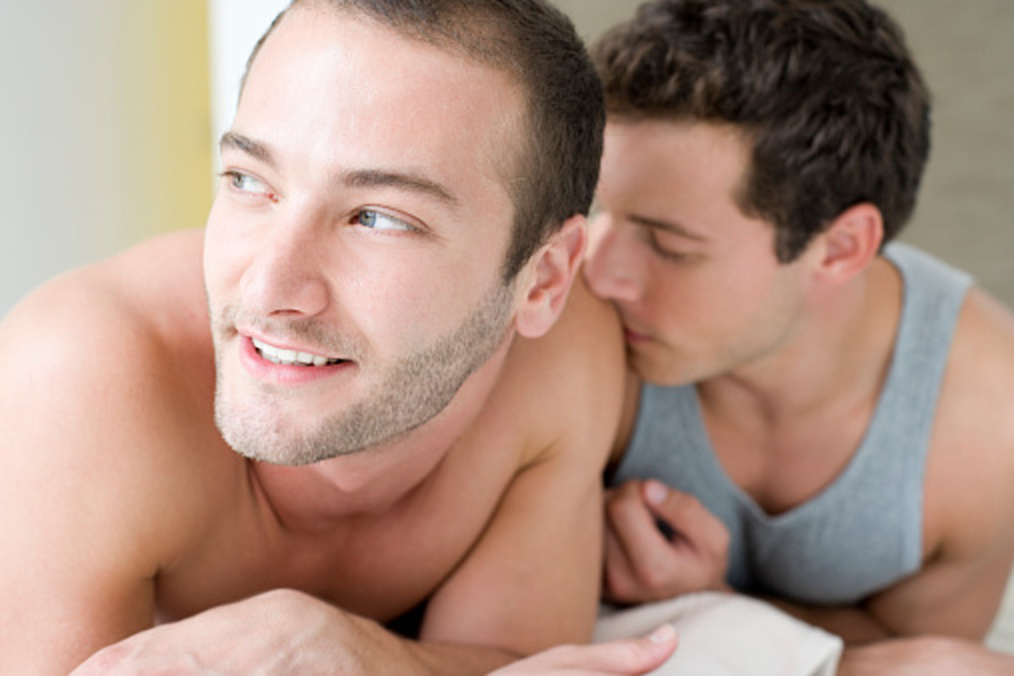 Some say gay social apps like Grindr, Scruff, and Jack'd have made hot spots once popular for picking up gay guys obsolete. Although they have indeed made finding guys for hookups and other fun much easier, we still beg to differ. The vast Los Angeles landscape contains many pockets of coffee shops, collections of clubs, and public attractions like parks and beaches that seem to constantly be packed with gays. Though most guys don't necessarily default these spots to find sex or play, they have taken on a wider purpose of the congregation and social interaction.
Whether you are headed to the beach to catch some rays and want to be in the center of the gay coastal scene, or you're looking for a gay-dominated coffeeshop to meet up with friends, there exists a diversity of hot spots to choose from. And if you're looking for some old-fashioned cruising too, you've come to the right place.
Below are the 7 Hot Spots for Gay Cruising in Los Angeles.
7. Crossroads/Joey's Cafe
The intersection of Sweetzer Ave and Santa Monica draws a great deal of foot traffic from locals especially, given that Joey's Cafe, Crossroads Trading Post, Hamburger Mary's, and Beach Nation are all located here. The patios of Joey's Cafe, Beach Nation, and Hamburger Mary's are all street-level facing Santa Monica and provide ample viewpoints. Crossroads is also a hotspot for shopping and friendly chatting. What better way to spark up a conversation than over gently used G-Star denim?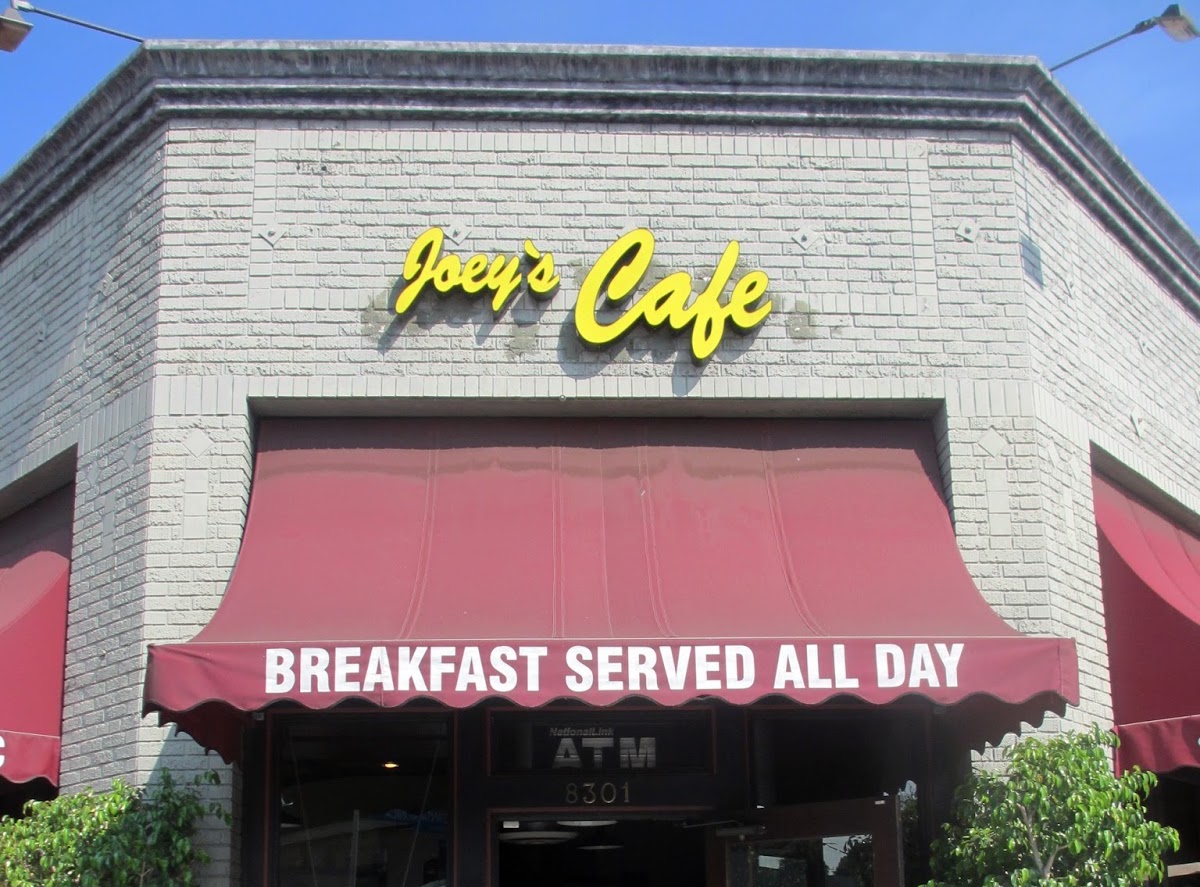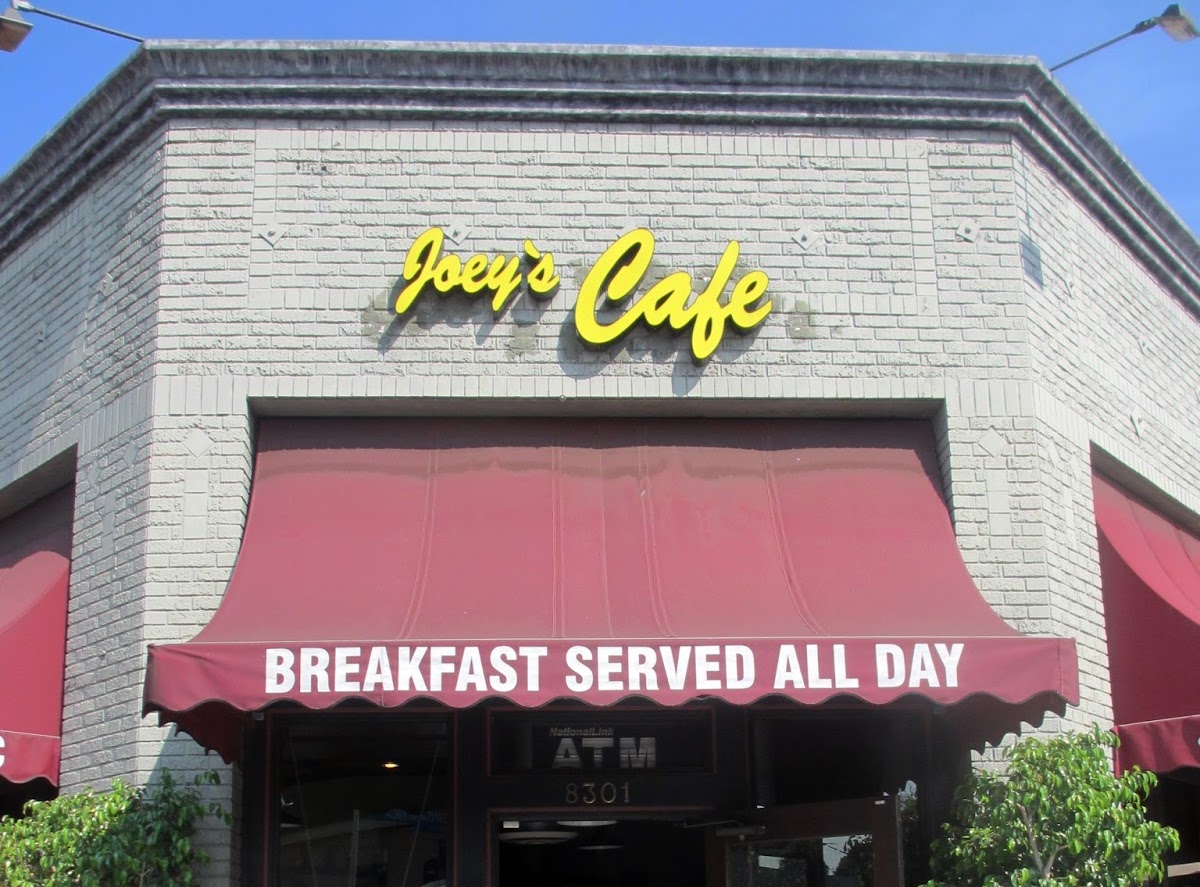 6. Block Party WeHo
This list wouldn't be complete without a mention of this historic store. Located next to Micky's nightclub on Santa Monica and Larrabee, this spot boasts its claim to fame as the "Gayest Store on Earth." They offer men's clothing, scandalous and revealing undergarments, lube and poppers, and many other products that appeal to a gay demographic. More importantly, this store attracts a plethora of sociable visitors and residents alike, both day and night. It seems that this store is more often utilized as a meeting place for gays than a place for traditional shopping. Given its location between two gay clubs, Micky's and Revolver, this spot is especially popular during the evenings and is open until 2 am most nights.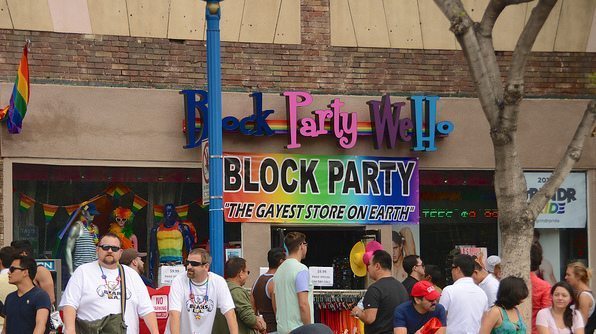 5. Runyon Canyon
Located in the hills above the town of West Hollywood and accessible by foot to the many gay neighborhoods bordering this park, it only follows that Runyon would have a playful cruising scene. This spot is notorious for drawing in a crowd of girls who flaunt full makeup and a blow-out during hiking, an overwhelming amount of off-leash canines, and shirtless gays seeking a solid cardio session paired with a tan. The one main loop forces visitors to pass almost everyone that heads there at the same time, increasing the odds of running into a friendly (and handsome) like-minded strangers. Runyon also hosts a free daily yoga session at 10:30 am, attracting many hot guys from the surrounding neighborhoods.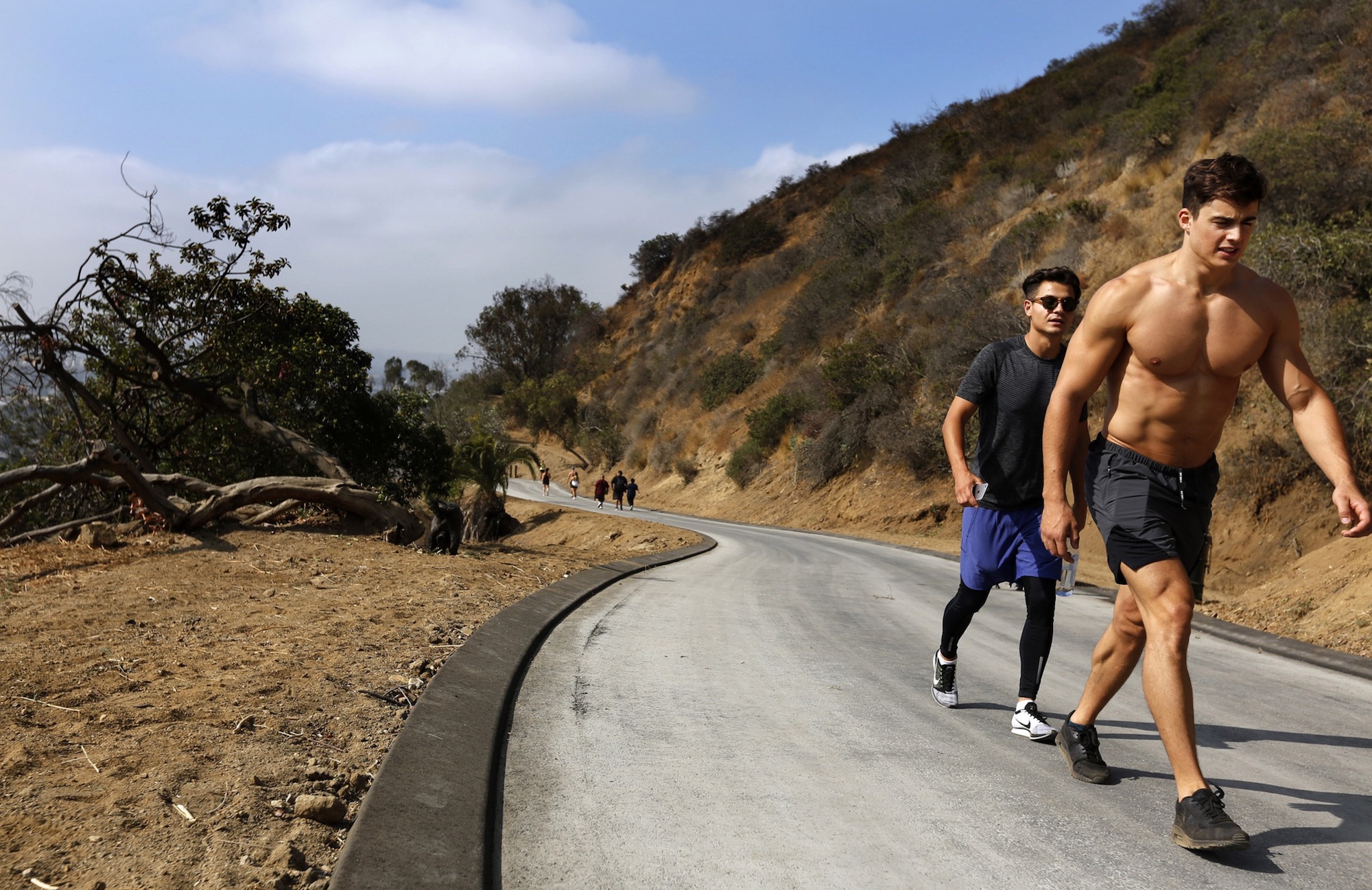 4. 24 Hour Fitness, West Hollywood
Naturally, this would make our list. As the only gym located in the center of West Hollywood gay life, between La Cienega and Robertson on Santa Monica boulevard, it makes sense that this establishment would invite more activity than merely conventional exercise. As a former member of this gym, I have had my fair share of (mostly unwelcome) encounters and stares, from the steam room and downstairs men's bathroom to the outdoor pool area. The two-level massive structure is by far the most popular (and affordable) workout choice among most Weho gym-goers, and a secondary source for picking up men. Although I have since switched gyms to one less cruisy and certainly not as busy, I look back fondly on the abundance of thirst at 24 Hour.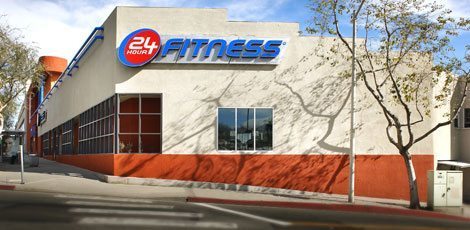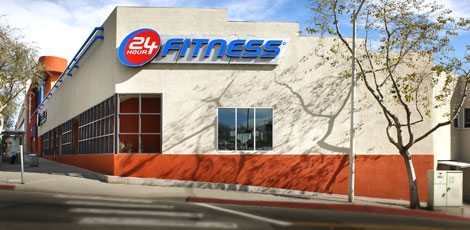 3. West Hollywood Public Pool 
As a former swimmer, I often head to my local public pool for a good workout (with a nice tan as an added bonus). When I first moved to West Hollywood, I was pleasantly surprised to find that the West Hollywood Aquatic Center was not only beautiful, clean, and well-kept, but attracted intensely in-shape guys who are both friendly and sociable. The pool is actually located in the West Hollywood Park, right next to the library and behind The Abbey nightclub. They offer year-round public swimming hours to both residents and visitors, and the guys who come out during these times for a good workout are more than willing to share lanes and chat you up. The communal showers and locker room are added bonuses.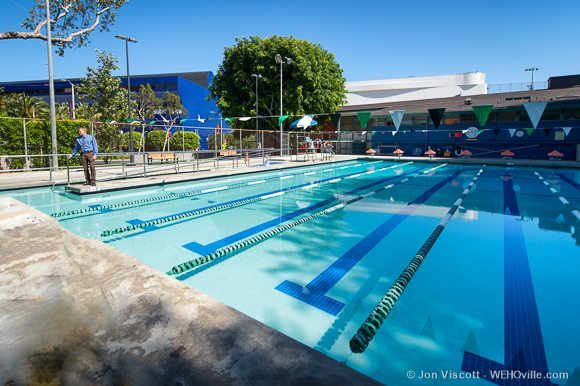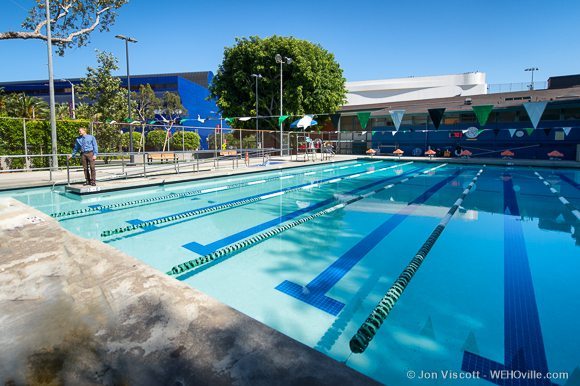 Located at lifeguard stand #18 where West Channel Road and Pacific Coast Highway intersect, this section of the Santa Monica coastline is by far the cruisiest beach in Los Angeles county. Throughout the warm weeks of the year, gays can be found here catching rays, drinking Sav Blanc from red solo cups, and playing volleyball at the four courts located near the public restrooms. Over the summer months (weekends especially), this spot draws an impressive party crowd of beautiful guys looking for a good time. The West Hollywood gay volleyball league also uses this beach for their Sunday practices and matches, a fantastic way to meet some fit, athletic boys.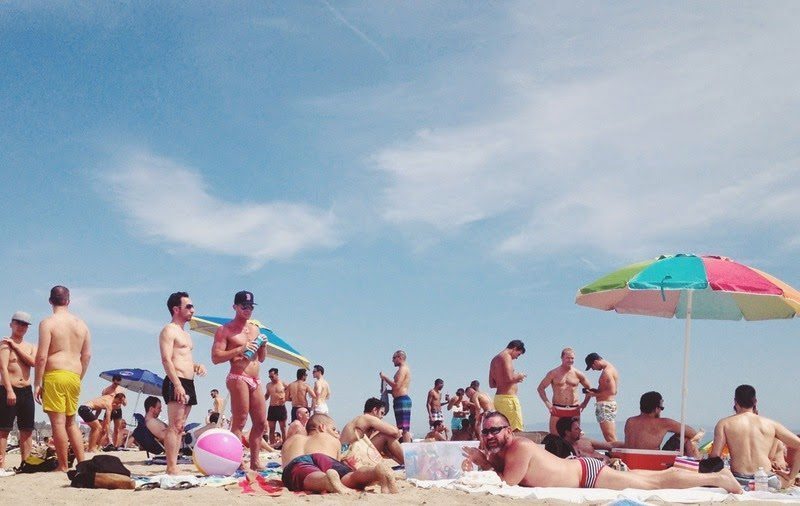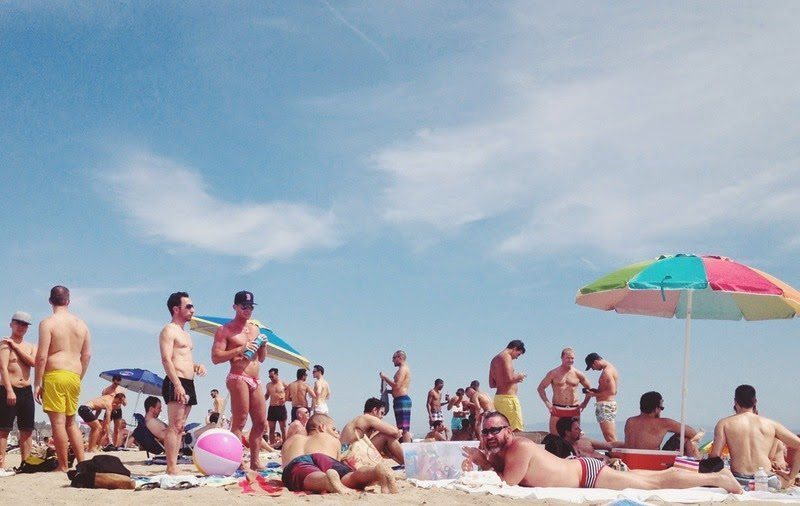 1. Starbucks, West Hollywood
Everyone seems to complain about the thirsty guys that seemingly live here year-round, but from someone who often does his work from coffee shops around Los Angeles, it has become one of my favorite spots. To begin, the location could not be better. It directly faces Santa Monica Boulevard (across the street from 24 Hour Fitness), and harbors a great deal of foot traffic back and forth across the crosswalk from people headed to the gym, Los Angeles Sporting Club (a gay retail store located next to 24 Hour), and protein smoothie store Powerzone. During the evenings and especially on weekends, this Starbucks is an ideal hideout to watch guys headed out to the bars west on Santa Monica, or grabbing dinner at the neighboring Kitchen 24. With a street-level patio perfect for people-watching, it is hard to walk by without feeling some level of violation.