Our Stay at Tortuga del Sol Gay Men's Resort in Palm Springs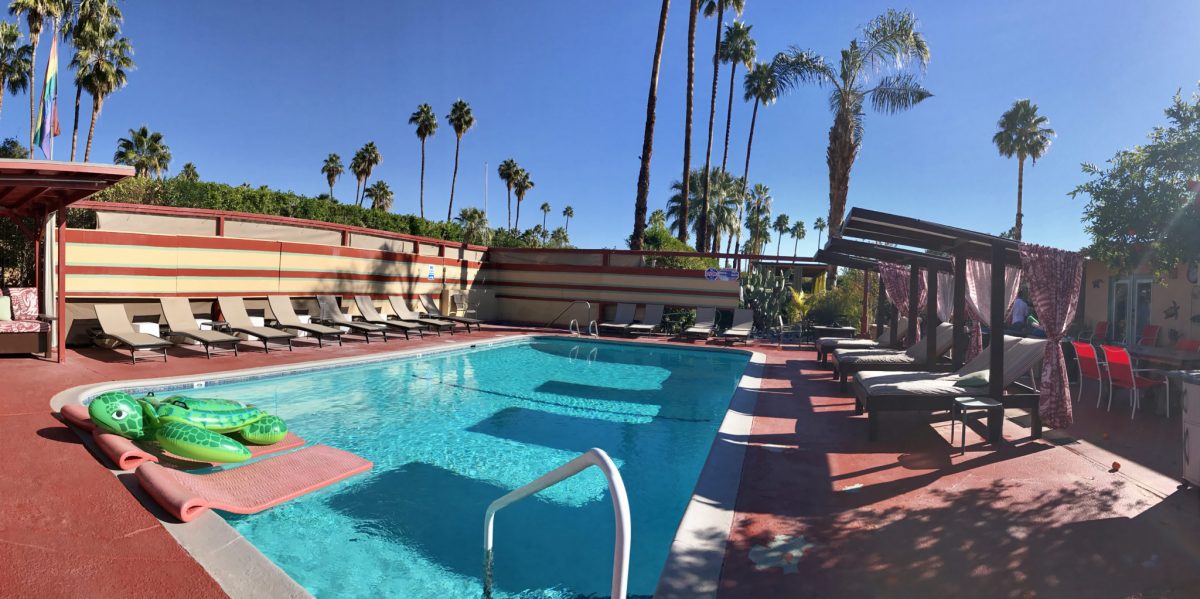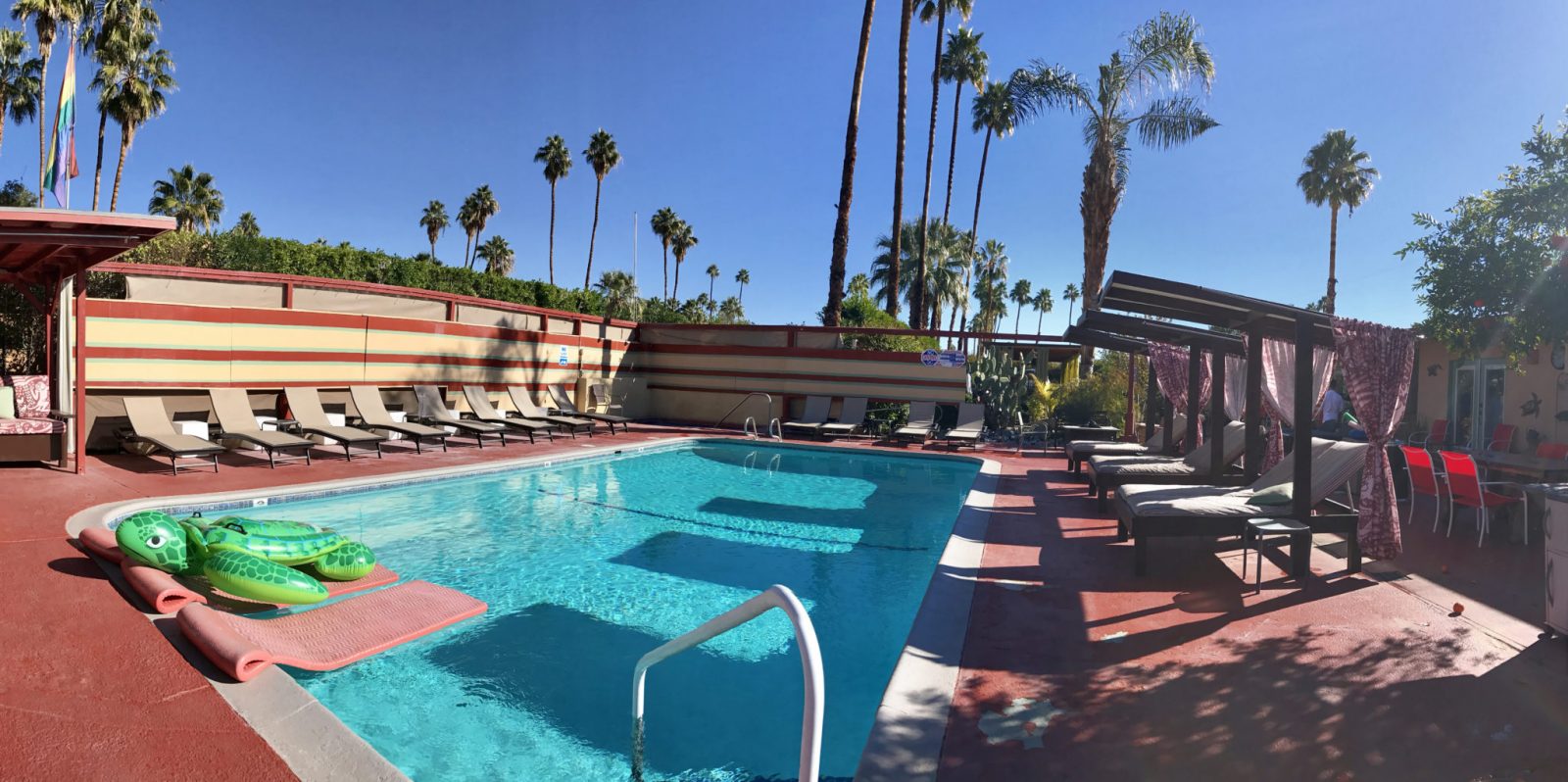 Just as this past week has showered Los Angeles with some nasty, rainy, cold weather, my boyfriend and I figured it would be the perfect opportunity for a beautiful Palm Springs getaway. Let me start by saying that we don't make it out to the desert nearly as much as we would like to, but our love for this little oasis town and its vibrant shopping, food, and gay scene always leaves us wanting more each time we visit. Having attended Jeffrey Sanker's White Party the past two years, birthday parties at gorgeous Airbnb rentals, and random trips to the Desert Hills Premium Outlets, we'll use any excuse to lay out by a pool amidst the scenic mountains and relaxed ambiance.
Our previous trips that have not involved stays at house rentals for birthday events have always been at the various big name hotels in the city, such as the Hyatt, The Renaissance (for White Party), The Saguaro, and The Hard Rock. Naturally, most of these have been enjoyable, relaxing experiences, however this time we wanted to try something new. Having heard from many friends about the plethora of highly-rated clothing optional gay men's resorts in town, we decided that it was time to try one out.
Despite our hesitancies and nervousness surrounding the activities we assumed went on at these places, after doing a bit of research we quickly learned that many of these clothing-optional resorts are anything but seedy. Rather, they allow gay men an opportunity to relax in a no-pressure environment, free from inhibitions, children, in what feels like a secluded and exclusive hideout. Nudity is not required or expected, nor is it necessarily an invitation for sexual play. Although this is not the case for all gay men's clothing optional resorts in Palm Springs and Cathedral City (as there are some that attract a crowd seeking more of a party environment), we identified a few that have terrific reviews, beautiful grounds, and reasonable prices.
Using the search query "best gay clothing optional resorts" in Yelp, we narrowed our choices down to three resorts. Our requirements included:
Must have a beautiful hot tub (the forecast for the weekend was cold weather)
Reviews must allude to a relaxed, less "cruisy" environment
Must allow pets (we have a small dog named "Pig")
Aiming to keep our budget for 2 nights around $350
Added bonus: offers fresh coffee/continental breakfast in the morning
We were especially impressed with the photos, reviews, and amenities of Escape Resort, Santiago Resort, and Tortuga del Sol. After doing a brief Google search of each, we stumbled upon a video that depicted visitors feeding real live tortoises at Tortuga del Sol! What would possibly be better than a gay clothing-optional resort with actual reptiles?? We immediately called in to inquire about their pet policy (they do allow pets, and kindly waived the fee for our ESA-registered dog), and were immediately sold.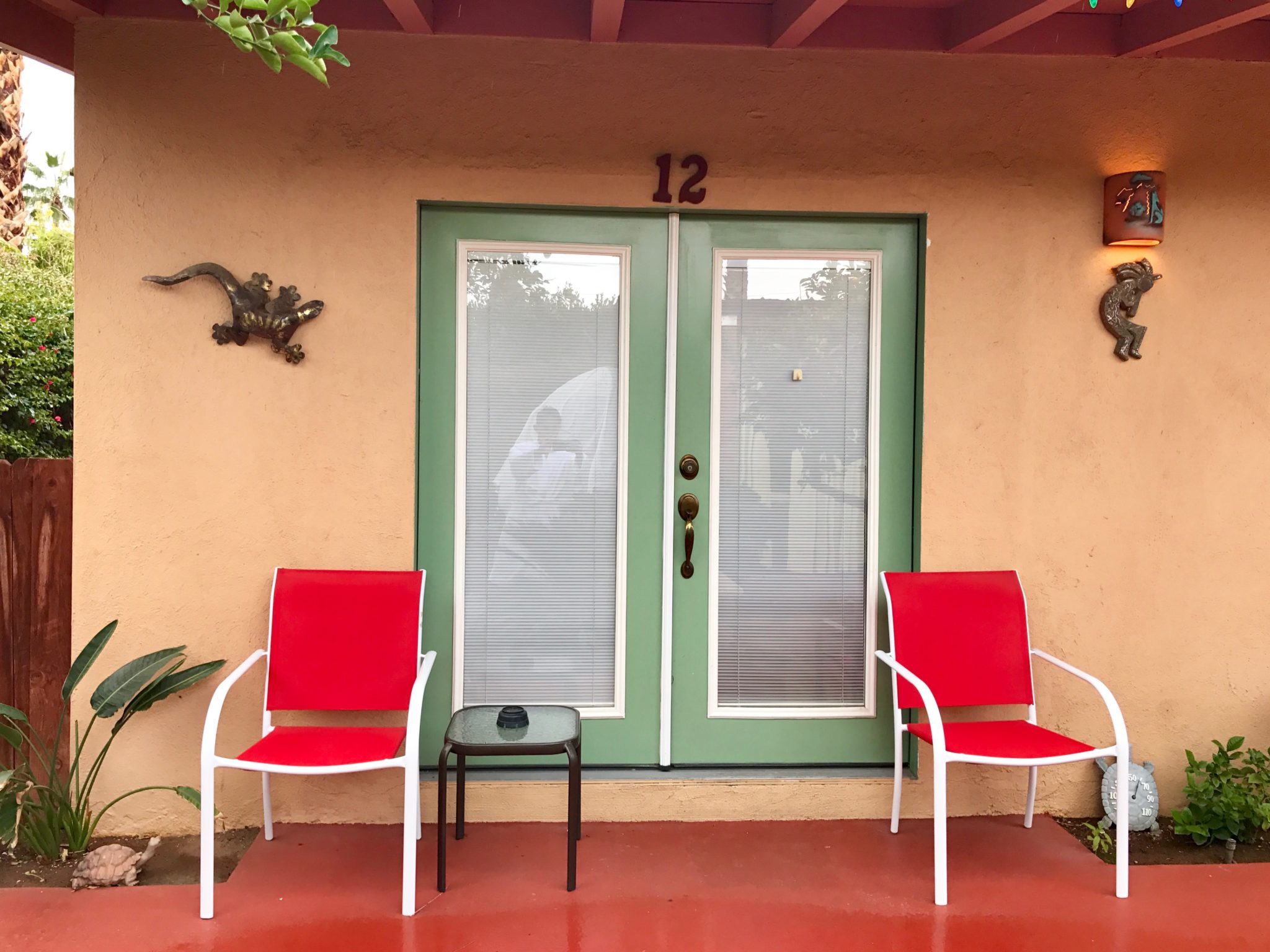 We reserved the Pueblo King Suite #12 with the garden view, which included a super convenient enclosed back patio with grass for the dog. In addition to the 32" flat-screen and adorable sun-inspired wall art, this room came with a fully functional kitchen, including a stove, large oven, full-sized fridge, cabinets stocked with cutlery, plates, and glasses, and even margarita glasses! Our trip for 2 nights came to $305.00.

Our treacherous drive to the desert on Friday afternoon was met with intense rainstorms and slippery driving conditions, which of course resulted in the obligatory super slow speeds on the LA highways leaving the city. Needless to say, it took us nearly 3.5 hours to get into Palm Springs having left shortly after 3pm.
Pro tip: plan on leaving Los Angeles by 2pm at the latest if you're heading out of town. Rush hour starts at 3pm, and is especially magnified by rainy conditions.
We arrived around 6:30pm as the rain was still coming down. Tortuga is located on E San Lorenzo Rd along with several other men's resorts, neighboring Escape and Santiago. My boyfriend and I had read that the resort grounds were formerly an apartment community bought by the current owners, Ric and Rob, who renovated and converted it. We were greeted and checked in by Rob, who gave us a brief tour of the resort and showed us to our suite. We were more than pleasantly surprised to find the grounds were truly gorgeous especially at night, with steam coming off the lit-up pool and hot tub, and a tented area with a pool table, lovenest, and hammock next to our room.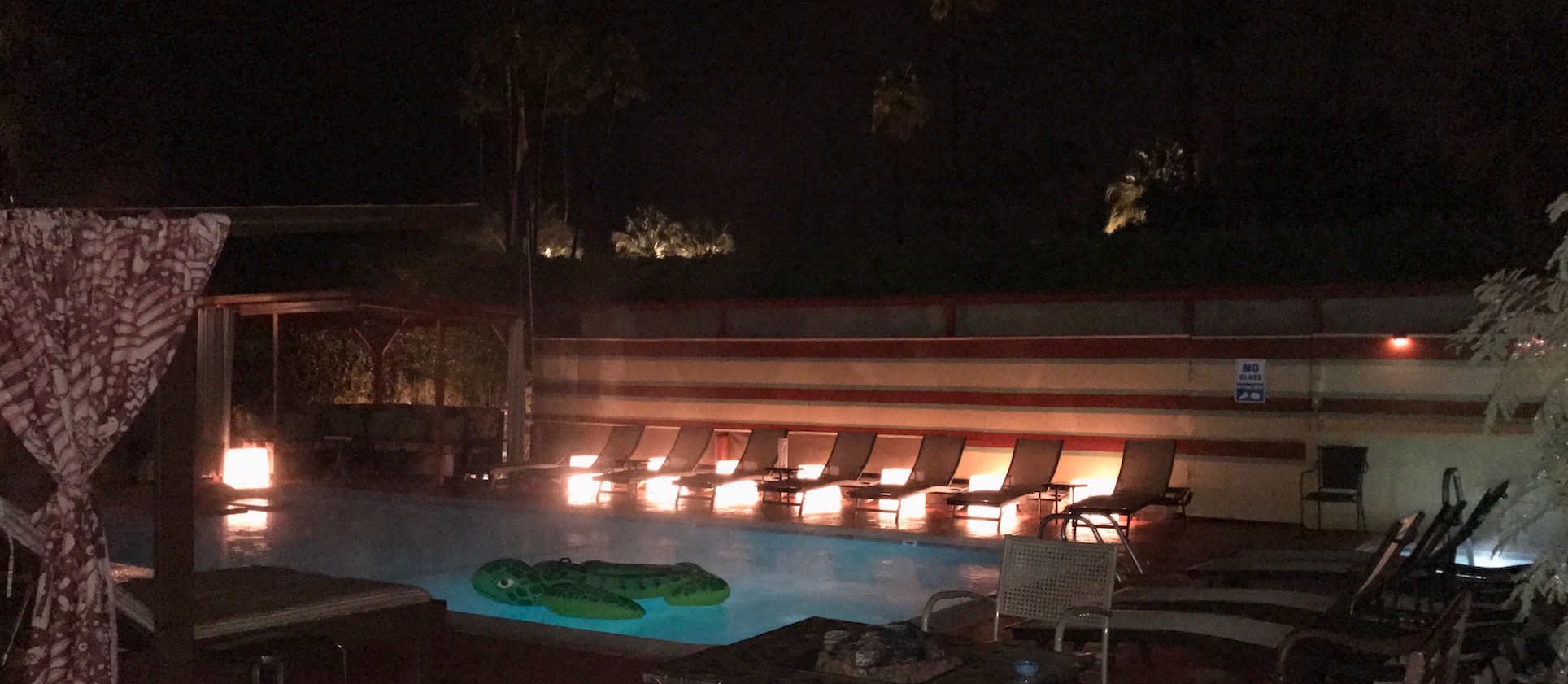 We quickly shed our clothes from the long drive, put on the soft bathrobes provided for our stay, fed the dog, and headed directly into the hot tub (despite the rain). Unlike other big name hotels in the area, we didn't have to worry about the pool or hot tub area closing as these are open to guests 24/7. Both the pool and hot tub were clean and immaculately well-kept, and the perfect spa temperature and bubble settings immediately made us forget about the 45-degree rainy weather outside. Perhaps it was the cold or rain that deterred other guests from using the pool area that evening, but it was also a nice surprise to find that we were the only ones naked in the hot tub when we arrived 
After an hour or so of relaxing and cuddling with (plastic) glasses of wine in the hot tub, we rinsed off and headed out to town for a cute dinner. Our choice was Ruben and Ozzy's Oyster Bar & Grill (you MUST try this place if you haven't been), where we caught the tail end of their late-night happy hour. Honestly, some of the best Fish Tacos, Tequila Oyster Shooters, and Crab Enchiladas I've had…ever. This place is bananas, and the owners (who are also the chefs) are extremely friendly, and whip up some bomb cuisine at unparalleled prices.
After heading back to the resort we plunged into the hot tub for another hour before heading off to bed, watching the latest episode of HBO's The Young Pope (still on the fence about this show), and falling asleep.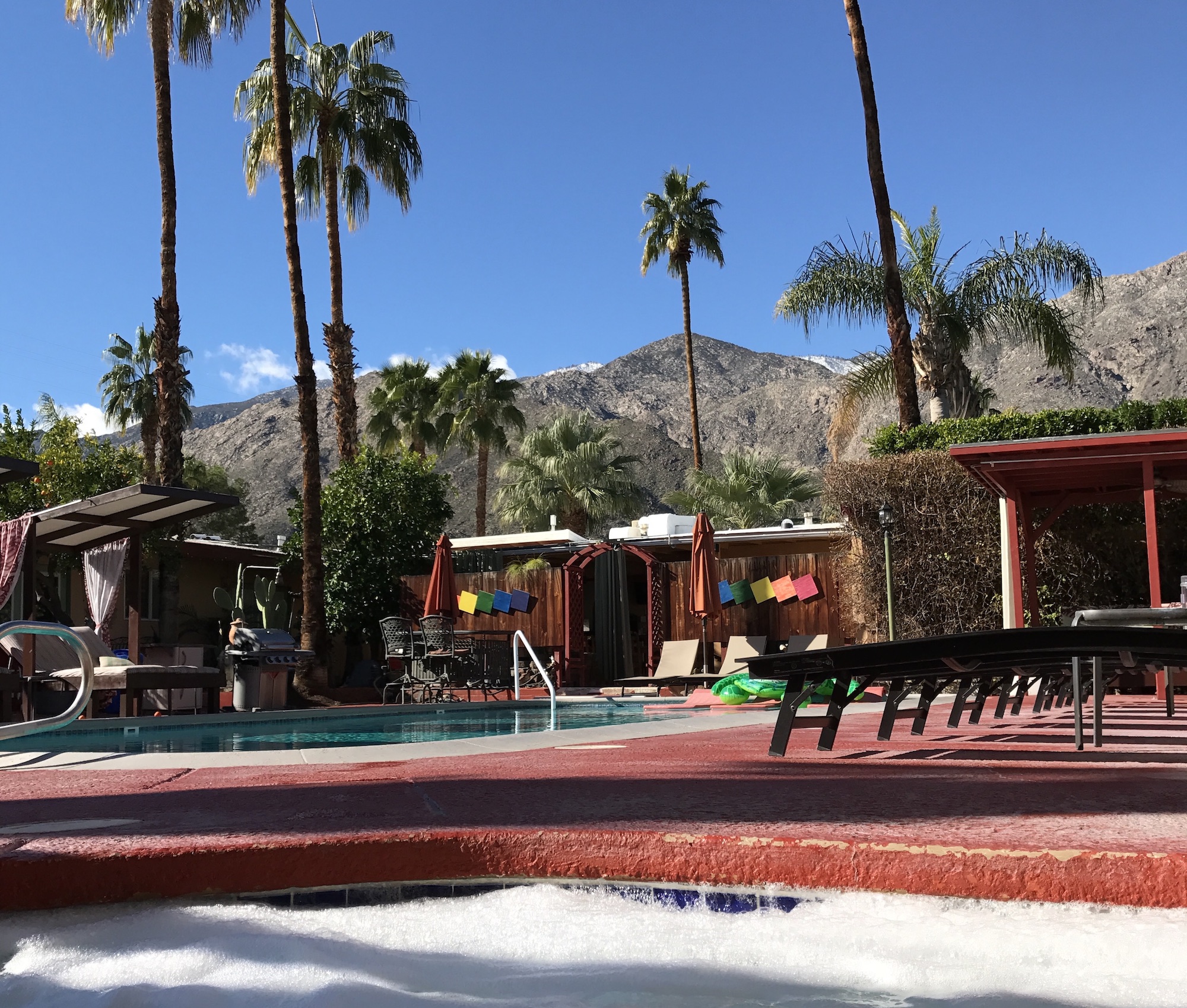 The next morning was absolutely stunning and clear, with the sun burning up the remaining clouds by 10am. I woke up early and hopped back into the hot tub (of course), and checked myself into the resort/posted a picture on facebook while waiting for my boyfriend to wake up. There was surprisingly no one in the pool or breakfast area our first morning. After plunging in and out of the pool and hot tub several times, I went back to our suite, woke up my boyfriend, and we headed to the outdoor communal breakfast area situated next to the pool deck.
We were pleased to find that Ric and Rob offer their continental breakfast until 11am, so we took our time enjoying the fresh coffee, fruits and yogurt, cereal, and the Los Angeles Times. After breakfast, we spent a while longer soaking in the tub (we found this to be one of our favorite activities during our trip) before showering and heading over to Joshua Tree for a day of intense hiking and impressive scenery. We started at Ryan's campground located approximately 25 minutes driving past the west entrance of the park.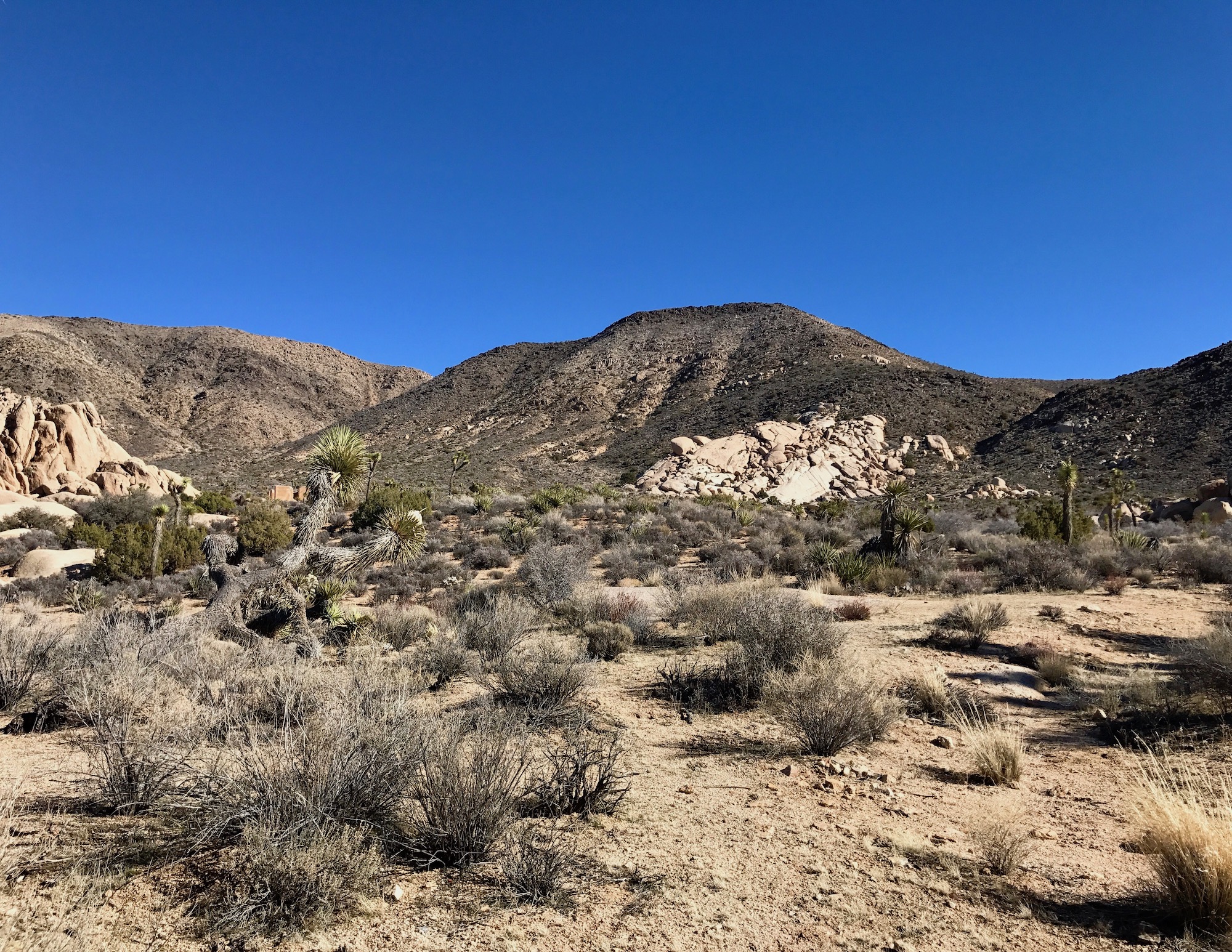 After a full day of sun, sweat, and dirt, we were ecstatic to be heading back to Tortuga to unwind and recover from our 10-mile trek. I kid you not that after shedding our gear and pouring ourselves more wine, we did not leave the hot tub for 2 hours after we returned. The clouds had entirely cleared for our last night as we enjoyed a sky full of magnificent stars, the perfect romantic setting after a tiring day of exercise. We had the entire pool and hot tub area to ourselves once again, enjoying the opportunity to cuddle and kiss with no one else around 
Finally feeling the hunger pangs from our day of hiking, we headed out for a quick drink, and then to La Bonita's for some hearty Mexican food, both located in downtown Palm Springs. We completed the evening with another hot tub plunge and a well-deserved night of sleep.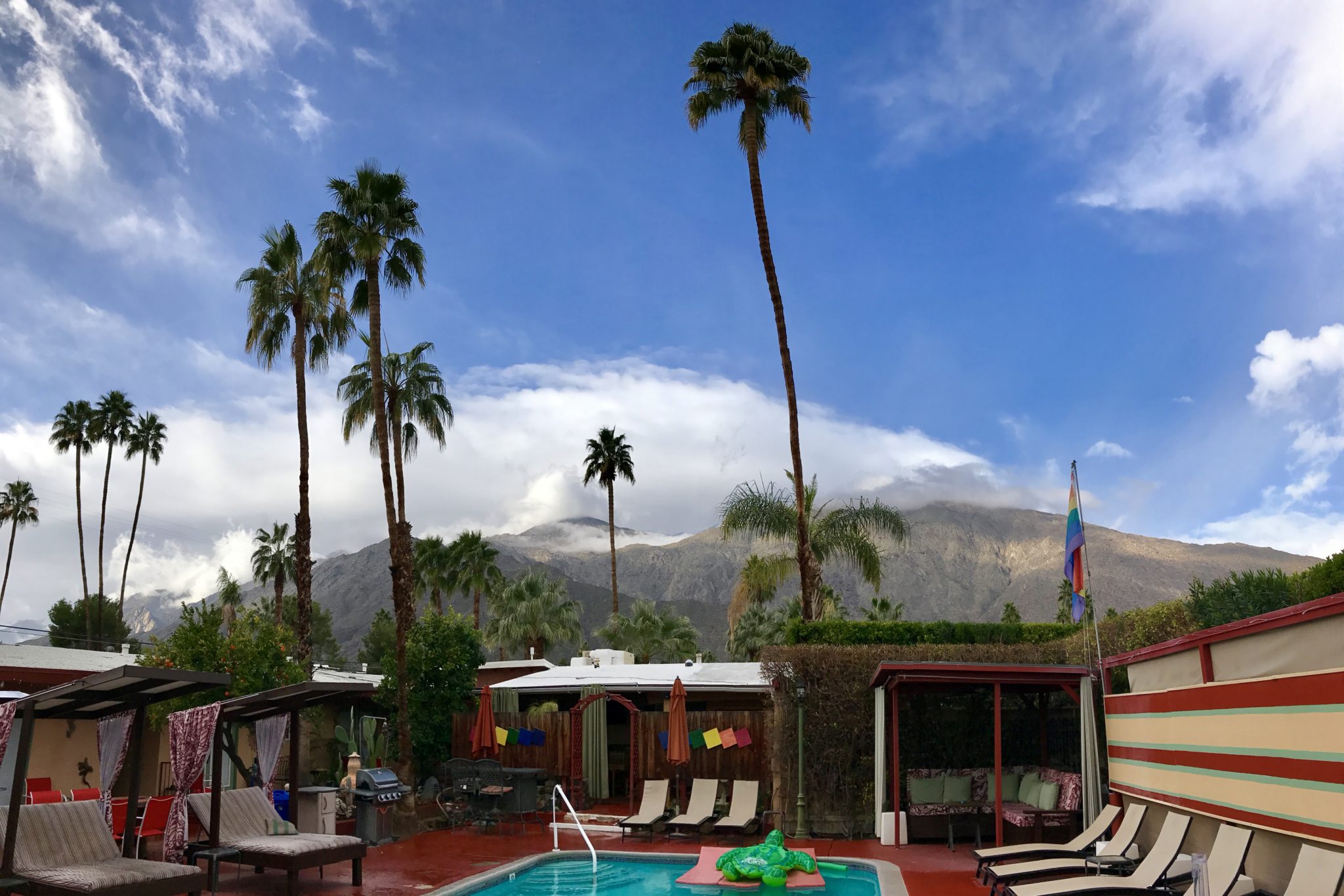 The next morning was just as beautiful as the first, with the sky so clear that we could see the snow atop the mountains behind the resort. We took our time enjoying several cups of delicious, fresh coffee by the hot tub, before packing up, showering, and thanking Ric and Rob for a beautiful weekend.
A quick summary of our experience as Tortuga del Sol:
The Grounds: beautiful, well-kept, playful, unpretentious, including a new pool table, super cute lovenest, chess table, hammock, lounge chairs surrounding the pool, and a lush garden
Busyness: minimal. We did not encounter any other guests until the morning of our check out when we met a friendly gay couple from San Francisco
Ambiance: laid-back and relaxed. Truly designed for relaxation and rejuvenation. Perfect for couples. Cute lights turn on during the evening to give the place a festive glow.
Owners & Service: very friendly and helpful. Both chatted with us before and after our stay. They clearly take pride in their work, and it certainly shows.
Location: situated right next to, and across the street from several other gay clothing-optional resorts. I could imagine that the spring and fall months are especially festive and exciting in this part of town when the resorts are fully booked. Arenas Road is only a mile down the street, on which Hunter's Nightclub, SpurLine, and several other gay bars are located.
Overall an extremely relaxing and enjoyable stay. We look forward to returning to Tortuga del Sol in the months to come!