Our Favorite Napa Valley Points of Interest
I had lived in the bay area for two years before moving down to Los Angeles for school, and during those years I oddly never made the journey 1.5 hours north to beautiful wine country. My boyfriend and I moved to San Francisco earlier this year and had always talked about planning a weekend trip up to beautiful wine country, but between the craziness of the summer months and the surge of visitors to both Napa and Sonoma during their peak seasons, it was not until November that we were able to set aside time to visit.
As many bay area residents know, visits to this wine region are largely popular among all ages and interests. My coworkers told me stories about their most beloved winery visits, their favorite places to stay, where to eat, and other awesome activities to do. In fact, we were so overwhelmed with ideas that it became truly difficult deciding on activities given the short duration of the weekend trip we planned. However, through all the stories from friends, Yelp reviews, and blog articles we read about Napa, one destination consistently remained the highest rated and suggested – The Silverado Resort.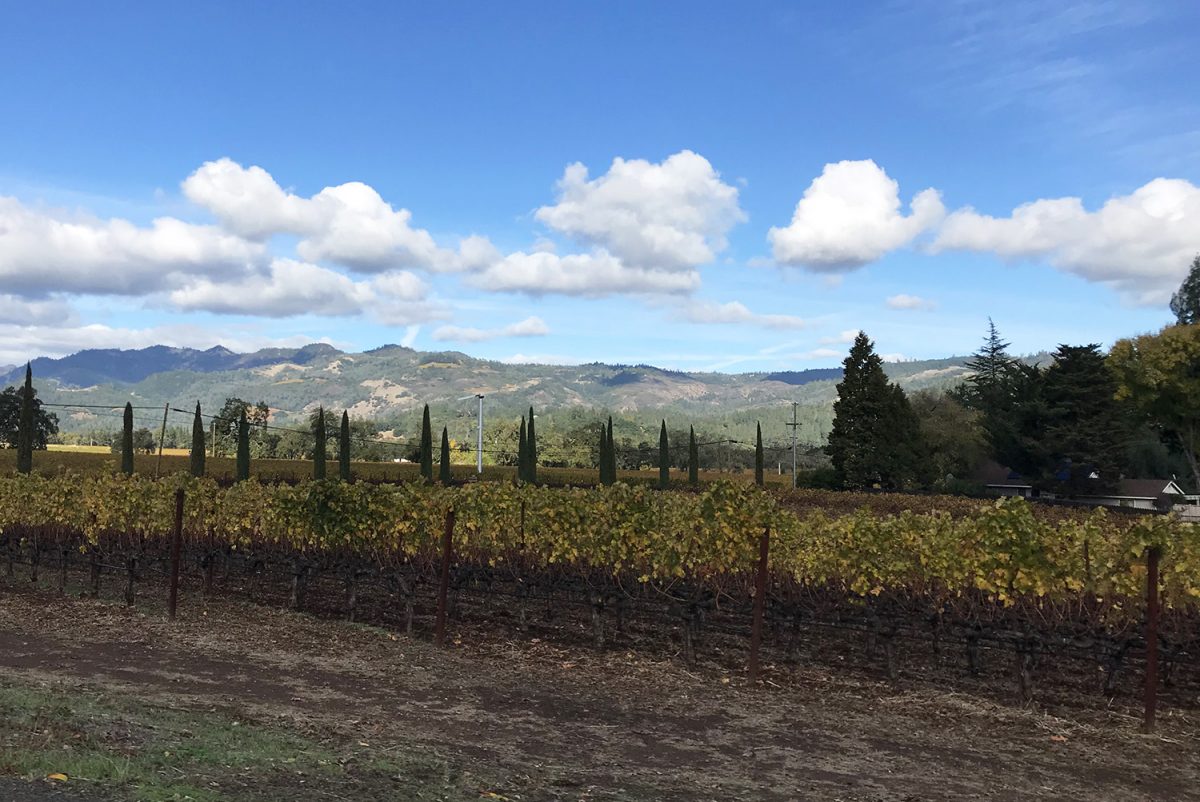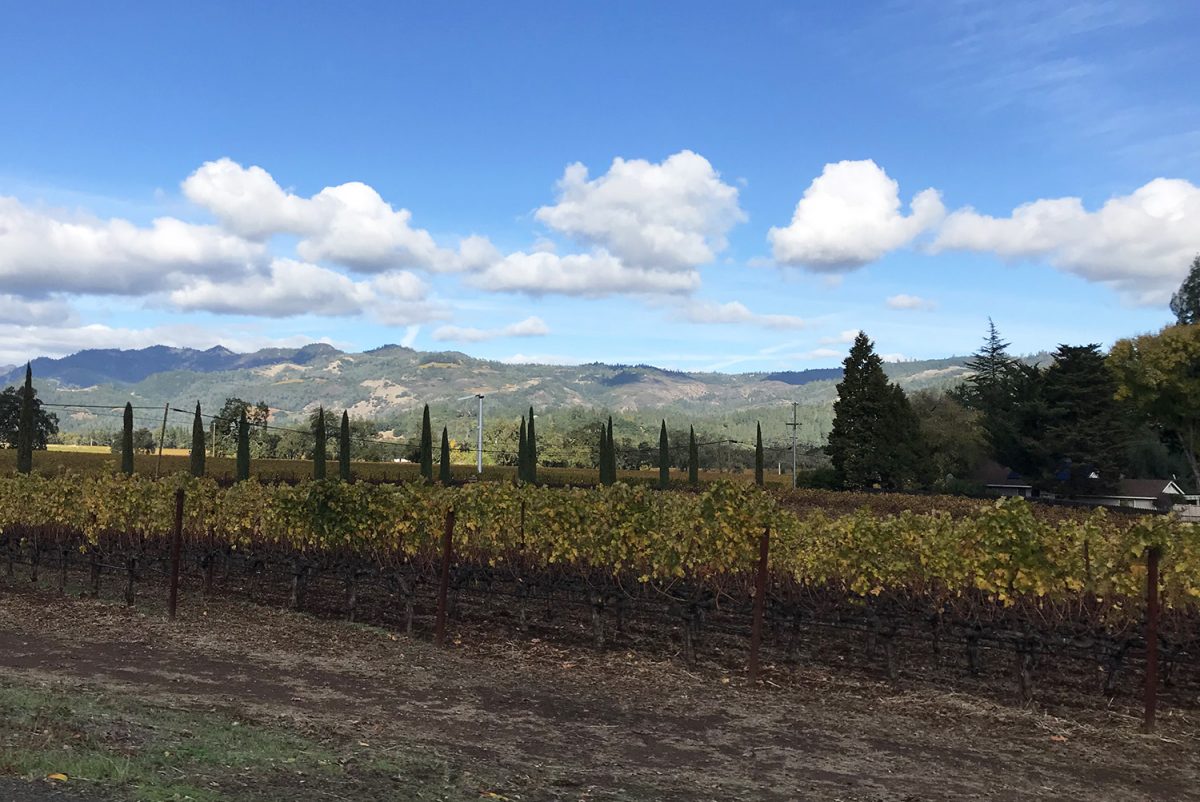 Where to Stay in Napa Valley
Napa Valley boasts some of the finest lodging accommodations in California for visitors seeking a retreat filled with the indulgences of delicious wine, delectable food, and beautiful scenery. From budget-seekers to those attracted to resorts with countless accommodations, there are hundreds of quality places to stay in this region that fit any interest. What could be better than waking up to the rolling vines and dramatic landscapes innate to this area? With so many options available, we narrowed down our search with a few "priority" factors in mind:
Access to Steamy Hot Tub: The autumn months in Northern California are some of the most dreamy times for a visit, characterized by comfortable sunny days and chilly (but not too cold) nights. After a long day of exploration, there's nothing I find more relaxing than retreating to a hot tub to soothe my muscles while the air outside is crisp and cold.
Full Kitchen in Unit: We knew that by visiting a region known for its culinary delights and extravagant wine, we would likely end up with leftovers from meals that we would want to save for later. A fridge with stove and microwave access is a must.
Full Bar and Restaurant: Whenever we visit new cities we prefer to stay at hotels and resorts that have their own bar/restaurant. What better way to begin an evening out on the town than with a drink or two at your resort? (Uber/Lyft/Taxi use encouraged).
Gay-Friendly: I almost feel like I shouldn't have to mention this when talking about visiting anywhere in California, but it's always reassuring to hear that other gays have had positive experiences where we choose to stay. You can do a quick scan of any hotel or resort by searching in the comments of the Yelp reviews for keywords like "gay" or "LGBT." You can take inventory of both positive and negative "gay" reviews using this method.
Service-Animal or Emotional Support Animal-Friendly: We have two emotional support dogs that typically travel with us anywhere we go. While most hotels and resorts are required to allow service animals (different from emotional support animals because they are typically trained to support a physical disability), not all are required to accommodate visitors with ESAs (still require a doctor's recommendation, but are not for physical disabilities). It is important to call in advance and confirm that they do or do not accommodate such requests.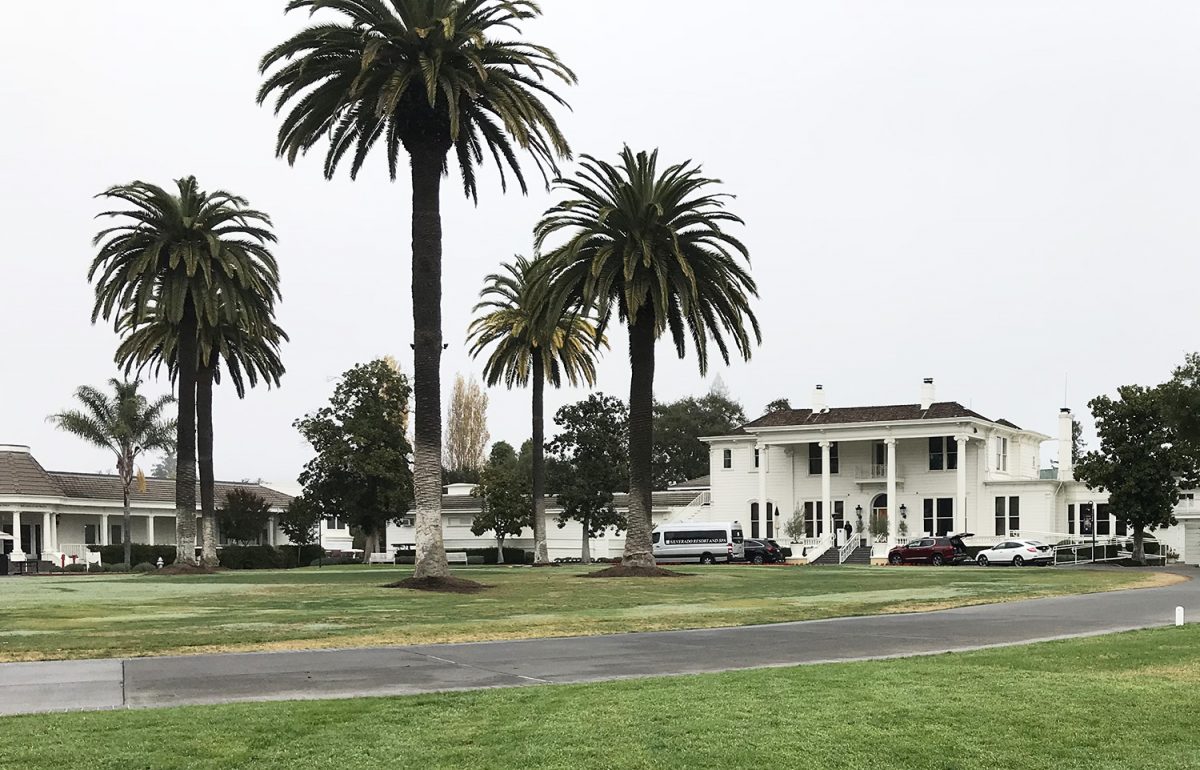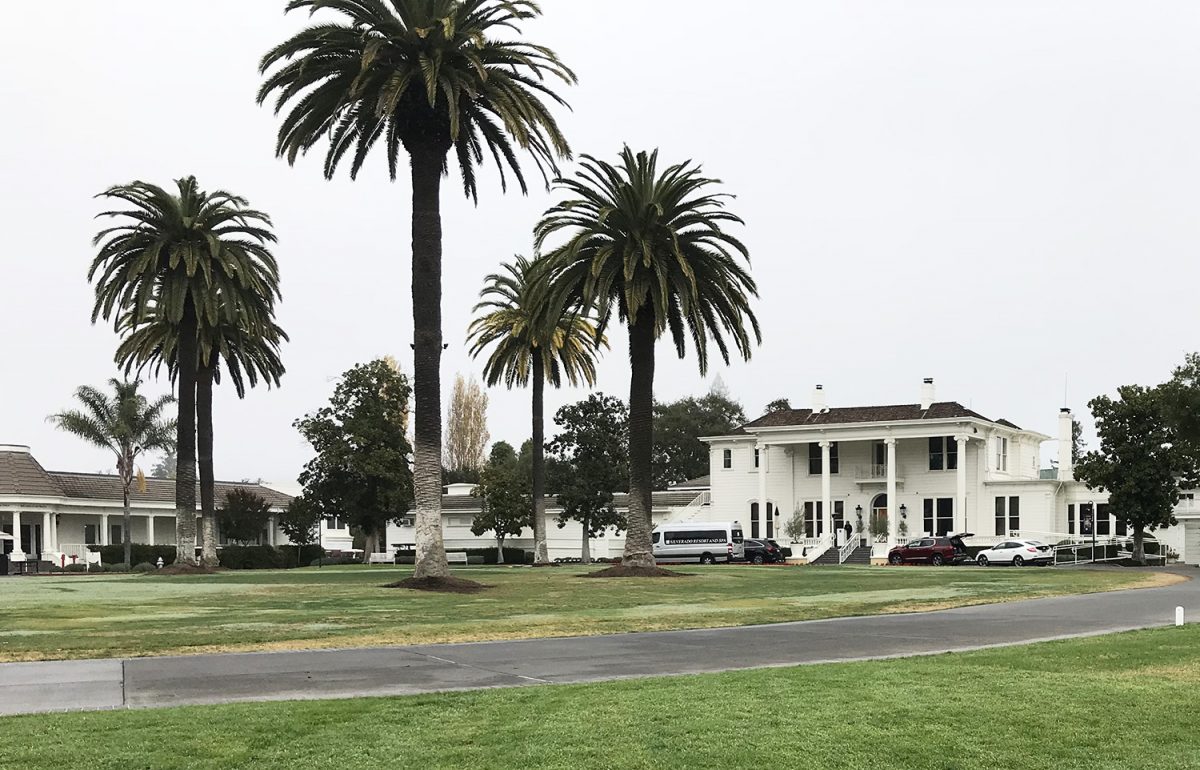 The Silverado Resort
While there were many contenders that met all of our above requirements, the Silverado Resort and Spa in Napa Valley came to us as the most recommended and highest-rated. We were enchanted by the romantic Antebellum architecture displayed elegantly on their website, in addition to the 10 swimming pools, multiple hot tubs (!!), expansive golf course to show off your practice, full-service spa, and 13 tennis courts available as amenities to guests.
They also boast not one, but three outstanding restaurants with bars, in addition to a beautiful fitness center filled with free weights, cardiovascular machines, and weight machines.
We were also impressed by the beautiful (and modern) full kitchens in the one-bedroom suites, along with a cozy fireplace in every unit. What really sold it for us, however, was an adorable little market located in the center of the resort, complete with a Starbucks, local bites, beers, wines, and other goodies. We quickly chose a weekend in early November and prepared for our trip!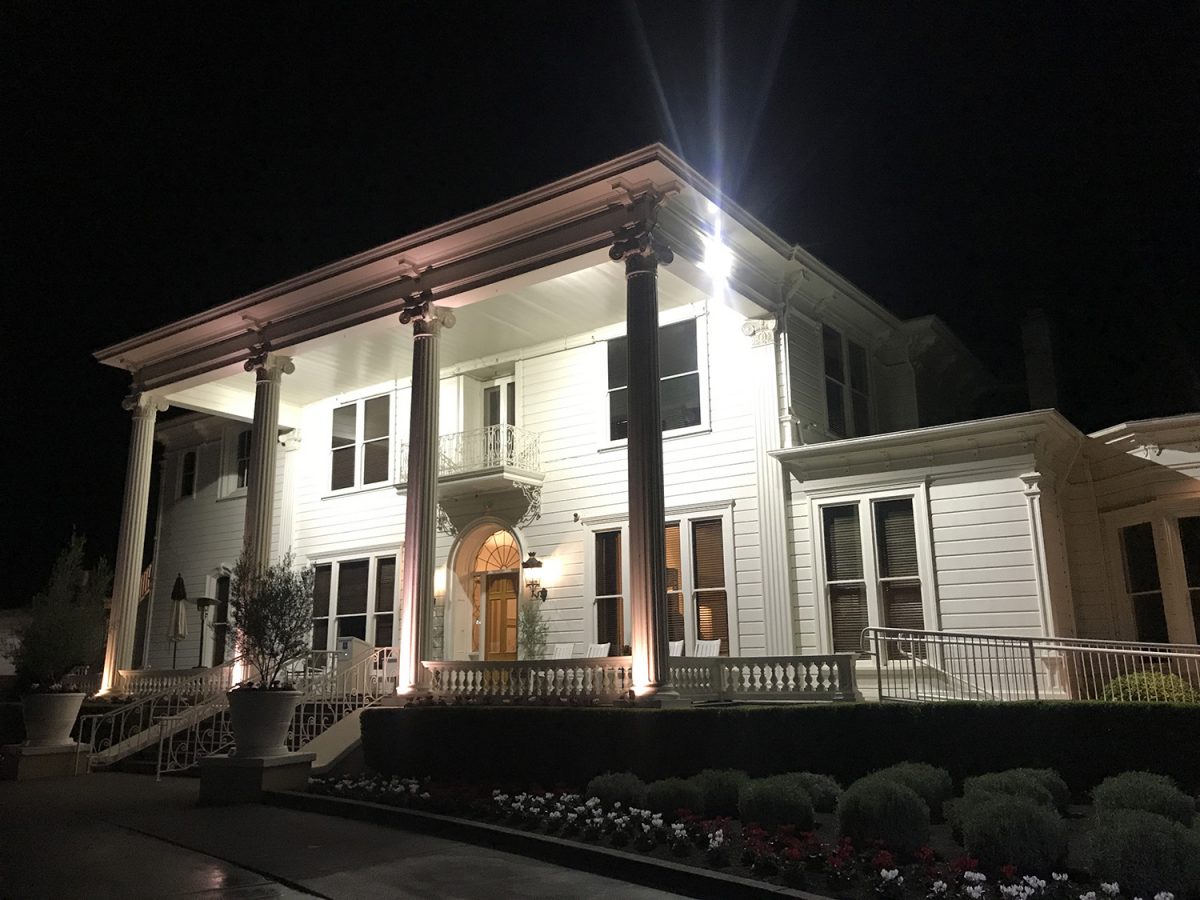 Driving San Francisco to Napa
Being the procrastinators that we are, we were lucky enough to book a Smart Car pretty much last-minute for our trip. I kid you not when I say that we BARELY fit our one suitcase, backpack, and two dogs into the tiny go-cart of a car (I suggest avoiding these at all costs). Our drive was fast and enjoyable – we left from the Soma neighborhood in San Francisco and arrived at the entrance of the resort in a comfortable 1.5 hours.
It was misty, chilly, and dark when we arrived at Silverado. As we drove through the gated entrance up to the main building, we could see the palm trees and the antebellum-style main house glowing and lit up in the dark. The layout of the resort grounds looks pretty magical at night, and checking in was a total breeze as the staff were welcoming and very friendly. Apparently the iconic Silverado Mansion used to be the home of a Civil War hero, which makes sense given the architectural style and formal interior.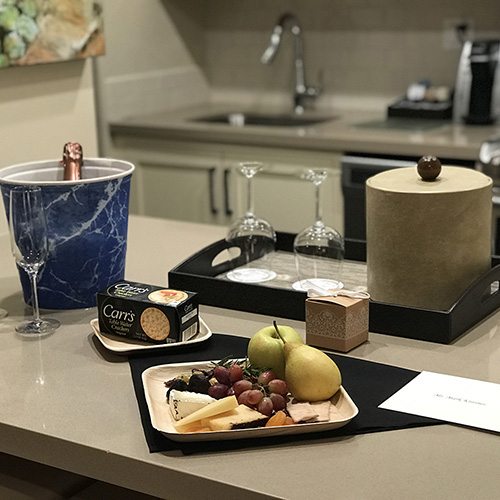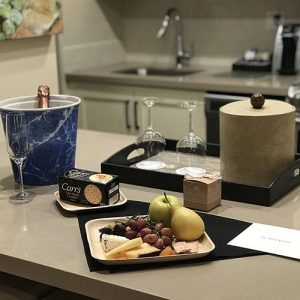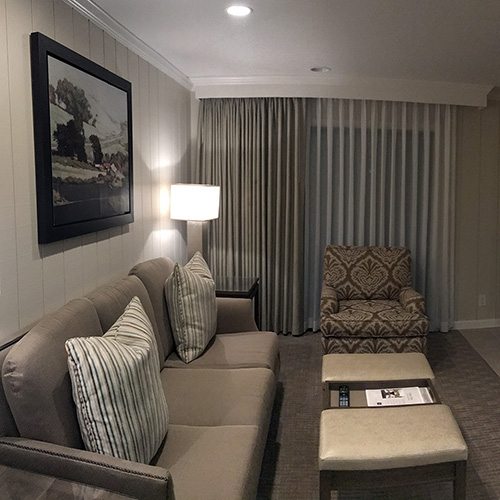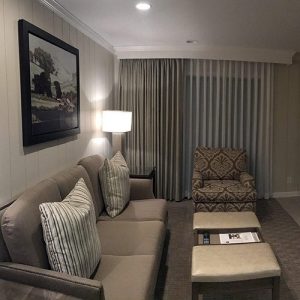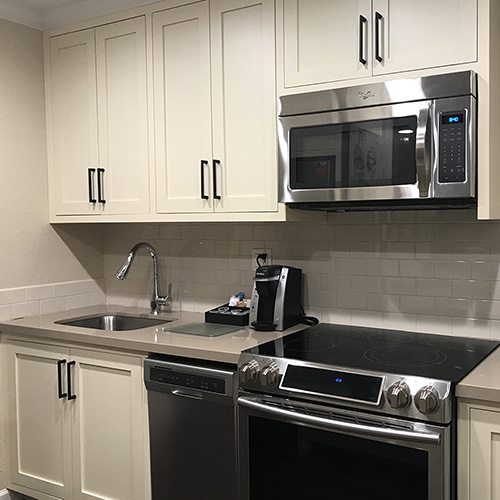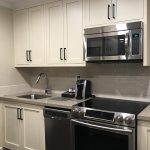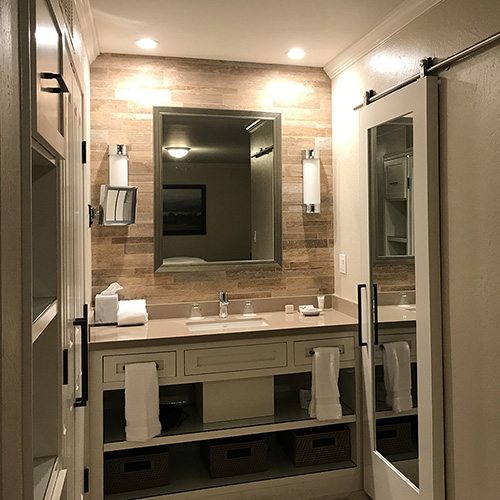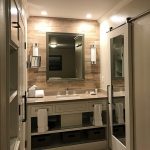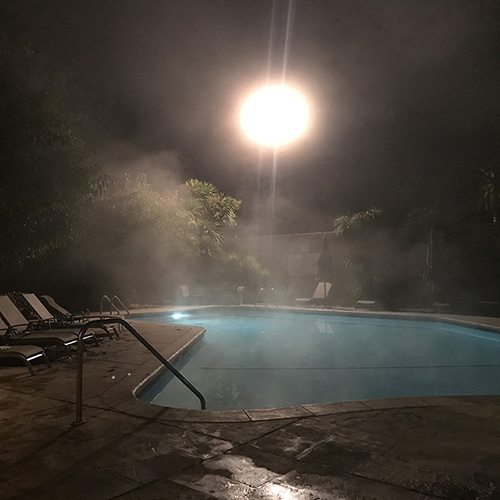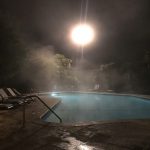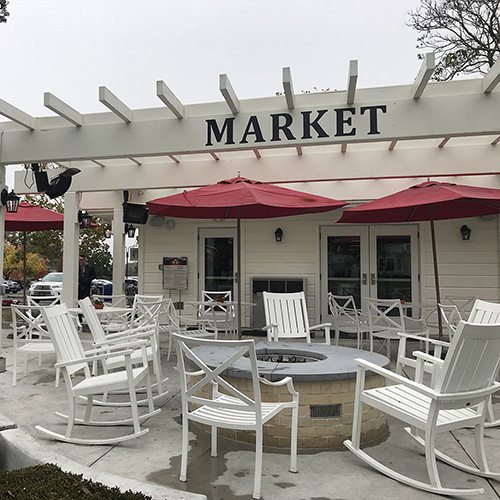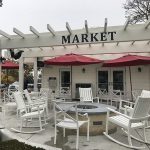 Our Mansion One-Bedroom Suite
The "great reveal" of walking into your room at a hotel or resort at which you've never stayed before is really one of my favorite moments when vacationing. Silverado did not disappoint – we were shown to our "mansion one-bedroom suite" near the center of the resort, close to the tennis courts and one of the most beautiful pool areas I've seen in California. Our spacious and modern unit included a living room with a fireplace, couch, and chairs as you open the front door, connected to a full kitchen with a handsome wet bar. This opened up into our romantic bedroom and beautiful bathroom, with a luxurious glass-enclosed rainfall shower.
We were pleasantly surprised to find an array of very thoughtful welcome gifts waiting for us on our wet bar, with a personal note from Julie, our host. These included regional cheeses, sparkling wine, and delicious fruit for our enjoyment. Definitely a wonderful way to start the weekend!
Unwinding in the Hot Tub
Since the pool and hot tub areas at the resort close around 10, we quickly changed and darted through the cold over to the one closest to our room. We were surprised to find the hot tub empty, and immediately slipped in to bask in its warmth. You could see the steam rising off the tub into the cold night and deeply breathe in the eucalyptus wafting through the air. I really can't imagine a more relaxing way to unwind from a long day of work and the drive over.
Heading Out Into Town
We had no idea that Napa had such a vibrant nightlife scene! The drive over from Silverado took us a short 12 minutes, and as we entered town we saw multiple booming nightclubs, a jazz bar, several wine bars, and a few late-night restaurants still serving guests late into the night. Our first (and only) stop was at Napa's Downtown Joe's Brewery and Restaurant as we were lured in by the music from the live blues band you could hear from the street. We surprisingly spent the remainder of the evening here – dancing, listening to sickening keyboard riffs, and enjoying fantastic beers. We decided to head back to Silverado early to get enough sleep for the next day.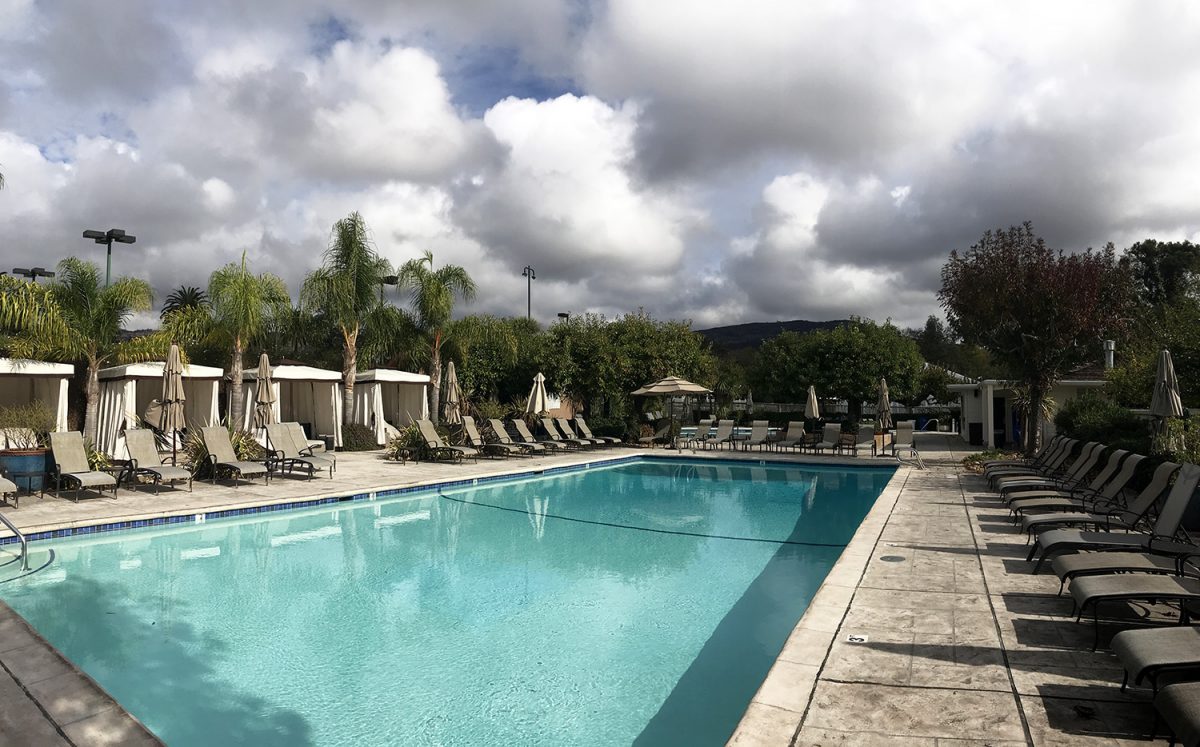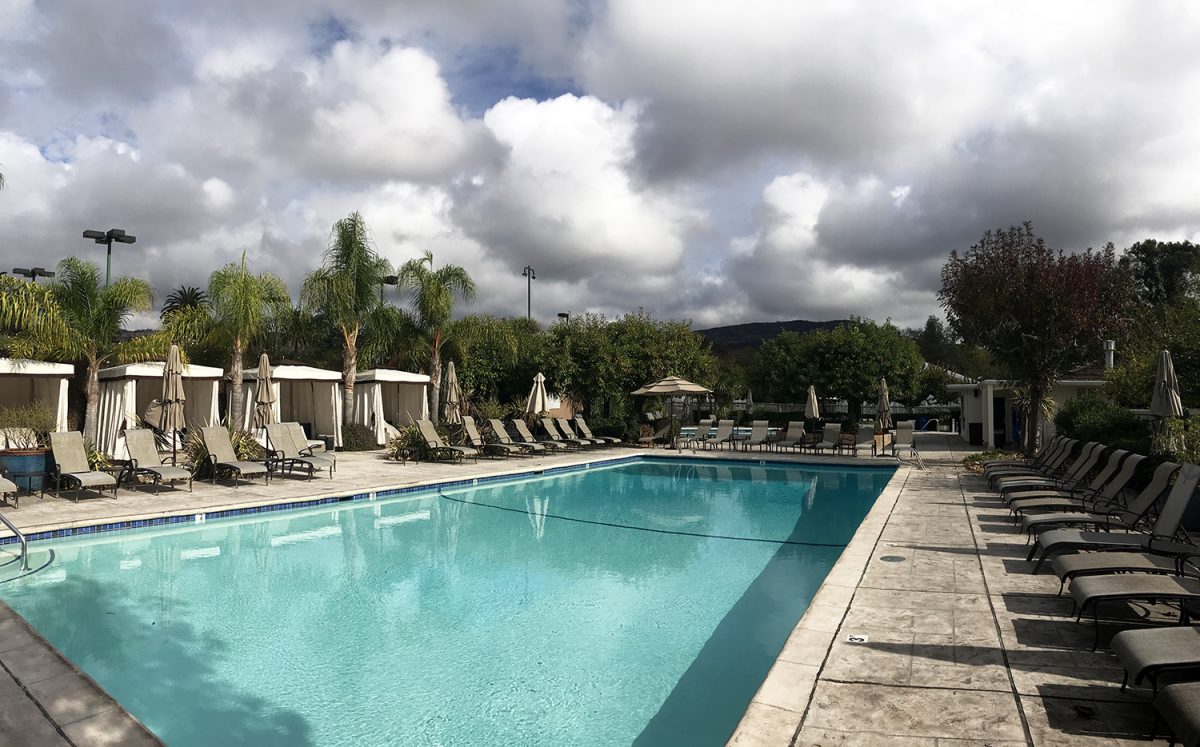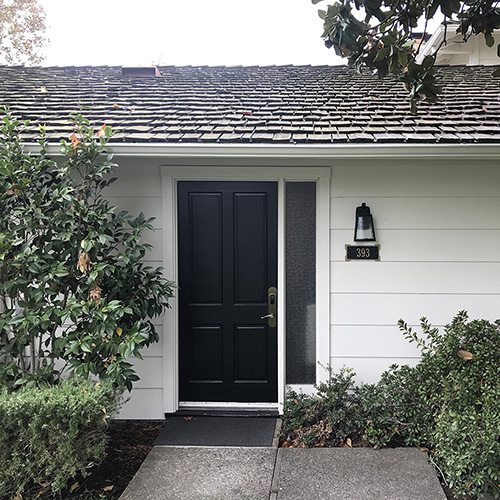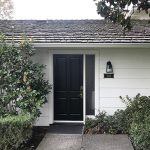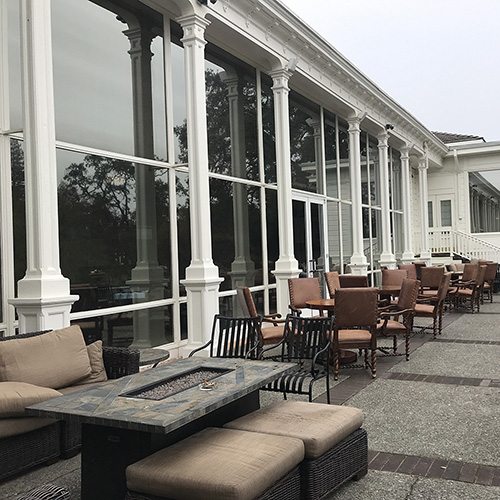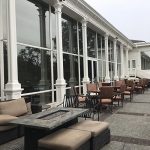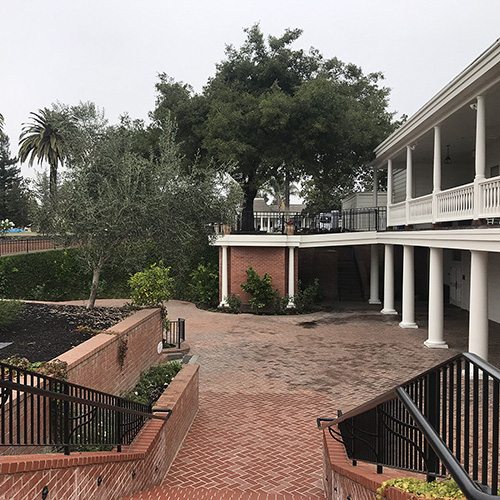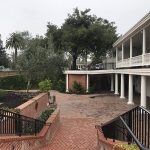 Waking Up and Exploring Silverado's Beauty
My partner woke me up with a hot cup of coffee and a delectable almond croissant from Silverado's market just steps away from our suite. After putting on comfortable clothing and taking the dogs out, we decided to explore the grounds. Our first unexpected encounter was with a small flock of rather large wild turkeys casually stationed outside of the market. We were not the only resort visitors captivated by their bizarre beauty – several other guests gathered around the bocce ball setup where the turkeys were stationed to take pictures.
We ventured on to explore several other small pockets of hotel units scattered throughout the resort. The arrangement of Silverado divides the grounds into little neighborhoods or communities, some of which are adorned by attractive fountains or little gardens.
Once again we took the plunge into the hot tub that was now fully revealed by daylight, which is even more impressive and beautiful. We were still the only guests using the hot tub that morning, and we certainly weren't complaining about having it all to ourselves!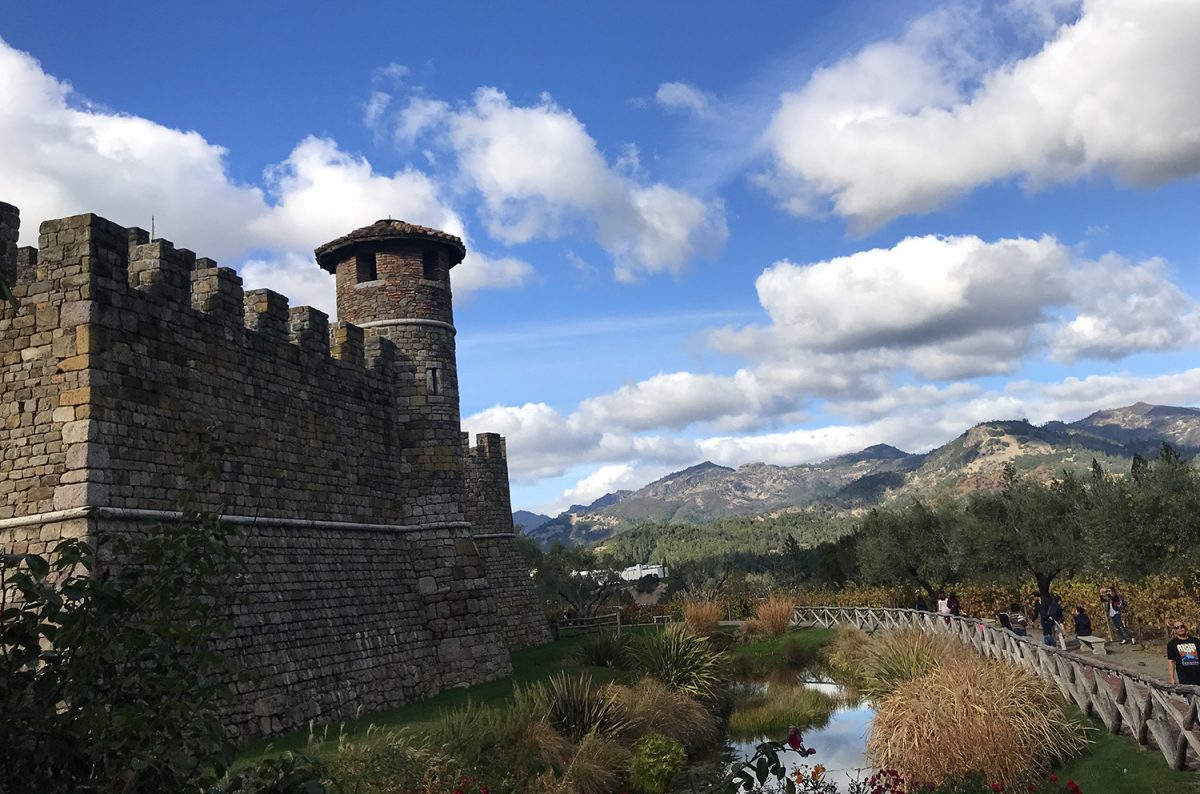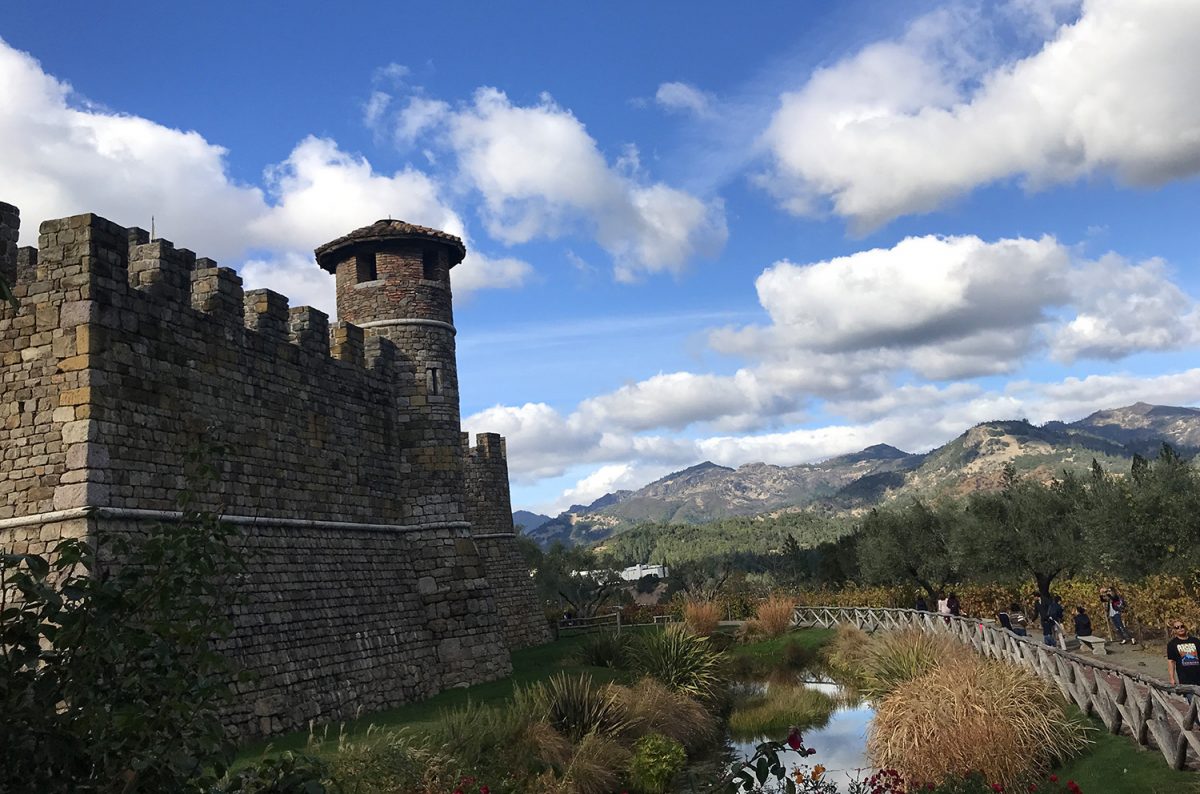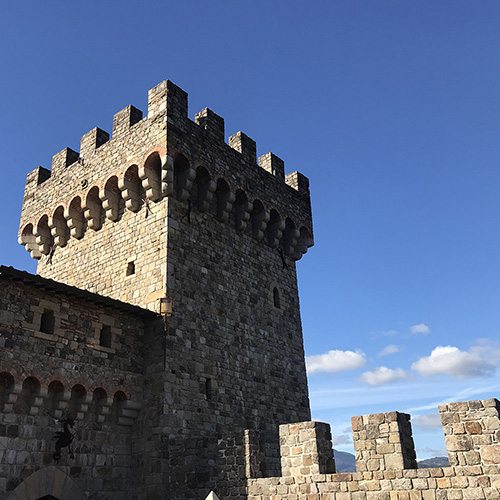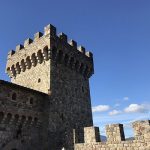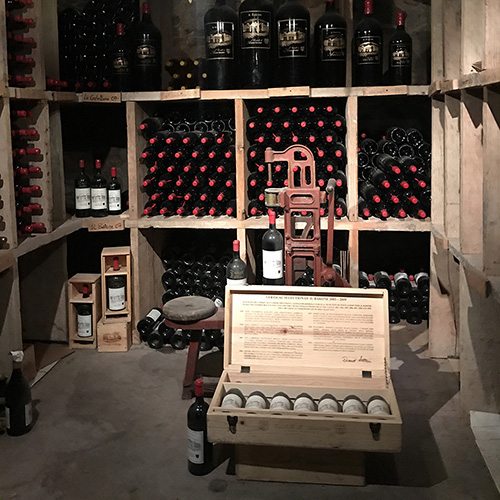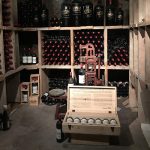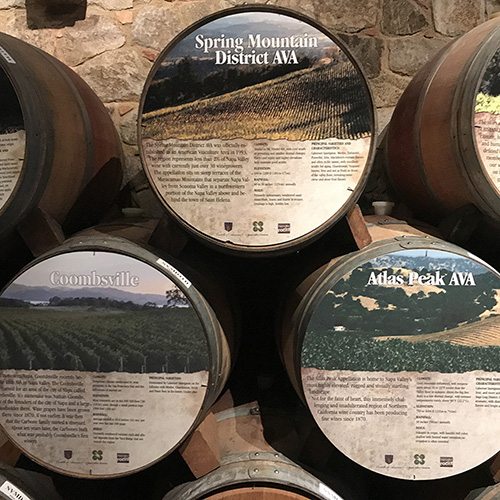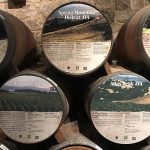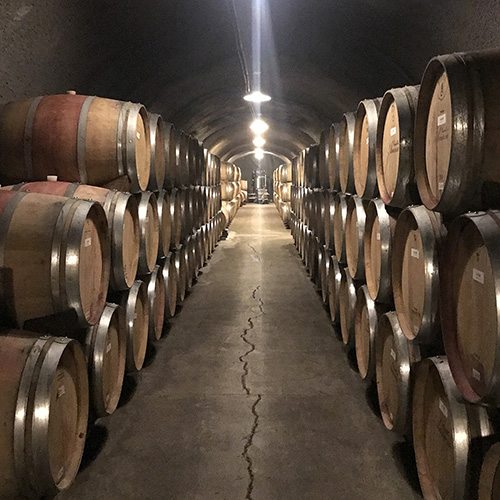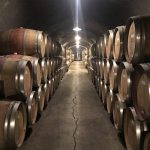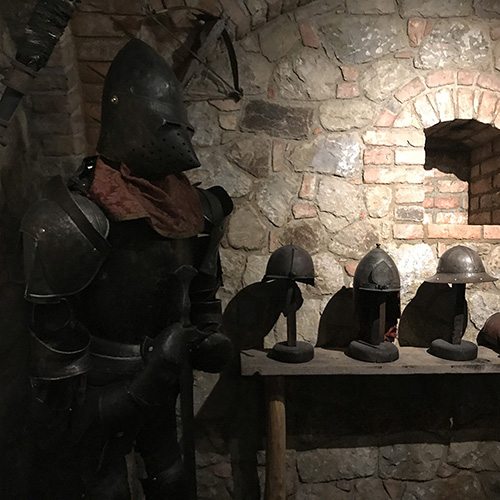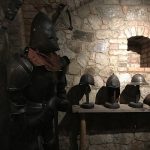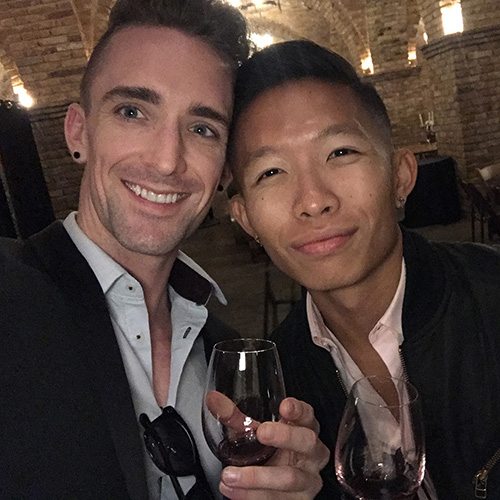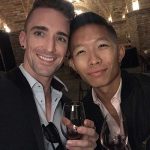 Wine Tour #1 – Castello di Amorosa
This spectacle of a winery is distinctly characterized by the medieval-style castle that lies at the center of this property. The owner had originally purchased the land just for re-growing the vines that had once prospered in the area, but his obsession with Italian medieval architecture would eventually compel him to design and commission the creation of an enormous 8-floor castle built from authentic stone and bricks imported from Europe. He even contracted several artists, architects, and other designers intimately knowledgeable of all things medieval to work on the castle. The result? An astounding marvel and popular attraction in Napa's contemporary wine scene.
Our tour of the castle lasted over an hour as we visited multiple levels and rooms adorned with artistry reflective of different medieval periods painted on the walls. We also had the opportunity to try several wines (I chose only reds) as we continued on our journey through the beautiful, yet eerie castle. My personal favorite room of the castle was the dungeon – a fabrication of how an authentic medieval torture chamber would look like, complete with an iron maiden that had actually been used once upon a time.
The wines were equally marvelous and impressive – perfectly balanced, smooth, and velvety. I highly suggest visiting this place not only for the spectacle but Castello di Amorosa sells their wines exclusively direct-to-consumer, meaning you cannot find their brand in any wine shops or stores.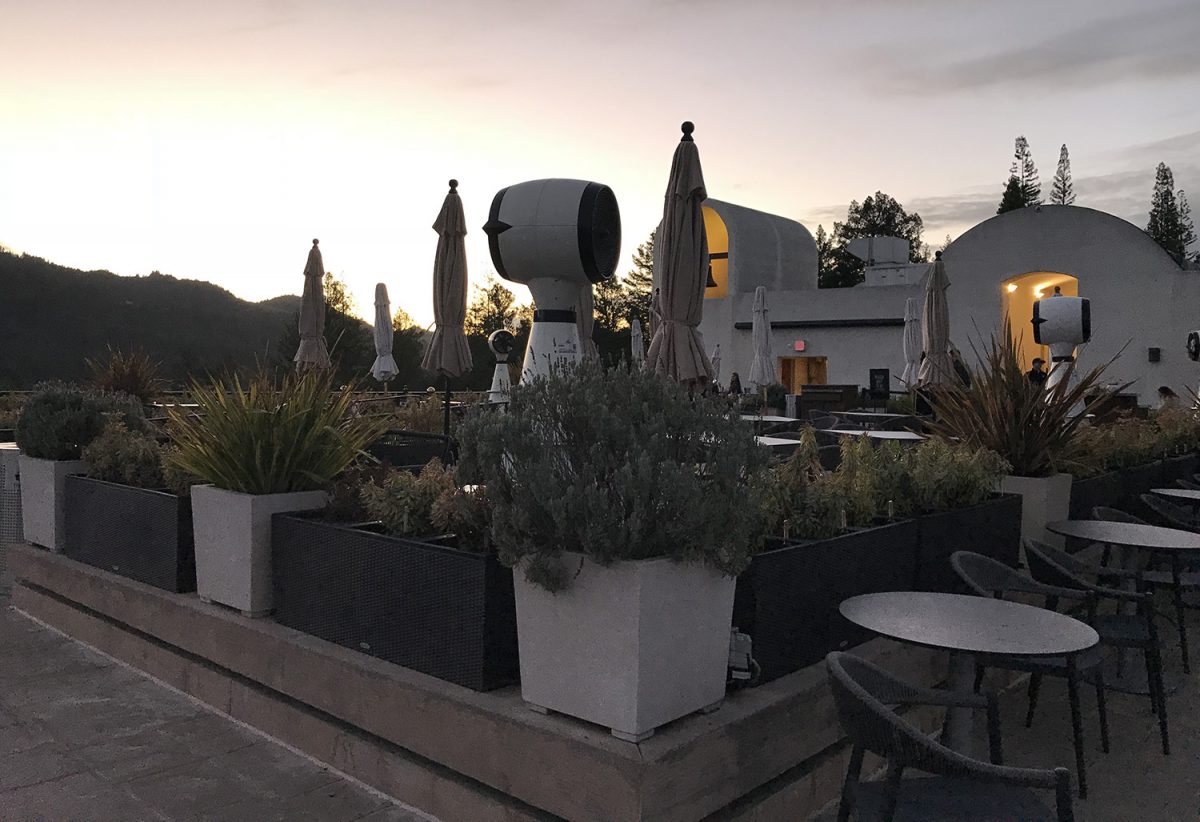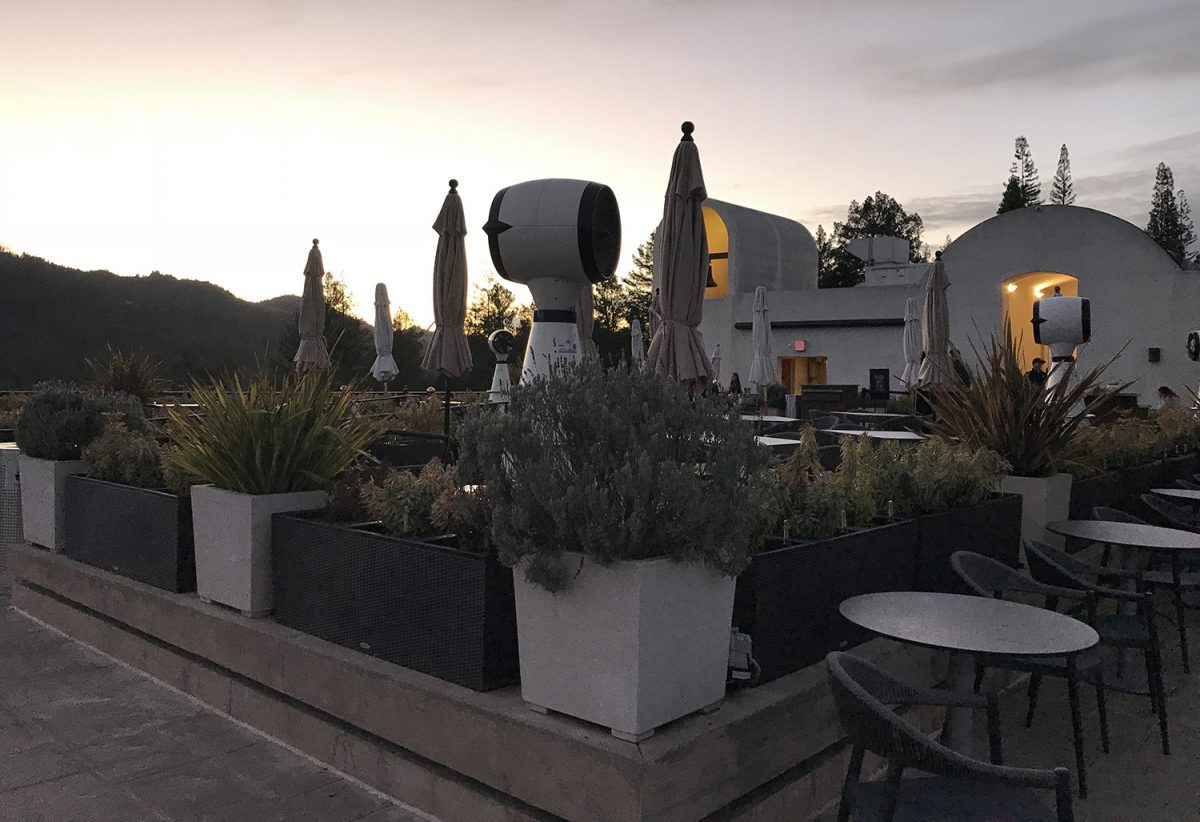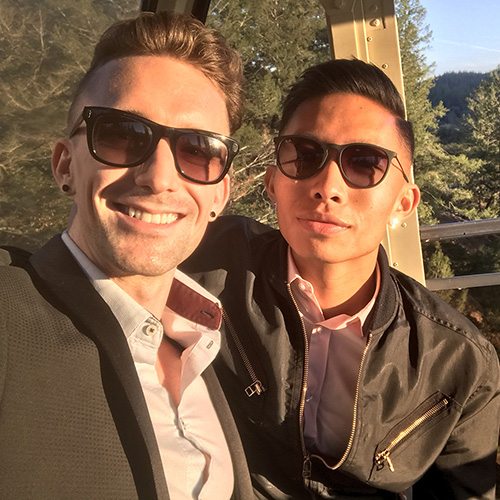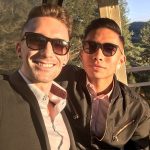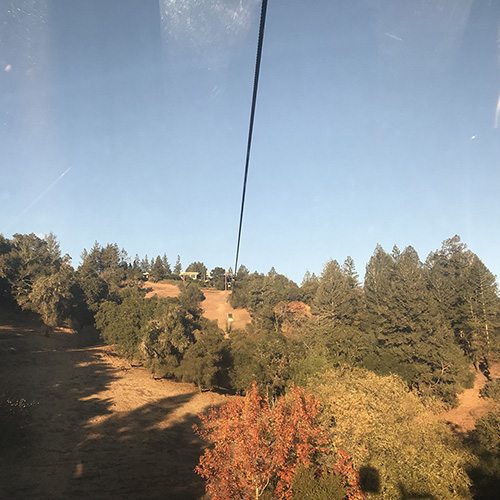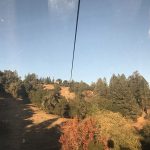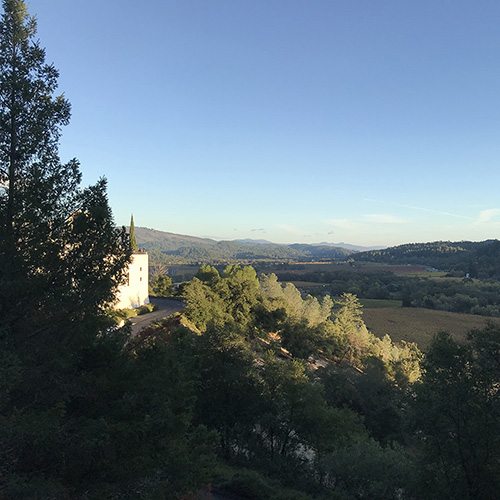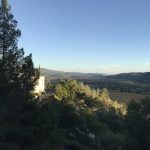 Wine Tour #2 – Sterling Winery
We ventured on to our next scheduled tasting, pretty much across the street from the castle. Unlike Castello di Amorosa, you can find Sterling wines at wine shops and liquor stores across the country. The winery was founded in 1964, and through the years the owners have built a formidable brand known for both quality and consistency. Today, visitors can enjoy a ski lift ride from the base of the winery up into the rolling hills where their iconic overlook is situated, giving guests access to a nearly 360-degree view of the Napa valley.
As we toured the grounds, we enjoyed a new taste of wine along every stop, with some of the friendliest and most knowledgeable staff helping us along our way. We were met with a gorgeous sunset as we enjoyed our final wine at the iconic overlook, reveling in the beauty of the valley before us. Before we knew it, the sun had set and it was time to journey back to Silverado to prepare for dinner.
Dinner in Downtown Napa Valley
Naturally, we had to reward ourselves with a plunge into the resort's hot tub after the long, hard day of wine tasting and touring! I must say – having a steaming hot tub to ourselves was undoubtedly one of the highlights of our stay at Silverado. After enjoying a hot shower and getting ready for dinner, we embarked on the quick 12-minute drive over to downtown.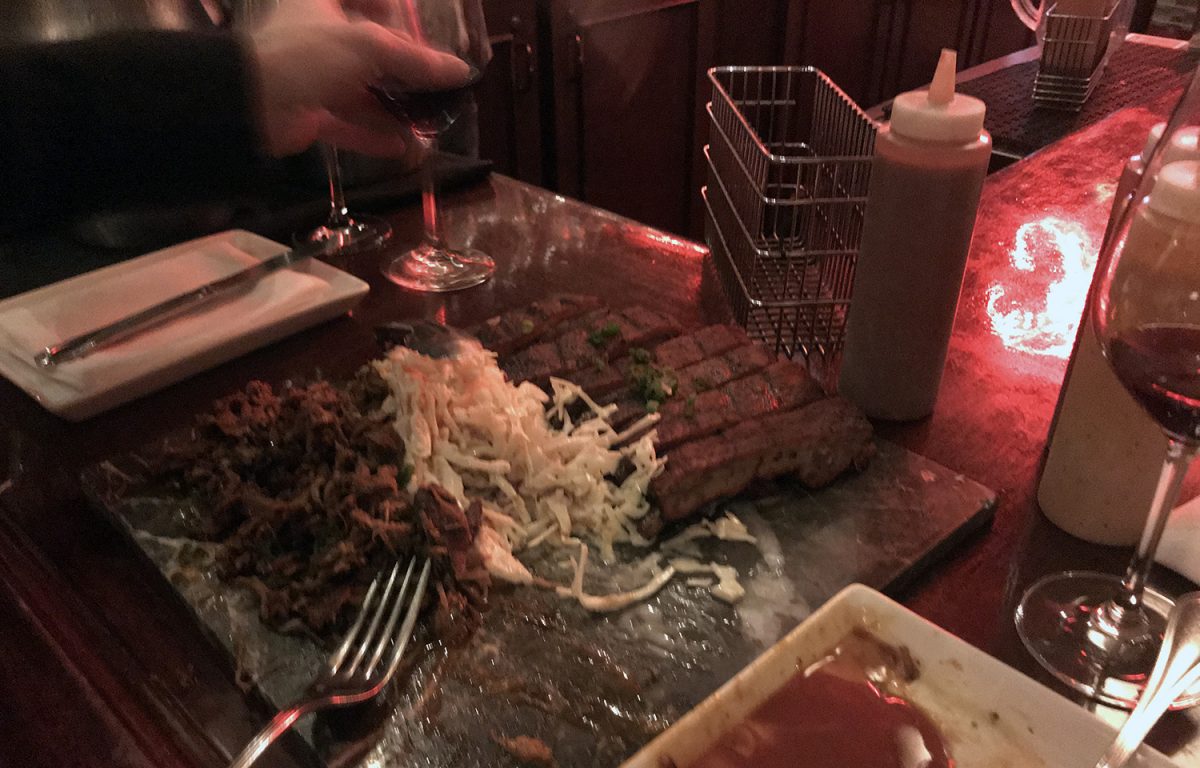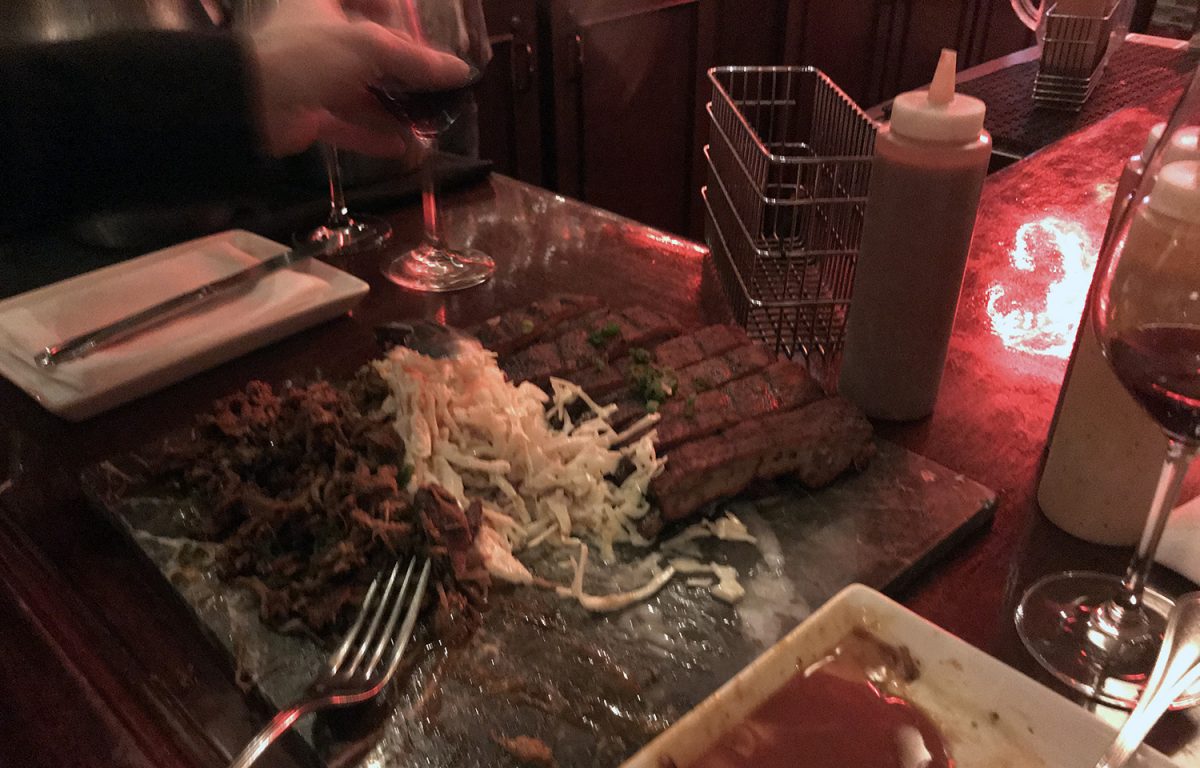 Where to Dine in Napa – The Bounty Hunter
If you are a vegetarian, this place is probably not for you. Additionally – if you do not like making reservations, this place is also probably not for you. We were foolish enough to think that it would be easy to get a table on a Saturday night without one. Boy, were we wrong.
The Bounty Hunter is literally the best BBQ dinner hot-spot I have ever been to. Hands-down. Just walking into this place is overwhelming – the entire restaurant emits a dangerously welcoming scent of freshly-grilled BBQ meat, and the lineup of over 400 wines (many with meat pairings) is enough to attract any carnivorous palette.
We promptly ordered the Bounty Hunter Smokin' BBQ Platter, complete with smoked brisket, pulled pork, BBQ ribs, slaw, and the best sauce in the world! We chose the Zin City red wine pairing (Zinfandels are THE BEST with BBQ), and embarked on the impossible task of trying to finish our entire meal. Sure enough, we were unsuccessful, and brought home a bounty of pulled pork and meaty goodness to enjoy the next morning.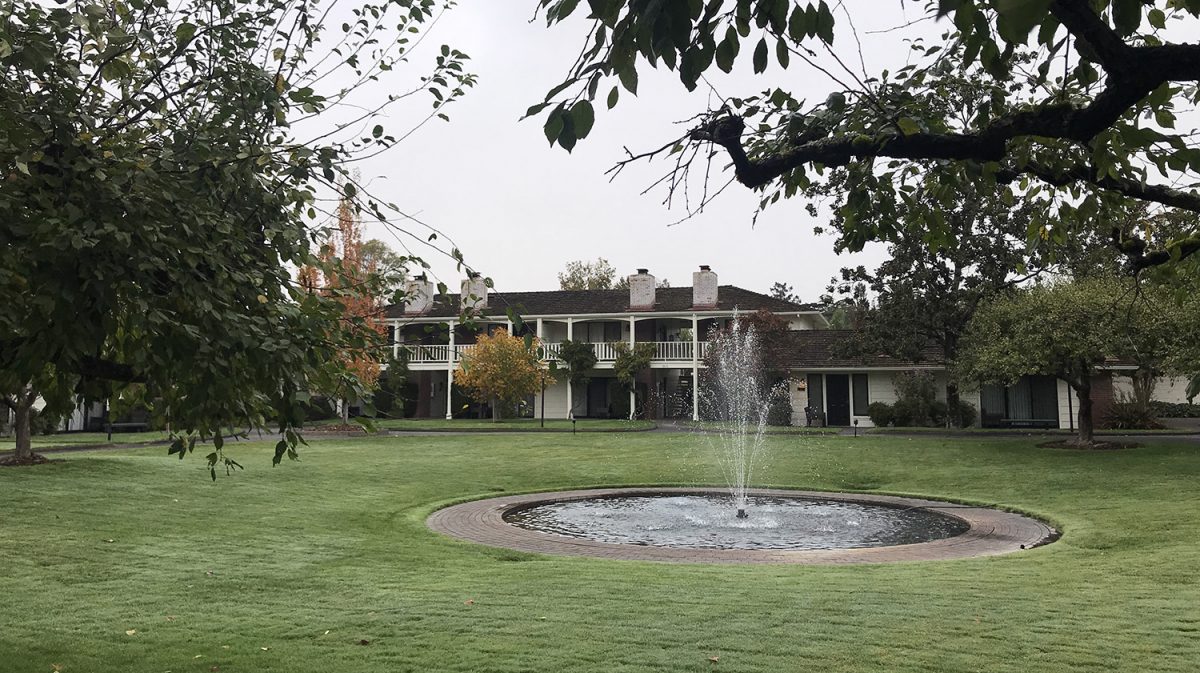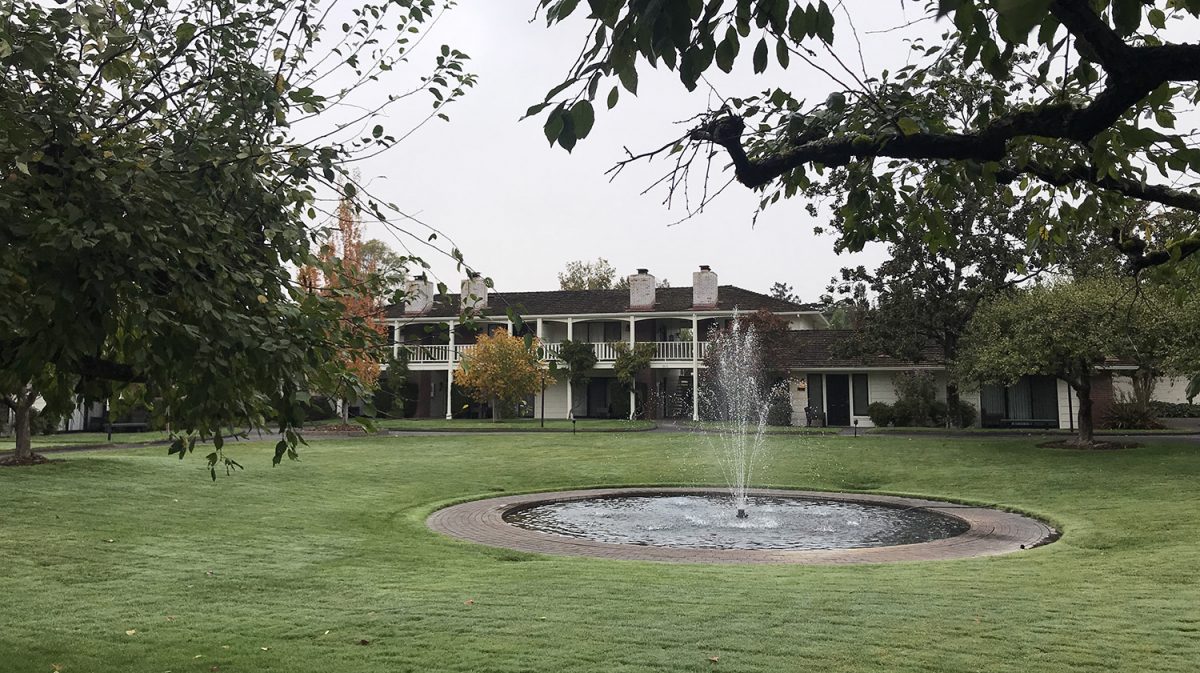 Our Last Morning at Silverado
Having went to bed early the night prior as the drowsiness from the enormous amount of meat we consumed made it near impossible to stay awake, we enjoyed a beautiful morning roaming the grounds one final time. We stopped by the hot tub once again, and explored the beautiful and expansive golf course located behind the mansion. As we left the gates, we reflected on a beautiful and magical weekend as we embarked on our journey back to San Francisco.