Native Deodorant Review: Benefits, Drawbacks & Final Verdict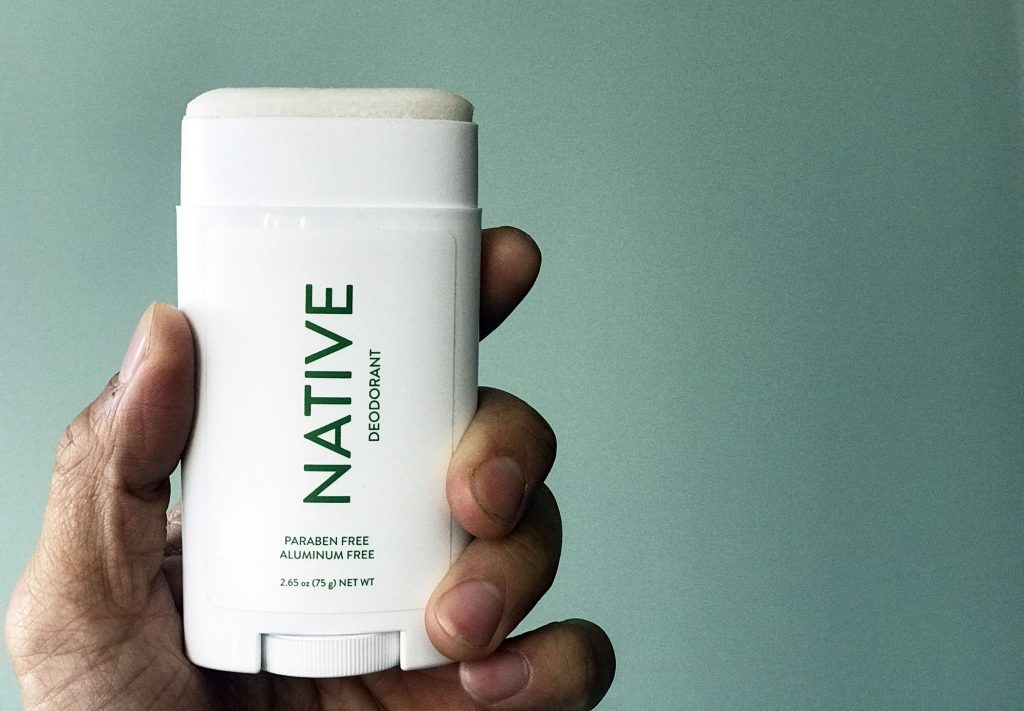 The popularity of all-natural deodorants has seemingly exploded in recent years as people are becoming more aware of the risks associated with deodorants and antiperspirants that contain certain harmful substances. More specifically, antiperspirant use and the possible link to breast cancer have deterred many customers from seeking out common brand-name deodorant solutions as they normally would. The possibility of increased Alzheimer's risk and lowered kidney functioning due to several substances contained in antiperspirants has also instilled fear among many health-conscious consumers, thus carving out a lucrative market for all-natural deodorant solutions.
Before we begin talking about one of these new all-natural deodorant brands, let's first debunk a few common myths surrounding antiperspirant use:
Does Antiperspirant Use Put You at Risk for Breast Cancer?
The aluminum content of most antiperspirants and antiperspirant/deodorant combination sticks has created worry among proactive health seekers who have expressed fear that these substances prevent the body from purging toxins as it normally would, which would theoretically lead to cell changes that might cause cancer. This fear has been especially prevalent among women and the possible link to breast cancer, given how close the armpit is to the breast region. Another theory is that substances like aluminum and parabens might interact with human DNA and natural female estrogen hormones, which might also increase the risk of developing breast cancer.
As worrisome as these theories are, most medical experts have dismissed the possibility that antiperspirant use might put users at risk for breast cancer. According to WebMD, an interview with the Director of Medical Content for the American Cancer Society revealed that there is no convincing or equitable evidence that supports these claims. Furthermore, the director pointed out that many of the studies supporting these claims were scientifically flawed, and therefore could not be relied on for trustworthy evidence.
Does Antiperspirant Cause Alzheimer's Disease?
Rumors linking antiperspirant use and the onset of Alzheimer's disease have also circulated for some time, specifically pointing to the aluminum content in antiperspirant as the potential cause. According to WebMD, several studies released in the 1960s found high levels of aluminum in the brains of patients with Alzheimer's disease, causing a widespread outbreak of fear for any household or commonly used items that have an aluminum content. Antiperspirant was one of these items called into question, as aluminum salts are contained in many antiperspirant sticks to help block sweat ducts from perspiring.
However, in studies to follow, Aluminum was ruled out as the possible cause of Alzheimer because the findings of the original studies were not sufficiently replicated. Furthermore, skin experts generally agree that the way in which antiperspirants work to block the sweat pores does not deposit substantial amounts of aluminum into the bloodstream, thus eliminating the cause for concern.
Are Parabens in Antiperspirant or Deodorant Harmful?
According to Cancer.gov, the parabens used in some cosmetics, foods, deodorants, and other pharmaceutical products have been shown to imitate the natural activity of estrogen in human cells. Although they have not been proven to directly cause breast cancer, these contaminants have been found in breast tumors. In short, parabens should be a cause for concern as human contact and consumption is not advised, but most deodorants and antiperspirants in the United States no longer contain parabens, according to the National Library of Medicine's Household Product Database.
Why Is All-Natural Deodorant Better for You?
Despite the evidence debunking the myths surrounding the association of antiperspirants and both cancer and Alzheimer's disease, many people are still turning to all-natural products to provide the same results. But if cancer and Alzheimer's disease is no longer a risk, why would an all-natural deodorant be a better solution?
All-natural deodorant options tend to be less irritating, and are an ideal solution for normally sensitive skin. Unlike antiperspirants, most all-natural deodorants do not use aluminum salts to block the sweat pores, but instead use all-natural ingredients to perfume the arm pits. Oftentimes these natural products contain more soothing materials that are better for your skin, especially for those who shave their armpits.
Are All-Natural Deodorants as Effective as Antiperspirants?
Not always. Although many companies strive to provide consumers with paraben and aluminum-free products using all-natural ingredients, sometimes they just simply don't mask the smell of body odor as effectively as normal deodorant or antiperspirant. At the end of the day, this is the result we are all seeking, and being smelly in the presence of others, in front of clients, while serving food, and in most other scenarios is simply unacceptable.
However, when Native Deodorant reached out to The Authentic Gay to do a review of their product, we were excited to jump on this opportunity. We were impressed with the plethora of soothing, all-natural substances their deodorant options contained. More importantly, given that our readers tend to be both active and health-conscious, we were mostly excited to see how well this product works when put to the test of hard exercise and sweat.
What Is Native Deodorant?
Our team first heard about Native Deodorant from a friend who was interviewing for a position at their San Francisco office. She raved about their work culture, their commitment to a sustainable and health-focused product, and (of course) about how much she loved the product itself. After doing a little background research on this company, we also found ourselves intrigued by their unique story, brand purpose, and product.
Native Deodorant is an emerging all-natural deodorant brand based in San Francisco that takes pride in providing their customers a cruelty-free, all-natural, 100% made in America deodorant solution. With their clever #GoNative hashtag and "Invest in Yourself" slogans printed on their packaging and displayed on their website, their brand team is clearly dedicated to reinforcing a company purpose of being "natural." They offer several different scents to both men and women, all of which contain high-quality substances that are intended to soothe rather than irritate the skin.
What Does Native Deodorant Contain?
If you have tried all-natural alternatives to deodorant or antiperspirant before, you are probably familiar with the same old dilemmas – they do not apply/smooth as well as normal antiperspirant, they leave white marks all over black clothing, and they don't mask the smell of body odor as well as normal deodorant.
Native Deodorant set out to solve these issues without irritating the skin by bringing together high-quality substances. Although there are different versions and scents of their product, most of them contain these common ingredients:
Shea Butter
A rich, creamy substance extracted from the African Shea Tree nut that is often used in all-natural moisturizers. It is known to help heal dried-out skin, and can also reduce wrinkles, sooth small skin wounds, reduce insect bite itchiness, and aid in helping other skin conditions as well.
Jojoba Oil
This oil is also an all-natural moisturizer, and is commonly found in high-end soothing face and body creams. Many dermatologists recommend applying a few drops of jojoba oil after emerging from a shower to keep the skin naturally hydrated.
Coconut Oil
An all-natural antibacterial and antifungal, and is known to be excellent for moisturizing and hydrating the skin and hair. Coconut oil is even used by many to help reduce acne while keeping the skin moisturized naturally.
Beeswax
Not only is this a natural antibacterial and antiviral, but it is also an all-natural anti-inflammatory, helping to soothe irritated skin. It is used in many lip balms, face makeup, hair products, and more for its healing properties.
Although we have never heard of a deodorant containing probiotics before, we were certainly intrigued to find that Native Deodorant contained healthy microbes. The human body contains trillions of healthy microbes in the gut that aid with digestion, the absorption of nutrients, and defending the body against harmful bacteria.
In addition to the above ingredients, most Native sticks also contain Vitamin E, Baking Soda (to help with dryness), Arrowroot Powder, Maltodextrin, and Vegetable Preservatives, as advertised on their website. Although ingredient content may differ depending on which stick and scent you decide to buy, we found that the above ingredients were contained throughout most of Native's products.
Eucalyptus & Mint Native Deodorant Review
We decided to order the Eucalyptus & Mint Native Deodorant stick to try and review. Having heard so much about the product and reading hundreds of positive reviews, we were excited to try it ourselves! I am personally a big fan of Eucalyptus, so naturally I had to order the stick that contained this scent.
Ordering
As huge Amazon addicts, it came as a surprise to us that this product is only offered for purchase directly through their site. I did some digging around online and couldn't find it offered on any other online retail websites either. Fortunately, Native.com offers free shipping on all order to the United States, Canada, Australia, France, Germany, and the UK.
Choosing a Scent
The online interface is super simple and easy to navigate. The retail section is divided by gender, with slightly different scent offerings in each section. We were interested in trying out the most popular men's scent – Eucalyptus & Mint.
Men:
Unscented – $12.00
Eucalyptus & Mint (their most popular option as advertised on their website) – $12.00
Citrus & Herbal Musk (winner of an AskMen award) – $12.00
Sandalwood & Lemon (a special scent for the season) – $12.00
Men's Pack (consisting of three scents – Eucalyptus & Mint, Sandalwood & Lemon, Citrus & Herbal Musk) – $30.00
Men's Travel Pack (consisting of five "travel-size" sticks – Eucalyptus & Mint, Coconut & Vanilla, Lavender & Rose, Unscented, Citrus & Herbal Musk) – $24.00
We found it interesting that the Coconut & Vanilla and Lavender & Rose scents were only offered in the men's travel pack. The Lavender & Rose and Coconut & Vanilla scents are also offered in the women's section, so perhaps Native decided to group these into the men's travel pack to add more variety.
Women:
Unscented – $12.00
Lavender & Rose– $12.00
Coconut & Vanilla (their most popular women's scent) – $12.00
Pear & Lavender (seasonal only) – $12.00
Honeycrisp Apple & Cinnamon (also seasonal only) – $12.00
Almond & Vanilla (seasonal) – $12.00
Pumpkin Spice Latte (by limited edition) – $12.00
Fall Season Pack (contains the Almond & Vanilla, Honeycrisp Apple & Cinnamon, and Native Pear & Lavender scents) – $30.00
Women's Sample Pack (contains the Coconut & Vanilla, Lavender & Rose, and Unscented sticks) – $30.00
Women's Travel Pack (5 "travel-size" scents, including Coconut & Vanilla, Unscented, Citrus & Herbal Musk, Eucalyptus & Mint, Lavender & Rose) – $24.00
Since the shipping cost is free and there is no added tax, the list price is what you end up paying.
Shipping Time
We ordered our stick on the 26th of October in the afternoon. We chose the regular free shipping option, and our product arrived the following Wednesday, October 31st. Since we ordered on a Thursday afternoon, the weekend likely added to the amount of time it took for Native to get to us. We recommend ordering on a Monday or Tuesday if you want to get your stick the same week you order. Native.com also offers expedited shipping within the United States only for $10.
Packaging
The unique branding was apparent the moment we picked up the box from our mailbox. Our single-stick arrived in a blue/white rectangular cardboard box, with "Native Deodorant" and "Aluminum-Free Paraben-Free" imprinted on the packaging. Their #GoNative hashtag is on the top of the rectangular box, with their slogan "Invest In Yourself" imprinted on the bottom.
Our favorite part about the unboxing process was finding the well-thought-out instructions card under the stick in the box. This provides tips for using Native such as "Less is More" and "Wear it Daily."
The actual Eucalyptus & Mint stick we ordered directly displays their ingredients in easy-to-read font on the back, which we found useful and transparent. We noticed that most of the actual ingredients this specific stick contains directly matched the "good stuff" that's advertised on their website, including Arrowroot Powder, Shea Butter, Beeswax, Jojoba Oil, and more. We will point out that, similar to most deodorants and antiperspirants, Native does contain Stearyl Alcohol (in small amounts) which is necessary to evaporate excess deodorant once applied to the skin. Fortunately, the Shea Butter and Jojoba Oil work to soothe the skin to ensure that it does not try out after applying.
The Authentic Gay Test
Everyone has different sweat patterns and deodorant preferences, so we wanted to create some form of an "objective" test that was more than just our opinions on smell and general feel. We decided on the following measurement methods to construct our rating process (all on a scale of 1-5).
Smell – We admit that this part of our test is far more subjective. However, as eucalyptus aficionados (we own eucalyptus candles, body wash, and other eucalyptus paraphernalia) you can put your trust in us that we take this section of the test very seriously.
Residue – Most complaints we hear about antiperspirants and deodorants in general are usually associated with the white streaks it leaves on dark-colored clothing. We were interested in testing to see if this was the case with our Native stick.
Exercise & Sweat – How well does Native work to kill body odor when doing moderate exercise? What about strenuous exercise?
Irritating or Soothing? – How does the deodorant feel when on the skin? Does it irritate or soothe?
Smell Test: 3.7/5 Stars
Expectation: One of the things we were most excited about when ordering our stick of Native Deodorant was the fact that it's offered in one of my favorite scents – Eucalyptus. Their Eucalyptus & Mint stick is also their most popular men's item (as advertised on their website) so we were anticipating a scent that would be remarkably like actual eucalyptus.
 Reality: The actual smell of the Eucalyptus & Mint option doesn't really smell anything like either eucalyptus or mint, at least in my opinion. The good news is that I ended up enjoying the scent, which I would characterize as a muskier, "Irish Spring" scent than eucalyptus or mint. We decided to rate the smell test section 3.7 out of 5 – we ended up enjoying the scent, however it did not deliver the scent as advertised.
Residue Test: 4.7/5 Stars
Expectation: As a long-time user of Degree's antiperspirant/deodorant hybrid stick, I still run into the same issue of leaving white streaks on black or dark clothing, especially immediately after applying deodorant. Having tried several "all-natural" deodorants in the past, I was also wary that this would be an issue with Native.
Reality: I think this is one of the more impressive features Native deodorant offers. Granted, we followed their instructions by cleaning underneath our armpits and drying them entirely before applying, but it is remarkable how well the substance is absorbed into the armpit skin. With Degree's stick I need to wipe down this area with toilet paper to remove excess residue before getting dressed. Native absorbs so well that it's hard to tell you're wearing it once applied, minus the obvious scent. If you are worried about this deodorant leaving streaks or marks on clothing, or clumping your armpit hair together, don't be – Native wins in this category.
Exercise & Sweat Test – 4.5/5 Stars
Expectation: I personally sweat a lot when exercising, especially during sessions of heavy cardio or lifting. I am also not embarrassed to state that I do not smell very good when I don't wear deodorant (which never happens), and it took me a while to decide on Degree before cycling through several Speed Sticks and Old Spice options that simply wouldn't provide odor-blocking all day long. I certainly was not expecting an all-natural deodorant to hold up to my test.
Moderate Cardio Test: I decided to first test this stick by going on a 6-mile moderate incline urban hike, from my apartment in the SOMA district of San Francisco (9th and Market, to be exact), all the way to Crissy Fields next to the Golden Gate. It was in the low 60s and sunny, so I layered my clothing, wearing a long sleeve shirt under a fleece jacket. At the end of this hike I had two friends provide "smell tests" to determine if the deodorant provided adequate odor-blocking.
Strenuous Cardio Test: Once at Crissy Fields, after the smell test mentioned above was performed, I proceeded to run full speed at high intervals 1 minute at a time, with 1-minute rest in between intervals, for 15 minutes. This was more than enough to break a sweat. I then had the same friends provide smell tests to determine if the deodorant was still working.
Reality & Outcome: The deodorant did an exceptional job of blocking odor in the moderate cardio test as measured by both smell tests. The 6 miles of urban hiking was not enough to release even a hint of body odor. Following the strenuous cardio test, only a very slight hint of body odor was detected, with an estimation of 92% odor-blocking ability in this category. I was very pleasantly surprised at how well Native performed in this category.
Irritating vs. Soothing Test – 4.8/5 Stars
Expectation: I had very high expectations for this category given the high-quality ingredients Native advertises that their products contain. I also despise the feeling of wetness or excess residue after applying deodorant, so I was hoping that Native would feel light, almost as if I was not wearing deodorant at all.
Reality: My Native stick performed exceptionally well in this category, as expected. Not only does it feel moisturizing and non-irritating, but it absorbs so well that it's hard to tell you're wearing it once applied. It also does not clump up your hair like other deodorant products I have tried, and there is no need to wipe off excess deodorant once applied as I mentioned in the "residue" test section.
Native Eucalyptus & Mint vs. Degree Men Extreme Blast Antiperspirant
As I mentioned above, I have been a long-time user of Degree for Men's antiperspirant products. It took me a while to bounce around trying other brands and products before landing on Degree, which I found to be the most effective at blocking body odor. Now that I have tried Native, I wanted to provide a side-by-side comparison, given how the two products drastically contrast each other.
Ingredients
Native: Contains all-natural, soothing and moisturizing ingredients like Jojoba Oil, Shea Butter, and Beeswax. It is also aluminum and paraben-free, and not tested on animals.
Degree: Contains Aluminum Zirconium (the active ingredient used to block sweat pores). Degree does test on animals and is not cruelty-free. I was not able to find if Degree contains parabens.
Winner – Native.
Residue
Native: As mentioned above, my Native deodorant performed surprisingly well in this category. I barely felt like I was wearing deodorant at all, and the stick did not clump my underarm hair, nor did I have to wipe off excess deo with toilet paper.
Degree: One of my primary complaints with this product is the excess residue it leaves, the streaks it has left on my clothing, and the need to wipe off excess residue so my arm hair does not clump.
Winner – Native.
Irritating vs. Soothing
Native: The gentle and all-natural ingredients really do make a difference. You feel lighter in the armpit region, and moisturized at the same time.
Degree: One disadvantage of wearing an antiperspirant is that it blocks your sweat pores from releasing sweat. Sometimes my underarm skin does become irritated, but it is hard to tell if this is a direct result of my deodorant or from clothing. Degree also tends to clump my armpit hair when I do not wipe off excess residue, sometimes causing discomfort.
Winner – Native.
Exercise & Sweat
Native: As mentioned above, my Native stick performed remarkably well in both the moderate and strenuous activity level tests
Degree: I have always relied on this product for all day-long protection. It generally does a pretty decent job.
Winner – Tie.
Smell
Native: I was only able to try one scent – the Eucalyptus & Mint. I ended up enjoying this scent, although I do not think it really smells like eucalyptus or mint.
Degree:  I usually get the "extreme blast" scent, not necessarily because I like the smell, but because it is subtle when applied. I generally don't like smell coming from my underarms, regardless of if it's a good or unpleasant odor. Since this Degree product is an antiperspirant, one of the advantages is that it makes you sweat less, causing you to smell less. This probably makes this part of the test an unfair comparison, but I will nonetheless provide my decision.
Winner – Tie.
Where to Buy Native Deodorant
While Native Deodorant products are not yet available in stores, this all-natural and aluminum-free deodorant can be purchased online on the Native Deodorant website. Native offers free shipping and free returns on all purchases, so if you want to try a different scent or are not entirely convinced that it is right for you, Native offers a money-back guarantee. The company ships for free anywhere within the United States, UK, Germany, France, Canada, and Australia. Finally, Native offers a subscription service for individuals who do not want to have to manually reorder their favorite scents or sticks on a monthly basis.
Benefits of Using Natural Deodorant
Avoid aluminum exposure. Commercial deodorants contain aluminum salts that you absorb through your underarms into the lymph nodes. Native is aluminum-free.
Prevent health issues. Toxic chemicals in regular deodorants are linked to diseases like breast cancer or Alzheimer's when absorbed through underarm skin over years of use. Native's all-natural formula avoids these risks.
Reduce inflammation. Chemical deodorants can irritate underarm skin and cause painful rashes or cysts. Native's plant-based ingredients soothe skin and reduce inflammation upon switching.
Improve underarm health. Commercial deodorant blocks sweat and natural detox processes in the underarms. Native still prevents odor but lets some moisture and elimination continue as needed to support lymphatic health.
Feel fresh without compromising health. Most people switch to natural deodorant to avoid harsh chemicals but still want strong odor and wetness protection. Native delivers clinical-strength performance from nourishing natural ingredients.
How to Use Native Deodorant
Using Native deodorant is simple, but proper technique is key to all-day odor protection. Here are the steps:
Apply in a cool room after showering while your underarms are still slightly damp for the best results. The small amount of moisture will help the deodorant glide on smoothly and adhere better to the skin.
Use light, even strokes to apply 2-3 passes of deodorant to each underarm. Don't cake it on – a little goes a long way thanks to the nourishing plant-based ingredients.
Make sure you cover your entire underarm area, especially in the inner region where odor buildup mostly occurs.
Wait a few minutes before putting on clothes over the deodorant. This allows it time to warm up against your skin and create a protective barrier against wetness and odor.
Reapply whenever needed if you notice wetness or odor start to break through. For most people, one application in the morning after showering is sufficient for all-day coverage but individual activity levels and natural body odor varies. A quick midday touch up may sometimes be needed.
The Cost of Native Deodorant
Native Deodorant does cost slightly more than commercial deodorant brands, with a starting price of $12. However, given that it's all-natural, aluminum-free, cruelty-free, and made using sustainably sourced ingredients, it's an investment in your health and the environment that delivers significant v
Final Considerations
With most high-quality products that contain gentle, all-natural ingredients, an increase in price is generally expected. This is the case with Native deodorant products – all single sticks are $12, while a pair of 2 Degree sticks (the brand I have historically used) sells for around $7 on Amazon. Although this is a relatively substantial price difference, the quality between the two products is immediately noticeable. Plus, it's nice to know that Native does not test on animals.
One final question/concern I want to make mention of is whether Native products use sustainable production methods. More specifically, I am wondering whether Native deodorant production facilities use methods that minimize environmental waste, conserve energy, and produce low carbon footprint measures. Major brands like Brita for example take pride in their sustainability, and advertise this on their website. I was not able to find anything related to sustainability on Native's website.
Buy it now: Native Cosmetics
Frequently Asked Questions About Native Deodorants
Is Native Deodorant Good?
Native Deodorant is a natural deodorant that is made with ingredients that are safe for your skin. It is also aluminum-free, which is essential to many people. I have been using Native Deodorant for a while now, and I absolutely love it! It works great at keeping me smelling fresh all day long.
Does Native Deodorant Work?
We've all been there. You're out and about, minding your own business, when suddenly you realize that you're sweating. A lot. And it's not just a little bit of sweat; it's full-on pit stains. You start to feel self-conscious and wonder if anyone can smell your BO. You try to discreetly sniff your armpit, but it's no use. The smell is unmistakable. So, you do what any average person would do and head to the nearest store searching for some deodorant.
But then you remember that you're trying to live a more natural lifestyle, and you can't use traditional deodorants because they contain aluminum and other toxic ingredients. You've been using natural deodorants for a while now, but they just don't seem to work as well as the conventional kind. So, what's a sweaty person to do?
If you're looking for a natural deodorant that actually works, then you need to try Native Deodorant. This deodorant is made with ingredients like baking soda, arrowroot powder, coconut oil, and shea butter, which all work together to keep you feeling fresh and dry all day long.
Is Native Deodorant Safe?
When it comes to deodorants, there are a lot of different options on the market. But is Native Deodorant safe? This is a question that a lot of people have been asking lately.
Native Deodorant is made with ingredients that are all-natural and organic. The company also states that its products are vegan and gluten-free. So, if you're looking for an environmentally friendly and healthy option, Native Deodorant might be a good choice for you.
However, some people have raised concerns about the safety of Native Deodorant. One of the main ingredients in the product is baking soda. Baking soda can be irritating to some people's skin, especially if they have sensitive skin. If you experience any irritation after using Native Deodorant, you should stop using it immediately.
Another concern is that the product contains aluminum. Aluminum has been linked to health problems like Alzheimer's disease and breast cancer. However, the amount of aluminum in Native Deodorant is very small and is not likely to cause any health problems.
Overall, Native Deodorant seems like a safe and healthy option. However, if you have sensitive skin, you may want to try another brand.
Does Native Deodorant Stain Clothes?
If you're someone who's constantly on the go, you know how important it is to have a good deodorant that won't let you down. But with so many options on the market, it can be hard to decide which one is right for you. If you're looking for a natural deodorant that won't stain your clothes, Native Deodorant is a great option.
I've been using Native Deodorant for a few months now, and I love it! I never have to worry about it staining my clothes or leaving me feeling sweaty and gross. It's also affordable, which is a huge plus. I would highly recommend this deodorant to anyone looking for a natural option that works well and won't break the bank.
Is Native Deodorant an Antiperspirant?
There has been much debate on whether or not Native Deodorant is an antiperspirant. Some say it is, while others claim it is not. So, what's the verdict?
Well, it turns out that the answer is a bit complicated. Technically speaking, Native Deodorant is not an antiperspirant because it does not contain aluminum. However, it does contain some ingredients that can help to reduce sweating.
So, while Native Deodorant may not be an antiperspirant, strictly speaking, it can still help to keep you feeling fresh and dry throughout the day.
Is Native Deodorant Vegan?
There's been a lot of talks lately about whether or not deodorants are vegan. With so many different ingredients and formulations on the market, it can be hard to keep track of what's vegan and what's not. So, we did some research, and we're here to give you the lowdown on Native Deodorant.
Native Deodorant is made with all-natural ingredients, and they are committed to using only sustainable materials. Their products are also cruelty-free and free from any synthetic fragrances. So, if you're looking for a vegan deodorant option, Native Deodorant is a great choice!
Does Native Deodorant Have Baking Soda?
If you're anything like us, you probably have a lot of questions about Native Deodorant. One of the main questions we get is: does Native Deodorant have baking soda? The answer is yes! However, we should note that the amount of baking soda in our deodorant is significantly lower than what's found in other natural deodorants on the market. We've found that this helps to reduce any potential irritation while still providing effective odor protection.
Why Is Native Deodorant So Expensive?
There are a few reasons why Native Deodorant is more expensive than some other brands. First, Native Deodorant uses high-quality ingredients that are designed to last longer. Second, Native Deodorant is aluminum-free, which means it doesn't have the potential to cause health problems as some other brands do. Finally, Native Deodorant is cruelty-free and made in the USA, which adds to the cost. Overall, though, the quality of Native Deodorant makes it worth the price.