Nolah's Signature Mattress Saved My Lower Back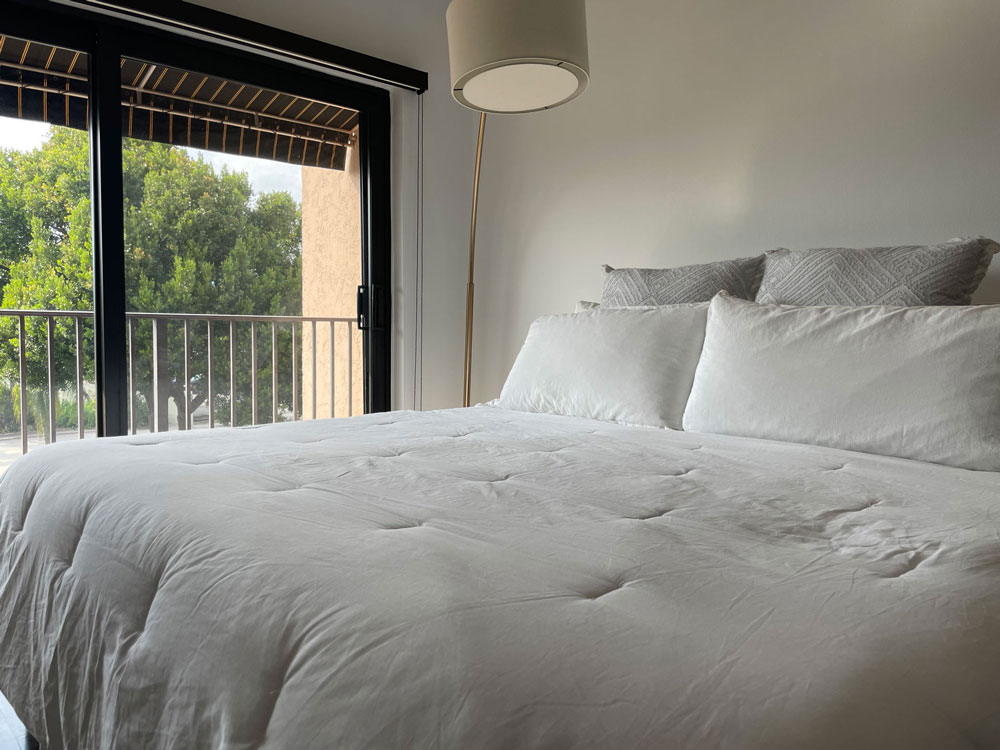 Like many, I become a different person without adequate sleep. Not only do I become less productive during the day, but my temperament changes when interacting with coworkers, my partner, and others, leaving me feeling too drained to give them the time and attention they deserve. I'd bet that most of you reading this can relate. Sleep quality changes your entire reality and acts as a huge determinant factor in motivation, patience, creativity, and so much more.
There's a huge difference, however, between a small amount of deep, quality sleep, and too little sleep that also leaves you with bodily aches and pains throughout the day. I'll elaborate further – for almost a year (up until a few months ago), I was consistently getting between 5-6 hours of intermittent sleep every night, followed by waking hours dealing with terrible lower back and hip pain. At first, I thought perhaps I had injured myself at the gym or lifted something incorrectly. Both ideas were plausible – my partner and I go to the gym nearly every day, and we just moved into our first purchased home together in 2021. 
However, even after visiting physical therapists and specialists, and taking it easier in the gym, nothing improved. I continued to experience nearly sleepless nights due to tossing and turning to accommodate the pain, followed by days of not being able to perform my best work due to the sleep deprivation and pain.
A Bad Mattress Can Be an Unexpected Perpetrator 
Just a few months before moving into the home my partner and I purchased together, we were gifted a king-sized mattress from a family member. The mattress had hardly been used and was from a well-known memory foam company we were already familiar with. We gladly accepted the gift (this was our first king-sized mattress, which was a real game-changer), and didn't question the fact that the mattress had been stored upright for many months until we inherited it, which likely damaged the shape and integrity.
In terms of timing, inheriting the mattress aligned perfectly with the start of the sleep deprivation and bodily aches I started experiencing. However, due to the brand name recognition, it didn't cross my mind for many months that the mattress could be the cause. But, after a few vacations and hotel stays during which the pain was miraculously gone, I came to realize the real issue, and that it was time for a new mattress.
Our Research Revealed the Nolah Signature 12" Mattress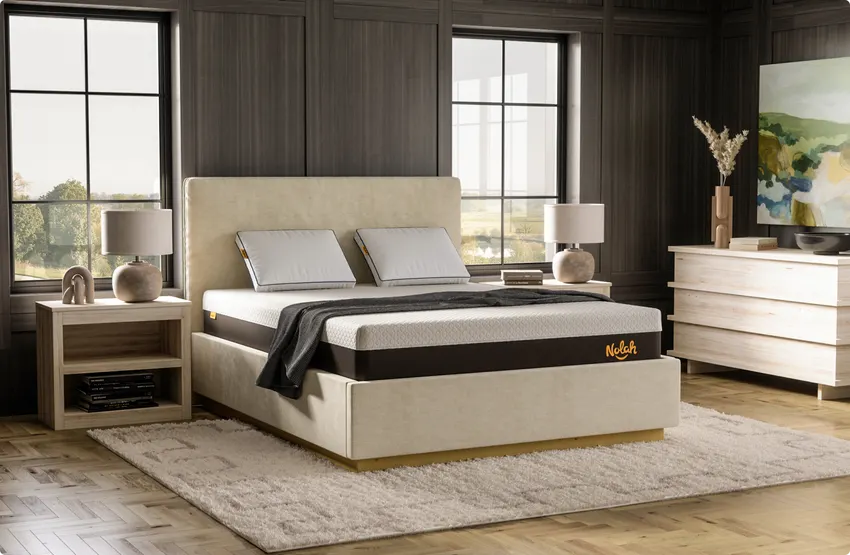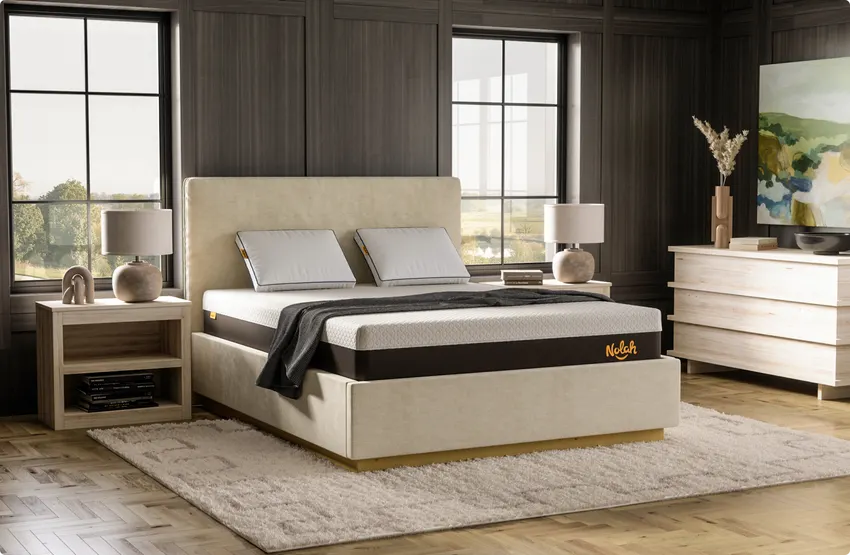 When my partner and I started our search together, we knew that we wanted another mattress that was either all memory foam, or hybrid spring and memory foam technology. Before inheriting the king mattress, we previously slept on the Loom & Leaf which provided great support for both of us, so we knew we wanted something similar. However, both of us tend to be hot sleepers, so we were also hoping to find a solution with cooling technology that would help regulate our sleeping temperatures throughout the night. And, most importantly, a mattress that emphasizes pressure-relieving features.
My partner and I started our process by putting together a list of prioritized features that mattered most to us. Unlike me, my partner, fortunately, did not suffer from pressure pain throughout the night but instead wanted an option on the firmer side to support his side sleeping. All in all, after combining our parameters and prioritizing them together, we landed on the following:
Medium-firm mattress that favors side/back sleepers (to alleviate my lower back and hip pain)

Within this category, a mattress that has specifically won awards/is recommended for hip and back-pain relief

Some form of new cooling technology to better regulate our sleeping temperature
Flatt mattress surface (some mattresses we found had tufted surfaces, while others were on the flatter side – we preferred flat memory foam)
Mattress thickness between 12-15 inches to accommodate the deep sheets we use
As we narrowed down our options, one name kept appearing over and over again that met all of our requirements. The Nolah Signature 12" by Nolah Sleep was touted as offering cutting-edge cooling technology, won multiple awards in the pressure-relieving category, and uses a specific type of memory foam that was more beneficial than traditional memory foam in all categories.
Nolah's Signature 12-Inch Cooling Technology


As I mentioned above, my partner and I prioritized cooling technology as one of our top factors for selecting a mattress. We quickly learned that Nolah's Signature mattress actually consists of a type of material the company trademarked and named AirFoam – unlike regular memory foam, this material is 100% temperature-neutral, free of heat-sensitive viscoelastic chemicals, and disperses heat 20% quicker than the best memory foam on the market. 
In comparing these specs to other companies (even the Loom & Leaf we already own), we were impressed by Nolah's emphasis on this cooling technology and how it was highly differentiated from normal memory foam.
Pressure Relief
Relieving my aches and pains was the original motivating factor that caused us to search for a new mattress. Naturally, I started reading list-based articles that rated various companies on how adept they are at relieving hip and lower back pain. One of those articles was the Best Mattress for Hip Pain of 2022 which lists Nolah as the best for overall pressure relief – this was where I first learned about Nolah, and started learning about their different mattress variations and products. I saw Nolah pop up again on SLEEPOPOLiS (one of the most established mattress review websites) which again listed Nolah as the best option for shoulder and hip pain relief.
As I started to read more about the Signature 12", I came to learn that Nolah's AirForm technology (the same material that reduces heat) is also designed to produce 4 times lower peak pressure on hips, shoulders, and back compared to regular memory foam. To take this a step further, it turns out that the AirFoam technology contains billions of microscopic air bubbles that are specifically engineered to distribute body weight for maximum pressure relief.
Thickness and Design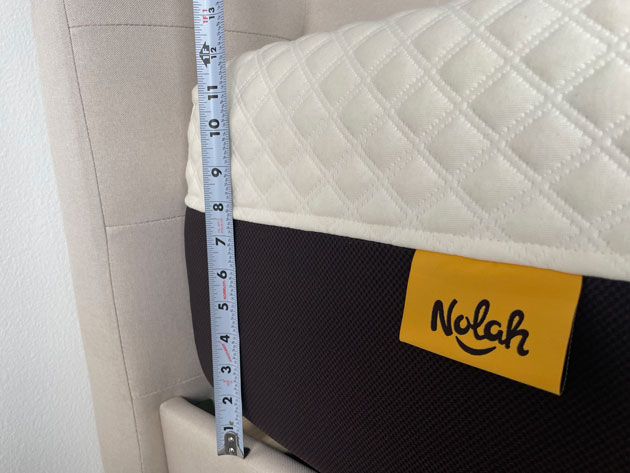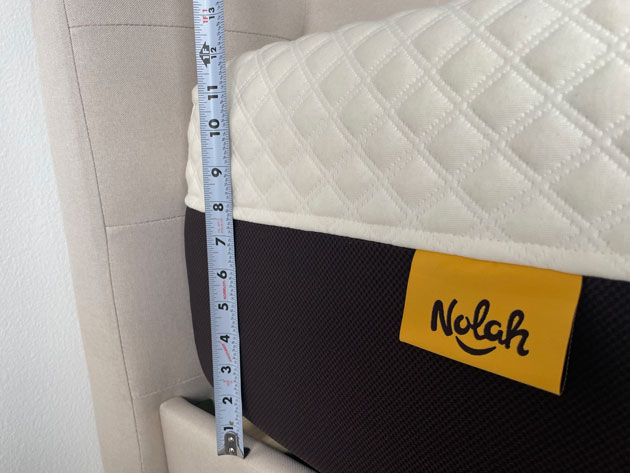 While the pressure-relieving and cooling technology were at the top of our list in terms of requirement factors, we also wanted to make sure that our next mattress was the right thickness level, and was built to last. As it turns out, the Nolah Signature's AirFoam produced a 12-inch thickness and provided 300% more durability than memory foam. More specifically, it holds up in the area of spinal support and resists sagging over time, which was super important to us given that the lack of back support was the reason we were in the mattress market in the first place.
120-Night Guarantee
Finally, we wanted to be sure that this mattress would be the right fit for our needs. Fortunately, Nolah offers a fantastic guarantee on their products. If customers aren't entirely satisfied with their purchase during the first 120 nights, Nolah offers to pick up the mattress and deliver it to a local charity. 
Delivery and Set-Up
My partner and I were particularly impressed with how quickly our mattress was shipped to us. In less than 5 days our new mattress arrived, rolled up and airtight in a slim box that we were easily able to carry up to our bedroom. In only 5 minutes we were able to unbox the mattress and remove the airtight protective plastic layer, allowing our new mattress to gradually take its full form. Unlike some other foam, spring, or hybrid mattresses, you are actually able to sleep on Nolah the first night after you open it (however, they do state that the mattress may take 24 hours to reach its full form). 
While the mattress design was not a huge deciding factor for us, we were pleasantly surprised by the lavish diamond-patterned design and gorgeous ivory color. The mattress itself simply looks fantastic and very high-end. Overall, the unboxing experience felt like opening a much-needed present.
The First 30 Nights of Sleeping on the Nolah Signature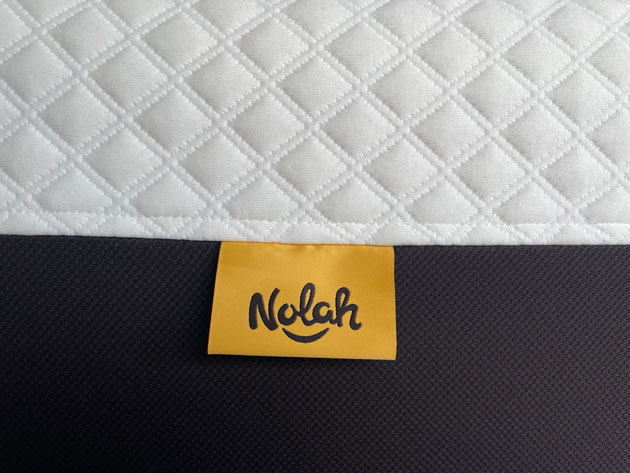 Given that I'm writing this article, I was (and still continue to be) exceedingly impressed and satisfied by the promises Nolah makes related to cooling technology, pressure-relieving support, and side/back-sleeping design. The first 30 days of sleeping on the Nolah Signature 12" was more than just a reprieve and relief – it was a quality of sleep I didn't know existed. 
While the pressure and pain-relief were absolutely the top priority (which was immediately noticed with the new mattress), both my partner and I were simply not used to no longer waking up occasionally throughout the night due to uncomfortable warmth. This all disappeared with our new mattress – no more inconsistent sleeping temperatures throughout the night, and significantly more nights of sleeping directly through until the morning (which I hadn't experienced since high school). 
In terms of firmness level (having previously owned Loom & Leaf, Casper, and several lesser-known memory foam mattresses from Amazon), I would characterize the Nolah Signature 12" as medium-firm but slightly skewed to the medium side. For me, I absolutely cannot sleep on a mattress that is too plush, and the Nolah Signature is nowhere near that barrier. However, it's also not the firmest "medium-firm" I've experienced either – it's solidly right in the middle, which turns out to be just right for both my partner and me. 
Final Thoughts
Both pressure pain and hot sleep temperature seem to be a fairly common issue that many mattress companies claim to relieve. With so many options to choose from, and so many different reviews and websites offering "best of" lists, making a choice can be a daunting task.
In my opinion, there are probably many different options on the market that my partner and I would've been satisfied with. However, I think Nolah was the best of those options to fit our needs for the following reasons:
The parameters we prioritized (pressure relief and cooling technology) are front-and-center to Nolah's product positioning
The price is undeniably reasonable and competitive
The guarantee gives you peace-of-mind during your decision and evaluation process
I'd encourage anyone who's in the market for a mattress to read more about Nolah Sleep and their AirFoam technology, ESPECIALLY if your criteria is anything similar to ours. We couldn't be happier with our Nolah Signature. 
Read more about Nolah's AirFoam technology.