What Does a Penis Pump Do? Do They Make Your Penis Bigger?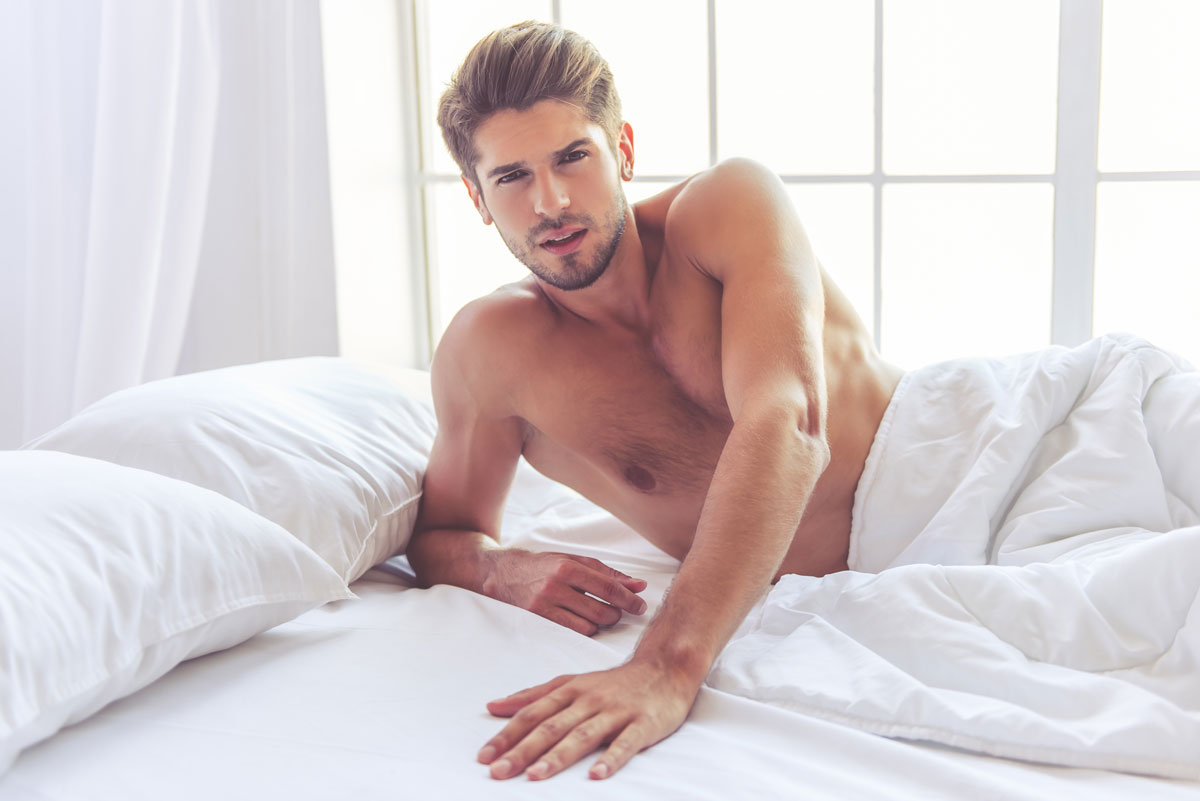 In most cases, people get ideas from pop culture regarding what a hot, steamy sex scene really looks like. They assume that it's just as easy to create the same scenario. However, if you have erectile dysfunction, this can easily put a wrench in your vision. Thankfully, there are ways to build and develop a hot sex life with the use of a penis pump.
Though there's a stigma attached to erectile dysfunction, there are ways to move through it and find solutions. Whether you're looking to enjoy a one-night stand or add some spice to your intimate experiences with a long-time partner, you can use the penis pump to provide unusually amazing stamina, power, and wildly fulfilling orgasms. Ultimately, it takes a willingness to get educated in your exploration of how to incorporate the penis pump into your sex life. It's wise to start by learning more about what the penis pump actually is.
What is a Penis Pump?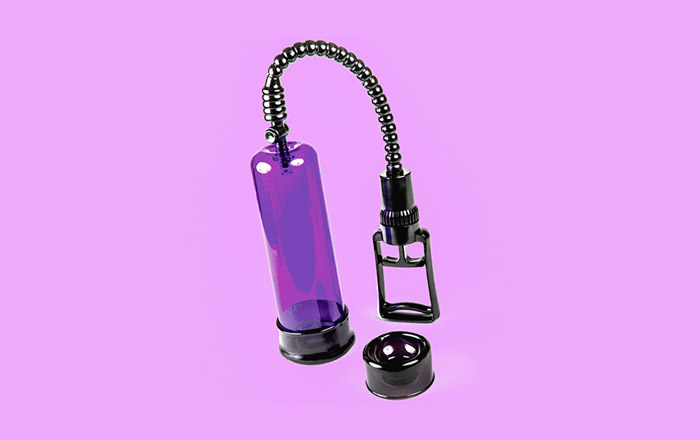 If you've never heard of a penis pump, don't be ashamed. It's a tool that's not talked about enough. A penis pump is a plastic tube that goes over the male penis.
Once it's used correctly, it can help a man gain and maintain his erection. Typically, there are two ways to add power to a penis pump. You can either use a battery-operated option or a manually-operated option.
It was first discovered in the late 1800s by Dr. John King. While it was possible to get an erection with the first penis pump, it was very difficult to keep the erection once a man took the pump off. There's no way to have intercourse with a penis pump, which rendered the entire experiment useless. Thankfully, an Austrian gentleman by the name of Otto Lederer opted to add a compression ring in the early 1900s. Once the ring was placed at the base of the penis, it made it a lot easier for a man to remain erect after removing the penis pump.
Once the penis pump was perfected, it was eventually approved and accepted by the FDA in the early 1980s. Since erectile dysfunction is considered a medical issue, the penis pump became validated as a viable solution. Medicare eventually spent hundreds of millions of dollars on penis pumps for men with erectile dysfunction.
What is a Penis Pump Used For?
When a man suffers from erectile dysfunction, he typically needs some assistance in getting an erect penis when it's time for intercourse. Thankfully, the penis pump is a great tool that can provide the stimulus needed to get and keep an erection. A penis pump is an effective way to get the blood flowing through the shaft. Once that happens, a man has a much better chance of staying erect throughout intercourse.
How Does a Penis Pump Work?
While there are plenty of penis pumps that promise many experiences, they typically work in similar ways. Using a penis pump is a pretty straight-forward process. There's usually a tubular component of the penis pump that goes directly over the penis.
Whether the pump is powered by water, manual operation or an electric feature, it's important to use the pump to increase the flow of blood into the penis. This pumping sensation will naturally cause the penis to become erect. Once it's erect, it's a wise idea to apply a cock ring to the base of the penis. While the right pump can keep the erection for the duration of sexual intercourse, the cock ring helps to ensure that the erection lasts for as long as possible.
Do Penis Pumps Really Work?
There are plenty of myths surrounding the effectiveness of penis pumps. Whether it's because of the narrative within the popular culture or a simple rumor, many men question the validity of penis pumps as an effective way to combat the effects of erectile dysfunction. Yes, penis pumps can actually be an incredibly effective and cost-efficient way to temporarily increase the size of the male penis in order to enjoy intercourse. Granted, once your erection is over, the penis will go back down to its normal size.
Do They Make Your Penis Bigger?
Depending on the type of penis pump you use and the frequency of use, it is possible to increase the size of the penis over time. However, this isn't a guaranteed promise. While confidence and bragging rights are two of the main reasons why men want a larger penis, a pleasurable sexual experience is at the top of the list, especially when used with pump sleeves. So when it really counts, the penis can get bigger and stronger for a temporary experience of pleasure in the bedroom.
Penis Pump Benefits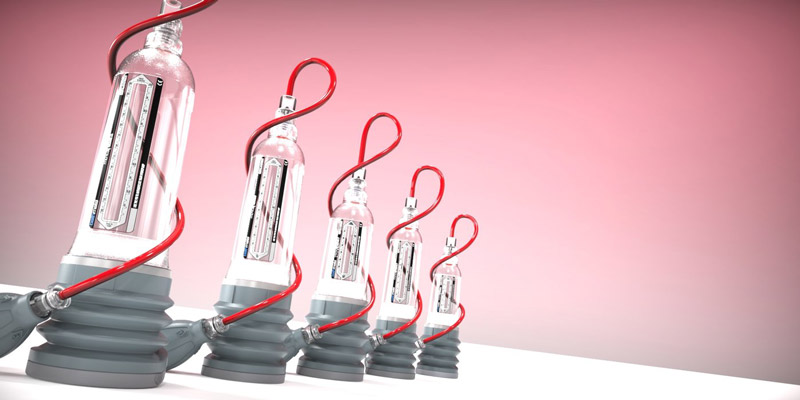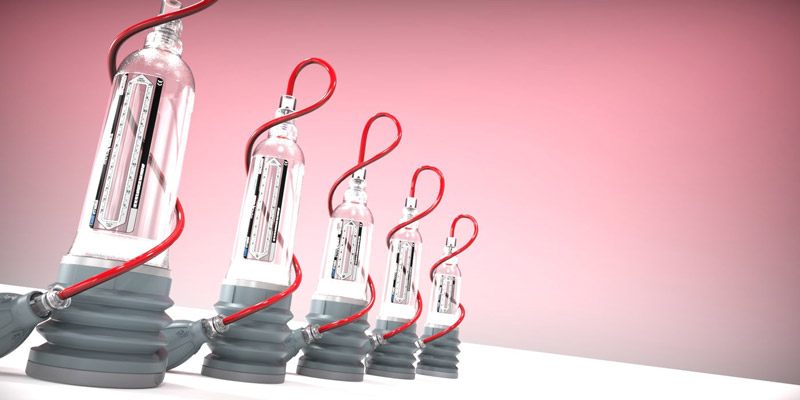 1. Respected Option in the Medical Field
In the medical field, the penis pump is acknowledged as a viable option for treating erectile dysfunction. This is important because too often, men will resort to using medications with toxic side effects. When you use a penis pump, you don't have to worry about the secret ingredients that are stuffed into your medication. You don't have to worry about putting strong chemicals into your bloodstream to experience an erection.
2. Increased Blood Flow
One of the reasons why exercise is so important is because it increases blood flow and supports circulation throughout the body. When your blood isn't properly circulating, this leads to blood clots and harmful diseases. Since blood flow is such a powerful process that the body requires, it's great to use a penis pump. The penis pump operates by activating and increasing the flow of blood throughout the length and girth of the penis. This is what leads to an erection.
3. Inexpensive
Healthcare expenses are exorbitant. This is one of the reasons why so many people die from treatable conditions. If they don't have the funds to cover the costs involved with insurance, medication, and procedures, they're completely out of luck. When a man is dealing with erectile dysfunction, there are surgical procedures and medications available. However, those treatments and procedures are costly. Thankfully, there is a wide range of penis pumps on the market at a range of price points. Most importantly, the majority of the best penis pumps are under $100. A penis pump is a cost-effective way to get the results you desire without emptying your wallet.
4. Intimacy
Erectile dysfunction can do some damage to a couple's ability to feel physically connected. Physical intimacy is an important facet of any romantic relationship. When two partners can't connect on that level, it can be challenging to connect elsewhere. While it's not impossible to maintain a healthy relationship without sex, it's definitely not ideal. If there are ways to alleviate this predicament, it's always great to try. This is one of the reasons why a penis pump is so effective. It gives a couple another chance at intimacy. While it might take an adjustment period (or not), it's worth the effort.
5. Larger Size
Though this benefit might seem like a cosmetic and trivial benefit, it's still valid. One of the ways men are measured is by the size of the bulge in their pants. This can be a source of insecurity for a man who suffers from erectile dysfunction. Even if the pump isn't the best-looking tool to use before it's time for sex, it's still an excellent way to produce a large tool that can be used for pleasure, confidence-boosting energy and more. Oftentimes, men are measured by the size of their penis because it's directly connected to whether they can perform or not. While it's really about the technique, the larger size definitely doesn't hurt.
How to Stay Hard After Pumping?
If you're using the right penis pump, you won't have to worry about staying hard after you've pumped. The pumping process activates blood flow and stimulation so that you can perform for longer periods of time. If you're still afraid of losing your erection, another stimulation tool like a cock ring can work really well. That's typically why many penis pumps are sold with a complimentary cock ring. You'll only increase the chances of long-lasting lovemaking once you've combined the powers of the cock ring and the penis pump.
Best Budget Penis Pumps
When you're looking for an option that will eliminate the struggles involved with an underperforming penis, it's not uncommon for men to look at surgeries and various medications as ideal options. While those are viable routes, they're also extremely expensive. Alternatively, a penis pump is a one-time purchase that can deliver measurable results. Some penis pumps even provide leeway for the way a penis will grow within the span of a few months. When the pump is built with growth in mind, this means that it can provide similar results without having to undergo an invasive surgery or expensive medication prescriptions. Plus, you can get the results of a penis pump at a fraction of the cost you'd pay for a surgery. In fact, all of the following penis pumps currently retail for less than $100.
1. Deluxe Trigger Precision Penis Pump for Men by Size Matters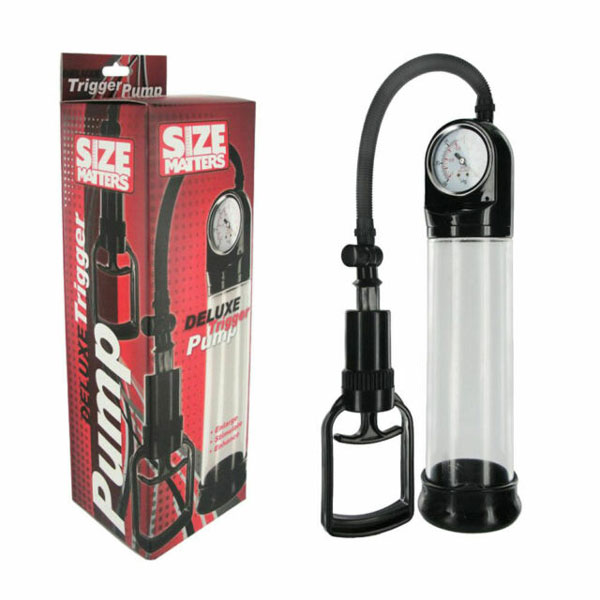 When you struggle with erectile dysfunction, it's easy to get stuck in a mindset of defeat. Thankfully, the Deluxe Trigger Precision Penis Pump by Size Matters is constructed in such a way where you will have room to grow into the size of your dreams. The penis pump size is 10 inches. If you outgrow that, the specs of this pump are compatible with other penis pump sleeves that are on the market. For some men, the air gauge might seem intimidating to deal with. This gauge is constructed in a way that provides safety and precision each time. Since the seal of this pump comes in an airtight environment, you'll be able to increase the power and length of the erections during each session. Made from high-quality plastics and materials, the pump partners really well with a cock ring for even more effective and pleasurable results. This pump retails for $59.39.
2. The Smoked Power Penis Enlarging Pump for Men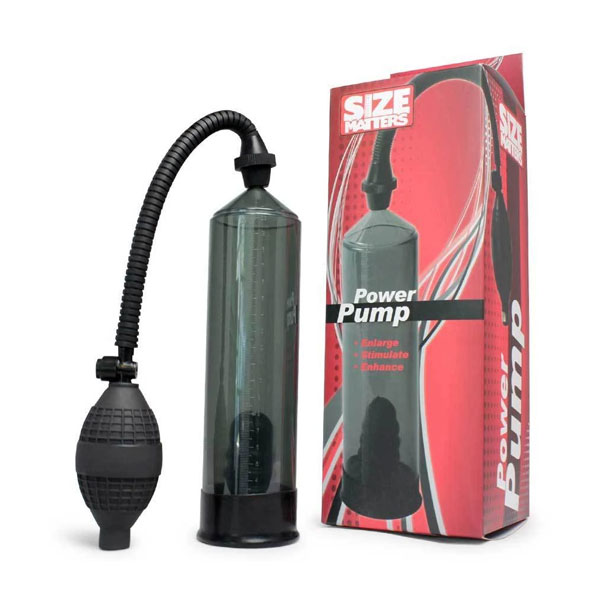 When some people see the word 'smoked' in the description for a penis pump, it might not sound like a good idea. Don't worry. It's called the 'smoked' penis pump because of its sleek charcoal smoke color. The Smoked Power Penis Enlarging Pump is appreciated by men who are beginners or advanced. Since the penis is such a sensitive area, it's important to acknowledge the importance of comfort in the full equation. This penis pump is considered one of the most comfortable options in the marketplace. If lube is needed to enhance the experience, a water-based option works really well with this particular pump. It's an excellent option for a man whose erect penis gets up to 7.5 inches in length. It also comes complete with a new and improved penis pump sleeve. This penis pump currently retails for $24.95.
3. Bathmate Hydro7 Water Penis Pump for Men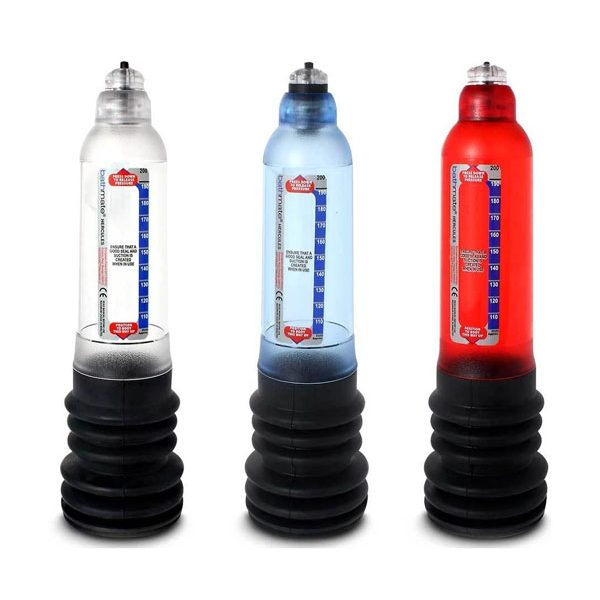 Incorporating water is a great way to make the process interesting. The Bathmate Hydro7 Water Penis Pump is one that requires water to provide the erection. After filling the pump with water, it's time to place the penis inside. Because of the clear plastic tube, it's possible to watch the penis get larger due to the pressure of the water. Though this pump requires water for use, the penis doesn't get wet during the process. In order to see permanent erections, it's a great idea to use this pump regularly throughout the span of a week. With various studies and reviews, the makers of the Bathmate Hydro7 Water Penis Pump have found that it has a 95% chance of effectiveness. It's ideal for the man who's erect penis stands between 5 inches and 7 inches. This is important for maximum comfort during use. This pump is great for ending premature ejaculation, increasing girth and enlarging the head of the penis. It's also great for any man who suffers from Peyronie's disease. This pump currently retails for $124.17.
4. Max Precision Male Enhancing Power Penis Pump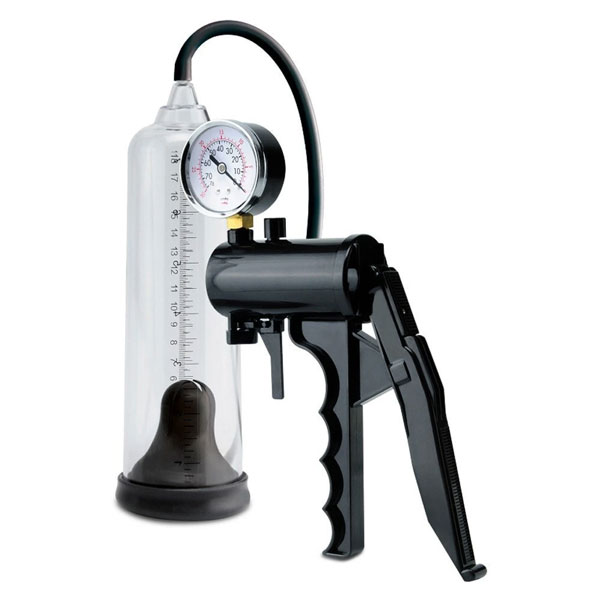 When you and your partner are pressed for time and desire a quick session, it's challenging when the penis doesn't always follow suit. This is why a product like the Max Precision Male Enhancing Power Penis is so effective in these types of situations where time is of the essence. It promises to increase the size of your penis after instantaneous use. It also promises to provide the most perfect performance every single time. It's not uncommon for men to feel intimidated by penis pumps when they're new to the experience. Thankfully, this penis pump is very easy to read, understand and maneuver for an ideal experience. It also comes with a free erection-enhancing ring. While it is possible to eliminate erectile dysfunction with surgery, surgery is a very expensive and all-consuming medical process. With a pressure gauge, a pistol pump grip and a replaceable sleeve, this penis pump is a great non-surgical option to eliminate the terrible impact of erectile dysfunction. It currently retails for $63.50.
5. PDX Elite Blowjob Power Pump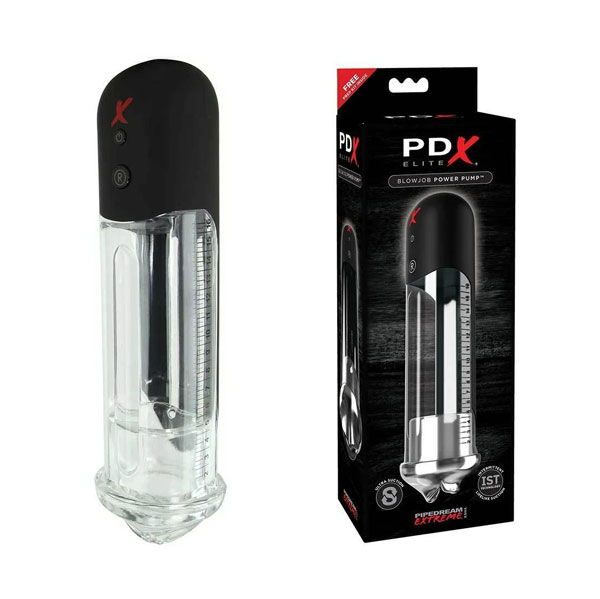 For most men, one of the most pleasurable experiences of sexual intimacy is the blowjob. If some men could get blowjobs multiple times a day, they'd happily accept. Now, it's possible with the PDX Elite Blowjob Power Pump Automatic Sucking Penis Pump for Men. It literally provides the same sensation that's felt during a blowjob. This feature is made possible because of the TPR mouth sleeve. The mouth sleeve is made out of a soft and stretchy material. This option comes complete with multiple speeds in order to enhance the intensity you'd like to experience. When you're trying to track how large you can get, there's an actual measuring device in the cylinder. As you get larger during your erection, you'll be able to keep track of the size. As the pump helps with erectile dysfunction, it'll be easier to see how much progress you're gaining through looking at the measurement feature. This feature alone can be a real confidence booster. This penis pump promises to provide a lifetime of use as it's constructed with professional-grade materials. It also comes complete with a silicone cock ring set, cleaner, and a lubricant. It also retails for $96.29.
6. Bolero Precision Male Enhancement Penis Pump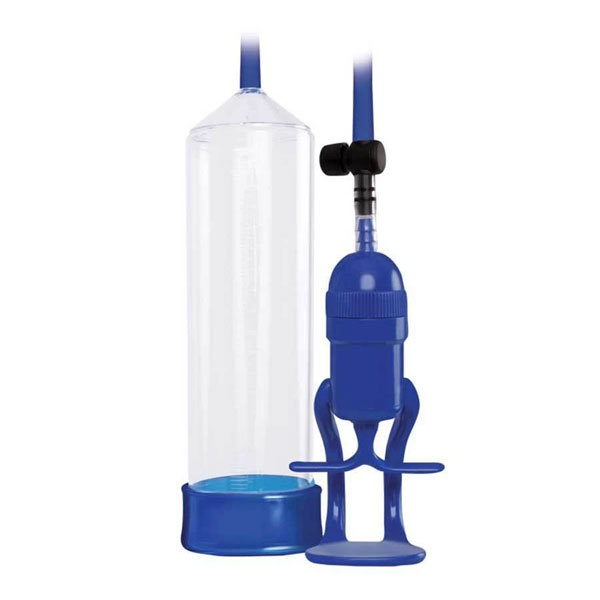 The Bolero Precision Male Enhancement Penis Pump is perfect for the man who doesn't mind using his hands in the bedroom. This pump is specifically designed for single-handed use. It promises to increase confidence, boost stamina and provide an improved experience in the bedroom. If you're new to the process of using a penis pump, this option is an excellent choice for the beginner. However, it still has the power to get the advanced users the experience they're looking for. It's a very durable product that's made out of high-quality plastic and TPE materials. This option retails for $19.50.
7. Electric Penis Pump Mega-Vac Automatic Power Pump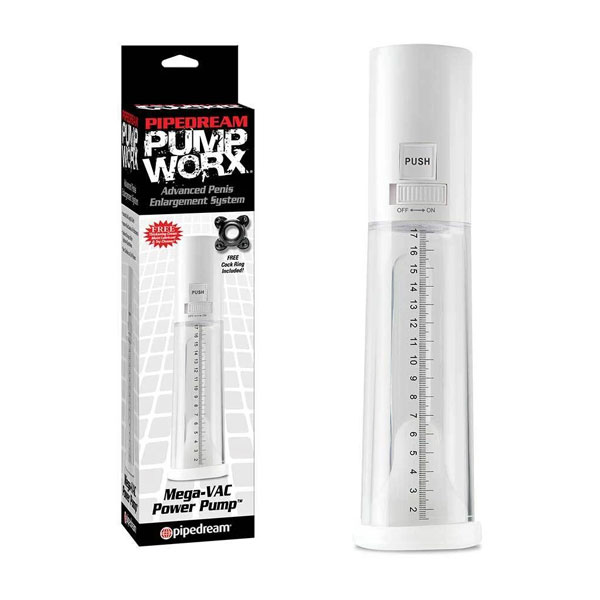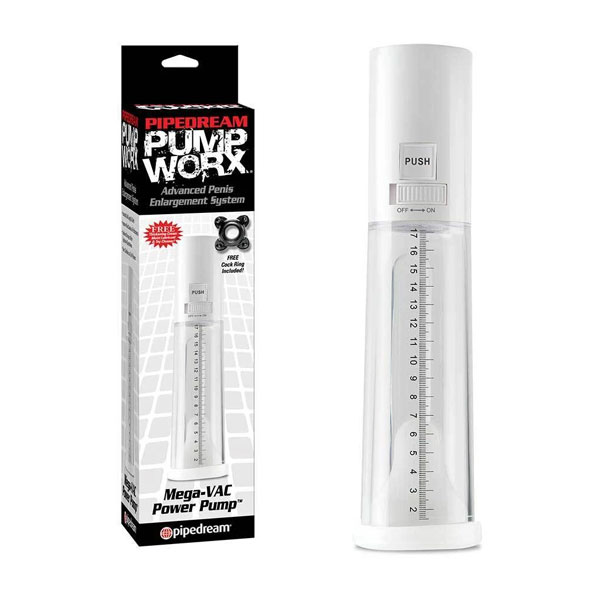 The Electric Penis Pump Mega-Vac Automatic Power Pump promises to provide an advanced penis enlargement experience. It currently retails for $75.70. It provides a man to choose which pumping speed he'd like to use as there are numerous options. Depending on the option a man chooses, he can experience different levels of growth. This option is easy to use which is important when you're in the bedroom. You don't want to deal with a ton of confusing instructions. This electric penis pump requires two AA batteries, and it has a single-handed control option. It's made of silicone, ABS plastic, and styrene-acrylonitrile. One of the great parts about this penis pump is that it promises to prolong the ejaculation process while you enjoy more intimate time with your partner. You can easily clean the pump with the Pipedream Toy Cleaner along with warm water. This pump is also wireless and 100% automatic.