10 Reasons Nina Flowers Gives Me Life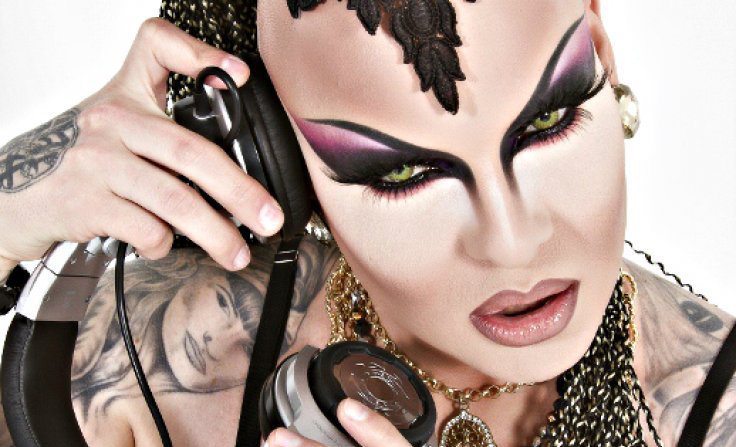 Multi-talented DJ and Drag Queen favorite Nina Flowers gives me life. Also known as Jorge Flores Sanchez, Nina made her debut on RuPaul's Drag Race Season 1, televised nationally and establishing her as one hell of a fierce Drag Queen, DJ, Vogue Goddess…the list goes on. Not only is she known for her intense Drag aesthetic, featuring bio-mechanical tattoos and her signature shaved head often adorned with elaborate hairpieces, but her flourishing career as a DJ and music producer has helped her achieve residencies in several cities, including Los Angeles, New York, San Francisco, and many more.
Nina is an otherworldly creature who most definitely has super powers capable of turnting any after-hours or circuit party with her sick, cunty beats. As a resident of Los Angeles, I make a point of destroying any hope of having a normal Sunday when she graces the DJ booth at Reload Afterhours. I'll travel to see her in San Francisco and San Diego like any sensible queen would, getting lit until the goddamn sun arises. There are no regrets to be had when Nina is spinning, and any novice exposure to her black magic abilities is enough to make a grown man fall out.
Sickening beats. Fierce lewks. Leaves the club looking like a war zone.
Here are 10 Reasons Nina Flowers Gives Me Life.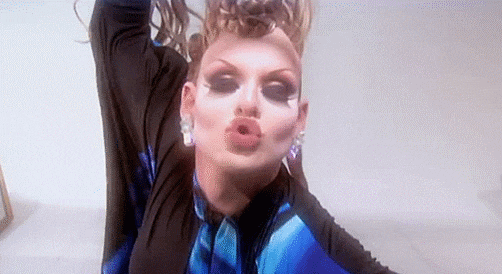 1. She's a Goddamn Sweetheart
For those of you who viewed the first season of RuPaul's Drag Race, you are probably aware that Nina earned the title of "Miss Congeniality." This title goes to the contestant who shows friendly, supportive, and welcoming qualities to the other contestants, and after almost winning her season, Nina displayed these exact qualities. Rather than taking her loss personally, she supported the winner of the crown, determined that BeBe would carry the title with respect.
Having been helplessly kept captive by her beats at multiple after-hour parties, it was only a matter of time until I would have a personal run-in with this supernatural being. One fateful morning at Reload Afterhours I was leaving one of the stalls after urinating, only to open the door and be face-to-face with the Nina. Not only did she hold the door open for me as I exited, but she laid a heavenly kiss on my cheek and said "thank you, baby." I then realized that her kindness and grace is akin only to figures like Mother Teresa. Needless to say, I was left speechless.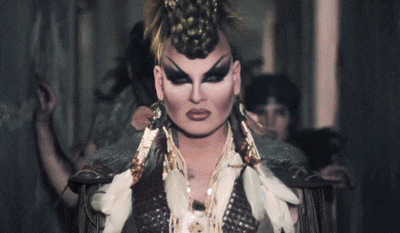 2. Her Lewks are Fierce AF
There is nothing more magical than getting turnt on the dance floor with 200 of your closest friends during one of her sets, only to look over to the DJ booth and see an alien goddess spinning the fuck out of her mix panel. In strobing lights and a dark setting, her dramatic eye makeup, cheek contouring, and stark shaved head hovers over the booth as she harnesses the energy of the night. I have also been to sets in which she appears out of drag, not any less fierce as her displays of full-sleeve tattoos are unmistakable in the dim lights of any party.  
3. She Caters Her Sound to Fit the Setting
One major complaint I hear all the time from circuit outsiders is the sentiment that all circuit music sounds the same. This is an unfortunate, yet not necessarily inaccurate judgement for those who attend one or two after-hour events, and decide to write them all off on this quality alone.
Nina Flowers is not just a circuit DJ. She mixes elements of deep house, tropical house, and trance, integrating full horn instrumentals, lyrical passages, and other electrifying components into her sets. Don't believe me? Check out her Hydro Caribbean Festival Teaser Mix here.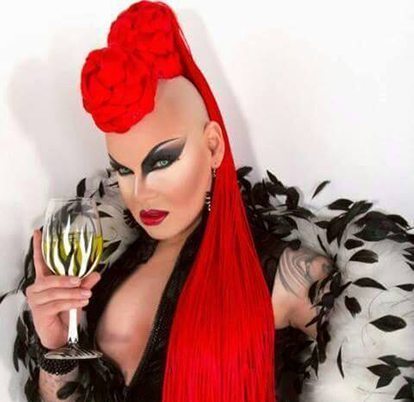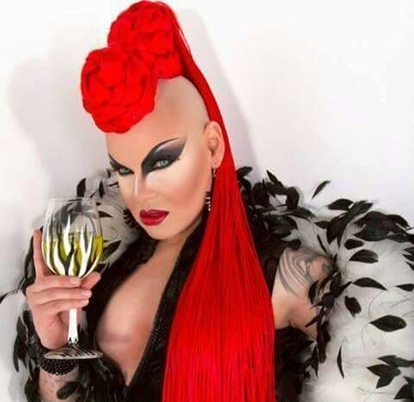 4. Her Makeup Style is Iconic
Speaking of her lewks, her makeup style involving dramatic cheek contouring and high brows with daring lid color contrasts has truly made a name for itself in the realm of drag makeup. Having competed and won in the beauty pageant Miss Continental in 1999, she established herself as a viable threat in makeup artistry. Among her most recognizable styles is her tendency to elongate the ends of her eyes, contouring her makeup into a sharp finish on either side of her head, similar to ancient Egyptian makeup styling.  
5. She Slays in Fior's "Backstabber"
Of all the displays of her beat-to-filth makeup, killer outfits, and cunty moves, her feature in Fior's music video "Backstabber" is one her most iconic. With metallic shoulder cuffs, a military grade sinister corset, and what appears to be black ram horns integrated into her elaborate hairpiece, I would be more concerned with her consuming my soul than stabbing me in the back.
6. This Bitch Can Vogue
If you have ever been to one of her drag performances, it is more than likely that you have experienced her vogue skills first-hand. Back in Season 1 of RuPaul's Drag Race, Ru had the contestants meet on the runway for a vogue mini-challenge in episode 6. Rebecca and Nina were identified as the strongest posers, pitted against each other in a final vogue-off. Of course, our girl Nina came through with the win. Her moves have been showcased in music videos such as RuPaul's "Cover Girl," featuring Bebe, Nina, & Rebecca.  
7. She Turns Epic Parties
This December she is headlining the Colossus New Year's event by Gus Presents in San Francisco. She has also headlined parties at San Diego Pride, White Party Palm Springs, Club Space at Winterparty Miami, and Matinee Las Vegas. As one of the most in-demand LGBT event DJs in the world, it is no wonder why these events love her so much.
8. She Produces and Collaborates on Sensational Tracks
In addition to her vast display of club mixes and sets, she has also collaborated with other sick & cunty artists, offering a number of club anthems on iTunes and beatport.com. Some of my favorites include "My House" by Alan Capetillo feat. Nina Flowers, "Queen's Hot House" with Andre Grossi and others, and the beach house music beats of "Ibiza Summer" with Matt Correa, Carl Price, and others.  
9. She OWNS the Drag Queen DJ Niche
Of all the names that come to mind when thinking about Drag Queen DJs, Nina Flowers still remains the fiercest in my mind. Perhaps she holds a special place in my heart due to all the hearing loss I've likely incurred at her events, or because some of my fondest memories have occurred during her sets (such as meeting my current boyfriend).
In 2010 alone, she obtained the titles of Just Circuit DRAG Entertainer of the Year, and Just Circuit DRAG Hall of Fame. In this day and age of Madonna remixes and unintentional fall-outs, it is imperative as a DJ to own a niche, whether that be an aesthetic, a style of sound, or a reputation of the fierceness and unforgiving confidence. Nina Flowers slays all three.
10. She Loves Her Fans
Across both her DJ and Drag performance platforms, she says that the motivating force behind her drive to keep entertaining is her fans. In RuPaul's Drag Race Ru-Vealed, she states that "…fans are amazing, and that's what drives me to want to be better every day."