RuPaul's Drag Race All Stars 4 EP 9: Sex and the Kitty Girl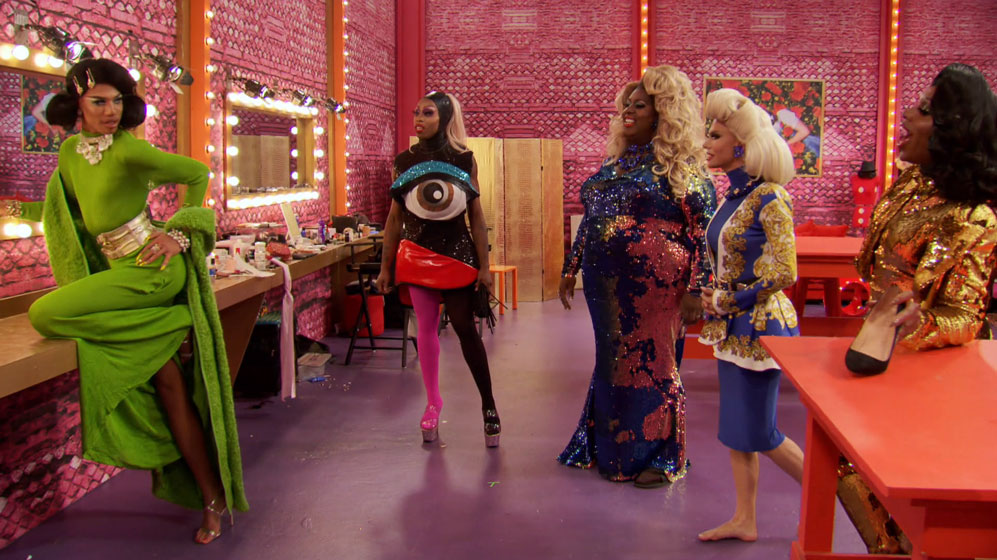 Life's Not Fair
A ballsier part of me this week considered just submitting a blank sheet of paper. It would have been more interesting than tonight's episode of Drag Race.
No exaggeration and this is not just due to post-Manila misery. It truly was the worst of all time.
We've had episodes with bad challenges like All Stars 3's "My Best Squirrelfriend's Dragfarts Morgan McMichaels Geese Noise Feverdream Wedding *jazzhands*". (Formally known as the worst episode of all time – but at least that episode had a terrific runways and some fantastic interactions and moments between the cast).
We've had episodes with bad runways like season 4's "Bitch Ball".
We've had episodes with mediocre lip syncs like Bad Romance season 3's "Queens in Space".
We've had episodes where the Queens barely interact or do anything of note like nearly all of season 10's episodes once they kicked off any girl with some kind of personality.
But, rarely has this happened all at once.
Riggory like Shangela in All Stars 3's "Jury of our Queers" is one thing.
Hot messes like the trainwreck that was season 7's "ShakesQueer" is another thing.
Blatant advertisement and sparkly nonsense like the Holi-slay Slay-tacu-slay is yet another.
But, at least these things are interesting, entertaining, or give us something to talk about.
Being boring is the worst television crime of all, and that's what occurred. I've watched this show for ten years, and I do not know how they managed to turn Drag Queens x. Sex in the City into People Standing x. Nothing in the Nowhere. This is the most boring episode I've ever seen.
Let's try our best.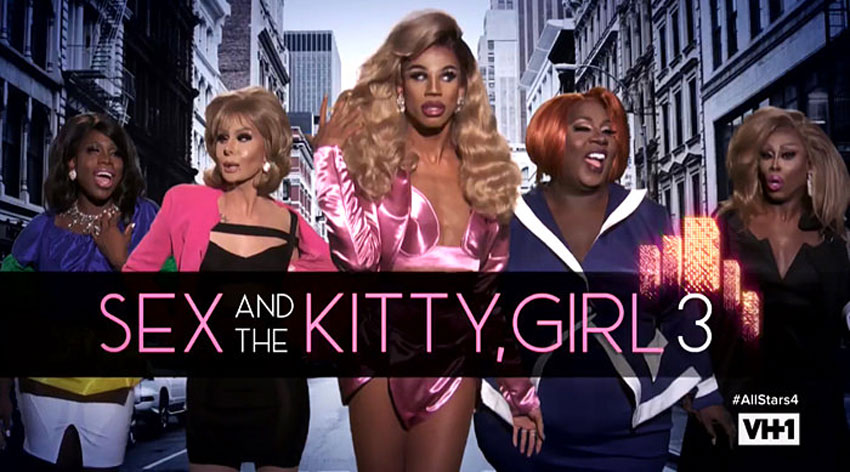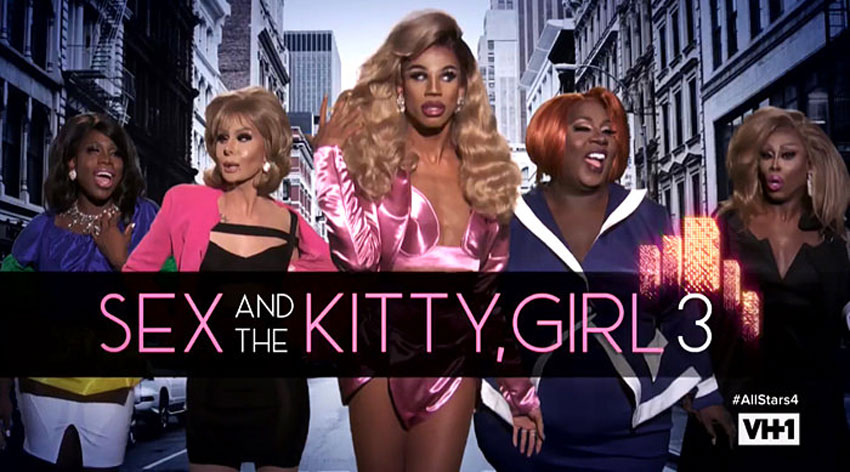 The Challenge
So, Manila's gone. It's a big shock. The fans got disgusting on social media. Turns out Monet X Change also picked Manila because Manila tried to nix Monet to save Latrice earlier in the season. Trinity is pressed with some spiel about competing with the best, failing to remember the subjectivity of judging, and how it's been pretty suspect all season.
The challenge is a mockumentary about "Sex and the Kitty, Girl 3". A take on every middle-aged gays favorite television show that didn't age all that great, but they're too nostalgic to criticize it.
Why, a mockumentary? Because, it's easier to rig screen-time by using confessionals-within-confessionals? Because the writers and camera crew are crying out for help and trying to send a message to save this from this snoozefest. Who knows.
The roles are as follows and selected by previous episode winner, Naomi Smalls:
Naomi Smalls as SJP (Carrie)
Latrice Royale as Cynthia (Miranda)
Monét X Change as Kristin (Charlotte)
Trinity the Tuck as Kim (Samantha)
Monique Heart as K Jo (Lexi – that girl from the last season who accidentally falls out of the window and dies in that one episode)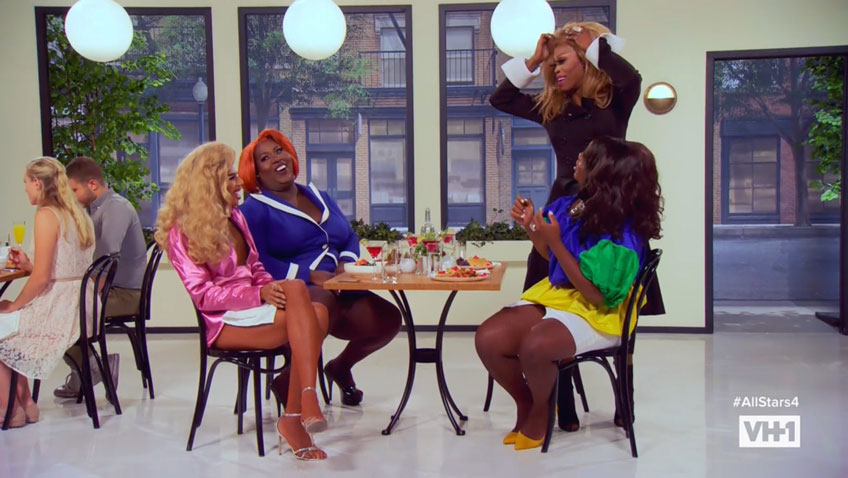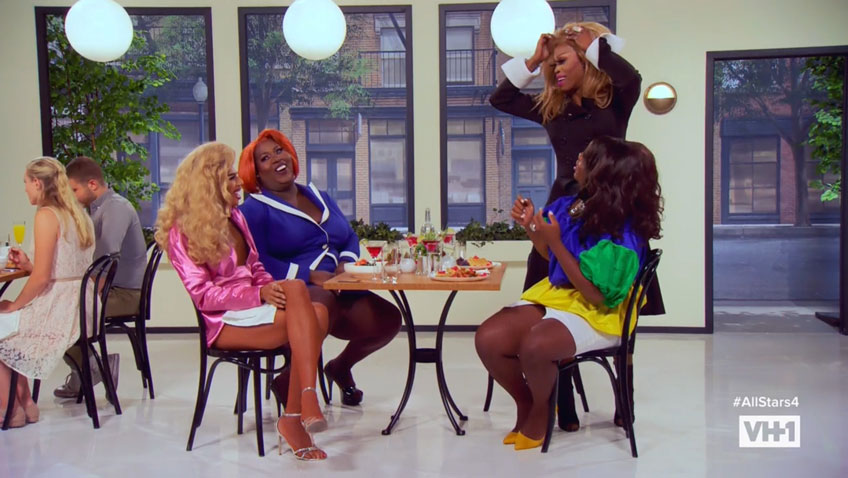 So basically whoever gets Kim wins, and K Jo (spelling?) is probably that Asia O'Hara Breastworld win role.
Monét X Change is savvy enough to see this, and tries to get the part but loses to Trinity in a very drawn out rock-paper-scissors face-off. (Wew!)
Monique's wig slips again during the filming and we're now starting to wonder if it's an attempt to make a recurring gag.
The script for the challenge is messy and boring, and includes an extended clown section for some reason which appears to be so the Queens can use outfits from a cancelled runway.
What's mainly clear is that Latrice and Monique are the stronger actors of the group, Monét and Naomi are on the weaker end, and Trinity is a non-event.
The Runway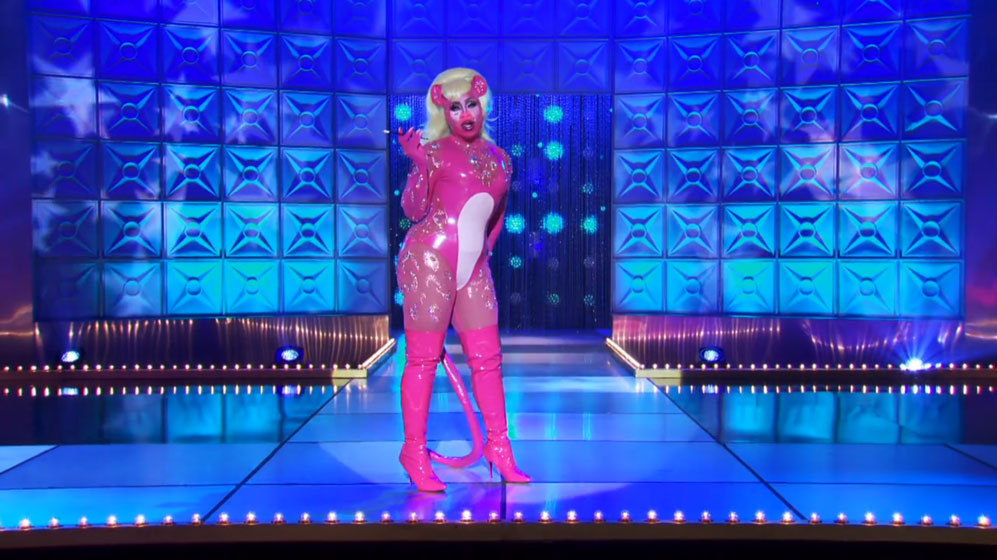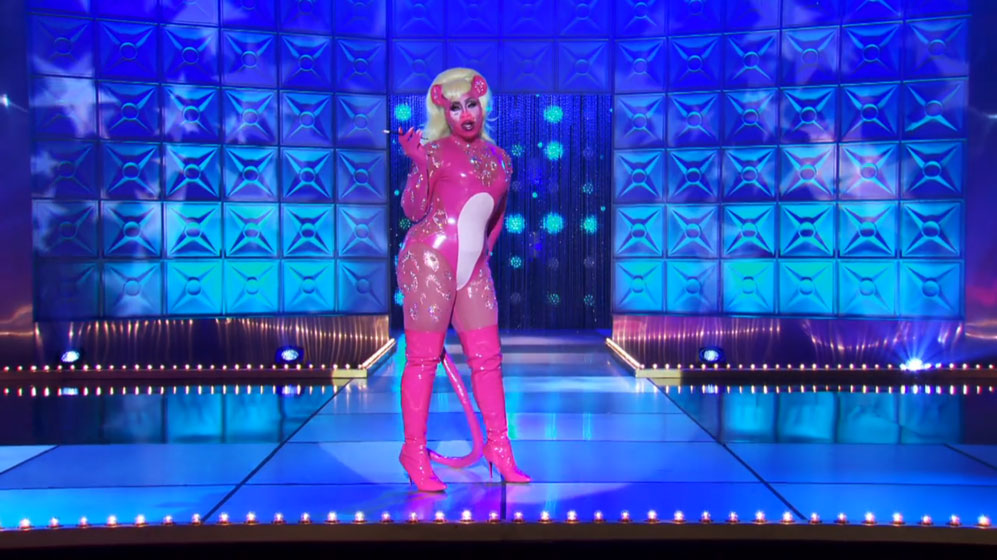 Oh no.
This is all I could say during this.
Trinity comes in with a literal catsuit with big cat printing. It looks silly and not in a good campy way, and very predictable. Eh.
Monet does a pink panther outfit which is more out of the box, but the execution isn't there, and it's more like Pink Sadther.
Latrice is a big no in some kind of multi-safari pattern dress abomination that made me want to weep.
Naomi is in some kind of cat plushie little girl thing. It's ugly.
Monique is probably the best of the lot in a tiger Puss-in-Boots look complete with big boots and bit hat. Except the suit is not fitted well to Monique's body. It's wrinkled and in need of a good iron. Considering it's a stripy outfit, the fact this is noticeable is rough. Best of the worst.
RuPaul is dressed as Valentina and actually looks pretty good.
Absolutely shocking runway overall and the worst in years.
The Rest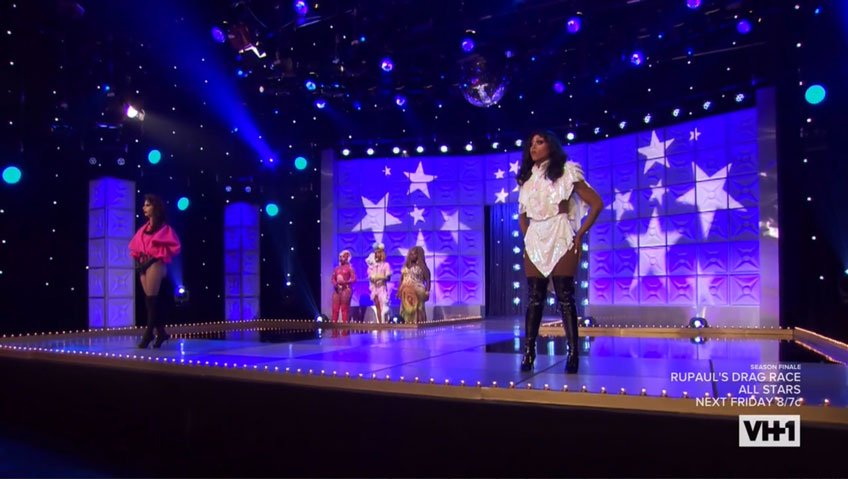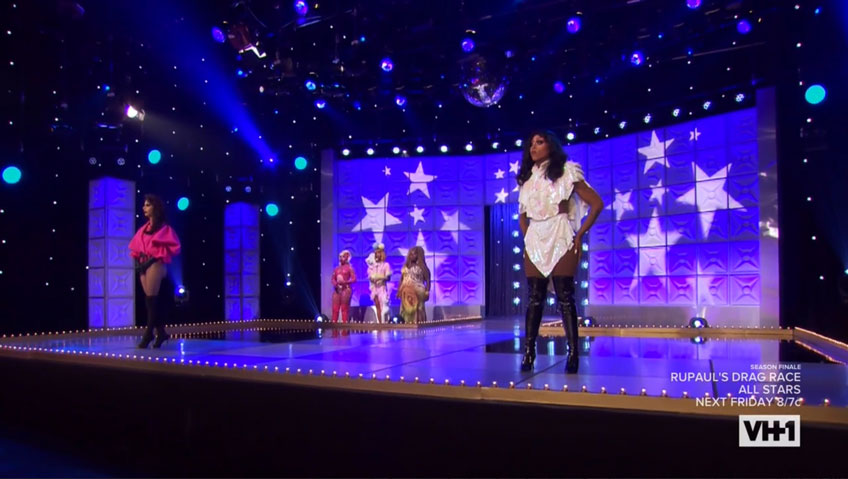 Trinity and Monique win the challenge which we guessed from the parts they received. Latrice probably should have won over Trinity, but hey, that's rigged roles for you. It's an automatic bottom and Latrice falls into the bottom with Naomi and Monét.
The general work room deliberations happen. Naomi and Monét try to pin Latrice on track record. Latrice points out she did not do the worst this week. It's long, and nothing else of note happened.
Today's lip sync is "When I Think of You" by Janet Jackson. A great drag song choice. Trinity and Monique change into less eye-gouging attire and proceed to give a fair lip sync. It's nothing special, but nothing seriously offensive. Janet songs are in desperate need of redemption after Asia O'Hara killed all those butterflies and Aquaria killed any doubt that she isn't a very good stage performer.
Trinity wins the lip sync and kicks of Latrice which is more or less expected.
The episode ends with Latrice going out saying she had fun. At this point, I'm wondering if Latriiice's runways and lack of energy were simply due to having put most of her energy and money into her wedding.
Conclusion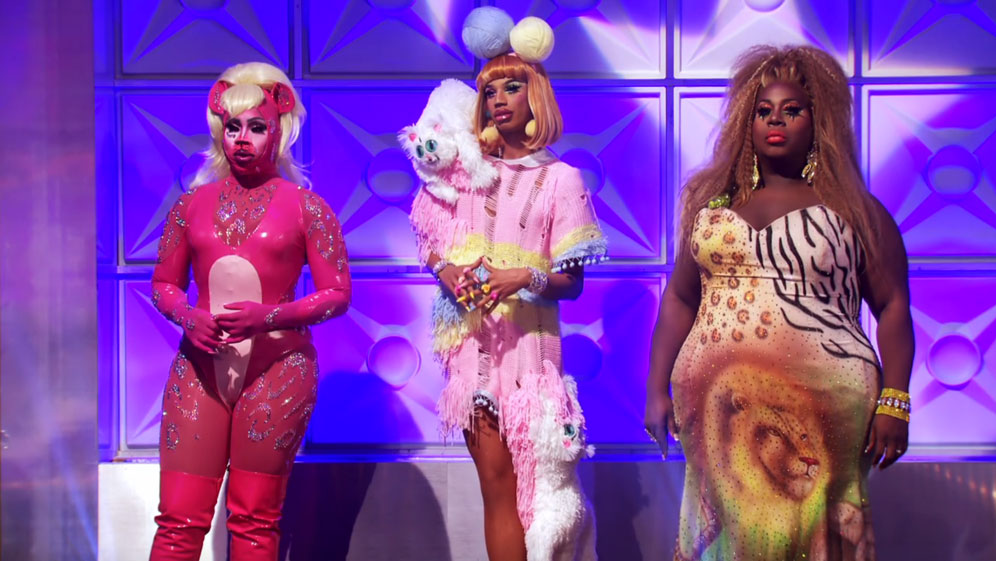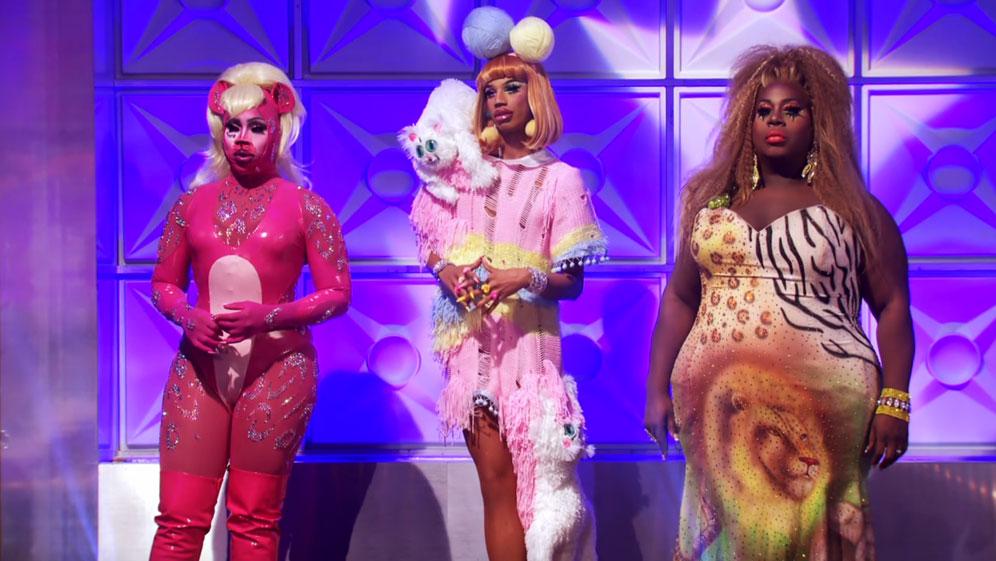 It's hard to get an episode worse than the penultimate episode of All Stars 3, but this episode truly was criminally dull. Drag Race does have the tendency to drop the ball late in seasons. There is a lot of micro-management to ensure certain girls reach the finale, frequently these are marketable girls who don't always have the best "TV personality". Season 10 is particular good example of this.
Each of Aquaria, Eureka, Asia and Kameron had storylines that gave their characters in the show some structure to the story. Aquaria, the young fashionable ingénue trying to show she's the future. Eureka, the heavy girl who's been bullied, tragically had her oinkle go cleek and returned to prove what she can do. Asia, the motherly pageant queen who wants to prove she can do it all and have her day in the sun, and battered Kameron, lip synch assassin who runs the risk of throwing all these stories out the window with a single great performance.
It all sounds lovely, gal, on paper. But these are hour long episodes and something needs to fill in the gaps, and Aquaria, Asia and Kameron just did not have enough television charisma for it, Eureka, perhaps a tad too much. Overproduced and forced storylines can disconnect the audience when it's illogical and unnatural, and aren't usually what the audience ends up remembering. More screentime needs to be afforded to personalities like Vanessa Vanjie Mateo, Monique Heart or Yuhua Hamasaki who naturally offer memorable moments with their natural charisma.
On All Stars 4, the producers seem to have recognized this by giving Monique Heart more screentime, except rather than letting Monique talk like a human being, they mainly use clips that throwback to the funny lines we enjoyed back on season 10 that Producers know are "fun and relatable to online audiences". The Internet moves too fast for that; we are sure there is much funnier Moniquisms on the cutting room floor. It just comes off as pandering.
Meanwhile, Trinity the Tuck has ended up with some "pageant girl who can do comedy" storyline as if this is something totally unique and unheard of (Roxxxy Andrews, Alyssa Edwards, Kennedy Davenport, Asia O'Hara, anyone?) which has given Trinity several wins she probably shouldn't have. Monét X Change receives a "must prove it on the runway" storyline which means her looks are overpraised even when the execution is clearly not there. Naomi Smalls is invisible and possibly just slipped through the cracks, or is the "easy elimination" option like Kennedy and Roxxxy of All Stars past.
We implore any producers of this show and other reality shows, to let the show breathe a little more, and give it a little more reality. These are Drag Queens, there will be some natural drama if you just loosen the reigns, let them have a little fun and stop overthinking challenges and storylines. It's suffocating the show.
I apologize for the short review, but there seems no point in wasting more of your time on this episode.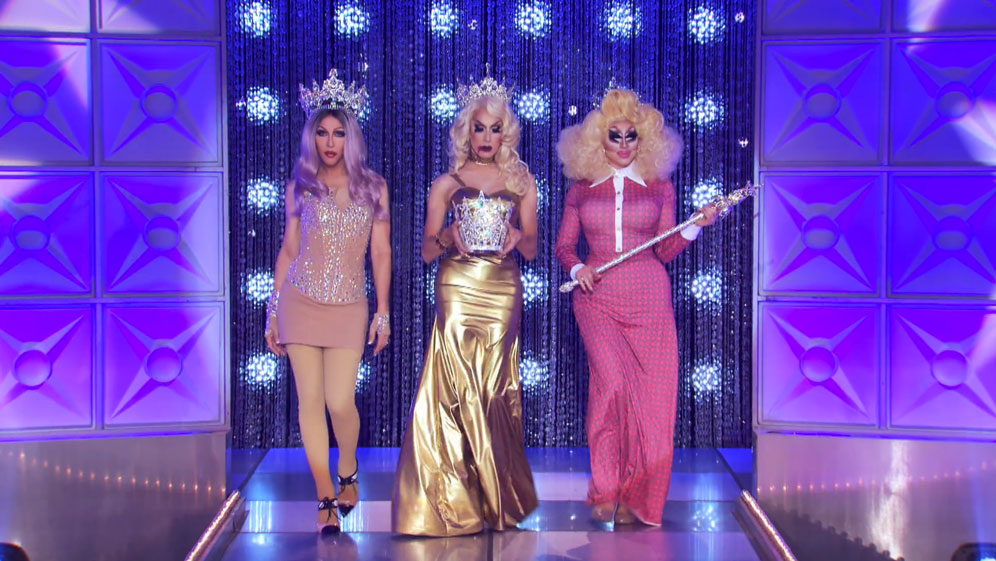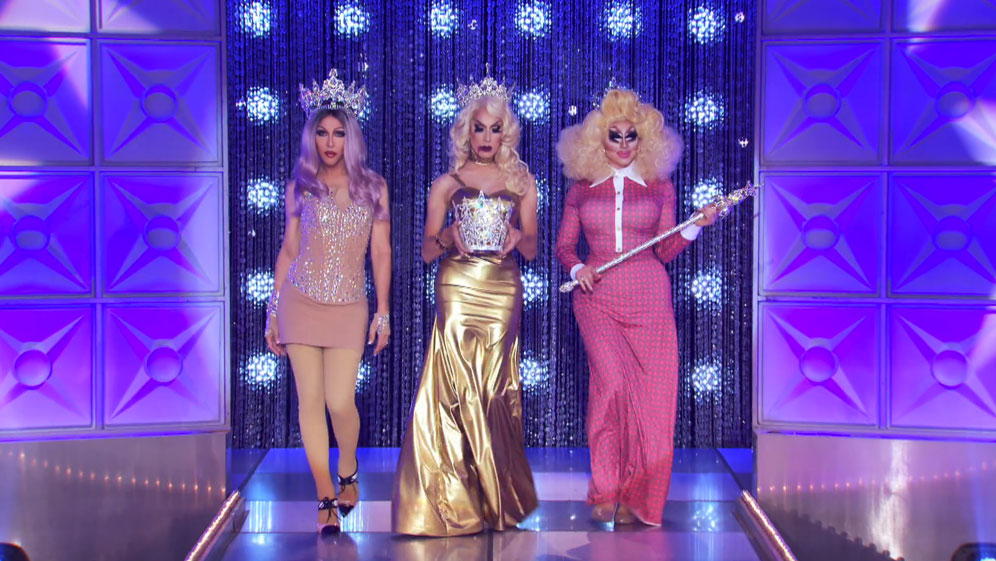 Hopefully next episode will be interesting, Chad Michaels, Alaska and Trixie Mattel – previous All Stars winners – all return, so it looks like some gag is going to happen. Whether it turns into a shitshow that last years was remains to be seen. But surely it will be better than this.
Meh/10
This article was written by our fabulous contributing editor, James Pearbutter.
All images courtesy of VH1.