Best Bidets Attachments & Seats on Amazon to Keep Your Bum Clean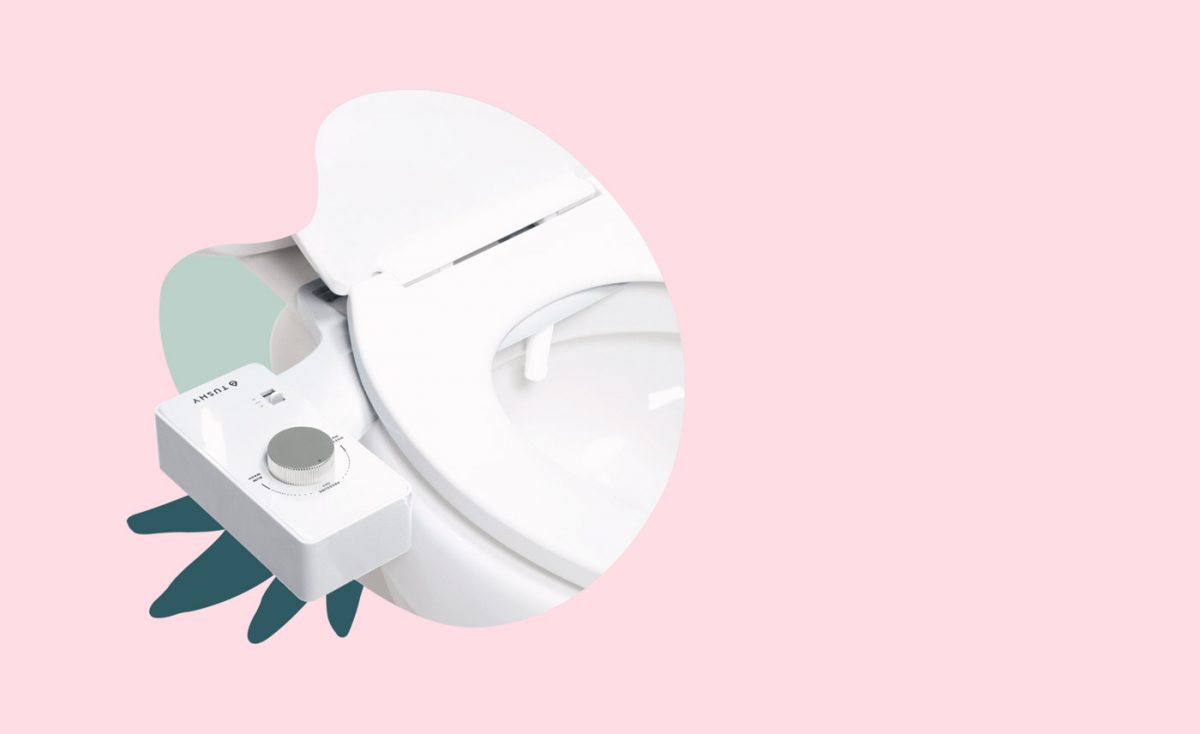 What is a Bidet?
If you have ever traveled to Europe, chances are you have seen these bowls that look like toilets yet are not. Bidet is one of the bathroom essentials a toilet should have, it helps to maintain good hygiene. Although some people mistake it for an odd-looking urinal, bidets are nothing of the sort. The bidet helps with the personal hygiene of the lower part of your body. Although many southern Europeans love them as well as people in Islamic cultures and the South American countries of Argentina, Paraguay, and Uruguay, bidets have never caught on in the United States, although that situation is slowly changing. Your first encounter with a bidet can be daunting, but once you get used to it, bidets are simply to use.
The bidet first made its appearance in France in the late 17th century, although its inventor is unknown. The word means "pony" in French and refers to the way one must straddle the device to use it, similar to the way one straddles a pony to ride it. One of the earliest users of the device was Maria Carolina of Austria, Queen of Naples and Sicily. Historical anecdotes indicate that bidets were used for contraception, but that usage disappeared as modern contraception efforts became available. After 1900, the bidet moved from its original location in the bedroom to the bathroom, as improvement in plumbing made it more convenient to fill and drain.
What is a Bidet Used For?
Modern bidets are used to clean your butt after a bowel movement, which is why you'll find them in the bathroom next to the toilet
Bidets are primarily used to wash and clean the genitalia, perineum, inner buttocks, and anus. Some bidets have a vertical jet intended to give easy access for washing and rinsing the perineum, inner buttocks, and anal area as well as the genitalia. You can also use it for a refreshing feeling after sex. The traditional separate bidet is like a wash-basin, which is filled with clean water, and then maybe used for other purposes such as washing feet.
How Does a Bidet Work?
The function of a bidet is similar to that of toilet paper, yet not quite. The purpose of the bidet is to use it after you have gone to the toilet. You can use it in conjunction with toilet paper, or simply transfer over to the bidet after you have done your business on the toilet. If you are on a toilet that has a bidet addition, you just need to stay where you are.
If using a stand-alone bidet, you'll need to straddle the seat and choose whether to face away, as with a toilet or face the controls, which makes it easier to control the water flow. For stand-alone bidets, you'll likely need to take off your pans, but that may not be so with an add-on seat. If you need to clean your front, it's easier to face the bidet jets, but if it's your bum that needs cleaning, face away from it.
Toilet seat bidets are easier to work. Simply push the 'wash" button on the remote control to allow a nozzle to appear beneath you to rinse your private regions with a stream of warm water. When finished, just press the "stop" button. If the add-on bidet is mechanically controlled, just turn a lever or pull a string to turn on the device.
How Do You Use a Bidet?
When straddling in the case of a stand-alone bidet or simply sitting on a toilet-bidet combination, you must adjust and temperature and jets for comfort. If you have hot and cold water controls, turn on the hot water first and gradually add cold water until you feel comfortable.
Position yourself by sitting or squatting over the stream so that the water hits the area you want to clean. Some stand-alone bidets don't have jets but only have a faucet that fills the basin. For these types of bidets, you'll need to use your hands to clean yourself. When you finish, simply turn off the jet of water or the faucet.
Best Bidets on Amazon
Many American homes don't have room for a separate bidet in bathrooms, but that doesn't mean you can take advantage of the excellent benefits that they offer. Take a look at these top bidets on Amazon to see which one will work for you and fit your budget.
Luxe Bidet Neo 185 Elite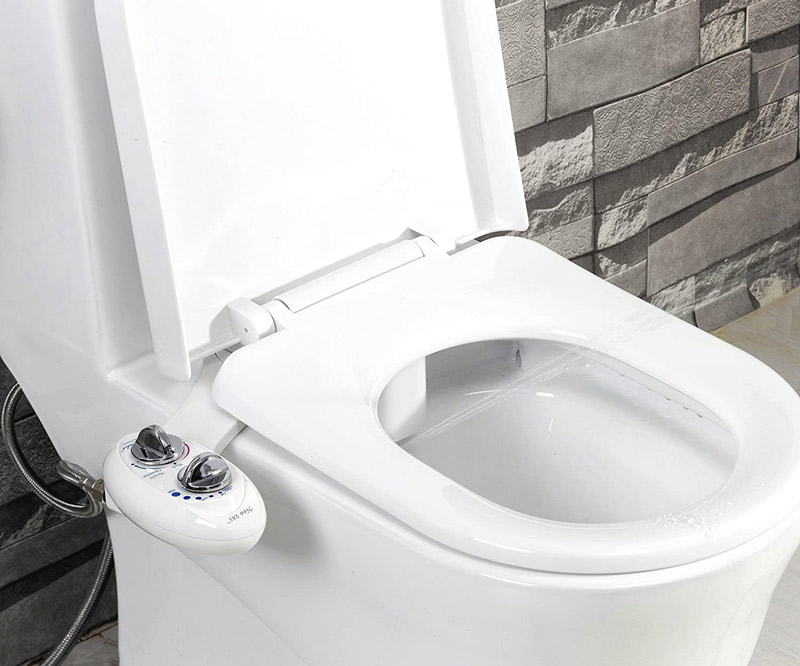 The Luxe Bidet Neo 185 gives you dual nozzles, one for the rear and the other for a frontal wash. Equipped with a hygienic nozzle guard gate that automatically retracts after each use, this bidet attachment will remain protected during regular toilet use. This bidet's quality parts and sleek design will give your bathroom a high-tech look as it is constructed with metal/ceramic pressure valves and steel hoses. All tools needed to attach the bidet to any standard two-piece toilet. Each bidet comes with a standard 18-month warranty, while an extended warranty is available through online registration.
Buy it on Amazon here.
Bio Bidet BB-270 BB2700 Bidet Attachment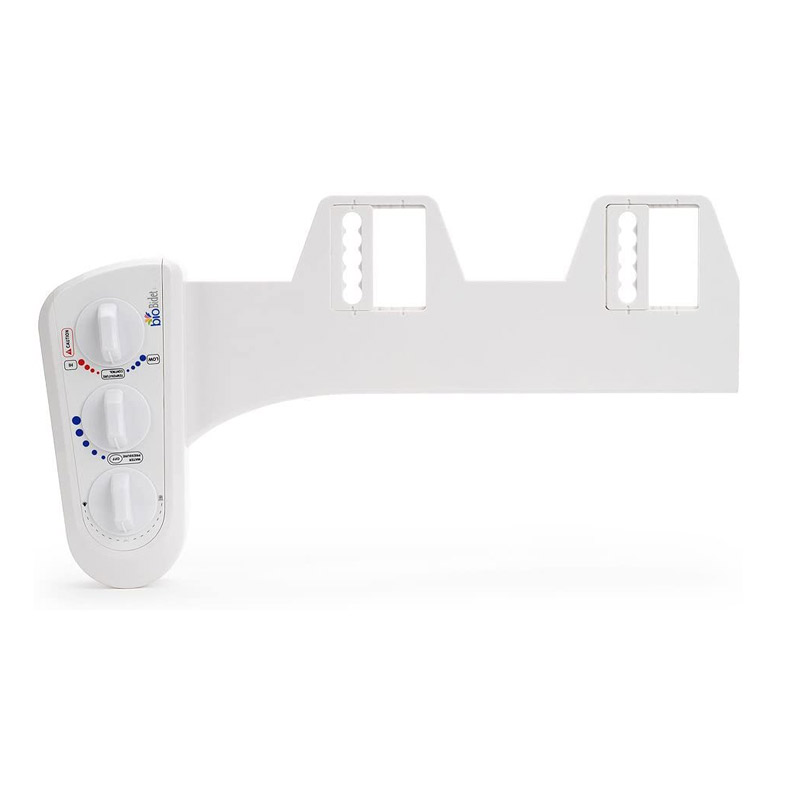 Equipped with a universal design that allows easy connection to any toilet, the Duo BB2700 is a simple and easy non-electric bidet attachment. You'll enjoy dual nozzle action for front and rear wash, along with a self-cleaning option in either hot or cold water. The positive pressure control allows you to change the water pressure for ultimate comfort. The installation kit includes a 26-inch and a 78-inch metal hose to connect this device to your water supply. Quality brass valve and inlet pieces make this bidet a sturdy personal cleaning device.
Buy it on Amazon here.
Brondell S1000-RW Swash 1000 Advanced Bidet Round Toilet Seat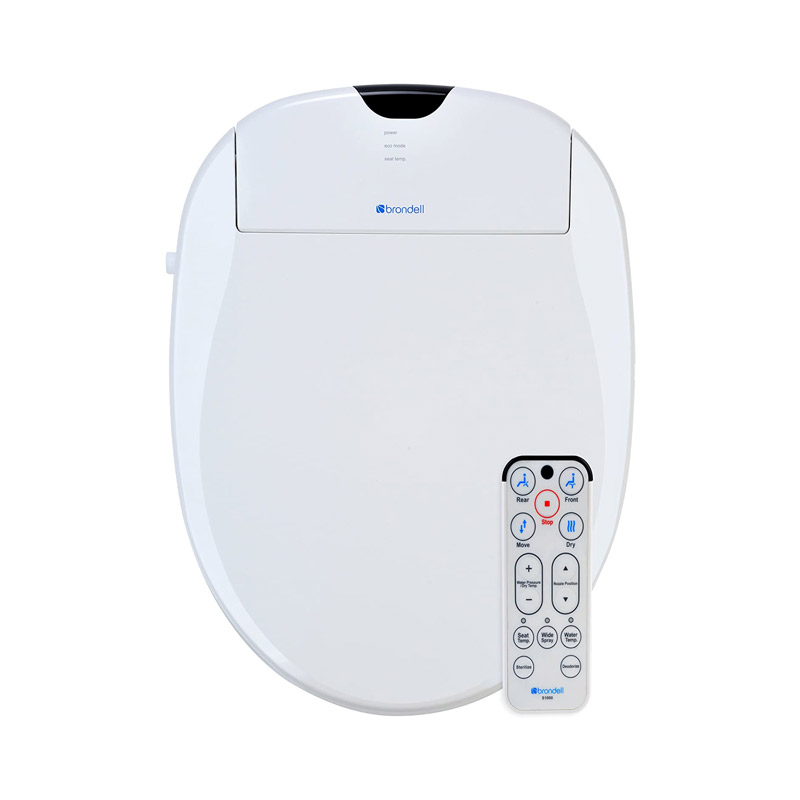 Users love the luxury of cleaning themselves with the Swash 1000 Advanced Bidet Round Toilet Seat. You'll never go back to dry toilet paper or expensive wet wipes again once you have installed this groundbreaking bidet seat that comes loaded with special features. Its dual adjustable steel nozzles provide you with a wide spray and a high level of durability and hygiene, while silver nanotechnology sterilizes the nozzle with every usage. Not only does the ceramic core provide you with instant hot water, but your tush will also remain comfortable thanks to the heated seat. The Swish 1000 comes with a warm air dryer for extra comfort and a deodorizer. Other features include nozzle oscillation, adjustable water temperature, pressure, and adjustable nozzle positions, and aerated wash spray. Install the seat in just a few quick steps.
Buy it on Amazon here.
SereneLife Bathroom Bidet Sprayer Seat Attachment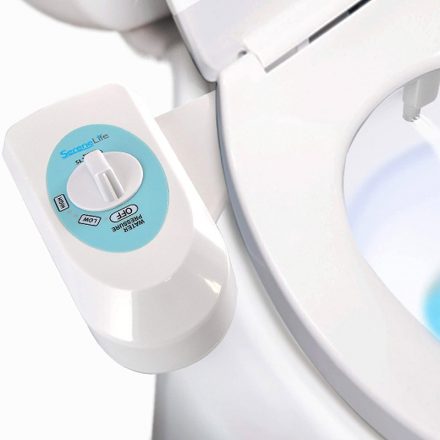 This bathroom bidet attachment has a toilet seat along with water spray features in a non-electric cold water stream that is easy to use and comfortable. DIY installation is easy and fits virtually all toilet bowls. This bidet addition has several desirable features such as stain-resistant ABS construction, universal tubing, and adapters. Users love the water jet spray that performs a thorough yet gentle cleaning, along with the design that mounts underneath the toilet seat. Features also include an easy-to-use design and easy-to-use setup, rotary control water pressure level, and stain-resistant ABS construction.
Buy it on Amazon here.
Bidet Toilet Seat Attachment by BOSS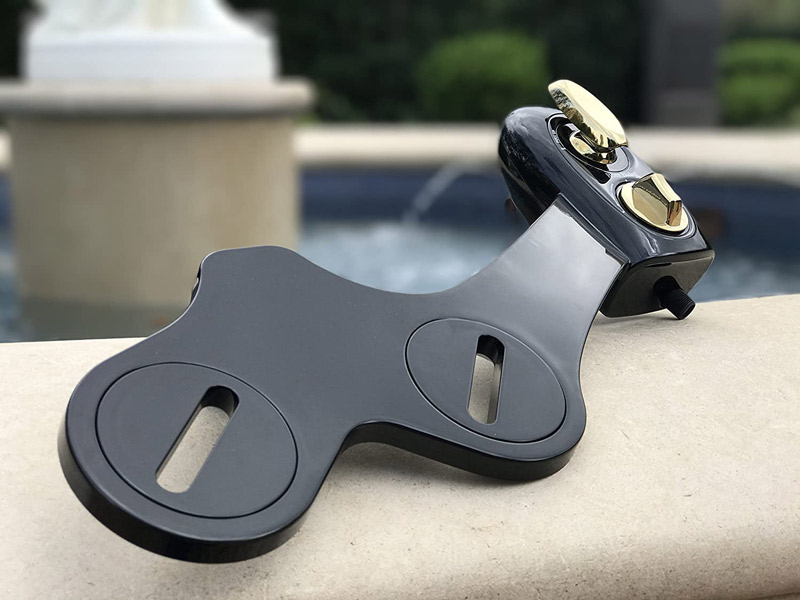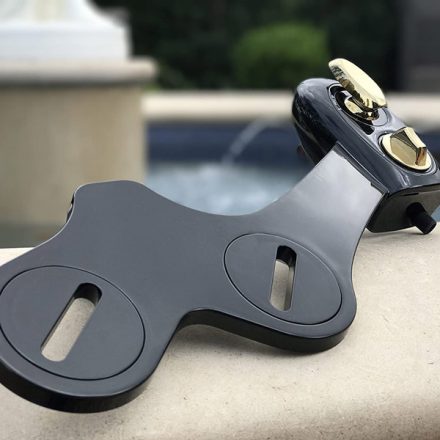 Treat your rear and feel fresh each time you use the bathroom with the BOSS Bidet BOLD toilet seat attachment. You'll enjoy a hands-free cleansing experience for your bottom with front and rear nozzles for cleaning. Simply raise the level to spray water at just the right spot to get a clean shower feeling. This bidet attachment also features nozzles that clean themselves and retract when not in use, a stainless steel hose, and a brass adaptor. It attaches to any standard two-piece toilet in 15 minutes with adjustable round plates for a secure fit. You'll also get an instruction manual and a one-year warranty with this attachment.
Buy it on Amazon here.
Luxe Bidet Neo 120 – Self Cleaning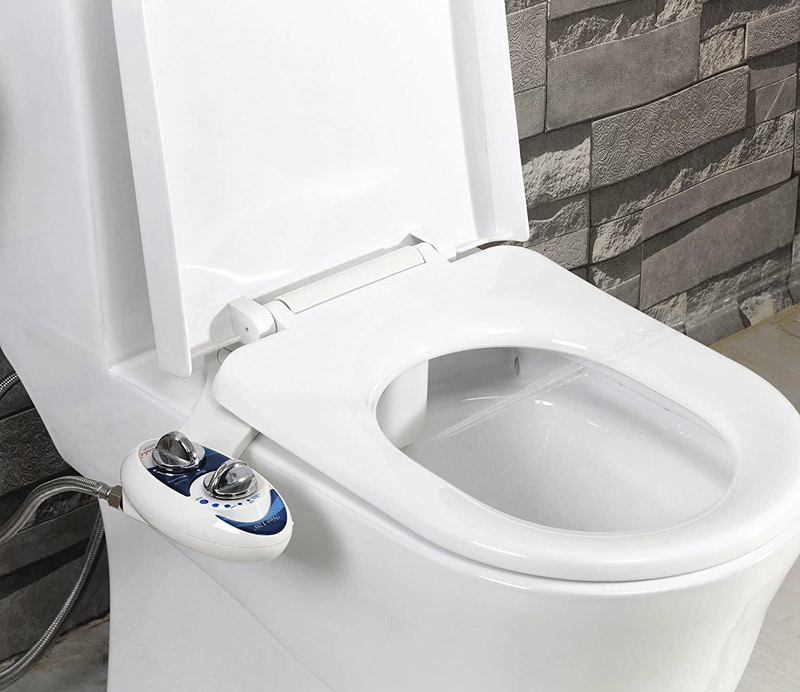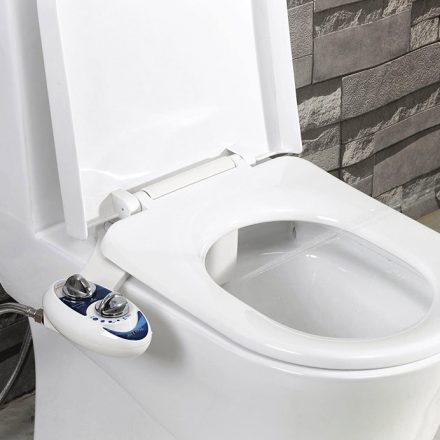 This cold-water mechanical bidet is equipped with a single nozzle for cleaning and dual-control knobs. The Neo 120 features a self-cleaning feature that rinses the nozzle with water immediately after use. A guard gate protects the nozzle when not in use. Featuring a slim and durable design along with secure internal hoses that channel water and promote longevity, this bidet attachment fits easily under standard toilets with no gap between the seat and the bowl. It will give your bathroom a stylish look. Each Neo 120 comes with standard fittings and everything you need for DIY installation.
Buy it on Amazon here.
TUSHY Classic Bidet Toilet Attachment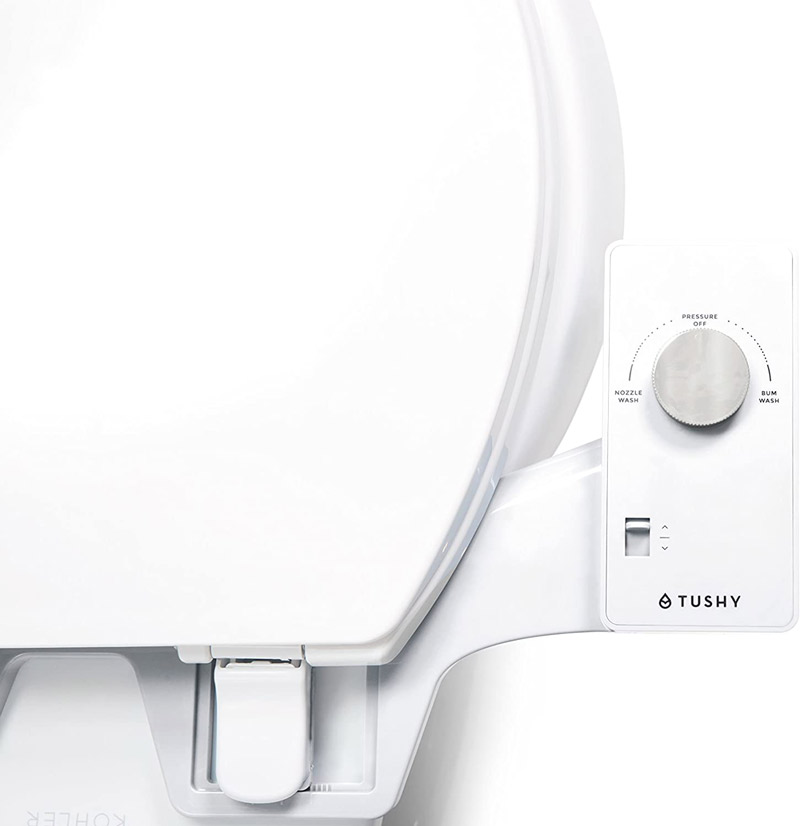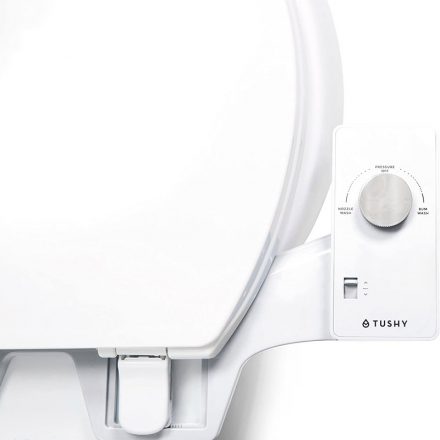 Reduce your carbon footprint one poop at a time with the TUSHY Classic Bidet Toilet Attachment. The modern yet timeless design of this attachment will give you a state-of-the-art toilet experience for a fraction of the cost of a stand-alone bidet. You'll get tailored control with this device, which has a nozzle adjuster and pressure control knob to adjust the spray angle and the intensity of the water. The TUSHY is the ideal bidet attachment to make you feel cleaner and healthier as you'll no longer have skid marks or dingleberries. TUSHY gets its water from your bathroom's wall source, so you know it's clean. You'll also save money every time you poop by using less toilet paper. The attachment installs in 10 minutes and fits most standard toilets.
Also check out: TUSHY Bidet review
Buy it on Amazon here.
Amzdeal BC-02 Bidet Attachment Non-Electric with Dual Self-Cleaning Nozzle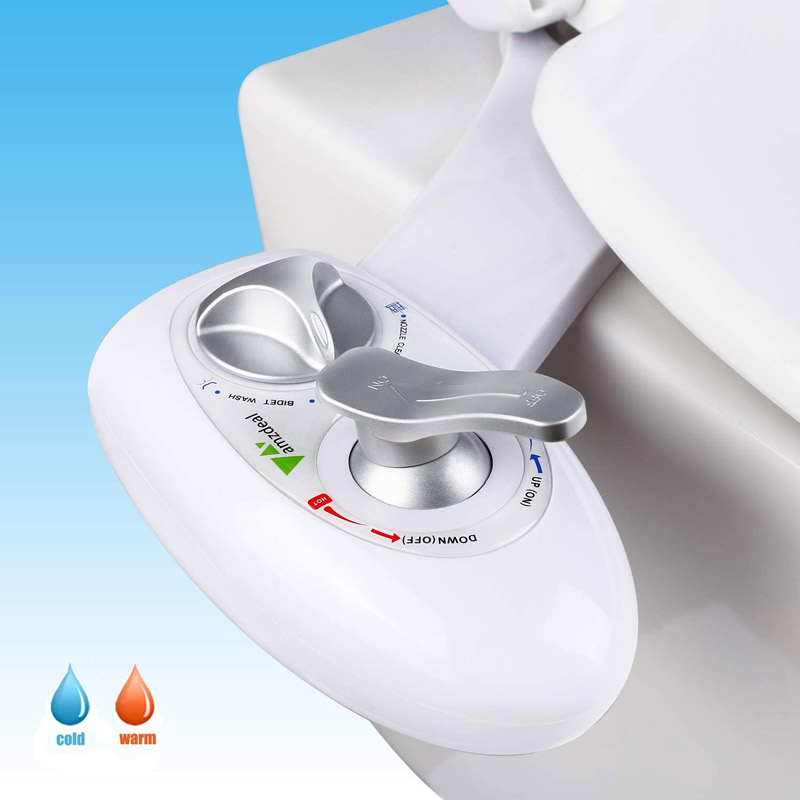 The Amzdeal BC-02 is a sturdy and economical bidet attachment that will provide you with convenient hot and cold water cleaning every time you use the bathroom. Its dual self-cleaning nozzle sanitizes itself after every use. The bidet is equipped with two metal-braided hosen, and the attachment has two dual chrome-plated knobs that allow you to select either warm or cold water for cleaning. Adjust water pressure from weak to strong, according to your needs. The BC-02 fits most standard toilets and comes with anti-leak metal T connectors.
Buy it on Amazon here.
Bidet Toilet Seat Attachment by BOSS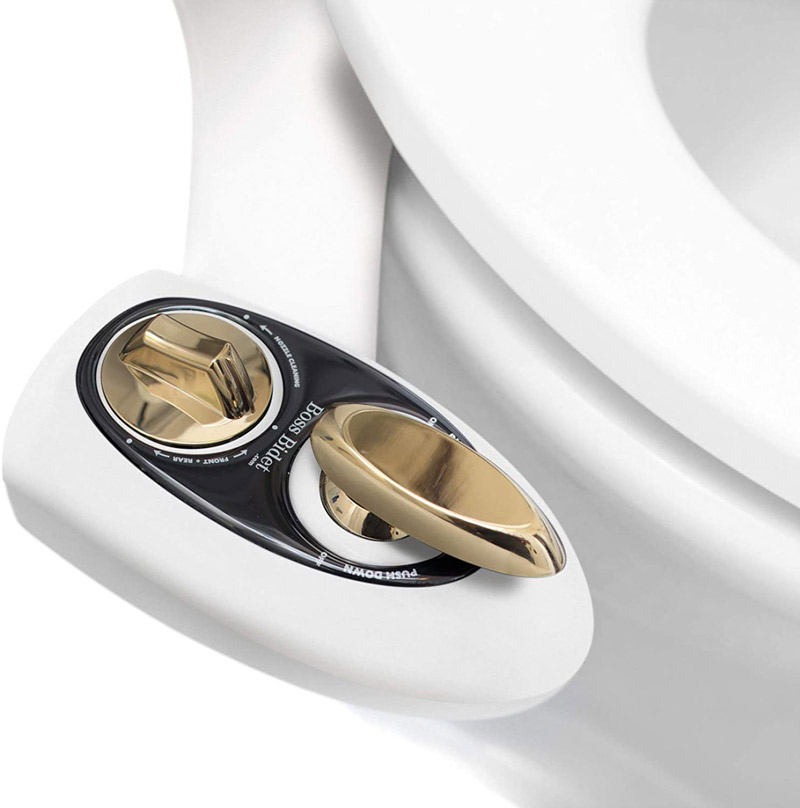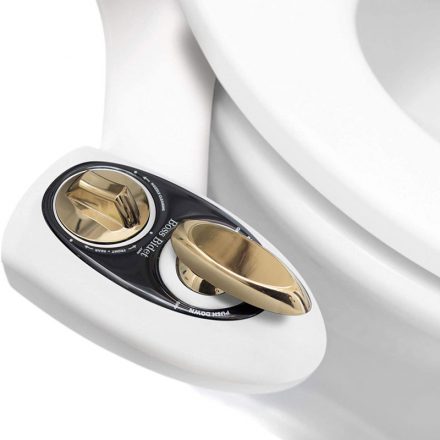 The BOSS Bidet BOLD toilet seat attachment in gold and white gives you a luxury, hands-free cleaning experience every time you go to the bathroom. Set up is easy and takes only 15 minutes. The non-electric attachment is environmentally friendly and compatible with most standard two-piece toilets with adjustable round plates giving it a secure fit. Features include dual nozzles for front and rear cleaning, self-cleaning nozzles that retract when not in use, stainless steel hose, and brass adapter. It comes with an instruction manual and a one-year warranty.
Buy it on Amazon here.
Greatic Bidet Attachments EB8200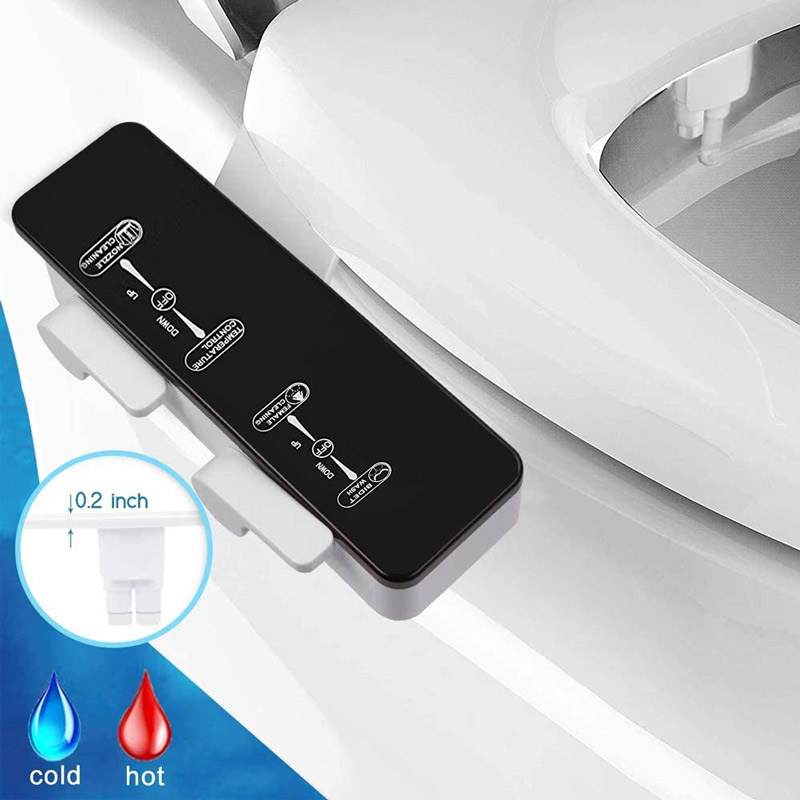 Consider Greatic Bidet Attachments for a better daily personal hygiene experience. This mechanical bidet attachment has an adjustable, convenient design that fits most standard toilets. You'll enjoy dual nozzles for front and rear cleaning made of high-quality components. Easily control water pressure by rotating and pulling the elongated knob on the control panel. You can also easily switch between hot and cold water as it connects to your existing water supply. Greatic Bidet Attachments have an elegant look that will take your bathroom design to the next level.
Buy it on Amazon here.
BioBidet BLISS BB-1700 Elongated White Bidet Toilet Seat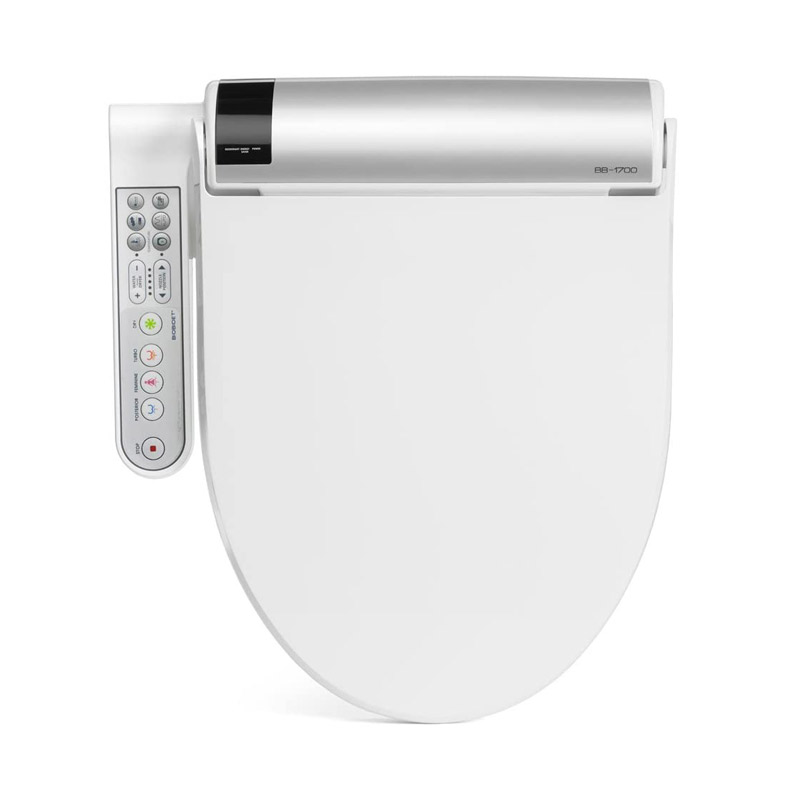 With the Bliss BB-1700 advanced bidet toilet seat, you'll get a luxury experience with groundbreaking cleaning technology. This computerized seat gives you a huge selection of cleaning methods such as an enema wash, posterior wash, and sits-bath options to promote exceptional hygiene. It's exclusive inside-out nozzle with solid stainless steel construction combines with BioBidet's advanced technology to produce optimum water pressure. You can even personalize your bidet with the included remote. Features include hybrid heating technology, eco-friendly energy save mode, heated set, slow-closing lid, wide water stream with oscillating, pulsating and bubble-infused options, warm air dry, deodorizer and a three-year warranty.
Buy it on Amazon here.
Amzdeal Bidet, Hot and Cold Water Bidet Attachment BC-01 with Dual Self-Cleaning Nozzle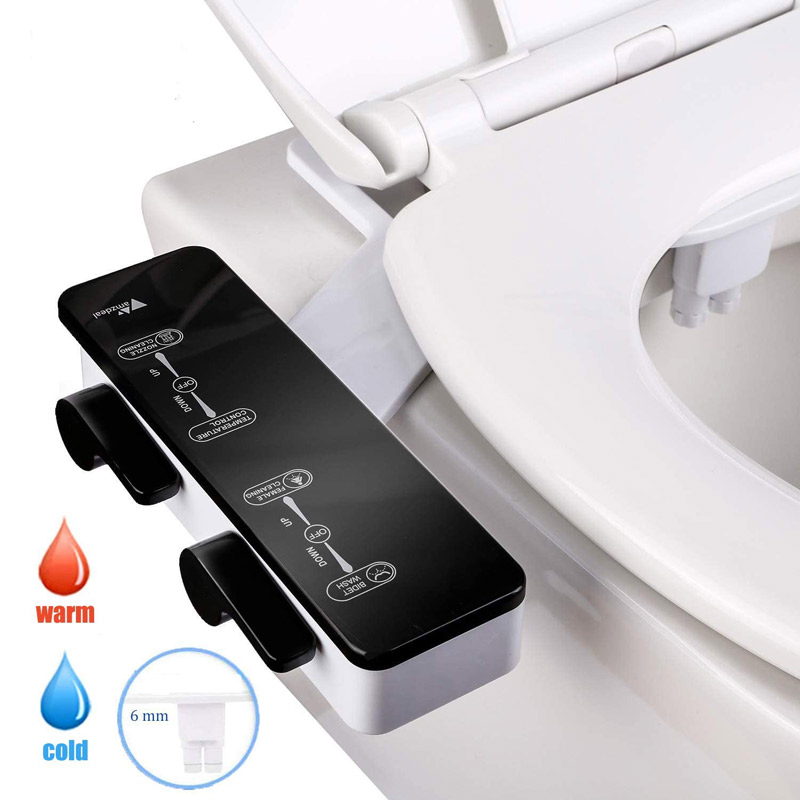 You'll love how the Amzdeal BC-01 bidet attachment will improve your hygiene level while it will also reduce your toilet paper consumption by 90 percent. This bidet can be attached to approximately 90 percent of standard toilets on the market. The ultra-thin design is durable as it has a capacity of 500 lbs. Featuring a dual-cleaning nozzle, this bidet attachment has a water pressure control that allows you to adjust your cleaning experience. You'll never have to worry about the cleanliness of the nozzle as the self-cleaning function regularly does the job. A guard gate protects the retracted nozzle when not in use. The easy installation kit comes with two stainless steel pipes with rubber gaskets, hot water cap with washer, and an adjustable seat fastener.
Buy it on Amazon here.
Hibbent Round Bidet Toilet Seat with Self-Cleaning Knob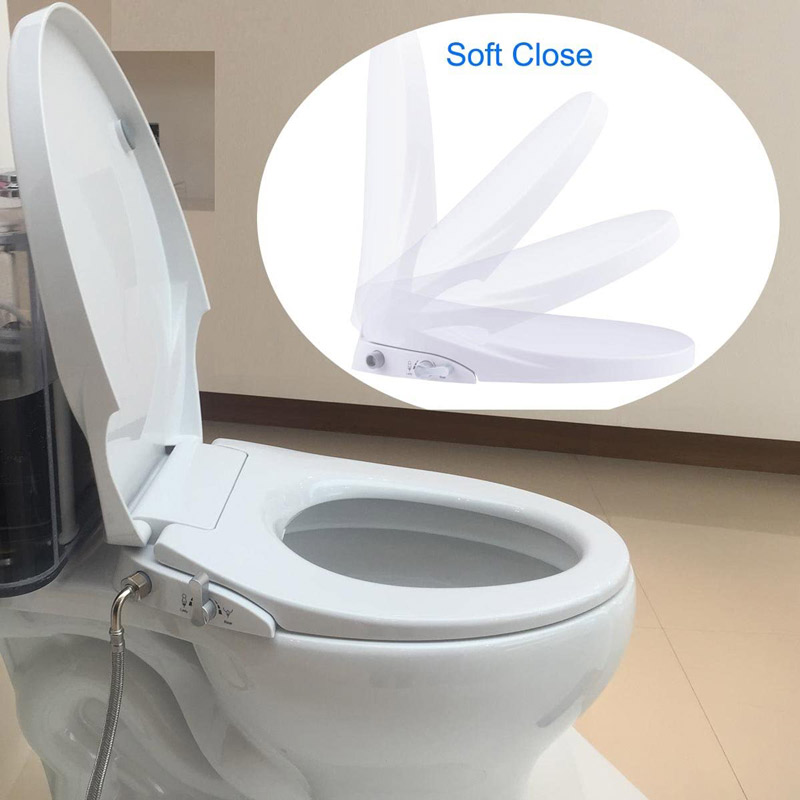 Experienced the difference that the Hibbent Round Bidet Toilet Seat can make in your daily hygiene. Using no batteries or electrical power, this eco-friendly seat features a slim design, one-button operation, and dual retractable nozzles. With the dual function controller, you can control water pressure as well as nozzle selection. The quiet close seat and cover close slowly and silently by itself following use. All accessories, including a 60-cm. Flexible hose and a metal T adapter with a shutoff valve are included in the installation kit.
Buy it on Amazon here.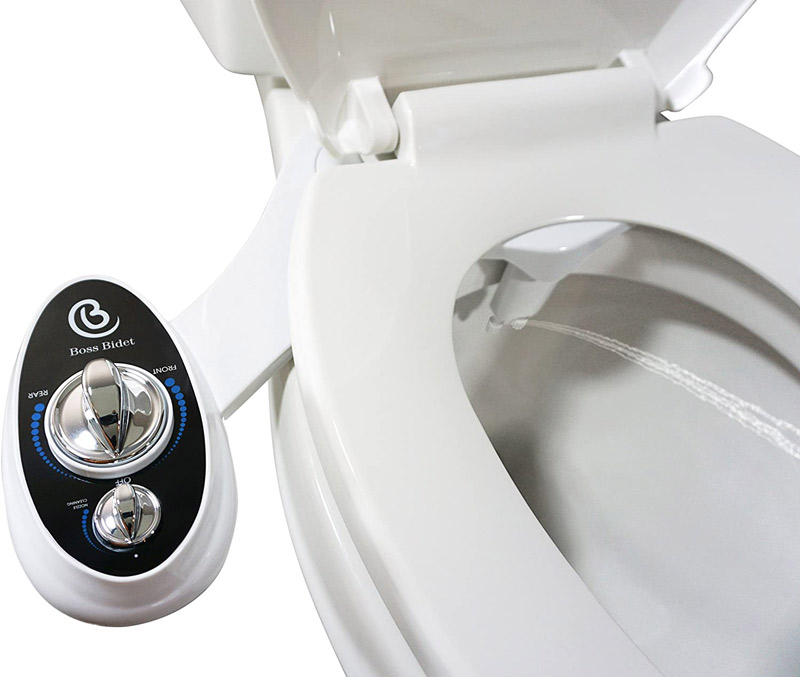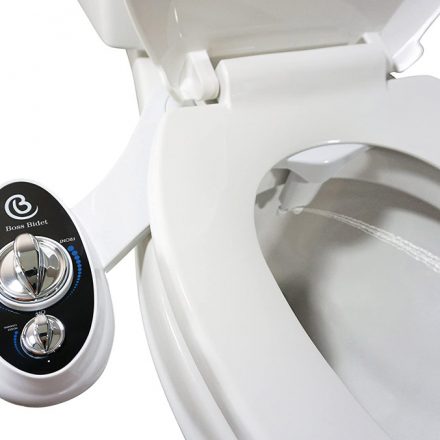 Reduce your toilet paper consumption and treat your bum in the process with this BOSS Bidet Toilet Seat Attachment. Equipped with two nozzles for cleaning, one for front and the other for the rear, this bidet attachment will pay for itself in no time. When operational, water sprays at the nozzles to remove any residue. Simply turn it on and position the selected nozzle at the right spot to give your nether regions that just showered feeling. The universal fit allows you to attach it to almost any two-piece toilet within 15 minutes and includes a plastic hose and T adaptor. Buyers get a 30-day no-hassle return and a one-year manufacturer warranty.
Buy it on Amazon here.
BioBidet Ultimate 770 Elongated Smart Bidet Toilet Seat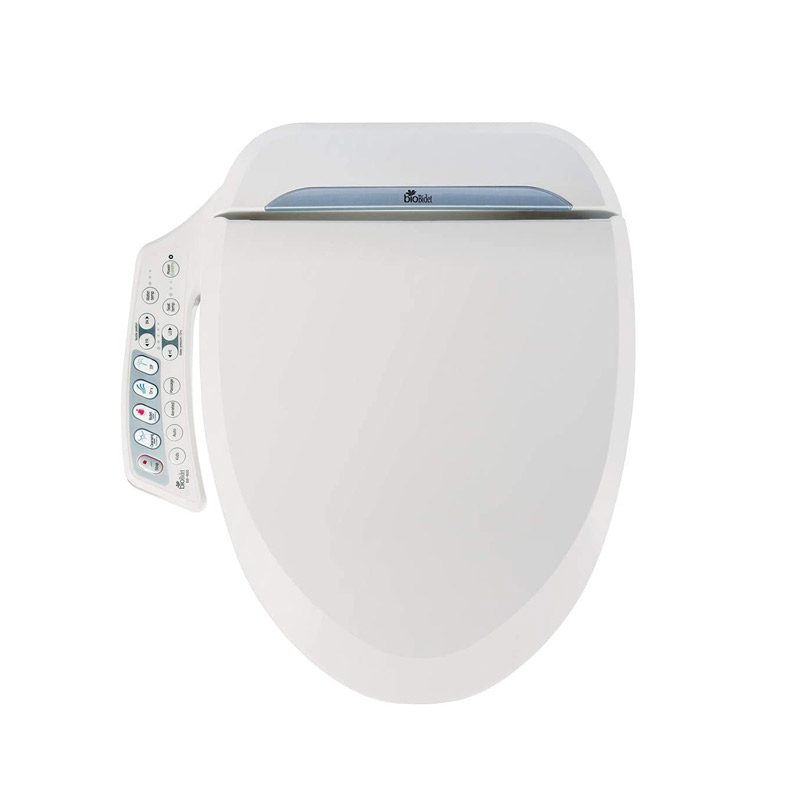 With the BioBidet Ultimate 770, you'll get a host of luxury bathroom features controlled by a smart, wireless remote that has easy-to-use features and adjustable settings. You'll be able to choose spray patterns and functions such as massage and oscillation if desired. The Ultimate 770 has a three-in-one stainless steel nozzle, fusion warm water technology, an adjustable heated seat, and a soothing nightlight.
Buy it on Amazon here.
What are the Benefits of Using a Bidet?
You Truly Will Enjoy Better Hygiene
It's not just a marketing tactic. Those who use bidets do enjoy a whole list of hygienic advantages. Relief from hemorrhoids due to less pressure on the anus, a lesser chance of urinary tract infections, better cleaning of genitals, especially before and after sex, and relief from constipation are just some of the health benefits. In case you're wondering, there's a correct way to clean yourself with a bidet. Use the spray front to back to get the most benefits. Think of this, too. When you wipe your bum, you get thousands of microscopic particles of fecal matter on your hands, which can include viruses. Using a bidet reduces transmission.
Bidets are Kind to the Environment
Bidets use water, so how does that help with water conservation as you'll personally use more? The answer is plenty, but not in the way you would expect. To produce the 36.5 million rolls of toilet paper used by Americans annually, factories use 473,587,500,000 gallons of water, 253,000 tons of chlorine, and 17.3 terawatts of electricity. The average person uses 57 sheets of toilet paper per day. To make those sheets, you need 3.7 gallons of water Although you will use some extra water for tush cleaning, you'll also cut down on the harvesting of trees, which are needed throughout the world to help clean the environment and provide homes for animals and birds.
Fewer Items to Recycle
Estimates indicate that the average person spends about $243 a year on toilet paper, but you could save nearly $182 per year by using a bidet. You'll still need to keep some on hand, but it will be a lot less. Another plus is that as you use less toilet paper, you'll have fewer toilet paper rolls to recycle. Recycling toilet paper rolls also require water usage, so if you feel a little guilty about using more water because of your bidet, don't. Your reduced toilet paper use will more than offset the water needed for recycling those rolls.
Less Irritating to Delicate Skin
Let's face it; toilet paper can be irritating. Otherwise, manufacturers wouldn't emphasize how soft and supposedly comfortable their brands are. Toilet paper can be especially irritating if you have digestive issues and must make frequent trips to the bathroom or if you contract norovirus and visit the bathroom multiple times within a few hours. People with hemorrhoids often have difficulty wiping after a bowel movement and can be downright painful for those with external hemorrhoids. Even using medicated wipes causes friction and pain for some. Using a bidet helps those with hemorrhoids in two ways. One, you avoid further irritation of the area. Two, the spray of water soothes the area, ultimately helping it to heal. Even if you don't have hemorrhoids, washing with a bidet will ease rashes and chafing in your nether regions.
Keeps Your Plumbing Free of Clogs
Although toilet paper is designed to dissolve in water, that won't happen if you use too much of it. In addition, if you use a low-flow toilet, that can compound the problem as the lesser amounts of water push the paper further down the system where it accumulates with soap, shampoo, other personal care products, hair, and more to form clogs. Medicated wipes are even worse. Many people simply flush these down the toilet, but they don't dissolve in water, so they accumulate even more so, clogging up the sewer system. By using a bidet, you'll help eliminate problems in your plumbing system as well as in your municipal sewer system.
Frequently Asked Questions About Bidets
What Does a Bidet Do?
The original purpose of a bidet is to clean your butt after you poop and reduce the transmission of fecal matter. As scientific research has discovered more about hygiene, the use of bidets has expanded to include washing of genitalia and other parts of your nether regions, which can harbor bacteria. They're even ideal for helping to alleviate yeast infections, and yes, men can get yeast infections too in hot and humid climates.
What is a bidet toilet seat?
Bidet toilet seats are a recent innovation. They are designed to replace your current toilet seat to give you the hygienic advantages of a stand-alone bidet. These seats function just like a normal toilet set when you do your business, yet they also have the additional function of spraying a stream of water at your butt and genitalia to clean the region fully. The jet spray nozzles extract when not in use. Several different types of bidet seats are available. The more simply constructed models are mechanical and work in conjunction with your normal water supply with no electricity involved. High-end models use electricity and come with all sorts of extras such as heated seats, integrated water heaters, and more to maximize your comfort. Of course, you'll also find bidet seats that fall somewhere in between regarding features.
How Much is a Bidet?
Stand-alone bidets are more expensive than their bidet seat counterparts, Starting at about $250 and ranging up to just under $1,000 for a high-end luxury model with all sorts of bells and whistles. Installation for stand-alone bidets are extra and usually need the services of a professional plumber, which adds to the cost. You can expect to spend as much as $500 to have one installed. Bidet seats are obviously less expensive and give you the luxury of a bidet in a small space. The most inexpensive bidet seats cost less than $100 and offer basic cleaning. As with stand-alone models, high-end bidet seats can cost up to $700, yet you'll also find models at a variety of price points in between. In other words, you'll find bidets to fit any budget.
How Do You Install a Bidet Attachment?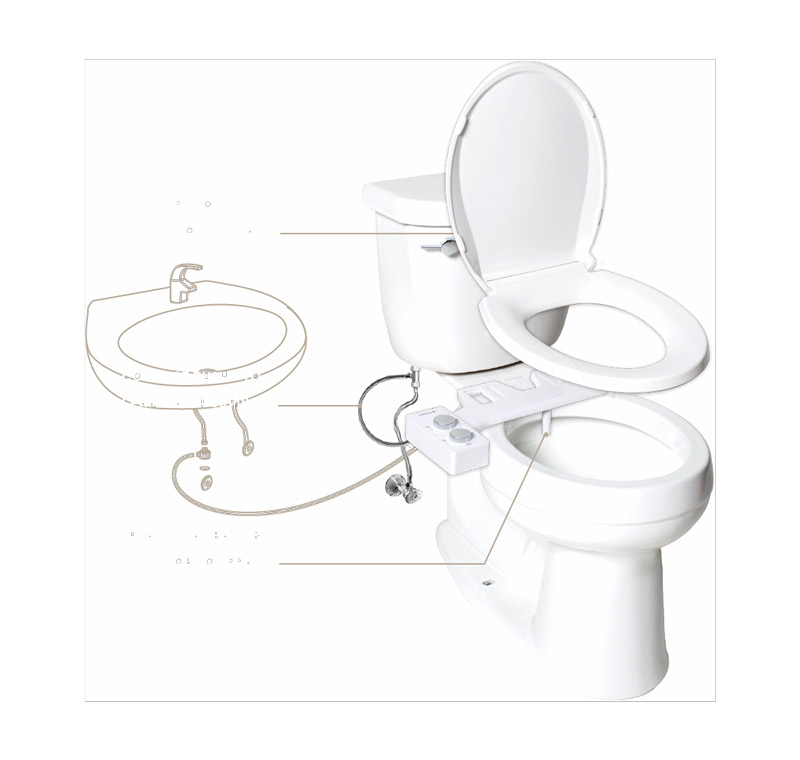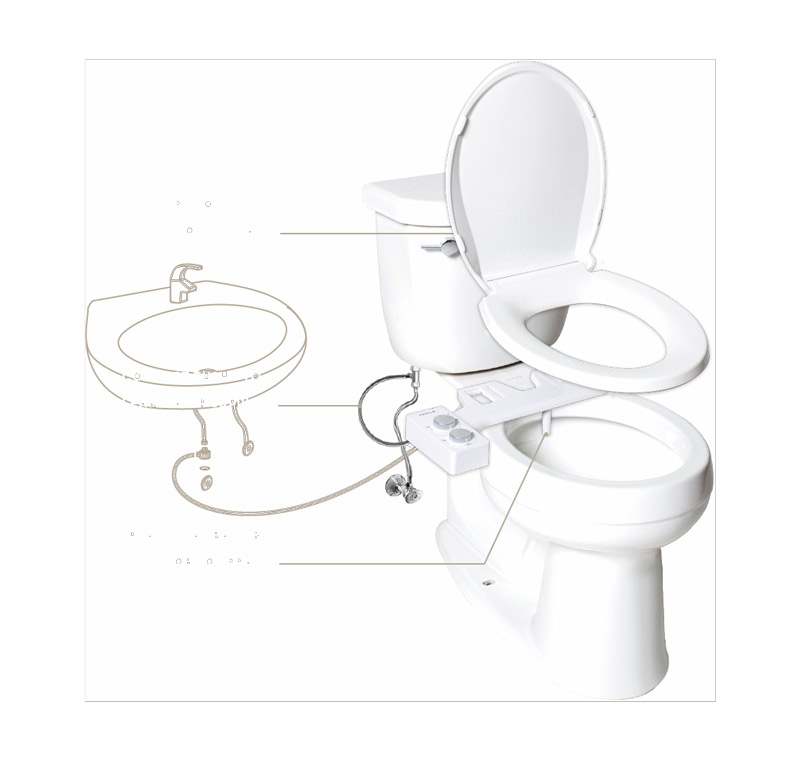 Installing a bidet seat is within the capability of most people. While there are differences among manufacturers, general installation is the same. Refer to the manual that comes with your bidet seat for specific instructions along with videos on the manufacturers' websites. Before installing a seat, you should shut off the water supply to the toilet and then remove the old seat.
To attach a bidet seat, align the mounting plate over the bolt hols and then insert and tighten the bolts. Slide the bidet seat onto the plate and adjust it as needed. Hook up the water supply hose to the back of the seat and then detach the toilet's water supply hose from the base of the toilet tank. Place the T valve to the bottom of the tank and then connect the water supply hose to it. The bidet's supply hose attaches to the upper connection of the T valve. Attach the free end of the hose to the seat and ensure all connections are secure before checking for leaks.