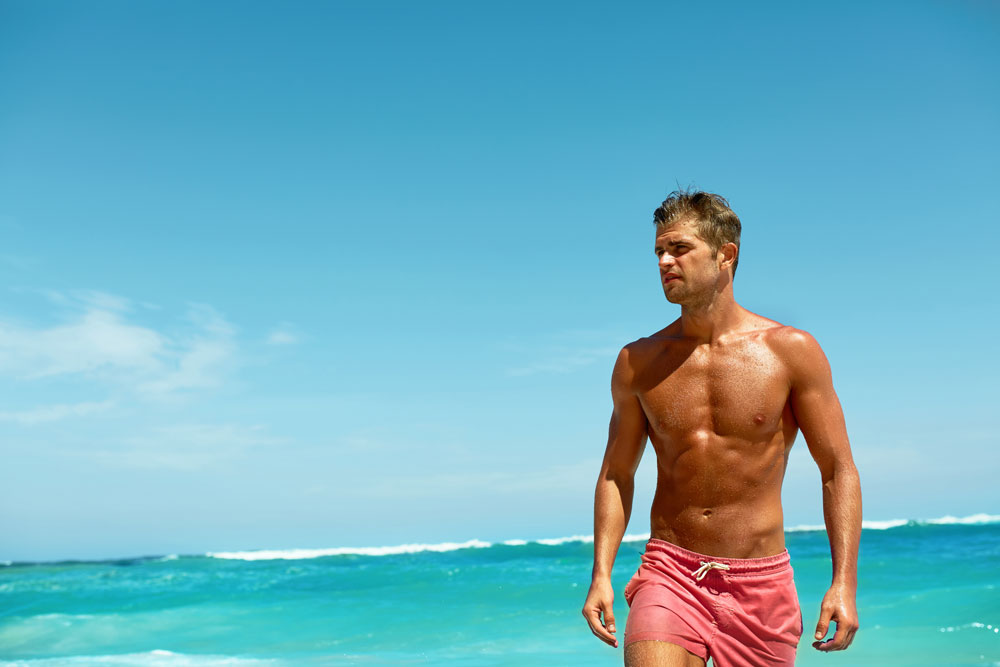 Reading Time:
16
minutes
If you're a man who's ready to jump into the nearest pool, it's always important to rock the best swim trunks for your frame. It's also good to consider the type of things you'll be doing in those trunks. If you're lounging at a pool party or swimming in the local swim league, you'll require different needs from a pair of swim trunks. Consider the following options that are comfortable, functional and fashionable for your future appearances in the water.
Most Comfortable Swim Trunks for Men
In today's competitive swimwear and beach attire marketplace, there's no longer any need to sacrifice style for comfort. And while it's especially important to choose a comfortable pair of trunks when planning on sporting them for long periods of time or going for prolonged walks on the beach, many brands offer the assurance of style and comfort as a package deal. Here's our list of the most comfortable trunks, suitable for the beach, pool, or any occasion!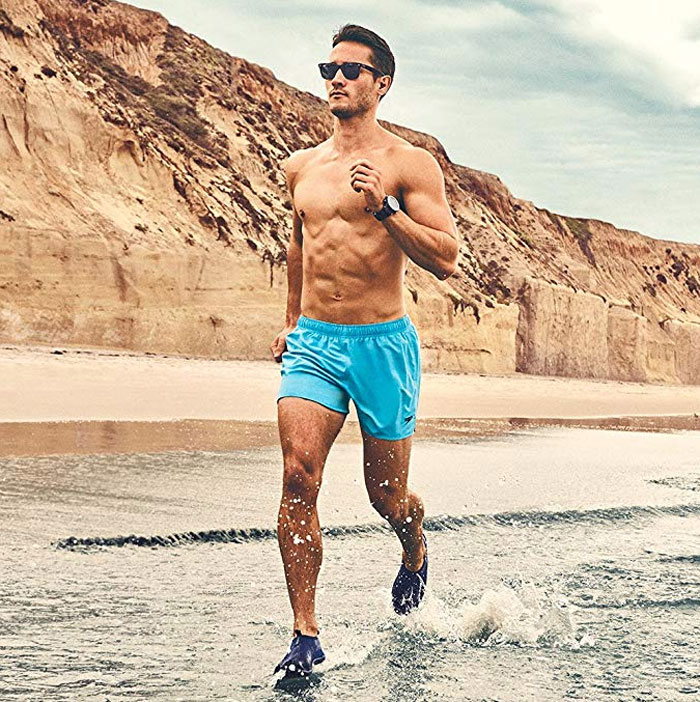 These shorts are made of 100% polyester brushed microfiber. If you don't want to walk around with wet swim trunks for a while, these shorts are made out of the fastest quick-drying fabric. To prioritize comfort, these shorts have come with built-in briefs. So that you remain protected from the sun, there is a UV 50+ protection block. These shorts promise to shield up to 98% of the dangerous UV rays. One of the main reasons why customers love these shorts is because of the fit that doesn't require a ton of adjustments. Between the length, fit and price, these shorts will be a great purchase for any man who's ready for the water.
You can find it on Amazon here.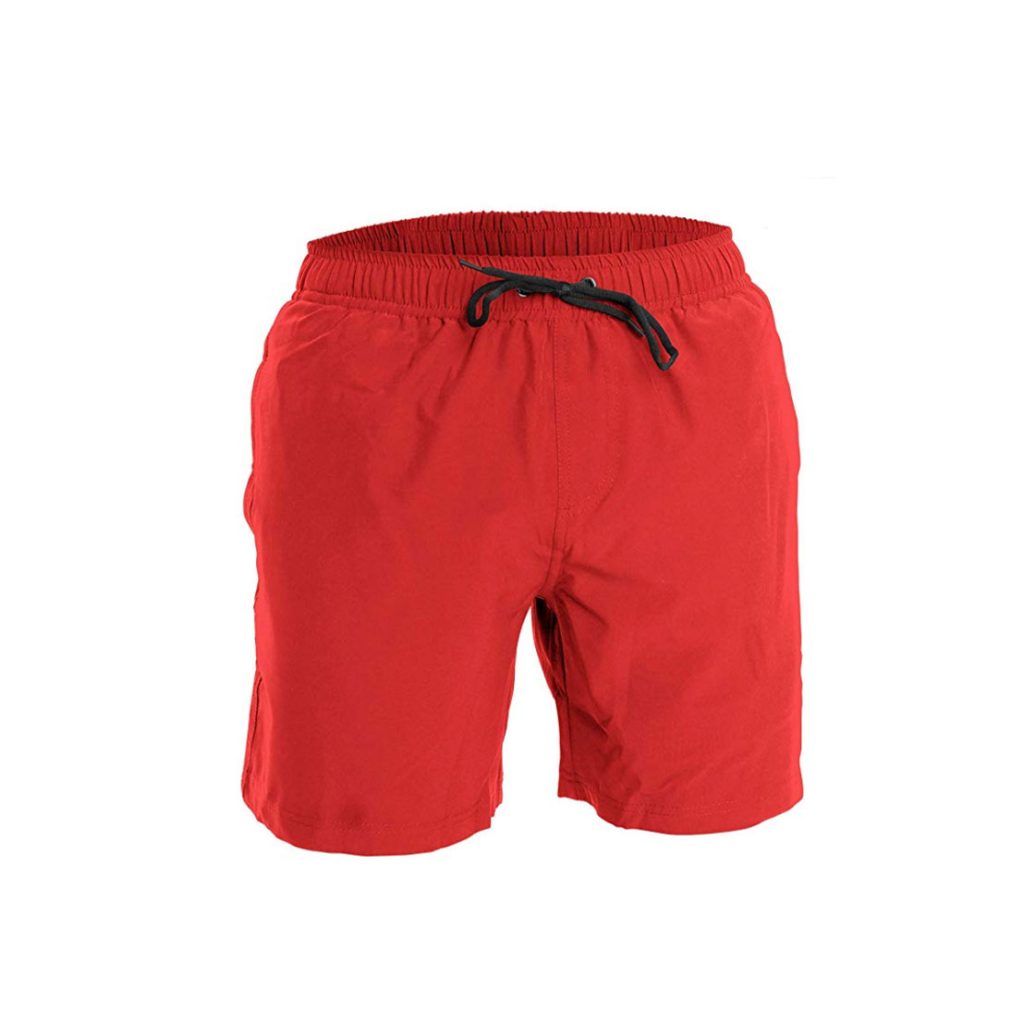 Perfect for the man on the go, these shorts are perfect for swimming because they are made of a breathable fabric that stretches. Not only can you wear these shorts to take a dip in the pool, but you can also wear these shorts to do a treadmill workout or a great session of hot yoga. They are very versatile. If you're someone who maintains an active lifestyle that includes physical fitness, these swim trunks are great because they are built to last a really long time. The design also allows for a man to comfortably store keys and other valuables during the workout.
You can find it on Amazon here.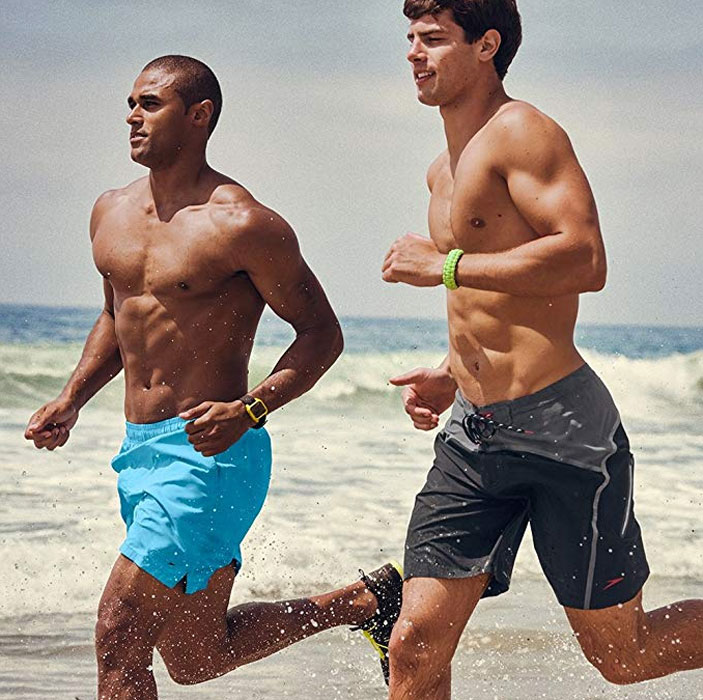 This swimsuit promises to dry off very quickly. Complete with a drawstring closure and 100% polyester brushed microfibers, these shorts provide UV protection and a built-in brief system. There are two side pockets, an inner key pocket, and a back zipper pocket. These shorts also come in eight colors which include granite, hot orange, and red bluff. Fans of these shorts love them because of their versatility and their comfort.
You can find it on Amazon here.
These briefs promise quick-drying effects upon exiting the water. They're also a bit thicker than most swimwear briefs. The materials used for these briefs are nylon (80%) and spandex (20%). There is a four-way stretch technology that makes it easier to move yet maintain a great-fitting pair of briefs. They also come with a mesh lining. This lining decreases the chances of uncomfortable friction. These briefs are considered one of the sexy, slim-fitting options within the swimwear department. They also come in ten colors which include sky blue, army green and gray. Customers who love these briefs tend to love the show-stopping quality and the comfortable fit.
You can find it on Amazon here.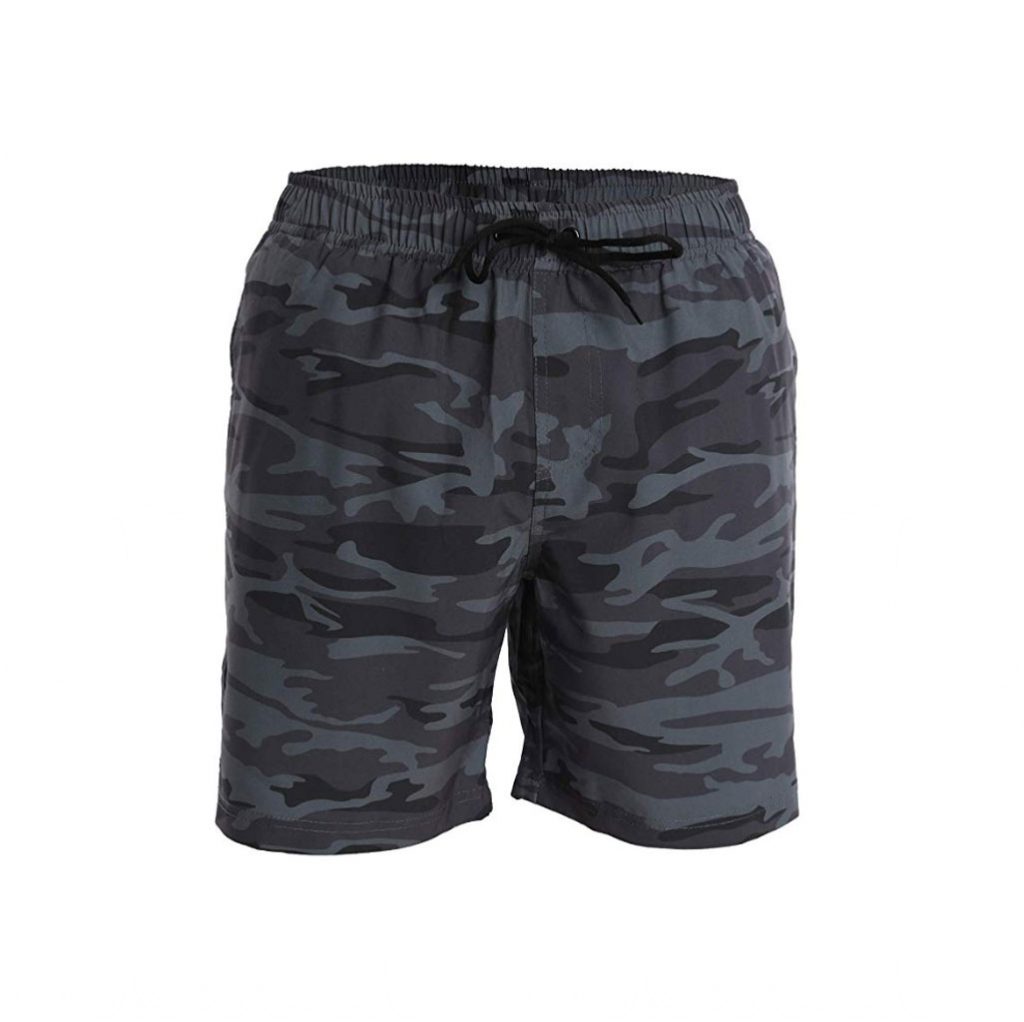 These shorts are built with the active man in mind. They are created out of a hybrid flex fabric to make sure the shorts don't gather in uncomfortable ways. Whether you're headed to the pool or to the local gym, these shorts will be able to withstand any environment with maximum comfort. There are two types of camouflage print to purchase these shorts in. One of the main reasons why customers love these shorts is because of the flexibility they facilitate.
You can find it on Amazon here.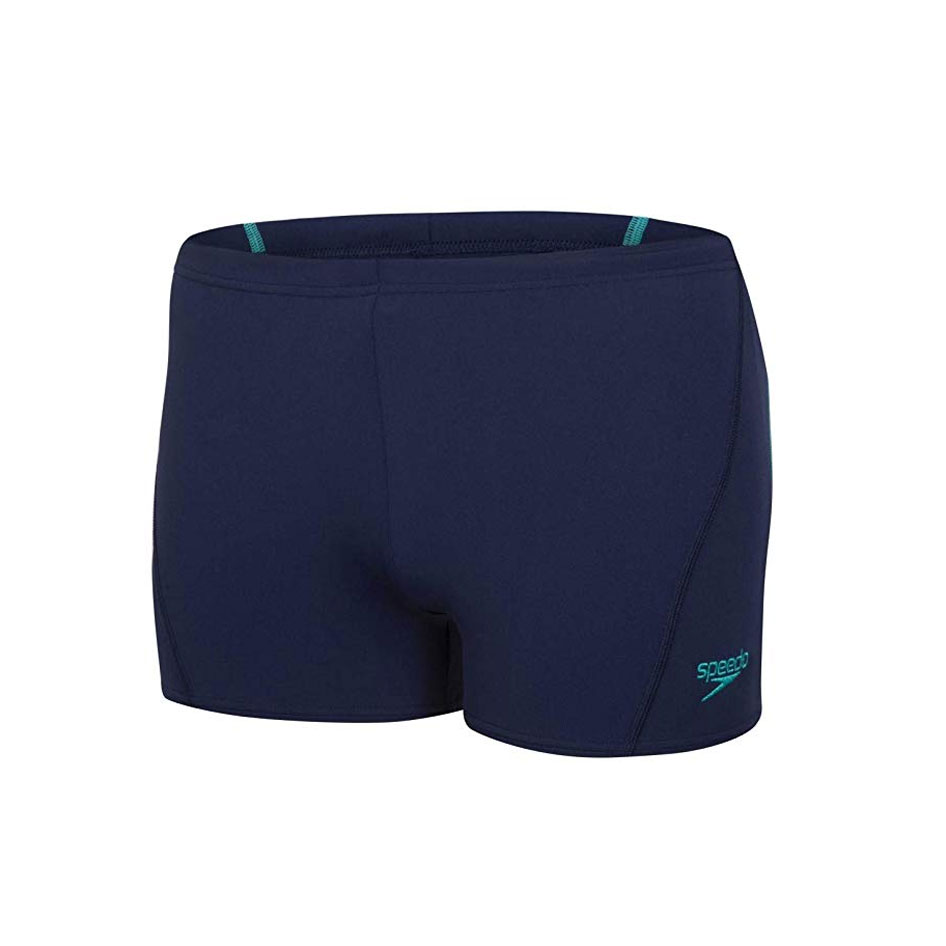 This swimsuit is made of 50% polyester and 50% PBT. This swimsuit has an incredibly interesting component that is very applicable to a swimmer. It is 100% chlorine resistant. This means that is designed to withstand the wear and tear of chlorine over time. Because of this, this suit will easily last 20 times longer than swimsuits that are made of standard swimwear fabrics. There is a low-moisture component that allows for a quick-drying experience. It also contains 50+ UV protection. Fans of this swimsuit tend to rave about the perfect fit.
You can find it on Amazon here.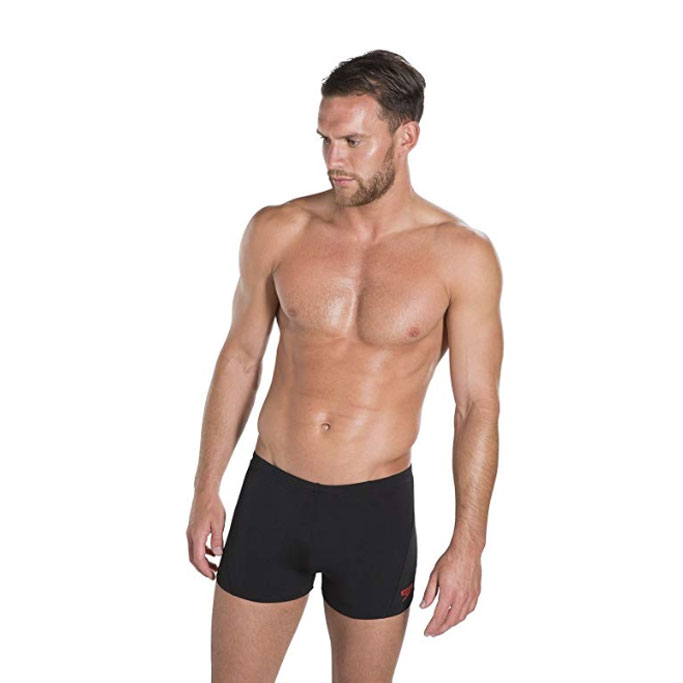 These shorts are at the top of the best seller's list in Men's Athletic Swimwear briefs. It is made of a 50$ Polyester and 50% PBT blend. Even though you have to hand wash it, it promises to last longer than most swimwear briefs in the marketplace. These shorts are crafted to be lightweight, and comfortable. Because it is chlorine-resistant, this decreases any chances of fading and unsightly sagging. Fans love these briefs because they are made of great quality, last a long time and fit perfectly. The square cut is also a major benefit to many.
You can find it on Amazon here.
These swimming trunks come with a drawstring waistband that promises comfort. They're also fashion-forward yet comfortable. They come in over ten sizes which include options like orange, royal blue, and black. These trunks promise a "soft and silky" experience with quick-drying fabrics. These trunks contain an elastic closure as well as a blend of nylon (80%) and spandex (20%). There's also an incision on the side of the trunks that allows for leg ventilation.
You can find it on Amazon here.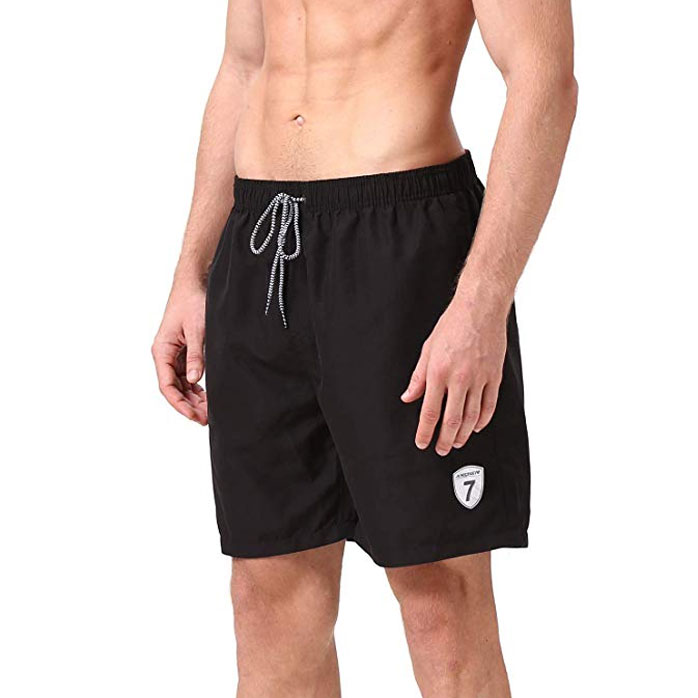 These swim shorts are tons of fun for the man who loves visual versatility. There are 32 different options for colors and patterns. These shorts are made of 100% polyester. There's a drawstring closure as well as an elastic waistband. For storage, there are three velcro pockets. These shorts come complete with a breathable mesh interior lining. Typically, they tend to fit above the knee as well. Fans of these shorts love the fact that they come in really vibrant colors. They also love the shorts are really light-weight.
You can find it on Amazon here.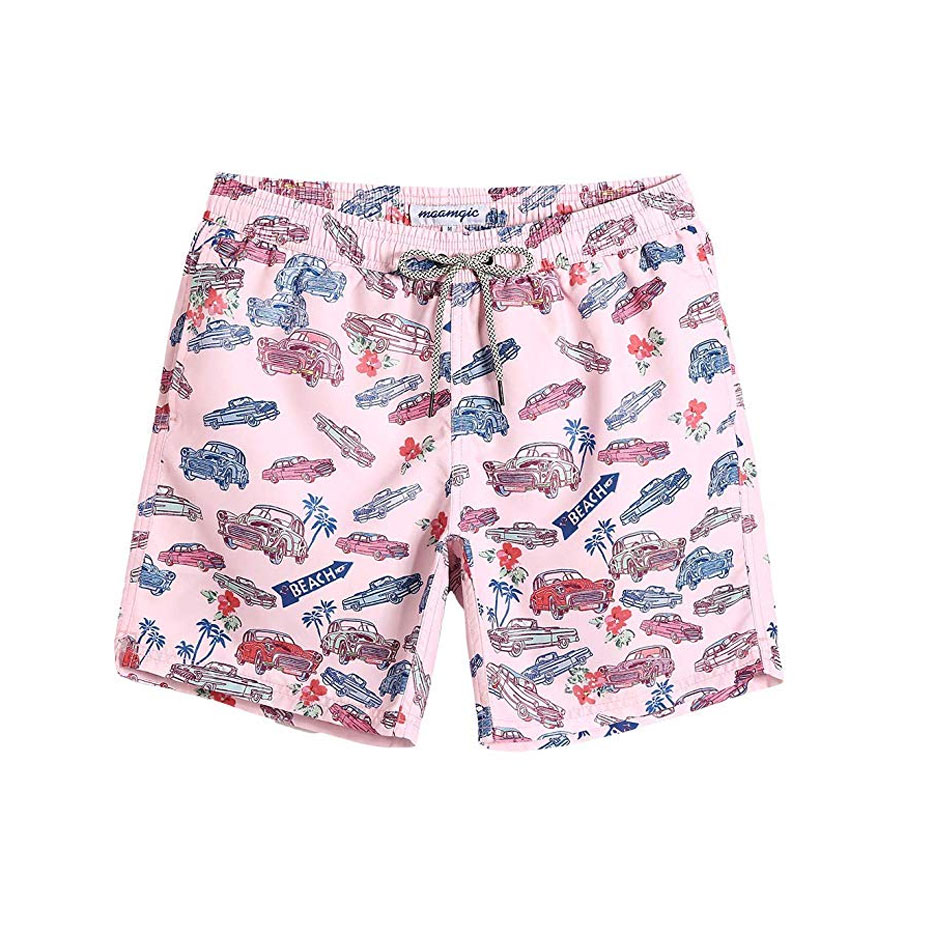 These swim trunks are definitely perfect for the fashion lover as they come in five different patterns. They come in a slim-fit with a cut that's above the knee. The fabric is waterproof, and there's a quick-dry function. If you'd like a fit that's a bit looser, you can always go up one size. If you're someone who loves a great print, these trunks will be the perfection option for you to consider. Another reason why so many people love these trunks is that they look expensive without a hefty price tag.
You can find it on Amazon here.
Cool Men's Swim Trunks
You will also, of course, encounter situations when you want to might want to show a little flair. We all know how annoying it can be to show up at a pool party wearing the same trunks or briefs as another attendee. Here's our list of cool men's swim trunks that tend to be more unique, less common, and very stylish!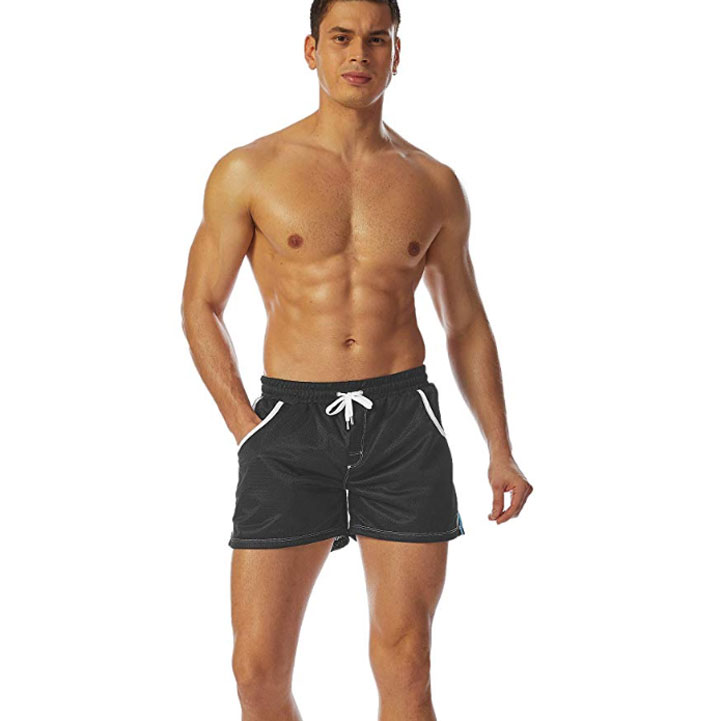 Made from 100% polyester, these swim trunks come in six different colors. The mesh material allows customers to purchase options that fit their waistline perfectly. There's a drawstring closure, breathable fabric and a lining that prevents uncomfortable chafing. There is a built-in split-leg design that allows you to effortlessly move throughout the water. These shorts are also great for outdoor sports or lounging. You can wear them to the gym or take them when you're ready to go surfing. If you're not in love with your purchase, there is a 30-day risk-free guarantee for a full refund. That's how much confidence Silkworld has in their athletic swim trunks.
You can find it on Amazon here.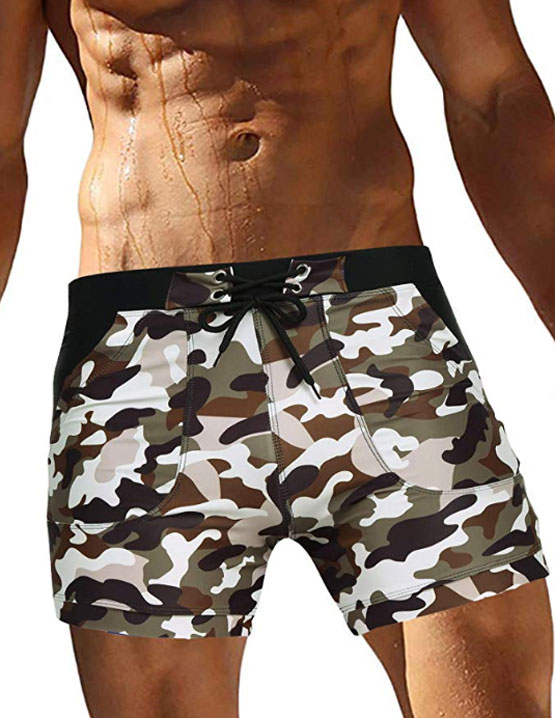 If anything comes with pockets, it's probably going to be a winner. This is the case with these camouflage-print shorts. They come with a drawstring elastic waist, a stretch square-leg design and a cut above the knee. They hold their shape very well. They provide a close fit for the man who wants to show off his body. To make sure these shorts last, it's best to handwash them. Customers who have raved about these shorts do so because they love how stylish and sexy the trunks look. They fit well and work perfectly for water activities.
You can find it on Amazon here.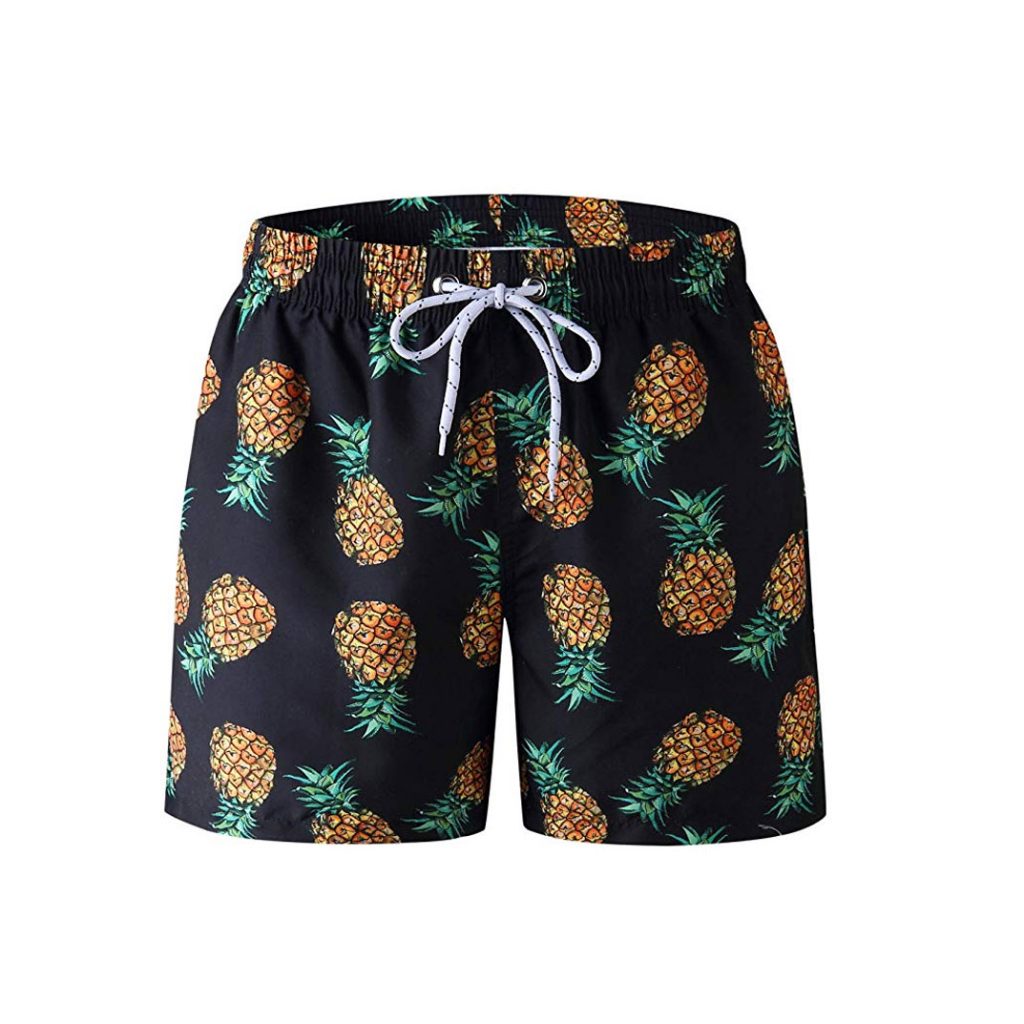 These swim trunk shorts perfectly fit into the cool category because of the fabulously designed patterns. Because of the way the trunks are printed, you don't have to worry about fading over time. Enjoy options like 'black pineapple', 'light green flamingo' and 'navy shark'. There is a 30-day, 100% money-back guarantee to allow customers to shop with complete confidence. A few of the features also include side seam pockets for great storage, breathable materials, and an adjustable drawstring. Fans of these trunks tend to be enamored with the fun prints and the fit.
You can find it on Amazon here.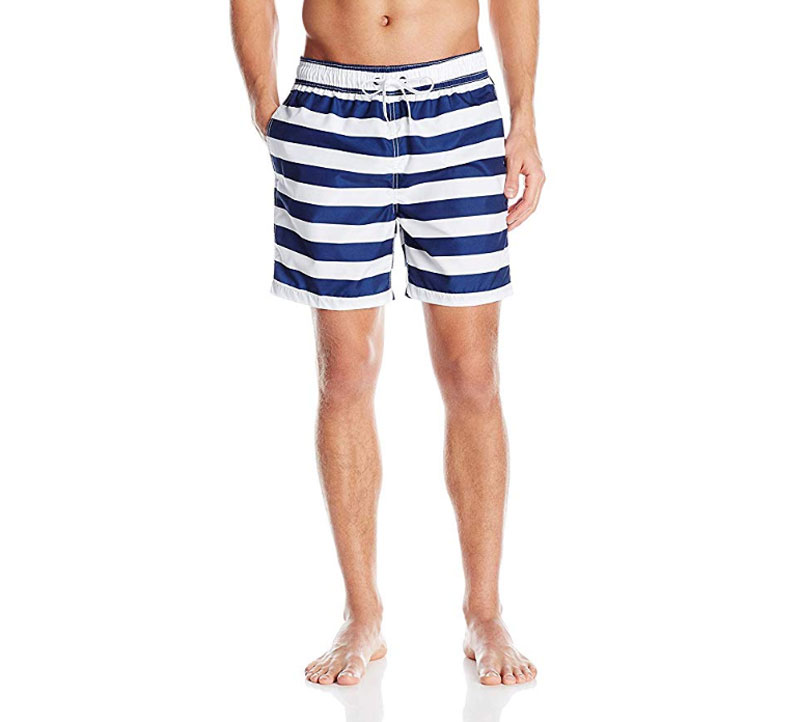 These trunks are made out of 100% polyester. They come in at least 34 different prints and patterns. After a long day at the beach, you might not feel like handwashing your trunks. Thankfully, these trunks care easy to throw in the washing machine for quick cleaning. In addition to its elastic closure, there are triple-needle side seams and rises on each pair. The mesh lining and UV protection of 50+ are additional benefits to purchasing these swim trunks. The retro prints tend to be the star of the show with these trunks.
You can find it on Amazon here.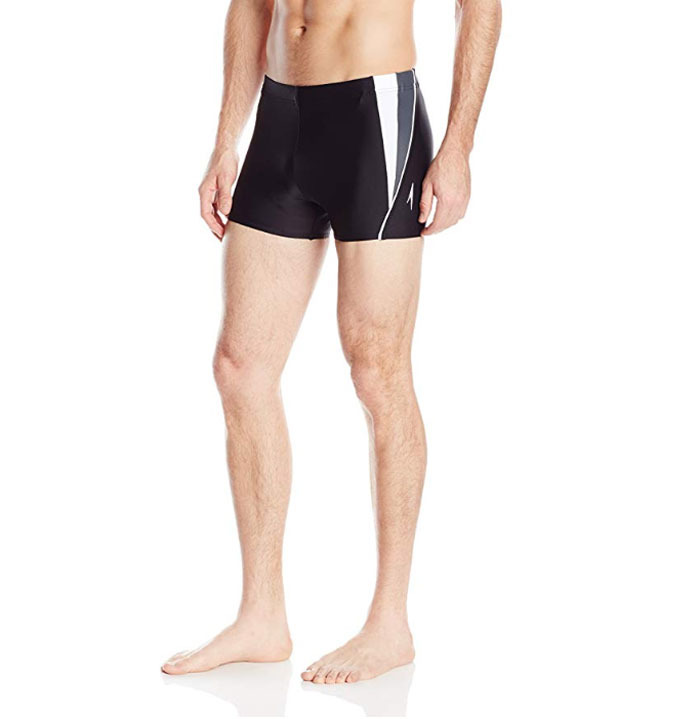 These shorts are interesting because they are made of a recycled nylon blend called Econyl. They're also 22% Lycra. If you're someone who is working on being environmentally conscious, this might be an option to consider. These shorts offer a compression component. Because of the compression factor, some fans rave about the way these shorts help them speed up their time in the pool. If you're swimming competitively, these might be the shorts to help you win the meet.
You can find it on Amazon here.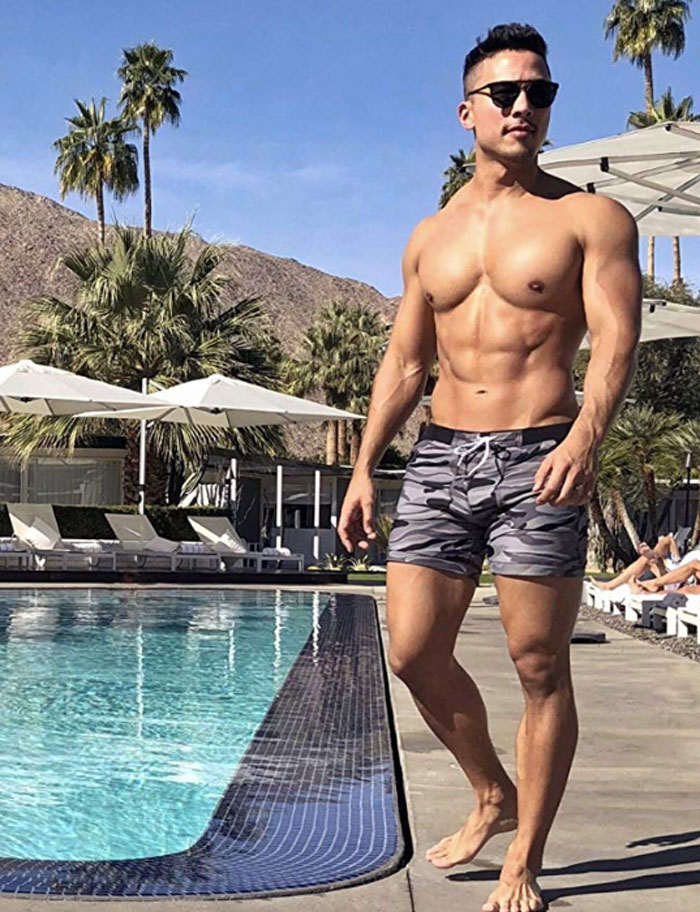 These shorts come in European fits so you'll definitely need to do your measurements before purchasing. They're made of 84% polyester and 16% spandex. They promise not to get ruined in the wash. The cut is what tends to win a lot of customers over. The fit is both comfortable and sleek. These shorts come in two colors of camouflage print: gray and green. Depending on the size and the color, you can enjoy free returns if you're not happy with the shorts.
You can find it on Amazon here.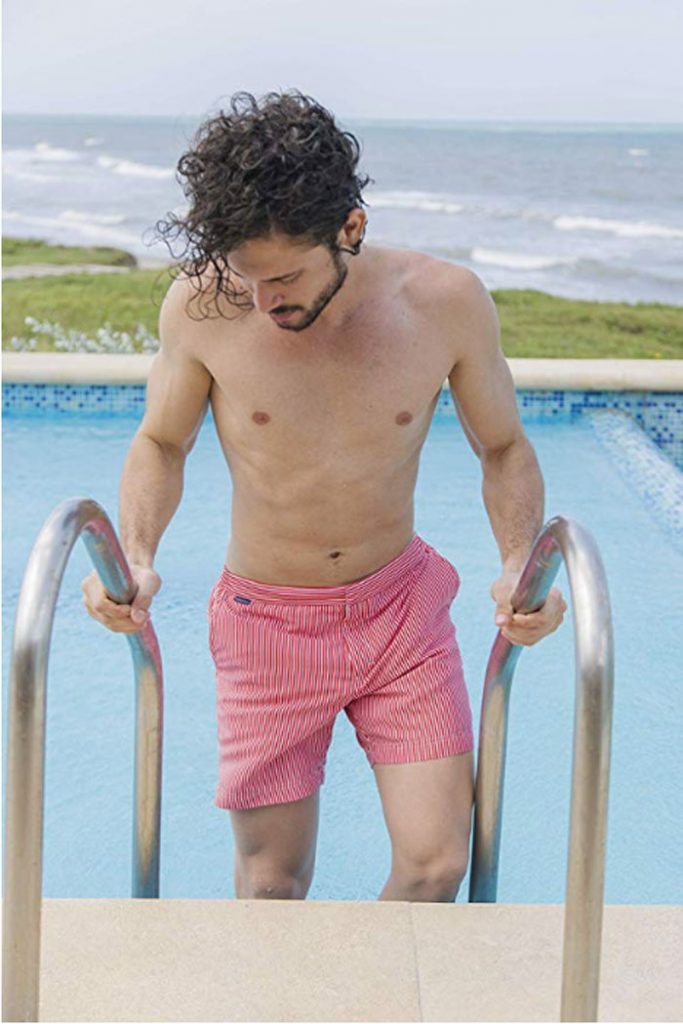 Upon first glance, these swim trunks might look like really sophisticated shorts. However, they have a preppy appeal that works in the pool or lounging at a beach party. There are four different colors/patterns to choose from. These trunks are crafted to give a soft "peach-fuzz" sensation. They repel liquids very well without absorbing them. The colors remain vibrant for a long time because of the way they're crafted. There's an inner drawstring as well as custom hardware on the outside. For those who love a good pair of pockets, these trunks contain slip pockets in the front. The style is sleek yet functional.
You can find it on Amazon here.
Stylish Men's Swim Trunks
Are you planning on attending one of those elegant pool parties where no one really gets into the pool? Are you looking for a pair of trunks to pair with that unique printed short-sleeve button-up you just purchased? Have no fear! Here's our list of the most stylish swim trunks for men: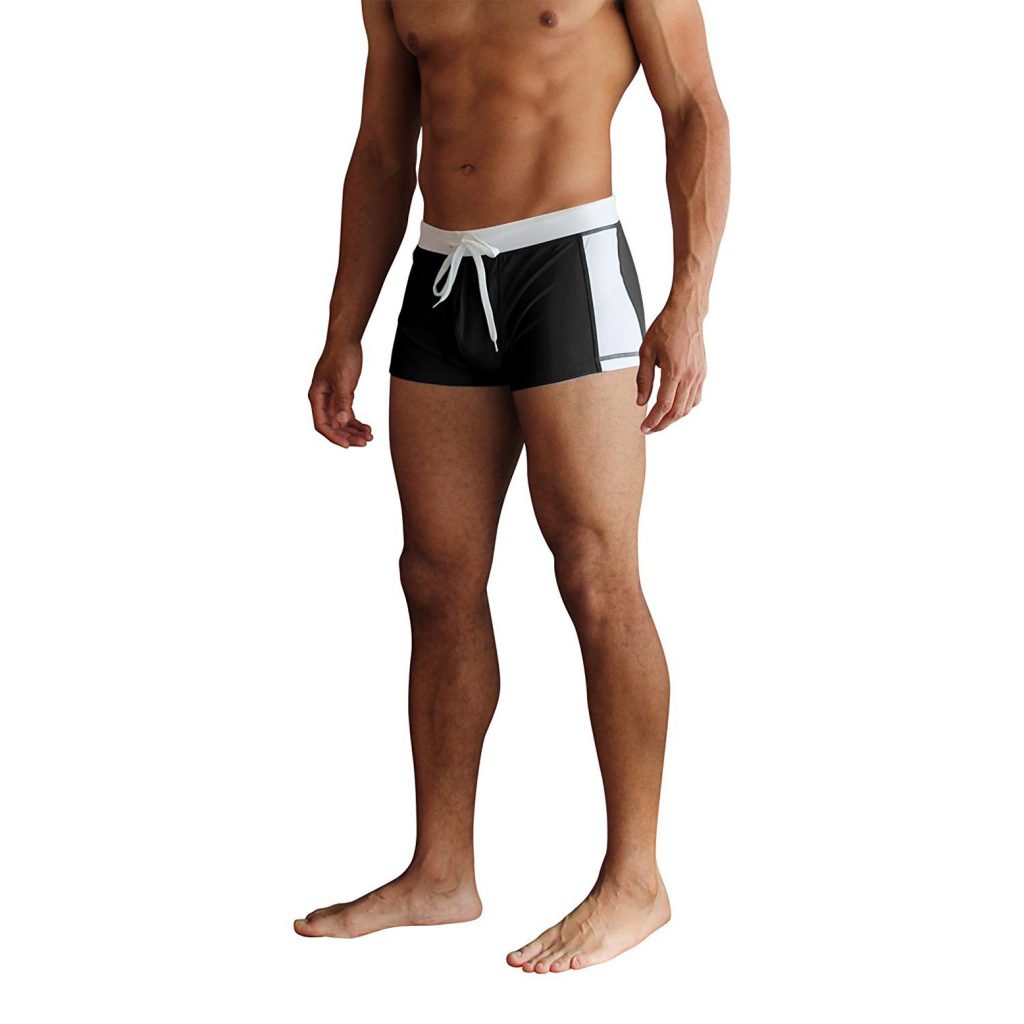 The styles of these swim briefs are abundant. Choose between 20 different patterns and colors. These briefs are crafted to include logos and fun graphics that won't fade over time. There are many reasons why fans love these briefs. The great quality, perfect fit and square fit are a few of the reasons these options stand out. These briefs are also sized perfectly. There's no guessing game when it's time to order the right size for your frame.
You can find it on Amazon here.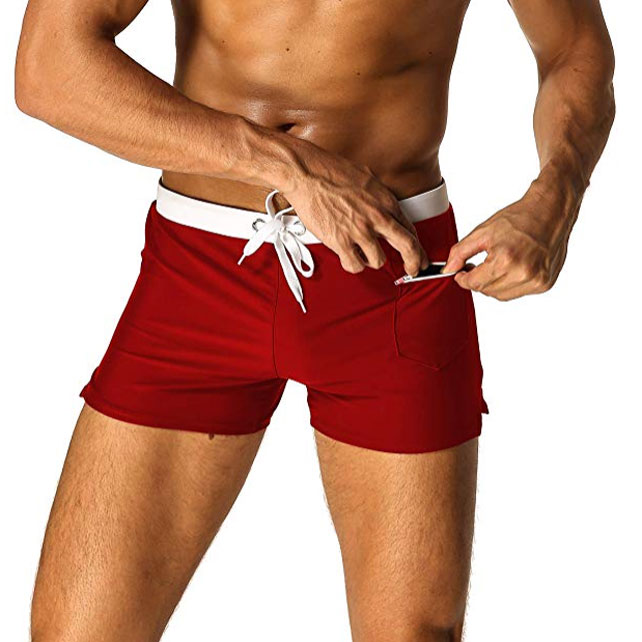 These Salent briefs are made from both 80% Nylon and 20% Spandex. Even though they are thicker than most briefs, they promise a durable yet quick-drying experience that feels amazing on the skin. When you're ready to store keys, credit cards or other important small items away, you can safely do so with the pockets that conveniently come with zippers. There's a mesh lining to prevent uncomfortable friction. The square cut and chic fit allow men to feel their best when they're walking along the beach. These briefs are great for surfing as well as relaxing. They also come in over eight vibrant colors.
You can find it on Amazon here.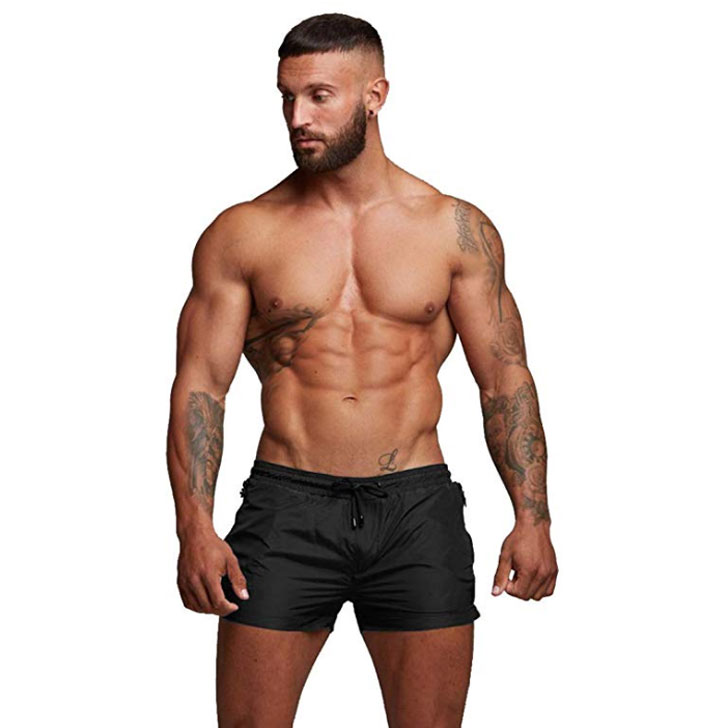 These trunks are definitely for the man who's not shy about his physique as they are slim-fitting and eye-catching. These trunks come in six different colors which include red (maroon), dark green and khaki. These swim trunks are great because the waistband is elasticized which allows for maximum comfort. They're also adjustable because of the drawstring. There is a mesh lining that helps you prevent anyone from seeing right through the shorts. Tonlen swim trunks are also very versatile. You can wear them to the beach, the gym or to a cruise ship party.
You can find it on Amazon here.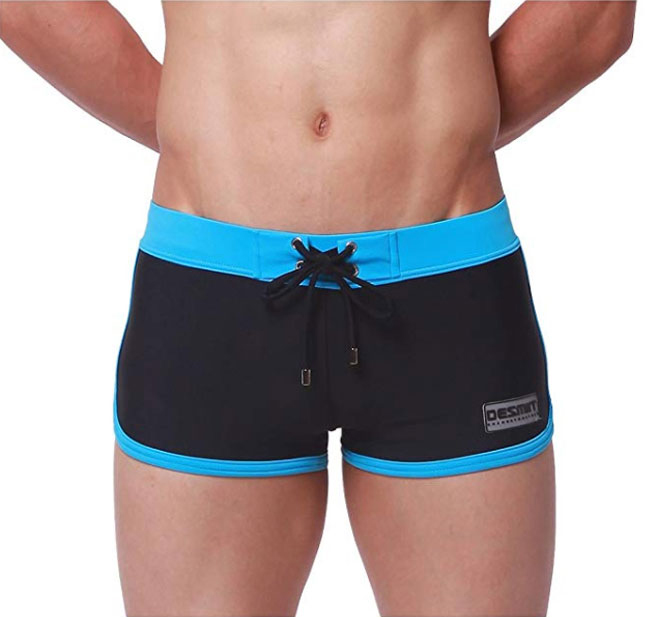 If you're looking for a fashion-forward option that comes in at least 12 different colors, these swimming shorts by Wuambo are perfect. They're also a low-rise option for anyone looking to show-off all the ab muscles and cuts. They dry very quickly. They do require handwashing to ensure longevity. They're made of 82% Nylon and 18% Spandex. There's a comfortable interior lining that's made of 95% Polyester and 5% spandex.
You can find it on Amazon here.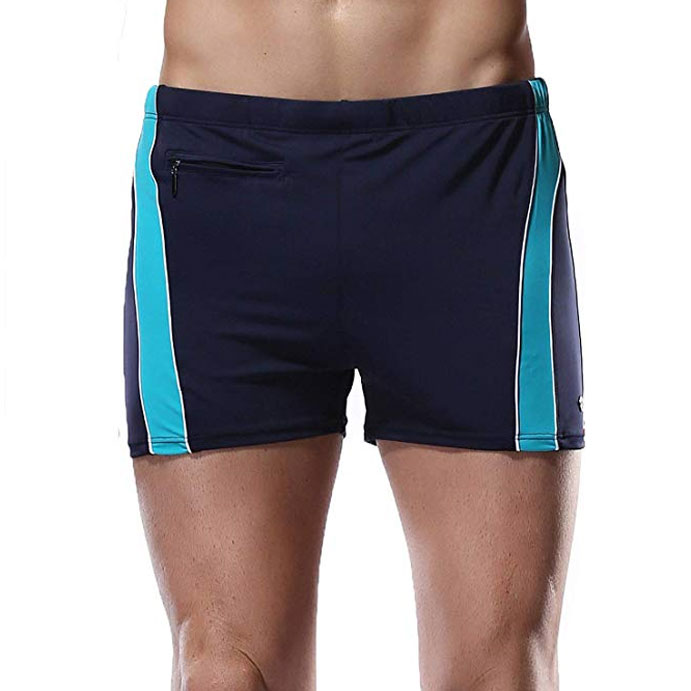 In addition to being chlorine-resistant, these trunks are also 82% Polyester and 18% Spandex. If you love the chic, stylish look of color blocking, each of the three options comes with that look in a different color. These surfing shorts look a lot like boxer shorts. They also promise a stretchy and lightweight experience. Once you're finished in the water, you can come out and enjoy fabrics that dry quickly. Most fans love the fact that these trunks fit as they're described. They are also very well-made.
You can find it on Amazon here.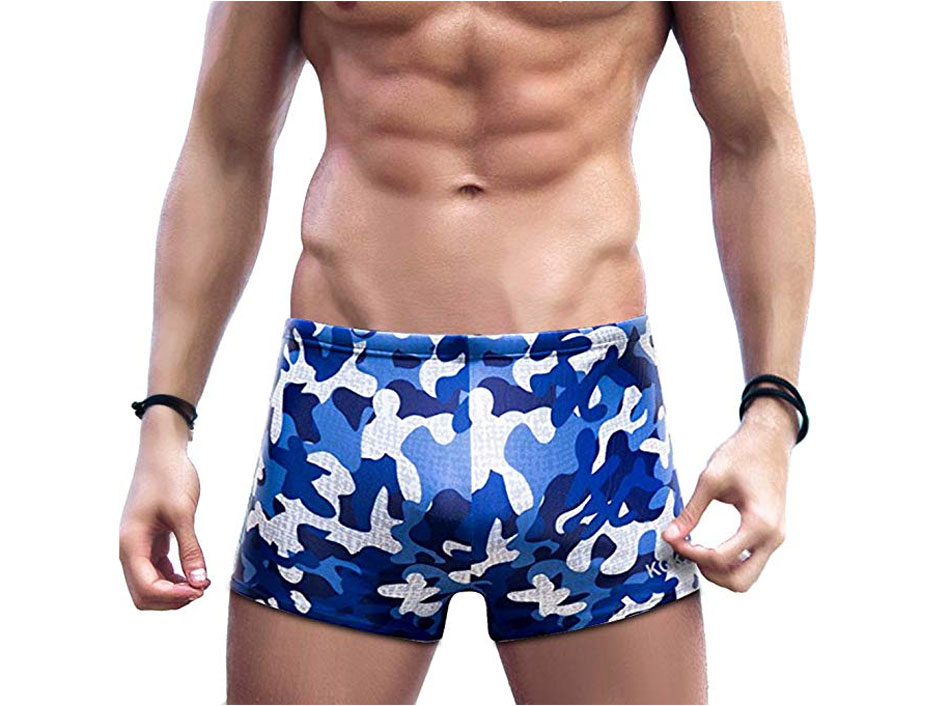 These dynamic printed boxer briefs come in a range of colors and patterns. There's UV protection in the suit to protect your skin. These boxer briefs are also 100% chlorine-resistant. These boxer briefs either require you to be in the best shape of your life or to be someone who's extremely confident because they leave nothing to the imagination. Fans love the sexy yet comfortable fit as well as the variety of patterned options.
You can find it on Amazon here.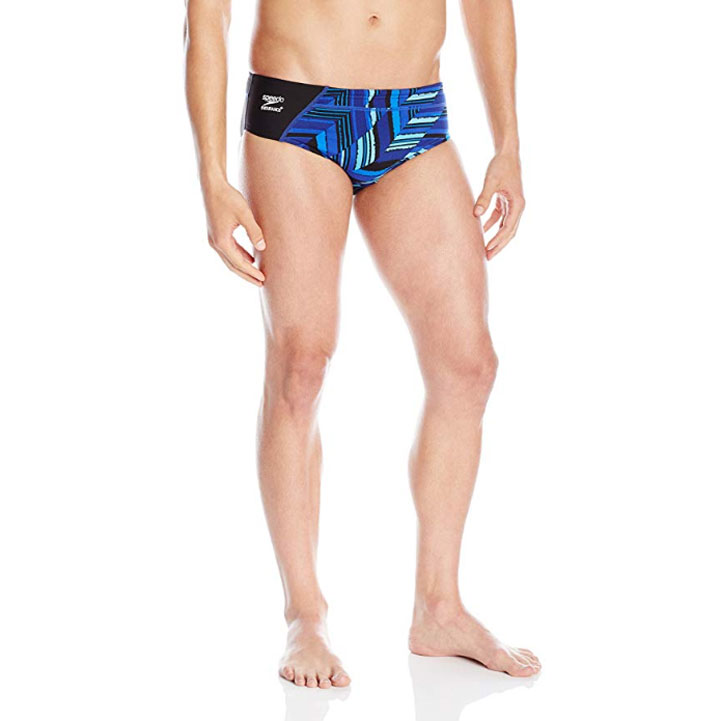 Made of 50% PBT and 50% Polyester, these briefs are excellent for the competitive swimmer in your life. For someone who spends a lot of time in the water, it's important to invest in options that are chlorine-resistant to avoid wear and tear over time. These briefs are 100% chlorine-resistant. They also come with a four-way stretch factor that allows for a comfortable fit without any loose sagging. If you'd like to adjust the briefs, there is an inner drawcord at the waist.
You can find it on Amazon here.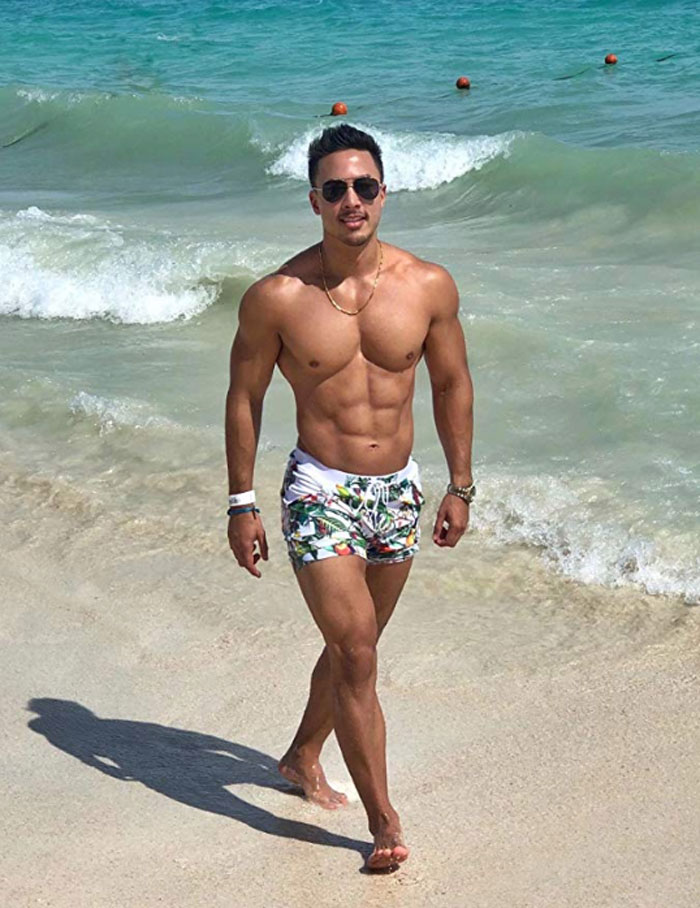 These tropical swim trunks are both festive and fashion-forward. In addition to the tropical bird print, there are five other fantastical options to turn heads when you're on the beach. A few of the reasons why people love these trunks include the great way it fits a person with a slim build as well as the fun prints.
You can find it on Amazon here.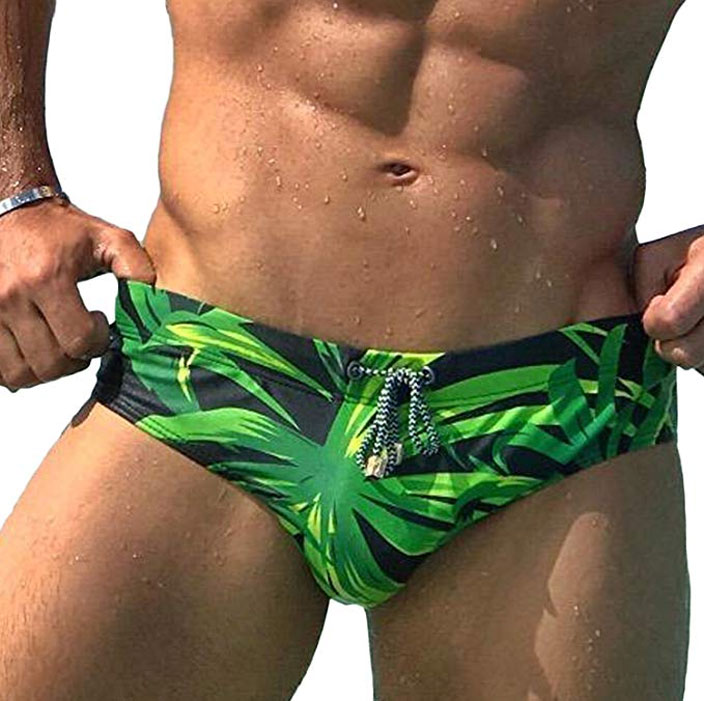 Fans of these briefs tend to be men who are ready to show off their physiques. These bikini briefs fit perfectly for most fans. The key is to make sure you use the chart correctly before ordering. These briefs maintain their vibrant colors. There's also a convenient pad inside of the briefs to ensure comfort. These bikini briefs are also made up of 82% Nylon and 18% Spandex.
You can find it on Amazon here.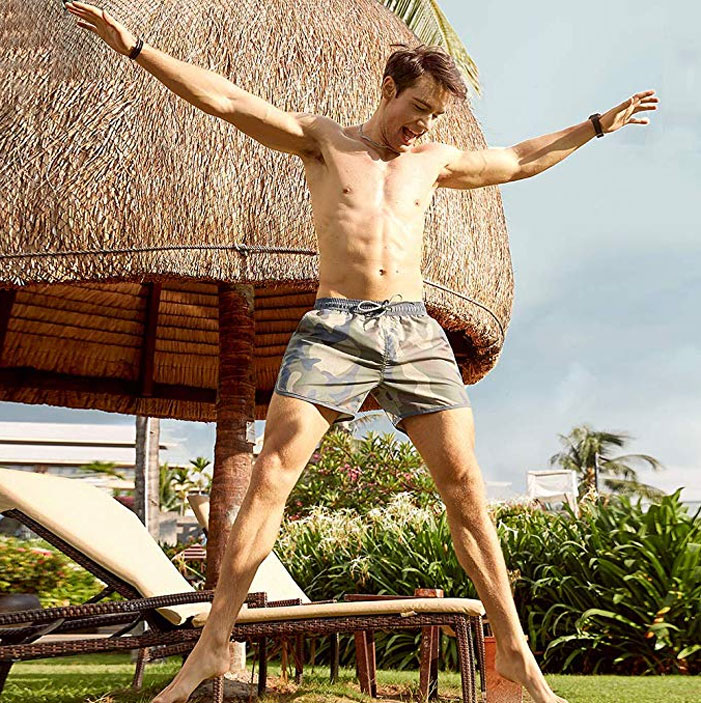 For anyone who loves the nostalgia of the 70s, 80s, or 90s, you can easily channel that style with these vintage swim trunks. They come in a range of colors and prints. They're made of 100% polyester. The design is a slim-fit cut. The recommendation is to go up a size if you'd like to experience a little more room. These trunks come with a mesh inner lining. They also don't take a long time to dry off. There's an elastic waistband that comes with a drawstring. On the back of the trunks, there's a velcro pocket to ensure security for anything inside. Fans tend to love the patterns along with the compliments they receive.
You can find it on Amazon here.
Popular Men's Swim Trunks
You might ask yourself: "what are the most popular swim trunks on the market?" This is a valid question – some brands tend to be more popular than others, and for good reason. These well-known brands often last longer, have a lifetime warranty and are constructed from higher-quality materials. Here's our list of the most popular men's swim trunks on the market: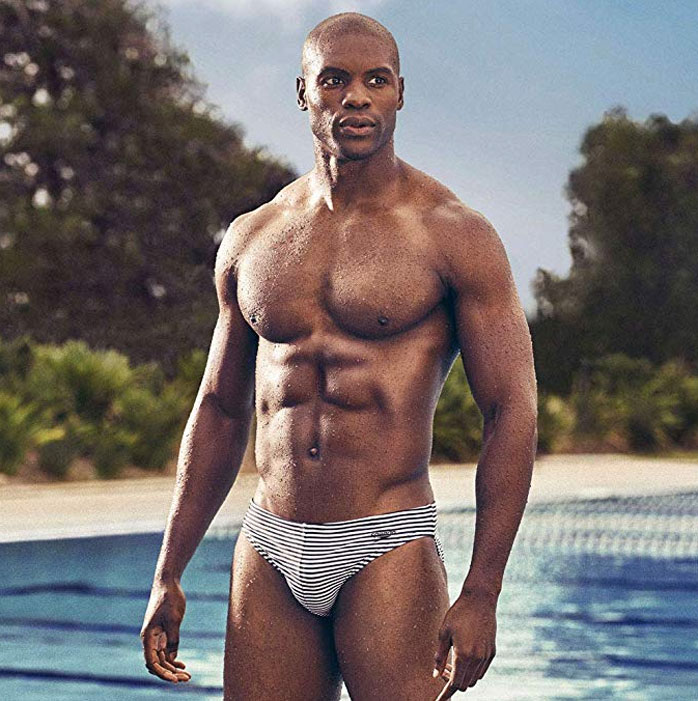 These briefs are made of Nylon and a special Lycra XTRA Life Fiber. As the name suggests, the unique Lycra fiber allows a swimmer to enjoy long-lasting wear with these briefs. They tend to last up to ten times longer than the usual spandex briefs. They're also color-resistant and fade-resistant. They dry quickly to decrease a ton of moisture retention. Even though they're extremely fitting, they're not uncomfortable. The breathable factor is what many fans love about these briefs. They also contain the UV Block Burn technology which protects the skin from the UV rays.
You can find it on Amazon here.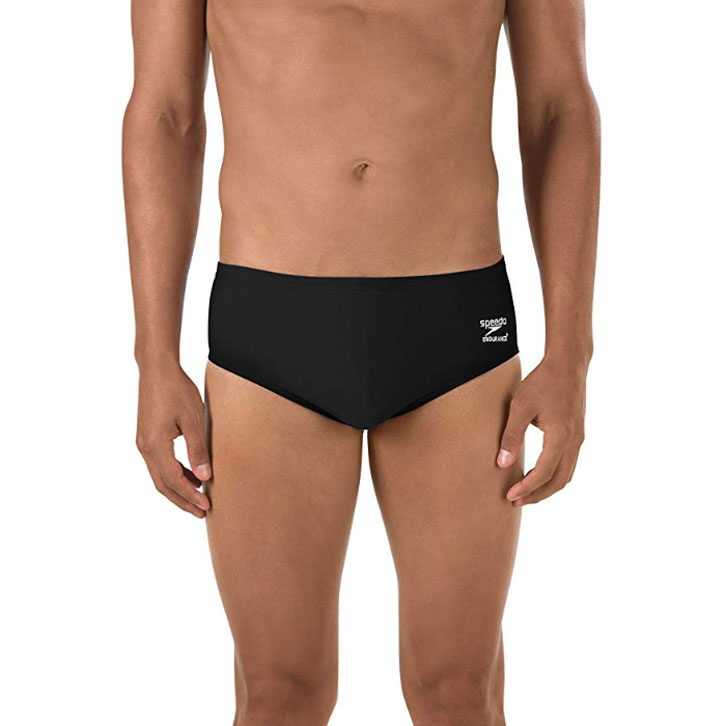 Made of 50% Polyester and 50% PBT, these briefs are perfectly designed to prevent sagging over time. Many customers love the fact that these briefs can maintain excellent shape retention. They're also long-lasting because of the fabric blend. The four-way stretch technology is also instrumental in making sure the fit is as comfortable as possible. Many fans rave about these briefs because they fit well and feel secure. They're also highly recommended because of how great the quality actually is.
You can find it on Amazon here.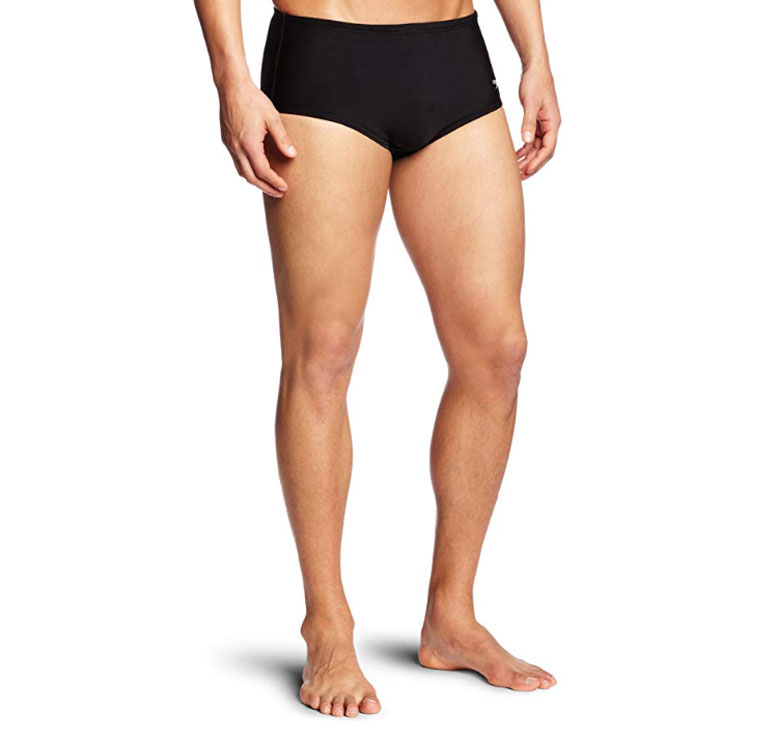 With a classic cut, a drawstring waist, and a front gusset, these briefs are great for a dip in the pool or a few laps for exercise and speed. They are made out of 74% Antron Nylon, 26% Lycra XTRA Life fiber as well. They contain the UV Block Burn protective barrier for UV rays up to 50+. It's also unique in that it's resistant to suntan lotions, skin oils, and chlorine in a way that exceeds other brands in the marketplace.
You can find it on Amazon here.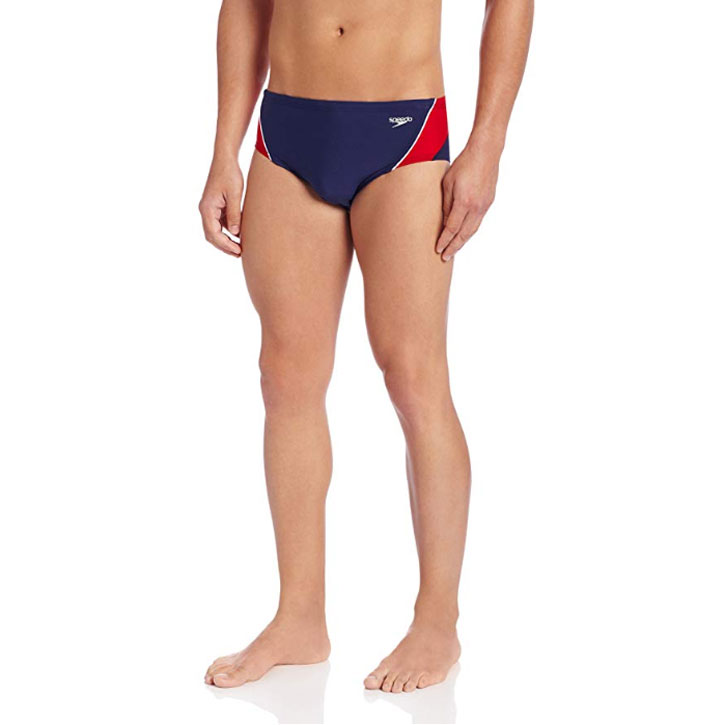 These briefs come in a range of colors, sizes and price points. The briefs are made of 50% Polyester and 50% PBT. Because they are chlorine-resistant, customers can enjoy color retention for long periods of time. To maintain the vibrancy of these briefs, it's best to handwash them. Most customers who are fans tend to love the coverage and secure fit of the briefs.
You can find it on Amazon here.
Without question, the standout feature of these shorts is the range of patterns and colors that are available to the customers. These shorts come in a sleek, slim-fit design. It's recommended that you go up a size for a looser fit (if desired). These shorts dry quickly and come with convenient velcro pockets. The elastic waistband and drawstrings make these shorts comfortable to wear almost anywhere that's near water.
You can find it on Amazon here.
Frequently Asked Questions About Men's Swimtrunks
What is the difference between board shorts vs swim trunks?
Most people might look at a pair of board shorts and some swim trunks with the assumption that they're technically the same. Truthfully, the main difference between the two is the mesh lining. Swim trunks need that lining to dry quickly. Swim trunks also tend to maintain some elastic in the waistline for comfort. Board shorts are fitted. They don't usually fasten with a drawstring either. Board shorts tend to come together with a few buttons, zippers or a fastener.
What is the point of netting in swim trunks?
Men need support for their lower areas. It's best for the genitals to remain in place during the swimming experience. It's also a lot more comfortable. The netting allows the genitals to receive some form of support.
Why do swim trunks have liners?
The liners are also designed to protect the genital area. Additionally, they help support the effort of maintaining a pair of trunks dry quickly.
What do you wear under swim trunks?
When you're wearing the right pair of swim trunks, you really don't need to wear anything underneath them. They're already providing the protection and support the genital area needs.
Can swim trunks be tailored?
Yes, swim trunks can be tailored to perfectly fit your body. In most cases, they come with a standard fit. However, if you want to make them look as though they were made for your unique frame, tailoring is a great option.
How long should swim trunks be?
As a rule of thumb, swim trunks shouldn't be longer than your knee. In fact, they should be a few inches above the knee. If the trunks go past the middle of your thigh, they're too long.
How are swim trunks measured?
To get an accurate measurement for your swim trunks, you'll want to use the hip bone as your main measurement.
Can compression shorts be used for swimming?
While you can swimming trunks with compression capabilities, it's not a wise idea to use compression shorts in the pool. This is mainly because of two factors. The compression shorts don't have a drawstring, and they can come off while you're swimming. Another reason is that the chlorine can eat away at the material if it's not meant to withstand it.