17 Best Cross-Training Shoes for Men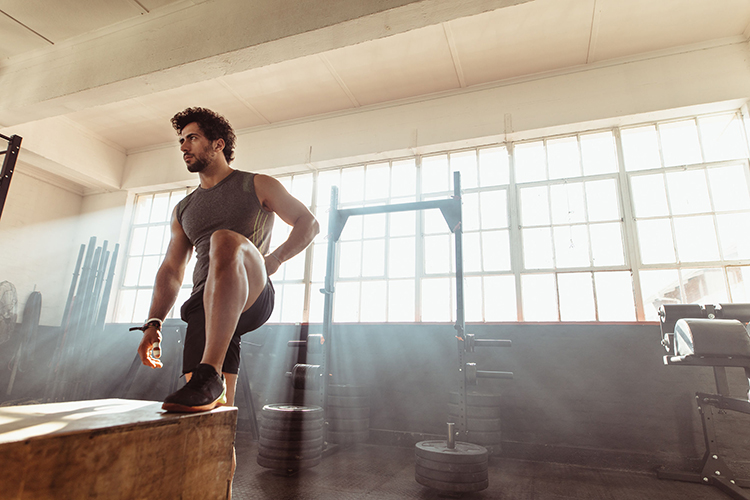 Having the right footwear for your cross-training or sport-specific training can make all the difference in the quality of your workouts. Right now, more and more guys are getting into cross-training and HIIT workouts, but unless you have the right shoes, you won't really be getting the most benefit from this fat-melting cross-training style.
If you're not sure what cross-training or HIIT is and why you would need specialized shoes to do cross-training-related workout movements, keep reading. You'll probably discover that HIIT is something you'd like to try. Most people who do try HIIT or cross-training tend to notice an immediate improvement in their cardiovascular health. Cross-training enthusiasts also have a tendency to shed the spare tire at their waist that they've been lugging around for the last five years.
What Is Cross-Training or HIIT?
"HIIT" is an acronym for "High-Intensity Interval Training." Essentially, cross-training high-intensity workouts involve you putting out short bursts of all-out effort followed by a rest period, which is followed by another short burst of all-out effort. The goal is to get your heart rate elevated and keep it there, which helps you to burn more calories and fat.
The Benefits of Cross-Training
You'll burn serious calories with every cross-training HIIT session. However, the benefits don't end when you leave the gym. This type of workout encourages excess post-exercise oxygen consumption (EPOC). Basically, your body's need for oxygen increases exponentially during your workout. When you're done exercising, your body will demand even more oxygen to facilitate recovery. This is the state where you start to see real results.
Cross-Training and HIIT are Easy … in Some Ways
A complete HIIT workout can be completed in fewer than 30 minutes. In fact, most of them can be done in about 15 or 20 minutes. Additionally, you don't necessarily need any equipment. If you'd like to incorporate some weights or a resistance band, you can do that too. Plus, you can do HIIT anywhere: the gym, home, hotel rooms, or the park. You don't necessarily need a lot of space.
However, this doesn't mean that HIIT workouts won't challenge your body in new and sometimes grueling ways. If you're really giving it your all, you'll be out of breath and sweaty just a few minutes after starting.
Why You Need Shoes for a Cross-Training Workout
HIIT and cross-training lend themselves to just about any kind of movement. People incorporate squats, lunges, pushups, burpees, jumping jacks, and a host of other exercises into their routine, and that routine can change with every session.
What's more, you may find yourself doing movements that require you to stop quickly or change directions on a dime. You could be jumping up and down relentlessly or completing complicated twisting motions. Accordingly, you need shoes that are flexible, supportive, and offer great stability. It also doesn't hurt if those shoes are pretty breathable, because you are definitely going to be sweating.
The Best Shoes for Cross-Training and HIIT Workouts
This list features something for every athlete. If you're looking for something with extra cushioning and support, it's on this list. However, we also list minimalist shoes that make you feel like you're practically barefoot.
All of these shoes are noted for their technological innovations that are designed to enhance stability, support, and optimized features ideal for the rough nature of cross-training. You'll also appreciate their comfort and durability. These are shoes that are designed to be with you through the long haul.
With the proprietary GEL Cushioning System in the forefoot and rearfoot, this HIIT shoe is ideal for protecting your joints and keeping you comfortable. The padded tongue and collar provide additional incentives to check out this offering from ASICS. Because HIIT workouts frequently involve quick direction changes, the TRUSSTIC System is an absolute necessity. This technology prevents the shoe from twisting and reinforces the midsole for incredible stability. The upper is formed by leather and a breathable mesh that allows your foot to breathe even in hot conditions. Many users remark on the narrow construction of the shoe, so if you have wide feet, you may want to look elsewhere.
Buy it now on Amazon: ASICS Men's GEL-Intensity 3 Cross-Training Shoe
The rubber outsole on this good-looking shoe provides you with just the right amount of grip when you're making start-and-stop movements and are needing to change direction quickly. Of course, this shoe is so stylish that you may just find yourself wanting to wear it everywhere you go. It's got a streamlined silhouette that makes it just as much at home on the runway as it is in the gym. Plus, the black, charcoal, and bright green color scheme is designed to make you stand out from the crowd. The midfoot support saddle is important for giving you added stability while the EVA in the heel absorbs impact so that your joints don't have to. With the nylon upper, you'll have enough breathability to keep you comfortable during intense workouts.
Buy it now on Amazon: PUMA Men's Tazon 5 Ripstop Cross-Training Shoe
There's a lot to love about this item from Reebok. First, let's talk about how it looks. This is a seriously futuristic shoe that you could easily wear to the club when you get done with your workout. Choose from color combinations like white, navy, and gray or black, alloy and gum. Or, you might just go for the simple, classic white. No matter which you choose, you're bound to love the minimal drop outsole which guarantees you the ultimate instability. A wider toe box and wide-fit shoes are ideal for people with a wider foot or who just like to have a little extra wiggle room. The Flexweave upper is not only attractive but also extremely breathable. You might also appreciate the way that it conforms to the unique contours of your foot for an incredibly comfortable fit. This "performance bootie" technology is definitely the latest and greatest for cross-training.
Buy it now on Amazon: Reebok Men's Crossfit Nano 8/0 Flexweave
This is another shoe that makes a powerful stylistic statement. Go for the bold with the hard-to-ignore "solar yellow" and "vitamin C" colors or opt for a subtler look with blue, red or black. Actually, this shoe looks so nice that you just might want to pick it up in more than one color. What really matters here is the performance, and this shoe is designed to support your feet in a variety of activities, including HIIT workouts. The ultra-soft midsole is compression-molded for the ultimate in support and stability. You can always trust that this shoe is going to travel with you no matter which way you go. The compression sleeve upper similarly is a notable plus. It really conforms to your foot, and there are no noticeable pressure spots. With a low-cut design, your ankle bones will never chafe or feel the unwanted impact.
Buy it now on Amazon: Reebok Men's Crossfit Speed TR Cross-Trainer Shoe
The mesh upper on this shoe from ASICS is a flexible, breathable mesh that won't let you down in the middle of a true HIIT workout. Your feet will stay cool and comfortable even while the rest of your body is feeling the heat. If you like a classic, subtle look in your athletic shoes, then you'll be drawn to the grays, blues, and blacks in this line. However, there is a brighter blue with a hot orange version that might appeal to flashier guys. The GEL cushioning system on the rear part of this shoe is really remarkable. If you have heel pain or worry about the impact in your HIIT workouts, then this shoe may provide you with a necessary solution. Also notable about this model is the high abrasion rubber that is placed in strategic positions on the outsole. Slipping and sliding are in the past thanks to these innovations. This outsole further promises incredible durability for those who like to really get their money's worth.
Buy it now on Amazon: ASICS Men's Gel-Craze TR 4 Cross-Trainer Shoe
If you really want to protect your joints and enjoy a truly comfortable HIIT workout, then this is the perfect shoe. It benefits from the addition of a Vibram outsole. For those of you not in the know, Vibram is an Italian-based shoe company that has roots stretching back to the 1950s. They make shoes with outsoles that have incredible grip, and they also offer incredible cushioning and support. This joint effort between New Balance and Vibram means a new frontier of comfort for you. You'll also discover that your agility improves because you won't have to worry about the quality of the surface on which you're exercising. The woven mesh upper is soft and breathable but also has good durability. This shoe further benefits from the company's Revlite technology, resulting in a remarkably lightweight shoe.
Buy it now on Amazon: New Balance Men's MX40V1 Gym Workouts Training Shoe
This shoe has so many innovations that it's difficult to catalog them all. The upper is mostly constructed from a super breathable mesh, but it also includes the Nike Flywire technology. Essentially, this is a system of filaments that are placed in strategic locations on the shoe. Think of them as acting like the cables on a suspension bridge. They keep your foot stable and help you to make quick changes in direction without risking an injury. This system enables the company to create some of the lightest fitness footwear on the market today without sacrificing stability. Additionally, the shoe's outsole features hexagonal flex grooves that give you a better grip, but still allow you to move across the floor with ease. This is an overall incredibly comfortable and functional shoe.
Buy it now on Amazon: NIKE Men's Free Trainer 5.0 V6 Training Shoe
This is one crazy train that you'll want a ticket for, especially if you're addicted to HIIT workouts. The look of these shoes is amazingly stylish. Go for the vibrant blue or the orange and gray to stand out from the crowd. A subtler dark gray is perfect for those who are looking to coast under the radar. Additionally, this shoe features Adidas' proprietary Energysling technology. If stability is really important to you, and it should be with HIIT, then Energysling will help you to make sideways stops and change directions on a dime. Just as importantly, this system means a serious improvement in comfort. You'll also appreciate the breathable mesh tongue and the Boost technology in the forefoot region. Boost helps to return more energy to your feet, a definite plus in the middle of an intense session.
Buy it now on Amazon: Adidas Performance Men's Crazytrain Boost Cross-Training Shoe
These ultra-light trainers will make you feel speedy. The heel is really low to the ground, which is a plus if you're going to do some weight training too. That heel also will help you remain stable and secure during HIIT workouts. The upper is essentially a perforated sock that is incredibly comfortable. It's also reinforced with synthetic leather for added durability. Nonetheless, it remains incredibly breathable. Another big plus is this shoe's flexibility. You won't have to fight it when you're making intricate movements. Available in black, blue, and orange, there's a Conviction X cross trainer that's perfect for every guy.
Buy it now on Amazon: ASICS Men's Conviction X Cross-Trainer Shoe
Once again, Nike delivers a shoe that is loaded with innovative technology. The look of this shoe is really distinctive. Think of it as a cross between a sock and a bootie. Also, you have to consider the broad range of colors that you have to choose from. There are hyper orange, hyper cobalt, and ghost-green volt options that are showy and undeniably eye-catching. If you don't want that much attention, go for the less noticeable black or white. For HIIT workouts, you'll appreciate the outsole's rubber nodes that provide better traction and more stability for landings. The shoe further is fitted with tri-star flex grooves that give you the ultimate flexibility. The midsole is fashioned with dual-density Phylon material to offer you all of the cushioning you need in the midst of a tough workout. Like the prior Nike model on this list, the Free Train Virtue shoes also benefit from the brand's Flywire technology.
Buy it now on Amazon: Nike Mens Free Train Virtue Training Shoes
If you're looking for an all-around great shoe that can handle HIIT as well as circuits and lifting, then you'll want to check out this shoe from Inov-8. Heavy lifts, rope climbs, sprints, and HIIT are all a breeze thanks to the versatility of this shoe. It's equipped with what the brand calls a "Powerheel." This is an insert that is 40 percent denser than the insert in the forefoot. Mechanically, this should provide you with an advantage, especially when you're lifting those heavyweights. Another nice touch is midfoot, which offers amazing stability. You're also bound to love the META-FLEX technology, which delivers multi-directional flexibility so that you can move more naturally than ever before.
Buy it now on Amazon: Inov-8 Men's F-Lite 275 (M) Cross Trainer
This is another extremely versatile offering that is ideal for a wide range of workouts and activities. Right off the bat, you can't help but notice how this shoe looks. The red camo version is beyond eye-catching, and the bright blue will probably get you just as many stares. In addition to looking incredible, the upper is made from a proprietary breathable mesh that No Bull calls SuperFabric. It's a really durable material that handily resists abrasions. The SuperFabric is attached to thin, unobtrusive guard plates at strategic locations to provide even more durability. One notable advantage of this shoe is the banked sidewalls, which ensure that your feet won't go rolling over the edge. Your days of twisted ankles are over with these training shoes. Also, the rugged sole is ideal for switching from indoor to outdoor use if you never know where your workouts will take you.
Buy it now on Amazon: No Bull Men's Training Shoe
Many people associate Jordans with basketball, but that's not necessarily fair considering the diversity of options that the line is offering now. This shoe has the exclusive Nike Zoom Air cushioning so that your feet and all of your joints will be protected from impact. The full inner sleeve makes this pair of shoes feel more like a pair of socks. That's a definite advantage if you're looking for a comfortable fit. It also gives you unbeatable breathability. However, you won't sacrifice anything in the way of stability thanks to the inclusion of Flightflex technology. The sole has just enough grip to keep you grounded while also enabling you to move with unparalleled freedom.
Buy it now on Amazon: Jordan Trainer 2 Flyknit Men's Training Shoes
This is an incredibly versatile shoe with low heels so that you can maintain mobility. In this style, you'll find a lot of options from which to choose. Basics like black, white, and gray are available, but if you're into something more colorful, you can go that route without sacrificing quality or performance. What might be most notable about this style is the upper. Nike describes it as a "haptic" fabric that provides unmatched breathability and durability. Plus, it's incredibly lightweight, so this is one shoe that won't weigh you down during your workouts. The flat bottom on the sole is pretty ideal for the lightning-fast movements that are often associated with HIIT while the reinforced heel will feel just right for squats and lifting routines.
Buy it now on Amazon: NIKE Men's Metcon 4 Training Shoe
The knit upper on this shoe is made from a single piece of fabric. This means that there are no seams that might split or give way over time. Accordingly, you get excellent durability with this shoe. Under Armour uses their Threadborne technology to ensure greater stability and the ultimate in flexibility, so this is a shoe that truly moves with you. Essentially, this shoe is an "articulated bootie," which means that you get a really comfortable, compression-like fit. Despite the flexibility and comfort, you still get unrivaled stability because of bands of webbing and a low-profile heel. If foot smell is an issue for you, then you'll be glad of the Ortholitesockliner technology, which Under Armour says is designed to arrest the development of microbes that cause those unpleasant odors in other shoes.
Buy it now on Amazon: Under Armour Men's Charged Controller
The minimalist sole on this shoe boasts just the right combination of grip and freedom of movement, both of which are required in most HIIT workouts. Additionally, this is a pretty cool-looking shoe that offers a great deal of flexibility and support. The leather toes are a nice touch if you're looking for something that is super durable, but not so good if breathability is of paramount importance to you. This shoe uses heat-activated u-form technology that molds to precisely fit your foot. A pair of strap closures make certain that these shoes are extra-secure on your feet. If you like to combine lifting with your HIIT sessions, these may be the right hybrid shoe for you.
Buy it now on Amazon: Reebok Men's Lifter PR Cross-Trainer Shoe
This selection is for the guy who wants to try a minimalist shoe. The sole is incredibly thin at just five millimeters, but it still delivers some pretty impressive protection. You'll truly be able to feel the terrain wherever you exercise, but you won't have to worry about a slip and fall thanks to this shoe's excellent traction. Keep in mind that these also are "finger shoes," so each of your toes will be slipped into its own separate "sleeve." Between this and the really thin sole, these shoes may take some getting used to. However, they are hard to beat if you want something that offers the height of flexibility and responsiveness.
Buy it now on Amazon: Vibram Men's KSO Evo Cross Training Shoe